KSN's Gold Exploration in Elephant Country Delivers Promising Results
PUBLISHED: 17-07-2019 10:06 a.m.
Early stage gold junior, Kingston Resources (ASX:KSN) has today delivered promising news coming out of its flagship 2.8 million ounce Misima Gold Project in Papua New Guinea (PNG).
You may remember we previously said KSN should be up the top of your watch list.
That's because Misima has a production history of over 3.7 million ounces, as well as outstanding potential for additional resource growth through exploration success.
"This is big, it's got scale. It's got multiple potential targets in addition to the current known Resource. It's in elephant country, the right real estate for monster projects," said KSN's MD, Andrew Corbett when we last caught up.
KSN has been working hard over the last few months to bring Misima back online as a large scale and low cost open pit gold mine.
Today's results put it one step closer to achieving this aim.
Assays from drilling at Ewatinona have confirmed the potential of the resource, as well as indicating it is open in all directions.
Drilling highlights included 20 metres at 1.8 g/t gold from 78 metres and 6.6 metres at 1.9 grams per tonne (g/t) gold from 7.5 metres.
We will look at Ewatinoa and the overall Misima project in more detail shortly, but there is still more news to come with drilling continuing on a second target in the Quartz Mountain area at the Waipuna prospect.
Suffice to say, there should be plenty of newsflow leading up to the September quarter.
The existing 2.8 million ounce Misima resource may already be of sufficient scale to support a potential long-life mining operation.
That is reason in itself to keep an eye on this stock.
However, there may be further gold to be found as current exploration targets have been prioritised with a view to delivering new near-surface mineralisation. These targets are likely to have the largest impact on project economics as access to near surface ounces can boost cash flow in the early years while access to the main Misima resource is established.
With gold still hovering around the US$1400/oz mark, there is plenty of upside for KSN at present.
The potential for mine expansion and regional exploration, coupled with the gold price, and being named one of the top 25 Australian and PNG gold deposits alongside Newcrest Mining, Anglogold/Ashanti, Barrick Gold, and Gold Fields, would suggest this $20 million capped gold junior is undervalued.
With that in mind, let's take another look at:

Kingston Resources Limited
ASX:KSN
Share Price: $0.013
Market Capitalisation: $20.4 million
Here's why I like it...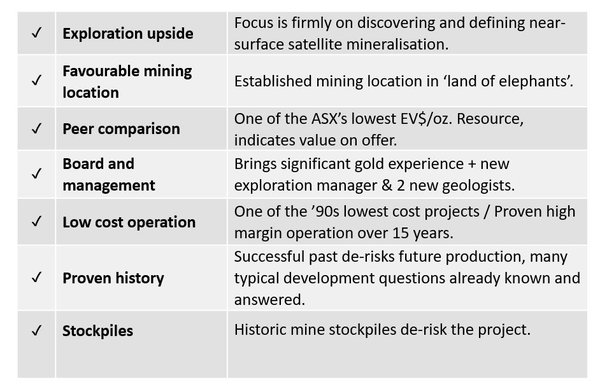 A quick re-brief?
You can read Kingston Resource's (ASX:KSN) full story in our previous article: Advanced Gold Exploration Project Back on the Cards in Elephant Country.
In that article, we explained how KSN has interests in two gold projects: the Misima Gold Project in PNG and the Livingstone Gold Project in WA. We examined how the Misima Gold Project ceased operations in the early 2000s when the gold price was sub-US$300/oz.
We looked at the existing 2.8Moz Resource, multiple expansion targets, plus stockpiles left over from historical mining.
Essentially, we came to the conclusion that KSN is an advanced exploration story which appears undervalued compared to its peers. Its closest peer being capped at close to $500 million.
In fact, KSN is in the top 25 Australian and PNG gold deposits, on a contained ounces of gold basis.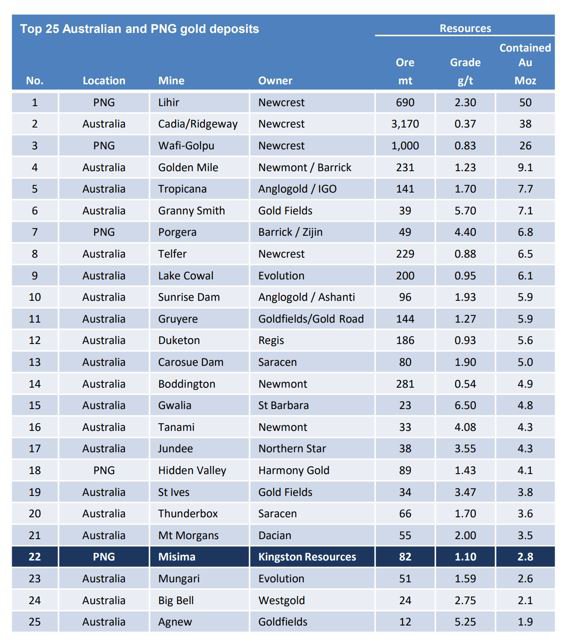 Here's MD Andrew Corbett talking about KSN's assets.
The company completed its earn in at the Misima Gold Project in August last year, upping its ownership of the project from 49% to 70%, in partnership with Nippon Metals and Mitsui.
And it has been full steam ahead since.
Today's results are promising
As mentioned above, drilling at Ewatinona confirmed the potential of the resource, as well as indicating it is open in all directions.
Ewatinona currently contains a resource of 220,000 ounces and it sits within the Quartz Mountain area of the Misima Gold Project, as seen below.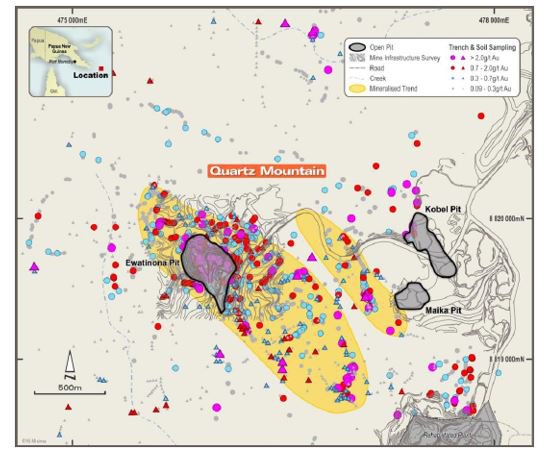 The area was historically mined by Placer, with gold and silver from the Ewatinona, Kobel and Maika pits producing a combined 147,000 ounces at 1.8 g/t gold.
The current Ewatinona resource is less than two kilometres from the historic mill location and the highly encouraging assay results confirm the potential of the resource which remains open in all directions.
Data evaluation and further drilling at Waipuna
KSN will complete a review of all current and historic data in the September quarter. This review includes Leap Frog modelling of the resource before the next round of Ewatinona drilling.
Meanwhile, drilling continues on a second target in the Quartz Mountain area, the Waipuna prospect, which was recently identified by a modern reinterpretation of historic geochemical data combined with geophysics and LiDAR information.
You can read more about it in this Finfeed article...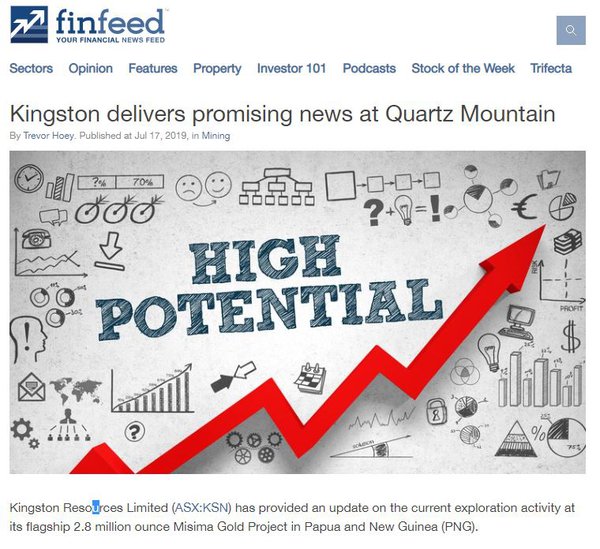 The Quartz Mountain area is one of a number of such targets Kingston plans to drill over the balance of 2019.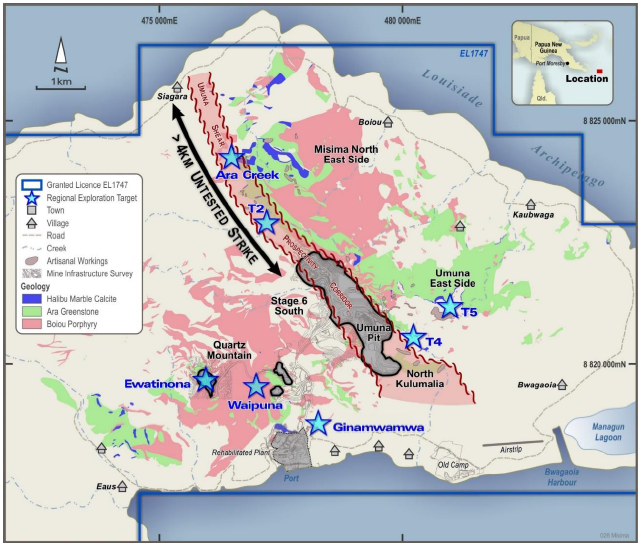 "The Quartz Mountain area is certainly shaping up to be a high priority target," said Corbett.
''In addition to Ewatinona there are number of prospects that have been identified within the Quartz Mountain area.
''These targets are all exciting opportunities for Kingston, with outstanding potential to deliver additional near surface ounces.
''Our current exploration strategy is firmly focused on establishing sufficient ounces from these targets to commence mining studies."
Looking back and looking forward
KSN has been focusing on testing the regional exploration targets it identified in its geochemical program carried out through 2018.
Having drill tested a range of locations along the Umuna Shear beneath the old pit, KSN's exploration strategy is now firmly focused on discovering and defining near surface satellite mineralisation at prospects including Umuna East Side, Quartz Mountain, and Misima North.
Drilling has most recently been focused on the Quartz Mountain area. This area already contains a 220,000oz inferred resource.
There are a number of exciting geochem targets in the area and structural interpretations from the LiDAR survey carried out in 2018 has also provided further drill targets. KSN expects to be able to release further results from this initial program over July and August, just weeks from now.
Historic drilling and geochemical work in the area includes some impressive results that are well worth following up on:
Historic drilling at Quartz Mountain includes
– 10m @ 3.06g/t Au from 108m
– 12m @ 4.13g/t Au from 116m
– 14m @ 2.28g/t Au from 76m
– 60m @ 2.29g/t Au from surface.
Historic channel samples at Quartz Mountain includes
– 115m @ 1.47 g/t Au
– 113m @ 1.50 g/t Au
– 49m @ 1.04 g/t Au
The combination of an existing Resource at Quartz Mountain, the presence of extensive surface mineralisation and proximity to the mill site make it an ideal target for the surface exploration program.
After Quartz Mountain, the next target for KSN will be Misima North. This is exciting for two reasons. There is extensive surface anomalism, providing potential for the small scale, shallow starter pit that KSN's exploration program is focused on.
But there is a bigger, potentially transformational target here also.
The main Umuna Shear Zone continues through to the north of the island. The southern 3km section of this shear zone hosted the bulk of the 4Mozs Placer mined from 1989 to 2004. The shear extends for a further 4km to the north and it has never been drilled.
Encouragingly, the geochem footprint in the north appears to closely match the geochem footprint that Placer identified on top of the shear zone in the south. It was this geochem footprint that lead Placer to drill and identify the original Umuna Resource.
It is also worth noting that there was extensive historic activity in the north including a number of small scale underground mines running relatively high grade.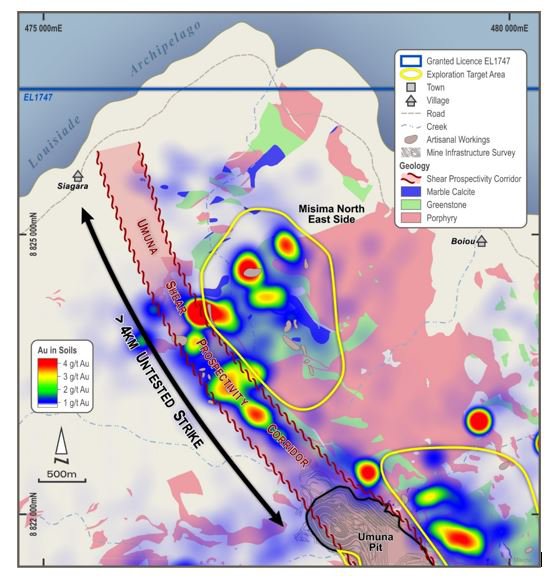 The third area Kingston is aiming to drill in 2019 is Umuna East. This area hosts a series of mineralised structures splaying southeast off the Umuna Shear.
These areas have been identified through structural mapping and followed up with geochemical testing. They also were host to a number of historic small scale undergrounds and adits and continue to host artisanal mining activities.
The structures are significant with strike lengths typically in excess of 1km long, and given the nature of the structure would represent easy access low strip tonnes.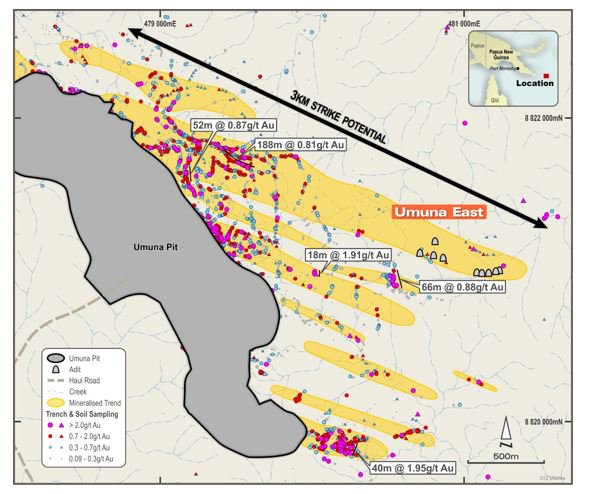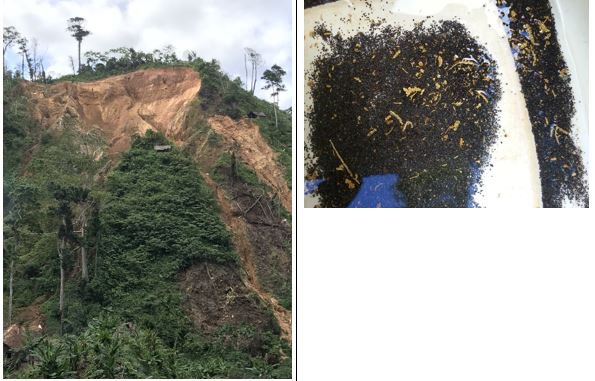 Peer comparisons match up
Also worth repeating in this article is that KSN remains capped at less than $25 million and is trading on a very low Enterprise Value per Resource ounce (EV/oz) basis (below), right at the lower end of gold exploration peers, at around $10/oz of Resource, relative to an average of around $40/oz or so.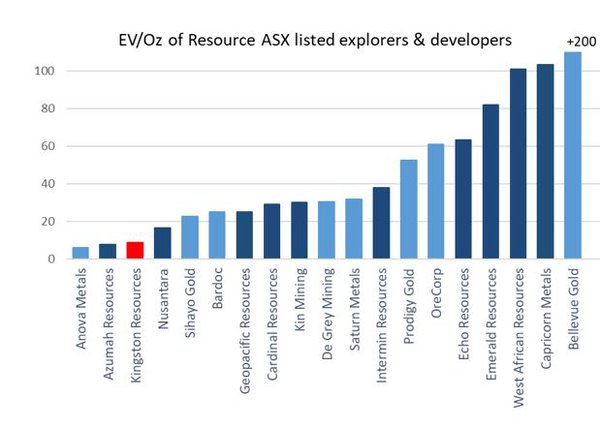 The company has scope to increase the total Resource in a relatively short period.
Current market metrics suggest there could be a valuation uplift as the works program at Misima progresses.
KSN compares exceptionally well to its smaller ASX peers on a Resource/ounce basis, which suggests there's scope for a valuation lift.
In effect, KSN's peers have double the market cap, at half KSN's known Resource.
This is the reason why several brokers have initiated coverage of the stock with Buy recommendations. These include Acova Capital which stuck a 'Buy' rating on the stock, along with a 12-month target price of 8.4 cents — well up on the current share price.
Patersons Securities has a 12-month target price of 6.0 cents.
A quick note on Livingstone
KSN owns 75% of the Livingstone Gold Project in Western Australia, which it is developing as a stepping stone for Misima, either optimising a potential sale price through drilling, or retaining and developing the to deliver cash flow.
It is a highly prospective project, which KSN plans to enhance with an RC drilling program on priority targets in the coming months.
Where to from here?
Today's results put KSN once step closer to bringing Misima back online as a large scale and low cost open pit gold mine, which could be in production by 2023.
This timeline tells you all you need to know about the coming work program.

That's a lot of work to do, meaning a lot of results anticipated.
When you factor that Misima has an existing Resource that measures up well against its peers, there's a lot to like about this company.
KSN's aim is to become a low cost, large scale gold producer and it seems to be well on its way to achieving this.
Should it take the right steps on the way to reaching this goal, it shouldn't be too long before the market takes notice.
---