ASX Gold Explorer Drilling for VMS Deposits in Prolific WA Goldfields
PUBLISHED: 15-11-2019 10:20 a.m.
In the June 2019 quarter, $173 million was spent on gold exploration in Western Australia – out of a total of $413 million across all minerals.
This was the second time in six years the spend has exceeded $170 million, confirming that a new exploration boom is underway.
The resurgence of the central Yilgarn has been underpinned by exploration success of Spectrum Minerals (ASX:SPX), St George Mining (ASX:SGQ) and the privately held Cobre.
In March 2019, Cobre intersected very high-grade volcanogenic massive sulphide (VMS) base metal and gold mineralisation at shallow depth, including 5m at 9.8% copper, 3.2 grams per tonne (g/t) gold, 34g/t silver and 3.1% zinc.
Clearly there is something going on in the goldfields of WA.
Another ASX junior joined the fray this year, with a project that has the potential to excite the market.
Assay results from Twenty Seven Co's (ASX:TSC) Rover Project in WA's goldfields have confirmed that VMS style geology – similar to Cobre's Perrinvale Project – is apparent at the Creasy 2 prospect within the tenure.
To put this into context, the last significant VMS deposit in Australia was discovered by the billion dollar capped Sandfire Resources (ASX:SFR) over a decade ago.
Note Cobre is just ~20km south of the Rover Project.
TSC's Rover Project's footprint is 461 square kilometre (which includes a recent application) and covers ~140 kilometre strike extent of prospective greenstones.
TSC has under its belt, detailed aeromagnetic results that identify over 20 priority gold, VMS and nickel sulphide targets within the granted tenure.
The company is fully funded and has just started a circa 2,000 metre reverse circulation (RC) drilling campaign.
It looks to be all upside for this gold/base metals explorer.
So let's introduce...

Twenty Seven Co
ASX:TSC
Market Cap: $6.1 million
Share Price: $0.005
Here's why I like TSC...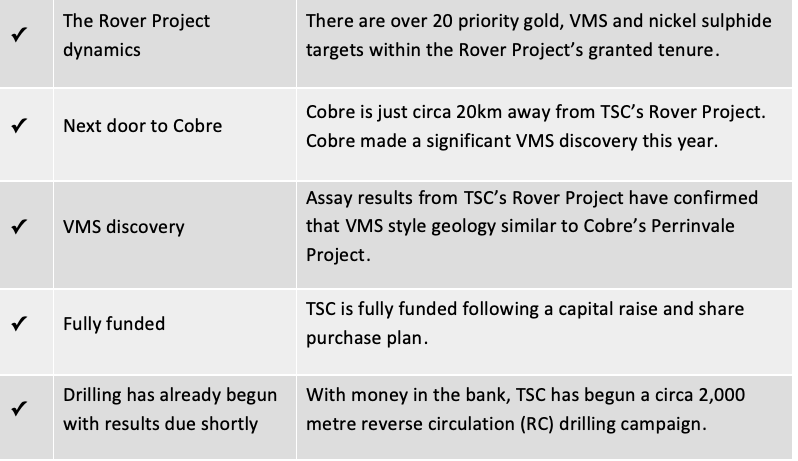 TSC: a brief history
Twenty Seven Co. Limited (ASX:TSC) has two main projects under management: a gold project in Western Australia and a copper-gold-cobalt projects in NSW.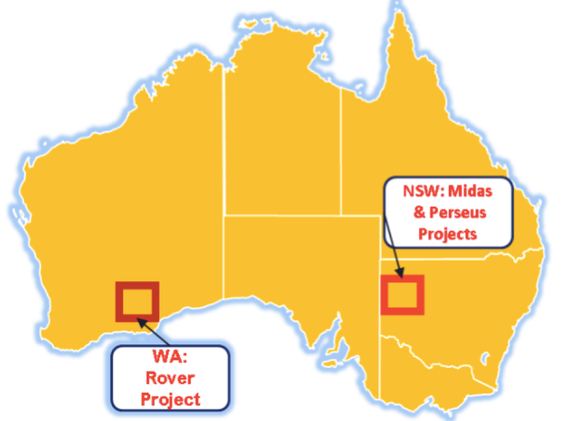 Following a mid-year strategic review, the company decided to streamline operations and prioritise gold-nickel-copper exploration on its 100%-owned Rover Project. As a result, the decision was taken to relinquish non-core projects and find joint-venture partners for the NSW projects.
The following video outlines to potential for a major discovery and the obvious reason in the change of focus to the Rover Project.
Here's a look at Rover's details: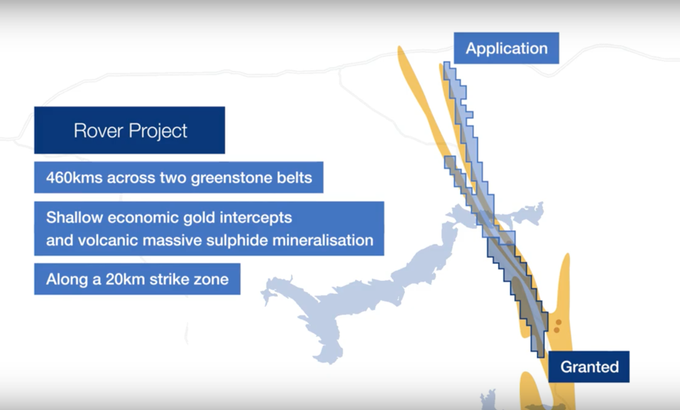 To facilitate this change, the company raised $300,000 (before costs) via a share placement to sophisticated and professional investors.
It also proceeded with a Share Purchase Plan (SPP), which closed oversubscribed, raising $558,000. As at 30 September 2019, TSC had $411,000 in the bank (excluding the $558,000 proceeds from the SPP, which were received on 1 October 2019).
The money is being used to develop and test drill targets at the Rover Project, which is the company's current priority and where drilling has just begun.
2,000 metres of drilling at Rover
Having secured all relevant approvals, TSC this week began a circa 2,000 metre reverse circulation (RC) drilling campaign at the Rover Project in the Western Australian goldfields.
The company was able to transition to drilling within nine months of commencing exploration activities. This is an achievement in itself, with shareholders showing their appreciation through a share price re-rate of 25% on Wednesday morning.
Management has worked hard to deliver this much-anticipated campaign which is expected to deliver strong results.
There are several more priority targets along strike towards Creasy 3 that will form the basis of future drilling programs.
Currently, the priority areas for drilling are along the 20 kilometre gold strike which is part of the Maynard Hills greenstone belt, on the eastern boundary.
Drilling will target historic economic gold intercepts at Creasy 1, as well as examining new gold/VMS targets around Creasy 2, which are further south-west along the 20 kilometre known gold strike.
These targets have been identified through the analysis of aeromagnetic data.
The proposed drilling area can be seen on the following map, which also shows prominent projects in relatively close proximity to the Rover strike.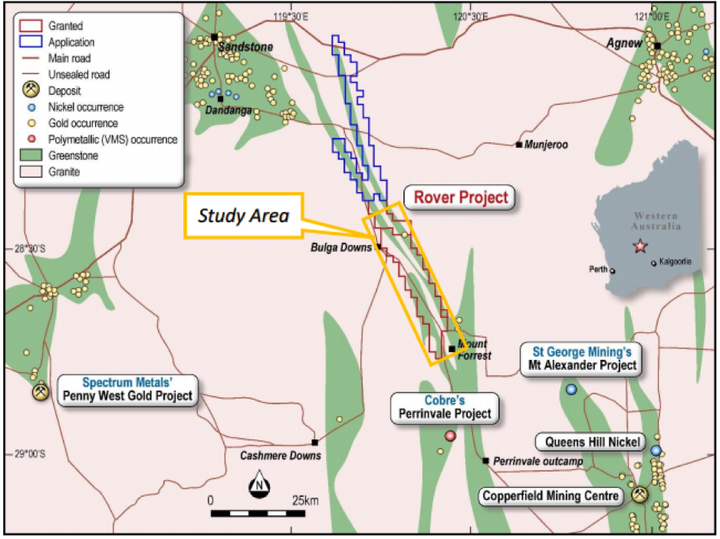 Shallow economic gold intercepts already delineated
The Creasy 1 target comprises gold mineralisation located along the Illara shear zone where it dips steeply west, parallel to the sheared contact between the rock sequences.
Shallow historic RC and RAB drilling outlined anomalous gold mineralisation over a strike extent of about 1.2 kilometres. Importantly, this is open down dip and along strike to the north and south.
There are historic shallow economic intercepts in RC drill-holes up to 3 metres at 1.9 g/t gold from 53 metres.
Geological work conducted by TSC has materially extended gold anomalism in soils south-west of Creasy 1.
More importantly, rock-chips up to 1.2 g/t gold (RVR074) were found in banded iron formation (BIF) 800 metres south and 1.7 g/t gold (RVR013) 500 metres to the north of the nearest drill-holes as shown below.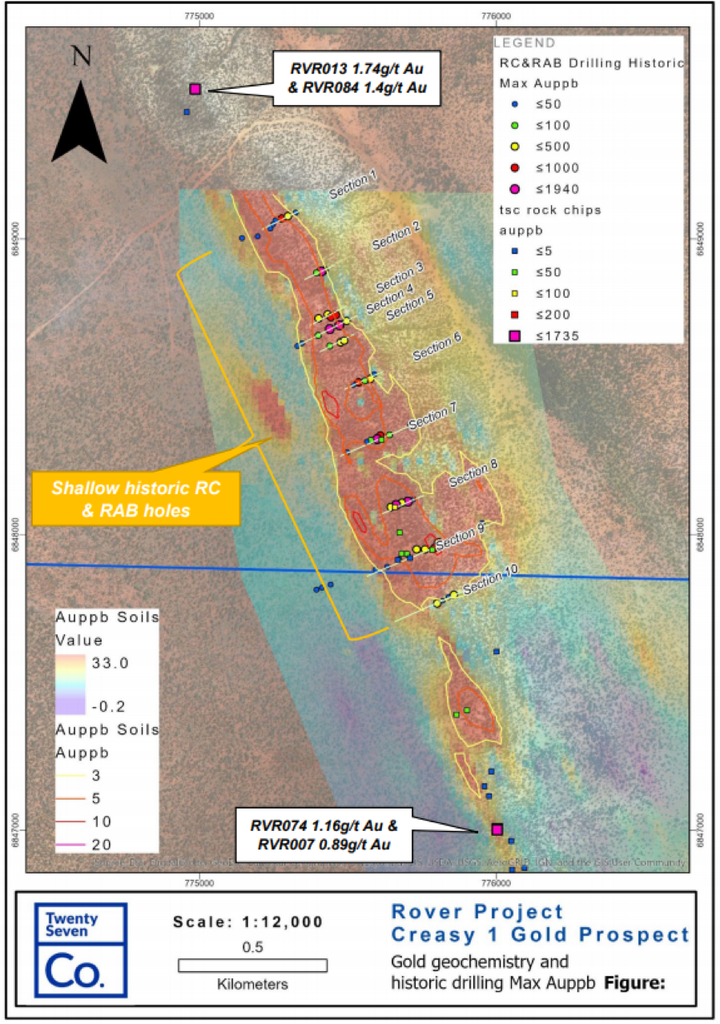 TSC's initial drilling plans are to confirm the presence of gold mineralisation at Creasy 1, then progressively test the potential down dip and along strike.
Its priority is to search for areas that illustrate continuity of high-grade mineralisation.
One of the key priorities at Creasy 2 will be to follow-up on promising assay results that confirmed a 200 metre long zinc-lead anomaly in soils and rock-chips within a broader copper and gold soil anomaly.
As coincident zinc-copper-gold mineralisation is typically common in VMS systems, drilling will test for mineralisation underneath this system.
Drilling should be complete within three weeks, providing shareholders with an early insight into what may lie ahead as assay results come to hand.
Creasy-1 has form
The Creasy 1 gold prospect is the Rover Project's most advanced target and is backed by historic shallow economic intercepts in RC drill-holes that have previously returned results up to 3m @ 1.94 g/t Au from 53m (MHC038).
Importantly rockchips up to 1.16g/t Au (RVR074) were discovered in BIF800m south of the nearest drill-hole.
Anomalous gold (>100ppb) was intersected on all 10 sections, with six holes having intersected significant mineralisation (>1g/t Au) at shallow depths, including:
[email protected] 1.37g/t Au from 18m (MHC053) Section 7,
3m @ 1.94 g/t Au from 53m (MHC038) Section 4,
3m @ 1.41 g/t Au from 51m (MHC061) Section 2,
3m @ 1.45g/t Au from 3m (MHR016) Section 4,
3m @ 1.27 g/t Au from 18m (MHC048) Section 8, and
3m @ 1.26 g/t Au from surface (MHC050) Section 8
These results gave TSC the confidence to move forward and fast track its drilling program, and given the recent successes of its neighbours in the region, the company believes it is onto something.
Neighbouring success
Earlier this year, Cobre made a serious discovery at its Perrinvale Project just 20 kilometres south of Rover.
Cobre and Perrinvale partner Toucan undertook a preliminary ground electromagnetic (EM) survey of the tenements in March, followed by a maiden 1,000m RC drilling program in June 2019.
The maiden drilling program intersected very high-grade VMS base metal and gold mineralisation at shallow depth with highlights including 5m @ 9.8% Cu, 3.2g/t Au, 34g/t Ag, 3.1% Zn.

"I am pleased to announce that Cobre has discovered a VMS deposit within its Perrinvale Project area in the Panhandle Greenstone Belt of Western Australia," said Executive Director Martin Holland.
"Discovering a high-grade VMS system enriched in copper, gold, silver and zinc from our maiden drill program is a credit to our technical and exploration teams. The mineralisation is open to the NNW and possibly down dip. More broadly, the potential exists for an extended VMS system across a large proportion of our tenements.
"High-grade VMS systems are very rare globally, with the last significant deposit in Australia discovered more than a decade ago by Sandfire Resources."
This is significant for TSC as it lies along strike from Cobre's project and it too believes it is siting on a VMS deposit.
The Sandfire connection is important here.
Sandfire's Greater Doolgunna Project tenement in WA now comprises 6,588 square kilometres. It has an annual exploration budget of A$20 million allocated to it continues to test for extensions to the known cluster of VMS deposits at DeGrussa and Monty to unlock the potential for additional VMS discoveries.
TSC is hoping that its future may hold something similar.
Also of note is the work being done by St George and Spectrum Minerals in the region.
As we have reported previously, Spectrum put the region on the map in a big way over the course of 2019 – delivering stellar returns for shareholders as it extended the mineralisation present on its ground. The company went from being a shell to a $150+ market cap in just nine months.
St. George has also had success in the region, announcing a new nickel copper discovery in Cathedral's Belt, confirming the potential for nickel sulphide mineralisation in the region.
All in all, there is a great deal happening and TSC is in the thick of it.
NSW is also of interest
Over on the East Coast, TSC's two IOCG projects in the Broken Hill Block –Midas and Perseus – are prospective for copper-cobalt mineralisation.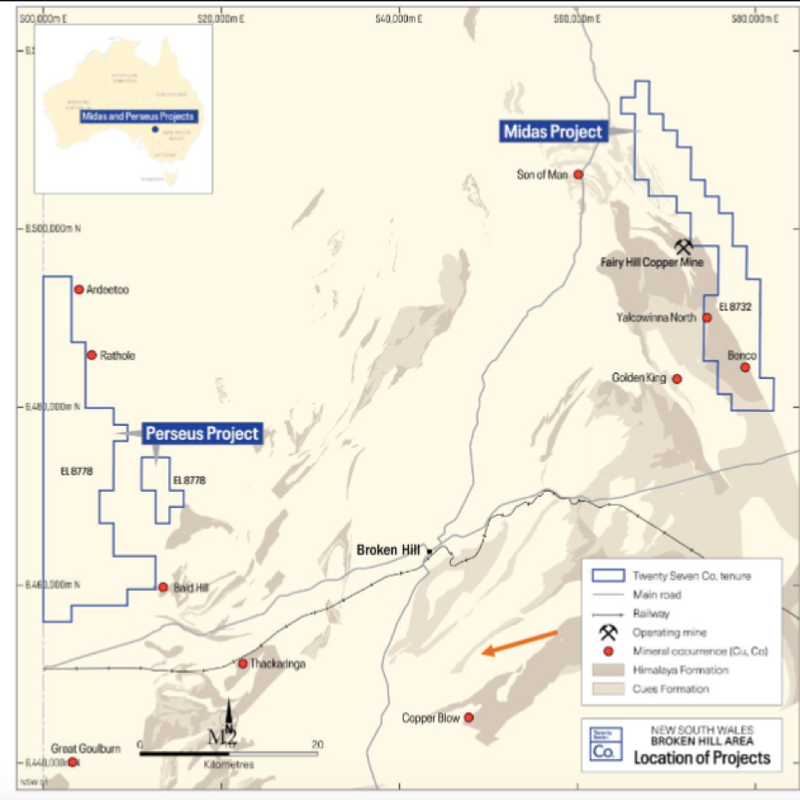 While Rover is the focus, Midas and Perseus shouldn't be discounted.
TSC's geology team has done significant work on both projects to identify targets and TSC is now seeking strategic partners to fund further development.
The geology team has defined several areas of strong copper-cobalt anomalism in soil and rock chip sampling at Midas, which is ~40km to the east of Broken Hill.
Of particular note is the Benco prospect, which has been prioritised for immediate drill testing with drill-ready targets already identified.
Meanwhile, there are six high priority aeromagnetic anomalies on a redox boundary in favourable structural targets between prospective Thackaringa Group and Broken Hill Group rocks at Perseus, just ~30km west of Broken Hill.
TSC is now weighing up its options on how best to progress the Midas project and drill-test the highly prospective geochemical and robust shallow IP targets over an extensive NE trending corridor more than 1.6km long.
Discussions are ongoing for potential joint venture partners.
The final word
For the most part, gold has been the it-metal of 2019. It has had its fluctuations, but remains strong.
As of writing gold is currently trading at US$1,471/oz.
Certainly, analysts are still bullish:
In October, Trevor Hoey wrote for Finfeed that you should go for gold, but go for value.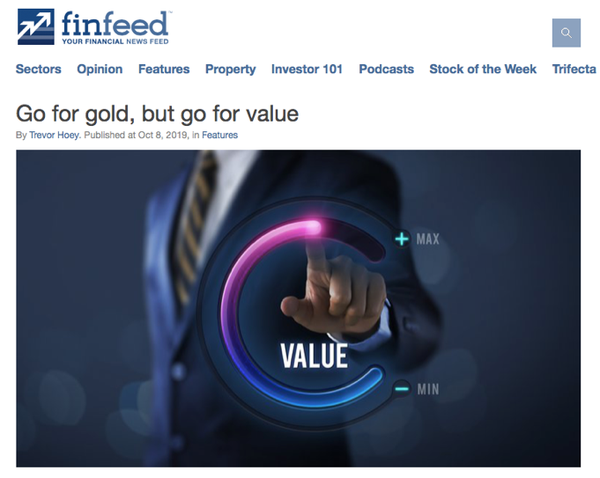 TSC certainly fits this category.
It is exploring for rare VMS deposits in a region that is prolific for gold discoveries and is experiencing a renaissance.
The company has just begun its drilling campaign and is expecting favourable results in the coming weeks.
Should it deliver on its promise, this $6 million capped company could follow in the footsteps of its more seasoned neighbours.
---