Zinc Drilling Fast Tracked: CXO Identifies 10m Wide Gossan
PUBLISHED: 09-06-2015 10:18 a.m.
Core Exploration Ltd (ASX:CXO) has been at it hammer and tongs.
The company has accelerated dual exploration programmes at its 100% owned base metals projects in South Australia and the Northern Territory – all geared at identifying the strongest possible drilling targets.
Two big news items have just dropped from this double whammy of exploration effort:
CXO has found more high-grade zinc and a new 10m wide gossan at its Yerelina Zinc Project in South Australia, with at least 5 individual structures interpreted to be up to 1.5km long.
CXO has identified 14 potential drilling targets, within a 15km strike length at its Jervois Domain copper project in the Northern Territory.
Both projects are set to have drill bits turning on them in the second half of 2015
At Yerelina, CXO is expecting lab results any day that will set up a high-impact drilling programme – with half the bill paid for by South Australia's government...
The 10m wide gossan (an exposed part of mineralisation) recently discovered by CXO is part of a 2km long mineralised shear zone, with evidence of zinc, lead and silver.
There are numerous historical workings on CXO's ground – but it's never been drill tested before.
Via modern exploration techniques, CXO have picked up hundreds of thousands of metres of repetitious gossanous vein sets over a broad 8km x 2km area.
Further zinc sampling results are due in the coming weeks from Yerelina, and coupled with imminent drilling, we wonder if this is the start of a much bigger find by CXO?
Meanwhile, over at Jervois, CXO is planning a series of shallow vertical holes over the prospective target zones it's just worked up – right next door to KGL's Jervois Project, which holds 280,000 tonnes copper and 18 million ounces of silver, according to current resource modelling.
Does the mineralisation KGL found extend into CXO's ground?
Due to the magnitude of the potential and drilling required at Jervois, CXO is looking to bring on board a JV partner to assisting in funding this drill campaign.
CXO has done the hard yards to get to this point and its plans are coming together – so let's get stuck in and see what this clever and methodical explorer has got for us...
Core Exploration Ltd (ASX:CXO) is an Australian base metals explorer with a market cap of around $4M.
This is exactly the sort of company we look for at The Next Small Cap – undervalued with significant growth potential. Any discovery hole could have a decent impact on CXO's value, and it could happen quickly...
CXO is focused on developing two large base metals projects, the Yerelina Zinc Project and the Albarta Project in the Northern Territory.
Up to 14.7% zinc, 11.7% lead, and 567 g/t silver were previously identified in separate rock chips. To date 118 rock chip samples have been collected in the area, with consistent grades and mineralisation throughout.
With various historical workings on CXO's 100% owned ground, and imminent drilling where it's never been done before, the stage is set for a potential discovery in the coming weeks.
Long term CXO investors should also be familiar with the Albarta Project in the Northern Territory: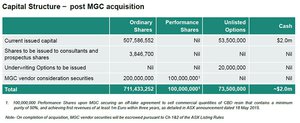 Inkheart and Blueys had been the focus of drilling that was completed in 2014 by CXO and turned up high-grade assays of zinc, lead and silver – but right now the focus is on the Jervois Domain, to the north east.
CXO's prospect lays just 500m from KGL Resources' hit of 13m at 5.75% copper at Bellbird, and is nearby Rox Resources 38m @ 4.4% copper: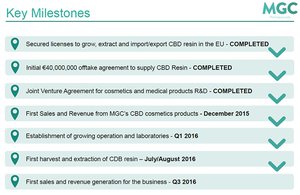 KGL has gone on to prove up the resource around this drill hit further, and it is currently modelling a 280kt copper and 18M oz. silver resource in a Pre-Feasibility Study here.
So what can CXO find in the immediate vicinity?
We've been following developments at CXO very closely indeed, both for Blueheart & Inkys and Jervois Domain. You can run through the details via our previous articles:
Our focus right now is CXO's imminent drilling for zinc at Yerelina, and the high potential drilling targets CXO has worked up at Jervois Domain.
In this article we'll run you through all the latest developments at both of CXO's 100% owned projects.
So, without further ado...
Has CXO found the tip of a "base metals" iceberg?
The EL 5015 Yerelina tenement is one of CXO's newest project areas – but also one of its most prospective, right between South Australia's big uranium regions of the Gawler Craton and the Curnamona Province: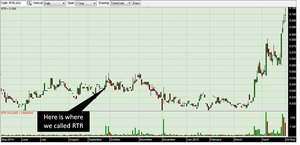 This is highly prospective ground, and CXO wasted no time advancing its exploration there to define zones with high potential for mineralisation.
Through airborne surveys and analysis of historical workings, CXO identified up to 14.7% zinc, 11.7% lead and 567g/t silver in separate rock chips – mostly from the historic Tapley Hill Formation.

These rock chips were collected from mineralised breccia (mineralised rocks that jut from the ground) and surface gossans (widespread and weathered rocks, usually the upper and exposed part of an ore deposit) hosted along fault zones up to 1.5km in length.
In geology terms, breccias and gossans are usually evidence of large deposits below – they're kind of like the tip of an iceberg where the true mass of the object is below the waterline, out of sight.
CXO has identified up to five structures with high-grade mineralisation below this layer of gossan and breccia at Yerelina: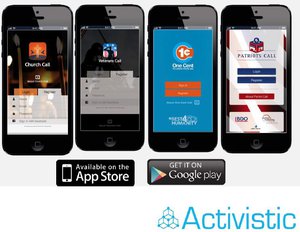 CXO's goal is now to hit drill targets within these areas – both in the historically mined zones and beyond.
A total of six angled diamond core holes, for a total of 1,000m is planned, targeting under the known outcropping mineralisation, so CXO can better understand the potential here.
The priority exploration areas for CXO right now are Great Gladstone and Big Hill , which you can see on the left and right sides respectively in the magnetic picture above.
CXO is collecting gossan and breccia material in a focussed exploration programme underway right now across both sites using surface mapping and trenching techniques.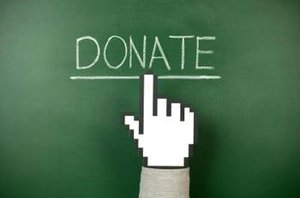 And it's working – CXO identified a 10m wide section of gossan at Big Hill that's high in lead, zinc and silver.
This 10m wide sub-cropping gossan is thought to be the surface expression of the Big Hill mineralised shear zone, which has highly anomalous zinc, lead and silver over at least 2km.
And just 5km to the east at Great Gladstone, CXO has identified high-grade zinc, lead and silver mineralisation across a 1km long section of fault zone.
To illustrate the potential CXO has found; of the 38 samples taken at Great Gladstone, 34 of them returned combined lead and zinc assays in excess of 10,000ppm and over 1 g/t silver with the best assay at 14.7% zinc.
This exploration work is continuing with CXO looking to find extensions to the surface mineralisation it's already identified, plus any new mineralisation it can detect.
Finely ground rock material from the sampling programme is being sent for laboratory analysis and we expect to have results within a few weeks.
Once that's done, we should have some drilling targets – and CXO is all set to start the drill bits turning...
CXO gets paid to drill
As indicated earlier, CXO is planning to conduct a diamond drilling exploration campaign at Yerelina as soon as it has viable targets worked up from its current sampling programme.
When that happens, the company will be able to get work started almost straight away.
Here's why: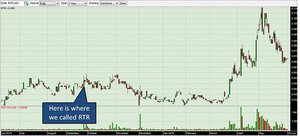 CXO has just been awarded $75,000 in co-funding from South Australia's government through its PACE Discovery Drilling programme – which seeks to accelerate the most promising mining projects in the state.
CXO entered its Yerelina drilling for consideration, demonstrating the rock solid work it has done so far to work up compelling exploration areas and viable drilling target potential.
Now that the money is in the bag, CXO will accelerate those six angled diamond cores for a total of 1000m – shallow drilling into highly prospective ground.
This drilling is expected to take place within the second half of 2015.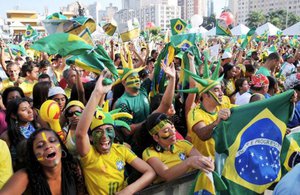 These six holes will be drilled across the outcroppings at the Yerelina project area, with the specific sites to be defined through analysis of the sampling being done right now.
This is great news for CXO – $75,000 will go a long way towards paying for the drilling of what could be the defining holes for its Yerelina project.
Our Track Record
Regular readers of our sites will be familiar with our long-standing interest in high potential stocks.
To note just a few:
The past performance of these products are not and should not be taken as an indication of future performance. Caution should be exercised in assessing past performance. These products, like all other financial products, are subject to market forces and unpredictable events that may adversely affect future performance.
14 potential drilling targets for CXO's Jervois play
CXO's 100% owned Jervois Domain project in the Northern Territory is just 500m from land owned by KGL Resources Ltd.
KGL worked up the regionally significant Bellbird copper resource and rode an almost 250% surge of market interest on the back of a big discovery hole last year:

The past performance of this product is not and should not be taken as an indication of future performance. Caution should be exercised in assessing past performance. This product, like all other financial products, is subject to market forces and unpredictable events that may adversely affect future performance.
CXO tenements are marked in red in the map below – here you can see just how close the CXO prospective zone is to the KGL tenements:

Back in October 2014, CXO began an Airborne Electromagnetic Survey , or AEM, to define conductive drill targets for copper at Jervois Domain, focusing on a 20km long prospective zone with similar features to the one identified and confirmed by KGL right next door.
KGL's intersection of 13m @ 5.75% Cu at Bellbird was drilled only 500m from the boundary of CXO's tenure – so the question is, does the mineralisation cross over to CXO's land?
The raw imagery from the AEM survey said so – it reinforced CXO's geological model in the Jervois Domain, and initial processing suggested target depths of between 100m and 300m – this makes for shallow and relatively cheap drilling.
Now, the final processing and interpretation is in – and CXO appears to have highly prospective drilling targets on tap: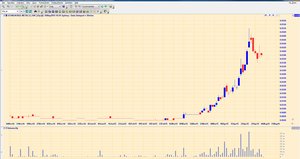 All in all, 14 key drill targets have been identified by CXO
The dots were joined by CXO's project research partner CSIRO – Australia's peak science body – which turned the chargeability anomalies mapped by geophysical surveys into modelled targets.
CXO's analysis of the geophysical surveys has confirmed multiple magnetic, conductive and chargeable features at large prospect scale within the Big-J target zone adjacent to KGL's Jervois Project: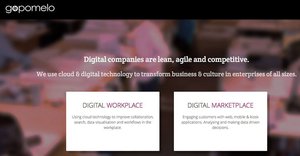 A new 10km long strati form chargeable zone has also been identified and modelled at the interpreted boundary of Bonya Metamorphics and a large mafic sill.
The targets worked up fit well with the Sedex/VHMS model (the usual types of copper resource formations) proposed for the mineralisation at Jervois, so CXO is advancing into familiar ground.
And now, CXO can set about planning a high impact drilling campaign and, fingers crossed, potentially make some big discoveries...
JV partner for drilling at Jervois?
The first drilling program at CXO's Jervois Domain play will be a series of shallow vertical holes over prospective target zones.
This will be followed by deeper reverse circulation drilling on specific high priority geophysical targets.
Much of the target geology is buried under a shallow cover of sand and soil and the shallow drill traverses will allow CXO to test the large-scale prospectivity of the 15km strike length of the Big-J feature.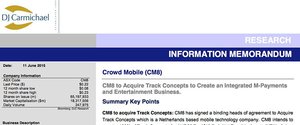 This is a very large step forward for CXO – it's been doing the hard yards, going step by step to work up comprehensive, compelling drill targets at the Jervois Domain – and now it's set to begin drilling them, once a funding partner can be confirmed...
What's next for CXO
There are catalysts coming in all over for CXO – and they all point to drilling in the second half of 2015.
At Jervois Domain, CXO is working on a drilling programme for the 14 potential targets it's just worked up over its Big-J mineralisation zone, all next door to KGL's Bellbird copper resource.
Due to the large funding required for this, we'll be looking for details on a possible farm-out for this work.
And at Yerelina, those high-grade zinc results and a new 10m wide gossan are sparking our interest, and the company is waiting on final lab results to determine the highest potential shallow targets for drilling.
As long-term investors in CXO at The Next Small Cap we see these developments as a significant step toward discovery on two fronts.
CXO is now poised to accelerate its exploration and hunt down some big base metal resources. It's done the searching and found the targets – now it's approaching the time to pull the trigger...
---