Will MRD's Current Drilling Unveil another Fraser Range Nickel Discovery?
PUBLISHED: 03-05-2017 10:19 a.m.
Good things come to those who wait — a famous adage sometimes employed in mining circles when a stock is anticipating a big strike on a key prospect.
The same adage could easily be applied to Mount Ridley Mines (ASX:MRD) — a timely explorer targeting nickel-copper sulphide deposits in the Albany Fraser Range Province of Western Australia — that's had to wait for the skies to clear...
MRD's flagship project is its 100%-owned, 1,000 square kilometre, Mt Ridley Project.
The project has five prospects —Tyrrells, Keith's, The Lake, Marcellus and Winston — where it is hoping to uncover significant sulphide nickel/copper deposits.
When we last updated you on MRD in mid-October last year, the company was exploring for massive sulphide deposits in the Albany Fraser Range and had just confirmed the presence of a small but strong off-hole electromagnetic conductor down MRDD016.
The usually busy summer season actually brought unseasonably wet weather and slowed progress, but amongst this, MRD has identified several localised bedrock EM anomalies at Tyrrells.
And now, in welcome news to investors, the company has begun its Reverse Circulation (RC) and diamond drilling program at two highly prospective targets within the Tyrrells prospect area.
This detailed target drill program has been very much anticipated and it looks like MRD could be in line for a re-rate if it has a successful campaign, given its current market cap is just $12M.
MRD is operating in a highly prospective region of Western Australia and work to date has been very encouraging, so the spinning drill-bit is really expected to push things forward from now as the company looks to shore up its long term success.
However, there are of course many exploration challenges ahead, and success is never a guarantee in minerals exploration. Investors should seek professional financial advice if considering this stock for their portfolio.
MRD is in the right area for nickel exploration, given its proximity to the $1.9 billion capped Independence Groups' (ASX: IGO) nearby world class Nova Nickel-Copper Mine.
The Fraser Range is the centre of one of the biggest junior resources stories in recent years as evidenced with the Sirius discovery of the Nova deposit, and MRD has every intentions to make a commercial discovery of its own.
So now drilling has commenced and with results only weeks away, it's time to catch up with...

Mount Ridley Mines Limited
ASX:MRD
Mount Ridley Mines Limited (ASX:MRD) is continuing its focus on exploring the highly prospective Fraser Range in WA, where it is actively targeting nickel-copper sulphide deposits.
MRD lays claim to over more than 1,000 square kilometres of exploration ground at its 100% owned Mt Ridley Project, which is only 70 kilometres from a major port and 40 kilometres from a gas pipe line.
The Mt Ridley project has the potential to host world class mineral deposits in base and precious metals including copper, nickel, cobalt, lead, zinc, silver and gold.
Progress was delayed earlier this year for MRD, when the region encountered unseasonably wet weather for a WA summer... when it comes to resources exploration, it doesn't help if the tide is in.
But the company remained upbeat and productive, crunching its past figures while waiting for the rains to clear .
It's hard to survey or drill in conditions like this...

A few months later and the floods have cleared, leaving MRD to get back to grass root exploration and target generation.
MRD's operational space is in the Albany Fraser Range Zone which is a 425 kilometre long and approximately 50 kilometre wide geologically distinct belt.
MRD operates in the central portion of this well-endowed belt, as mentioned previously, only 70 kilometres from a major shipping export port facility.
This region is home to one of Australia's bulkiest sources of commodity wealth and MRD has tenements over a huge 1,000 square kilometre chunk of land — outlined in red below: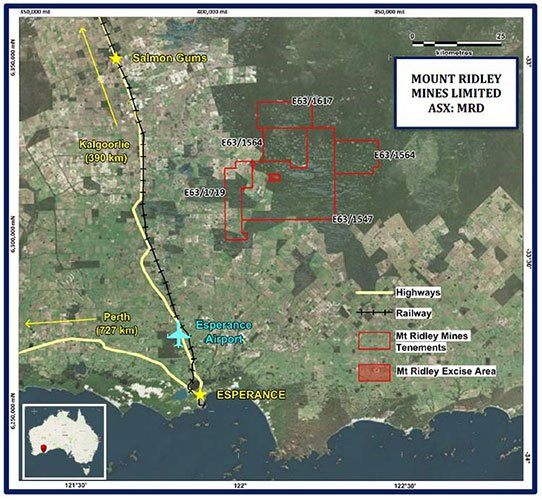 Not only that, but its project is nearby Independence Group's (ASX:IGO) Nova deposit , with its industry-impressive 4.3Mt 2.3% nickel , 0.9% copper and 0.08% cobalt resource.
As mentioned, MRD has five targets that may reveal a bulky nickel/copper sulphide Resource — Tyrrells, Keith's, The Lake, Marcellus and Winston. Here they are, mapped out with regional gravity data overlaid: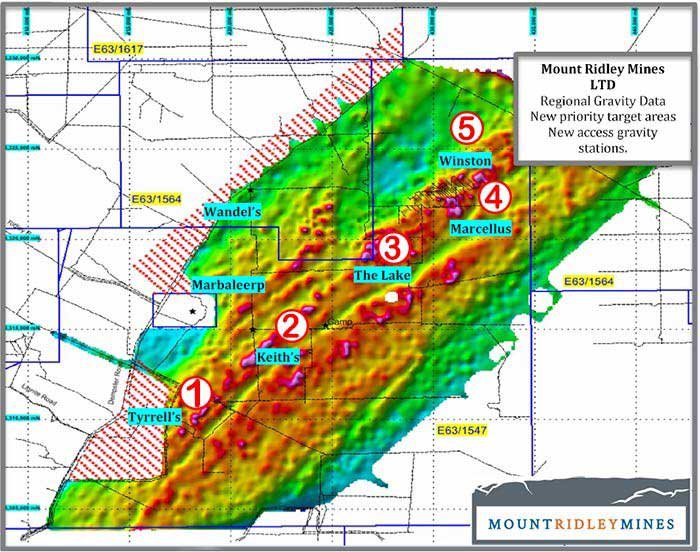 MRD has begun RC drilling after it identified two highly promising locations of bedrock conductors at the Tyrrells prospect at its Mt Ridley project.
MRD explained this in an Exploration update on May 2 . Drilling is underway on two very recently identified bed rock conductive plates and another anomaly has also just been identified at that prospect.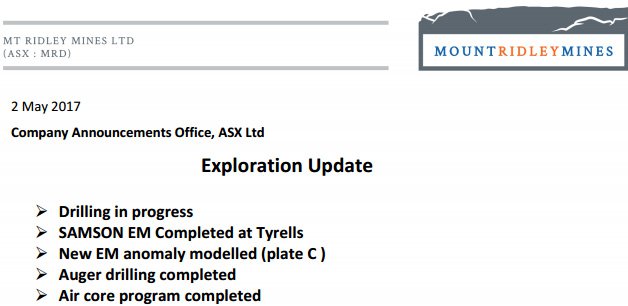 In an earlier announcement on April 26 , MRD had identified the first two targets ready for RC drilling. Here are those drill holes — MRDRC002 and MRDRC003 — with Perth's Central Park building included to get an idea of the scale of the depth.

Current drilling is to test these target conductive plate models A and B in the Tyrrells target area.
So far, hole MRDRC002 on Plate A has been drilled, with an RC pre collar to a depth of 186 metres. A HQ diamond tail will commence in the first week of May – i.e. any day now – to a planned depth of 450 metres. Plate B is currently having an RC pre-collar drilled.
The decision to drill came after MRD conducted multiple surface exploration activities and recently completed a High Powered Moving Loop Time Domain Electromagnetics (HP MLTEM) program using the SAMSON receiver.
So how did MRD come to this point?
MRD had identified several localised bedrock anomalies at Tyrrells prospect via HP MLTEM surveying technique. Anomalies on the most significant lines (8B/9B) were followed up to confirm the anomalism and model their characteristics/signature to prepare for drill testing.
A new area of complex conductivity anomaly was also identified on lines 0B/1B, approximately two kilometres to the south east of plates A and B on lines 8B/9B. This conductive anomaly area is coincident with a combined magnetic and gravity anomaly interpreted to represent a buried mafic-ultramafic intrusive complex.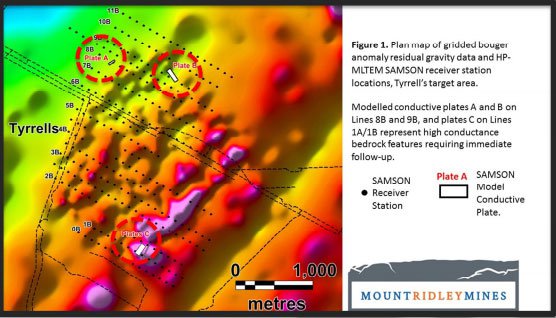 A new anomaly, modelled conductor Plate C has now been identified. It is complex in geometry and response and has a conductance of ~3000-6000S, strikes to the northeast and is steeply dipping to the northwest to sub-vertical, and is interpreted to lie at a depth exceeding 300 metres.
MRD plans to drill and test the conductive anomaly after completing the current RC/diamond drill program on Plates A and B.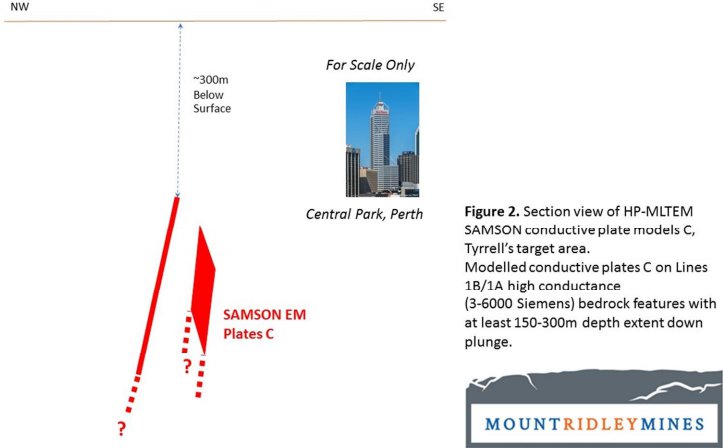 After identifying these bedrock conductors, MRD took steps to begin RC and Diamond drilling to test the modelled conductivity features. MRD was soon granted Heritage clearance and a diamond drill rig was booked in.
The conductivity properties of the modelled plate targets are very encouraging. That's due to the mafic/ultramafic magmatic geological setting interpreted from geophysical characteristics in magnetic and gravity data, nearby mafic intrusive surface outcrop, and previous regional drilling within the Tyrrells target area.
These MLTEM anomalies represented the first unambiguous bedrock conductivity features identified at Mt Ridley to date from surface geophysical surveys.
Here you can see the HP-MLTEM SAMSON plan map of Channel 24 receiver data and receiver station locations, Tyrrells target area.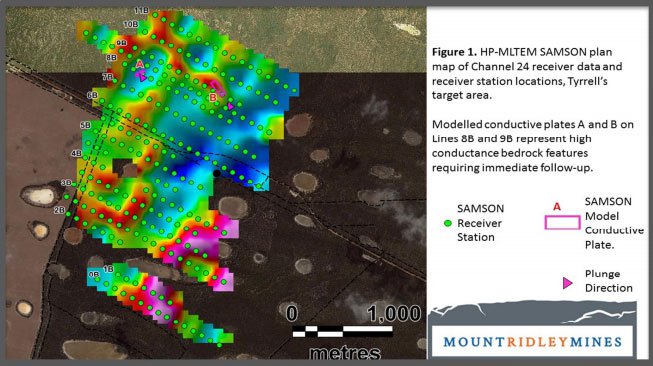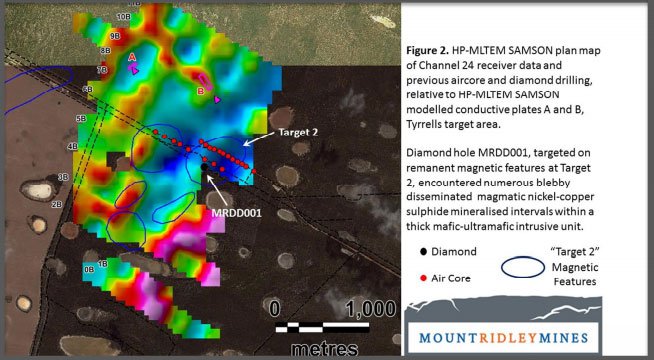 On top of that, historic diamond drilling at the prospect has encountered numerous zones of disseminated blebby magmatic nickel-copper sulphides with visible pentlandite and chalcopyrite in a thick package of magmatic mafic/ultramafic intrusive lithology.
It's still very early to be talking about a discovery, but going on the exploration data acquired so far, MRD is confident its latest drilling programme will deliver all the data it needs to hopefully prove up a bulky Resource.
However at the same time, a successful investment is no guarantee here. It depends on a number of factors, some of which are outside of the company's control – so always invest with caution.
The action isn't limited to Tyrrells prospect either — surface exploration activities are ongoing at other target areas within the project, including air core (AC) and auger drilling on selected gravity/magnetic features.
The AC drilling program has been completed at Keith's (99 holes for 2,287m), Marcellus (30 holes for 1,110m) and Winston's (55 holes for 1,701m) prospect areas. You can see these on the map below: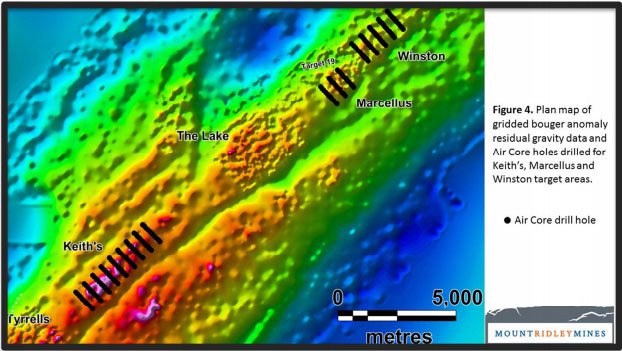 Samples from Keith's and Marcellus are currently in the laboratory being assayed and Winston's samples are currently being prepared for transport to the laboratory. As soon as the results are available, data will be processed and modelled by the geological consulting team at CSA Global.
On top of that, three gravity/magnetic anomaly areas have been selected for reconnaissance AC core drill testing. This is a gridded residual bouger anomaly map showing the additional reconnaissance AC traverses on combined magnetic and gravity targets: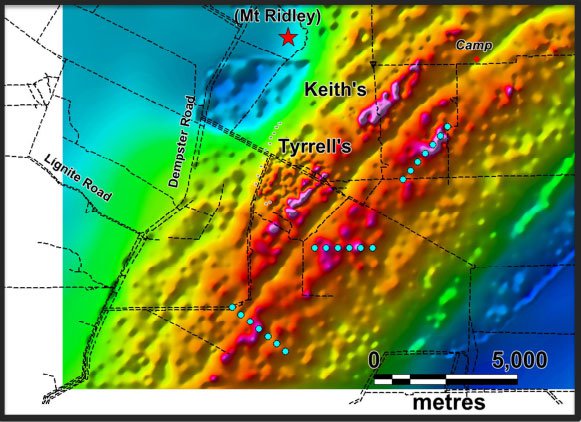 In the north-western section of MRD's tenement package, an auger sampling geochemistry program comprising 1,100 samples has recently been completed and samples are being assayed.
MRD was testing for 'Broken Hill-style' lead, zinc and silver mineralisation, which was the type of geology that brought BHP to the area in the 1990s.
Now, with the help of CSA Global, MRD is targeting a number of favourable geological settings that have little to no recorded exploration activities. Samples are also being tested for gold specifically with a new in-field gold detecting technology being trialled in a collaboration with the CSRIO.
If MRD's game plan works out as planned, the company could grow very quickly in a short space of time, from its humble $12M market cap.
For example, the Western Areas' (ASX: WSA) is a $580 million-capped nickel producer, which has projects not far from Mt Ridley:

If our little $12 million-capped nickel explorer operating in the Albany Fraser Range, fulfils its aspirations by drilling up a major nickel breakthrough — we would be hoping for a sharp revaluation.
Of course, at the same time, this is still a speculative stock, so there is no guarantee of success here. Invest with caution and seek professional financial advice before making an investment.
MRD holds a significant parcel of around 1,000 square kilometres of exploration territory and is exploring in the same region where Sirius Resources (now known as Independence Group) made its now-famous $1.8 billion nickel find.
Sirius' 40m x 40m anomaly that put the company in the history books, was a huge mining story back in 2012, and it went on to grow and grow: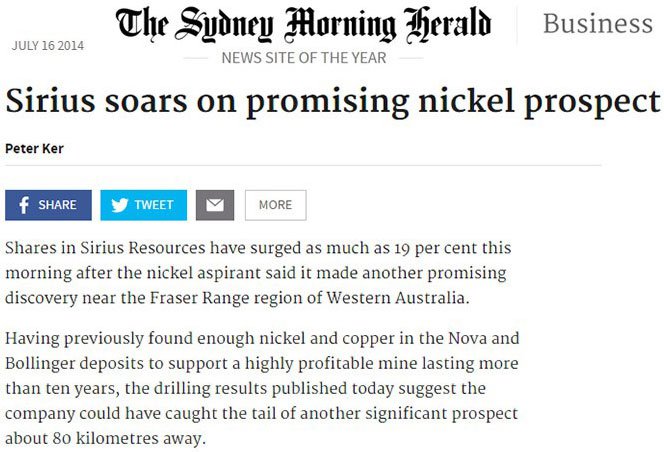 In 2016 Sirius was taken over by Independence Group (ASX:IGO) in a $1.4 Billion Take Over Deal...

IGO's share price rose throughout 2016 — from a low just above $2 per share in early-2016 — to a high of almost $4.90 late last year. It's pulled back some since then, but $3.15, it's still been a winner for investors.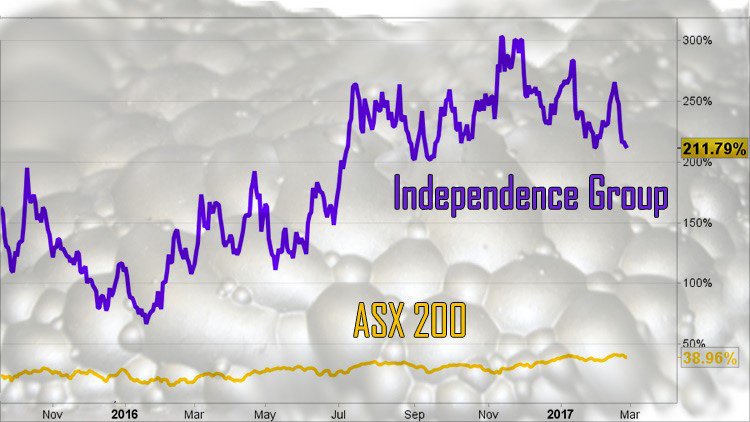 The past performance of this product is not and should not be taken as an indication of future performance. Caution should be exercised in assessing past performance. This product, like all other financial products, is subject to market forces and unpredictable events that may adversely affect future performance .
The potential rewards from choosing to invest in metals and metals explorers, such as MRD and IGO isn't likely to be over just yet, as the global resurgence in metal prices continues — backed by strengthening demand.
IGO is now a marlin-sized minerals miner worth more than $1.85 billion — on the back of a solid recovery in base metals demand.
There's reason to believe that MRD can ride this uptrend, so long as it strikes well in WA — fingers crossed.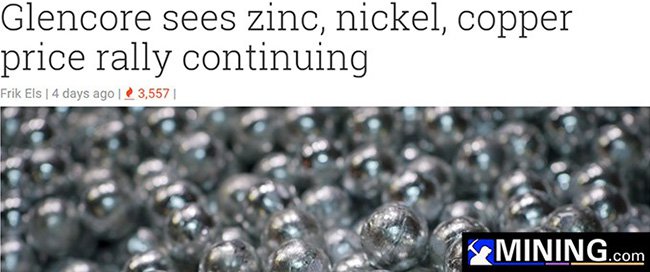 As reported by Mining.com , commodities trader, Glencore, is ultra-bullish on metals citing rising global nickel demand.
That's good news for MRD as it chases down commercial quantities of nickel, which should be well supported by a supply-demand imbalance that could pay off for MRD...and its investors.
Here's how MRD can emulate the rapid progress of its larger peers
A sub-plot that could make MRD's nickel aspirations a reality, is its close relationship with one of the most highly respected metals labs in the world — CSA Global.
Take a look what CSA Global had to say about MRD: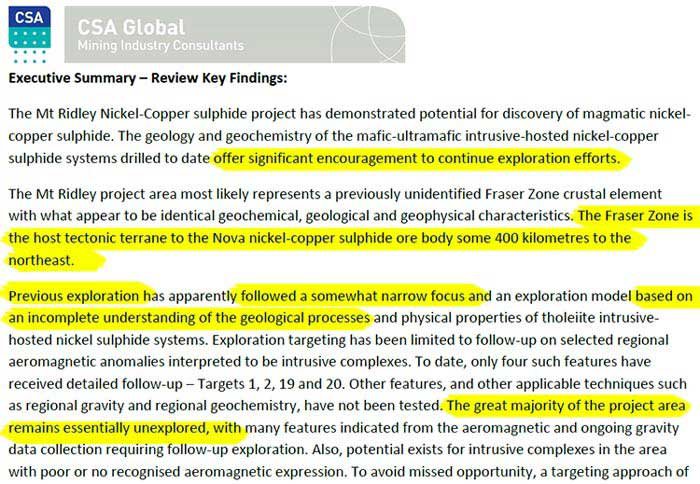 "Previous exploration was based on an incomplete understanding of the geological processes. ...The great majority of the project area remains essentially unexplored."
The good news is that CSA Global has a thorough understanding of the region and its underlying geology... that was willing guide MRD through its exploration.
CSA managed the completion of MRD's previous drill-hole — MRDD016 — under the supervision of its Global Nickel expert, Tony Donaghy.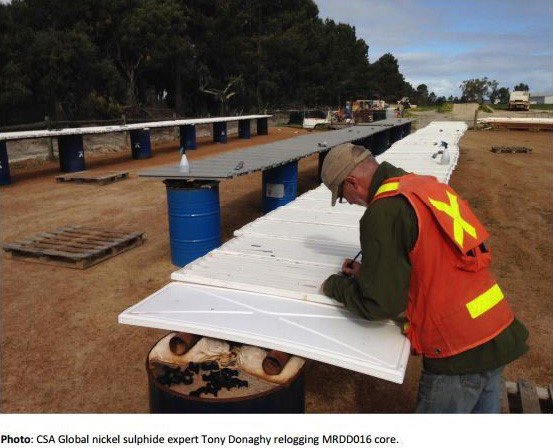 Early indications pointed to MRD's ground being perfectly positioned to strike a potent piece of nickel-sulphide, with commercial value to significantly improve the company's current valuation.
The final word
Now that the rains have cleared the drill-bit is now spinning, it's all systems go for MRD.
With drilling currently in progress, it will be an even busier quarter for MRD.
An HQ diamond tail should commence this week to a planned depth of 450 metres and we should see first results come in just weeks from now.
So with plenty of news flow received to date and even more ahead, it's time to keep an eye out for a well-oiled and run MRD as it aims to unveil the next massive sulphide ore body.
---