What's Really Below the Ground at VMC's Zinc Project?
PUBLISHED: 09-06-2017 09:27 a.m.
Venus Metals Corporation (ASX:VMC) is wasting no time bringing its extensive catalogue of projects through the licensing and drilling processes.
This $6.2 million microcap has an array of precious and base metals projects, with its full package (so far) spanning some of WA's most prospective real estate.
VMC has a strong tenement holding with exploration targets covering 524km 2 , in an area where explorers have largely been searching exclusively for gold.
But not this explorer.
VMC has set its sights on the Youanmi precious and base metals project in WA, which sits on the Youanmi Greenstone belt – home to several mineral deposits.
The company has four key prospects at its Youanmi project: Pincher Well Zinc-Copper, Currans Well Cobalt-Nickel-Copper-PGE, Youanmi Shear Gold and the Southern Cross Vanadium.
Pincher Well Zinc-Copper project has attracted the most attention thus far, with the Company just last week announcing highly promising results of recent phase 2 IP survey.
Results from this survey have identified further strong anomalies since we last caught up with VMC, including shallow up-dip extensions, at North Dome ~400m to the south of recently reported thick intersections of high grade Zinc in RC drilling... remaining open in that direction and entirely untested.
There is a substantial body of underexplored zinc mineralisation at North Dome and the target envelope now potentially covers a strike length of 1km and 250m in width.
VMC plans to drill these anomalies immediately in order to advance towards the definition of mineral resource.
At the same time, it's worth noting that this is an early stage play and investors should seek professional financial advice if considering this company for their portfolio.
There is also a longer game at play here and by the looks of it, it is a promising one.
VMC has hold of five lithium tenements, with its Greenbushes East tenement on the border of mining giant Talison's high-profile Greenbushes Lithium Tantalum Mine.
You may have heard of Greenbushes: it's the world's biggest lithium mine and is only set to grow bigger as Talison recently greenlit a $320 million expansion that will more than double its capacity once complete in 2019.
Straddling the Talison border,

VMC has the Greenbushes East Lithium Project. VMC's other potential lithium projects includes Pilgangoora East, Wodgina South, Poona and Nardoo Well. As well as a lithium pilot plant research venture with Murdoch University.
Given its location and headlines such as this...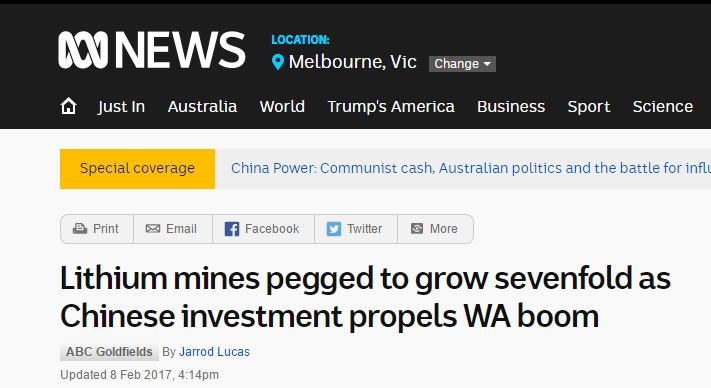 ... you'd hazard a guess that VMC may well be in the right place at the right time.
The final piece of the VMC puzzle is indeed a 'good ol' gold play'.
The Bell Chambers' Sandstone gold-copper project hosts a JORC Resource, also in WA, giving VMC another feather in its multi-commodity project cap and something for investors to consider.
VMC don't look like they'll be slowing down any time soon, so, let's get a handle on the latest with: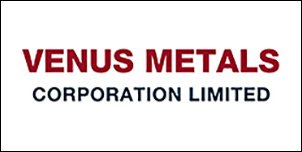 Venus Metals Corporation Limited
There has been significant newsflow for VMC since we last covered the stock in April in the article ASX Micro Cap Now Drilling for Zinc and Gold with Cobalt to Follow .
Before we dive into what's come through VMC's pipeline recently, it's worth a brief look at the macro situation VMC is hoping to build value on – most notably zinc and copper at its Pincher Well zinc-copper prospect within its Youanmi Project.
In the last 12 months, the price of zinc has gone up dramatically (the below is shown as USD per pound):
The past performance of this product is not and should not be taken as an indication of future performance. Caution should be exercised in assessing past performance. This product, like all other financial products, is subject to market forces and unpredictable events that may adversely affect future performance.
... With copper not far behind: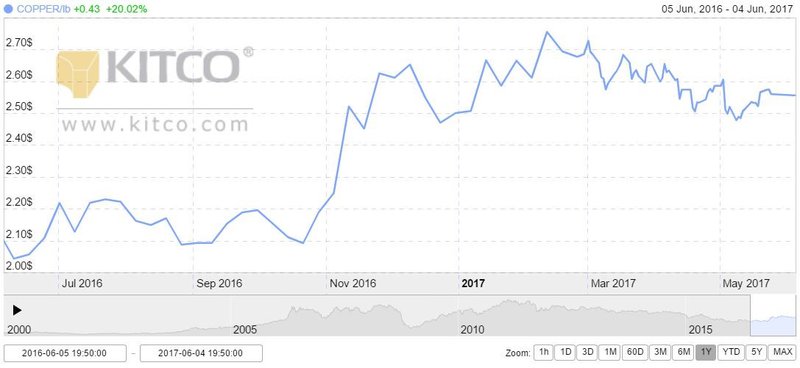 The past performance of this product is not and should not be taken as an indication of future performance. Caution should be exercised in assessing past performance. This product, like all other financial products, is subject to market forces and unpredictable events that may adversely affect future performance.
Over the last ~5 years, zinc has performed the best of all metals with a total price increase of ~32%. That's impressive considering there's been a fair bit of unpredictability in the base metals space in recent years.
At its loftiest, zinc reached US$1.35 per pound in early 2017 and has remained a metals frontrunner.
The recent price of zinc makes VMC's recent news about the Pincher Well Zinc-Copper prospect that bit more market-friendly...
Second phase IP drilling defines more anomalies
Last week VMC announced further results from its Pincher Well prospect, specifically the second phase of IP (that's Induced Polarisation) surveying. The results show further strong anomalies, including shallow 'up-dip' southern extensions of the North Dome high-grade zinc mineralisation...
In essence, this extends the anomaly 400m to the south of previous exploratory work – and it remains open to the south entirely untested.
The company has now commenced ground magnetic surveying of the area to refine the targets for drilling the new discoveries.
The IP survey has in all in all been very successful for the company, and has provided ample confidence for it to lodge a Program of Work application with the WA Department of Mines and Petroleum to expedite the whole program... which will be ongoing as the current magnetic surveying is carried out.
VMC's main goal, which it hopes it will shortly be within arm's length, is to define a JORC Resource at Pincher Well.
Highlights of the results so far include:
VPW40;
10m @ 7.31% Zinc from 52 m
6m @ 9.5% Zinc from 55 m
1m @ 15% Zinc from 56 m
VPW60;
VPW62;
10m @ 5.1% Zinc from 68 m
7m @ 4.2% Zinc from 87 m
You can see the location of the holes in the map below: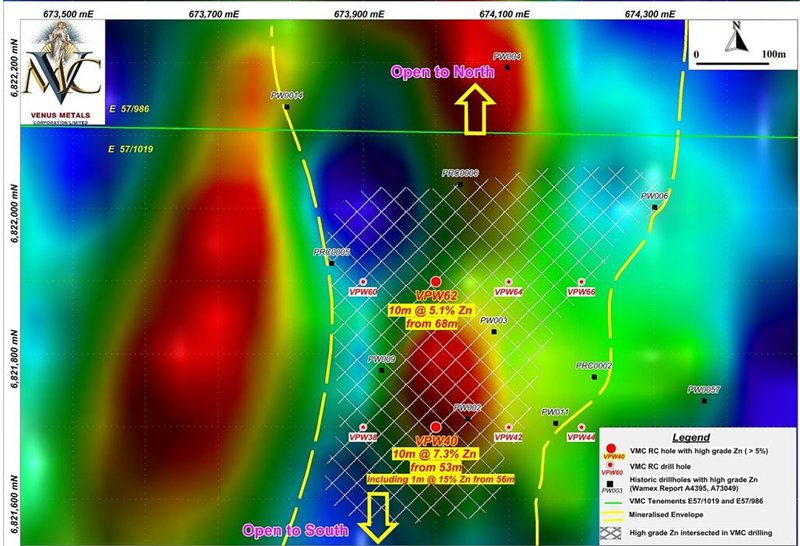 The quicker VMC can delineate the high-grade zones of zinc mineralisation along the new, highly prospective southern extensions at Pincher Well, the better... and the company certainly seem to be on the case.
It turns out we weren't the only ones to pick up on some market-moving news from VMC, with this coverage from news.com.au at the end of April:
The uplift came on the back of the company's announcement that it had identified thick high-grade zinc mineralisation at shallow depths at Pincher Well.
Unfortunately the company's share price has retreated a fair bit, but it goes to show how quickly this company's share price can move on positive exploration results.
Of course, share trading patterns should not be used as the basis for an investment as they may or may not be replicated. Those considering this stock should seek independent financial advice.
The below diagram of Pincher Well shows the proximity of the identified VMS trend to the North Dome main target zone and new extension to the south: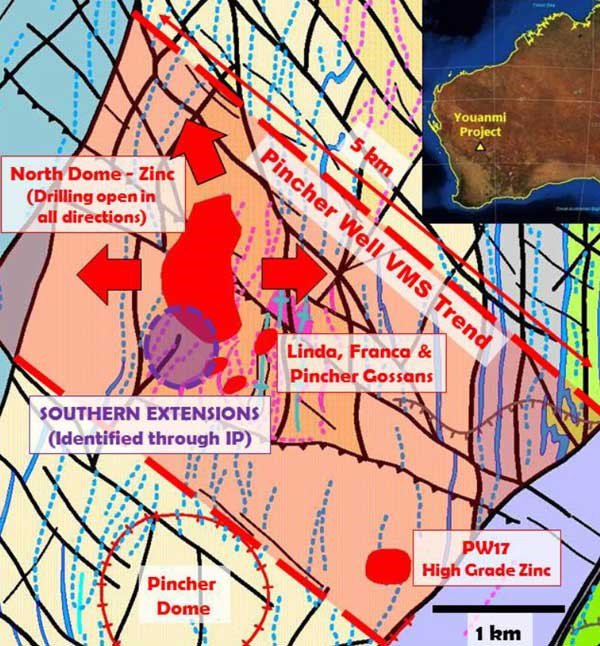 Interpreted Pincher Well geology with prospects, mineralisation defined by drilling (red) and partially tested IP target (purple)
The Pincher Dome VMS trend covers over 5km of strike and hosts a number of known zinc and copper prospects, including the Linda and Franca Gossans and a substantial body of zinc mineralisation at North Dome...
The most recent IP drilling has proven to be a powerful gauge of the potential to be exploited at Pincher Well.
Next stop? Drilling at Pincher Well.
Let's not forget all of this is happening some 15 kilometres south-west of the existing Youanmi gold mine and processing plant.
With a plethora or historical and ongoing mining operations in the region, including at Windimurra and Sandstone, the region is well-serviced in terms of infrastructure – a major boon for VMC's project if it can identify a commercial discovery that can be mined.
As we said earlier, mineralisation remains open along strike and at depth at Pincher Well ... so it could still grow considerably
No doubt management will continue to progress exploration on the back of such successful excursions so far – with the aim of delineating the high-grade zinc zones and eventually collecting enough promising data to build a JORC Resource Estimate.
Progress made on MRIWA lithium Pilot Plant
While VMC has a varied collection of metals plays – and it's tough to chronicle the developments of each one here – we couldn't look past its announcement in April regarding progress on its lithium Pilot Plant project.
Phase 1 test work has now been completed for MRIWA Project M479 – a joint project funded by VMC and Lithium Australia (ASX:LIT) (a company our regular readers may be very familiar with) – with results incorporated into the Large Scale Pilot Plant design.
Phase 2 is now underway, while Phase 3 and Phase 4 are being conducted in parallel with other research work at Murdoch University (Perth).
The WA state government has provided funding under the umbrella of MRIWA Project M479 ("Solution purification and valuable by-products formation during the production of battery-grade lithium").
For most of us, that might sound like gobbledygook but basically, this is a project that kicked off in late 2016, aimed at developing a better understanding of the process behind purifying a lithium leach solution from LIT's SileachTM process. And looking into potential by-products of the process.
This is all about optimisation, and as we move well into a lithium-loving metals market, we can only see this research work becoming more important to a whole range of deep pocketed lithium producers in future.
.... not to mention to VMC itself, as an explorer and would-be poly-metals producer.
VMC borders Greenbushes
As we have mentioned, VMC has five lithium-tantalum assets: Greenbushes East, Pilgangoora, Wodgina South Poona, Poona and Nardoo Well projects.
Greenbushes East covers an extensive area of prospective land, and is adjacent to Talison Lithium's world class Greenbushes Lithium-Tantalum mine – a mine so big, it will require a $320 million plant and hundreds of employees: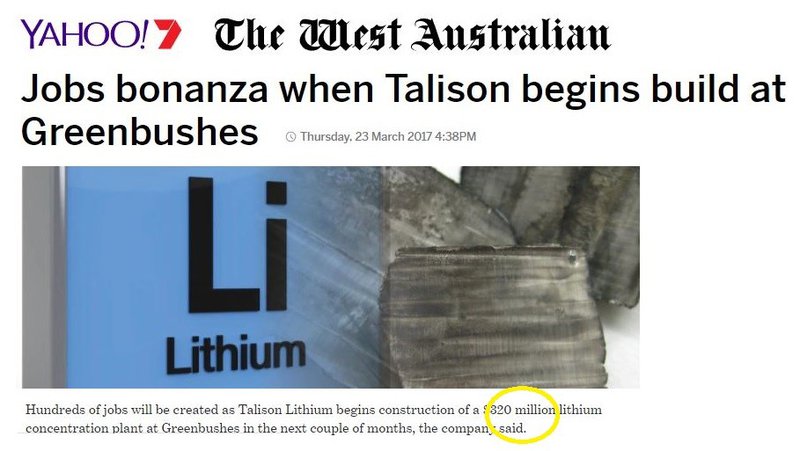 Readers of the Next Small Cap would be well aware lithium's rise up the commodity ladder.
Benchmark Mineral Intelligence estimates that Tesla's Nevada gigafactory could need up to 25,000 tonnes of lithium by 2020.
Yet Tesla isn't the only company with large requirements.
As such, there is no surprise when looking at Benchmarks' projections for lithium prices over the next three years:
Lithium carbonate and hydroxide prices = long term averages show how strong we expect prices to be 2017-2020 @benchmarkmin @amiller_bmi pic.twitter.com/bjM1rSLBiK
— Simon Moores (@sdmoores) February 2, 2017
Given, this macro environment and the fact that VMC neighbours the largest lithium mine in the world in Greenbushes, it is no surprise that VMC is not only moving at a robust pace with regard to its exploration, but is also making good progress on its pilot plant project.
Of course, VMC does remain a speculative stock, so investors should seek professional financial advice if considering this stock for their portfolio.
What about the other projects?
While the recent news out from VMC has related to its Pincher Well project, and it's MoU with Lithium Australia, it does have a multitude of other projects humming along at the same time.
This includes the Currans Well cobalt-nickel-copper-PGE project, also on the Youanmi greenstone belt.
The best historical intersections so far at Currans Well are:
CWRC025116m @ 869 ppm (0.09%) Cobalt from 16 metres Including4m @ 1483 ppm (0.15%) Cobalt *Assays of Cu 0.25% & Ni 0.28% downhole.
13 [email protected] 980 ppm (0.10%) Cobalt from 0.3 metres *Assays of Cu up to 0.77% & Ni 1.12% downhole.
94CUR00413 5m @ 586 ppm (0.06%) Cobalt from 17metres and6m @ 552 ppm (0.06%) Cobalt from 26 metres *Assays of Cu up to 0.23% & Ni 0.22% downhole.
Further to that is VMC's Sandstone Gold project, which covers 200km 2 of the Sandstone greenstone belt 23km southwest of the town Sandstone in WA – a region which has produced more than 1.5 million ounces of gold, mind you... the latest activity at Sandstone was 79 shallow RAB holes to delineate potential targets for deeper drilling.
Interpretation of the assays is now in progress.
In addition, the catalogues of WA plays include Youanmi Shear Gold, Curara Well (Doolgunna) copper-gold and Southern Cross Vanadium Projects.
Building up a strong base
If VMC can continue to push out a steady flow of results and updates from across its portfolio of precious and base metals plays, we could see some serious share price catalysts in the next few months.
Given the diverse set of projects VMC holds, exploration success is not out of the question here.
Provided VMC can keep producing positive news flow over the months ahead, investor interest could pick up speed at just a moment's notice – just like we saw back in April.
A serious price inflection could see its sub-$7M micro-cap days become but a distant memory.
---