VIC Enters NSW Cobalt Hot Spot: Next Door to AUZ and CLQ
PUBLISHED: 16-11-2017 09:42 a.m.
Victory Mines (ASX:VIC) has just added four highly-prospective cobalt projects in New South Wales (NSW) & Western Australia (WA).
The NSW projects in particular look to be in some of the most alluring cobalt and scandium ground in Australia.
Why? Because VIC's new Husky tenure is within just 5km of Clean Teq (ASX:CLQ) – a company currently capped at almost $1 billion.
At its newly-acquired ground, VIC will be rubbing shoulders with other proven cobalt explorers such as Clean Teq who already has a 109Mt at 0.1% Co Resource & 28.2Mt at 419ppm Sc confirmed. Also nearby is the $272 million capped Australia Mines (ASX:AUZ), with a defined scandium Resource of 3.14Mt at 434ppm.
Next Mining Boom readers may have followed AUZ since our coverage began on August 30 th in the article The Energy Metal You Have Never Heard Of: Demand Set to Increase by 800% .
On the Scandium side, VIC's tenements are close to the $48 million capped Platina Resources (ASC:PGM) which holds a total resource of 16.9Mt at 235ppm Sc and the $78.2 million capped Scandium International, the TSE listed company with a total resource of 16.9Mt at 235ppm Sc.
VIC's current market cap is just $10M – indicating there may be significant growth here if the company can identify mineralisation in what is a hotly contested region for cobalt and scandium explorers.
VIC has signed a binding agreement to acquire 100% of the issued capital of Cobalt Prospecting (CPPL), a company which owns the four cobalt projects.
Crucially for VIC, it doesn't need to re-comply with Chapters 1 and 2 of the ASX Listing Rules as a condition of the CPPL acquisition. VIC will be able to fold CPPL's tenements/prospects into its own existing metals strategy in WA. The shares and options proposed to be issued to CCPL will account for circa 31.5% of the expanded issued capital of VIC.
What we've seen in recent weeks and months from VIC, suggests management is not in the mood to sit idle while the new-energy revolution marches ahead with insatiable haste.
However, it should be noted that VIC is an early stage play and investors should seek professional financial advice if considering this stock for their portfolio.
With all this and more going on at VIC, we think it may be time we updated you on how this little Victorian nugget is shaping up in its bid to emulate the growth of the several larger majors in the area.
Catching up with: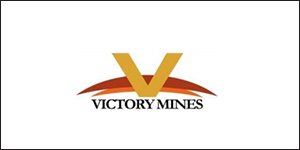 Before we get too stuck into the Victory Mines (ASX:VIC) story, it's worth taking another look at Australian Mines (ASX: AUZ) – now that VIC is next door to AUZ.
AUZ is a company we first broke to ASX small cap investors on August 30 th this year – we also covered it again in mid-October in this article: AUZ to Emerge as Major Developer of Key Battery Technology Metals
AUZ has been up over 930% on the back of its cobalt project in NSW since our coverage began – and $10M capped VIC has now sidled up right next door...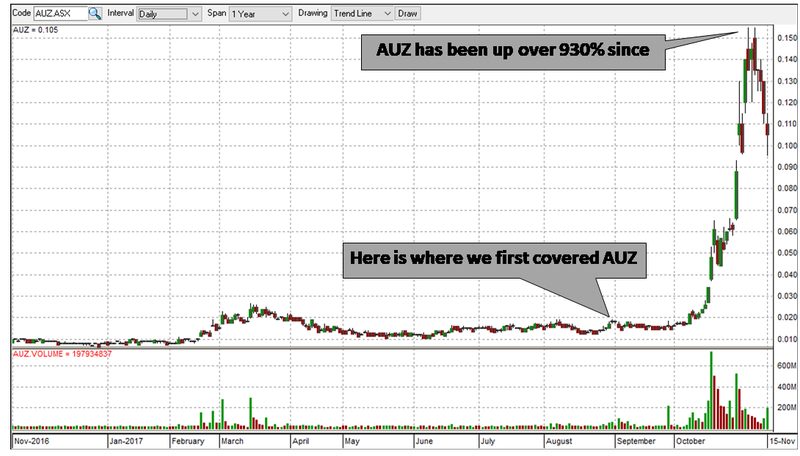 The past performance of this product is not and should not be taken as an indication of future performance. Caution should be exercised in assessing past performance. This product, like all other financial products, is subject to market forces and unpredictable events that may adversely affect future performance.
AUZ's growth story followed on the back of Clean Teq (ASX: CLQ)'s cobalt project in the region – CLQ are capped at close to $1 billion right now – making AUZ a relative lightweight.
VIC is sitting just 5km from CLQ in what looks to be a region that is hosting multiple mineralised systems.
A recent placement saw VIC raise $2.1M (at $0.007), which should look after near term exploration expenditure and see the company start heading in the direction of its locals AUZ and CLQ.
If you haven't heard the latest, cobalt prices are making their sequential moves higher on the back of waning supplies and emerging demand globally.

And there is scandium in the mix as well.
Scandium is more abundant than lead, mercury and precious metals, but is little used.
However that could be about to change if headlines like this are anything to go by: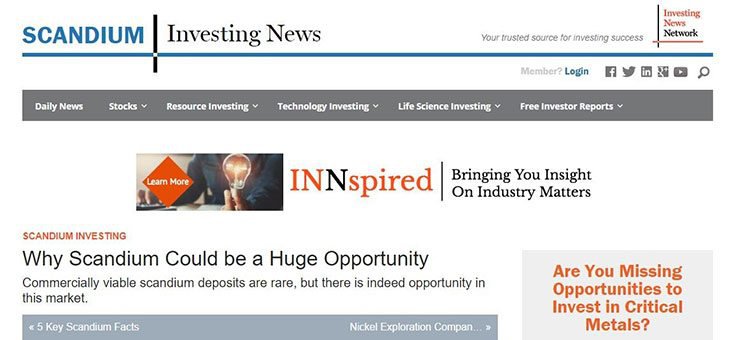 Scandium has a great deal of potential in high- tech applications including the creation of stronger, corrosion-resistant, heat-tolerant and weldable aluminium alloys for lightweight aircraft and automobiles, it has electrical properties and heat resistance valuable for solid oxide fuel cells and has unique optical properties for high-intensity lamps.
VIC is a growing metals exploration company aiming to one day identify a commercial resource of cobalt – which could supply the growing new-energy-dependent industries such as electric-vehicles (EVs), battery-powered electronics and energy storage solutions such as Tesla's Powerwall.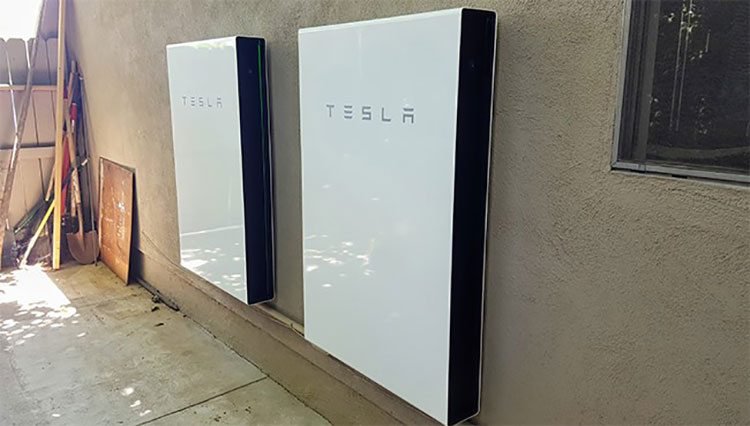 The weird and wonderful world of cleaner and smoother energy access is being made possible by several factors — and the good news is that VIC has its mitts on two catalyst commodities, already experiencing price inflation on the back of limited supplies and growing demand.
So, let's look at VIC's entire arsenal of commodity projects, starting with its new cobalt assets
VIC has elected to acquire four highly-prospective primarily cobalt project areas in NSW and WA from Cobalt Prospecting Ltd.
Here they are mapped out showing VIC's soon-to-be-acquired Malamute (EL 8667) and Husky (El 8666) tenements, covering 244 hectares and located circa 150km west of Dubbo: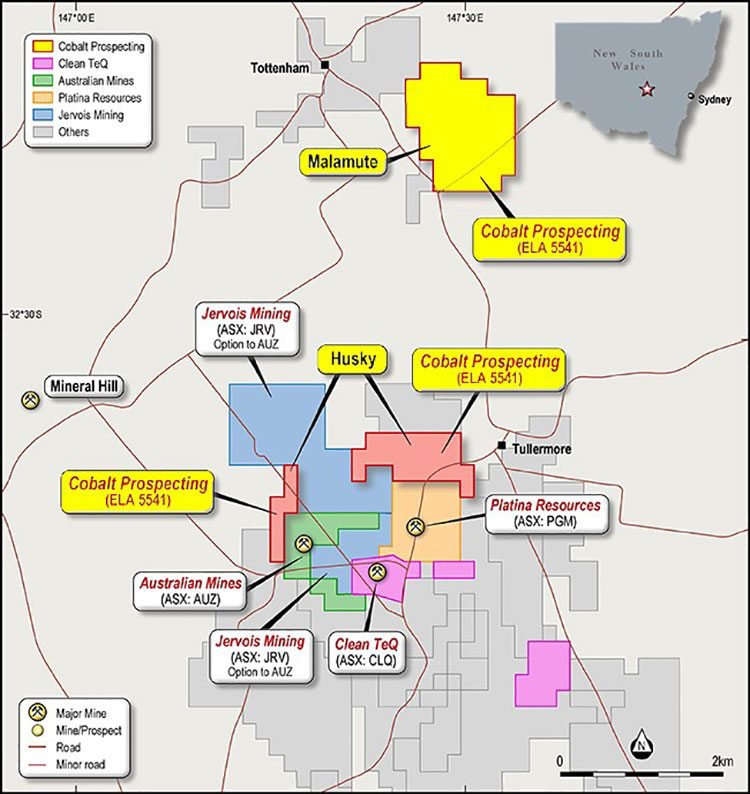 As we have indicated above, VIC's two NSW tenements, Husky and Malamute, are very close to tenure owned by Clean Teq (ASX: CLQ) and Australian Mines (ASX: AUZ) which have demonstrable high-grade cobalt and scandium mineralisation.
VIC's Husky tenement is adjacent to AUZ and CLQ's deposits which are similar in geology and metal recoveries for cobalt laterite mineralisation.
As for Malamute, this prospect is expected to contain a geological analogue to CLQ, AUZ and PGM's deposits.
That is significant given the similarity in geological traits exposed by historic drilling, geological mapping and geophysical signature. Furthermore, legacy drill-holes and assays at malamute are yet to target the magnetic anomaly's centre.
Where VIC could stand out above its peers here, is that the intrusive body underlying the Malamute prospect is entirely within its project area. This is the opposite situation to where CLQ, AUZ and PGM find themselves and could give VIC an advantage in the long-term, especially as this is a single prospect containing an area of lateritic mineralisation that may equal or exceed the area of both CLQ and AUZ's deposits.
If we have a look at VIC's peer-group in the region, it's clear that several of them have already have defined JORC compliant resources for cobalt and/or scandium.
Here are VIC's closest peers, with their cobalt footprints summarily tabled:

Given the early-stage nature of VIC's cobalt ambitions, there is difficulty in quantifying the level of upside VIC can expect to achieve.
Interestingly, AUZ's deposit is hosted in a magnetic anomaly with recent drilling results propelling the Project to doubling its cobalt, and tripling its scandium mineralisation footprints.
Importantly, the results showed the mineralisation was open in multiple directions — a very positive upside indicator for the Husky prospect, even at this early stage before any significant drilling has occurred.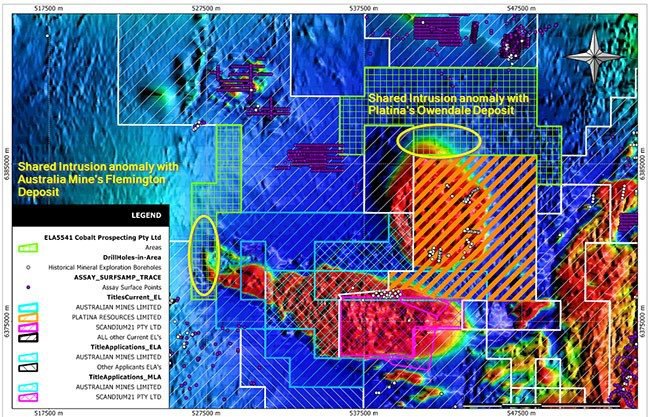 In a nutshell, this means that VIC has considerable exploration upside within its reach, for high-grade cobalt and scandium mineralisation across its newly-acquired assets.
Over in WA
VIC's two WA project areas (Peperill Hill and Galah Well) have yet to see their transfer granted, but this is expected to be a formality over the coming weeks. VIC's WA prospects are 100km west of Leonora in an area with proven cobalt mineralisation. If VIC secures these project areas in addition to its NSW counterparts — we could see VIC extend its cobalt acquisition-spree sometime before the end of this year.
This is speculation on our part and investors should take all publicly available information into account and a cautious approach to their investment decision.
Why this could be important is entirely attributed to grade: legacy assay results show 2,430ppm Co within the Galah Well tenure and 7,290ppm Co just outside.
From the geological mapping done already, there are several anomalies of the bumper variety already sticking out like a sore thumb: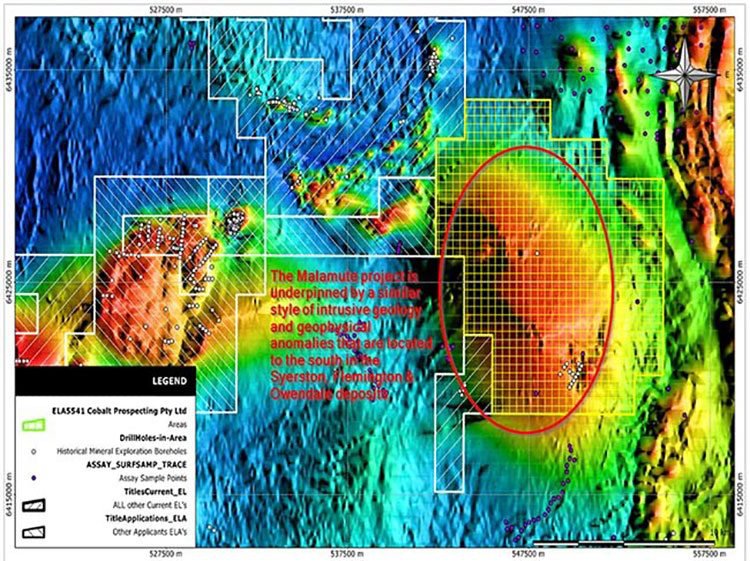 It's clear VIC is adamant about becoming a cobalt player
As you can see on the map below, legacy assay results show 2,430ppm Co within the Galah Well tenure and 7,290ppm cobalt just outside. Further, the area is proven for sulphide-hosted cobalt mineralisation, as results from St George Mining's (SGQ) 2016 drill program at Mt Alexander project were up to 2,200ppm cobalt.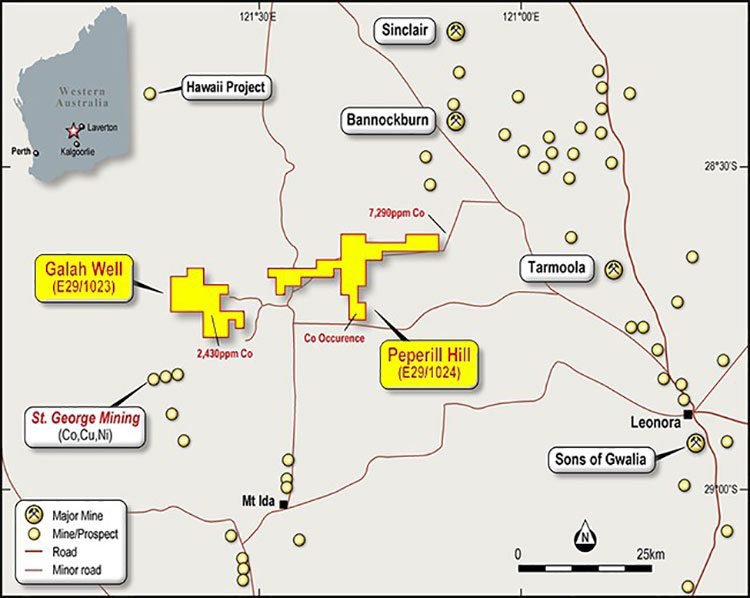 VIC expects to continue its exploration in both WA and NSW, with drilling and sampling results expected to be a consistent fixture in its real-time news flow moving forward.
Pro Forma Cap Structure Post acquisition
With the cobalt projects in hand, VIC is proceeding with a placement of 300 million VIC shares at an issue price of $0.007, together with a 1 for 2 attaching listed option to third parties to raise circa $2.1 million (pre costs).
The capital raise is expected to be completed in two tranches – dates are below.
The indicative capital structure post the acquisition is as follows: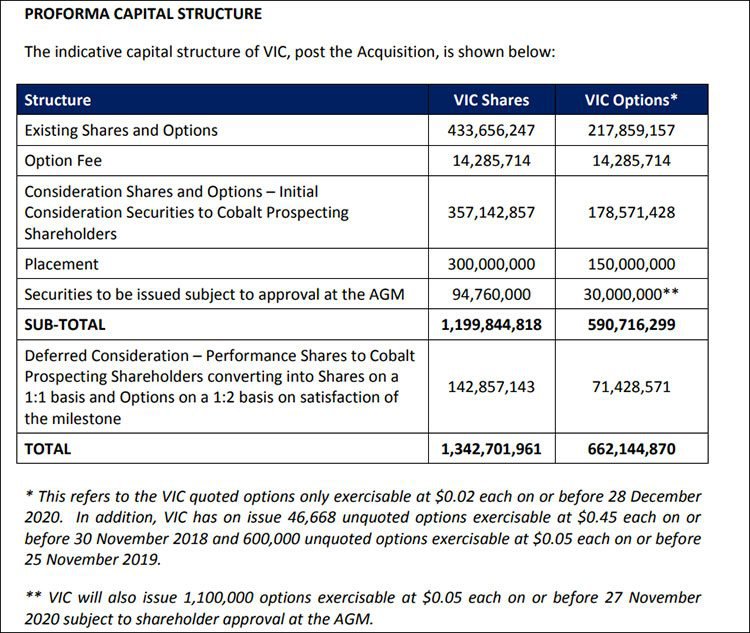 Cobalt is shaping up to become one of the most high-margin commodities in the world due to the demand/supply factors underpinning its popularity.
Cobalt prices have surged over the last year, driven by demand from battery manufacturers and electric vehicle makers. Supply of the commodity is susceptible to disruption, exposing a vulnerability in the lithium-ion supply chain and underpinning a likely period of price growth in cobalt's future.
Cobalt has emerged as a star metal for investors this year, having been one of the worst-performing commodities in the wake of the global downturn in 2008, after which cobalt's value tumbled from more than $50/lb at its peak to just $10 at the beginning of last year.
More recently, there have been signs of a turnaround, with cobalt seeing sustained price growth from around $15/lb in late 2016 to more than $27/lb today.
If we take a look at future projections, analysts are expecting a sustained demand boost for cobalt on the back of EVs and other industrial applications. Much like its new-age-enabling cousin — lithium — cobalt is setting off on a commodity boom as manufacturers, producers and consumers scramble to develop cobalt-infused products to serve tomorrow's world of glitzy gadgets and ubiquitous energy available on demand.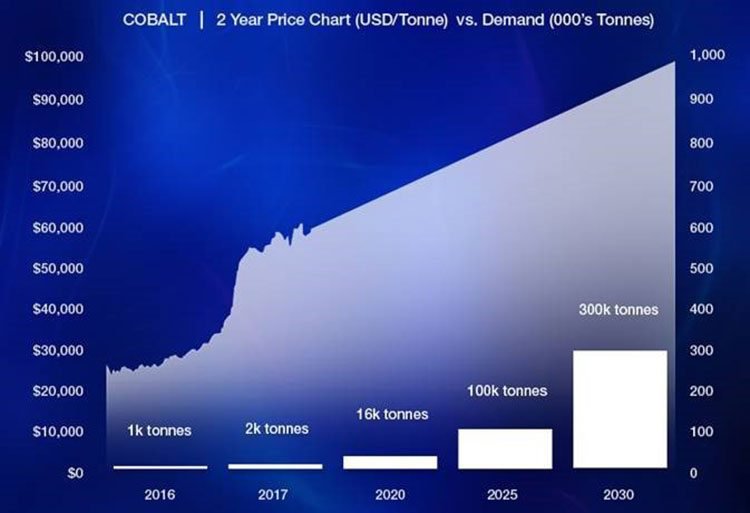 The last few years have brought about a gradual shift in demand for cobalt. Metallic cobalt, which is used in the manufacture of super alloys for jet engines, turbine blades and other products, has traditionally been the largest part of the cobalt market.
According to Baystreet, cobalt demand could be about to surge from 2000 tonnes annually today to over 300,000 tonnes in 2030. Just to reiterate, that represents a 14,900% increase over the coming decade which is exactly the kind of spare capacity little VIC is yearning for (and currently hitching its wagon to).
Of course commodity prices do fluctuate, an can go down just as quickly as they go up – so investors should apply caution and draw on a range of information before making an investment decision.
Cobalt demand growth is primarily a result of rapidly developing lithium-ion battery technologies, around three-quarters of which are set to use cobalt chemicals by 2020. Such batteries are used in electronics ranging from grid-level energy storage systems to smartphones and tablets, but by far the fastest-growing source of demand is the EV industry.
VIC's other assets — Zinc continues to impress
Having acquired rights to the Bonaparte Project, 70km from Kununurra in July, VIC has made quick developmental progress, by first conducting a flurry of early soil samples and receiving encouraging rock-chip results last month.
VIC announced up to 33g/t silver, 53.8% lead and 39.1% zinc from a rock-chip sampling program at its Bonaparte Project, and when combined with work carried out at the Laverton Project, VIC now has two definitive pathways to a strong metals Resource.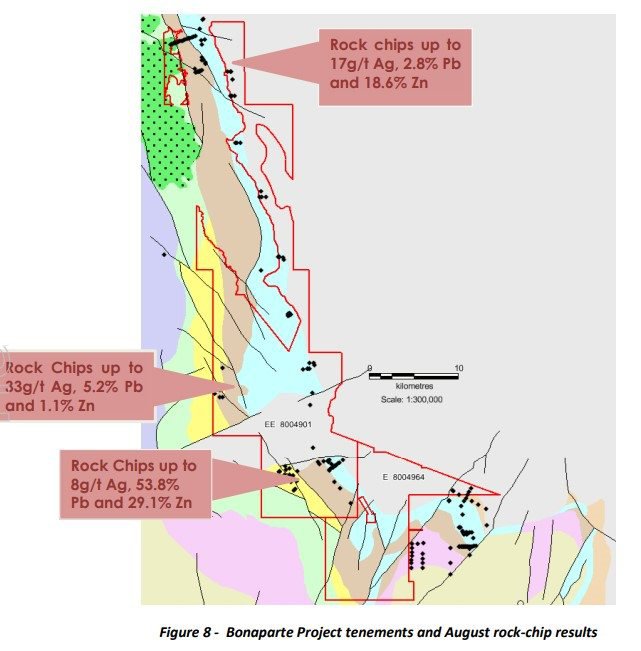 The strong results obtained from rock-chip sampling now paves the way for VIC to commence a detailed ground gravity survey at Bonaparte, which is confirmed to feature high-grade, polymetallic zinc-lead-silver mineralisation.
In addition to Bonaparte and Laverton — two of VIC's most advanced Projects — VIC is also progressing a tin project in Bolivia.
VIC is currently drilling at its Bolivian tin tails project. This follows VIC's engagement of the Bolivian Mining Research Institute to assess the range of tin tailing areas.
As part of the upcoming program, VIC will sample tin tail deposits at Sink & Float, Arenas Catavi, Kenko, Rio Andavillque, Huanuni and Japo deposists with a total of 137 holes.
Here is a summary of the conceptual exploration target of around 55-60Mt: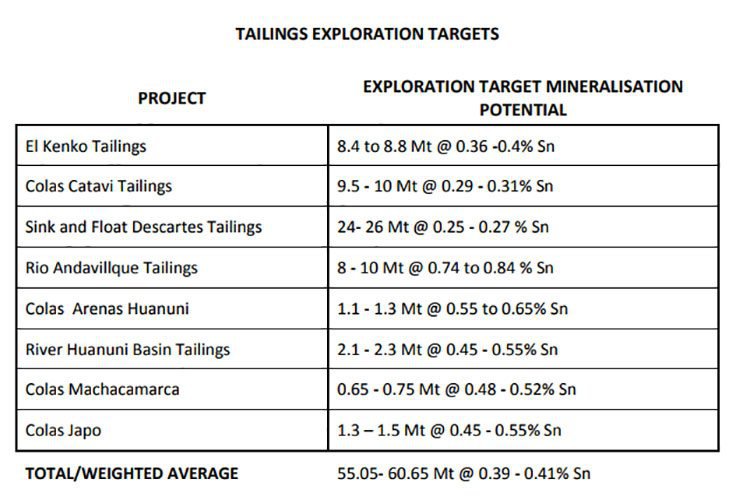 Results of the program will be due for announcement in December, following the completion of laboratory analysis to evaluate volume and grade of tin and other metals in each deposit.
Drilling for Victory in WA and NSW
VIC is slowly but surely, making good on its metals-backed expansion plans in WA (and now) New South Wales. Meanwhile, non-precious metals like cobalt and zinc are busy staging double-digit-percent growth spurts.
With its zinc exploration simmering to the boil, VIC is taking the assertive step of activating its cobalt exploration in order to widen its gamut of future-proof energy-storage catalyst commodities.
VIC's Bonaparte Project is due to receive EM survey results in the coming weeks, in addition to news from both Bolivia and VIC's other metals venture in WA — the Laverton Project. Considering VIC now has a further four cobalt projects to sink its teeth into, we could be on course to seeing a string of price-sensitive catalysts from VIC before year end.
The global metals recovery is underway, and taking several metals back into cyclical uplift territory.
We've seen it happen with iron ore, lithium, copper, cobalt, and now zinc is throwing its hand into the ring as a contender for comeback king of commodity metals.
And the good news is that VIC is serious about adding both cobalt and zinc to its Resource-building mission across Australia.
---