Twin Prospects Coming Up Trumps For KSN as High-Grade Hits Flow
PUBLISHED: 09-10-2019 09:59 a.m.
With no shortage of geo-political turmoil helping to keep the gold price elevated at six-year highs around US$1,500 an ounce, explorers showing high-grade drilling results and mining potential are attracting attention, and early-stage gold junior Kingston Resources (ASX:KSN) is certainly in that camp.
Kingston had a great September, reporting outstanding results out of both its Livingstone and Misima projects, in Western Australia and Papua New Guinea respectively.
Misima is of particular interest. It has a 2.8Moz Resource, multiple expansion targets, plus stockpiles left over from historical mining.
Historically, Kingston's flagship Misima Gold Project has a production history of over 3.7 million ounces and the existing 2.8 million ounce Misima resource may already be of sufficient scale to support a potential long-life mining operation.
Recent drill results from these projects have delivered further upside and today the company began first drilling in over 20 years at Misima North, targeting shallow mineralisation in an area where rock chip sampling returned grades of up to 44.6g/t Au.
With that in mind, let's renew acquaintances with ...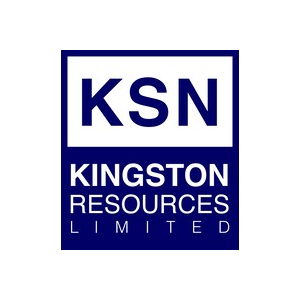 Kingston Resources Limited
ASX:KSN
Share Price: $0.019 (as at market open 9 October 2019)
Market Capitalisation: $33.55 million
Here's why I like KSN: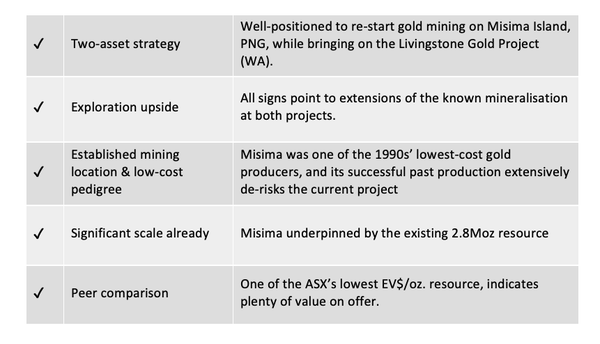 A quick recap
As we stated in our previous article: KSN's Gold Exploration in Elephant Country Delivers Promising Results, Kingston Resources' (ASX:KSN) appearance in the top 25 Australian and PNG gold deposits, puts it alongside the gold deposits of Newcrest Mining, Anglogold/Ashanti, Barrick Gold, and Gold Fields, suggesting this circa $34 million capped gold junior is undervalued.
The comparison is on a contained ounces of gold basis and two years on since the acquisition of Misima in November 2017, it looks as if the comparisons are justified.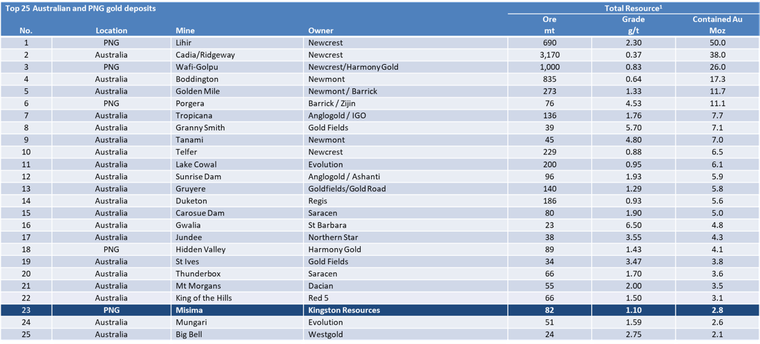 In the following video, Kingston CEO Andrew Corbett explains the upside in the company, in particular the Misima Gold Project.
Now, let's examine its most recent news to see how well the company is progressing.
September's sweet tidings for KSN shareholders
First up was news out of Misima, where Kingston reported the discovery of a new zone of gold mineralisation, on the eponymous Papua New Guinea island. The shallow high-grade gold mineralisation zone showed up at the Abi Prospect, in the Quartz Mountain area of the 2.8-million-ounce (Moz) project.
The discovery was made through rock chip sampling, channel sampling and significant drilling results from hole GDD044, which intersected 23.6 metres at 2.91 grams per tonne (g/t) gold from 7.4 metres including 13.5 metres at 4.60 g/t gold from 17.5 metres. Rock chip assays featured up to 9.97 g/t gold and 165 g/t silver and channel assays included 12 metres at 8.08 g/t gold and 3.87 g/t silver.
Kingston followed that news up by announcing a high-grade gold discovery at the Livingstone Gold Project, situated 140 kilometres north-west of Meekatharra, in Western Australia's Bryah Basin.
The company believes it has potentially discovered a large, high-grade gold system at the Kingsley prospect within Livingstone.
The latest 2,375-metre reverse circulation (RC) drilling program yielded hits of up to 31.57 g/t gold: other strong results including 10 metres at 11.95 g/t gold from 20 metres, and 15 metres at 4.66 g/t gold from surface.
Importantly, the results include broad, shallow high-grade oxide gold intercepts, as well as narrower zones of high-grade primary mineralisation at depth within fresh rock, which KSN believes demonstrates the growing scale and potential of the gold mineralised system at Kingsley. The mineralisation at Kingsley remains open both along strike and at depth.
Kingsley was only discovered by Kingston in 2018 after air-core drilling identified mineralisation over a 2-kilometre strike length within several sub-parallel lodes striking west-north-west and dipping steeply to the north. So far, only 800 metres of this initial discovery has been meaningfully drilled, with the mineralisation remaining open to the north-west and east, where a 1.2-kilometre strike length of known mineralisation is yet to be fully tested. More drilling is scheduled in the December quarter to work towards establishing a maiden JORC mineral resource estimate at the target.
Now, let's look at the state-of-play at both projects, where the cashed-up Kingston – the company raised $8.3 million in recent months – will run concurrent exploration programs in the coming quarters.
Quartz Mountain delivers at Misima
The exciting hits at Abi came during the ongoing exploration program within the Quartz Mountain region, where Kingston is working to delineate high-grade surface mineralisation with the potential to contribute early ounces to the company's mining studies. The Quartz Mountain area contained the historical Ewatinona, Kobel and Maika pits, which were all mined for gold and silver by the Placer group: the Ewatinona JORC Inferred Resource (2012) is 6.6 million tonnes (Mt) at 1.0g/t gold for 220,000 ounces gold.
Kingston believes multiple prospective targets exist to boost this figure, especially now that it has established the presence of high-grade gold mineralisation outside the existing Ewatinona resource area. Initially, this was demonstrated through the Ewatinona drilling. That program gave high-grade intercepts that confirmed the continuity of mineralisation in structures outside the conceptual US$1,400 pit shell constraining the existing Ewatinona resource, and moreover, confirmed that the resource remained open in all directions. The program was designed to confirm historical drilling Placer had done during its tenure, update the geological model and test high-grade potential on the eastern margin of the Ewatinona resource.
GDD042 was the best hole of this program, delivering results including 15.7 metres at 1.6 g/t gold from a shallow 40 metres (including 7 metres at 3.2 g/t gold) and 3.9 metres at 1.86 g/t gold (featuring 0.6 metres at 8.04 g/t gold), as well as some encouraging deeper intersections, including 20 metres at 1.8 g/t gold from 78 metres.
Following the encouraging Ewatinona results, the Abi Prospect has further enhanced the potential of the Quartz Mountain region. As seen below, Abi lies along strike to the south-east of the Ewatinona resource, where diamond drill-hole GDD044 returned 23.6m @ 2.91g/t Au from 7.4m. In conjunction with surface exploration this drilling has confirmed the location and tenor of mineralisation at Abi, demonstrating excellent potential to help augment the existing resource.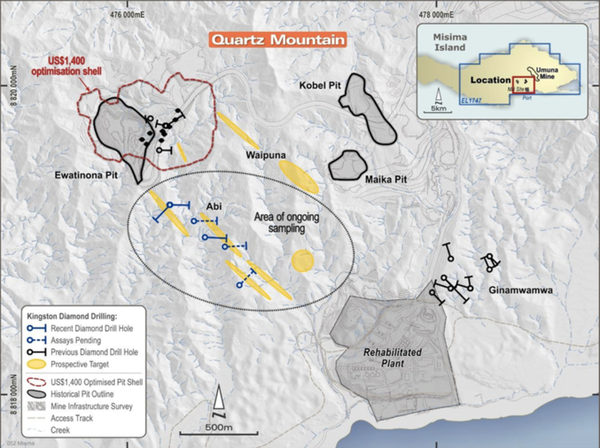 Drilling is now focused on two other regional areas, Umuna East and Misima North.
Kingston has now begun drilling at Misima North. It is the first time in 20 years, a drilling program has been conducted here. The program is targeting >4km untested strike, including structural targets with potential for repeats of the Umuna deposit. A second diamond drill rig is now on site, with drilling also underway at Umuna East.
The drilling program is aimed at identifying shallow, high-grade gold mineralisation to contribute early ounces to future mining studies.
You can read more about the Misima North program in this comprehensive Finfeed article.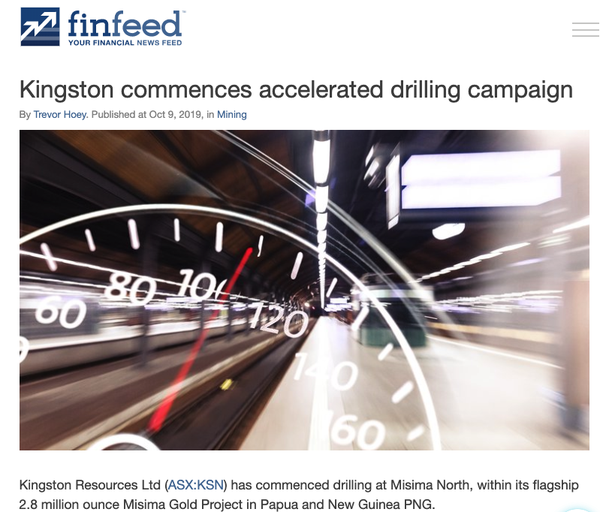 Once those programs are complete, Kingston expects to return to Quartz Mountain to follow up on its initial program with additional in-fill and extensional drilling to help underpin an updated Mineral Resource estimate for the area.
Kingston has plenty of historical information to go on at Misima, which has been mined on-and-off over the last century, for gold and silver. Gold was discovered on the island in 1888 with small-scale underground mining continuing until World War II, by which time Misima had yielded more than 230,000 ounces of gold, at grades of over 9 g/t.
Canadian miner Placer Dome began exploration on the island in 1977, re-commencing production in 1989. Misima was operated as an open-pit gold mine until 2004, producing 3.7 Moz (and 22.2 Moz of silver) at an average cost of US$218 an ounce. When Placer decided to close the mine, in 1999, gold was below US$300 an ounce – which helps to explain why the previous owner left such attractive resources in the ground, as seen below. Mining stopped in 2001; stockpiled ore kept the operation going until 2004.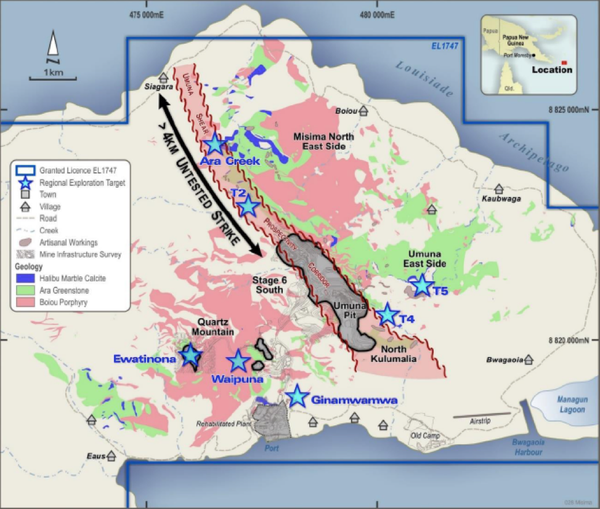 Kingston completed its earn-in in August 2018 to own 70 per cent of Misima, in joint venture with a partner, PPC, which is owned by JX Nippon Metals and Mining (66 per cent), and Mitsui Mining and Smelting (34 per cent). The company estimates that its expenditure through to 31 March 2020 will see its interest in the Misima Gold Project rise to over 80%.
Misima hosts an existing JORC (2012) resource of 82.3 Mt at 1.1 g/t for 2.8 Moz, but Kingston believes that figure to be only a starting point, with large exploration upside – as demonstrated emphatically by the recent drilling results from Ewatinona and Abi. Historical work by Placer gave Kingston walk-up starts to place holes for maximum effect, and the drillholes obliged with the goods.
The drilling work at Quartz Mountain will continue in the months ahead. The program will target additional zones of Ewatinona-style mineralisation, and should underpin an updated mineral resource estimate – and one that gives greater visibility of the easily accessible, low-cost ounces that would help kick-off a resumed mining operation at Misima – which Kingston bills as "the next low-cost, large-scale, gold producer in Asia Pacific".
As the drilling work at Misima proceeds toward an updated mineral resource estimate; the news flow from this program is one part of the potential impetus for KSN's stock price, with the other part being similar progress at Livingstone.
Livingstone coming along nicely
Kingston is also buoyant about Livingstone, and rightly so, with the recently completed RC drill program at Kingsley showing that the company potentially has a large, high-grade gold system on its hands. Best results from the program include 10m @ 11.95g/t Au from 20m and 5m @ 3.68g/t from 12m. This program was a successful follow up on the initial air core drilling at Kingsley which delivered results including 15m @ 4.66g/t from surface.
In the December quarter, Kingston will move forward with diamond drilling co-funded by the Western Australia government (through its Exploration Incentive Scheme), aimed at increasing its grasp of the geology at Kingsley, and its understanding of the structure and orientation of the mineralisation, so as to more accurately design the next phase of RC drilling, which will cover that as-yet-untested 1.2-kilometre strike length of known mineralisation.
Further out, Kingston will begin assessing the other exciting gold targets within the Livingstone land package, which occur along a prospective strike length of more than 30 kilometres, as seen below. Among these is the Homestead deposit, where historic drilling has delivered numerous high-grade intersections, including 18m @ 7.85g/t from 68m and 5m @ 20.5g/t from 3m. Homestead hosts an inferred mineral resource announced by Talisman Mining Limited in 2007 under the JORC 2004 guidelines, containing 989,000 tonnes at 1.6 g/t gold, for 49,900 ounces.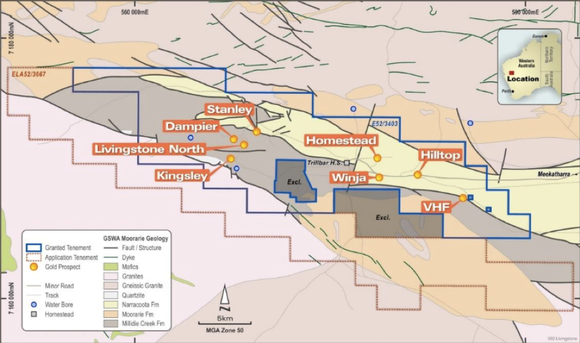 The ground package also contains the historic Livingstone's Find workings, which was the largest historic gold producer in the Robinson Range sheet area, with 1,260 ounces at an outstanding average of 21.85 g/t gold. Livingstone's Find has not been drilled since Endeavour Resources put down a series of shallow RAB holes in 1986.
Also warranting further investigation are the Winja prospect – also discovered by Western Mining – and the Hilltop and VHF gold prospects.
Further drilling over the rest of the year should move Kingston a long way toward an updated mineral resource at Livingstone – the second 'prong' of the potential share price drivers for the stock.
KSN is a 'Speculative Buy,' says Patersons
Even before the Livingstone mineralisation story hit the market, the potential upside in KSN just on the PNG ground was apparent to analysts.
Following the release of the Misima discovery, Paterson Securities released a research note on 18 September rating KSN as a 'speculative buy.'
The broker's analyst, Cathy Moises, said that Misima alone was enough to make KSN Patersons' "top recommendation within the junior advanced exploration/development space."
Moises highlighted that "Misima was one of the best mines we ever had the pleasure to cover," when it was operated by Placer Pacific, "consistently delivering above expectations and at the bottom quartile of the industry cost curve." Quality historic mines, she noted, "tend to continue to perform well even under restart conditions."
Using a discounted cash flow (DCF) methodology, the broker valued KSN at $0.06 per share — almost triple the company's market price at the time of release of just $0.022.
The broker said KSN's current market capitalisation values the resource at a low $13.60/oz — which compares favourably to peers such as BRB with a market capitalisation per ounce of resource at $63.20/oz, and BGL at $199/oz.
The final word
Drill results continue to justify Kingston's work at its Misima and Livingstone Projects.
Not only has it discovered a new zone of gold mineralisation at its Misima Gold Project, it has also potentially discovered a large, high-grade gold system at the Kingsley prospect within Livingstone.
Drilling is continuing, with the company assessing further gold targets.
Additional results are thus expected shortly.
Should they be as positive as its recently released findings, Kingston may not be undervalued for too much longer.
---