Tiny TAR to Enter JV with Mid-Tier Gold Producer
PUBLISHED: 05-03-2015 09:12 a.m.
Tiny Taruga Gold (ASX:TAR) has just teamed up with a much bigger company...
It's entered into a JV with a mid-tier gold producer – the $218M market capped Resolute Mining Ltd – to help develop three of TAR's Cote d'Ivoire gold mining concessions.
Resolute have agreed to spend US$3M to earn 75% of the three concessions. Upon completion of earn-in, TAR is free carried to completion of Feasibility Studies at 25%...
Resolute has also agreed to spend a minimum of US$500k on TAR's ground.
This is excellent news for TAR – currently capped at around $2M it will mean their much deeper pocketed partner will greatly assist with the exploration dollars required to investigate these concessions fully.
Resolute have obviously seen a few things they like here, and want to get cracking immediately with geological mapping and geochemical sampling planned.
TAR's suite of projects across West Africa do feature some political risk – finding something in the ground does not always mean you can get it out, mainly due to social, political and economic issues the region faces. Tenure security, as well as graft and corruption can also play a part in hindering West African projects from advancing.
There are many multi-million ounce gold mines in the region TAR are exploring, so it's not impossible to progress with projects, however TAR does remain a speculative investment.
The good news on the JV in Cote d'Ivoire follows the drill results TAR have received from the field in Mali.
Notably, Resolute's giant 7 million ounce Syama mine is just 15km up the road from TAR's flagship Nangalasso Project in Mali.
TAR has just completed an aircore drill programme at Nangalasso – a place where locals have been digging up gold for donkey's years with hand tools – and identified an anomalous gold trend covering 1.7km...
Very little modern exploration techniques have been applied at Nangalasso, until TAR came along... what else might they uncover?
Meanwhile, TAR has also identified some promising mineralisation at its SLAM Project to the north of Nangalasso.
TAR has struck high-grade gold intersections, confirming a 150m wide by 700m gold zone open along strike.
The drilling on both projects continues to define mineralised zones of interest, and plans are being drawn up right now to get drilling again.
We like that TAR's tiny market cap offers significant leverage to any discovery hole.
And with the $218M Resolute Mining now on board to help TAR develop three concessions in Cote d'Ivoire, TAR may soon be on the move...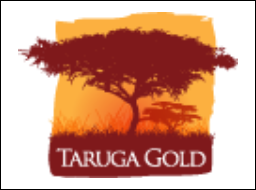 With a tiny market cap of around $2M and a focus on gold in West Africa, Taruga Gold (ASX:TAR) is a relatively new addition to The Next Small Cap's investment portfolio – first covered by us in November 2014 with Infant ASX Explorer Drilling in Days: Targeting Giant Gold Systems in Elephant Country .
That article covers TAR's plans in detail, but as a quick summary – it's snapped up three project areas in the West African nations of Mali, Cote d'Ivoire and Niger: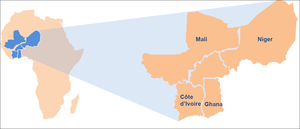 Each nation has TAR projects targeting gold and precious metals and the aim is the same throughout – uncover large resources which could amplify TAR's miniscule market cap...
And TAR has selected its exploration targets well:
Niger – TAR has the Kossa Project here covering 970km2 with a 1km strike zone developed so far, and is adjacent to IAMGOLD's 5Moz Essakine mine.
Cote d'Ivoire – In addition to the three mining concessions that will form part of the JV with Resolute, TAR has four 100% owned exploration licenses and has already worked up numerous high priority drilling targets – geochemical sampling is underway.
Mali – The key projects for TAR in West Africa right now are the Nangalasso and SLAM Projects in Mali, where drill results have been released on both.
Southern Mali is dotted with multi-million ounce mines, you can see them laid out here: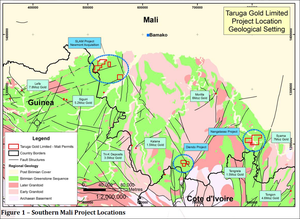 In this article we're going to run you through all of TAR's latest news in Mali – but before we do that, let's visit Cote d'Ivoire where TAR has that new JV...
Resolute Mining teams up with TAR in Cote d'Ivoire
TAR's main plan in Cote d'Ivoire is to explore four exploration license areas (three 100% granted, one in application), considered highly prospective for large gold deposits.
TAR has delineated a large, coherent gold anomaly at its Dabakala project in Cote d'Ivoire. Recent geochemical sampling at Dabakala outlined a very large, coherent gold anomaly that requires infill sampling. TAR is pressing to advance to drilling as soon as possible.
You can see it in the picture below, to the south of the 7 million ounce Syama mine run by Resolute Mining over the border in Mali: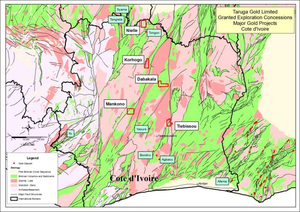 TAR also has three mining concessions in Cote d'Ivoire known as Nielle, Tiebissou and M'Baihaikro. In a just announced JV deal, Resolute will have the ability to earn up to a 75% interest in these TAR owned concessions, committing to expenditure of US$3M for their exploration and development within four years.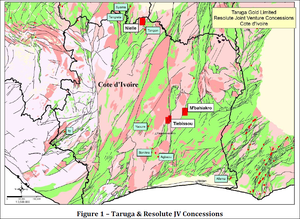 TAR will maintain 100% shareholding until Resolute has spent the US$3M, and TAR will be free-carried through any Feasibility Studies that are made on each of the three concessions.
If the projects advance to a Decision to Mine, TAR can choose to contribute to the project, dilute its share or sell it at the market price.
Not a bad deal for TAR!
Resolute will commence exploration immediately, with geological mapping and geochemical sampling set for the Nielle and Tiebissou concessions.
TAR is positioning itself well in Cote d'Ivoire, and over the border in Mali things are also starting to move along...
Our Track Record
Regular readers of our sites will be familiar with our long-standing interest in high potential stocks.
To note just a few:
The past performance of these products are not and should not be taken as an indication of future performance. Caution should be exercised in assessing past performance. These products, like all other financial products, are subject to market forces and unpredictable events that may adversely affect future performance.
TAR's modern drills find gold beneath old workings
TAR's flagship Nangalasso Project in Mali is located in an area criss-crossed with artisan workings – ground that has barely been tackled with modern methods... locals have simply been using hand tools to dig up gold:

And no wonder – Resolute's giant Syama mine is located just 30km from TAR's ground – that's a 7 million ounce resource which produced 165,493 ounces of gold in 2014 – so there's gold to be had in the region...
These were key reasons for sparking TAR's interest in the area, and when it acquired the Nangalasso Project in 2013 it did some trench sampling that showed 7m at 4.3g/t gold in quartz veining and alteration located 200m north of previous drilling.
TAR also undertook field reconnaissance that highlighted an area of 1,000m x 700m covered in artisan workings, returning assays with grades of up to 18.0g/t, 3.6g/t and 3.54g/t gold – an anomalous gold trend definitely worth investigating further, along with several geological structures.
Here's the area in question and TAR's findings: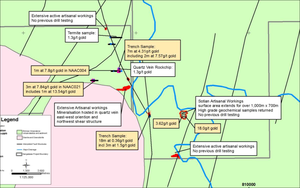 So for TAR, the thinking is if the locals are pulling gold from this ground at Nangalasso with hand tools, surely modern equipment and methods will do better – and perhaps it can establish something much bigger...
So in December of 2014, TAR conducted a limited aircore drilling programme at Nangalasso to map out the anomalous gold trend even further and firm up some more drill targets. The encouraging results are now in: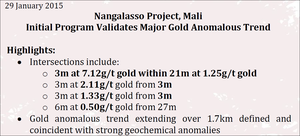 Seventy-three holes were drilled across the project area for a total of 3,564m with an average depth of 49m targeting four main areas.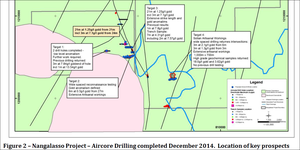 Widespread gold anomalism was found across the Nangalasso Project – over 25% of the holes TAR drilled returned anomalous intersections.
The result of 21m at 1.25g/t gold confirms and extends a high priority target previously hit through trench sampling (7m at 4.3g/t) – but it's the anomalous gold area that has our attention...
Gold trend extends for 1.7km at Nangalasso
The aircore drilling conducted by TAR at Nangalasso has now extended the gold anomalous trend to 1.7km and found that it's open along strike and at depth: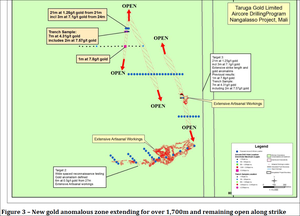 At the top of the picture above you can see the 7m at 4.3g/t trench sample, second box from the top left – and then from there TAR hit further gold, which appears opens to the north and south.
All told, evidence of high-grade gold mineralisation within the broad mineralisation is an encouraging sign – TAR will follow this zone, looking to target the higher grade parts and see where it can take them...
First ever drilling at Kambali prospect hits high grade gold
Meanwhile at the SLAM Project in Mali, TAR has recently been drilling its Kambali Prospect.
Results of reconnaissance air core drilling have identified a new gold anomalous zone, over 150m wide and 700m long. This zone remains open at strike, so there might be more to come from this prospect.
Significant high grade gold intersections were struck by TAR, with the following highlights:

This project features a number of artisanal workings, and locations of some drill holes had to be moved to accommodate these sites. Consequently the drill program was conducted with very wide spacing.
As this was the first ever drilling of the Kambali prospect, with wide spacing, the results appear fairly encouraging. The presence of high grade gold intersections as well as broad gold anomalism gives us some clues that there may be more to find on this prospect...
Targeted follow up drilling is on the agenda soon.
Targets acquired, drills set to fire
All the prospects drilled by TAR in Mali warrant immediate follow up.
We now expect to see target selection for follow up drill programmes in the near term.
In addition, TAR is also waiting on geochemical sampling completed in Cote d'Ivoire and expects to continue sampling at the Dabakala concession. This area is brand new, and the anomaly that has been uncovered on extremely wide reconnaissance spacing could be the start of something very interesting...
So very soon, we could see TAR opening up new drilling programmes and selecting targets right across its African plays, especially in Cote d'Ivoire where it's JV with the $218M Resolute will see three concessions explored immediately.
We'll be keeping an eye out on TAR's progress!
---