So You Think Sirius Is Big? $5M ASX Explorer Drilling in Weeks
PUBLISHED: 25-09-2014 10:24 a.m.
Turns out the Nova nickel discovery wasn't so big after all... The 13.1 Mt nickel deposit at 2.1% Ni discovered by Sirius in the Fraser Range of WA has been one of the major finds of the past couple of years, and you don't need a reminder of how Sirius share price went after that discovery. But seasoned geologists will tell you – the first discovery in a nickel belt is generally not the biggest... If you compare the Nova deposit with what is up in Canada's Thompson nickel belt for example, you may be in for a surprise. Nova isn't as big as you think it is on the global stage. Canada's big nickel discoveries were struck over a number of decades, leading to the uncovering of the Thompson Nickel Belt – a series of deposits that dwarf little Nova:
Thompson Bay: 120 Mt at 2.1% Ni
Voisey's Bay: 35 Mt @ 3.5% Ni (ovoid)
Raglan Deposits: 35 Mt @ 2.9% Ni.
The Thompson Bay deposit alone is over 9 times the size of Nova... The fact that Fraser Range exploration is in its infancy is a key reason The Next Small Cap has invested in multiple companies in the region. There is strong potential that Nova may just be the beginning of multiple big discoveries... Our latest portfolio addition might be one you haven't heard of. It's capped at just $5M and hasn't received the attention it deserves – until now.
This company is gearing up for a drilling campaign in the Fraser Range in the coming weeks.
This drilling campaign is targeting a conductor within a feeder structure – the kind of geological model that led to the Voisey's Bay 35Mt discovery. They have one of the largest land holdings in the Fraser Range, with an aggressive exploration and drilling programme aimed at generating as many targets as possible and then going after them with the drill bit. Drilling is set to start in weeks and the company is going hell for leather right now finalising targets. Allow us to introduce you to our latest portfolio addition: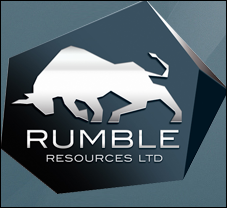 Rumble Resources (ASX:RTR) is a nickel explorer with 2,077 km 2 right in the heart of the Fraser Range – that's one of the largest land holdings of any Fraser Range explorer. RTR has nine tenements in this nickel rich province and has a 100% holding of eight of them – the other is a 75% earn in. Each tenement is highly prospective and being aggressively explored and developed by RTR. RTR has been in the Fraser Range for the last nine months and in that very short space of time it has developed drilling targets at two of its projects – Zanthus and Big Red. Zanthus is already showing at least 3 significant bedrock conductors across one massive eye target – a ground EM survey is underway right now to hone in on drilling targets over the coming weeks. Over at Big Red , RTR has just found what's known as a 'feeder zone' that's connected to a massive 2.2km bedrock conductor – one of the biggest in the Fraser Range – that could indicate the presence of a massive nickel sulphide deposit. The exploration signs at Big Red are pointing toward a similar feeder structure to the Voisey Bay deposit in Canada. RTR will be prodding Big Red with the drill bit in the coming weeks. The reason for all the activity in the Fraser Range all stems from the Sirius Resources nickel sulphide find of Nova-Bollinger. Since that discovery, scores of explorers have been getting in on the Fraser Range action. We've invested in a few of them too – we hold long-term positions in the following companies in the Fraser Range:

The past performance of these products are not and should not be taken as an indication of future performance. Caution should be exercised in assessing past performance. These products, like all other financial products, are subject to market forces and unpredictable events that may adversely affect future performance.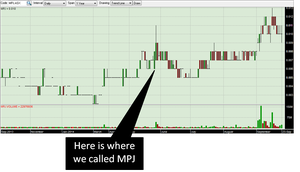 The past performance of these products are not and should not be taken as an indication of future performance. Caution should be exercised in assessing past performance. These products, like all other financial products, are subject to market forces and unpredictable events that may adversely affect future performance.
The past performance of these products are not and should not be taken as an indication of future performance. Caution should be exercised in assessing past performance. These products, like all other financial products, are subject to market forces and unpredictable events that may adversely affect future performance. We are hoping tiny RTR can have similar success in the lead up to their own Fraser Range drilling campaign, due to kick off in weeks. We are also keeping an eye on the end prize for all Fraser Range explorers – a discovery on par with Nova... RTR is well placed for success – it still has a tiny $5M market cap, yet is one of the largest tenement holders in the Fraser Range. There is a lot of potential at RTR, but as it is still tiny, it remains a high risk speculative investment for us. We think RTR is one of the last 'under the radar' Fraser Range explorers, but once drilling starts that may change.
Are you an RTR investor and want to spread the word?
Get the message out there – make sure everyone knows about RTR and share this article by clicking the buttons below: [sd_share_article title="So You Think Sirius Is Big? $5M ASX Explorer Drilling in Weeks"]
The very nature of RTR's make up means any success it has could compound quickly
RTR have a tiny market cap compared to other Fraser Range explorers – only $5M with just 120M shares on issue – from such a small base, RTR is leveraged to success: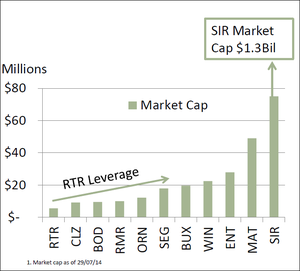 Major nickel explorers throughout the Fraser Range surround RTR. And the success of these explorers could also impact positively on RTR's market valuation. You can see RTR's holdings marked in orange on the map below, in a very fertile region: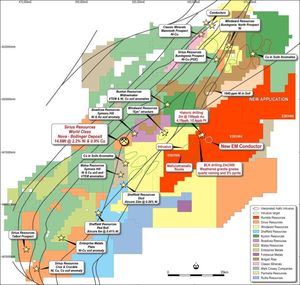 Take Sheffield Resources Ltd for example. It's worth $140M right now and has tenements right beside RTR in the Fraser Range. Just like RTR it's got bedrock conductor targets worked up and is drilling them right now. Here's Sheffield's recent run:

The past performance of this product is not and should not be taken as an indication of future performance. Caution should be exercised in assessing past performance. This product, like all other financial products, is subject to market forces and unpredictable events that may adversely affect future performance. Add the soaring nickel price into the mix (more on that later) and RTR is exactly the kind of company we look for at The Next Small Cap – loads of catalysts, tiny market cap and excellent assets. In this article we're going to run you through all of the particulars for RTR including:
Why massive Canadian nickel deposits might point the future way of the Fraser Range
How the Big Red project has the potential to hold Fraser Range's biggest nickel deposit yet – a Canadian style deposit
The big eye target RTR is attacking at its Zanthus project
Why Indonesia's nickel ore industry is shaping RTR's future
So let's get things started with a quick trip to Canada where you can find some of the biggest nickel sulphide deposits on the planet...
Nova might be small fry?
We all know about Sirius Resources and its rags to riches Nova-Bollinger discovery in the Fraser Ranges. 5 cents to $5 in months – the share price jump tells the whole story: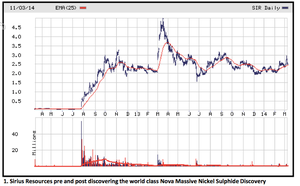 The past performance of this product is not and should not be taken as an indication of future performance. Caution should be exercised in assessing past performance. This product, like all other financial products, is subject to market forces and unpredictable events that may adversely affect future performance. Since then it seems every man and his dog has been scouring the Fraser Range for the next big nickel deposit. Nova-Bollinger is a 13.1Mt resource at 2.1%Ni – pretty impressive. Well done to all early stage Sirius holders. But if you look north to Canada, Nova doesn't start to look too big after all: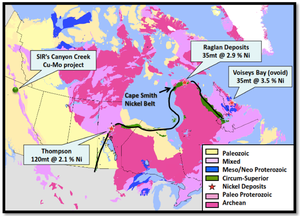 Canada has some of the world's largest nickel sulphide deposits – just take a look at the figures for Thompsons Bay in the picture above – 120Mt at 2.1% Ni. Voiseys Bay is 35Mt at 3.5% Ni (ovoid), Raglan is 35Mt at 2.9% Ni – and they make Nova-Bollinger look tiny. The development of these nickel sulphide resources from multiple ore bodies in Canada took decades of exploration and modelling. The point is – there isn't just one. The end game in the Fraser Range could be enormous. It has the potential to be a world-class nickel province and the next discovery could be even bigger than Nova-Bollinger... Enter RTR with its three massive land holdings, huge exploration programme and plans to constantly find targets and drill into them.
Drilling imminent for Big Red's big targets
Big Red is one of two major nickel projects for RTR in the Fraser Range. Big Red is a 426km2 block of land to the north of RTR's Zanthus Project and is split over two tenements of land. Just like Zanthus it's in highly prospective land in the Fraser Range: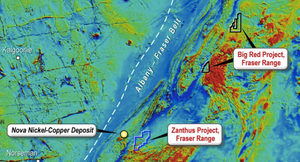 Just like at Zanthus, RTR has been exploring Big Red like mad and has found what is arguably the Fraser Range's largest bed rock conductor – 2.2km long. Here's the EM conductor up close: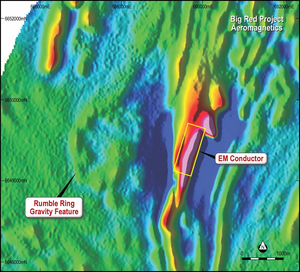 Source: Rumble Resources
Here's a side view with the magnetic response: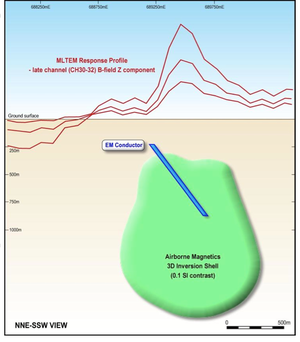 RTR is now gearing up to drill into this conductor.
In fact, it's just completed an aerial survey that's made the need to drill even more compelling. Take a look at this: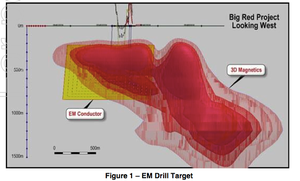 The image above is a 3D inversion of a conductive and magnetic area right next to the large eye feature that is thought to be what's known as a 'feeder' zone, which can contain large amounts of nickel and copper sulphides. The bedrock conductor, which may represent massive nickel sulphides in the feeder zone, is the very thing RTR is looking for. These bodies then feed into the much larger magma chamber – the gravity high. This model shows the Big Red Feeder Zone (interpreted Ovoid) with an EM plate (bedrock conductor) linked into a Gravity Shell (magma chamber):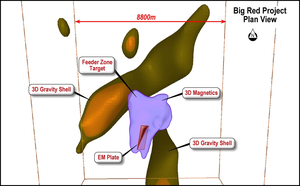 This sort of thing has been found before at the massive 142Mt Voisey's Bay massive nickel-copper sulphide bodies up in Canada. At Voisey's Bay, a feeder zone known as Ovoid holds massive nickel sulphides. The Ovoid at Voisey's Bay is a 600m long by 350m and 110m deep chunk of massive sulphide – there are other bulging swellings of nickel which all lead to a deeper intrusion: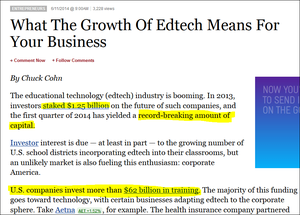 Image adapted from: http://www.asx.com.au/asxpdf/20140917/pdf/42s8gjxcy2yyhp.pdf
So having similar characteristics alongside RTR's eye target is very compelling – it shows a larger nickel sulphide system could be present. The next move for RTR is to drill the 2.2km conductor in the feeder zone with a comprehensive drilling programme. RTR is fast-tracking its application process for all the necessary approvals so it can start drilling as soon as possible. We expect to see the drill bits start turning within four to five weeks . And as a bonus, a portion of the drilling will be funded using $150,000 granted by the Western Australian government's Exploration Incentive Scheme. Nice! But Big Red is just one of RTR's nickel plays in the Fraser Range...
Exploration at Zanthus points the way
Zanthus is RTR's other major nickel project in the Fraser Range – just because we're talking about it after Big Red doesn't mean it's a lesser project. RTR's Zanthus Project is just 25km away from Sirius's Nova-Bollinger discovery:
Zanthus covers 370km2 of ground in the Fraser Range across a tenement known as E69/2506 – marked by the purple lines in the picture above. RTR has a JV agreement to develop the E69/2506 tenement with Blackham Resources Ltd in which it will earn up to 75% interest. Zanthus also comprises two other tenements that are 100% owned by RTR. RTR is steadily exploring the massive potential of Zanthus with a Moving Loop Electro-Magnetic Survey – it's happening right now. Historical drilling in the area has confirmed the presence of gabbro, mafic and ultramafic rocks (the exact kinds of rocks you need for massive nickel sulphide systems) in abundance but no organised exploration for magmatic nickel and copper has been done. Also, historic drilling by Sabminco back in 1993 found anomalous values of gold, palladium and platinum from a depth of 55m down hole. An initial round of exploration using Ground EM technology in April identified a group of seven potential bedrock conductors, which are compelling targets to drill for massive nickel sulphide deposits. This led to RTR undertaking a detailed Airborne Magnetic survey. Here's what it found: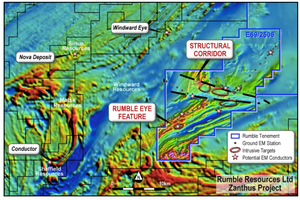 The Rumble Eye feature indicated in the picture above is a significant find. RTR's eye feature here is around 2km in length and about 1km wide and has been interpreted as an elliptical magnetic intrusive body. It has the characteristics of a potential nickel sulphide deposit. The aerial survey also identified a number of smaller 'Nova style eye features' in the area as well. Nova-Bollinger started life as an 'eye' feature that Sirius drilled into and confirmed as a massive nickel sulphide deposit. Could this be RTR's version? Only drilling will tell.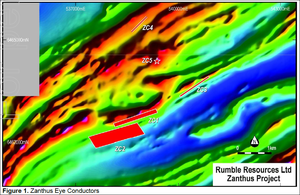 This brings us to the latest round of exploration that RTR is undertaking right now at Zanthus. The current EM program has already found 5 conductors with 3 of these bedrock conductors of 'significant conductance' – essentially big flags indicating a high drill priority: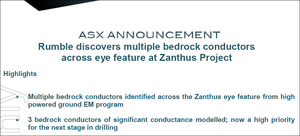 The ground EM program has been extended due to the success of the early stages of the geophysics program with the potential for further conductor identification in the coming weeks. RTR is fully funded for this work. The next round of ground EM will target an area called the 'structural corridor' which was discovered by the airborne EM. Inside this corridor, RTR has found numerous magnetic highs and intrusive features, highlighting the potential to find bedrock conductors which are key drill targets when exploring for massive nickel sulphides deposits. Here is a close up of the structural corridor identified, showing the intrusive targets along with the bigger stars showing the potential EM conductors: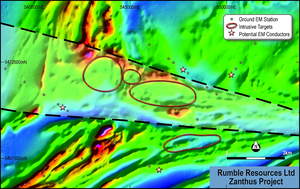 Source: Rumble Resources
Once all of the EM work has been finished at Zanthus, RTR should have a clutch of targets ready to go and then it will move to the pointy end of exploration – drilling. RTR will design a comprehensive drill program targeting the most compelling bedrock conductors first which start only 100 metre in depth. We should have final EM results very soon and then we expect RTR to move quickly into a drilling programme.
It's all in the rocks
The story of how the massive 'eye' feature at Big Red was found by RTR best illustrates the company's belief that the rocks its tenements have are the right ones for a massive nickel sulphide system. Before RTR came on the scene, a company called Teck Australia Pty Ltd were drilling at Big Red looking for IOCG style copper and gold deposits. It drilled two diamond holes but they failed to find anything like an IOCG. But what the drill holes did confirm was that Big Red has rock formations call Mafic Gabbro Sills – the very rock formations that host the massive Nova-Bollinger deposit. Age dating by the Geological Survey of Western Australia has confirmed the gabbro rocks at Big Red are of a similar age to the ones at Nova-Bollinger. So in essence, RTR's Big Red Project has the same intrusive rock units as the Nova and Bollinger deposits. More than a billion years ago, the gabbro rocks formed sulphides which then accumulated into massive nickel sulphides. So right off the bat RTR has some excellent signs that geologically Big Red has the right sort of rocks. But gabbro isn't everything. Magmatic rocks are the key ingredient to look for when you're hunting a big nickel sulphide deposit. Gabbro rocks are just the icing on the cake. The perception that you need to be in a gravity belt where there is lots of gabbro is wrong. Magmatic rocks are found in abundance at both Zanthus and Big Red and their presence has led to the discovery of Gabbro, not the other way around. As RTR gets ready to drill deeper at its Fraser Range tenements, we will get to know the geology of the region even better and the company will develop comprehensive models of the ground it's working.
Nickel price set to double?
At the start of 2014, Indonesia – then the world's largest exporter of nickel ore with a 28% share of global supply – did something rather unexpected. It banned, totally and completely, the export of unprocessed iron ore from its borders. The only nickel that's now allowed to be exported from Indonesia is processed metal shipments.
It sounds mad – until you hear the reason why.
Indonesia is now sucking in billions of dollars of investment (mostly Chinese money) to build nickel smelters – exactly what it wants – so that in the future it will be able to make bigger profits from exporting processed material rather than just bulk ore.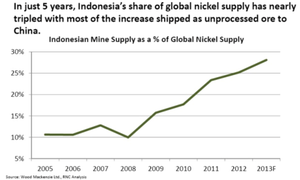 Indonesia's audacious move has been so successful there is widespread talk that the Philippines may follow suit... These developments for nickel are excellent news for Australian nickel explorers like RTR. Indonesia's nickel ore export ban is driving the price of the material up. In 2014 the price has gone up by 30% and right now sits at around $8,000 USD a pound. Take a look at this: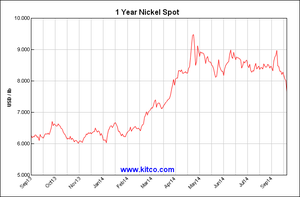 The ban began in January and at the right hand side of that price graph you can see the nickel price just go through the roof. In a nutshell, before the ban began Indonesia's nickel exporters churned out as much as they could and after the ban, China's nickel reserves filled the gap. But those reserves are dwindling and the combination of the ban and shrinking Chinese supply is pushing the price up. Some analysts are even speculating that the price of nickel could double by 2016... This is all great news for RTR who are looking for nickel right now.
The shape of things to come
So that's RTR – two big projects in the nickel rich Fraser Range, with drilling planned in the coming weeks on multiple promising targets. At Zanthus, RTR is engaged in completing a high powered moving loop EM survey to identify further drill targets at the seven areas of potential bedrock conductors, to compliment the 5 bedrock conductors found already at the very large 'eye' target. Once that work is complete then we expect to see a target list – and then drilling. And up at Big Red, the discovery of a large feeder system adjacent to the 2.2km bedrock conductor is yet another sign that RTR is in the right area.
We expect to see the first drill bits turning in the earth in the coming weeks
The Next Small Cap has added RTR to our portfolio, and we reckon we've timed our stake pretty well – we got in right before the major drilling and exploration programme are set to ramp up. We also realise that RTR is a speculative, high risk investment – they may not find anything after all! But we are holding for the long term, as RTR have multiple compelling targets of interest in the Fraser Range. RTR is surrounded by major players, so any new discovery by them could impact positively on its market valuation. Plus RTR has few shares on issue so it's leveraged to success. In less than nine months of operation in the Fraser Range, RTR has come a very long way. In the next three months we could see a lot of acceleration as RTR tests the targets it's come up with so far. Now let's get ready to Rumble! (Sorry we couldn't help ourselves)
Are you an RTR investor and want to spread the word?
Get the message out there – make sure everyone knows about RTR and share this article by clicking the buttons below: [sd_share_article title="So You Think Sirius Is Big? $5M ASX Explorer Drilling in Weeks"]
---