SEI Executes its Diversified Metals Strategy with Tungsten, Lithium & Gold Assets
PUBLISHED: 15-01-2018 10:00 a.m.
Today's company has come a long way since we introduced it to you back in June last year with the article The ASX Micro Cap with Chilean Lithium Brine Ambitions . At the time the company was named Carbine Tungsten Limited (ASX:CNQ).
Back then, its shares were trading at an all-time low with the company capped at just $3.8 million. Today the company has a new name – Speciality Metals International Limited – to match its new direction as a diversified metals exploration company... and it has already raised its market cap to above $16 million.
Speciality Metals International Limited commenced trading under its new ASX Code: SEI on December 14. The change was made to more accurately represent its newly diversified exploration portfolio.
The company has expanded its exploration portfolio to include the lucrative commodities of lithium and gold to add to its northern Queensland tungsten project.
SEI will continue to maintain its world-class tungsten assets at Mt Carbine in Far North Queensland which consist of the Mt Carbine Tungsten Mine and the Iron Duke and Petersen's Lode Exploration Permits. The company recently signed an agreement to purchase Mt Carbine Quarries Pty Ltd and the associated Mining Leases at the project. The purchase of the Quarry will assist in providing SEI with important cashflows.
SEI has ambitions of becoming the preeminent tungsten producer in Australia — ambitions that look to be supported by a rising tungsten price and optimal global supply-demand balance.
However, this is still an early stage company and investors should seek professional financial advice if considering this stock for their portfolio.
In striving to achieve its broader ambitions to evolve into a diversified metals company, SEI has added a number of diversified operations to its exploration portfolio.
The first of these are in Chile, where SEI has been granted exploration concessions to explore for lithium. The company's Board is seeking to position SEI as a low-cost lithium producer, using its key geological insights into the discovery of lithium brines.
Chile is a country with very favourable mining investment opportunities and is endowed with great mineral wealth not only in hard rock mines, but also in the numerous salars or evaporative closed sedimentary basins in the Atacama Desert region of northern Chile.
Adding to five exploration concessions in Salar de Miraje in Chile that were granted in 2016, SEI has expanded its lithium exploration being granted an additional five exploration licences at Salar de Bellavista this month. Its application for a further fifteen exploration concessions within Salar de Pintados is now well advanced too.
These concessions cover a significant portion of the western part of Salar de Bellavista, in a situation tectonically analogous to Salar de Atacama in Northern Chile, where the $14.7 billion capped Albemarle Corp and SQM S.A. produce a third of the world's lithium from lithium brines.
Lithium brines typically have a lower cost of production than other sources of lithium, so this will be the company's key differentiator in the rapidly expanding lithium supply and demand markets.
Lithium is another commodity that is forecast to remain in demand in future years driven by the rise of rechargeable lithium-ion batteries and electric vehicles.
Going forward, SEI intends to incorporate other valuable mineral resources such as potassium, iodine and boron, contained within subsurface brines, within its Chilean exploration program.
To further diversify its portfolio of exploration projects, SEI has also acquired gold Exploration Licences (Panama Hat and Crow Mt) in New South Wales.
The company is enacting its strategy to create value for its shareholders through the exploration and development of its current portfolio, whilst continuing to evaluate corporate and exploration opportunities within the speciality metals sector.
All the latest from the newly re-named,

Speciality Metals

SEI eyes Lithium production in northern Chile
During 2016, Speciality Metals International Limited (ASX:SEI) (then CNQ) begun exploration for lithium in Chile. SEI was granted five exploration concessions in Salar de Miraje in 2016 and has since expanded its lithium exploration with the granting of five exploration licences at Salar de Bellavista.
This land is situated nearby existing infrastructure, and is close to the Pan American Highway and lithium processing infrastructure at the port of Antofagasta.
Here is a map of northern Chile, showing the location of Salars de Miraje and Bellavista: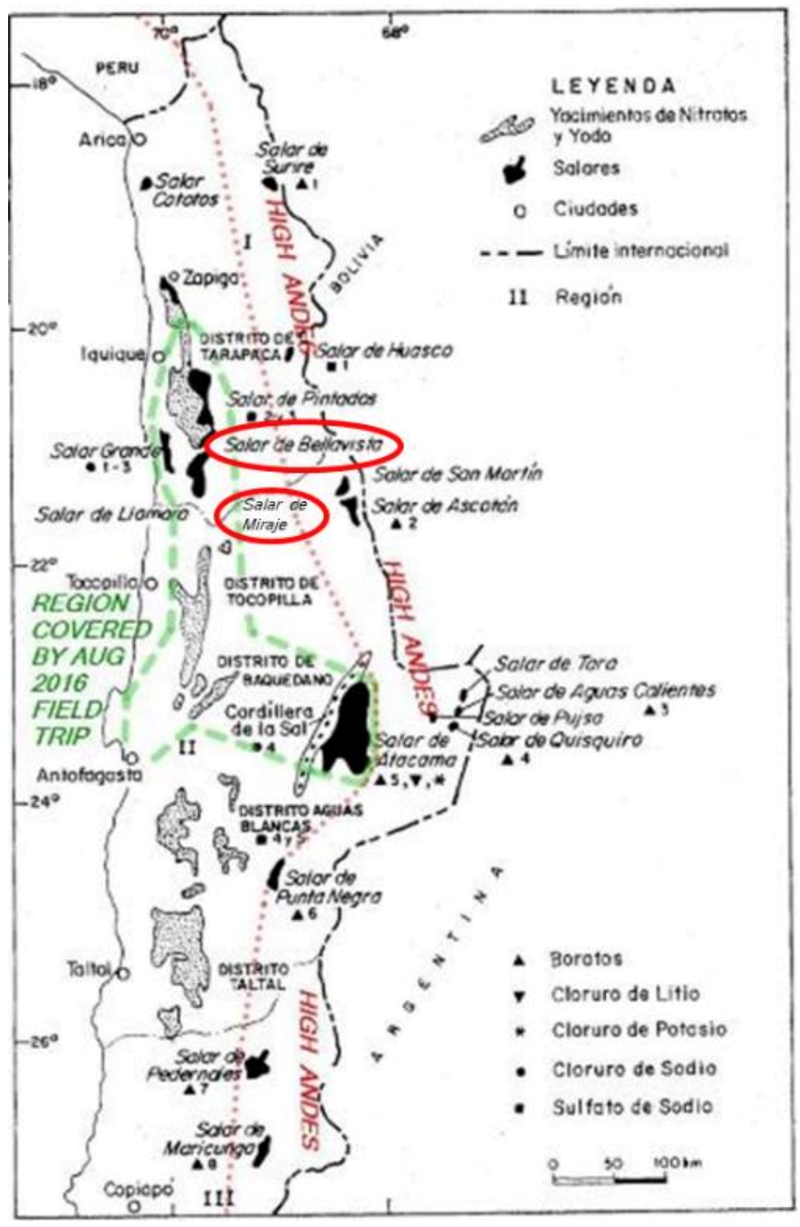 Exploration has been carried out in several salars for resources contained within subsurface brines that may include potassium, iodine, boron, lithium and other valuable minerals.
SEI's foray into lithium exploration has focused on salars, which are basins with internal drainage, that are geologically older but at a lower topographic elevation than the salars where lithium is produced by evaporation of brines pumped from the subsurface. This decision was made as evaporation at the lower elevations will likely mean lower operating costs if SEI's exploration for lithium brines in the salar is successful.
At Salar de Miraje four salt crust samples produced lithium values ranging from 51 - 94ppm, with associated boron and potassium ranging from 1060 -1920ppm boron and 0.18% to 2.35% potassium.
Strongly anomalous lithium and boron values have been obtained from surface sampling of salt crusts and brines in surface depressions in the area surrounding the Salar de Bellavista and the adjacent Salar de Miraje concessions where SEI has already been granted five exploration concessions.
Of the ten salt crust samples taken in Salar de Bellavista during SEI's initial research and reconnaissance in 2016, all but two were anomalous, containing from 50 to 274 parts per million of lithium. Of these, four had associated elevated boron values ranging from 850 to 1820 parts per million of boron.
On January 11 2018, SEI announced that it had been granted five additional exploration concessions over a key area of Salar de Bellavista have been granted by the Chilean courts.
SEI is now arranging for the transfer of these exploration concessions into its wholly owned Chile-based subsidiary, Special Metals Chile.
These concessions cover a significant portion of the western part of Salar de Bellavista, in a situation tectonically analogous to, and north-west of, Salar de Atacama in Northern Chile.
This is an area where just two companies produce a third of the world's lithium from brines. These companies are the world's largest lithium producer, SQM S.A. and multi-billion dollar-capped Albemarle Corp.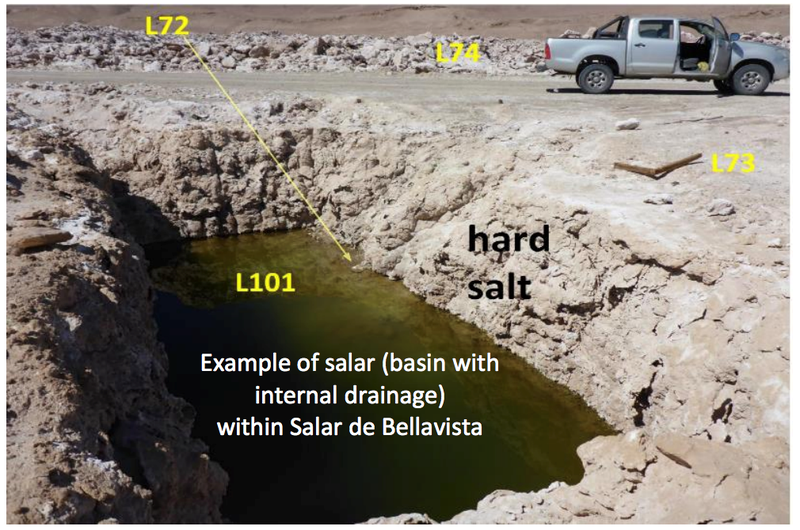 Salar de Bellavista is at an elevation of 1000 metres, at which elevation evaporation is expected to be year-round and faster than at Salar de Atacama (elevation of 2000 metres). Except for this difference, the salars that are the focus of SEI's exploration are geologically similar to those already producing lithium or that are known to contain lithium resources.
SEI's target salars appear to be fed in part from hot springs, and the evaporite minerals already produced from the target salars (nitrates and borates) indicate the typical salar closed hydrological basin dominated by evaporation. Additionally, the host sediments within the target salars are identical to the sediments that host the lithium brines at higher altitudes, and consist of evaporative carbonate-dominated sediments.
Further details of these five new exploration concessions can be found in the following Finfeed ( a related entity of S3 Consortium Pty Ltd as defined in Section 9 of the Corporations Act 2001).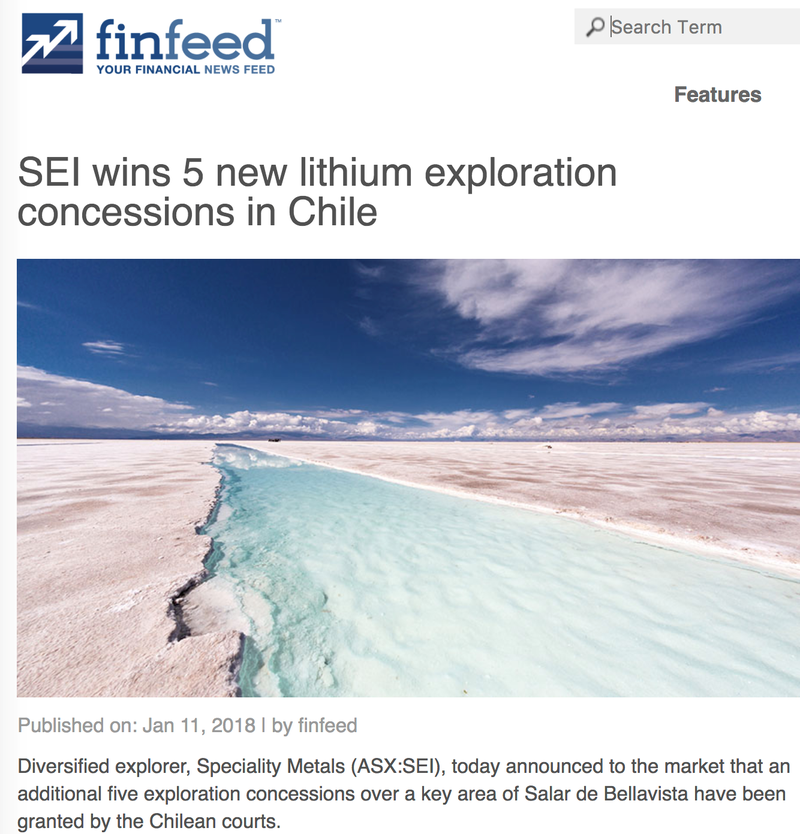 Details of a targeted exploration programme could be announced within a week. SEI noted the encouraging results from its initial research and reconnaissance in 2016 as reason to expect it to soon proceed with exploration at this second set of concessions in Chile.
SEI is also in advanced stages of an application that has been lodged for an additional 15 concessions within the nearby Salar de Pintados.
SEI's decision to further its lithium ambitions in Chile appear to be a wise strategic decision. According to the Oil & Gas Investments Bulletin, investment bank UBS say that lithium prices will stay high through 2024 as the lithium supply chain struggles to keep up with rising demand created by the rapid growth in electric vehicles.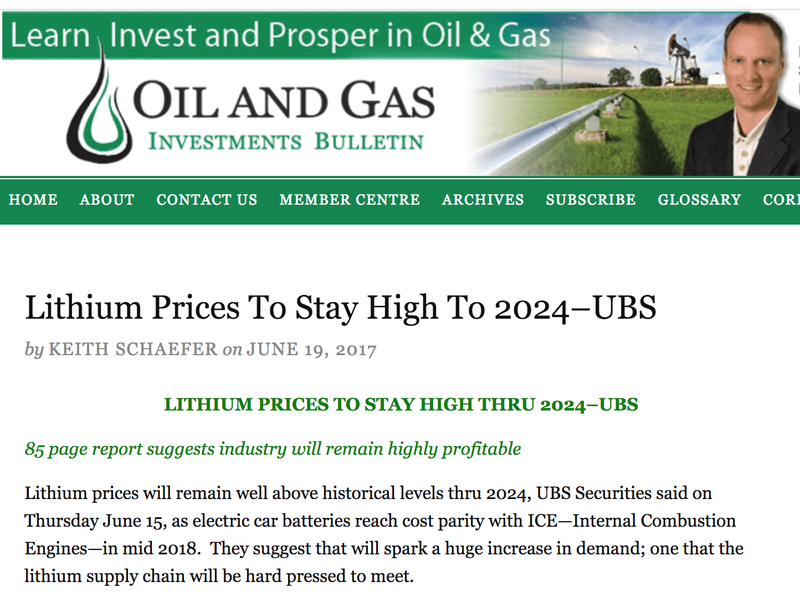 It should be noted that commodity prices do fluctuate and caution should be applied to any investment decision here and not be based on spot prices alone. Seek professional financial advice before choosing to invest.
The chart below (also from UBS) shows that lithium production must rise by 2898% to meet the requirements once we see 100% electric vehicle use globally. This will translate to huge profit margins for lithium producers, which is why SEI are pushing ahead with its Chilean lithium projects with such gusto.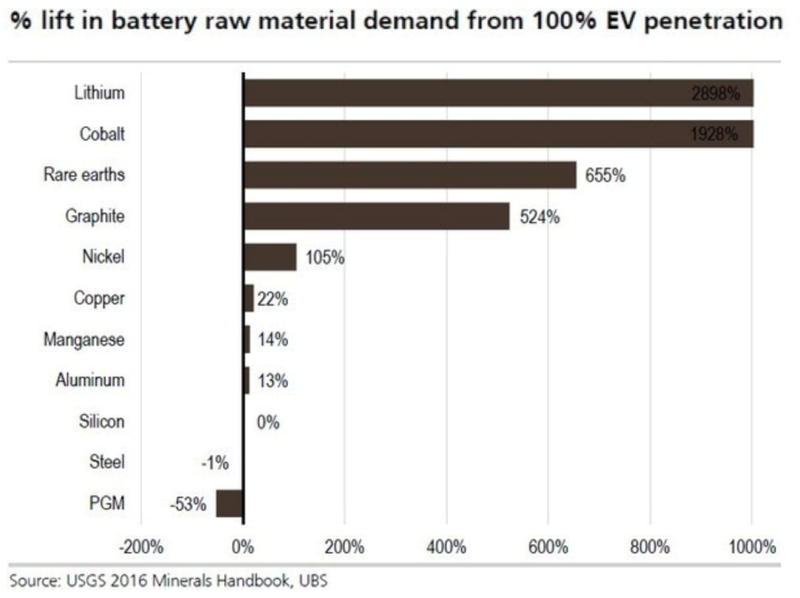 Tungsten operations: Mt Carbine Quarry and Mining Leases
On December 20, SEI announced that it had agreed to purchase the Mt Carbine Quarry and Mining Leases in northern Queensland. Shareholders appear to have been impressed with the news with the company's share price taking off in the days after the announcement.
From the day of the announcement on December 20 the share price rose by 225% to close at 3.9 cents on January 5. It has since come back slightly to 3.5 cents today.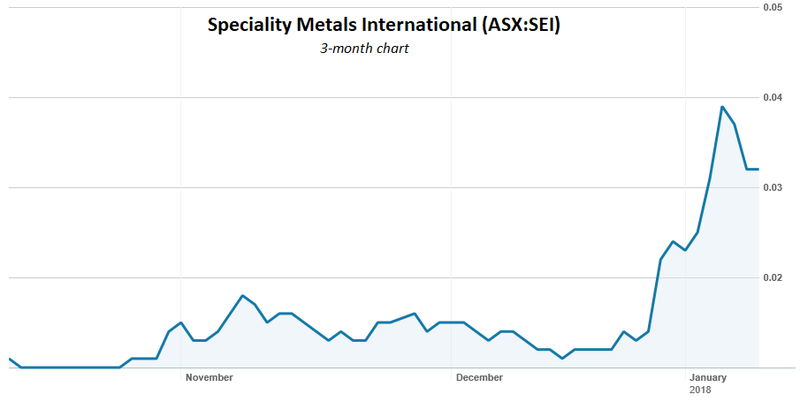 The past performance of this product is not and should not be taken as an indication of future performance. Caution should be exercised in assessing past performance. This product, like all other financial products, is subject to market forces and unpredictable events that may adversely affect future performance.
The announcement detailed that SEI had entered into a binding Heads of Agreement for the purchase of the Mt Carbine Quarry and Mining Leases, ML 4919 and ML 4867, with the quarry and leaseholder, Mt Carbine Quarries Pty Ltd. Owning the Mining Leases is integral to the successful development of the SEI's Mt Carbine Tungsten Project.
The Mt Carbine project covers ~367 hectares, and is located 130 kilometres by sealed highway from the port of Cairns.
These Mining Leases sit within SEI's Iron Duke prospect, where mapping and sampling have indicated extensive strike length. The new licences can be seen on the map below.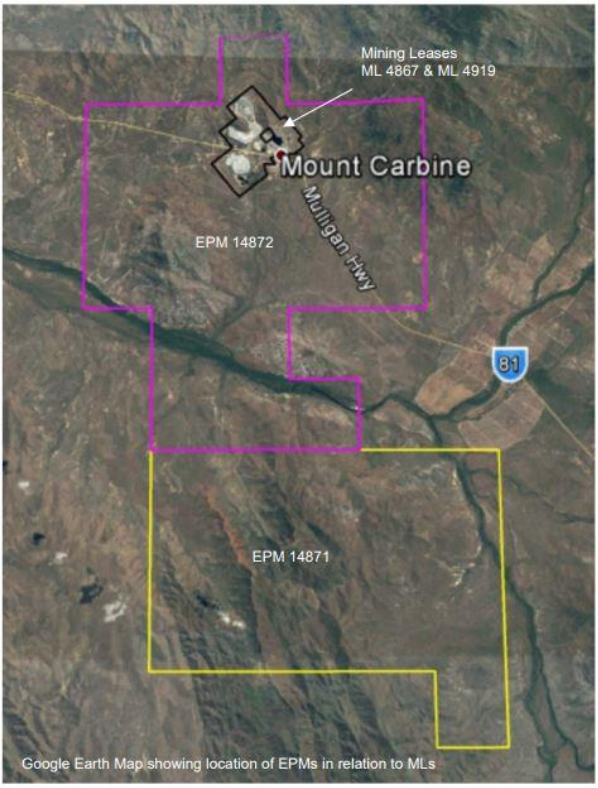 The deal will also provide SEI with an invaluable source of cash flow from the existing quarry business, while the associated quarry infrastructure also brings significant benefit to SEI in the development of its future mining operations.
The parties have agreed to have the Contract of Sale executed by mid-March 2018.
The purchase of these Mining Leases lets SEI extend its footprint at a time when demand for Tungsten continues to rise.
Tungsten Price
With the highest melting point of all metallic elements, Tungsten and is used to make filaments for incandescent light bulbs, fluorescent light bulbs and television tubes, as well as metal and glass seals.
Between January and September of 2017, tungsten APT (ammonia para tungstate) prices increased by 64%, reaching a peak of $316 per mtu. Prices have fallen back some since then but still remain elevated as the supply demand balance remains tight.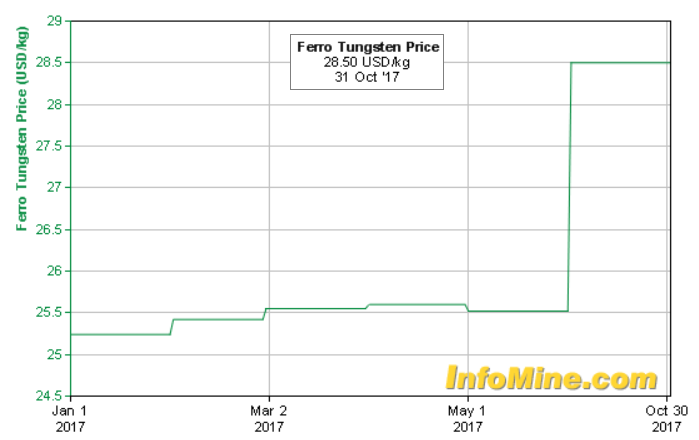 Factors that pushed the tungsten price higher include constraints caused by environmental inspections in China that disrupted production at mines and processing facilities. This led to higher production costs for tungsten concentrates, as well as uncertainty surrounding the military escalation in North Korea. Supply is expected to rise this year, but so is demand, are therefore keeping the tungsten price elevated.
Based in large part on tungsten's recent price rise, SEI has engaged in preliminary discussions with several interested offtake parties. It is also investigating the viability of recommissioning and recommencing production at its Tailings Retreatment Plant.
The cash flow that will be generated from the successful development of the Mt Carbine Tungsten Project will enable SEI to take full advantage of improving market conditions.
Any future results, however, are purely speculative and investors should seek professional financial advice before making an investment decision.
The announcement was reported by Finfeed.com on December 20: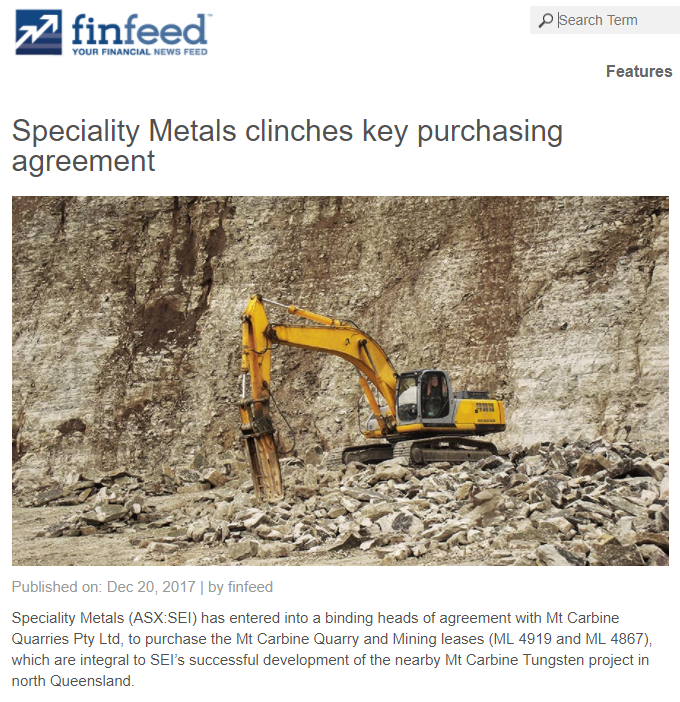 NSW gold exploration
SEI holds two gold prospects NSW: Exploration Licence 6648 – Crow Mt., located around 20 kilometres south-east of Barraba in northern NSW and Exploration Licence 8024 – Panama Hat, located 30 kilometres south-east of Broken Hill.
Surface sampling of old workings in Panama Hat EL8024 has confirmed consistency of high grade gold assays ranging up to 84.4g/t gold obtained in an earlier sampling, with the latest sample assays ranging up to 35.1g/t gold.
These sampling and surface geological investigations led to SEI concluding that there is significant potential for shallow, oxide gold mineralisation... that up till now has not been tested by drilling.
Going Forward
In an encouraging sign, SEI has a high level of ownership by company insiders at around 19.92%. This suggests that management is optimistic with regards to the company's future. It's also interesting to note that in the three months to the end of December 2017, the company has seen significantly more insider buying than selling.
SEI management's immediate focus is positioning the company as a low-cost lithium producer, using its key geological insights into the discovery of lithium brines. The company is also busy progressing its northern Queensland tungsten exploration programme.
With a new name and a rejuvenated focus, and with a focus on commodities that are experiencing supportive supply-demand scenarios, we can expect plenty of news flow from SEI in the months ahead and possibly a further lift in the share price.
---