SEG Gain Even More Land and More Targets – Drilling Soon
PUBLISHED: 19-05-2014 10:05 a.m.
More cash, more land, more drill targets. Five conductor bodies increasingly looking prospective... And a drilling campaign in the coming months to look forward to. It's been a few months since we first wrote about Segue Resources (ASX:SEG), the micro nickel explorer with a macro landholding in the Fraser Range, in our article Sirius went from 5c to $5... New Upstart Explorer Has More Land, More Drilling Targets .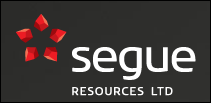 Since then, SEG has increased the size of its Fraser Range holdings even further, identified five conductor bodies through a ground EM survey, and moved closer towards drilling a few of its 16 enormous eye targets. SEG has traded as much as 100% higher since our first coverage :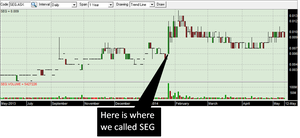 The past performance of this product is not and should not be taken as an indication of future performance. Caution should be exercised in assessing past performance. This product, like all other financial products, is subject to market forces and unpredictable events that may adversely affect future performance. But that may just be the beginning. Electromagnetic surveys are over 80% complete, and to date five conductor bodies have been identified. Each one within a different eye feature that all look quite encouraging. Further data processing is required to provide confidence that these five conductor bodies represent quality drill targets, and to move quickly, SEG and Newexco will move immediately onto Phase 2 of data collection – no demobilisation from the current survey, they'll get cracking straight away. The Fraser Range just received their highest rainfall summer on record – you can see in the map below just how much wetter than normal the last 6 months has been. The Fraser Range and SEG's landholdings are right in the blue area, which indicates rainfall much heavier than usual: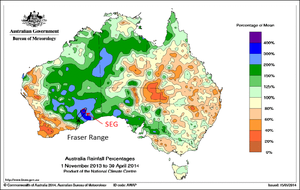 Due to this freakish rainfall pattern, the ground EM survey has been delayed by a few weeks. The EM programme is expected to be completed in about a fortnight, with AirCore drill targets ready to go within another fortnight. After that deeper RC drilling is expected to commence around July/August. As well as the EM survey and planning for the drilling campaign, SEG have been snapping up more land over the Fraser Range. SEG now holds 4,182 km 2 of exploration licences – that's QUADRUPLE the amount that Sirius Resources controls. This makes SEG the third biggest landholder in the Fraser Range nickel province, after Windward and Orion – but Windward is capped at $25 million . SEG is currently capped at just under $15 million . SEG has also boosted its bank balance , with a share placement to institutional investors, and advanced its gold project . As they progress onwards with their systematic exploration goals, the nickel price, despite a recent correction, generally happens to be moving up too, up over 50% in the year to date... Not to mention that SEG still has their 16 separate eye targets , the very same type of target that delivered Sirius its Nova and Bollinger nickel-copper discoveries, and a market valuation of nearly $1 billion . And what's more, SEG's eye targets are much, much bigger than those that host Nova and Bollinger ... In fact SEG has the biggest eye targets in the entire Fraser Range nickel province. With over 20 explorers scouring the local terrain, that's quite an honour. Yet SEG still has one of the smaller market caps of the Fraser Range nickel hunters. Now that 5 conductor bodies have been identified, things should really start to get interesting... One Analyst agrees with SEG's potential – Andrew Muir from RM Research recently issued a 'Speculative Buy' note: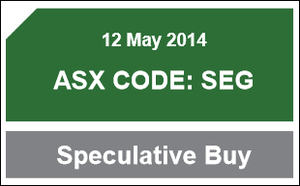 Our Track Record
Regular readers of our sites will be familiar with our long-standing interest in reporting on high potential stocks. To note just a few:
The past performance of these products are not and should not be taken as an indication of future performance. Caution should be exercised in assessing past performance. These products, like all other financial products, are subject to market forces and unpredictable events that may adversely affect future performance.
Five Conductor Bodies Identified in EM Survey
SEG has now completed over 80% of an electromagnetic survey to refine drilling targets at its numerous eye structures. The aim of the EM surveys is to find conductors within the eye targets – these could be interpreted to be nickel and copper sulphide bodies. EM data acquisition, processing and modelling is being completed by Newexco... the same Geophysics consultants that helped Sirius find the Nova nickel deposit and Western Areas find the Forrestania nickel deposits. To date, SEG has identified five conductor bodies, each in separate eye targets that are looking increasingly prospective: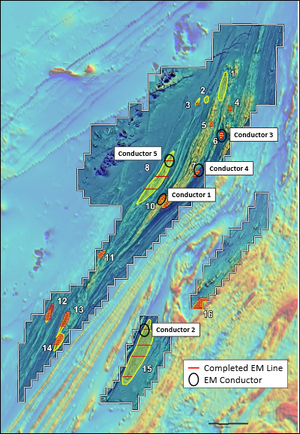 Conductor 1, looks to be a relatively shallow conductor and was identified in Eye Target #10: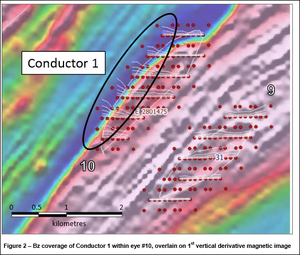 Conductor 2, hosted in Eye Target #15 appear to be a fair bit deeper, judging by the EM Survey: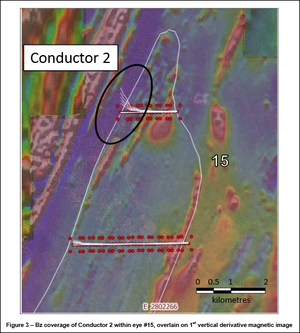 Both of these conductor bodies sit on the edge of the Eye Targets – a similar position to the first EM conductors identified at the Sirius Nova discovery. Newexco has classified Conductor 3 in Eye Target #6 as the most promising of all, the EM survey results suggest a shallow, medium conductor – depth of cover in the area is just 38 metres: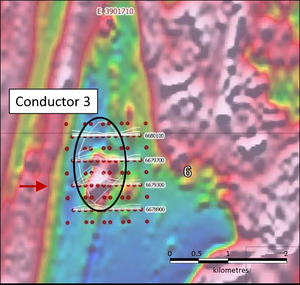 Conductor 4, located in Eye Target #7 also warrants more investigation, again it appears to be relatively shallow: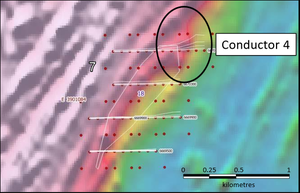 Conductor 5 is also relatively shallow, at only 41 m depth: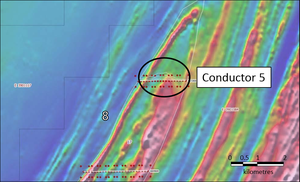 Newexco and SEG will move straight into Phase 2 of data acquisition to confirm which of these conductors are worthy of drilling. Following the EM survey and air core drilling, deeper drilling will test the strongest, longest electromagnetic conductors that match up with biggest and best bedrock conductors. If these targets continue to appeal, and drilling is undertaken, the market may well sit up and take notice. This ground electromagnetic survey is one of the largest and most comprehensive EVER conducted in the Fraser Range. It would need to be... to cover all 16 of those massive targets. SEG aren't doing things by halves. It's all in, big deal exploration.
SEG snaps up MORE land, and MORE targets
As if their original holdings with 16 eye targets weren't enough, two recent deals have catapulted SEG to become the third largest ASX listed tenement holder in the entire Fraser Range province: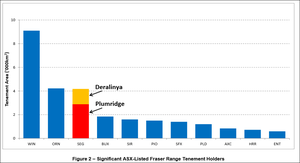 Agreements have been signed with Fraser Range Metals Group (FMRG) to earn an 80% interest in licences totalling 641km 2 . Add to this a 100% acquisition of another 10 exploration licences applications totalling 740km 2 , all joining its Plumridge Project nickel area. Agreements have been signed with International Goldfields Limited (IGS) to acquire a 100% interest in four exploration tenements totalling 832 km 2 . The recent deals mean that SEG now hold 4,180 km 2 of exploration licences and 740 km 2 of exploration licence applications . SEG owns directly, or has the right to acquire 100% in 12 of the 14 tenements and all of the exploration licence applications. SEG is earning an 80% interest in the remaining two tenements.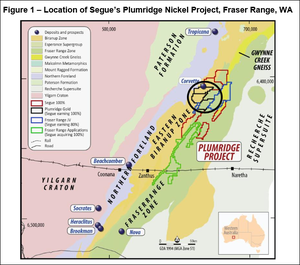 SEG's Plumridge project alone could be triple the size of Sirius' entire tenement package in the Fraser Range. That's a BIG DEAL. But what's not so big is the amount they are paying for these synergistic add-ons... To FRMG, just $100k and 125 million SEG shares, and to IGS, initially $100k cash and 50 million SEG shares, and to complete the 100% transaction, a further $200k cash. All this for the quantity and quality of land that could even justify its own IPO. And as with SEG's initial Fraser Range acquisitions, cash has been conserved by paying for projects largely with shares . It says a lot that vendors are happy with a decent shareholding in SEG instead of cash. We understand exactly why they want SEG shares – it's the same reason we added SEG to our portfolio in the first place... Massive eye targets, 16 of them, 5 conductor bodies warranting further investigation, within an epic land package in the world's most sought-after nickel province....
Another part of the deal with FMRG is that SEG has agreed to spend at least $220k on exploration within 1 year, and another $280k in the second year... So SEG shareholders have plenty of interesting news flow to look forward to, short and medium term. SEG now controls a block that is 50 kilometres across-strike, and 120 kilometres along-strike of the Fraser Complex, which hosts the goliath Nova-Bollinger. This is real premium land in the Fraser Range, and Technical Director Howard Carr thinks it probably hosts multiple nickel deposits. The best way to make a big metal discovery is to explore a large area of prospective ground... And that's exactly what SEG plan to do, very systematically. For the flow chart exploration boffins amongst us, this systematic exploration can be scrutinized in detail here . But here is an overview: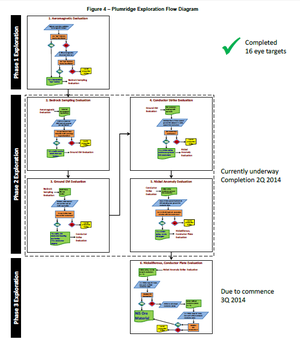 One of SEG's new tenements is intersected by trend with the strongest gravity high in the whole of the Fraser Complex... And another structure, dubbed the "Nova Structure" transects another of the tenements SEG has just picked up...

How good does voluminous, nickel-rich mantle magmatism sound? For those new to volcano terminology – Magmatism is solidified molten rock, and the mantle is the earth's outer crust. In the case of the Fraser Range, it's hoped that this kind of rock may well hold some more big nickel deposits...
SEG in the gravity high
SEG's acquisitions have been strategic, targeting regions of the Fraser Range with a gravity high. Essentially this means that these regions have denser rock – it's this dense rock that hosted the Nova-Bollinger discovery by Sirius. SEG's Technical Director Howard Carr and Sirius' CEO Mark Bennett think these parts in particular of the Fraser Ranges demonstrate the most potential. Here is the Sirius take on it:

You can see this gravity high marked in red on the map below, along with Nova Bollinger, and the Sirius land in green – they have bought up big in the red areas, as that's where they think the most potential lies: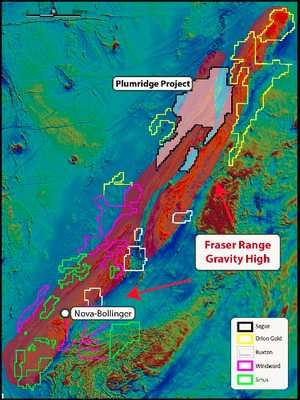 But SEG have scooped up the northern part of the gravity high as shown in their holdings marked black in the map above – of the roughly 30,000 km 2 of gravity high, SEG lay claim to about 10% of the highly prospective land. Not only the Sirius land, but a large part of the other tenements within the Fraser Range gravity high are held by entities related to the Creasy Group – Mark Creasy being directly responsible for the Sirius discovery...
SEG cashed up for exploration campaign
Since our first article , SEG has also attracted the attention of institutional investors... always a good sign. A handy $900k was banked, with these investors taking 150 million SEG shares.

Specialist microcap resources investment manager, Acorn Capital, was amongst the biggest investors:

Acorn Capital are shrewd investors, with a strong track record in investing in tiny companies with big potential – in fact they just listed on the ASX .
SEG's Gold prospect at Plumridge
SEG has also been busy at its gold project, completing a re-interpretation of 25,000 metres of historical drill data. Previous operators located 12 kilometres of strongly anomalous gold , dotted with high grade vein gold intersections. This is just 60 kilometres from the famous 5 million ounce Tropicana gold mine. SEG discovered that the previous drilling by Corvette Resources did not correctly target the main gold veins... and still managed to come up with strong results.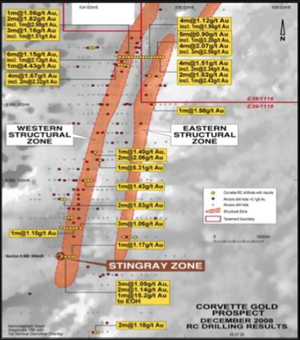 But the true potential of the gold system remains untested. Drilling is planned in the coming months , designed to intercept the high grade gold veins at right angles – the way it should be done. SEG is earning a 60% in the Plumridge gold project by spending $1 million on exploration by January 2015. So we have gold drilling to look forward to later this year as well.
The Next Small Cap Conclusion
SEG stands out like an emu at Woolworths. It's not only one of the best value nickel explorers in the Fraser Range, measured by land-for-market-cap, but it also has promising potential upside, judging by the number and size of its targets. Five conductors have been identified, now that electromagnetic surveying is 80% complete. Follow up surveys will be occurring immediately. This will be followed by air core drilling, which will in turn be followed by deeper reverse circulation drilling in the coming months. And all this is coinciding with an upturn in the nickel price. It's pretty rare to get great intrinsic value along with big potential upside from the same investment! For all the latest news on SEG, like them on Facebook or follow them on Twitter .
---