RTR Days Away From Fraser Range Diamond Drilling
PUBLISHED: 28-10-2014 16:53 p.m.
Rumble Resources Ltd (ASX:RTR) is charging ahead like the raging bull in its logo, with drill bits set to turn at its Big Red prospect in the Fraser Range – Australia's hottest nickel exploration province.
Drilling is scheduled to commence on Friday November 7 th . The Fraser Range is where you'll find the 13.1Mt Nova-Bollinger nickel discoveries that catapulted Sirius Resources from a $6M junior to a $1.3BN player almost overnight, and sparked a rush to find the next big one.
The past performance of this product is not and should not be taken as an indication of future performance. Caution should be exercised in assessing past performance. This product, like all other financial products, is subject to market forces and unpredictable events that may adversely affect future performance.
RTR has eleven highly prospective nickel tenements in the same area as Nova – Bollinger and has worked up compelling drilling targets in less than a year of operating in the region.
The big focus for RTR is a Voiseys Bay style target at Big Red. Voiseys Bay is a 35Mt nickel resource in Canada's Thompsons Bay nickel province and the geological model there appears similar to what RTR has found so far at Big Red.
This four hole drilling programme could establish whether a large nickel system, like that found in Canada, is present on RTR's ground
Drilling is set to start on November 7 th with a timetable of two weeks, assays will follow as they come to hand. We could know within weeks what RTR has in the ground.
The Fraser Range has the attention of the global markets now that the giant $55M Brazilian nickel miner Vale is understood to have applied for tenements there.
The tenements Vale is applying for are adjoining tenements RTR have applied for. Vale is the world's second biggest nickel miner so this is a big tick of confidence for the region, and for RTR's ground
So it has to be said – let's get ready to rumble!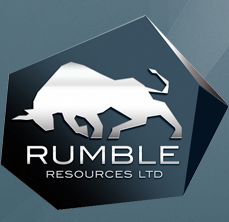 We first entered the ring with RTR in September when we published the in-depth article So You Think Sirius Is Big? $5M ASX Explorer Drilling in Weeks.
Well, it's been a few weeks, and right on time RTR's plan is being turned into action with drilling about to commence at Big Red on November 7 th . We could have results in our hands within weeks.
RTR is going to drill four holes at Big Red, right down into the guts of what may be a large feeder zone it's detected above a large EM conductor. These structures are said to be very similar to those found at Voiseys Bay, a huge nickel deposit up in Canada that makes Nova-Bollinger look like small fry.
The 13.1Mt Nova-Bollinger discovery started the Fraser Range nickel rush, but as any seasoned geologist will tell you, the first discovery in a nickel belt is not always the biggest. One can lead to more – the nickel discoveries in Canada that dwarf Nova-Bollinger led to the establishment of the Thompsons Bay Nickel Belt:
Thompsons Bay: 120Mt at 2.1% Ni
Voiseys Bay: 35Mt at 3.5% Ni (ovoid)
Raglan Deposits: 35Mt at 2.9% N1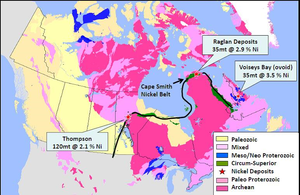 Source: Rumble Resources
The Nova-Bollinger discoveries revealed a very similar type of mineralisation to Voiseys Bay – something never seen in Australia before – and RTR's targets also show similarities to the huge Canadian resources – especially at Big Red where drilling is about to begin. All in all, RTR has eleven tenements in the Fraser Range grouped into three projects – Big Red, Thunderstorm and Zanthus: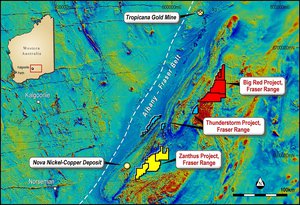 All of them are highly prospective but it's Big Red that has our attention right now. It's where you'll find this 2.2 km EM conductor (in yellow) leading to an interpreted feeder zone: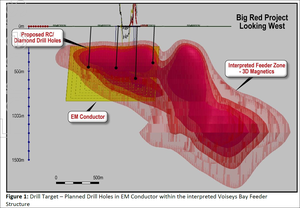 This is arguably the largest bedrock conductor in the Fraser Range.
Extensive 3D and aerial surveys have shown it has a large 'feeder zone' (the red areas above) which is thought to contain big amounts of nickel and copper sulphides.
Does all of this point to a nickel deposit? Only drilling can tell, and that's exactly what RTR is days away from doing.
The other RTR project in the limelight right now is Zanthus, which is just 18km away from the Nova-Bollinger deposit and has five bedrock conductors across a Nova style eye feature: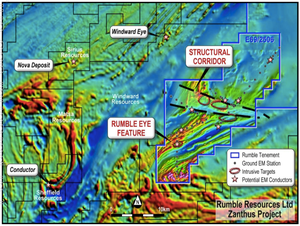 The image below shows the five conductors identified to date (ZC1 to ZC5):

Once again, only drilling will tell what is really in the ground there, and RTR is working on a campaign to follow Big Red's.
With a tiny market cap compared to other Fraser Range explorers, RTR appears leveraged to success, you can see it over to the left on this chart: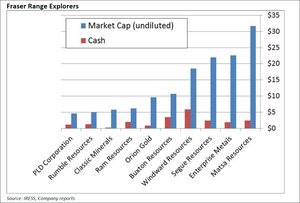 A recently released research note from Breakaway Research's analysts Grant Craighead and Mark Gordon rates RTR as a 'Speculative Buy':
Remember, analysts research notes can make for interesting reading but we don't solely rely on them as sources of information.
Our Track Record
Regular readers of our sites will be familiar with our long-standing interest in high potential stocks. To note just a few:
The past performance of these products are not and should not be taken as an indication of future performance. Caution should be exercised in assessing past performance. These products, like all other financial products, are subject to market forces and unpredictable events that may adversely affect future performance.
Drilling in days at Big Red
RTR is set to commence its maiden drilling effort in the Fraser Range with a four hole drilling programme at its Big Red project.
The goal of this drilling is to intersect the EM plate detected, within the interpreted feeder structure.
The drill rig will be a high-powered multipurpose truck mounted unit with 2,500m depth capacity. RTR plans to drill four RC/Diamond holes totalling 1,600m.
Now this feeder structure is interpreted as being very similar to one found at Voiseys Bay in Canada, a world-class 35Mt nickel resource that's part of the huge Thompsons Bay nickel province.
You can see RTR's feeder structure, the bedrock conductor and its planned drill locations here: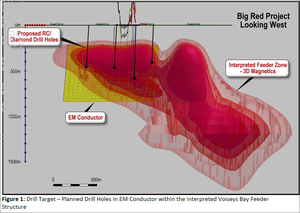 The feeder zone (shaded in red) has been interpreted as both conductive and magnetic by 3D inversion modelling. The zone is north plunging and coincident with the large EM conductor (shaded in yellow) and feeds into a 6km gravity body to the northwest, which RTR says could be a large magma chamber.
Now with all of that in mind, let's compare RTR's Big Red geological model to that found in Canada's Voiseys Bay: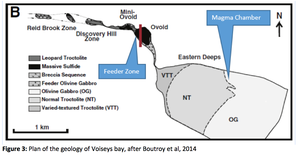 You can see a feeder zone target model leading in to what's called the "Ovoid" deposit where you'll find both magnetic and conductive material including magnetite, pyrrhotite, and nickel and copper sulphides. This all leads to a large magma chamber – a deeper intrusion.
So on November 7 th when drill bits start turning at Big Red, RTR's model will tested in the field, and we should start to find out what it really has in the ground.
Does the feeder zone above the EM target amount to a large nickel deposit like at Voiseys Bay?
We may find out in a few weeks – When the drilling's done around two weeks after the November 7 th start date, assays should follow quickly.
When the drill bits stop, RTR says it will also look to schedule a down-hole EM survey to provide a diagnostic test of the bedrock conductor.
And just to wrap things up very neatly, RTR has been awarded $150,000 to co-fund exploration on the Big Red Project through the WA Government's Exploration Initiative Scheme (EIS).
This is a big milestone for RTR. It's been in the Fraser Range for less than a year yet in that short space of time it's amassed eleven tenements and worked up compelling drilling targets – the first of them are set to be drilled very soon and we could have results shortly after.
Big Red gets even bigger
RTR increased its footprint in the Fraser range by 71% in one stroke by applying for two strategic exploration licenses at Big Red: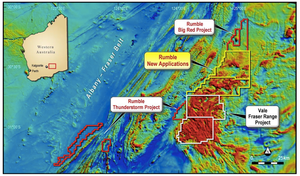 These new land applications expanded Big Red to 1491km2 and make the project one of the largest in the Fraser Range.
This is a sign of RTR's increasing confidence in Big Red and the drilling programme that's about to start there. After all, more in the same area could follow one big find and now RTR is starting to sew it all up.
But something else caught our attention in RTR's expansion: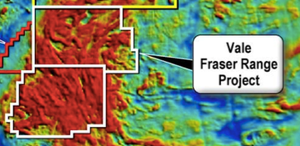 A big fish enters the pond
This is the talk of the town in the nickel game right now: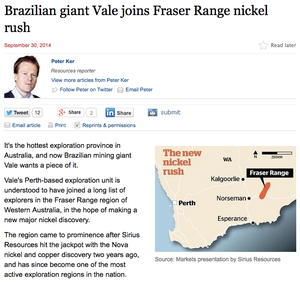 Brazil's Vale is the world's second largest nickel miner and worth a cool $55BN. It's a very big fish and there's lots of chatter that it's now active in the Fraser Range.
That is yet to be confirmed by the company – but according to this article in The Sydney Morning Herald, lots of signs point to Vale's involvement in the region. This is a clear tick of confidence for the region's potential value and for RTR's involvement.
There is a clear connection for why Vale would be interested in the Fraser Range. Nova-Bollinger has very similar mineralisation to the massive 35Mt Voisey's Bay nickel deposit in Canada – which is owned by Vale.
The Sydney Morning Herald article says it's understood Vale has now acquired a claim area in the Fraser Range that is located slightly off the main mineralisation trend on its eastern edge...
And it's also next door to RTR's tenements.
Rumbling forward
Kick off for RTR's maiden drilling programme in the Fraser Range at the Big Red Project is set for November 7 th – that's just days away. It's set to take two weeks to complete, with assays released as they come to hand, so we could have results by the middle of November.
The track record for the Fraser Range is that the first, and so far only, discovery – Nova-Bollinger – catapulted Sirius to a $1BN plus market cap almost overnight.
The past performance of this product is not and should not be taken as an indication of future performance. Caution should be exercised in assessing past performance. This product, like all other financial products, is subject to market forces and unpredictable events that may adversely affect future performance.
There is the possibility this could happen again, and as shareholders in RTR we've got our fingers crossed its drilling at Big Red repeats that success. But we're also focussed on the bigger picture.
A discovery at Big Red could lead to more at the tenement's newly expanded boundaries, or maybe Zanthus and Thunderstorm have something more to offer. In less than a year RTR has implemented an aggressive exploration programme culminating in the imminent drilling programme.
And with the entrance of Vale, the $55BN Brazilian mining whale into the Fraser Range, the region may have a greater global focus...
With a commanding land bank, aggressive exploration programmes and now a maiden drilling programme about to start, RTR is certainly in for an interesting couple of weeks.
Now, let's get drilling!
---