Rio Comparisons On the Money as HCH Could be Just Weeks Away From Company Changing Results
PUBLISHED: 20-05-2019 10:00 a.m.
With the production of electric vehicles (EVs) on the rise, copper demand has never been greater.
Today's cars utilise around 25kg of copper per chassis, EVs however, need at least 70-80kg.
On current pace, demand will increase from 23.6mnt (2018) to some 29.8mnt by 2027 – representing 2.6% annual growth.
The problem? We're headed for a supply crunch.
The worldwide refined copper balance was in the red by 247kt in 2018 alone, and remains on track to be so through until at least 2021.
As a result, a renewed push to expedite untapped copper projects is in full swing, with a lucrative market share up for grabs.
The company I bring to your attention today has widespread exposure in the copper race and as a result, has seen a three-fold rise in its share price in the last four months.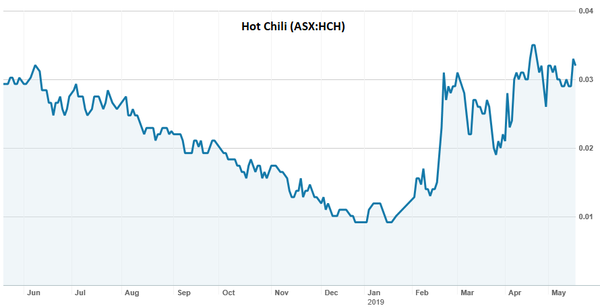 It boasts an impressive portfolio which is located near the notable Vallenar coastal region in central Chile.
With potentially game changing drill results on the horizon and an abundance of existing infrastructure nearby, this ASX junior is one step closer to becoming a premier ASX copper developer at the right time.
It's time to once again deep dive into...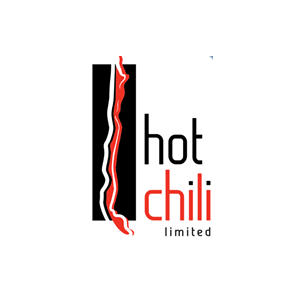 Hot Chili Limited
ASX:HCH
Market Capitalisation: A$35.61 million
Share Price: $0.033
Here's why I think HCH is worth a look:

As you may know, this isn't our first article on HCH.
The last time we touched on this emerging copper producer was in February in the article Expanding Portfolio Puts Hot Chili in the Copper Limelight, where we examined the company's existing Productora Copper Project and its impending acquisition of the Cortadera Discovery.
HCH has already completed a PFS at Productora, which established a 10 year mine life of 66kt copper and 25koz gold production at an overall Resource of 1.5Mt copper and 1Moz gold.
A summary of the ore reserve is below.

Even a minimal increase in the copper price could result in a nice kickback for HCH's market cap.
The company's portfolio also includes the nearby El Fuego Project area, which contains the San Antonio and Valentina satellite ore sources.
These high grade satellites may be overshadowed by Productora and Cortadera, but they pack a punch.
The Resource ready San Antonio mine has been explored heavily by HCH, with 39 RC drill holes completed across the mine area in July 2018.
Across the 4,600m drilled, results included:
19m grading 2% copper from 61m down-hole depth (including 11m grading 2.4% copper)
15m grading 1.7% copper from 80m down-hole depth
13m grading 1.3% copper from 17m down-hole depth (including 5m grading 2.3% copper)
To find out more about HCH's initial forays into the copper space, you can read one of our previous articles here.
Cortadera: The copper project Rio doesn't want you to know about
Located only 14km from its flagship Productora copper development, the Cortadera Copper project is what I want to bring to your attention today.
On 22 February, HCH executed a formal Option Agreement with private Chilean group SCM Carola to acquire a 100% interest in the project, and so far that decision is paying dividends.
The major porphyry copper gold discovery lies over a 2km+ footprint and is a pre-resource, large-scale addition to HCH's portfolio. The only question now, is how big could this discovery be?
The company began an initial confirmation drilling program at the site in April, which will comprise 17 holes for approximately 5000 metres of RC drilling (more on that shortly).
The deposit contains three porphyry's – Cuerpo 1, Cuerpo 2 and Cuerpo 3 (with Cuerpo 3 being the main porphyry).
Previous diamond drilling at Cuerpo 3 recorded wide copper sulphide intersections which remained open. They included:
864m grading 0.4% copper and 0.1g/t gold from 62m down-hole depth
including 348m grading 0.6% copper and 0.2g/t gold
406m grading 0.4% copper and 0.2g/t gold from 276m down-hole depth
including 146m grading 0.6% copper and 0.2g/t gold
198m grading 0.6% copper and 0.2g/t gold from 652m down-hole depth
HCH is now in the process of executing deep RC (reverse circulation) and DD (diamond) drilling at Cuerpo 3 – with RC results expected over the coming weeks and first DD drill results expected in June.
Historical results from Cuerpo 3 are highly promising, and the presence of substantial gold credits has average copper equivalent grades comparing very well with other large-scale discoveries in this space.
But how does it stack up against the biggest players in the game?
Among these is mining giant Rio Tinto (ASX:RIO), which made little secret of its ambitions to ramp up activities at its early stage Winu Prospect, located in the Pilbara Region of Western Australia. SolGold is also progressing its advanced stage Cascabel Copper Project, which is backed by NewCrest Mining and BHP Billiton.
The answer: Cortadera well and truly holds its own.
HCH managing director Christian Easterday likened Cortadera to other 'big copper' prospects during his presentation at the recent Latin America Downunder Conference, and he may just have a point.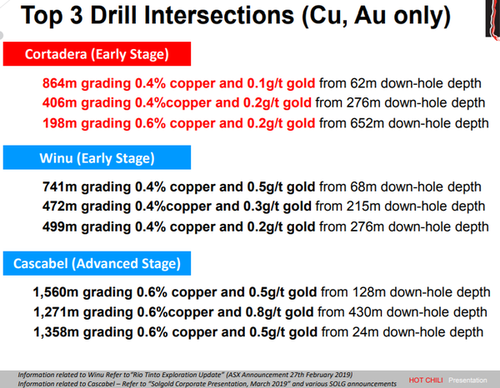 The comparison was also covered on Finfeed: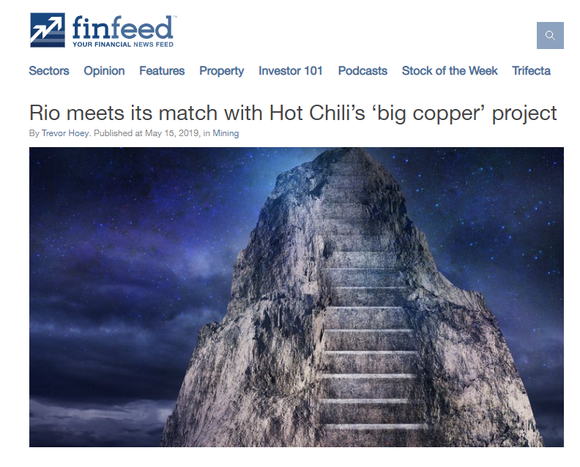 Exploration works going strongly
While HCH awaits the findings from deep RC and DD drilling at Cuerpo 3, let's take a look at what they've accomplished to date at Cuerpo 1 and 2.
Cortadera has already had US$15M spent previously on drilling and exploration work while it was privately owned. Adding to that, Hot Chili have recently completed its own shallow RC confirmation drilling at both sites. On 9 May, HCH released first results from this shallow drilling across Cuerpo 1 and 2 at Cortadera – which included:
68m grading 0.7% copper and 0.1g/t gold from 58m depth (Cuerpo 1)
(within 144m grading 0.5% copper and 0.1g/t gold from surface)
20m grading 1.2% copper and 0.5 g/t gold from 40m depth (Cuerpo 2)
(within 122m grading 0.6% copper and 0.3g/t gold from surface)
22m grading 0.7% copper and 0.4g/t gold from 26m depth (Cuerpo 2)
(within 118m grading 0.5% copper and 0.3g/t gold from surface)
These results confirm the potential for Cortadera to host globally extensive copper and gold from surface and also confirms the presence of significant near-surface copper and gold and gold enrichment zones.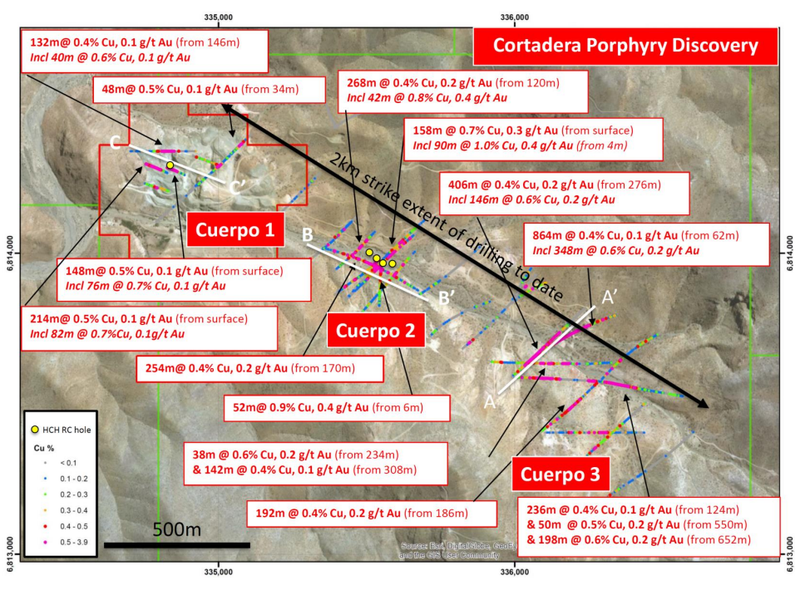 All of the above, combined with HCH's proactive high level strategy, should give you a lot to think about...
Big copper ambitions
With deep drill results from Cuerpo 3 not far away, it's time to reflect on HCH's 'super-hub' ambitions.
It has reiterated its desire to become a premier ASX copper developer, and I think they're well on their way to achieving this goal.
It has now assembled a plethora of holdings in a concentrated 10km radius – near the Pan American Highway and prominent Los Losas Port, with the sole intention of creating a large-scale copper 'super-hub'.
Following the announcement of Cortadera, the Company has reportedly received interest from numerous parties and Hot Chili has since appointed Sternship Advisors to manage funding discussions around the super-hub moving forward.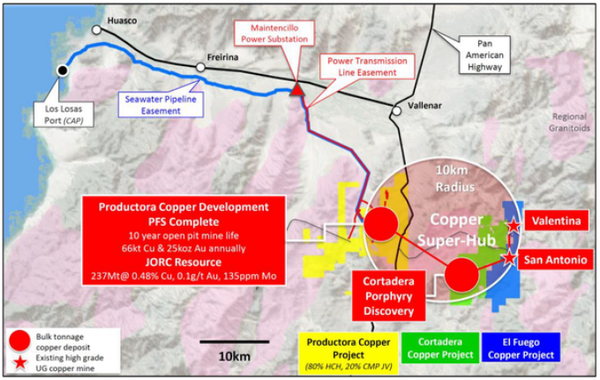 By the close of 2019, HCH expects to deliver its first Mineral Resource estimate for the Cortadera and high grade satellite combined resource base.
By the first quarter of 2020, it intends to commence a revised PFS based on the combined development, utilising existing nearby infrastructure to expedite the process.
These timelines fall comfortably within the projected lifespan of the copper supply crunch and will lay the foundation for HCH to be positioned as one of very few new Australian big copper producers for the growing EV industry.
It's for these reasons that I won't be surprised if HCH becomes a strong example of "right place, at the right time".
Add HCH to your watchlist.
---