Reenergised ASX Stock Set to Revitalise Extensive Base Metals Portfolio
PUBLISHED: 08-02-2017 10:27 a.m.
Investors and analysts alike are busy scouring the commodity plains for resource companies that tick all the desirable boxes such as commodity type, resource size, location and underlying asset prices.
Companies such as today's ASX junior explorer.
This little ASX stock is gearing up to make a major purchase of a state-of-the-art nickel and copper processing plant in the mining heavy Pilbara region, and it comes with significant nickel, copper and zinc resources nearby.
The purchase of the fully permitted Radio Hill mining operations and associated infrastructure, includes the 425,000 tpa Radio Hill nickel and copper processing plant, tailings, storage facility and a fully developed underground mine.
If the deal progresses as expected, this company will own the sole processing plant in the region and it will let the company fast track its existing nearby resources.
The company will have new resources, plus exploration upside potential that it is wasting no time unlocking. And given the anticipated turnaround in base metal prices, the move could play out perfectly.
However, base metal prices do fluctuate and caution should be applied to any investment decision here and not be based on spot prices alone. Seek professional financial advice before choosing to invest.
Considering the deal will give this company 495km 2 , increasing its tenement package in Karratha to 938km 2 , this ASX listed company – that remains capped at AU$9M – could be about to endure long and lasting change in the months ahead.
The future expectation has a lot to do with a market-savvy conductor leading an orchestra of metals projects into small-scale early production, combined with large-scale processing supplementing operational spend.
In other words, this company has pieced together a commodities portfolio much like an artist compiles a collage...
...and is now moving quickly to ensure its tapestry of tenement holdings sparks off a commercial extravaganza fuelled by superior project economics relative to its peers.
This company is applying a simple but effective business strategy bringing in seasoned metals-market veterans, staking claims in highly-amenable projects and kick-starting gold production as early as Q1 2017.
Anytime an overlooked stock attracts heavy-hitters and pushes for early revenues as part of a revamp — we sit up and take notice.
We think this stock offers an opportunity to take on some exposure to the re-emergent commodities sector and base metals in particular.
Introducing:

Artemis Resources
ASX:ARV
What if someone amalgamated some of WA's best base metals tenements and combined them with adjacent gold mineralisation that's ready to be scooped directly from alluvial surface deposits?
What if a proven commodities top-gun was spearheading an exploration strategy which involved collating top-end projects with strong viability into a single company?
That's pretty much the position Artemis Resources (ASX:ARV) finds itself in today.
Yet it has gone one better by consolidating all its operations into a tightly run, one-stop-metals-shop ready to move into small-scale production within weeks.
It could also be processing a range of metals from its 100% owned plant in WA within months.
The company is currently consolidating its existing shares on a 20 to 1 basis, and trading of the company with the revised capital structure will start on Monday February 13 th .
New acquisition indicates ARV is punching above its weight
In what could be a company-making deal, ARV has entered a conditional agreement for a three month exclusive option to acquire all of Fox's Western Australian mining and exploration assets.
This includes Fox's fully permitted Radio Hill 425,000tpa nickel/copper processing plant, along with a swag of nickel copper and zinc resources nearby.
Fox's Radio Hill has an existing nickel/copper sulphide Resource of 4.02 Mt @ 0.51% nickel and 0.88% copper.

ARV's option to acquire Radio Hill means it can pick up the fully-permitted modernised processing plant, plus the tailing dams and infrastructure.
The total cost to ARV will be $3.5M. That's made up of a $100,000 fee on execution of the Binding Conditional Agreement, $50,000 in month two, and $50,000 in month three, plus a final consideration of $3.3M by the end of month three, which could be extended by mutual agreement. ARV would not be liable for any held liabilities over the assets purchased.
To fund the acquisition ARV will undertake either a capital raising, complete a debt financing arrangement, or a combination of debt and equity of at least $4M. The company will obtain shareholder approval before proceeding. To proceed the deal, ARV must also satisfy its due diligence and obtain all ASX, regulatory and industry approvals.
If completed, ARV will be able to process significant nickel, copper and zinc resources that litter the West Pilbara region – as it's the only one available up there.
ARV could also synergise its own operations by feeding gold from its ongoing operations in the region.
ARV has around 110,000oz Au in gold resources within a few km's of Radio Hill at Weerianna, Carlow Castle and Munni Munni.
With gold prices stabilised around AU$1,600/oz., that sets up a huge initial salvo of pre-mining gold sales for ARV, to get its longer-term ambitions on the path to realisation.
If we look at Munni Munni in isolation, it hosts 830,000oz. of platinum and 1.14Moz. Palladium and a further 152,000oz. Au.
As you can see, ARV has a kaleidoscope of metals within easy reach...
...and now with the tools required to process them into a commercial reality.
Here's a peek at just some of the Fox's WA assets to be included in the deal: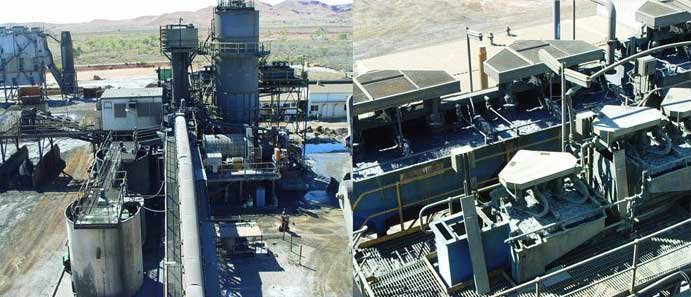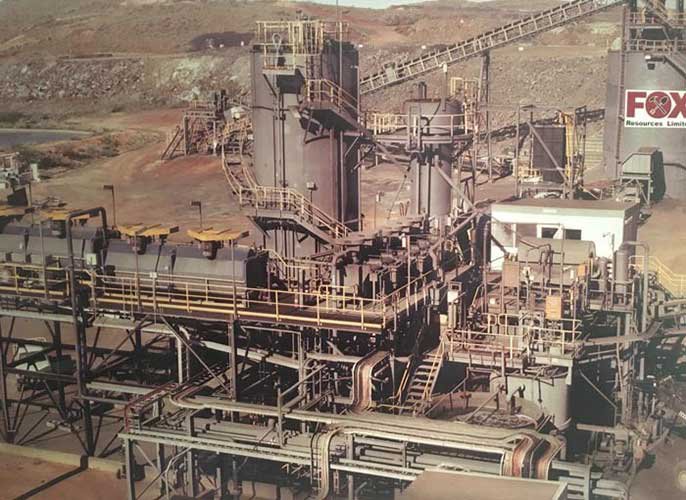 The plant can produce Nickel and Copper metal sulphide concentrates and is capable of producing a Copper/Zinc concentrate sourced from local mining.
ARV can elect to modify the plant to make it compatible with its own gold feedstock via a gravity circuit that would enable ARV to connect all of its metals sources such as Weerianna, Carlow Castle, Silica Hills, Purdy's Reward and Munni Munni, into a low-cost processing centre.
Ideally, ARV would like to see Radio Hill accommodate its Weerianna, Carlow Castle, Silica Hills and Purdy's Reward Projects which would effectively see ARV taking its first steps to becoming a fully-fledged, paddock-to-plate multi-metal producer (and we could add, revenue-generator).
ARV's Board of Directors has had a reshuffle, with some highly experienced and knowledgeable industry experts appointed.
One of Australia's most savvy commodity investors in David Lenigas was appointed Executive Chairman of the Board in November last year. His career carries over two decades' commodity investment experience, and most importantly experience in advancing small-cap rough diamonds into high-carat jewels.
Quite a throw from typical MDs, Lenigas is a rather charismatic figure with sturdy antipodean connections. He is an experienced mining engineer with significant global resources and corporate experience, having held a variety of Management-level roles with several publicly listed companies in London, Canada, Johannesburg and Australia.
Doing a bit of digging on his background, it's pretty clear this resource industry captain is well aware of how to shepherd dingy junior explorers through the commodities jungle — whilst being able to generate commercial momentum in the process.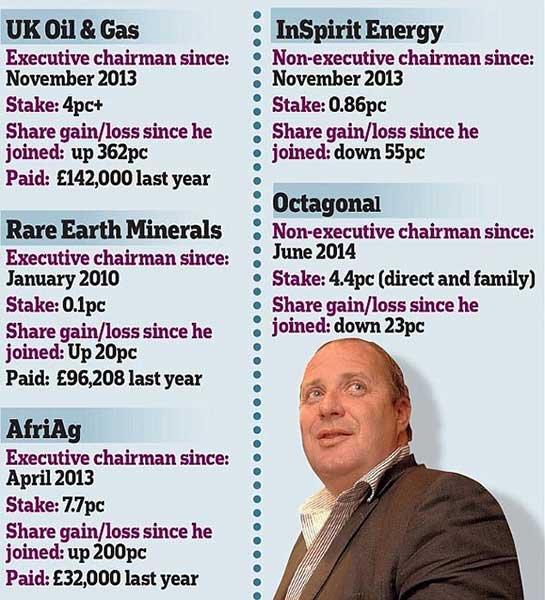 For a while, Lenigas was the Executive Chairman of LSE-listed UK Oil & Gas, helping to guide the company to a 1,600 barrels per day significant oil discovery at Horse Hill onshore UK.
He also formed London listed Rare Earth Minerals plc which is the major shareholder and works closely with European Metals Holdings (ASX:EMH).
You may recall the Next Mining Boom first brought readers the EMH story back in April 2015 in the article Electric Cars Need This: ASX Junior's Billion Tonne Potential . Since then EMH has been up over 600% and ... whilst it is early days at ARV, we are hoping an early position in this company could reap similar success.
The past performance of this product is not and should not be taken as an indication of future performance. Caution should be exercised in assessing past performance. This product, like all other financial products, is subject to market forces and unpredictable events that may adversely affect future performance.
With David Lenigas in place as Executive Chairman, we're expecting to see his operational guile and technical nous make its mark on ARV's rate of progress. On the back of his inspirational thought-leadership, ARV has already brought together a swathe of metals prospects by pooling together fragmented tenure belonging to other explorers.
One other thing we can expect to see from Lenigas, is a quirky Twitter feed in tandem with a personal blog that isn't afraid to filibuster the status quo .
One thing we probably won't see from Lenigas, is love lost for 'swampies', whether they be dwelling in Washington D.C... or strategically posted for disruption.
The Brockham swampies FB page just reported 10 lorries arrived in one go! Let's see. Interesting day ahead at the worksite it looks.
— David Lenigas (@DavidLenigas) 9 January 2017
Just months after Lenigas became Chairman, highly experienced senior mining executive Alex Duncan-Kemp was named Executive Director of the Board of Directors in January 2017.
Duncan-Kemp is a veteran mining engineer with priceless hands-on experience having spent more than a decade in various facets of the Australian mining industry.
He previously served as Mine Superintendent at Plutonic's Darlot Gold Mine and Mt Edon Gold's Tarmoola Gold Mine and WMC Fertilizer's Phosphate Hill. He has also held senior engineering positions in Pilbara region with Rio Tinto, Sino Iron, Iron Ore Holdings and other mid-tier mining contractors.
Duncan-Kemp is, for us here at The Next Small Cap , an instrumental piece of ARV's elaborate Lego-set of metals prospects scattered around Karratha.
We think we have found a bit of a gem that you don't need to be a gemmologist to recognise.
ARV is an ASX-listed small-cap explorer and soon-to-be gold producer. However, there is a whole lot more than meets the eye with this junior.
First and foremost, ARV is a base metals explorer with the hope of progressing a range of metals projects including the Nickol River Project, Munni Munni Project and Silica Hills. ARV's tenement holdings are also known to contain iron ore, zinc and copper.
All in all, ARV probably has a wider spectrum of base/precious metals exposure than any other ASX-listed explorer we've come across — and its Management isn't wasting any time getting as much of it to market as possible.
ARV has serious gold production intentions expected to commence by the end of Q1 2017, albeit starting with a trickle of alluvial gold and moving on to torrential flow at a later stage after further development.
However, it should be noted that ARV is in the early stages of meeting these goals and has a long way to meet its full scale production ambitions. As such investors should seek professional financial advice for further information before considering this stock for their portfolio.
For the time being, capital expenditure for its initial-stage gold extraction is expected to remain low — which is often a great feature for small-cap juniors aiming to part-sustain their operations with pre-JORC gold sales.
So with both base and precious metals in mind — let's take a look at where and how ARV hopes to realise its commercial ambitions
ARV has an enviable tenement position in gold, platinum, nickel and iron ore, all held in close proximity to each other in Karratha, WA.
For those not aware, Karratha is Australia's richest alluvial gold region with, understandably, the highest rate of metal-detector sales in Australia.
Here are ARV's tenements and projects, mapped out: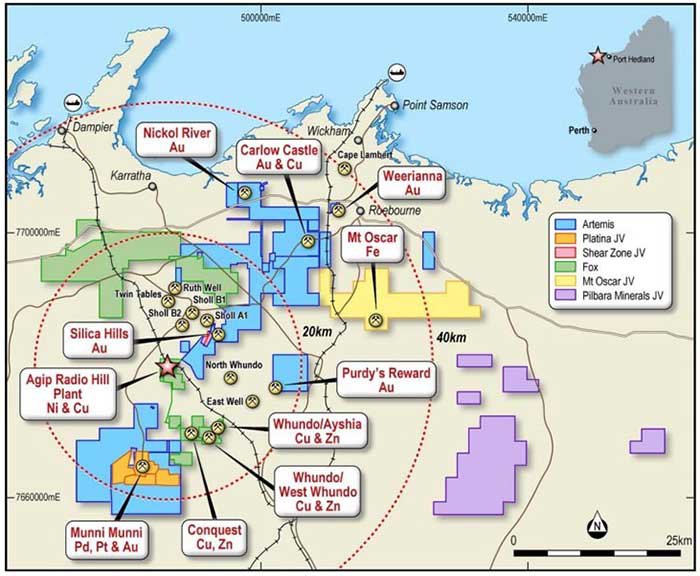 As you can see, ARV has assembled a bit of an exploration arsenal with almost a dozen individual prospects or projects in its pipeline.
Notice that other ASX-listed companies are also in the vicinity. Probably the most prominent is Pilbara Minerals, a significant juggernaut currently worth $658M, well on its way to mature status.
Let's take a deeper look at ARV's Resources war chest
Adding to ARV's metals arsenal is its recent purchase of a gold processing plant to be constructed at the Nickol River Gold Project.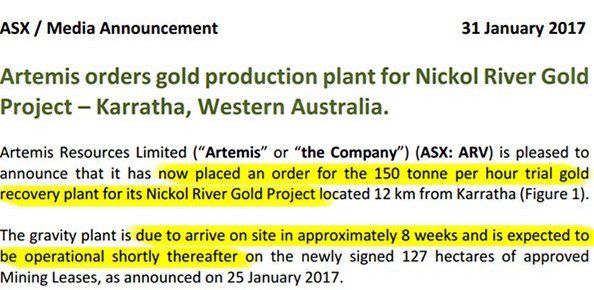 ARV has signed a binding agreement with D & K Corps Investments Pty Ltd granting ARV the exclusive rights to explore, mine, process and extract and sell gold and precious metals from 5 Mining Leases, covering 127 hectares, to a depth of 5 metres from surface or depth of free dig with an excavator, with ARV receiving 90% by weight of the gold and precious metals recovered, for an initial 2 years and renewable thereafter.
Just to give you an idea of the potential upside at Nickol River, in 1984 a 10 tonne per hour plant tested 600 tonnes of surface material yielding a recovered grade of 0.33 g/t of gold.
In 1985 a larger 40 tonne per hour pilot plant processed 42,500 tonnes of surface material that yielded a recovered grade of 0.15 g/t Au.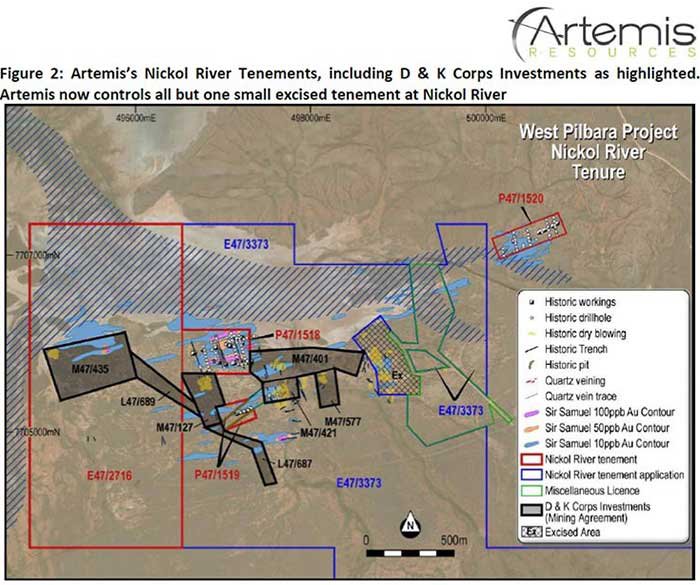 Fast forward to today and ARV's tenements continue to support the case for more gold deposits. Auger soil sampling done in the West of ARV's tenement holding identified multiple gold anomalies and a peak assay result of 6.8g/t. Parallel rock chip sampling also returned anomalous gold readings with assays scoring up to 14.8g/t.
Further tenement applications are pending which will add further ground to consolidate ARV's West Pilbara empire; and the great thing is that not many market analysts have caught on.
With a trickle of gold revenues expected within months, let's take a look at ARV's medium-long term prospects...
West Pilbara – Gold/ Base Metals/Iron Ore
ARV's portfolio in West Pilbara spans over 700 km 2 and is prospective for gold, base metals (including copper zinc, cobalt and nickel) and iron mineralisation, and is in close proximity to Karratha, the economic hub of West Pilbara.
In June 2014, Artemis acquired 80% of Western Metals Pty Limited which holds the Weerianna gold prospect — possibly an ample source of ARV's gold in the coming years. This prospect contains a JORC'd 70,000 oz. gold (Au) Inferred Mineral Resource and pencils in significant upside potential for ARV given its proximity to Carlow Castle which has a pre-JORC estimate of 40,000oz Au.
Next up on ARV's gold hit list is Purdy's Reward
ARV's exploration at Purdy's Reward, 35km southeast of Karratha, has revealed over an 800m strike length, strike widths of up to 100m and has received assay results scoring up to 35.6 g/t Au.
A Programme of Work application has been lodged to gain approval for a programme of trenching and RAB drilling designed to better delineate the size and tenor of the identified gold mineralisation at Purdy's Reward.
We'll most certainly be keeping our eye out for future exploration results from this hotspot — on the lookout for potential share price catalysts of course.
Further gold potential at Mt. Clement
The Mt Clement Project comprises three granted Mining Leases (valid until 2020) and two granted Exploration Licences that cover a total area of 14.55km 2 in the Ashburton area of WA.
The project lies roughly 30km southeast of the operating Paulsen's Gold Mine owned by Northern Star Resources Limited.
ARV's operations include Northern Star Resources as a 20% JV partner with Mt. Clement containing an Inferred Resource of 1.1Mt @ 1.77g/t Au and 17.0g/t Ag containing almost 64,400 ounces of gold and 620,000 ounces of silver, for a total of 80,000 ounces gold equivalent. There is scope for further resource expansion, which is yet another potential catalyst further down the track.
Take a look-see at the most recent test work results: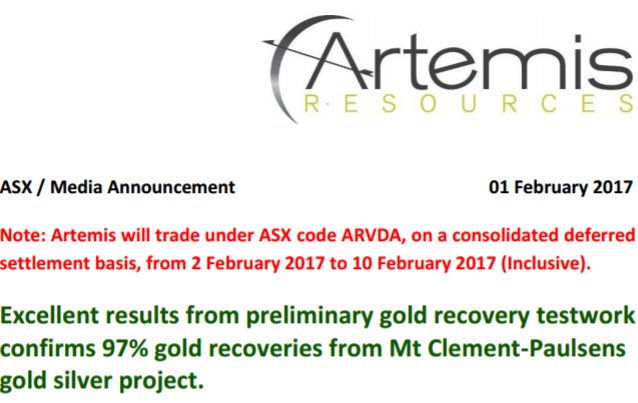 And here is a snapshot of ARV's alluvial samples collected from its exploration in 2016: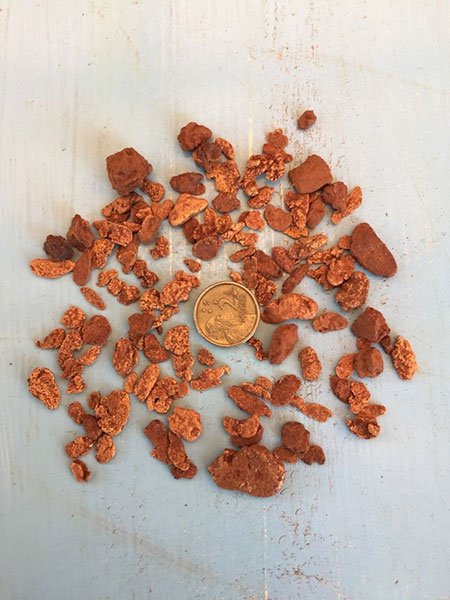 The recent drill intercept samples are as follows:

That's just what we like to see, if or when considering an embryonic mining stock with superlative growth ambitions — plentiful gold close to surface or just smattered above ground that doesn't too much money to extract, process and sell.
With all that gold potential bursting at the seams, ARV's portfolio is further bolstered by nickel, copper and platinum
In August 2015 ARV entered into an agreement with Platina Resources Limited to earn a 70% interest in the Munni Munni Platinum Group Elements Project.
The Munni Munni Project hosts the largest intrusion in the West Pilbara and hosts a JORC 2004 compliant Resource of 24 Mt @ 2.9 g/t Platinum Group Element (PGE) + gold (1.4Mt Inferred, 9.8Mt indicated and 12.4Mt Measured) (0.83Moz platinum. 1.14Moz palladium, 152Koz gold and 76Koz rhodium). Munni Munni is the largest as yet un-mined primary PGE Resource in Australia.
The Munni Munni project contains a JORC (2004) total resource of 24 Mt @ 2.9 g/t (Pt+Pd+Au) for total contained metal of 0.83 Moz Pt, 1.14 Moz Pd, 152,000oz Au, and 76,000oz Rh.

Just like its other prospects, Munni Munni is conveniently nestled within short distance of processing facilities which fits in perfectly with the cost-efficient, low capex nature of ARV's empire-building campaign in West Pilbara.
Defragmenting a way into the black
ARV has a spring in its step following its recent exploits.
Having found yet more primary gold deposits at Silica Hills and discovered more gold at Purdy's Reward, ARV is also flying high having signed a deal to acquire Radio Hill.
There's also the breath of fresh air coming from strong gold recoveries seen in all of ARV's gold recovery tests — a great sign considering ARV is on the cusp of launching its first gold production in the coming weeks.
Armed with a big-hitting Resources veteran on its Board and with plenty of prospects in the pipeline for near-term production within Australia's gold hotspot...
...we think ARV is a small-cap stock that's set for appreciation.
It's still early days for ARV's larger-scale plans that will require further exploration, so investors should take a cautious approach to their investment decision.
However, the prospect of imminent gold sales from surface deposits at Nickol River combined with universal base metals processing capabilities at Radio Hill — could propel ARV into the advanced position of commanding a mini metals empire in West Pilbara.
For the first time, a set of highly prospective tenements located in such close proximity, have been pooled together into one entity and the reigns handed to a proven Project Manager and valuation generator in the form of David Lenigas.
ARV is cleaning its decks by consolidating its share register from over 4 billion shares down to roughly 200 million. In addition to the consolidation, ARV has refreshed its asset portfolio by fusing together acquired assets and existing tenement holdings in perfect lock-step with a resurgence in metals demand globally.
The greater the pressure, the greater the gem.
For years ARV has been under tremendous pressure to deliver shareholder returns; but has finally found a discernible path to generating some sparkle for loyal investors courtesy of a masterplan to commercialise a multifaceted metals portfolio.
Commodity markets have been helter-skelter to say the least in recent years, which has meant that the companies able to weather such harsh environmental conditions could potentially turn out to be the outperforming diamond sparklers all small-cap commodity investors are looking for.
Eyes up.
---