PSC Drill Results to Keep Coming: JORC Resource Weeks Away
PUBLISHED: 22-09-2016 15:29 p.m.
The Next Small Cap presents this information for the use of readers in their decision to engage with this product. Please be aware that this is a very high risk product. We stress that this article should only be used as one part of this decision making process. You need to fully inform yourself of all factors and information relating to this product before engaging with it.
Phew!
What a ride from Prospect Resources (ASX:PSC) – one of the most successful stocks we have ever covered here at the Next Small Cap .
The last time we wrote about PSC was in late June , alerting readers to the imminent lithium drilling that was to take place. PSC's share price was just 1.7 cents, but from that point it climbed up as high as 7.4 cents... All in all, PSC has been up as high as 1,130% since we first brought readers the story back in October 2015 , when it was trading at just 0.06 cents...

The past performance of this product is not and should not be taken as an indication of future performance. Caution should be exercised in assessing past performance. This product, like all other financial products, is subject to market forces and unpredictable events that may adversely affect future performance.
Since our previous article, the lithium and gold explorer has been making strong progress on its projects, and this share price appreciation may well continue on the back of upcoming drilling results and news of a maiden JORC mineral resource expected before the end of October. A mine scoping study is planned for completion prior to 31 December.
Before we go too far, it should be noted that PSC is a very high risk stock. Getting mining projects up and running in countries such as Zimbabwe and the DRC is no simple feat for political and social reasons, and there may be challenges ahead.
PSC also expects to have offtake agreements signed with Asian lithium carbonate and lithium hydroxide producers before the New Year and first ore production before June 2017.
The company is in a pretty solid position to fund its exploits having raised $2.4M in June and a further $17M in July for a total of over $18M in the bank.
The cash has certainly helped its drilling ambitions.
At the premier lithium deposit Arcadia, located 35km north of Zimbabwe's capital Harare, PSC has now completed a total of 50 drill holes, including rock chip sampling of 316 samples.
Up to 51m in resource thickness was discovered through the drilling, with further diamond drilling currently in progress. An additional RC drill rig will arrive to the site soon to accelerate the project.
Meanwhile, an option to acquire a second lithium deposit in Zimbabwe, God's Gift, has been signed by PSC – an RC drill rig will be moved to God's Gift shortly.
The 225 hectares of God's Gift prospective ground contains pegmatite outcrops making it an immediate lithium play. During the four month option period, PSC will carry out a short exploration programme including RC drilling of approximately 6 holes.
The third project to see some action in the near term is PSC's Gwanda East gold project that saw its first gold production commence in April.
Development at the gold project has been somewhat delayed as the company shifted human resources to the Arcadia high grade lithium project, and who can blame them given the on market response to that project.
With nearly $20M raised through two separate placements in the past month, PSC is juiced and ready to fire on all cylinders.
Let's drill down deeper to get a better look at the latest from...

Prospect Resources
ASX:PSC
Prospect Resources (ASX:PSC) appears to have found a way to master the tightrope thus far and is closing in on bringing its main lithium project, Arcadia, closer to production which is planned to take place in Q2 of 2017.
Not only has PSC been riding the lithium wave, it has been making positive headway on its deposits.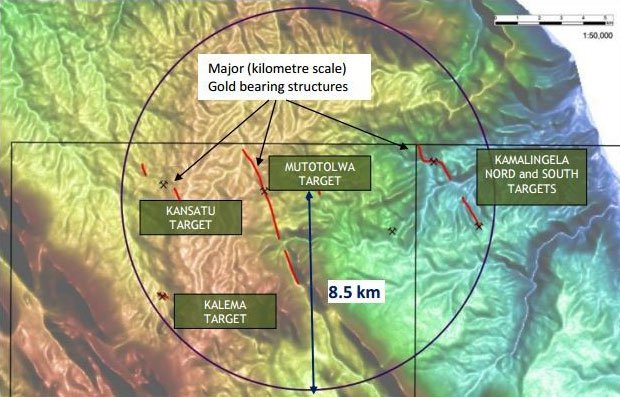 Through its 100% owned Singapore company, Prospect Resources Pte Limited, PSC owns 70% of certified Zimbabwean indigenous company Hawkmoth Mining and Exploration (the remaining 30% belongs to Farvic Consolidated Mines Ltd).
From the Hawkmoth holdings the lithium projects are 90% owned and gold projects 100% owned.
The reasoning for this structure is Zimbabwean law requires all operating companies to be either 51% owned by indigenous parties or have the capability to be 51% owned.
The second and most recently acquired lithium project God's Gift, sees PSC get a foothold in this mineral rich region never before mined for its pegmatites, with drilling and exploration to commence shortly.
Finally, the Gwanda East gold project, that already saw gold production commence in April 2016, further diversifies PSC's portfolio not only for being a gold play but due to the advanced nature of the mine offering near-term revenues.
With both lithium and gold having experienced upward movements in price throughout 2016, lithium is one of the hottest commodities right now, with nearly everyone talking about it.
Lithium demand continues to soar
Some analysts are predicting that the lithium boom may have only just begun a 20-year bull run with a 20% rise in the lithium price expected as early as 2017.
With a future that is set to involve lithium demanding solar power panels and battery technologies at its core, it appears they may be right.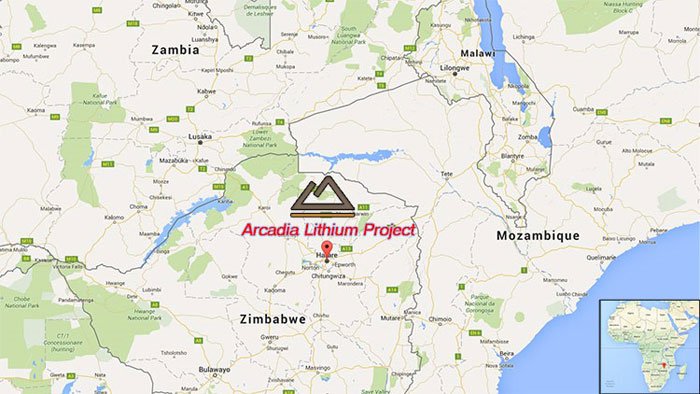 Of course no one can predict the future but with companies such as Tesla and Volkswagen investing billions of dollars into lithium battery technology, we can assume that demand for products requiring the resource such as electric vehicles and lithium-ion batteries will continue to grow in demand as they become more widely adapted in the market.
With global demand for lithium on the rise, PSC is speeding up its drilling program to help supply the market.
Drilling progressing rapidly at Arcadia
Assay results from the first three RC drill holes at PSC's Arcadia project were released recently, with the first RC drill program now complete and PSC waiting for assay results from a further 28 holes over the coming weeks.
Through its drilling to date, PSC has covered approximately 10% of its exploration area. Meanwhile, the drilled strike of the 14 stacked pegmatites now extends more than 1km SW-NE and some 350m down dip to NW.
Here's a look at the cross section.
PSC's ground position now covers more than 600 hectares of mining licenses . That's right, PSC already has mining licences covering all their ground – not just exploration licences. This will prove very helpful as they speed towards production.
However it should be noted that it hasn't reached production stage yet, and should be treated as a high risk investment due to the countries the company operates in.
Assay results from the first 3 RC drill holes returned a peak grade of 4.37% Li 2 O with significant intersections:
ACR003 – peak grade 2.47% Li 2 O
ACR002 – peak grade 4.35% Li 2 O
ACR001 – peak grade 2.51% Li 2 O
Below is a map of the completed diamond drill collars (white) and RC drill holes (green).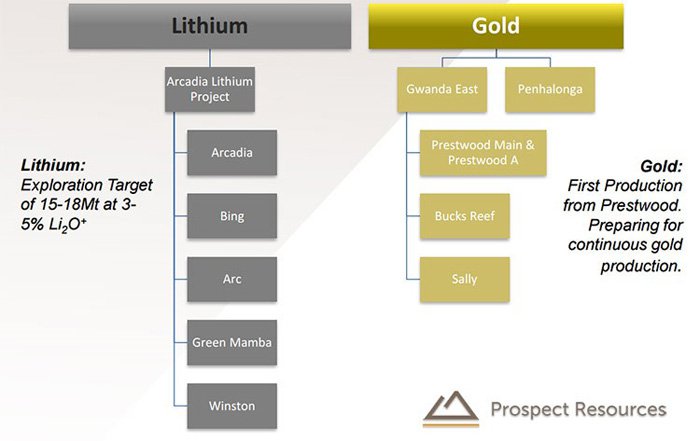 With these results in tow, PSC has put one diamond drill rig back on site to drill for metallurgical test holes, with at least one RC drill rig scheduled to return in the next few weeks to carry out further resource definition holes.
Aside from drill results, there are two imminent catalysts to look forward to from Arcadia, including a first JORC mineral resource expected to be generated before the end of October and a mine scoping study planned for completion prior to 31 December.
Further catalysts include first ore production to begin before June 2017 and the results of offtake discussions that are currently occurring with Asian lithium carbonate and lithium hydroxide producers. Agreements are expected to be completed before December 31.
God's Gift lithium project
A four month option agreement to pick up its second lithium project in Zimbabwe, God's Gift, has been signed by PSC.
Located in the Benson Pegmatite Field the God's Gift Lithium Deposit is 165kms north east of Zimbabwe's capital Harare: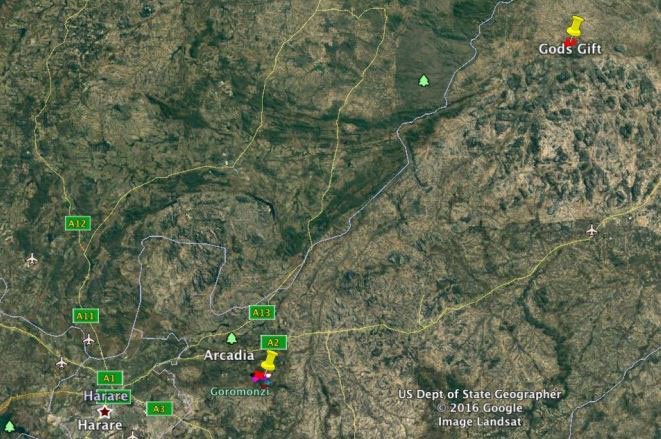 The deposit covers around 225 hectares of prospective ground which in the past had been mined with a focus on beryl and tantalite.
Although mining records at the project are incomplete, PSC told its shareholders that artisanal mining had exposed pegmatites.
All up it said the project contains a series pf pegmatites, usually 0.5m to 30m in width and more than 600m in length and generally of the type which produces lithium-sodium.
The site itself is easily accessible via the bitumen road for approximately 130km from Harare, with the balance being gravel.
The area has an extensive history with the deposit primarily being a tantalite target in the past, but with extensive pegmatite outcrops making it an immediate lithium play.
PSC has signed a four month option to acquire a 90% interest in the God's Gift Lithium Project for USD$50,000. An additional US$450,000 is due on exercise of the option. The acquisition would be made via PSC's 70% owned Zimbabwe subsidiary Hawkmoth Mining & Investment Ltd.
During the option period, PSC intends to embark on a short exploration programme including RC drilling of approximately 6 holes, so it won't be long before we find out if PSC 'sees the light' at God's Gift.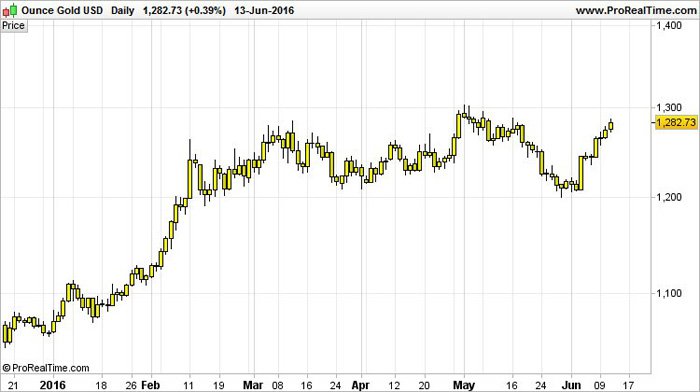 Gwanda East gold production
The gold deposits held by PSC continue to grow in value as the price of gold moves upwards in 2016.
First gold production was announced in April 2016 with five level drives being blasted and rises developed in preparation for continuous gold production, with shaft sinking ongoing.
Cash flows expected from Gwanda East gold production will be used to propel the other lithium and gold developments.
Currently the gold ramp up is taking longer than expected due to human resources being shifted to the Arcadia Lithium Project, however with capital successfully raised, PSC will look to step up its efforts at the Gwanda East Gold Camp.
With the stronger balance sheet, PSC has slowed the gold development side down and is focusing on a larger drill programme to look at the large scale gold potential of Gwanda East.
To date, PSC had only really looked at the narrow high grade systems. Mind you, with grades like 71.6g/t over 30cm or 21.2g/t over 105cm, 16.7g/y over 20cm, 10.1g/t over 95cm and 5.10g/t over 41cm things have not entirely stopped on the production development.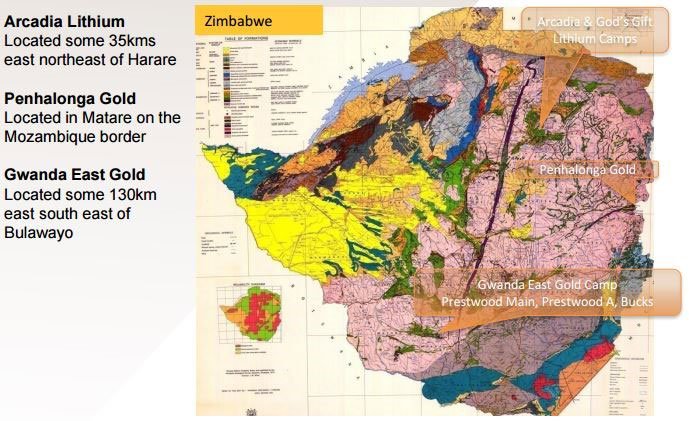 Funding sorted
In the space of a month PSC has raised $17M in a bid to accelerate its operations.
The successful capital raising of $16M was carried out end of July and approved by shareholders and undertaken at a significant premium to the 20 day volume weighted average price of $0.036.
$14M was raised with the issue of 280M shares at $0.05 per share, with the remaining $2M completed via placement from DJ Carmichael Pty Ltd through the issue of 40M shares at $0.05 per share.
A further $1M was raised in August with 20M shares at $0.05 per share from one of PSC's major shareholders and foundation investors.
The proceeds of the placements will be used to accelerate mine design, plant design and feasibility studies for the Arcadia lithium deposit, as well as order long lead time items needed to develop Arcadia into an operational mine.
A portion of the funding will be used to expand the gold exploration programme and continue underground development for gold production at PSC's Gwanda East gold camp.
This healthy cash balance also provides PSC with the capacity to make additional strategic acquisitions, particularly within the lithium, graphite and cobalt sectors... so keep an eye out for PSC's next move...
What to expect from PSC in the near term
Using the $17M raised in the past month, PSC is advancing rapidly on its multiple lithium and gold projects.
PSC is awaiting further assay results from its Arcadia drilling as the company moves to attain a first JORC reportable resource at Arcadia by the end of October.
An additional RC drilling rig is on its way to Arcadia to speed up the process to define an indicated and inferred resource, followed by an infill drill programme to define an indicated and measured resource.
The mine feasibility study on the Arcadia deposit is set for completion by the end of year, with the first ore production planned to occur by 30 June 2017.
Off-take discussions are underway with over five separate Asian lithium carbonate and lithium hydroxide producers. Agreements are expected to be finalised by the end of 2016.
It should be noted here that nothing is signed yet, and if you are considering investing in PSC don't rely only on the information in this article, take into account your own personal circumstances and risk profile, and seek professional financial advice.
Drilling at the newly acquired option on God's Gift lithium deposit is set to take place in the coming months, with around 6 RC drilled holes to be conducted in the initial stage of production.
From the capital raised, resources will be allocated to the Gwanda East Gold Camp that saw initial gold production in April 2016.
Despite human resources being shifted from the gold project to Arcadia, additional mining construction work is taking place to achieve continuous gold production flows.
Once in full operation, revenues from Gwanda East are expected to fund the costs of the other gold and lithium projects.
With lithium demand continuing to soar and tipped to rise 20% by 2017, the long-term bull run in lithium may have only just begun and PSC could find itself in prime position to capitalise.
---