North American Lithium and Aussie Gold: ASX Explorer Drilling Now
PUBLISHED: 13-10-2016 10:21 a.m.
A new player in the lithium exploration space is on a mission to rapidly progress its two promising lithium projects, which can complement its 770,000 oz. Australian gold project.
Not only has gold made enormous gains in 2016, but lithium has been a tremendous growth story over the past year as well, meaning this tiny company could very well have its commodity eggs in the right basket.
This company has a new and very driven-to-succeed management team on board and is funded and ready to aggressively explore its three projects – a hard rock lithium project in Canada, a lithium brine project in Nevada, and its Australian gold project.
And the best part is, a lithium drilling campaign has already begun for this $9 million capped ASX stock.
Initial results just released identified 50m of lithium bearing pegmatite, continuous from surface, with visual lithium bearing spodumene of around 20%. The down dip drill hole ended in mineralisation...
Now, the drill rig will move to ground right next door to Ardiden Ltd (ASX:ADV) 's emerging lithium project – and could produce continued strong results.
Regular Next Small Cap readers would be familiar with Ardiden Ltd – we first told readers about that stock when it was trading at just 0.9 cents – it has since been up as high as 480%...
The past performance of this product is not and should not be taken as an indication of future performance. Caution should be exercised in assessing past performance. This product, like all other financial products, is subject to market forces and unpredictable events that may adversely affect future performance.
We are hoping this ASX stock, currently trading at 0.5 cents, can do something similar over the coming months.
In addition to the hard rock lithium resource it is exploring in Canada, the company is also exploring for a lithium brine resource in Clayton Valley, Nevada, yep, you guessed it, Tesla territory.
This Clayton Valley region which is home to major lithium brine finds is within 10km of the only producing lithium mine in North America, the Silver Peak Mine, owned by Albemarle Corporation (NYSE:ALB), a company with a market cap of around US$8.55BN.
Of course, we are not suggesting here that this company will be as successful as Albermarle, as it is still an early stage exploration company with a long way to go. This is a speculative stock and as such, you should seek professional financial advice if considering this stock for your portfolio.
Finally, this company's gold project is also due to see drilling in the coming weeks at Mt Adrah in southern NSW.
This project already has a 770,000oz JORC resource, and a 1,200m drilling plan will go ahead over the coming weeks pending an improvement in the weather.
The drilling will test for extensions of high grade reef structures, with the intention to derive an Inferred Resource and a focus toward moving towards early cashflow via a near surface / high grade operation.
With a current lithium drilling programme now underway in Canada, plus a gold drilling program which could kick off any day now once the weather improves, we are looking forward to the coming news flow regarding...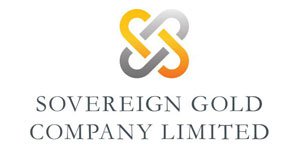 Force Commodities

Sovereign Gold Limited (ASX:SOC) SOC is a raging river with torrents of news flowing. Since new management came on board 18 months ago, SOC has focused on developing its projects rapidly and getting results on the board.
This approach makes sense as the directors own 15% of the company, meaning they have a vested interest to deliver return for shareholders, including the top 20 shareholders who own more than 50% of the register of this fairly tightly held stock.
The hard work from the board is beginning to pay off with a fully funded drill program having now begun at SOC's Crescent Lake lithium project in Ontario, Canada and drilling set to commence on the Clayton Valley lithium and Mt Adrah gold project in the near future.
Whilst gold has been in demand for centuries, lithium has in recent times taken the markets by storm.
Lithium demand to surge in coming years
The increase in computer technologies, solar power and lithium-ion batteries, has seen the demand for lithium rise substantially.
However, this is tipped to be only the beginning of the lithium rush: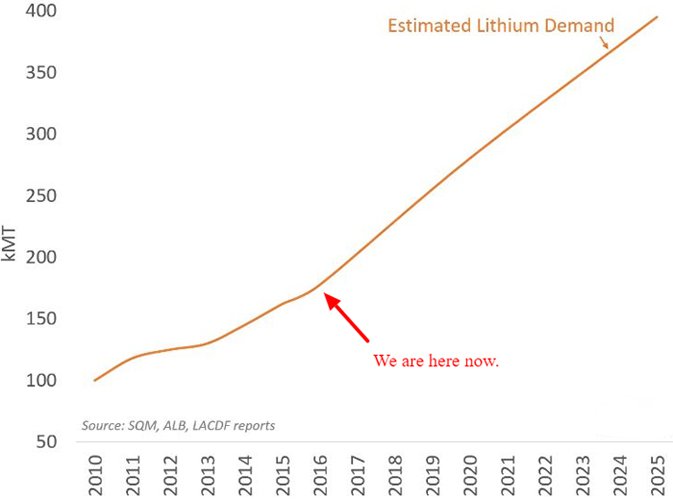 Forward estimates based on current trends signal that the world will need a substantial lift in lithium production over the coming decade.
Unless production can keep up with demand it is likely that the lithium price will continue to soar in the years ahead. In China, lithium carbonate prices have tripled within the past 12 months alone.
Further analysis into the lithium market from Transparency Market Research, who recently released their report on the lithium-ion industry, predicted the lithium-ion battery market to be worth US$77.42bn in 2024, up from the 2015 total of US$29.68BN:
The main drivers of the trend towards lithium as outlined in the report include the coming rise in electric vehicles and the need for alternative fuel sources and storage.
Essentially if analysts are correct in predicting the trend in lithium we may only be at the beginning of a long bull run.
The growing demand for lithium may add value to SOC's lithium projects over time.
However at the same time, there is no guarantee that lithium prices will increase over time or that SOC's projects will progress through to production, as they still face a number of hurdles to make it to mining, so if considering an investment in this stock seek professional financial advice.
The most advanced of SOC's lithium projects is located in Canada – let's take a detailed look.
Crescent Lake lithium in Canada
Crescent Lake located in Ontario, Canada, hosts four of SOC's claims: Chappais Lake, Dempster L61, L40 and L28.
SOC has secured an exclusive option to acquire 100% of 28 unpatented mining claims within Crescent Lake that covers 50.7 square kilometres of ground.
The Crescent Lake project was only acquired at the end of June by SOC and already drills are in the ground (we told you the new management was fast moving).
Three diamond drill holes completed by SOC intersected lithium-bearing pegmatites including a full 50m of mineralised pegmatite intersected with an estimated 15-20% spodumene according to the geologist.

Initial samples collected at the project returned up to 1.84% Lithium Oxide.
The Dempster L28 deposit is literally bursting at the surface with walk-up drill targets that can be seen here: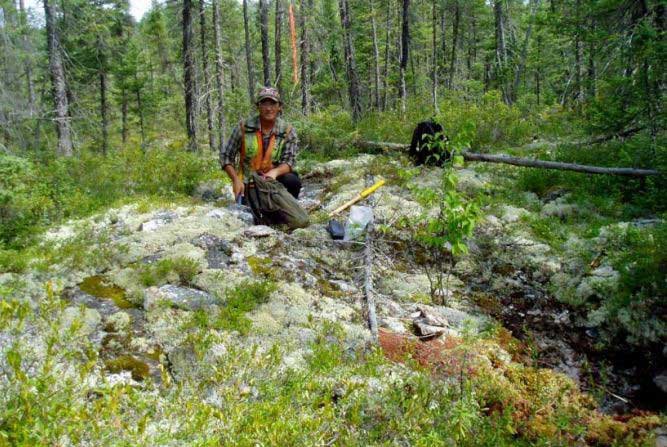 Over at the Chappais deposit the pegmatite is literally bulging out of the ground: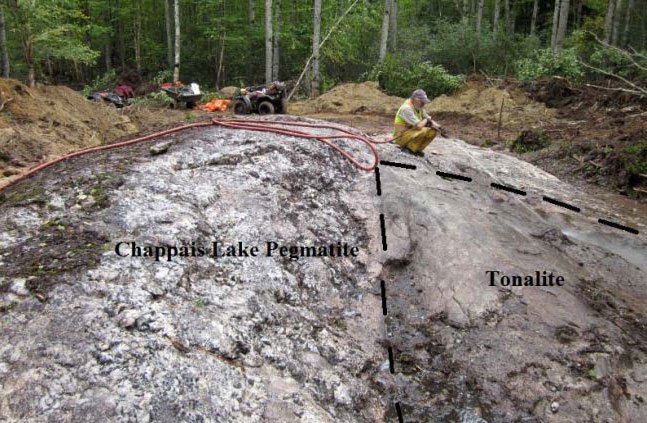 Spodumene crystals up to 30cm or more in length are present, along with dense aggregates of the mineral.
Following the promising initial results from drilling and sampling, SOC's drilling program at Crescent Lake has been increased by a further 700m to target the lithium bearing pegmatites found over the 2km of strike length.
Adjacent to SOC's Crescent Lake project is Argonaut Resources' (ASX:ARE) project with historic drilling showing grades at 1.48% lithium oxide and Ardiden Ltd's (ASX:ADV) Seymour Lake lithium project returning results up to 2.54% lithium oxide from channel sampling, with pegmatites up to 26m wide.
Below you can see Ardiden's share price chart as it progressively proved up the value of its lithium project which happens to be right next door to SOC – which regular Next Small Cap readers would have no doubt followed, especially through January and February this year: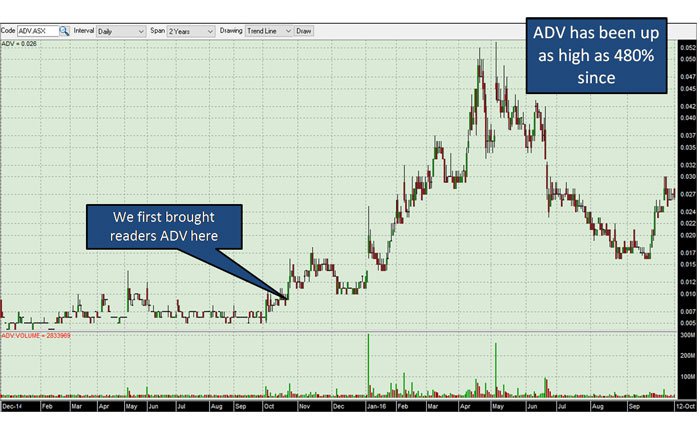 The past performance of this product is not and should not be taken as an indication of future performance. Caution should be exercised in assessing past performance. This product, like all other financial products, is subject to market forces and unpredictable events that may adversely affect future performance.
The pegmatites in Ardiden's claims are over 5km in strike length and trend towards SOC's boundary claims...
The north-east portion of SOC's holdings contains four deposits consisting of spodumene-bearing pegmatites.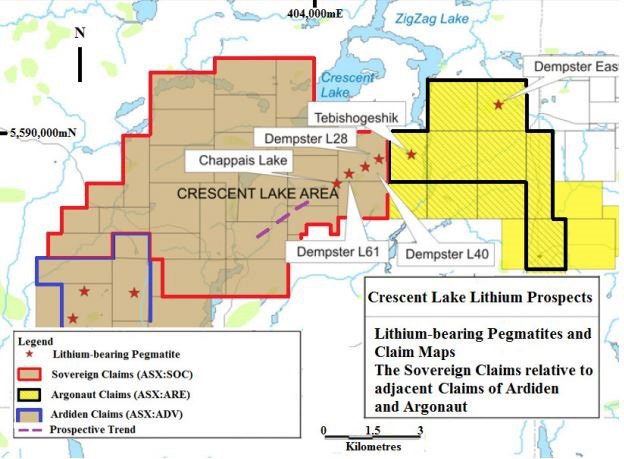 All this bodes well for SOC, as initial results from SOC and its neighbours suggest the area could be lithium rich.
SOC's drill rig is now moving closer to Ardiden's ground, and we are hoping some of that company's success can rub off on SOC...
Clayton Valley in lithium rich Tesla territory
Another of SOC's projects also acquired in June this year is the Clayton Valley lithium project, covering approximately 3000 acres.
The tenement is located within 10km of North America's only producing lithium mine, Silver Peak Mine, owned by the giant Albemarle Corp (NYSE:ALB) (ALB has a market cap of around US$8.55BN) and is a 3.5 hour drive (400km) from Tesla's Gigafactory, the largest lithium based battery manufacturer.
Immediately adjacent to SOC's claim is Pure Energy Minerals (TSXV:PEV) with a reported 816,000 tonnes of lithium carbonate...
All this means is that there is real potential for SOC to make another significant lithium find in the area.
Here you can see how SOC's 111 mineral claims run alongside Pure Energy's tenement where their massive deposit sits: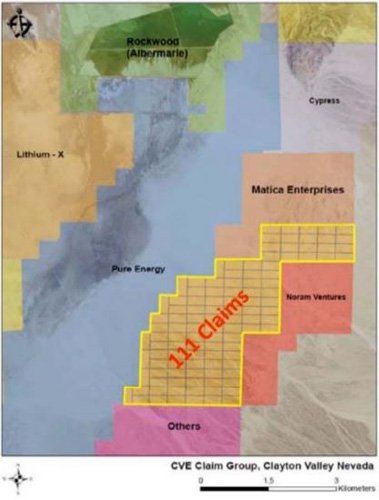 SOC has recently brought on board experienced lithium geologist Jerry Aitken to head up the exploration at Clayton Valley. Jerry has over 45 years of experience in the mining industry and is currently formalising plans for the upcoming drilling program, which could begin as early as November, which is not long to wait.
Here is a map showing just how close SOC's project is to Albermarle's Silver Peak Mine: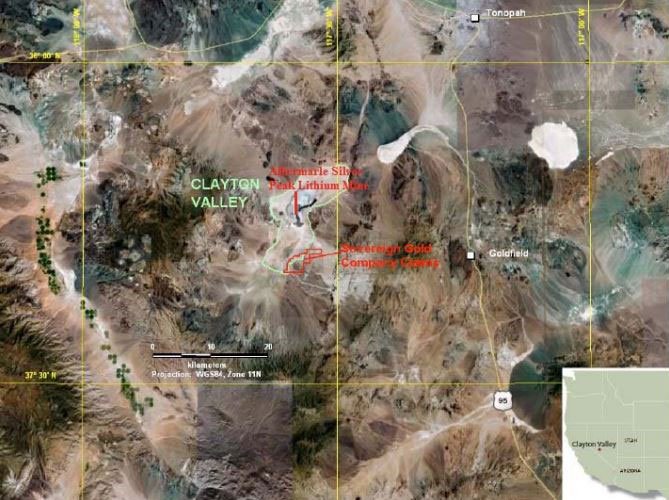 If results suggest grades and a resource size anywhere near its neighbours we could see SOC come on the radar of many lithium investors in the near term.
One factor that may help it to attract lithium investors is SOC's discussions with Tenova Bateman Technologies, who offer advanced processing and lithium recovery technologies.
Tenova's technology is able to extract lithium product from lithium bearing brines within hours.
The technology intended to be used by SOC involves three distinct processes including the physical removal of alkali earth elements using membranes, recovery of lithium into solution utilising customised organic solvent extraction processes and conversion of the Li 2 SO 4 solution into LiOH solution using electrolysis followed by downstream crystallisation.
The technology is so advanced that it has stated produce recovery rates over 99% and is cheaper than current methods.
Here is a comparison of Tenova's LiSX technology versus evaporative brine processing:
With drilling to commence soon at Crescent Lake, we are looking forward to the news flow set to come for SOC.
Of course as we've stated, lithium isn't the only weapon in SOC's resource arsenal....
Drilling for gold to commence at Mt Adrah
SOC has received approval from the NSW Government Division of Resources and Energy to commence drilling at the Mt Adrah Hobbs Pipe – White Deer Project.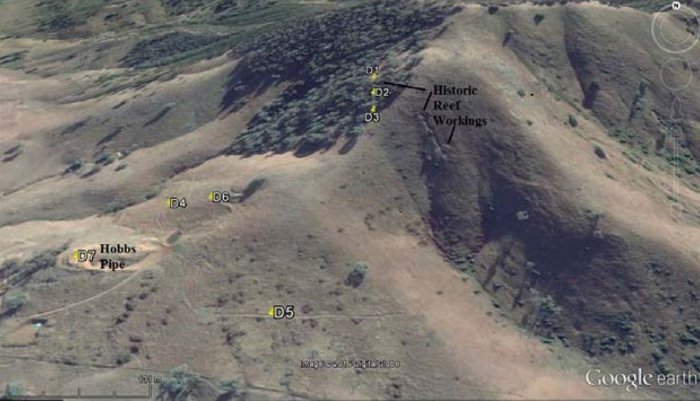 The Mt Adrah gold project located 60km east of Wagga Wagga, contains shallow high-grade gold deposits and could be an early cashflow source for the company.
The first deep drill holes into Hobbs Pipe produced an intersection at 886m @ 1.2 g/t gold, including a hit at 400m depth @ 1.4 g/t gold from the surface.
The program will consist of 1,280m of diamond core drilling which was designed following 3D modelling of the gold-bearing planar structures.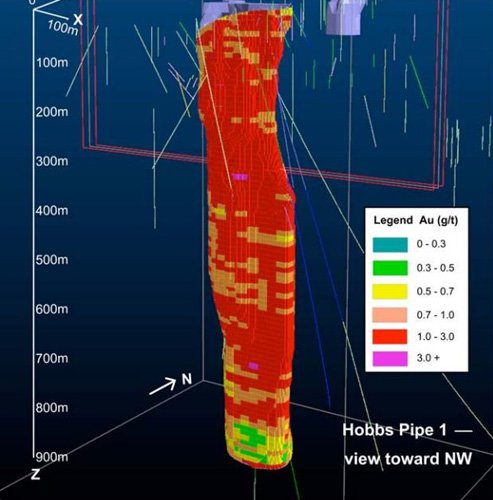 If results from the drilling come back positive, the program will be expanded to test structures further along strike and down dip with the aim to extend the 770,000oz JORC resource.
Historical gold workings at the site show a NW strike length of over 250m: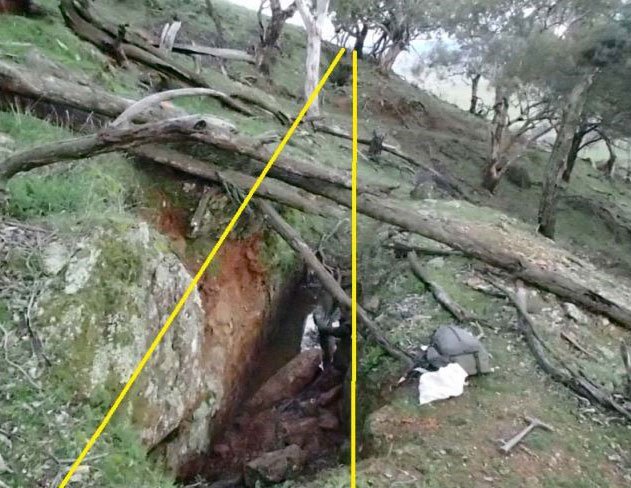 The diamond drill holes will test the gold grades and widths of the structure down dip and along strike.
Similar Hobbs Pipe-style targets have been identified in the regional data which could bolster SOC's holdings at the Mt Adrah gold project.
Intersections of the White Deer Reef include 2m @ 20.8g/t gold from 624m including 1.2m @ 58.6g/t.
Drilling is scheduled to commence at Mt Adrah in the first week of November, weather permitting, and will focus in on high grade intervals of 2m @ 28.4g/t gold from 506 and 2m @50.8g/t gold from 514m.
Should the project move through to production, a mill 30km north of the deposit owned by Macquarie Gold could potentially be used to process the ore. This would substantially reduce setup costs of the project.
However, at the same time, as with all small mining exploration companies, entering gold production is not a guarantee, and there are hurdles to overcome. Investors should invest with caution and consider their own personal risk profile before choosing to invest.
News flow to continue
The news flow has only begun for SOC as the company aggressively advances its lithium and gold projects.
Lithium assays will be returned from the Crescent Lake project in the near term with three drill holes complete and being sent for assaying.
SOC will formalise its drilling program for the Clayton Valley project in Nevada, with drills expected to hit the ground in the coming weeks.
Expected drilling at its Halls Peak project is also on the cards with previous drilling conducted to a depth of only 55m but identifying grades up to 34.5% Zn.
Meanwhile drilling for gold at Mt Adrah is set to commence within the next few weeks to expand upon the already 770,000oz resource with 1,280m of diamond core drilling.
The board is determined to see SOC advance on all three projects and return value to shareholders and with steady newsflow expected it is likely the company will continue to move quickly and aggressively to meet its aims.
---