NML Set to Drill in Weeks on Target Similar to 5 Million Oz. Gold Mine
PUBLISHED: 04-03-2015 09:07 a.m.
Navarre Minerals (ASX:NML) are just weeks away from a drill campaign at their new gold play near Stawell in Victoria's west.
Significant shallow gold potential identified will be tested by a 2,000m RC and diamond drill campaign.
It's all happening at the Tatyoon Gold Project, which has lain dormant since the last drill hole in 2006, despite the previous owner hitting high-grade gold at shallow depths.
With a spate of company mergers and acquisitions affecting ownership of the project from 2007 onwards, no further exploratory drilling was undertaken at Tatyoon and the exploration licence slipped off the radar and expired...
But NML were waiting in the wings and promptly pounced on it, taking 100% ownership.
The Tatyoon Gold Project contains the 'ready-to-drill' Grange prospect which is just 50km south of the operating 5 million ounce Magdala Gold Mine in Stawell.
NML's MD is the former chief geologist of the Magdala Mine and he has an intimate knowledge of the mine. Under his leadership, NML's investigations to date at Tatyoon have uncovered evidence of increasing similarities to Stawell's Magdala Mine.
NML's Grange prospect appears to share a similar geology, shape and size to the Magdala Gold Mine...
Historical data from Tatyoon has been crunched and, as we write, drill targets are being confirmed and pegged on the ground.
Leading Victorian gold producer and owner / operator of Stawell and Fosterville Gold Mines, Crocodile Gold Corp, is NML's largest shareholder with a 19.9% stake. This producer has just invested $175k to partly fund NML's imminent Tatyoon drill campaign, and have indicated their intention to tip in up to another $25k in the current NML $544k entitlement offer, which would take their recent investment to a total of $200k.
Croc is keen to see NML succeed. A significant gold discovery by NML could supplement depleting gold reserves at Croc's Stawell mine so it makes sense for Croc to support NML's proposed drilling program at Tatyoon.
In addition to Croc's 19.9% stake, NML's directors and management together hold a further 20% of NML stock, reflecting their belief in NML's prospects. NML's tight capital structure also offers all shareholders a strong leverage to any discoveries in the near term.
NML is building up to this gold drilling event in a few weeks' time, and we're going to ride shotgun...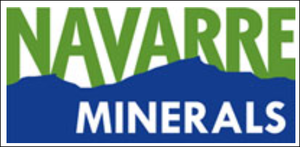 Navarre Minerals (ASX:NML) is a company regular readers of The Next Small Cap should be very familiar with – and if you're new, check out our original article: Tiny ASX Company in Race to Discover the 'Australian Andes' . This goes into great detail about NML's plans to identify a copper porphyry in the Miga Arc volcanic belt, within its Western Victoria Copper Project.
But in this article we will cover NML's current focus – same region, but different target – this time its gold.
Now, before we get into the details of NML's new project, let's follow the money...
Cash coming in for NML's golden chance
NML starts the year in a good financial position – it just banked $175,000 before costs in a Placement of Shares to Crocodile Gold Corp, its major shareholder. NML issued 5,833,333 fully paid ordinary shares at a price of $0.03 a share.
Further to this, a 1 for 4 Entitlement Offer is underway that will see eligible shareholders offered new shares at the same price as Croc – $0.03. This is a non-renounceable pro-rata Entitlement Offer to raise up to $544,000 before costs. Directors and management at NML have said publicly that they are participating in the offer.
Key dates for eligible NML shareholders are as follows: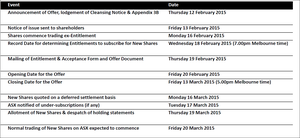 Why is NML's major shareholder, Crocodile Gold Corp, so keen on NML's upcoming drilling and stumping up a significant contribution?
The answer is that Croc are the owners of Victoria's largest gold mines at Stawell and Fosterville and it's in their best interest to uncover more gold mill feed in the regions surrounding their operations.
Gold miners, like the Croc, always face depleting reserves and have a need to find more replacement gold, and quickly, to feed their 'hungry' mills.
Perhaps NML can assist Croc with this. NML has identified significant gold potential at shallow depths at its Tatyoon Gold Project that is set for immediate drill testing.
Croc already have a full-scale production and processing facility in place at Stawell, just up the road from Tatyoon, which could be used to process a potential orebody discovered by NML.
This could be a perfect scenario for both companies – a 'free kick' for NML by reducing capital costs (by not having to pay up front for a processing facility) and reducing the time taken in getting a potential discovery into production; and a new source of mill feed for Croc.
Croc's Stawell processing facility consumes gold ore up to a maximum of 1 million tonne per annum. Croc's recent quarterly report tells us that the mine production accounts for less than 60% of the mill feed. The remaining 40% comes from processing low grade stockpiles to keep the mill full. There is obvious spare mill capacity at Stawell: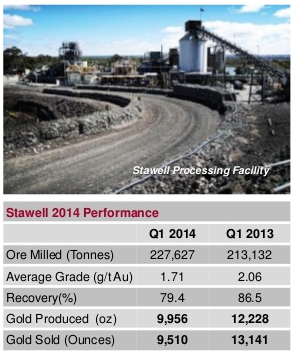 NML hunts shallow gold close to Stawell
NML's new gold play is the Stawell Corridor Gold Project and it's located right in the heart of some of Victoria's most prolific gold mining land: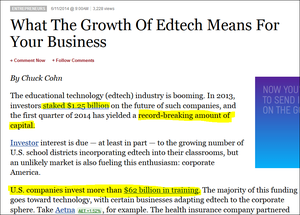 NML's Managing Director Geoff McDermott gave an interview recently to Open Briefing about the project, which you can read here:

The historic Stawell Goldfield produced over two million ounces of gold in the gold rush days between 1853 and 1926 with the field lying dormant until the 1970s when the prolific Magdala Gold Mine was re-established (the one next to Stawell in the map above).
After a lot of chopping and changing in ownership, the mine is now also run by NML's largest shareholder, Canadian mining company Crocodile Gold Corp .
But no one knows where the next mine and new mill feed will come from... we anticipate it could be straight from NML.
NML was recently granted a five year exploration licence for its 100%-owned Tatyoon Project, one of two high potential exploration tenements along the prospective Stawell Corridor (see the Tatyoon gold project shown below on the map near the town of Ararat).
The Ararat exploration licence is under application and is expected to receive government grant within the coming weeks, according to NML. As with Tatyoon, it too contains similar Stawell look-alike targets.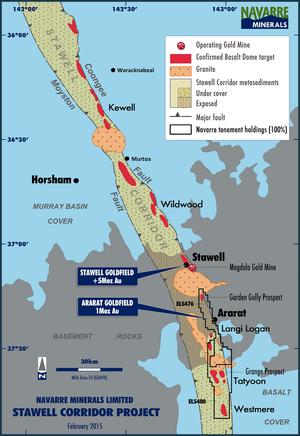 The Tatyoon Gold Project contains a gold discovery made back in 2004 by then owner, Leviathan Resources Limited. Leviathan intersected 2m at 2.6 grams per tonne gold from 66m down-hole in reconnaissance drill hole AAC021. A follow-up diamond hole under the discovery hole intersected 1.8m at 4.2 grams per tonne gold from 91.4m down-hole, including a maximum gold grade of 0.8m at 8.3 grams per tonne in their drilling: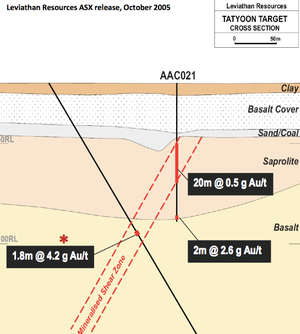 The discovery was made on what NML refer to now as the Grange basalt dome target, and it's one of three high quality geophysical targets NML is now exploring further and developing. All three targets have a wine theme following the initial discovery on Grange Road – Grange, Hermitage and Shiraz: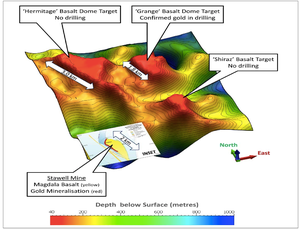 These three shallow basalt targets were detected from 10 years of gravity survey data with complementary IP surveying over Grange and Hermitage that has uncovered several strong high IP chargeability anomalies.
NML believes these IP anomalies indicate the presence of sulphides which, at Stawell, contain the majority of all gold mined.
Most of these IP targets remain to be drill tested – and the project overall has seen very little drilling to date...
Is Tatyoon a Magdala look-alike?
NML's Tatyoon Project has all the hallmarks of the Magdala Mine, just 50 clicks north where shallow gold was found in abundance.
Magdala has what's known as "Stawell-style" gold mineralisation, where gold sits within black sulphidic mudstones that are in contact with a large basalt dome.
NML has completed a compilation and assessment of all historical exploration data from Tatyoon including modern re-processing and modelling of the geophysics. This work has identified a 1,500m long undrilled Stawell-style target located on the west flank of the Grange basalt dome.
The three previous drill holes sunk at the Grange target at Tatyoon had all hit gold as well as similar Magdala type basalt rock – very promising signs indeed:

The Grange prospect appears similar in style and shape to the five million ounce Magdala deposit, and offers NML a good chance of finding something similar.
It's not just the Grange basalt dome target, the wider area is also prospective for gold mineralisation of the Stawell type: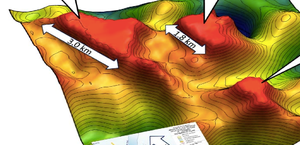 These basalt domes are believed to play a major part in the local accumulations of gold mineralisation and present easy targets to detect with geophysics. Each of the three domes detected in the central part of the licence at Tatyoon are only located between 30 and 40m below the surface.
Younger unmineralised cover has concealed these prospective areas from the prospectors of the gold rush era and it is only now with the aid of new technology that this potential is being realised. NML is on the cutting edge of this technology and are applying it to their prospects.
The shallow depths to the Tatyoon targets opens up the possibility of discovering a deposit that could potentially be mined by open pit or in a shallow underground operation – cutting costs either way.
The way ahead for NML is to finalise the engagement of its preferred drill contractor and then simply drill test the targets...
Target number one will surely be Grange!
Opening a Grange to breathe
Through the reprocessing of old drilling data and IP geophysics data, NML has identified drilling targets on five levels or surfaces at its Grange prospect: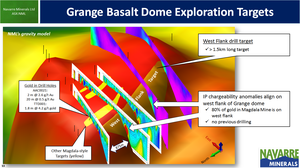 These surfaces contain strong chargeability anomalies believed to represent sulphides, which, at Stawell, are usually found with gold, and warrant immediate drilling.
At Stawell's Magdala Mine, the western flank of the basalt dome accounts for approximately 80% of the known gold endowment – and the main target at Grange is on the western flank, is 1.5km long and has never been drilled before!
Another chargeability anomaly is present on the southern flank of the Hermitage prospect at Tatyoon, offering a second high priority target for NML to develop.
NML's vintage year?
The near term steps for NML are clear – drill its new gold play near Stawell.
The opportunity here is to develop a gold project that could one day turn a profit and support everything else NML is doing in Victoria. What a boon it could also be for the Stawell Gold Mine's future!
In the coming weeks we should see an announcement by NML that its team is out in the field and the drills are turning...
---