NML Goes for Gold: Finding the Next Victorian Gold Deposit?
PUBLISHED: 29-10-2015 10:16 a.m.
The names Irvine and Benno may evoke images of a couple of mates enjoying a cold beer in a country pub.
And you'd probably find the pair in a dusty bar at the end of a dusty street in regional Victoria.
For those who know a bit about gold, however, Irvine and Benno are a couple of different prospects.
Gold prospects.
And they are located in what is historically real gold mining country.
Down the road in Sovereign Hill, any punter can take a pan, run it through the stream and go home happy with a few flecks of gold in a small water-filled vial.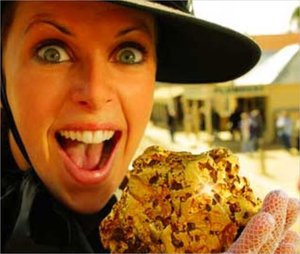 But just kilometres from there is where the real exploration takes place.
Ararat and Stawell are responsible for approximately 6 million ounces of historic and modern gold production...
And Navarre Minerals Limited (ASX:NML) is looking to add to this impressive record and hopefully make the next million ounce discovery in the under-explored sections at its 100% owned Stawell Corridor Gold Project over the coming months.
The Irvine and Benno prospects of the Stawell Corridor Gold Project occupy the northern end of the historic Ararat Goldfield.
They are situated just 15km from the successful Magdala Gold Mine – Victoria's most prolific modern gold mine which is still producing gold after 30 years of continuous production.
It is thought that drilling the Irvine and Benno basalt dome targets could potentially deliver another Stawell Gold Mine-size >1Moz discovery within 2 years and NML is looking to make that discovery.
Of course this is still a tiny company and due diligence should be undertaken when considering investment options.
Assuming this growth story pans out, the company would be worth multiples of where it is today, but in any case, upcoming exploration work will allow the company to progress with its model and hopefully add value to its asset in the near term.
NML's mission is to transform the Company by discovering Victoria's next multi-million ounce gold deposit from within its Stawell Corridor gold assets.
Re-introducing NML: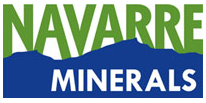 Navarre Minerals (ASX:NML) is currently capped at just AU$2.7M and recently released a Share Purchase Plan offer to raise funds that will be used to drill NML's Magdala-style Irvine and Benno gold prospects. Shares can be purchased from $2k to $15k parcels by existing shareholders, and this will be closing on Monday 16 th November.
As NML models Magdala's success with an experienced team who know the ins and outs of gold mines in the region, there is a chance that shareholders could be well rewarded.
At the same time, this is a small cap minerals explorer, and success is no guarantee here.
NML's project is situated in an area that incorporates the Ararat and Tatyoon exploration licences and the historic Ararat Goldfield, which as the graph below shows has been a boon for explorers since the mid-1800s.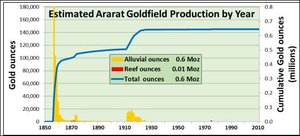 Looking at the cross section below, it's possible to see the entire gold corridor (Stawell Gold Corridor) that NML are exploring – the jewels here are the Ararat and Stawell Goldfields, and NML are hoping to identify additional gold in the under-explored sections: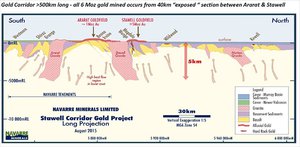 Why the Magdala gold style has big appeal
In August 2015, NML released encouraging gold results from its Irvine and Benno prospects, part of its 100% owned Stawell Corridor Gold Project located 200km west of Melbourne.
It found high grade gold in surface rock chip sampling, with samples regularly grading at double-digit grams per tonne gold. It also confirmed the existence of Stawell (Magdala)-style gold mineralisation occurring along 6 mineralised surfaces.
This followed a previously reported discovery of outcropping gold mineralisation at the Irvine and Benno prospects during detailed mapping.
The mineralisation is geologically similar to the highly successful Magdala gold mine, which has been in continuous operation since 1982.
The Magdala gold deposit has historically produced in excess of 4 million ounces of gold and has an estimated 2,500 – 4,000 ounce gold endowment per vertical metre.
Magdala is the largest gold mine along the Stawell Corridor and is producing gold from a deposit that has been mined to depths in excess of 1,600m below surface.
Back in June 2015, a geological model developed from Stawell's Magdala Gold Mine became the basis for NML's planned follow‐up exploration. The model includes:
Historical research and compilation of past exploration data;
Geological mapping and rock chip sampling;
Soil geochemical sampling; and
Re-processing of geophysical surveys to identify and refine targets for drilling.
The mapping and rock chip sampling uncovered:
6 mineralised surfaces, each ranging between 3km & 2.2km long
Rock chip assays up to 8 g/t gold
Outcrop of basalt contact mineralisation, grades up to 3 g/t gold
Same host rocks, mineralisation and controlling structures at Magdala continue south to Irvine & Benno – younger Stawell granite punctuates mineralised trend
A single 1994 diamond hole into basalt contact that revealed a "classic Magdala footwall sequence with high pyrrhotite" grading 0.5m @ 7.2g/t Au from 86.5m
Interpretation of preliminary gravity survey data suggests Irvine and Benno basalts extend from surface to beyond 2.5km depth.
There is only one diamond drill hole into the Irvine and Benno prospects. This 1994 hole passes through the western side of the Irvine basalt dome and is described by the previous explorer as intersecting a 'classic' Magdala Mine footwall sequence containing zones of high pyrrhotite and arsenopyrite before ending in basalt. Included in the drill hole results is an intercept of 0.5m @ 7.2 grams per tonne of gold on the basalt contact at 86.5 metres downhole.
Put simply, NML thinks the rocks of the Irvine and Benno prospects may well be the southern continuation of the Stawell mine rock package which hosts the multi-million ounce Magdala gold deposit.
The following perspective map gives you an indication of the relationships between Irvine, Benno and Magdala.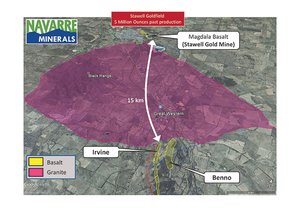 Now here's an indication of the geometry and structure of Irvine and Benno in cross-section, which again is believed to be similar to Magdala.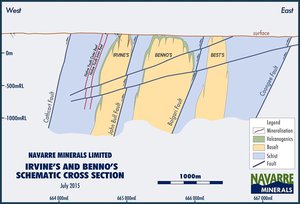 NML Managing Director, Geoff McDermott , recently commented on the latest findings , "Our surface mapping and rock chip sampling at the Irvine and Benno prospects has given our exploration a major boost. The Company will be conducting further investigations testing the potential for Irvine and Benno to host multi-million ounce orebodies like those which have underpinned the Stawell Gold Mine just 15 kilometres north-west."
"One favourable characteristic of these prospects is that the gold-bearing veins occur at surface, so you can see the geology and can quickly work out the host rock units and controlling structures."
"Although we are at an early stage with exploration at Irvine and Benno, the similarities with Stawell's Magdala gold deposit are compelling."
A little bit of history
Navarre's Stawell Corridor Gold Project is backed by as much history as this historical region can muster.
Running the Project is an executive team and Board that was involved in exploring, developing and running Stawell's Magdala Gold Mine when it was owned by MPI Mines, and later, by its spinoff, Leviathan Resources.
This is why NML believe they have an edge over other past and present explorers in the region – because they know how the Magdala deposit works.
There is still a connection with Stawell Gold Mine as it is owned by NML's largest shareholder and leading Victorian gold producer, Newmarket Gold Inc.
NML's team includes seasoned professionals such as Mr Kevin Wilson, who has over 30 years' experience in the minerals and finance industries. He was the Managing Director of Leviathan Resources Limited and spent eight years as a geologist with the Anglo American Group in Africa and North America.
Managing Director Geoff McDermott is an experienced geologist with 30 years industry experience working as a geologist in surface and underground metalliferous mining operations, in minerals exploration and as a consultant to the minerals industry. Geoff was Chief Geologist and Group Geologist with MPI Mines Limited and Leviathan Resources Limited.
Director Mr John Dorward is currently President of Roxgold Inc., a TSX listed gold explorer. He was previously CFO and Company Secretary of Leviathan Resources Limited and Commercial Executive and Company Secretary of MPI Mines Limited.
Director Mr Colin Naylor is currently CFO and Company Secretary of oil and gas explorer, MEO Australia Limited. He also worked previously at MPI Mines and Leviathan Resources as Financial Controller.
While working the Magdala mine, the current NML team were then focused on finding new ore sources to fill the 'hungry' Stawell Gold plant.
This led them to searching the Stawell corridor for the next generation of Magdala-type satellite deposits and, in particular, to the nearby Ararat Goldfield which is believed to be a continuation of the same highly mineralised host rocks connected with the Stawell Gold Mine only to be separated by the younger Stawell Granite.
The Ararat Goldfield was particularly attractive. The alluvial gold rushes of the 1850s led to the discovery of the hard rock gold source at Stawell, (see graph below) but at Ararat itself, despite having a similar alluvial gold rush, the hard rock gold was never found...
This is the prize that NML seeks to find.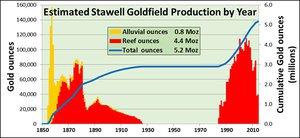 NML believes the Stawell Corridor is the western 'upturned leading edge' of the regionally extensive Lachlan Foldbelt where millions of years of erosion have exposed the basalts and sediments that play host to the multi-million ounce Magdala Gold Deposit.
The Corridor contains numerous basalt domes that run north-south like a string of sausages.
NML feels there is more than one Magdala Gold deposit lurking out there to be discovered – and all that alluvial gold production from the Ararat Goldfield provides ample evidence that there must be a hard-rock source out there somewhere...
Perhaps NML has found it? Time will tell...
As we've stated, the Irvine and Benno prospects occupy the northern end of the historic Ararat Goldfield, which is estimated to have produced approximately one million ounces of gold mainly from alluvial and deep lead production during the period 1854 to 1925.
Production of primary hard-rock gold from the Ararat Goldfield was historically low given the richness of the alluvial deposits.
Today, however, based on current evidence there is a compelling reason to search for economic mineralisation in the vicinity of the richest alluvial gold deposits.
Gold mineralisation of the Stawell-type is located on the flanks of large basalt dome structures. The style of the gold mineralisation is much finer grained, more continuous and more predictable than the gold deposits typically found at Victoria's largest two goldfields at Bendigo and Ballarat.
Our track record
If you've been following the Next Small Cap, you may have seen our original article on Mozambi Resources (ASX:MOZ) – $3M ASX nano-cap next door to the biggest graphite resource known to man . Since the article was released, MOZ has been up as high as 300%: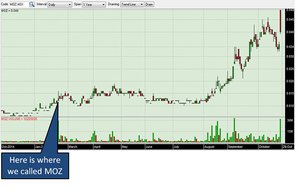 Source: Etrade Australia
The past performance of this product is not and should not be taken as an indication of future performance. Caution should be exercised in assessing past performance. This product, like all other financial products, is subject to market forces and unpredictable events that may adversely affect future performance.
The latest results
During the last quarter NML conducted further investigations testing the potential for Irvine and Benno to host multi-million ounce gold orebodies like those which have underpinned the Stawell Gold Mine, in similar rocks, just 15 kilometres north-west.
"Our work, including prospect-scale mapping and sampling of mineralised float and gold-bearing veins occurring at surface, has delivered high-grades of gold up to 22.8 grams per tonne which is providing evidence that Irvine and Benno could be part of the missing hard-rock source to Ararat's alluvial gold," said Mr McDermott.
"Although we are at an early stage with exploration at Irvine and Benno, the geological similarities with Stawell's Magdala gold deposit are compelling.
"New data from initial gravity surveying is supporting our theories as we progress towards our first drill program at Irvine and Benno to test for economic gold mineralisation which is to be funded by our recently announced Share Purchase Program."
In fact, the results speak for themselves. Exploration found:
Surface rock chip samples containing moderate to high-grade gold mineralisation with gold tenor ranging from 0.1 to over 22 grams per tonne.
New high-grade gold results from Irvine and Benno, during the quarter, include 8 g/t, 19.3 g/t, 16.9 g/t, 14.8 g/t, 13.5 g/t and 11.0g/t
High-grade gold results occur along 6 main mineralised geological surfaces, ranging from approximately 300 metres to 1.6 kilometres in strike length.
Evidence of primary hard-rock gold mineralisation outcropping on the hill slopes in the headwaters to lines of drainage containing historic alluvial gold workings.
The prospect plan below shows gold assays from surface rock chip sampling and mapping at the Irvine and Benno prospects. Drill hole DD94AA254, the only historic diamond hole to penetrate a basalt contact, which recorded 0.5m @ 7.2 g/t gold, is located on the northern end of the west flank of the Irvine Basalt. Gold grades are rounded to 0.1g/t gold.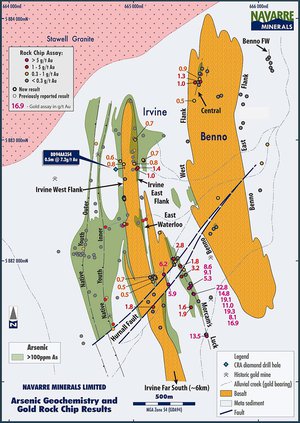 Based on these results NML is looking to progress towards a drill program of angled air-core drilling at Irvine and Benno to help identify potential Stawell-style zones or shoots of economic gold concentrations along the mapped mineralised surfaces.
The exploration program is expected to include:
Infill geological mapping and rock chip sampling;
Completion, interpretation and modelling of the current ground gravity survey;
A potential IP geophysics trial;
Drill design and approvals; and
Execution of an angled air-core drill program.
NML's other interests
Like all good prospects worth watching, NML doesn't have all its golden eggs sitting in one giant basket. The company also has 100% fully owned interests in a couple of other prospects with potential upside.
TANDARRA GOLD PROJECT
The Tandarra Gold Project is a greenfields gold discovery under shallow cover, 40km north of the 22 million ounce Bendigo Goldfield.
NML has given Catalyst Metals Limited (ASX: CYL) the right to earn a 51% equity interest in the Tandarra Gold Project by incurring exploration expenditure of $3 million over four years to September 2018.
Catalyst announced to the ASX on 29 July 2015 an intercept of 33.1 g/t gold over a two metre interval in ACT221 in reconnaissance air-core drilling. Catalyst is planning a follow-up drill program to infill and extend this mineralisation.
WESTERN VICTORIA COPPER PROJECT
NML's Western Victoria Copper Project captures multiple, largely untested targets in 130km of Miga Arc volcanics, including the Eclipse, Lexington, Glenlyle and Pollockdale prospects. The Miga Arc is recognised as a continental margin arc setting similar to the Andes, host to the world's largest known copper porphyry deposits.
The Next Small Cap covered this project in great detail in the article: NML Drills Deeper into the "Australian Andes" .
The following table shows all of NML's interests:

The focus right now, of course, is on the Stawell Corridor Gold Project and that is why cash is being raised to support further exploration here.
Raising hope for a new gold discovery
On 28 September 2015, NML launched a Share Purchase Plan (SPP) to eligible shareholders in support of funding the next stage of exploration of the recently discovered Irvine and Benno gold prospects, including the initial drill program.
The SPP provides the opportunity for existing shareholders to subscribe from $2,000 up to $15,000 in new, fully paid ordinary NML shares
The SPP is priced at 3 cents per New Share, which represents a discount of 9% to the last closing price of NML shares on the ASX (3.3 cents on 22 September 2015) and a discount of 8% to the volume weighted average price of Navarre shares over the last five days on which sales of NML shares were recorded on ASX prior to the date of the launch announcement.
NML's cash balance as at 30 September 2015 was $0.4 million with 92.6m ordinary shares on issue.
Shareholders are reminded that the SPP closes at 5:00pm on Monday 16 November 2015 and with drilling to take place in a region well-known for its gold discoveries, this could be an investment where participation equals reward...
At the same time, participation does not guarantee success and as this project is still in its infancy, professional advice should be sought before making an investment.
The final word
In looking to transform itself, NML is pulling out all the stops to explore for a multi-million ounce gold deposit in an area that is historically rich in gold assets.
From its current tiny market cap that would be quite a feat, and current early stage shareholders could be handsomely rewarded if that was the case.
NML know how these deposits work from their earlier apprenticeship at the nearby Stawell Magdala Gold Mine, and the company intends to apply the Stawell Goldfield model which is familiar to Board and management.
They know the model; they understand what it takes to create a successful gold mining project and they have every intention of doing this within the confines of their 100% owned Stawell Corridor Gold Project incorporating the Irvine and Benno prospects.
Exploration has been ticking all the boxes with 6 mineralised surfaces uncovered each ranging between 300m and 2.2km in length and rock chip assays up to 22.8g/t gold.
Even more encouraging for NML is that there work is showing similar host rocks, mineralisation and controlling structures at Magdala continue south to Irvine and Benno.
Although these are early days, it seems there may be golden times ahead as this very experienced team apply their craft.
---