Navarre: Is It The Best Entry to Victoria's New Gold Boom?
PUBLISHED: 26-10-2017 09:42 a.m.
Since the 19 th century, there have been many cries of 'Eureka' in the Australian state of Victoria. From the historic gold mining towns of Ballarat and Bendigo, through to the so-called 'Golden Triangle', it is a state well known for its extraordinary gold deposits.
In fact, the 'Golden Triangle' has produced over 80 million ounces of gold from the mid- 1850s to date, and it seems it's not yet finished its golden run.
Navarre Minerals (ASX:NML) has two flagship gold projects in the Triangle; its flagship Irvine Gold Project near Stawell and the advanced Tandarra Gold Project, north of Bendigo near Kirkland Lake Gold Ltd's (TSE:KL, NYSE:KL) world class Fosterville gold project.
And they both have potential to be major new gold projects in central Victoria.
What kind of magnitude are we talking about? A quick look over Kirkland Lake's 4 million ounce Fosterville deposit might provide all the context you need.
Kirkland Lake is sitting on more than $1 billion in gold at Fosterville.
Fosterville is Victoria's largest and highest-grade gold mine, and as such, has been attracting a renewed interest in the state's prospectivity, particularly from North America.
Kirkland Lake's exploration area stretches from south-west of Elmore to north-east of Sutton Grange... right next door to NML's Tandarra Gold Project.
And, as well as being a neighbour, the Toronto and New York-listed Kirkland Lake just happens to be NML's largest shareholder.
NML isn't wasting any time sitting still. It is fast-tracking evaluation of both the Irvine and Tandarra projects.
The $10 million-capped gold play has kicked off the next phase of drilling at the Irvine Project with a 7,000 metre drilling program across six targets, with results to start coming in as soon as November.
This marks an exciting period for the company. The results from previous drilling at the project earlier in 2017 strongly indicated that the Irvine Project has the potential to host a multi-million ounce gold deposit, and the current drill program is designed to expand the Irvine Project's high-grade gold footprint... and thus, its valuation in the eyes of shareholders and would-be investors.
Of course, as with all minerals exploration, success is no guarantee — consider your own personal circumstances before investing, and seek professional financial advice.
Navarre is seeking to develop Irvine into a large scale, high grade gold project similar to the 4 million ounce Magdala gold deposit located just 15km to the north, and subject to the results of the current drill program, will look to conduct a Resource definition drilling program in 2018.
But that's not all on the drilling front for Navarre. Diamond drilling will be commencing soon at the Tandarra Gold Project, specifically targeting the high-grade Tomorrow Zone of mineralisation. Catalyst Metals Ltd are spending $3 million on exploration over four years as manager of the project to earn a 51% interest in the Project by September 2018. They have approximately $1.8 million left to spend to complete the earn-in.
The drilling at Tandarra will target the next level of gold mineralisation approximately 100m to 250m below surface.
To date, shallow high-grade gold mineralisation at the Tomorrow zone has been demonstrated to extend over 800 metres of strike length, remaining open to the south.
A quick side note here: a common feature of central Victorian gold deposits is the so-called 'stacking' of multiple gold zones associated with west dipping faults... actually, the headline-making Fosterville Gold Mine is one notable example of such a deposit. The upcoming drilling at Tandarra will seek to help validate this exploration model.
And while all the above is plenty of good news for shareholders, there's still more! Barely a week ago, NML completed a $1.55 million capital raising with support from its major shareholder, Kirkland Lake, which retains its 10% stake.
That leaves the small-cap fully funded for the aforementioned drill program underway at the Irvine Project, in pursuit of its goal to prove up a multi-million ounce gold system...
The fact that Kirkland Lake supported the placement is a great endorsement for Navarre's exploration efforts in the Stawell Gold Corridor. Considering Kirkland Lake just blew the market away with news of its great gold discovery at Fosterville, it augurs well for NML that the $3.4 billion mid-tier gold producer is keen to stay on board and support the NML train....
Without further ado, let's get stuck into our latest update on: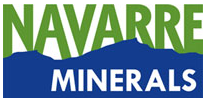 Navarre Minerals
ASX:NML
In light of the close relationship between the two companies, let's set the scene with news from Kirkland Lake in August 2017...

It coincides nicely with the exciting developments to come out of NML of late, in particular its update on the highly prospective Irvine Project.
Irvine drilling should prove potential
The role of a drilling program is to prove up a trove of treasures with hard assay numbers. That's what NML will be looking to achieve in the near term at the Irvine Project.
Drilling commenced earlier this month, with a targeted air-core (AC) drilling program comprising up to 7,000 metres in angled AC holes across six targets (to a depth of up to 100 metres). The drilling will test new targets and expand the John Bull, Hospital Hill and Resolution Lode prospects, while testing for the source of the circa 1 million ounce of alluvial gold historically mined from the Ararat Goldfield....
The drill program is aimed at helping to define a potentially multi-million ounce gold deposit at Irvine, similar to the nearby 4 million ounce Magdala gold deposit at Stawell (owned by Kirkland Lake).
The map below shows the proximity of NML's tenements within the Stawell Gold Corridor, to the Magdala Gold Mine and the Ararat Goldfield: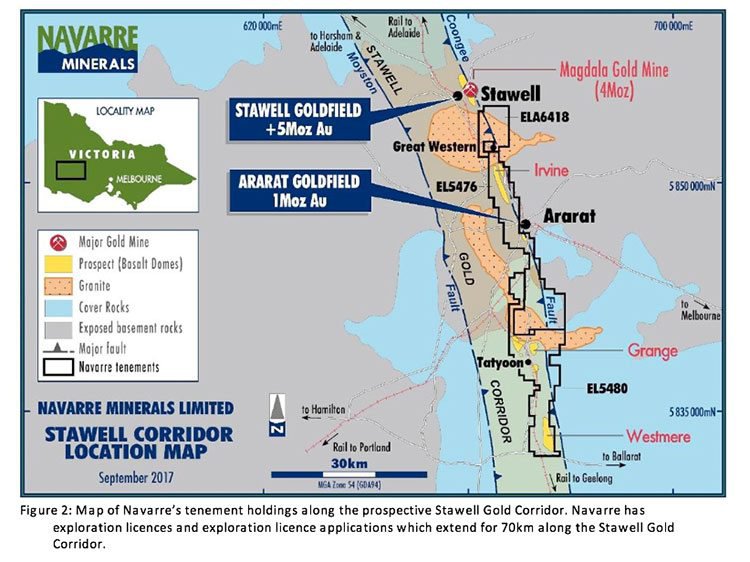 The market can expect the first assays in late November...
However it is an early stage of this company's development and if considering this stock for your portfolio you should take all public information into account and seek professional financial advice.
The program includes multiple traverses of angled AC holes which will test and expand six potential significant gold zones near the margins of the Irvine basalt dome consistent with a Stawell-style gold system.
It will target the untested Cullings, Napoleon and Dutton targets with follow-up drilling specifically to test the open extensions of gold mineralisation at the Hospital Hill, John Bull and Resolution Lode prospects.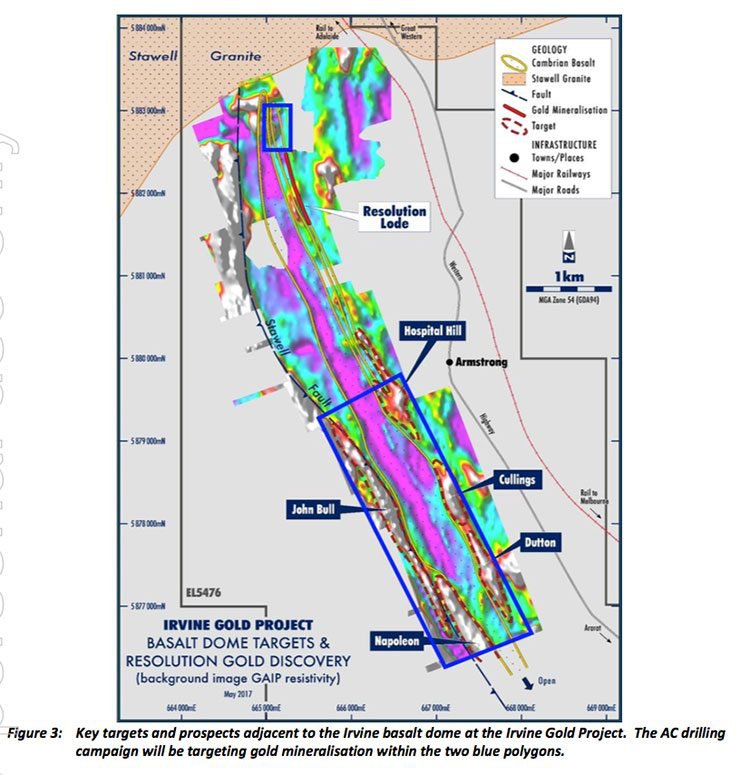 The program represents a key component of NML's exploration strategy at Irvine and could lay the foundation for a Maiden Resource definition drilling campaign in 2018.
When we look at Irvine, where it fits in the Golden Triangle, and the fact it is potentially bursting at the seams with gold, we can see how discussions in NML's boardroom led to it taking such an interest in the project.
Here is how these various projects are situated: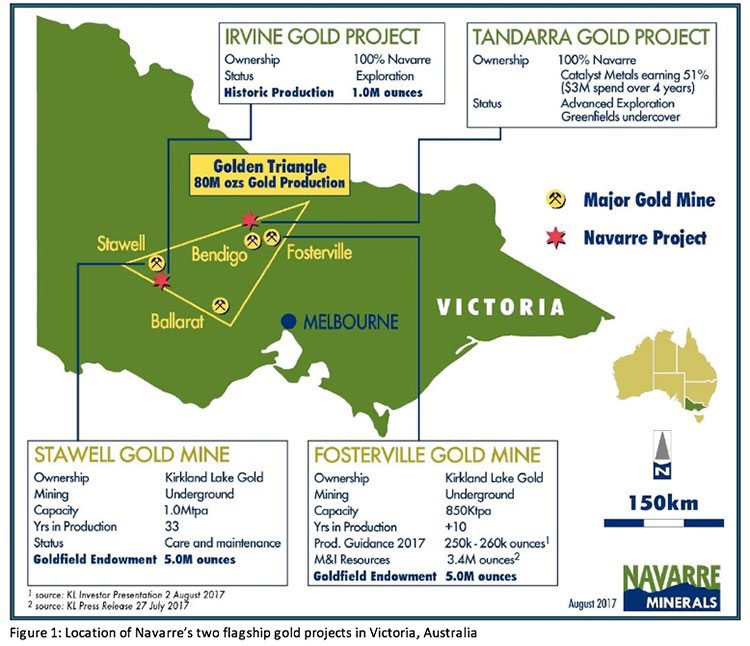 The current drill program was designed and planned following an initial AC drilling program at Irvine, which included results of; 6 metres grading 6.3 grams per tonne gold and 2 metres grading 41.5 grams per tonne gold.
Other promising intercepts to date have been:
All that considered, we have high expectations for this current AC drill program at Irvine — as does the company.
Based on encouraging results from the current drilling at Irvine, NML will be able to move on the rush of momentum and accelerate the project with follow-up RC and diamond drilling to help define a maiden Mineral Resource... as well push forward with its other flagship gold play, the Tandarra Gold Project.
Taking the next step at Tandarra
As we mentioned earlier, NML's Tandarra Gold Project will also be the subject of a major upcoming drilling campaign.
The program is specifically targeting Tandarra's Tomorrow Gold Zone.
Tandarra is a greenfields gold discovery located within the North Bendigo Zone, an area covering around 7600 sq. kilometres which the Victorian government estimates has an endowment of about 32 million ounces of gold.
The project manager, Catalyst Metals (ASX:CYL), has the right to earn a 51% equity interest in the Tandarra Gold Project under a farm-in agreement. Catalyst manages 70 kilometres of the prospective Whitelaw Gold Belt which includes the Tandarra Gold Project and the Four Eagles Gold Project. Hancock Prospecting, owned by mining magnate Gina Rhinehart, is earning 50% of the adjoining Four Eagles Gold Project. CYL has a market capitalisation of over $50 million implying an enterprise value approaching $100 million for the Whitelaw Gold Belt.
Navarre's agreement with CYL over the Tandarra Project requires CYL to spend $3 million in exploration up till September 2018. They have approximately $1.8 million left to spend to earn their 51%.
Previous drill results have shown the Tandarra project has outstanding potential, with gold mineralisation at depths less than 20 metres from surface. Peak gold assays have included 98.4 g/t gold and wider zones of gold averaging greater than 5g/t of gold... the best intersections of 2017 include:
11m @ 17.8 g/t gold from 47m (RCT172)
17m @ 6.6 g/t gold from 30m (RCT173)
21m @ 6.9 g/t gold from 27m (RCT177)
In bringing this project closer to production, Catalyst Metals have agreed to spend $3 million on exploration over four years as part of the aforementioned farm-in agreement with NML.
On completion of the earn-in, Catalyst will become the 51% owner of the project and a joint venture will form with both parties contributing to ongoing exploration on a pro-rata basis.
At last report, tenders for the drill program were being evaluated, but we can expect to hear that the campaign has kicked off any week now.
Of particular note with Tandarra is the fact that the planned diamond drilling will be aimed at testing for repeat gold mineralisation below the top 100 metres to depths of up to 250 metres. The Tomorrow zone of shallow gold mineralisation has been demonstrated to extend over 800 metres, and still remains open to the south.
With 3,000 metres of diamond drilling planned for Tandarra, as well as 7,000 metres of AC drilling underway at Irvine, there could be ample bullish news flow in the next few months.
Both the Tandarra and the Four Eagles projects are evidence of the highly prospective nature of the Whitelaw Fault Corridor, which has undergone limited prior exploration.
The below map shows the location of the Tomorrow Zone and Tandarra, and respective assay results, within the Corridor: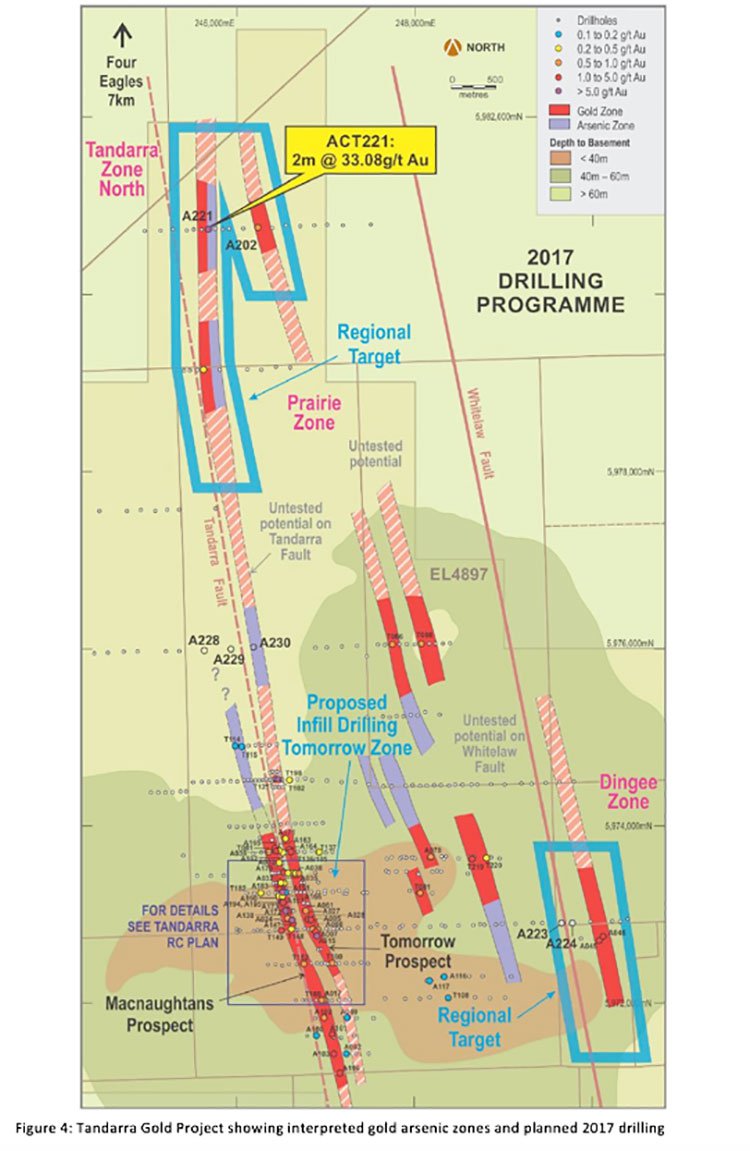 A common feature of the main Tomorrow Zone at Tandarra is the 'stacking' style of gold zones associated with west dipping faults that 'breach the anticlinal fold axis'. This is a similar style to Fosterville. Fosterville's recently announced Swan Zone, contains an ore reserve of 532,000 ounces at an average grade of 58.8g/t gold.
Tandarra is located about 60 kilometres northwest of Kirkland's Fosterville gold mine.
The same 'stacking' feature is also commonplace at Bendigo and Ballarat gold mines. So it seems the Tomorrow Zone is in good company.
The below map shows the proximity of NML's Tandarra Project to the highly productive gold plays mentioned above: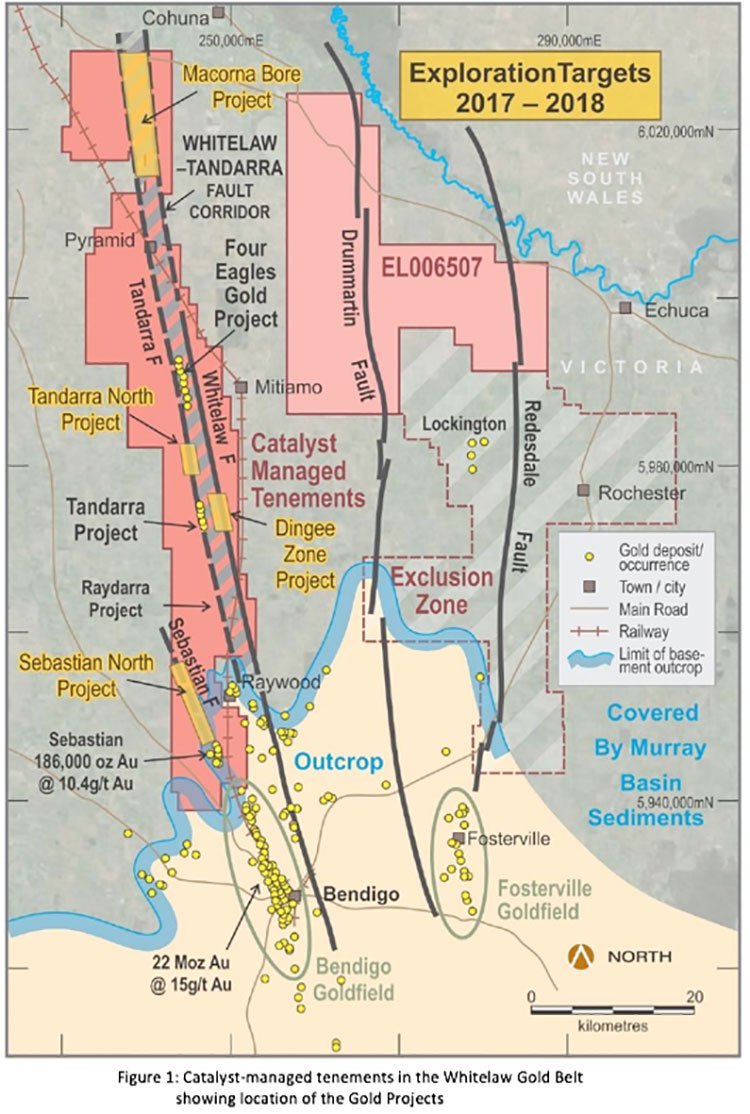 Making it rain with support of major shareholder Kirkland
October has been a terrific month of news for NML — and it's not even over yet. A fortnight ago, the company announced it had raised $1.55 million in a placement to sophisticated investors, including support from its major backer, Kirkland Lake, to retain its 10% stake in the company.
The placement occurred at $0.04 per share resulting in the issue of 38,750,999 new fully paid ordinary shares in the company.

This is good news on several fronts. Not only will the $1.55 million help fund NML's current drilling program at the potential multi-million ounce gold system at its Irvine Project, but it demonstrates to investors and the market that NML must be doing something right to keep such a major player interested.
Kirkland has a history of making good choices, as evidenced in recent revelations that it is in possession of a 4 million ounce gold project (worth approximately $1 billion), which is within a stone's throw of NML's Tandarra Project.
As mentioned, the current exploration program at Irvine includes further expansion drilling on the Resolution Lode discovery which has shown high-grade intersections and numerous shallow gold results over ~800 metres. There's potential for this project to escalate very quickly based on what happens in the next couple of months.
The timely injection of cash should help NML unlock the value inherent within its two key projects — Irvine and Tandarra — by boosting exploration efforts, and shoring up the mineral potential for the commencement of resource drilling.
At the same time, it's worth noting that this is an early stage play and investors should seek professional financial advice if considering this company for their portfolio.
NML's path paved with gold?
How many junior exploration companies can boast two potential company-making gold projects, each with multi-million ounce potential?
NML's projects are situated in a region that is both historically productive and highly prospective, with Tandarra and Irvine situated within Victoria's 'Golden Triangle' — named so for a very good reason.
In reviewing all that's been happening over the last few months, it's entirely possible that NML is on the verge of entering its own golden era, leading the re-emergence of Victoria's goldfields by making its own multi-million ounce discoveries worthy of headlines like this one from The Australian in September: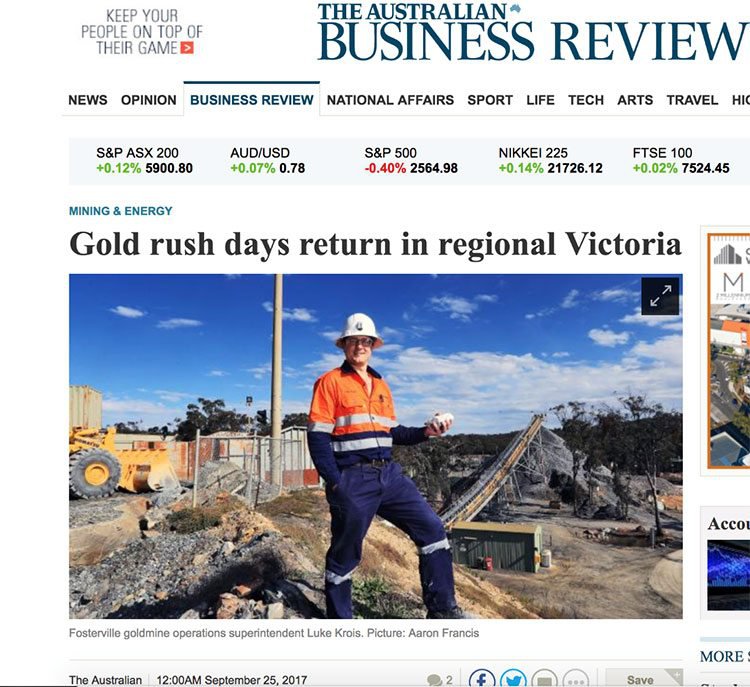 Investors need only look at Kirkland's recent success at Fosterville to see a glimpse of the region's yet untapped potential, and to realise that NML could well be in the right place at the right time, surrounded by golden opportunities.
---