MUS to Emerge as the World's Only Listed Ruby Miner
PUBLISHED: 21-07-2017 09:24 a.m.
The Next Small Cap presents this information for the use of readers in their decision to engage with this product. Please be aware that this is a very high-risk product. We stress that this article should only be used as one part of this decision making process. You need to fully inform yourself of all factors and information relating to this product before engaging with it.
Backed by the well-cushioned and growing luxury goods market, demand for rubies is on the rise.
Consumer demand for polished rubies has caused the price of the gemstone to rise by 63% over the past eight years, as current supply levels fail to meet consumer demand.
Few understand the fiery power of rubies as well as emerging gemstone developer and producer, Mustang Resources Limited (ASX:MUS).
With ruby supply from sources outside Mozambique becoming increasingly fractured and unreliable, MUS stands to tap into the current growing global demand for ethically produced rubies by becoming a reliable, consistent supplier.
MUS is currently one of only two listed ruby miners in the world, and the only one listed on the ASX.
Although that looks set to change with £171 million-capped Gemfields PLC (AIM:GEM) announcing that it wants to delist from the London exchange.
That will leave MUS as the only listed ruby producer globally, and the only choice for share market investors at this time.
The delisting of Gemfields, the potential for MUS, plus the opportunities in China were examined in the AFR recently .
Suffice to say, the gemstone ducks look to be lining up nicely, especially as it now has Arena Investors LP, as a major institutional investor.
Arena has more than US$600 million in assets under management and has committed to invest A$8.5 million in MUS under a convertible note facility.
It is a major major milestone for MUS and removes any doubts that the company has enough capital to move it towards its major sales in October.
However, before we go too far, it should be noted that for political and social reasons, this is a very high-risk stock. Running mining projects in countries such as Mozambique is no simple feat, and there may be challenges ahead.
MUS's story is also a study in ' nearology' . The company's Montepuez project in northern Mozambique is a matter of kilometres from Gemfields larger ruby project.
Gemfields latest auction of commercial, medium and high-quality stones sold 895,848 carats at an average price of US$61 per carat, with record auction revenue of US$54.8 million.
Currently valued at a tiny $31 million, MUS is flush with a series of recent milestones and is poised for rapid growth, especially in relation to its own planned auction scheduled in October – just a few months from now.
MUS's ruby inventory has skyrocketed to 132,000 carats, positioning it very comfortably on schedule to meet its target of 200,000 carats in time for its first closed bid tender in October.
This rapid inventory growth partly owes to the success of an upgraded processing plant at the company's Montepuez project.
MUS has also announced a significant new secondary ruby discovery on its recently acquired licence, three kilometres southeast of the upgraded processing plant, with an initial bulk sample of 5,692 cubic metres, delivering 4,445 carats of gem quality rubies.
Compellingly, 99% of high-quality stones are found via secondary ruby deposits in Mozambique, so MUS has an excellence chance of happening upon a promisingly high-value resource.
If that's not enough sparkle and glitter for one ASX company, there's also a sizeable chunk of upside in MUS's Caula graphite project, rounding out its portfolio via a shallow, high-grade graphite deposit.
With very few ruby miners around to satisfy increasing demand in Asia, especially in relation to the luxury goods and jewellery market, micro-sized MUS has a distinctive twinkle in its eye.
Without further ado, let's get re-acquainted with:
New Energy Minerals Ltd

We've had our sights set on MUS's treasure trove for quite some time , but it's been a while since we've caught up with this ambitious but sure-footed company.
We last investigated what was happening on Mustang's radar in October last year with the article, 460 Carats of Rubies Extracted at MUS Gem Field: Drilling to Come .
At that time, MUS was making significant headway in its transition from developer to producer, with a commercially viable quantity of rubies already coming out of the ground.
Since then, MUS has ramped up its game, and is now well on track for its first sale of 200,000 carats in October this year.
With its high proportion of quality stones, MUS's October auction is likely to bear a strong resemblance to Gemfield's 2015 auction , which had an average realised price of US$317 per carat, comprising 90,000 carats of higher and medium quality rubies for US$29million.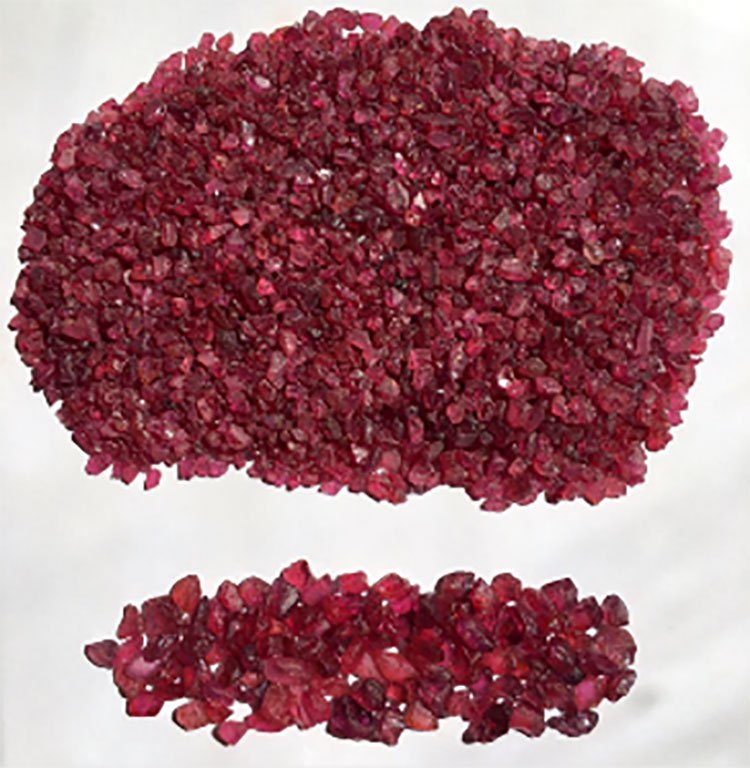 MUS is backed by a focused team with extensive in-country experience. Of particular note is independent consulting geologist, Paul Allan, who was the project geologist for Gemfield's initial development of its Montepuez ruby project — which is practically rubbing shoulders with MUS.
It is also now backed by leading New York-based institutional investor Arena Investor LP. As mentioned above, Arena's $8.5 million funding package, will see MUS through to its first ruby sale in October, minimising shareholder dilution.
Arena is led by CEO/CIO Daniel Zwirn, who as CIO, personally committed over $10 billion in capital to 1,000+ special situation illiquid investments in addition to overseeing a global series of liquid credit and equity strategies totalling several billion dollars. In addition, he generated almost $3 billion in gross profits and provided an approximate 95% positive-return months over an approximate eight-year period while the business and predecessor were active.
Zwirn is definitely someone you want in your corner.
Funds will be drawn in four tranches, with the first tranche of $1.7 million (subject to conversion restrictions) to be received on signing the convertible note deed.
The balance will then be available in three further drawdowns of $1.7 million, 2.55 million and a final $2.55 million over an 18-month period.
The funding gives MUS the ability to maximise the number of rubies tendered for sale in October, just three months from now.
All that sparkles in Mozambique...
The full geographic stretch of MUS's portfolio, including its Montepuez ruby project and Caula graphite project can be seen on the map below.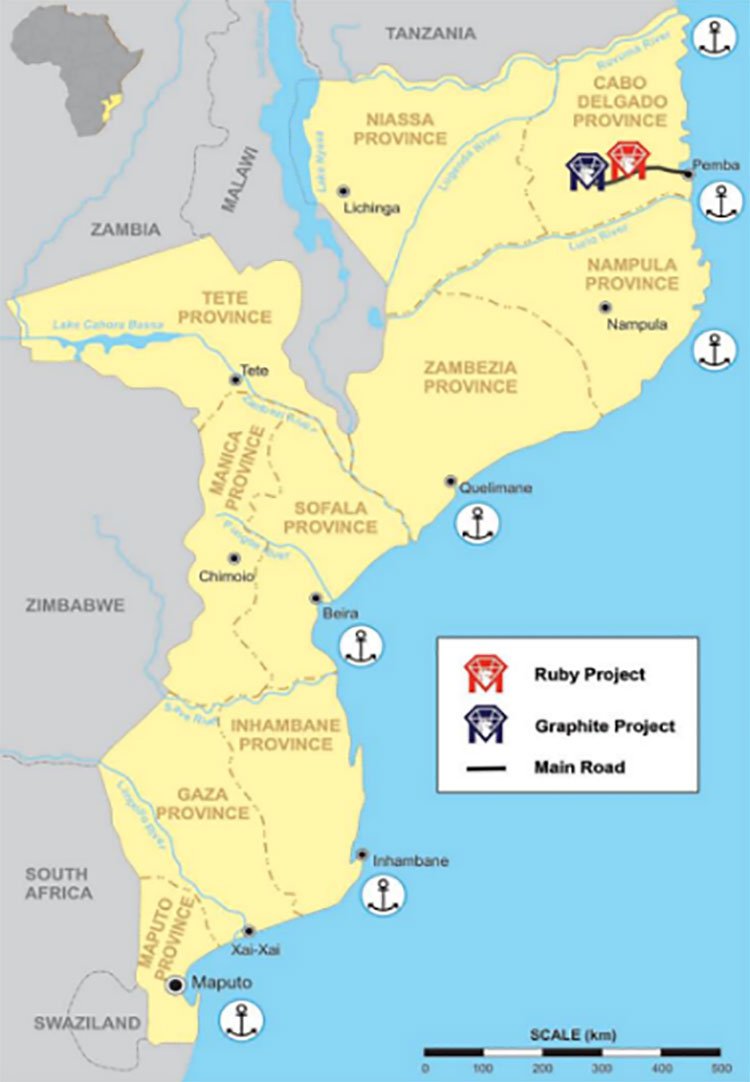 Location counts for a lot here — Montepuez is a world-class ruby deposit. MUS's project is located within the Montepuez Complex in the Cabo Delgado Province of Northern Mozambique. The complex is a unique geological occurrence in which optimal pressure and temperature conditions allow for widespread, high-grade ruby mineralisation to occur.
The Montepuez ruby field is extensive, offering prospects of long mine lives. MUS's Montepuez ruby project consists of four licenses covering 19,500 hectares.
MUS's licenses lie along the established NW-SE ruby mineralisation trend, directly adjacent to the world's largest ruby deposit and Gemfield's licenses. Gemfields, which discovered the deposit in 2012, brought it to global prominence and went on to generate US$280 million in rough ruby sales through June 2017.
Extensive ruby mineralisation can also be found immediately to the southeast of the MUS licenses, close to the village of Namahaka, where it is mined by local artisanal miners.
MUS has an expansive 193 square kilometres of highly prospective ground — you can see how this tracks out in relation to the tenements of Gemfields and neighbouring artisanal activity in the map below: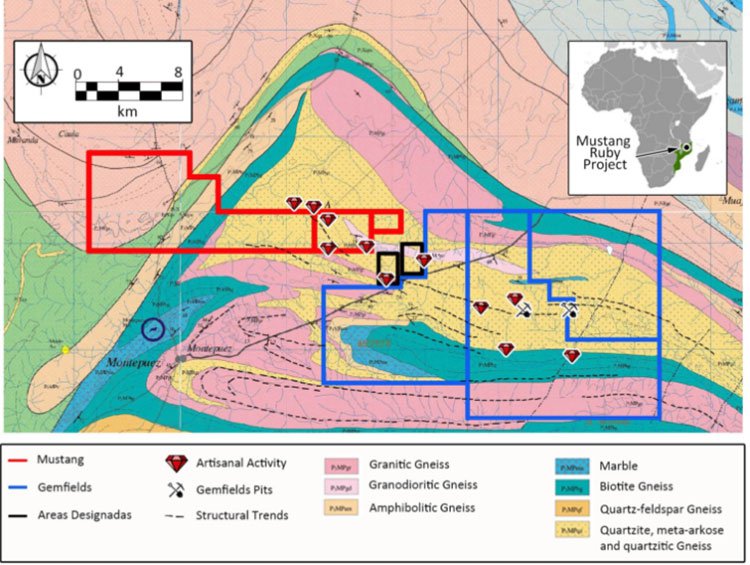 So, what exactly has come out of Montepuez so far for MUS?
The jewel of MUS's eye — ruby inventory on track
As we've mentioned, MUS is managing its timeline with eagle-eyed expedience. With its ruby inventory growing substantially to 132,000 carats, MUS should be able to meet its target of 200,000 carats well and truly in time for its first auction in October this year.
The chart below outlines the growth in MUS's ruby inventory: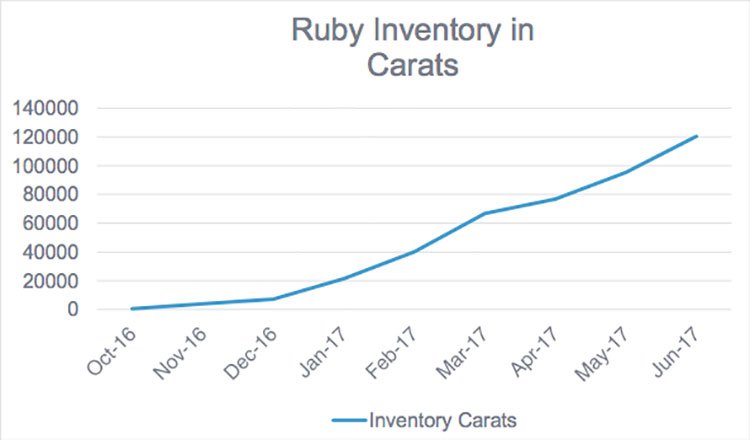 MUS's growing inventory is supported by the successful commissioning of its upgraded processing plant in Mozambique, plus its discovery of a secondary shallow ruby deposit three kilometres south-east of the plant.
The successful commissioning of the upgraded plant and the growth in its ruby inventory should together ensure that MUS achieves its inventory target well before October.
This should provide a solid boost to shareholder confidence, and suggests the company is on track to generate substantial cash flows from Montepuez.
However there are no guarantees this will eventuate. There are still many possible hurdles facing MUS, and this is a high-risk stock. Seek professional financial advice before investing.
A new discovery adds more sparkle
Adding glimmer to MUS's repertoire is its significant secondary (high quality rubies) discovery.
The newly acquired 35 square kilometre licence sits between the Montepuez processing plant and a key secondary deposit mined by Gemfields.
MUS has processed an initial bulk sample of 5,692 cubic metres for 4,445 carats, including consistent recovery of high-quality stones larger than three carats — those classed in the 'special/premium' category.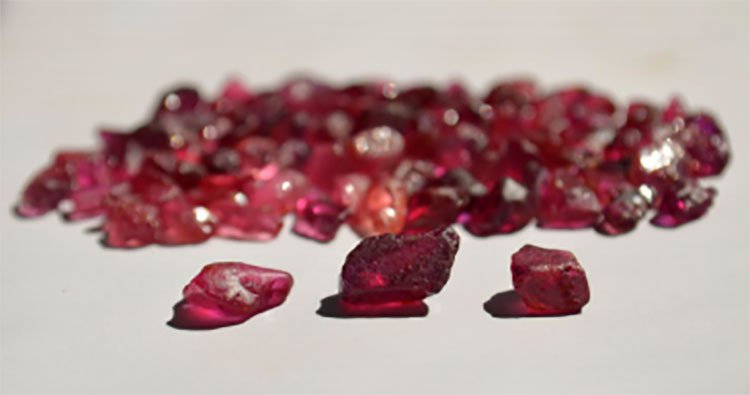 Furthermore, manual test pitting along strike from the bulk sample pit has confirmed that gravel-hosted secondary ruby mineralisation is extensive, with ruby-bearing gravels recorded in test pits over a 2,200m open-ended extent.
Processing of 4.5 tonnes of gravel from test pits (NT01 and NT23) through mobile jigs has yielded 10.7 carats of rubies.
This map shows the current bulk sampling activity and manual test pits: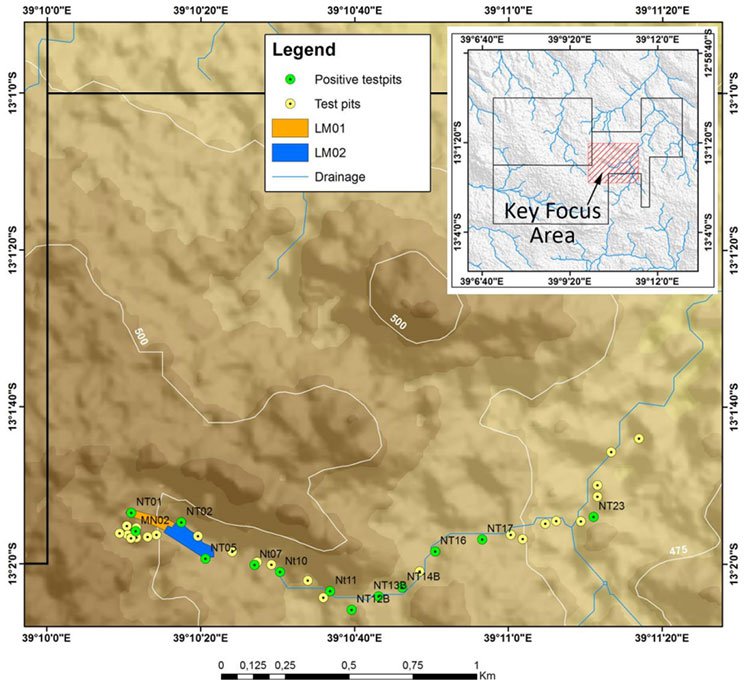 Here you can see bulk sampling from Pit LM01, as well as the processing plant in operation: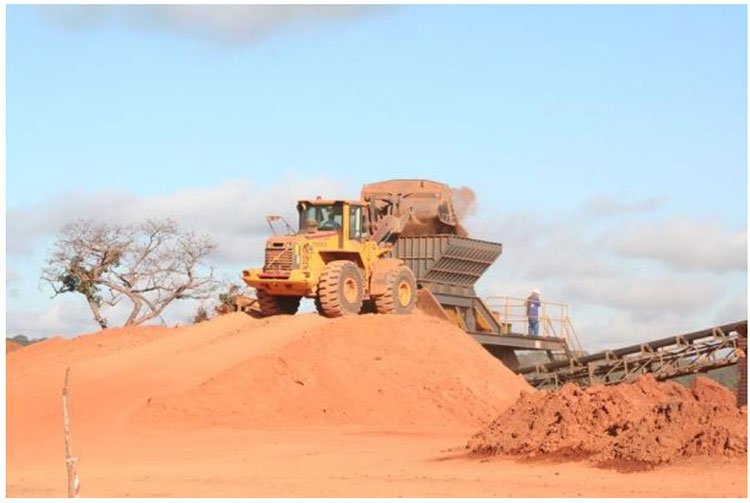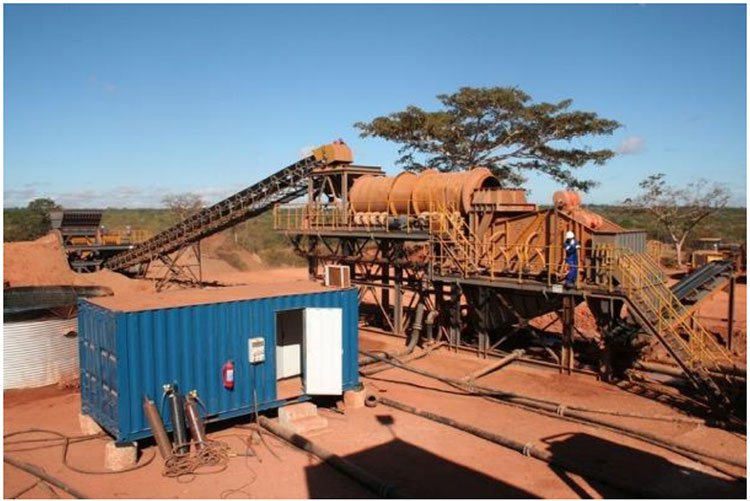 MUS has proposed an Auger drilling program to help map the full of the secondary ruby deposit in this key target area and beyond.
In the coming months, MUS will excavate and process new high-grade and shallow ruby deposits, which should significantly increase its ruby inventory.
Encouragingly, when compared to primary deposits, secondary deposits typically contain a much higher proportion of high-value, gem-quality rubies deposits. The fact that the deposit is shallow will keep costs down.
At this point, a clear trajectory marked out with regular news flow is spanning out ahead for MUS like an open road.
With a drilling programme at its secondary deposit set in the immediate future and its first sale of at least 200,000 carats coming in October, MUS is likely to have its maiden JORC Resource in around the first half of 2018 and a second rough ruby auction to look forward to in March 2018.
With this string of key milestones in mind, MUS is on track to build a sizeable resource base and potentially generate significant revenue whilst doing so.
What the analysts say
As it looks to generate significant revenues, MUS recently attracted the attention of Hartleys analyst John McDonald who placed a conservative target of 8.5cents on the company, with estimated 1st sales of at least US$10 million in October.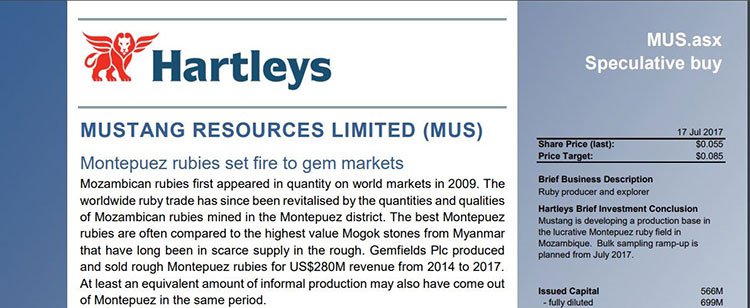 Of course broker projections and price targets are speculative and may not be met.
The Hartleys report released on July 17 follows a comprehensive report in May by Mark Gordon from Independent Investment Research (IIR), which slapped a 12-month price target per share of $0.169 calculated through a more comprehensive financial model.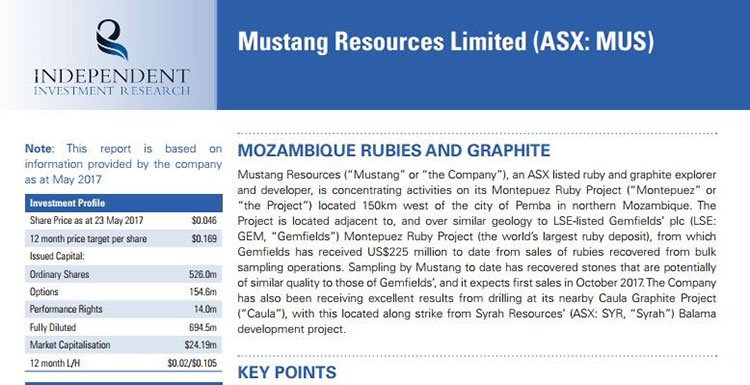 Again, these analyst reports are speculative and there is no guarantee that these targets will be met. Investors should take all public information into account when considering this stock for their portfolio.
These are certainly favourable reports and take into account what looks to be very favourable market conditions.
A rose-hued US$2 billion-per-year market
After diamonds, rubies are the most costly gemstone, and gems with five or more carats are extremely rare... and valuable.
Yet prior to the discovery of Montepuez, ruby supply was fragmented and unpredictable, with small-scale and artisanal miners from Burma, Tanzania, Afghanistan, and Madagascar the main suppliers.
Supply consistency from Montepuez, on the other hand, provides the opportunity for rapid growth in the ruby market size.
Strong demand for rubies of all qualities from the China and the US, plus Europe, India, and Thailand has seen prices rise by 63% over the past eight years.
The global polished ruby market size exceeds US$2 billion per year. This makes up a large chunk of the total coloured gemstone market (ruby, sapphire and emerald) — estimated to be worth US$5.9 billion per year. That market grew by 13% in 2015, while in contrast the market for diamonds fell by 17% from US$84 billion to US$70 billion.
China is viewed as a yet untapped major growth market, with rubies holding particular religious and cultural value.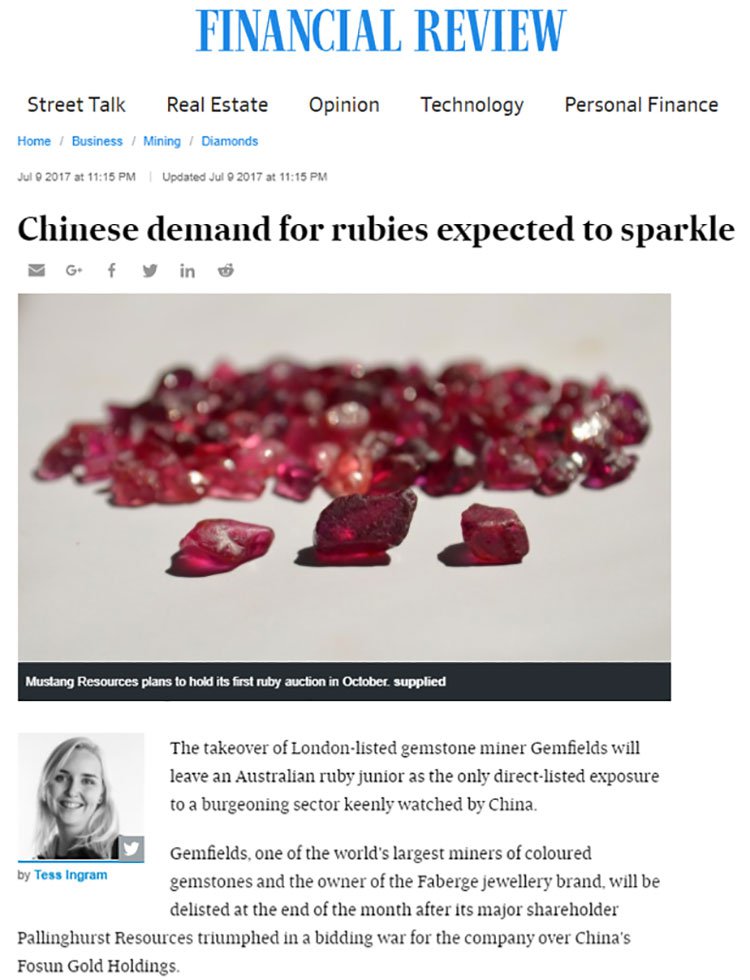 Yet, the more established US market is also seeing significant import growth as rubies steal market share from diamonds: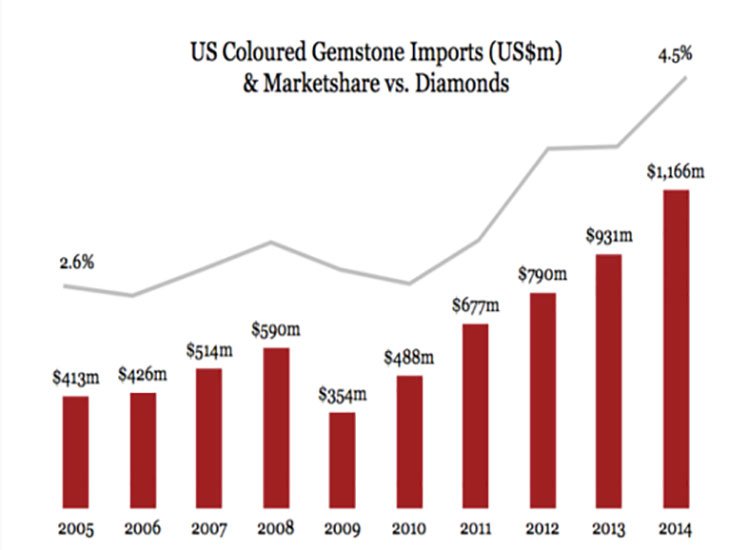 Rubies play an essential role in the luxury goods market. In 2015, sales of personal luxury goods escalated to over €250 billion, with luxury jewellery accounting for only 6% of that, showing significant room for growth.
For new store openings, Asian retailers are rebalancing their product offering more toward jewellery than watches — a sign that momentum is shifting towards jewellery capturing a larger share of the broader personal luxury goods sector.
In June 2015, the Burmese 25.59-carat Sunrise ruby ring was sold for US$30 million at a Sotheby's Geneva auction, shattering all previous records for a coloured gemstone. This served as an eloquent declaration that rubies, as a premium luxury item, are here to stay.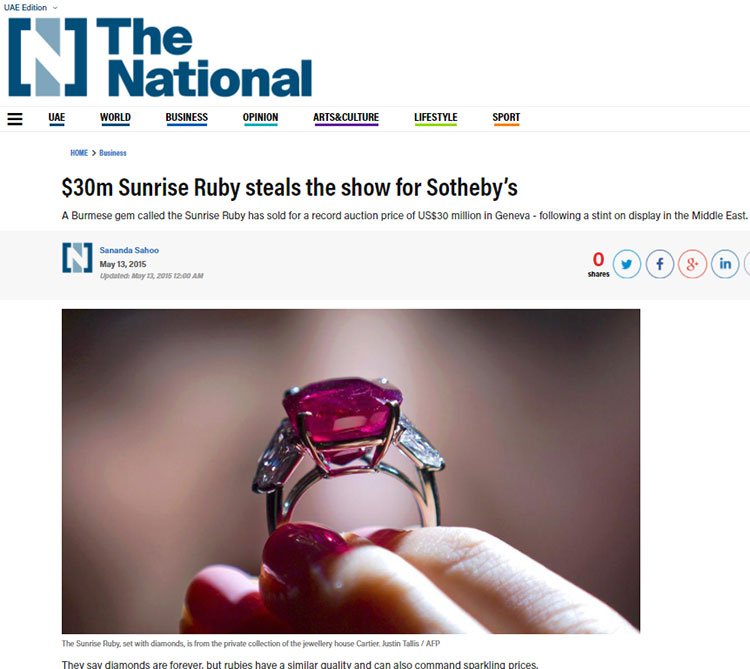 Expert analysis of Mozambique rubies by gemmological laboratories like those of the GIA (Gemology Institute of America) has proven that premium/fine Mozambican rubies are similar to those historically supplied by Burma (Myanmar) — the source of the Sunrise Ruby.
Also bear in mind that MUS's market engagement in the USA and Asia has confirmed significant unmet demand for ethically mined rubies. This is a salient market issue, with coloured stone mining in locations like Burma and Tanzania fraught with inhumane labour conditions, including forced labour and child labour (as laid out in the chart below).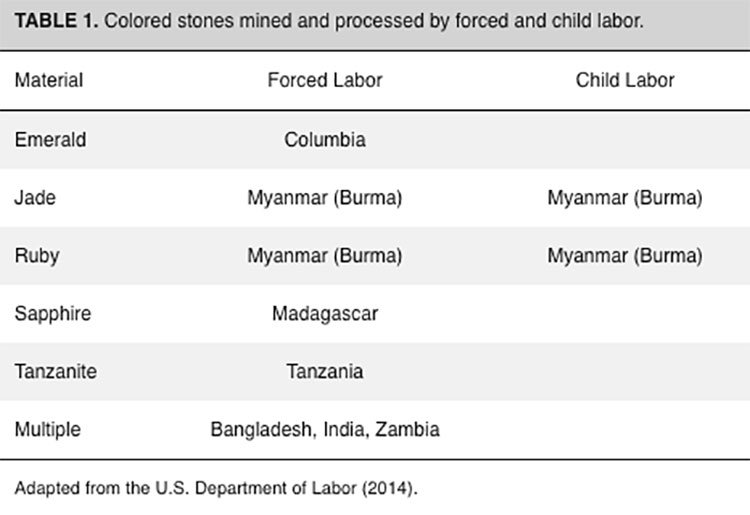 Mozambique rubies sold by Gemfields on auction in December 2014 fetched more than US$680 per carat, and Mozambique has consistently yielded rubies scoring highly across the quality and size spectrum, including a ruby of 40 carats — the Rhino Ruby.
Importantly, Gemfields' June auction this year was record-blasting, with revenue of US$54.5 million. The sale fetched an average of $61 per carat for 895,848 carats, out of just over 1 million carats that were on offer.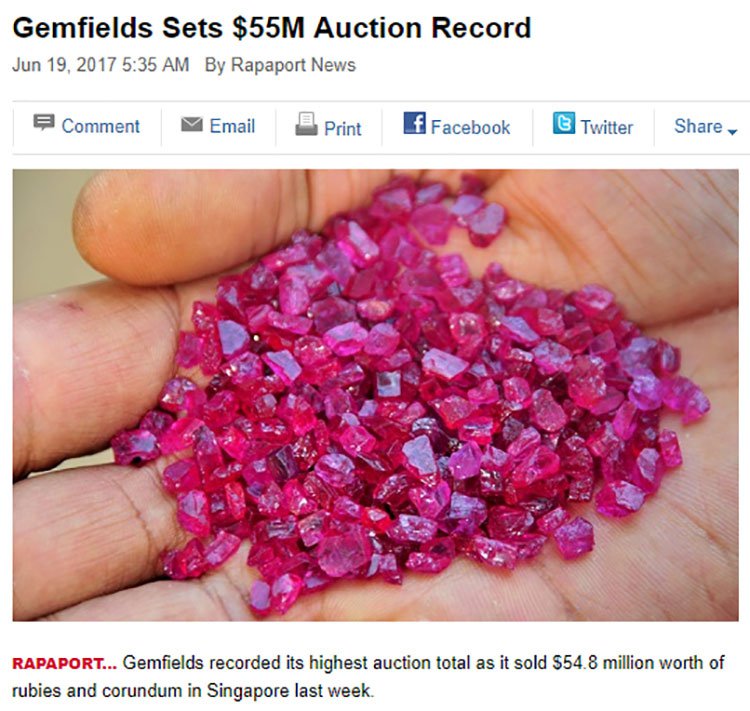 A couple of recent developments makes Gemfield's position in relation to both MUS and the broader ruby market particularly interesting here...
The battle of the rubies
In June this year, Gemfields was caught in the centre of a takeover battle that took place between Pallinghurst, a South African private equity group and Gemfield's largest shareholder — Chinese conglomerate, Fosun Gold.
Especially interesting during this tug-of-war was the sentiment that emerged from the Chinese side of the fence, which highlighted the presence of a ripe, potential-filled and as-yet-untapped market in China.
In its offer for Gemfields, Fosun noted the increasing size of the precious stones market, with consumers in China increasingly demonstrating their wealth, status and emotional commitment to one another by purchasing jewellery and luxury goods, as well as the growing use of coloured gemstones in engagement rings.
This trend underpins the steadily rising prices achieved by Gemfields for emeralds, rubies and sapphires at auctions over the past few years, as well as the ever-increasing sales volumes that achieved through its strategy of consistent, high-quality production and auctions.
Pallinghurst finally won this battle, and Gemfields announced shortly afterwards that it had applied for delisting from AIM.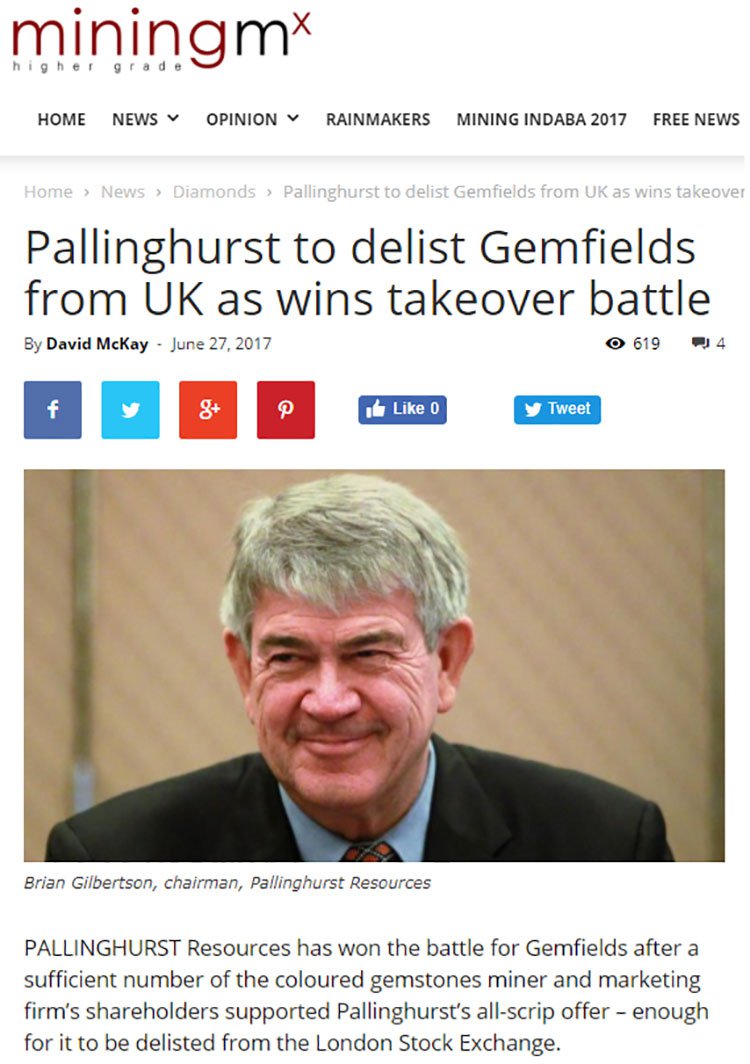 This has a number of important implications for MUS.
Firstly, with the delisting of Gemfields, MUS stands to emerge as the only listed ruby miner in the world.
At the same time, China opening up as a new, untapped ruby market could provide MUS with a veritable hotbed of demand.
What's next for MUS?
Bearing all of this in mind, it's fair to say that the $31 million-capped MUS might be undervalued by the current market.
Several prominent analysts certainly think so with Hartleys and IIR predicting favourable outcomes. The recent transaction with prominent US based investment fund Arena Investors LP further points to the Company looking at a potential re-rating in the not too distant future.
However a successful investment in MUS is no guarantee. Investors should consider more than just the content of this article before choosing to invest.
A slew of key milestones are emerging, including commencement of a drilling program at its new secondary ruby discovery, its October auction for at least 200,000 carats, and its plan to mount a maiden JORC resource in 2018, it may not be much longer before MUS has shareholders' complete and undivided attention.
Plus, with Gemfields' application to delist, MUS might be on its way to take on a unique, singular status in the near future.
Whatever transpires in the coming months, we'll be watching the news flow in anticipation.
---