MPJ Drill Rig Now Probing for Giant Nickel Deposits
PUBLISHED: 12-09-2014 10:31 a.m.
The time has arrived for MPJ. Many months of preparation and analysis by arguably the world's best nickel geophysicists and geologists has led to precise drill target definition. Refined anomalies at MPJ's Roe Hills project in Western Australia are this very minute being hunted by 5 to 10 KILOMETRES of diamond drilling. Multiple key prospects, contained within a 40km continuous strike of ultramafic rocks are being tested right now – Results are due in just a few weeks. At the same time – drill results may not be conclusive, and MPJ remains a high risk investment for now. MPJ have on the team Neil Hutchinson and Newexco, who are responsible for $2.5BN worth of nickel discoveries between them – that is the combined market cap of the holding companies. MPJ is fully funded for this 10,000m drill programme, and are also anticipating an R&D rebate as part of the work.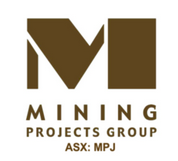 When we first wrote about MPJ, in the article Nickel Rock Stars Working For Shares: Twiggy's # 1 Geologist Plus Sirius Masterminds Combine in One Fraser Range Micro Cap , the current nickel drilling campaign was one of the near term events we were looking out for. We stayed with the developing story as drilling drew closer and closer, in the article Fully Funded MPJ Reveals Big New Nickel Targets and 5,000m of Drilling in a 40km Known Fertile and 100% Owned Ultra Mafic Strike . Now that drilling has kicked off, the market is beginning to sit up and take note... CPS Capital Group Analyst Eddie King has just issued a " Speculative Buy " recommendation on the stock:

This "Speculative Buy" rating is a good sign, but analyst reports aren't the only tool we use when making an investment decision, they are just one thing we consult. With 5 to 10 KILOMETRES of nickel sulphide drilling now underway at Roe Hills, along with downhole geophysics to test for additional conductors, it appears that MPJ is just warming up. It doesn't hurt that the drill targeting has been designed and refined by Neil Hutchison from Poseidon Nickel, who discovered the Cosmos and Windarra nickel deposits. And Neil has been assisted by the founders of Newexco, Bill Amann and Adrian Black, who were integral in the discovery Sirius Resources' massive Nova-Bollinger nickel deposits. As we mentioned above the total market cap of companies holding the discoveries led by Neil and Newexco amounts to $2.5BN . If MPJ is sitting on a large nickel resource, chances are that the team they have assembled will find it.
Our Track Record
Regular readers of our sites will be familiar with our long-standing interest in high potential stocks. To note just a few:
The past performance of these products are not and should not be taken as an indication of future performance. Caution should be exercised in assessing past performance. These products, like all other financial products, are subject to market forces and unpredictable events that may adversely affect future performance.
Big Drilling for a Potential Big Prize
All the hard work by MPJ, Neil and Newexco, has culminated in the very extensive and comprehensive nickel drilling campaign at Roe Hills currently underway. The best way to find a big nickel deposit is by snapping up the best ground, hiring the best geologists and geophysicists, and then following it with copious amounts of targeted, well planned, drilling. Recent work completed by Neil Hutchison identified several significant nickel targets at the Talc Lake, Roe 1 and Roe 2 prospects. 9 holes are planned for the Talc Lake prospect, for a total of 3,200m, here is a cross section of the geological model – the red lines are the planned drill holes: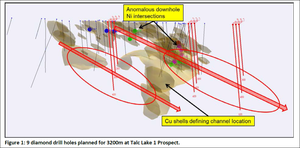 6 holes are planned for the Roe 1 prospect, for a total of 1,800m:

So initially, MPJ will drill a total of 15 diamond holes for 5,000 metres, along with down-hole electromagnetic surveys to be managed by Newexco. MPJ may elect to extend the campaign to 10,000m. As MPJ recently raised $1.398M , they have the funding capacity to execute this work. OnQ Drilling has been contracted to complete this initial phase. Additional drilling over and above 5,000 metres will be at a discounted rate, and as is the case with most contractors involved in MPJ's nickel exploration, OnQ is taking a substantial portion of their fees in MPJ shares... Hint hint.
Three Nickel Projects
The current drilling at Roe Hills is a big deal – but it's far from being the only saucepan MPJ has on the stove. MPJ's Fraser Range East Project is bordered by Sirius to the north and Fortescue Metals to the south. Initial geophysical work has been conducted by Newexco, and further work is anticipated in the near term. MPJ has also secured a significant tenement holding in the Dingo Range nickel region to the north, with projects straddling Rox Resources. Rox has a growing Camelwood nickel deposit along with several significant discovery holes:
MPJ is almost like three nickel exploration companies in one – over the next few months we should start to learn more and more about these other projects.
Talk of the Town
MPJ has been a hot topic in recent times... even The Australian featured an article on their world class technical team, who are involved with MPJ and are supervising the current drilling at Roe Hills.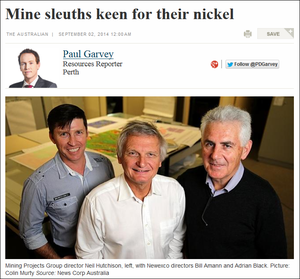 The Australian focused on the very interesting fact that for MPJ, Bill Amann and Adrian Black are easing their long held policy of not taking shares in their clients. In the case of MPJ, both will be taking shares as part of their service fee, giving them increased exposure to any discoveries. Bill and Adrian founded Newexco way back in 1999 to help exploration companies discover economic nickel deposits. And help find economic nickel deposits they did! They were behind Sirius' massive nickel discoveries of Nova and Bollinger, as well as Panoramic Resources' more recent discovery hole at Savannah North of 89.3 metres at 1.6% nickel. They also engineered Peel Mining's Mallee Bull polymetallic intercept of 84 metres at 5% copper equivalent, and the company-making Spotted Quoll and Flying Fox nickel deposits for Western Areas. For a tiny $10 million nickel explorer, MPJ sure is getting a lot of coverage...
Conclusion
It's show time in the WA nickel sector and MPJ is playing leading man. With 5 to 10 kilometres of diamond drilling at the Roe Hills Project, including downhole electromagnetics, there are multiple price sensitive price catalysts lined up to potentially enthuse the market as the programme comes to completion over the coming months. MPJ management, cornerstone investors and the nickel genius of Bill Amann, Adrian Black and Neil Hutchison are all locked and loaded with MPJ shares. And this is just one of three major nickel projects in MPJ's arsenal. MPJ is still a small exploration company and is a high risk investment. But as MPJ investors ourselves, we are glad we are not on the sidelines.
---