MPJ Confirms Nickel Sulphide Intersection with Major Strategic Target Found
PUBLISHED: 27-11-2014 01:44 a.m.
Just as the geological model predicted, Mining Projects Group (ASX:MPJ)'s recent drill results are expanding the potential for a major nickel discovery in WA.
Encouragingly, nickel intersections at Talc Lake – where MPJ are actively exploring 50km of prospective nickel bearing greenstone, have a strong correlation to the discovery history of known nickel deposits such as Prospero, Sinclair, Cerberus, Maggie Hays and Camelwood...
Expert nickel geologist Neil Hutchison is justifiably excited with the results and has re-defined and expanded the next stage of the drilling programme.
At the Talc Lake prospect, diamond drill hole RHDD0008 intersected nickel mineralisation over a down hole depth of almost 2m, occurring as a series of pyrrhotite-pentlandite sulphide blebs and veins. Individual blebs have returned nickel grades of up to 2.3% nickel...
A large scale target, previously not considered within the system now aligns with the interpreted pipe direction of the lava channel – on the southern side of a known massive sulphur source...
This complements the high grade hit of 4.3m @ 0.53% nickel including 0.2m @ 2.66% nickel struck on the first hole.
Taken on its own, it may not seem like a big discovery – but MPJ has importantly defined the core of a lava channel system – and it confirms that the detected nickel sulphides are derived from a nearby, primary source...
This news is not overly surprising given the quality of the Roe Hills ground, and MPJ's nickel exploration team that is unheard of for a company of its size.
MPJ's Exploration "Dream Team" includes Neil Hutchison – involved in the nickel discoveries for Poseidon and Jubilee Mines at the Windarra and Cosmos Projects, as well as Newexco, the team that discovered Nova and Bollinger.
The MPJ team continues to achieve positive results using their decades of experience and expertise gained from their involvement in these discoveries.
Add the fact they are all taking MPJ shares in exchange for their nickel nous... and you have an entire family of ducks lined up.
MPJ's drilling team have now moved over to target "Roe 1" – 4 diamond drill holes, totalling 1,800m, will be sunk here with the aim of intersecting the interpreted lava system and bring this target up to the extent of knowledge MPJ now have of the Talc Lake target.
So there are still more drilling results to come, plus down hole electro magnetic surveys at Talc Lake should not be far away either...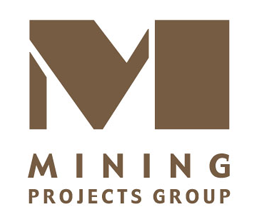 Whilst the Roe Hills Project is the subject of the current drilling campaign (with a priority on the Talc Lake and Roe 1 targets), MPJ has even more high potential ground to its name.
Within the Fraser Range, Sirius' Nova-Bollinger deposits are surrounded to the east, west and northwest by ground held by little old MPJ.
Then in at Dingo Range, MPJ holds ground flanking both sides of Rox Resource's emerging nickel deposits at Musket, Cannonball and Camelwood.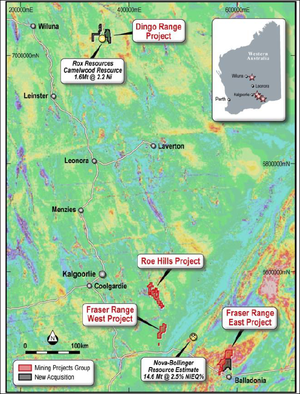 We first covered the MPJ story back in May, in the article Nickel Rock Stars Working For Shares: Twiggy's # 1 Geologist Plus Sirius Masterminds Combine in One Fraser Range Micro Cap
We have stayed with the company throughout prospect discovery, drill targeting, and drilling commencement, all the details are here:
MPJ have almost completed the current drilling phase at Roe Hills – the geology is becoming clearer and clearer, and follow up drilling will be focussed on strategic targets.
Looking at Roe Hills overall, MPJ is covering multiple targets over a whopping 50 kilometres of fertile nickel belt strike: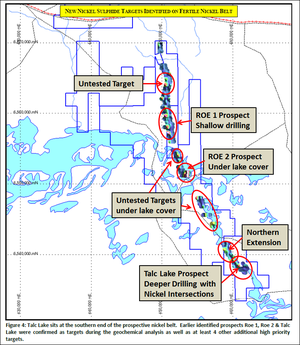 The latest modelling work of how nickel deposits are formed was applied to MPJ's ground, with the "Cabbage Leaf" model given an indication of what to look out for. Formed in hot lava channels, sulphide blebs drop out of the channel and accumulate – it's these spots that may hold the key to any nickel discovery on MPJ's ground. This proven model has been responsible for numerous discoveries over the last 15 years by MPJ's technical team.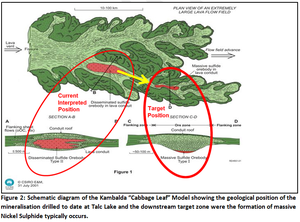 These cabbage leaf hot spots are actually located all the way up MPJ's portion of the prospective nickel belt – methodical exploration should indicate where nickel deposits might have formed.
The latest drilling results are laid out on the schematic below. MPJ have now better defined the direction of the ultra-mafic host channel, and can now hone in and improve their chances of a major discovery: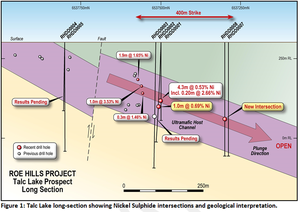 Our Track Record
Regular readers of our sites will be familiar with our long-standing interest in high potential stocks.
Did you see our Next Tech Stock article on Ziptel (ASX:ZIP) ? ZIP has been up as high as 160% since we first released our article.
Since the Next Oil Rush article on Real Energy (ASX:RLE), International Feeding Frenzy in Australia's Hottest Shale Gas Region Puts Undervalued Junior on M&A Radar , RLE has risen as high as 110%.
Since the Next Small Cap article on Core Exploration (ASX:CXO), BHP Circling... Micro Cap Neighbour to Drill Mammoth Targets , CXO has been up as high as 140%.
The past performance of this product is not and should not be taken as an indication of future performance. Caution should be exercised in assessing past performance. This product, like all other financial products, is subject to market forces and unpredictable events that may adversely affect future performance.
Potential large scale target demands further attention
An old Fixed Loop Electromagnetic survey indicated an anomaly to the south east edge of the survey, however it was previously disregarded as a larger anomaly nearby turned out to be a sulphidic shale hosted conductor.
This latest round of drilling has demonstrated that this large anomaly actually lines up with the komatiite channel direction – and may be the downstream location of the massive nickel sulphide accumulation, as depicted by the '"Cabbage Leaf" model. You can see the anomaly to the south east on the electromagnetic map: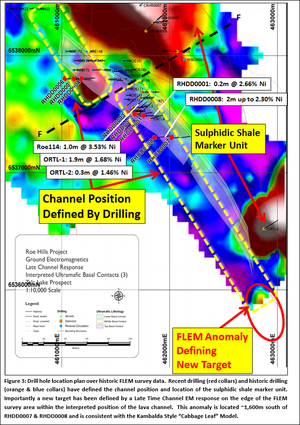 Neil Hutchison and Newexco have a new nickel lead here – and will be plotting a more detailed High Powered Electromagnetic (EM) survey over the lava channel area shortly, fully defining what hasn't been surveyed to the south east.
MPJ's High Grade First Hole Hit
A few weeks ago, XRF analysis of the first hole at the Talc Lake Prospect produced a nickel-copper sulphide vein grading up to 12.6% nickel and 2.75% copper: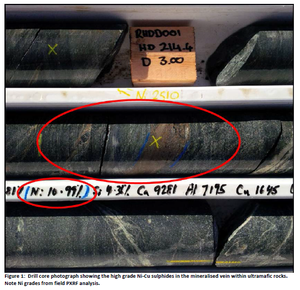 The assays show 4.3 metres at 0.53% nickel from 211.1 metres, including 0.2 metres at 2.66% nickel, as well as 1.9 metres at 1.65% nickel.
This result indicates remobilised sulphides from a nearby, primary source.
So MPJ is firmly on the right trail... and that nearby primary source could be very large.
Back calculations of the XRF results show the 10% to 12.6% nickel recently reported underplayed the true grades.
Turns out they were actually around 17.7% and are now more significant than previously thought. The mineralisation is associated with disseminated nickel sulphides... yet another encouraging sign.
As we indicated above, this defines the core of the lava channel system and therefore the sulphides are from a local primary source.
8 Diamond Holes and 2,888m complete
To date, 8 diamond drill holes have been completed totalling 2,888 metres, marking the successful completion of the planed definition stage.
Downhole electromagnetic surveys are still to be conducted on RHDH0007 and RHDH008 to confirm the next strategic targets. This is a crucial stage and will also MPJ to gain a much deeper understanding of the potential of the ground.
Attention for the drilling team now moves to the Roe 1 target, and bring MPJ's understanding of this target in line with the Talc Lake target.
The Roe 1 Target – Drilling now
Drilling is underway right now at the Roe 1 target – MPJ's northernmost prospect at the Roe Hills Project.
4 diamond holes totalling 1,200m are planned with the aim of intersecting the interpreted lava system there too.
The southerly plunging previous intersections of nickel and copper have piqued the interest of the exploration team: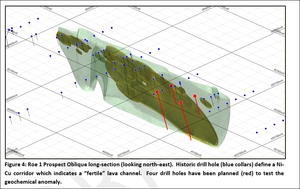 Down hole electromagnetics are planned here also, to test target areas for nickel sulphide mineralisation.
Drill results to flow into January 2015
The geology seen to date at Talc Lake appears very similar to large nearby nickel sulphide deposits such as Cerberus and Camelwood.
These deposits were all identified over a period of time by following narrow nickel sulphide leads to the core of the lava channel.
Once the channel core is located, a large nickel discovery could follow.
The initial assays from the first hole show that MPJ, Neil and Newexco are honing in on the primary nickel source...
Downhole EM survey results should be out soon, this should give a better indication as to where the high grade nickel might be sitting.
Follow up drilling will start to pinpoint specific targets and hopefully the exact locations of accumulations of massive nickel sulphides.
With Roe 1 drill results due shortly, and a follow up drill campaign in the wings for Talc Lake, we are looking forward to the next stage of MPJ's development and their quest for the next major WA nickel discovery...
---