MMJ Emerging from the Storm as Cannabis 2.0 Gathers Momentum
PUBLISHED: 09-04-2020 10:03 a.m.
How do you make a portfolio bulletproof?
That's the question the team at MMJ Group (ASX:MMJ) have been asking themselves during the cannabis bear market of 2019.
MMJ owns an international portfolio of minority cannabis investments. Investee companies within the portfolio operate in cannabis sub-sectors as diverse as healthcare, technology, infrastructure, logistics, processing, cultivation, equipment and retail.
These investments are carefully selected by MMJ's experienced board, who scour the globe evaluating the best opportunities in cannabis. MMJ is quietly amassing positions at discounted prices right now, as the sector is considered out of favour.
MMJ's overall business strategy is to make smart investments in global cannabis companies at modest valuations, and hopefully exit with handsome returns.
The company last night released an update on its Net Tangible Asset Value, which is $46M, or $0.2049 per share.
MMJ is currently capped at $18M with a share price of $0.082 – that's a 60% discount to its NTA.
So even before any market upswing, there appears to be some value in MMJ's current price.
MMJ's plan to navigate its way through the cannabis market collapse, was, in part, based on the diversity of its investment portfolio.
It should be noted here that MMJ is the only listed Australian investment company which offers Australian investors the opportunity to invest in unlisted and listed cannabis-related businesses in Australia and offshore.
Many of these companies are producing cannabis 2.0 products.
Market research company Brightfield Group expects the cannabis industry in Canada to grow to $3.7 billion in 2020 compared to $1.6 billion in 2019.
Brightfield expects Cannabis 2.0 product sales to contribute $900 million this year, including cannabis-infused edibles, beverages, and vapes.
MMJ is leveraged to the potentially explosive growth in each of these segments.
Take its investment in Harvest One Cannabis Inc. (TSX-V: HVT) for example. Harvest One is a global cannabis company that develops and provides innovative lifestyle and wellness products to consumers and patients in regulated markets around the world.

MMJ is Harvest One's biggest shareholder, currently holding 26% of Harvest One – which has a market value of approximately CAD $5M (AU$5.8M).
Harvest One appears significantly undervalued given its cultivation and Cannabis 2.0 assets. MMJ is working closely with Harvest One to realise its intrinsic value.
MMJ appears to have picked up momentum in the last few weeks, following the recent completion of a Share Purchase Plan (at 8c per share).
MMJ is now well placed to capitalise on the next wave of growth in the North American cannabis market, and given its trading more than 60% less than its Net Tangible Assets, it's worth a closer look right now.
With the networks and experience to invest in listed and unlisted cannabis businesses at attractive valuations, MMJ represents the only opportunity on the ASX to get exposure to the burgeoning North American cannabis sector.
With that in mind, let's catch up with ...

Share price: $0.082
Market capitalisation: $18.85M
The MMJ investment case: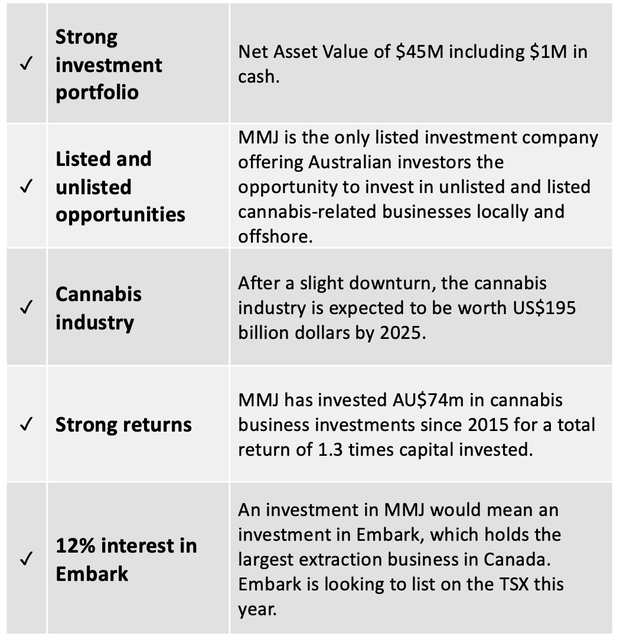 MMJ: a recap of its overall potential
MMJ Group (ASX:MMJ) has a proven track record in acquiring and realising significant value from its wide variety of cannabis investments.

Many of the assets (listed above) have a track record of strong market and financial discipline.
MMJ identifies these opportunities and opens them up to Australian investors. As stated above, MMJ secures investments in private cannabis businesses and participates in book-building for capital raisings which are not generally available to Australian retail and institutional investors.
Australian retail investors can thus invest in the Canadian cannabis sector, having previously had no other way to get in.
You can read more about its operations in our in-depth, initial report: ASX Stock Currently Trading 60% Below Net Asset Value is Primed for Cannabis 2.0
Here is Mike Curtis speaking to Finance News Network about MMJ's investment strategy:
MMJ recently undertook a Share Purchase Plan at 8c per share, which was supported by its directors, illustrating the confidence the company has from within.
The Share Purchase Plan was undertaken to fund existing and new cannabis and hemp businesses and operating expenses.
Chairman Peter Wall acquired 37,500 shares at 8 cents per share and directors Winton Willesee and Doug Halley acquired 100,000 and 62,500 shares respectively.
At 31 March 2020, MMJ had a Net Tangible Asset backing of $0.20 per share (pre-tax), with a book value of net asset assets of $45M.
The stock is currently trading at just $0.083 per share, with a market cap of $19M. That's a discount of over 60% from the NTA backing.

MMJ intends to eliminate its current p/nav discount in the following ways:

Over the last three years the company has actually grown at a 58% annual rate.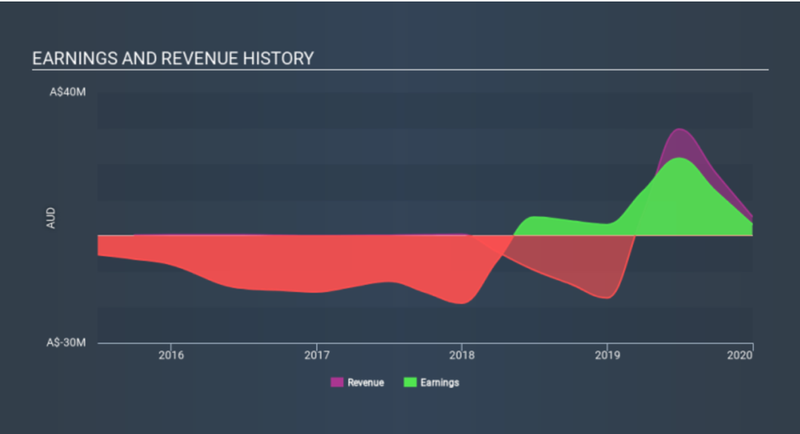 The following table offers a summary of the company's activity to 31 March 2020 since inception in 2015: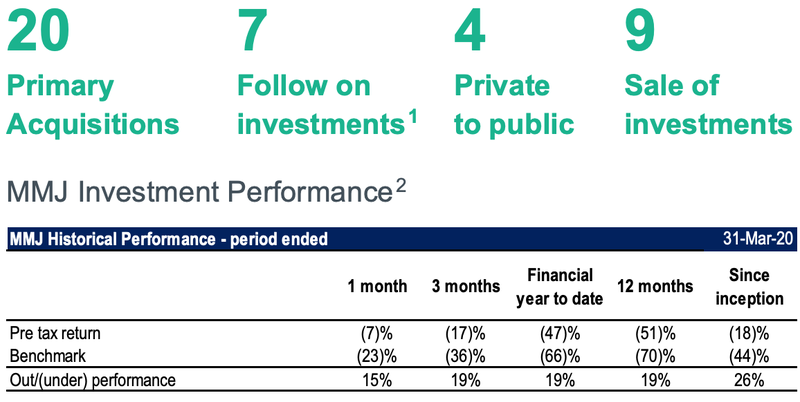 Whilst the last month has been a difficult one for many companies on the ASX, including MMJ, the overall foundations remain solid and with certain milestones to be realised in the second half of 2020, it is possible that the only way is up for this listed invested company.
Embark IPO to provide a major milestone for MMJ?
As we turn our attention to MMJ's specific relationships and the milestones they bring, our starting point is Embark Ventures, a specialist management company which manages MMJ's portfolio of investments.
MMJ owns approximately 12% of Embark Ventures, which holds under its umbrella Embark Health, founded by MMJ executive director Mike Curtis.
Curtis has form in the medical cannabis industry. He co-founded Dosecann which was sold to Cannabis Wheaton for $38 million. MMJ generated a realised return of 2.3 times its investment in that company.
Embark Health is expected to IPO this year, giving MMJ investors a good look at a Canadian cannabis initial public offering.
Embark Heath is on its way to creating the largest cannabis and CBD extraction business in Canada with facilities in British Columbia (BC) and Ontario (ON).
Embark Health's IPO would be a major liquidity event for MMJ and could put MMJ's share price on the path to rapidly eclipsing its Net Asset Value once again.
WeedME turnaround
Privately owned Weed Me Inc. recently completed a C$2.5 million (AU$2.8M) capital raising.
MMJ Group has been an investor in Weed Me since December 2017 and it represents one of the largest investments within the company's cannabis and hemp portfolio.
Weed Me is a licensed producer of cannabis with indoor growing facilities in Ontario, and it holds cultivation, processing and sales licenses under the Cannabis Act from Health Canada.
MMJ non-executive chairman Peter Wall highlighted the significance of Weed Me's ability to attract funding in the face of negative sentiment towards the sector over the last 12 months.
Wall said, "We congratulate the management of Weed Me in securing funding in challenging market conditions and believe that it reflects the quality of its business plan and its substantial cultivation assets."
"We are committed to working closely with Weed Me to deliver superior returns."
Weed Me is typical of the better Canadian cannabis companies that was able to turn its fortunes around amidst the downturn.
WeedMD is now a profitable company and should continue to add positively to MMJ's balance sheet.
WeedMD expansion
WeedMD Inc. (CVE: WMD) is the publicly-traded parent company of WeedMD Rx Inc., a federally-licensed producer of cannabis products for both the medical and adult-use markets. It owns and operates a 158-acre state-of-the-art greenhouse, outdoor and processing facility located in Strathroy, Ontario as well as CX Industries Inc., a wholly-owned subsidiary which specialises in cannabis extraction from the Company's fully-licensed 26,000 sq. ft. Aylmer, Ontario processing facility.
WeedMD recently acquired Starseed Medicinal Inc., a medical-centric licensed holder with operations in Bowmanville, Ontario, thereby expanding its multi-channeled distribution strategy.
Starseed's industry-first, exclusive partnership with LiUNA, the largest construction union in Canada, along with other employers and union groups complements WeedMD's direct sales to medical patients.
The Company maintains strategic relationships in the seniors' market and supply agreements with Shoppers Drug Mart as well as six provincial distribution agencies where adult-use brands Color Cannabis and Saturday are sold.
MMJ to turn Harvest One's fortunes
Harvest One Cannabis Inc. (TSX-V: HVT) is a global consumer packaged goods company that develops and distributes premium health, wellness, and selfcare products to patients and consumers in regulated markets around the world with a specific focus on sleep, anxiety and pain.
MMJ is the largest shareholder in HVT with a 26% stake.
Harvest One has a number of wholly-owned subsidiaries including licensed producer United Greeneries, Satipharm which is focused on medical and nutraceutical products) and consumer facing groups Dream Water Global and Delivra.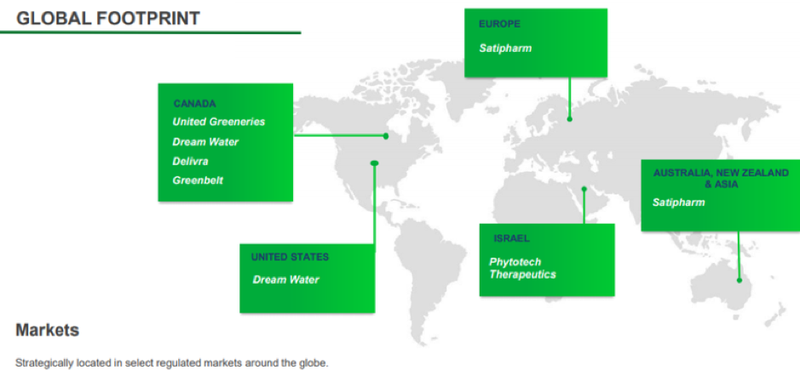 Harvest One has been doing it tough of late, but MMJ looks to be backing its investment, extending said investment.
MMJ recently reached agreement to extend the maturity date of its secured loan agreement with Harvest One.
The loan, bearing interest at a rate of 15% per annum in the amount of C$2 million, was issued was on January 10, 2020, with the principal and accrued interest payable within 60 days.
The extension of the maturity date assists HVT to continue making significant progress in restructuring its operations and realising the sale of non-core assets.
HVT is in discussions to divest its 50.1% interest in the Greenbelt Greenhouse facility located in Hamilton, Ontario, which would provide additional capital and allow the company to focus on the growth of its core businesses in Cannabis 2.0, product branding and international distribution.
The good news for HVT is its consumer division continued to make steady ground with 11% revenue growth over the previous quarter and the outlook for the six months to June 30, 2020 has improved significantly, most notably at the company's United Greeneries operations.
Both dried and bulk flower sales have increased significantly and Cannabis 2.0 sales are expected to be reflected in the March quarter results as due to strong demand from both retail and provincial cannabis store partners.
Revenues from the consumer and medical divisions are also expected to show steady quarter on quarter growth.
Harvest One's initial Cannabis 2.0 product offerings include a selection of pain relief topical creams and vape pen cartridges.
Products have undergone the necessary Health Canada notifications and are currently in the process of being listed in Ontario, British Columbia, Alberta, Saskatchewan and Manitoba.
All five provinces have completed registrations and the company is currently working through final arrangements with a production partner to finalize its product launch.
Products are expected to be available later this quarter.
In November 2019, Harvest One received permission from Health Canada to import Satipharm's 10mg CBD Gelpell® capsules into Canada for research and development purposes.
The company also continues to prepare for a launch of Satipharm's CBD Gelpell® capsules into Canada and is working through the necessary arrangements with Gelpell®.
The development of this business will be a key element of future growth for Harvest One. It will require additional financing; however MMJ clearly sees a path forward for this well diversified and geographically located company.
Cannabis 2.0 – it's coming
When I last spoke with Mike Curtis he told me he believed cannabis could be a safe haven investment over the next 12-24 months.
There could be several reasons for this, but one of the key drivers of this will be the expected explosion of cannabis 2.0 products.
As we noted above, Brightfield Group expects Cannabis 2.0 product sales to contribute $900 million to the Canadian economy this year, including cannabis-infused edibles, beverages, and vapes.
According to Everett Knight of Valens Groworks Corp, the US market is almost split 50-50 by flower and oil sales.
Knight forecast at the Benzinga Cannabis Capital Conference in Miami Beach earlier in the year that oil's share will reach 75% or more.
"I think 2.0 is really the future of cannabis," he told moderator Jim Kirsch of Alliance Global Partners during a panel discussion.
"I've never met a doctor who wants you to smoke cannabis," Knight said. "[And] it's more convenient."
To give you some perspective of what is coming Canopy Growth will release a range of chocolates (Tweed Bakerstreet chocolates) and distilled cannabis beverage products including Tweed Houndstooth & Soda, Houseplant Grapefruit and Houseplant Lemon. Whilst the beverages have been delayed, the chocolates are expected to hit shelves in December.
The other major player, Tilray, will also release a confectionery brand, this one known as Chowie Wowie. Tilray's wellness brand is called Rmdy and its beverage brand Everie, which was developed by Fluent, High Park's joint venture with Labatt Breweries of Canada.
Knight expects the market for beverages to explode: "They're going to be bigger than you think with some of the players lobbying behind the scenes like Constellation Brands, Inc. and Molson Coors Beverage Co."
MMJ has a demonstrated track record of making astute investments in the industry, as well as timing the realisation of gains to the advantage of shareholders.
The advent of cannabis 2.0 should only improve this track record, especially as it has a diversified portfolio with a focus on extraction that feeds into the segments of cannabis 2.0 that could very well make it bulletproof.
---