Metals Market Revival: ICG Receives More Zinc Assay Cheer
PUBLISHED: 28-09-2016 09:55 a.m.
Our regular Next Small Cap readers will already know that we've been very keen on a variety of metals and resource exploration companies in recent months.
Lithium, graphite and gold stocks in particular have outperformed equity benchmarks and have attracted significant investor attention, in part due to the emergence of the energy-storage revolution to be built on (and with) lithium-ion batteries.
If lithium-ion batteries weren't enough to whet your appetite for the impending energy-storage revolution, here's another curve-ball — zinc-ion batteries may too be about to enter the fold and widen the range on energy-storage solutions: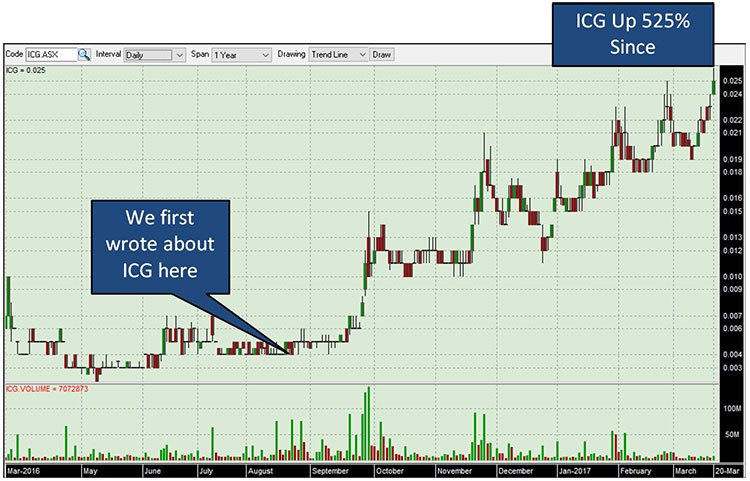 One very prospective ASX listed zinc company has been busy joining up all the exploration dots required to obtain a bulky exploration target and then move onto conducting its maiden JORC Statement as soon as feasibly possible. We say bulky – but that might end up being a bit of an understatement...
Inca Minerals (ASX:ICG) is a junior explorer with a zinc focus, supplemented by silver, gold and lead at its flagship exploration site, the Riqueza Project in Peru.
It so happens that Peru is one of the most underdeveloped metals havens in the world with an abundance of spare capacity and a spectrum of various mineralisation that has one standout leading candidate for commercialisation: Zinc.
Zinc is turning out to be a rather sneaky metal that's re-emerging to take its seat as the 2 nd most widely produced base metal in the world.
Zinc prices have recovered well as a lack of meaningful new supply has been compounded by growing zinc demand from Asia.
Now could be time to investigate the likely re-emergence of one of the world's staple metals, which is great timing for ICG, as it has received some compelling zinc assay results from its mapping and sampling work.
Of course it should be noted here that the company is still in the early stages of exploration and if considering this stock for your portfolio, you should seek professional financial advice.
We first wrote about ICG back in late August, alluding to the pending exploration frenzy via the article Cashed Up ASX Adventurer Set to Drill for Zinc in Peru . At that time the stock was trading at $0.004 per share, and since then the stock has been up as high as 125% ($0.009 per share), on the back of continued discoveries of highly mineralised veins: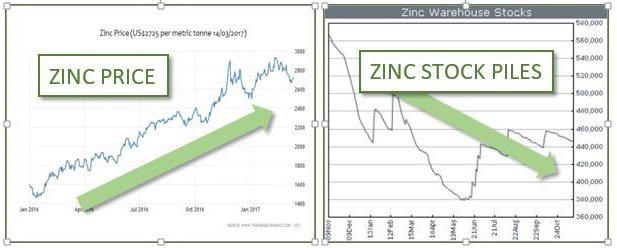 The past performance of this product is not and should not be taken as an indication of future performance. Caution should be exercised in assessing past performance. This product, like all other financial products, is subject to market forces and unpredictable events that may adversely affect future performance.
However drilling is still to come – representing yet more potential upside for this stock...
In its latest results, ICG announced very strong zinc, silver, lead mineralisation identified in extensive mantos at the Humaspunco Prospect. For the uninitiated, a manto is a term normally used in South America for a flat lying, bedded ore deposit, usually with copper, lead, zinc, silver.
These results included 33.42% Zn, which sets a new peak for mantos and repeats the recent discovery of 34.08% Zn peak for veins in the August sample program.
These latest results include manto averages of 12.48% Zn, 261g/t Ag, 10.50% Pb which follows recently released vein averages of 10.68% Zn and 205 g/t Ag, 11.77%Pb.
Furthermore the new manto at Pinta Prospect discovered peak 10.39% Zn.
All in all, the manto sequence now covers a projected area of 2000m by 800m, and is open to the south. The number of manto horizons are set to increase with detailed mapping and systematic sampling which we'll look at in more detail shortly. If these results officially confirm what ICG geologists have been working towards all along, we could see a significant re-rating in the coming weeks, as drilling draws closer.
We said "bulky exploration target" earlier ―well ― back-of-the-envelope calculations using a fraction of 2000m x 800m x 200m (a conservative depth) could result in a rather large figure.
So without hanging about too much longer, let's zing straight into this zinc player's status-quo, and update you with the most pertinent small-cap investor titbits coming out of: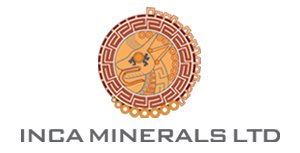 Inca Minerals (ASX:ICG) cropped up on our radar just last month, when we published our article, "Cashed Up ASX Adventurer Set to Drill for Zinc in Peru" .
In the article, we sketched out some rather alluring features underpinning this $15M-capped zinc explorer. The most impressive of which, was the supremely high-grade early outcrop samples from ICG's current zinc exploration activity in Peru.
Here were the samples recently obtained from ICG's sampling program: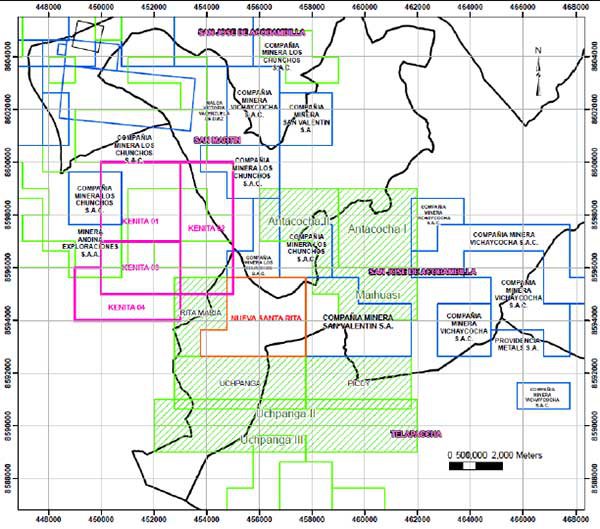 Grading between 24-34% Zn, 340-350g/t Ag and 23-27% Pb , these can be considered stellar early figures and raises hopes of a substantial Resource once drilled extensively and a JORC definition is completed.
To get a better understanding of the project...
Let's drill deeper and see where ICG is operating, and see how the latest results may be a prelude of more to come...
ICG's flagship project is the Riqueza Zinc-Silver-Lead Project located in Peru in South America.
Here it is mapped out, and showing three prospects which are the current focus — Humaspunco, Uchpanga and Pinta.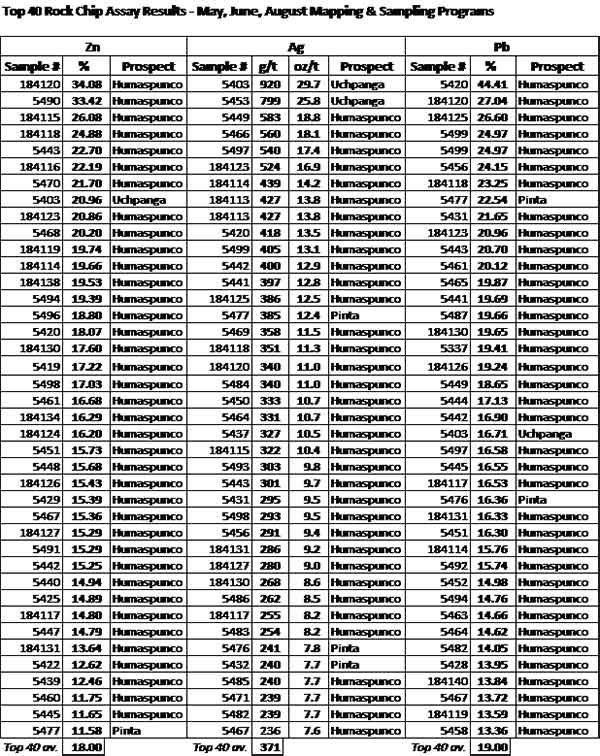 If we then overlay the latest exploration progress, you can see that since we last updated our readers, ICG has detected more mineralised veins (indicated as red lines) at Humaspunco and Pinta — the two prime prospects ICG is targeting first and foremost.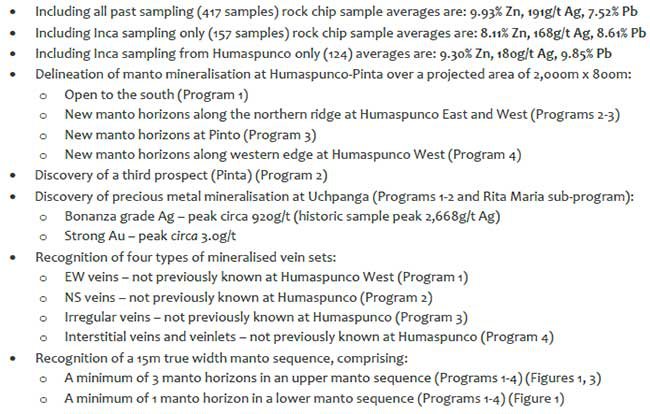 There is now a total of 36 mineralised veins at Humaspunco and 5 mineralised veins at Pinta.
ICG has already confirmed that mineralised vein material stretches to over 4km at Humaspunco and Pinta, as over 30 new discoveries were made in late August 2016.
ICG is doing all the necessary pre-drilling surface sampling work and persevering with the work schedule, so much so, that approximately 50% of the planned work at Humaspunco, 25% at Unchanga and around 25% at Pinta are now complete.
Once ICG completes these surface sampling programs and the drill permit is granted it will be able to drill into all these high grade rich veins and mantos. This is when the fun really begins!
We don't expect the surface sample results, up to 34% Zn, to entirely disappear when tested by drilling.
On the contrary, the way the veins and mantos crisscross, even with one angled hole we would expect multiple hits. Indeed, overlapping angled holes will quickly enable ICG to estimate an Exploration Target and summarily move onto a JORC Definition and feasibility studies.
But before we go further on ICG's upcoming plans...
Did you see our recent article on CXO?
Regular Next Small Cap readers would have no doubt been following CXO recently.
We last wrote about this stock in July, alluding to its lithium exploration plans in the Northern Territory in the article Lithium in the NT? CXO About to Find Out . Well, since then, CXO has confirmed a significant lithium discovery – and the stock is up 330%: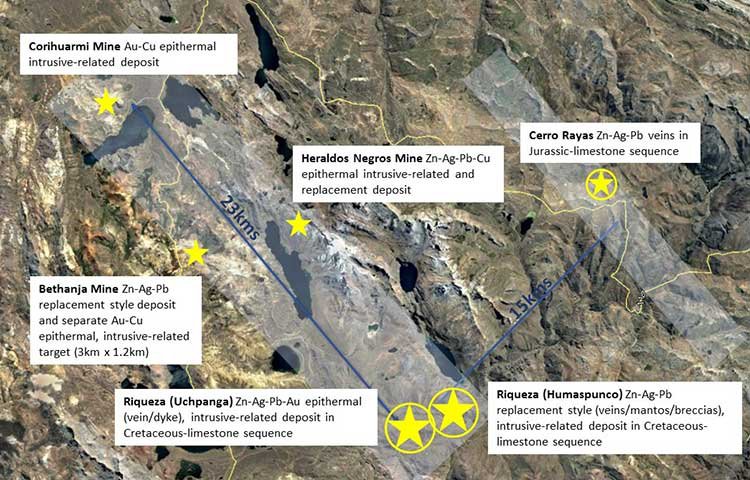 The past performance of this product is not and should not be taken as an indication of future performance. Caution should be exercised in assessing past performance. This product, like all other financial products, is subject to market forces and unpredictable events that may adversely affect future performance.
ICG's latest assay results
High grade assay results from ICG's August sampling program continue to make themselves known and the company continues to fulfil its purpose of the program, which is to advance coverage at Humaspunco and Pinta. This has been made possible by consistently outstanding assay results.
The latest results include discovery of 14 new mineralised manto occurrences at Humaspunco and Pinta, with assay results showing 33.42% Zn, which as we alluded to earlier sets a new peak for mantos. Results also show 540g/t Ag and 24.97% Pb and averages of 11.48% Zn, 261g/t Ag and 10.50%Pb.
The following table provides the Top 40 Zn, Ag, Pb assay results. And if you take a quick scan through, you can see there are much more hits than misses in this hit parade...
The Top 40 Zn results averages 18%, Ag: 371g/t, Pb 19%.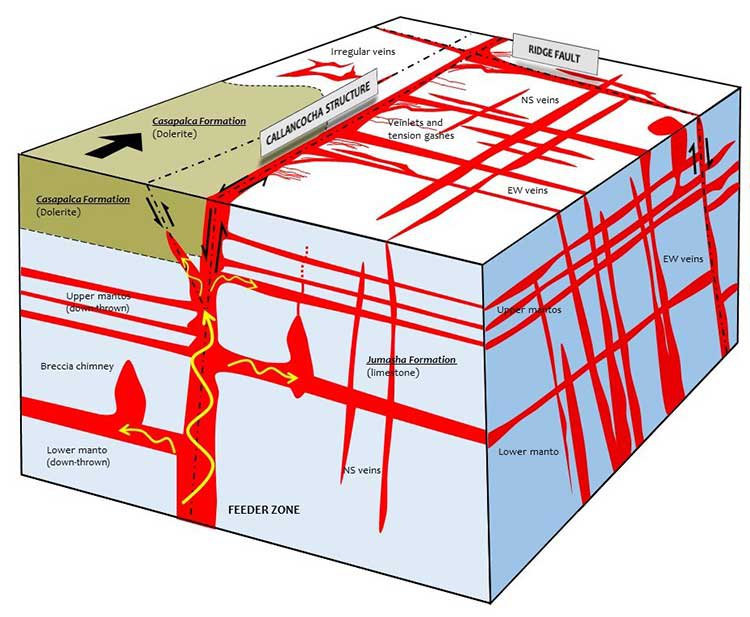 The following image is a satellite image showing Humaspunco and Pinto prospects at Riqueza. The yellow boxes show the approximate coverage of the August mapping and sampling program which discovered approximately 31 new mineralised veins and mantos.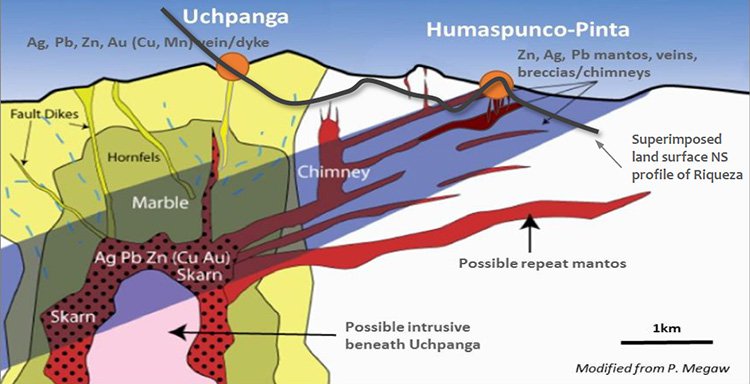 The next image shows the previously known manto (white) and the newly discovered mantos (yellow).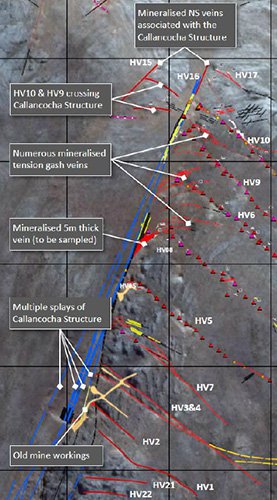 The thing to note here is the sequence is currently approximately 15m thick and comprises an estimated four manto horizons.
This final image illustrates the three new manto horizons on the NE ridge that are exposed within a package of very shallow dipping limestones with numerous cross cutting veins. This area is rife with at least 20 shallow mine workings and trace multiple vein and manto occurrences.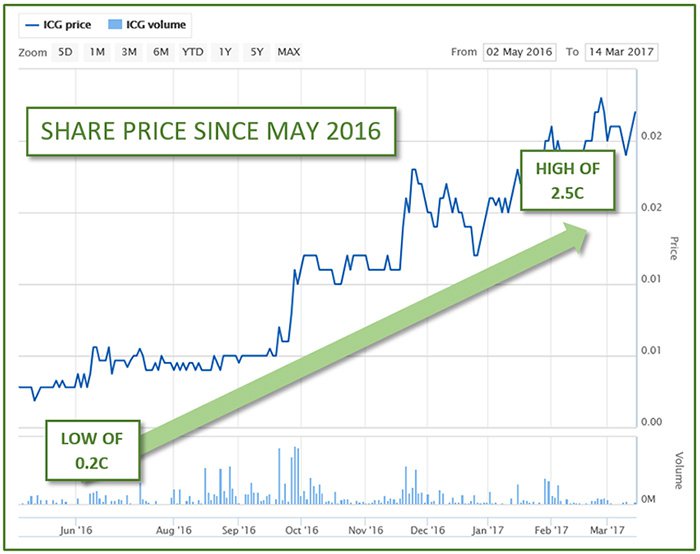 These are significant results and bode well for future exploration...
Individual veins – or a network?
One intriguing geological caveat that we most definitely like the sound of here at The Next Small Cap , is ICG's assessment of the mineralisation at Riqueza.
It seems Riqueza is not just a highly prospective project area with many individual veins of mineralisation...
...but could actually be a single network of interacting and interconnecting mineralised veins that extend across 1.6km 2 .
What does 1.6km 2 look like? Well, all of the Sydney CBD to start with...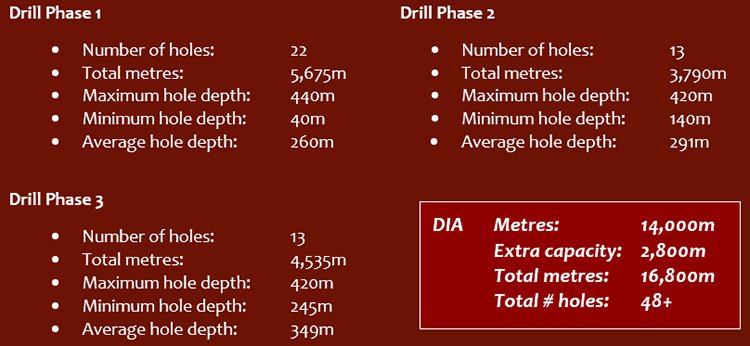 ICG has just published its latest batch of assay results and if it is anything to go by, we could see a significant rerating of ICG once the drill bit fires up: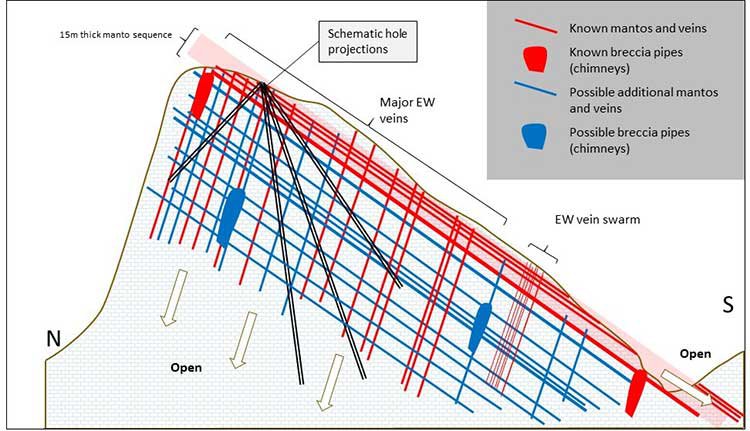 The last batch of results indicated an average zinc (Zn) grade of 12.48%, a major 205.23 g/t silver (Ag) and 10.50% lead (Pb).
Which brings us to a fun little game called...
Spot the Difference
Considering the early-stage nature of ICG's exploration in Peru, and the fact that the company is still aiming for an exploration target in its maiden drilling program — there may be some tell-tale signs that give early-bird speculators some more confidence about their investment.
ICG has provided detailed visual analysis of outcroppings it has found in previous exploration, and when compared to the latest outcrop visuals from Riqueza, it would seem very similar indications are visible.
Locate any differences between the samples on the left (the last assays received) and the samples on the right (the recent assay results):

If you're struggling to detect significant differences, you're not alone. To us, the comparison is anecdotal, but still it underlines the fact that Riqueza could well end up being high grade and bulk tonnage once fully defined.
The potential dimensions we've used above (the size of Sydney's CBD) highlights this point.
ICG's geologists have been astounded by the ease with which their mapping and sampling has encountered mineralisation at Riqueza, achieving " an order-of-magnitude increase in the number of mineralised occurrences" since June.
Thinking outside the box
ICG's game plan consists of proving up as much high-grade zinc first and foremost. There is also a strong likelihood of silver and lead helping to beef up and diversify future potential cash flows.
But if looking at zinc in isolation — ICG's location could hardly be more potential-brimming. The typical run-of-mine head grade in Zn mining operations in Peru is around 4.5% zinc...
...but ICG has consistently reported average zinc grades well in excess of 11.5% Zn and continues to exceed its own expectations on a regular basis. Following the latest sampling program at Riqueza, more than half of samples measured a combined zinc-lead grade of 20%.
Assuming ICG can keep these kinds of exploration results going, it could well attract the attention of larger mid-cap and mature miners that are sniffing around for zinc projects to tap into, considering the rapidly improving market conditions in the zinc market.
Chinalco, Glencore, Nyrstar and Korea Zinc are just the headline names that are famous for keeping their eyes on the prize and ears close to the ground. One of these giants could snaffle up ICG quicker than a ceremonial fire snaffling up an Inca.
All in all, the zinc-silver-lead grades being reported at Riqueza are some of the best being reported by any junior world-wide in 2016. So if a zinc market leader were to go looking around for viable zinc projects, Peru's Riqueza would probably be somewhere near the top of that prospective list.
This cloud's silver lining is paved with gold
One more very alluring feature of ICG is that the zinc/silver/lead mineralisation at present at Riqueza contains a gold equivalent of 13 g/t. That could be a significant omen for Riqueza's future productivity seeing as high gold grades are fairly difficult to come by even for determined gold explorers. For a teeny zinc explorer to have discovered such an exploration nugget as part of its sampling program, simply warms our cockles here at The Next Small Cap.
If that wasn't enough, at Riqueza's Uchpanga prospect some of the grades are considerably higher having a gold equivalent in excess of 28 g/t Au.
As its zinc endowment goes from strength to strength, the other side of the equation is also beefing for a plate
It's all well and good pencilling in a mammoth zinc resource with luscious grades — but is there a market for it?
The answer, it seems, is yes.
Zinc is one of the best performing metals of 2016 so far. Even better than the gung-ho investor favourite, lithium. Zinc prices have swelled by over 55% since the start of the year and taken many previously mundane projects into the flagship category with them.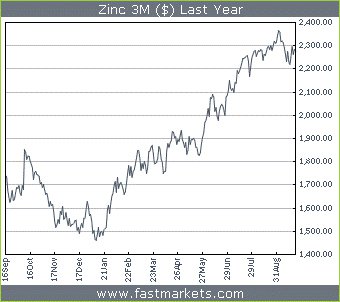 Major mine closures such as world-famous Lisheen in Ireland and Century in Australia have cut away supply just as zinc demand begins to follow other staple metals like copper and iron ore higher on the back of a return to industrialisation activity in Asia.
The current consensus amongst metals analysts is that base metals such as nickel, copper and zinc are undergoing steady price recoveries backed by renewed Chinese demand, dovish monetary policies across the globe, and possibly most importantly, supply cuts brought on by a wave of bankruptcies in Resources over the past 5 years.
However, it is important to note here that commodity prices do fluctuate and there is no guarantee that zinc prices will continue to rise. Do not base your investment on commodity predictions alone and consider your personal circumstances before making an investment decision.
As zinc remerges onto the global commodities stage, one early pacesetter is already motoring.
Take a look at one of ICG's closest emulation-targets: Trevali.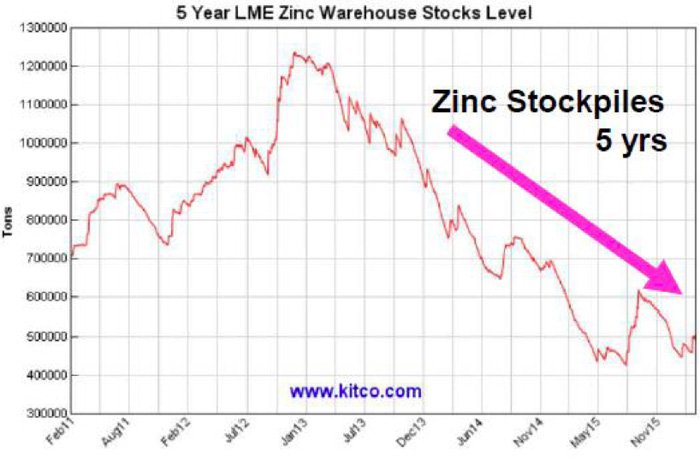 Trevali is a TSX-listed mid-cap zinc explorer that has done what ICG intends to do — conduct high-impact fieldwork and sampling with a view of raising its valuation.
Trevali (TSX:TV) recently announced it had discovered a new zone of high-grade silver-lead-zinc mineralisation at its Santander zinc mine in Peru which sent Trevali shares surging: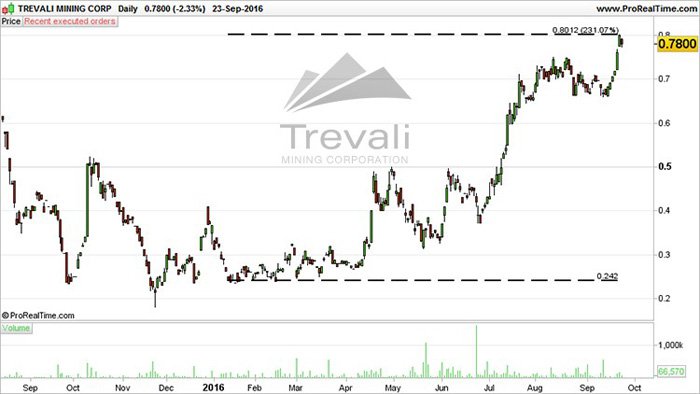 The past performance of this product is not and should not be taken as an indication of future performance. Caution should be exercised in assessing past performance. This product, like all other financial products, is subject to market forces and unpredictable events that may adversely affect future performance.
Trevali is currently capped at around $400M CAD...
Future catalysts
The impending few days, weeks and months are of paramount importance for the $15M capped ICG.
ICG's exploration at Riqueza is gradually approaching the business-end of proceedings. As the final Exploration target becomes ever sharper through the spectacles of ICG's geologists, the more ICG's mid-cap emulation dreams approach reality.
We think ICG has all the puzzle pieces it needs for Riqueza to be made into a substantial high-grade multi-metals project with a bright zinc sheen.
Yet we do need to reiterate that this is an early stage, speculative play and anything can happen with exploration mining projects. So if considering this stock for your portfolio, we recommend seeking professional financial advice.
ICG is also moving full steam ahead on the Permitting angle as it continues to make progress with its 14,000m drill permit with the granting of the CIRA earlier this month. Mapping and sampling work programs will continue unabated in October and ICG expects to complete 100% of its sampling at Riqueza within the coming months.
Conclusion
ICG's bumper-grade Riqueza zinc project still has some way to go before the commercial bell rings, but that could be all the more reason to back this Inca before some profiteering Latin European interlopers show up to hog all the spoils.
Capped at just $15MN and priced at $0.008 per share — yet with sampling and assay results that make ICG one of the brightest juniors in its class — means it could be a nice addition to your small-cap portfolio.
We'll be keeping tabs on the newswires over the coming weeks for further assay results that could potentially reaffirm its high-grade bulk tonnage aspirations and finally get the ball rolling on ICG's staple metals charge.
As long as ICG can keep its grades up, it just may well graduate with flying colours.
Aces up.
---