KZR: Could it be a Gold Producer in 2017?
PUBLISHED: 26-06-2017 21:30 p.m.
Steady exploration progress may be all that's needed for Kalamazoo Resources (ASX:KZR) to further its territorial advantage in Western Australia. KZR is marching towards a strong gold resource base, with the acquisition of a couple of highly-prized assets and prioritising its exploration pursuits.
In fact, KZR has a number of gold, base metals, and copper assets in WA which could all potentially lead to an increase in the company's current $7.75 million market cap. Part of this includes tackling several high priority targets that have had little exploration follow up over the last 10 years.
Early revenue generation will be helped along if KZR's recently signed Ore Process agreement with Chinese giant Minjar Gold comes to fruition.
The agreement covers both the Mixy and A-Zone prospects within KZR's flagship Snake Well Project.
Minjar, itself, is currently undertaking drilling and studies at its own risk and has thus far drilled an additional 75 RC and diamond holes for a total of 3,375m.
KZR is looking to complete the mining study and activate the processing agreement with Minjar by the third quarter of this year.
At the same time, this company is still an early stage gold play and therefore investors considering the company for their portfolio, should seek professional financial advice.
What also stands out for this company is the fact it is close to being able to monetise a portion of its in ground assets with little to no capex.
This fact alone sets KZR apart from its peers.
When we last caught up with KZR in March, its gold drilling programme was at full tilt at its flagship Snake Well Project just 450km from Perth and assays were imminent.
Now, results are flowing through that indicate KZR's ground is highly conducive for gold mineralisation, producing dozens of early-stage gold hits in excess of 5g/t, and that its prime targets remain open at strike in all directions.
Of particular interest is KZR's A-Zone Gold Prospect, where "very significant" levels of copper, lead, zinc and silver reported from re-assays at A-Zone in oxide, transition and fresh rock zones. Base metal assays range up to 5.76% Copper, up to 7.07% Zinc, 1.88% Lead and up to 247 g/t Silver.
The grade of KZR's Mineral Resource has also seen a favourable 30% increase in grade for a 73% boost to its total Mineral Resource estimate in the indicated category for its current development opportunity at A-Zone: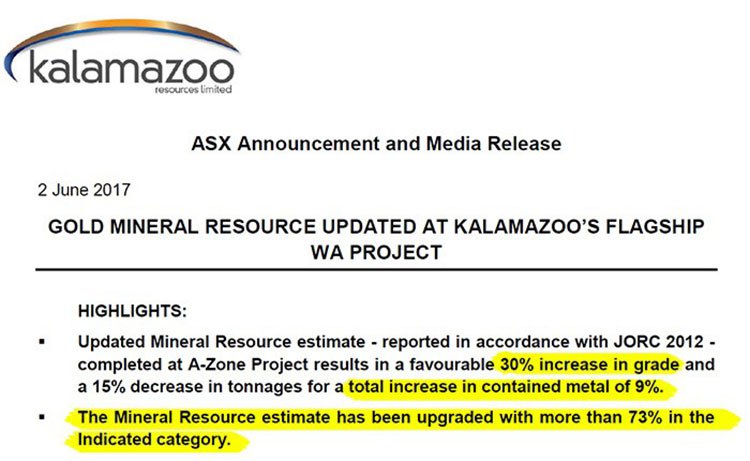 KZR wants to join the procession of gold companies raising their valuations on the back of a leaner and meaner streamlined market, focusing on only the most economically viable projects.
The company has come to the table at just the right time, intending to insert itself into the gold supply picture with its own 149,000 tonne Indicated Resource @ 3.3g/t for 16,000 oz.
Here is the Mineral Resource Estimate for its Snake Well Project, including the update Resource Estimates for A-Zone (highlighted in red):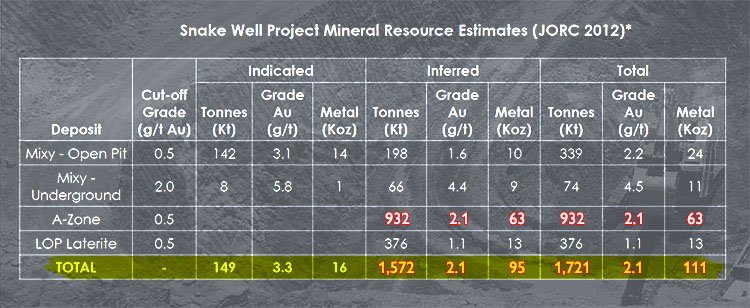 As you can see in the table above, KZR has two prime prospects, Mixy and A-Zone.
Highlights of results released for the second batch of Mixy drilling include 3 metres of 1.66g/t Au from 75 metres in hole 17KZRC009 and 3 metres of 4.09g/t from 128 metres in hole 17KZRC011 including 1 metre of 10.72 g/t Au from 129 metres. We'll get into more detail about these results shortly.
KZR is now reviewing the data to plan a second round of drilling to assess if sufficient gold mineralisation can be delineated to justify deepening the pit.
Whilst Mixy is currently delivering the goods, there is a good deal of news on the horizon for KZR at its other prospects, with assays pending from the first round of Royal Standard drilling, a resampling program complete d to assess the base metal (Zn, Cu, Pb and Ag) VHMS potential A-Zone mineral resource, as well as planning underway for an exploration program at its Cork Tree Copper Project.
It's all systems go for KZR who would be further encouraged by the sale of nearby Golden Grove to EMR Group for $210 million. Golden Grove's VMS deposit lies to the south west of Snake Well and produced 8100 tonnes of copper and 24,000 tonnes of zinc in concentrate to September 2016. Given the close proximity of this world class base metal system to KZR, it shows what can be developed with the right geology within the Murchison region.
So without further ado, we keep you abreast of recent developments at:

Kalamazoo Resources
ASX:KZR
Kalamazoo Resources (ASX:KZR) is a gold explorer with the aim of going into early gold production.
Even small scale mining of circa 25,000 ounces in the oxide portion would realise approximately $3.6M operating cashflow to KZR. Assuming this is the case, it would cover corporate costs and fund an active 18 month-two year exploration program.
KZR's plan is simple — acquire a handful of strongly prospective gold tenements in WA, bring in expertise to assist with funding and technical development, and then do the required exploration to prove up a robust gold Resource. You can read all about this in our initial article Tightly Coiled ASX Gold Explorer Drilling Right Now .
So far, KZR has executed its mission rather well
In January 2017, KZR raised A$5 million as part of its ASX-listing, and immediately kick-started drilling and broader exploration activities at its most highly-prospective sites.
The map immediately below indicates KZR's two major Projects: Snake Well and Cork Tree.
The Snake Well Gold Project is located 450km north of Perth in WA's mid-west region and consists of five granted mining leases, one granted exploration licence and two exploration licence applications, with the immediate area surrounding Snake Well, hosting a number of significant mineral deposits.
KZR's second WA project is the Cork Tree Project. It is located approximately 830km northeast of Perth in the Doolgunna province within 20km of the Monty project — owned and being developed by Talisman Mining and Sandfire Resources (ASX:SFR), and 28km from Sandfire's De Grussa Copper Mine. Cork Tree consists of six exploration licences over approximately 400km 2 .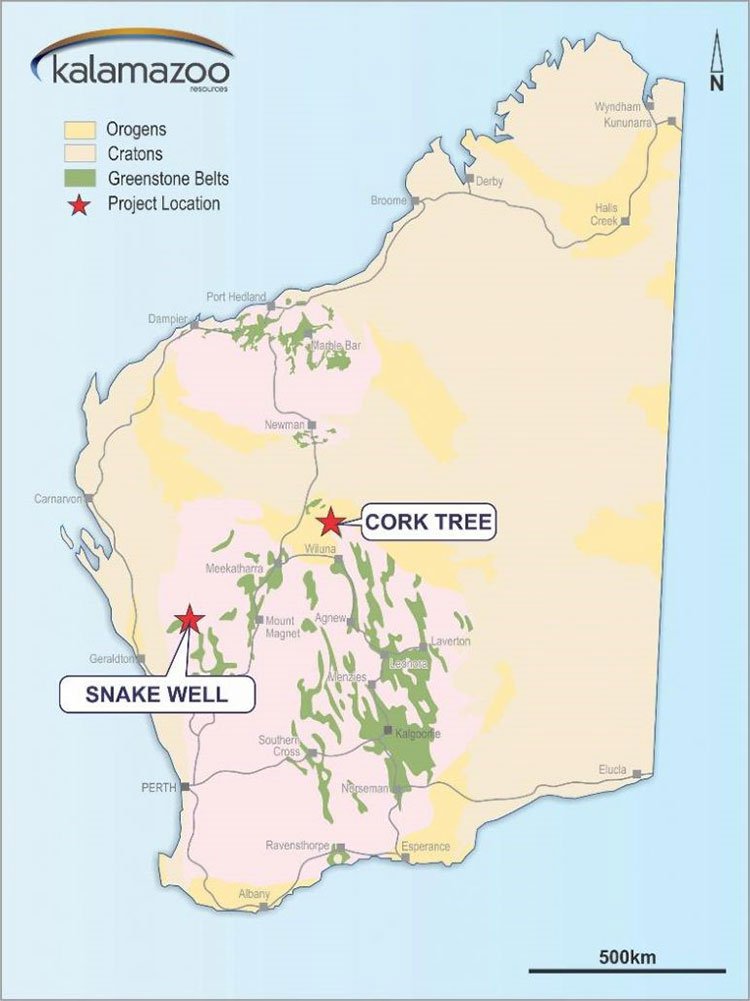 For the moment it is the deposits at the Snake Well Project, including A-Zone, Royal Standard and Mixy deposits that are hogging the limelight...
Here is a breakdown of the deposits within the Snake Well Project: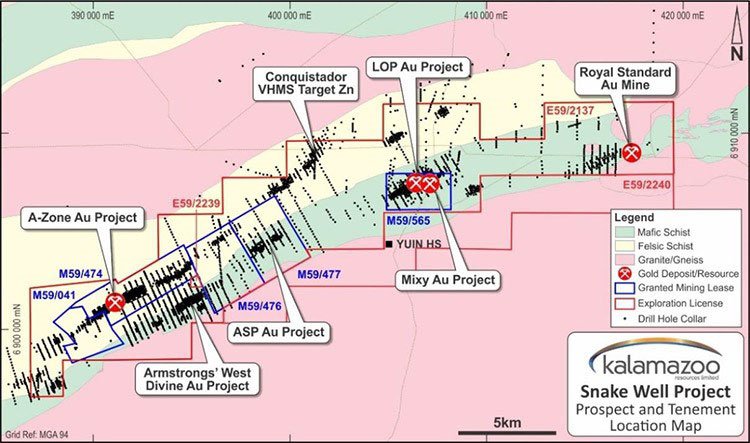 Results so far
Having completed a capital raising that brought in more than $5 million, KZR was ready to begin drilling immediately, progressing its previously outlined exploration and development initiatives at its flagship Snake Well Project.
A first-pass Reverse Circulation (RC) drilling programme was conducted in April 2017 on the Royal Standard mine at Snake Well.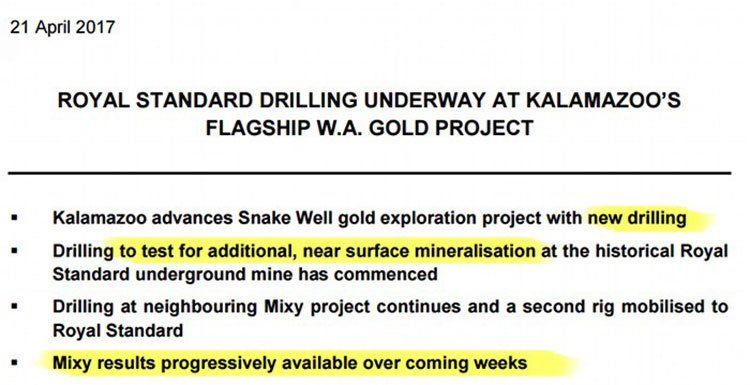 Here's the nitty-gritty detail underpinning the Royal Standard Mine at Snake Well Project: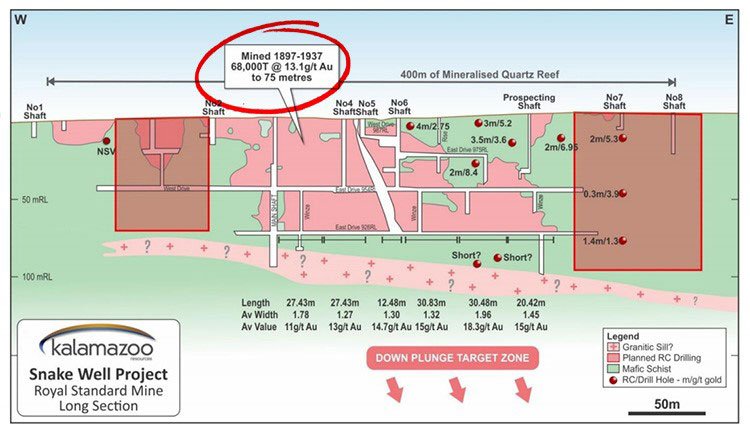 Notice the historically mined 68,000 tonnes at 13.1g/t, previously conducted at the site. These peripheral indicators suggest KZR could pull out enough gold, and at sufficient grade, to generate sustainable projects in WA.
Mixy gold deposit poised to become part of KZR's Resource in WA
Pushing KZR's ambitions further is its Mixy Deposit, which itself is delivering strong results.
In May this year the company released results from eight of a planned 15-hole 2,000 metre program, with results showing:
3m of 2.48g/t Au from 87m in hole 17KZRC001
7m of 2.99g/t Au from 70m in hole 17KZRC003
6m of 6.38g/t Au from 52m in hole 17KZRC005, including 1 metre of 27.8g/t Au from 52 metres
10m of 3.73g/t Au from 68m in hole 17KZRC006, including 1m of 19.61 g/t from 69 metres.
Results indicated that gold mineralisation was likely to extend 150 metres to the east of Mixy in an oxide zone and was open to depth. They also indicated that shallow historic drilling, in some cases vertical, may have missed a Mixy style quartz lode.
Importantly for KZR, especially given the current results, first rights have been agreed with Minjar Gold via an Ore Process Agreement for any future Mixy and A-Zone gold ore processing.
Although be mindful of the fact that KZR remains a small-cap resources company that may not achieve its prescribed targets. Invest with caution.
We will look at the significance of the Minjar JV shortly, but just to give you an idea of the breadth of the Snake Well Project's Mixy deposit, take a look at the long section below showing RC drill results.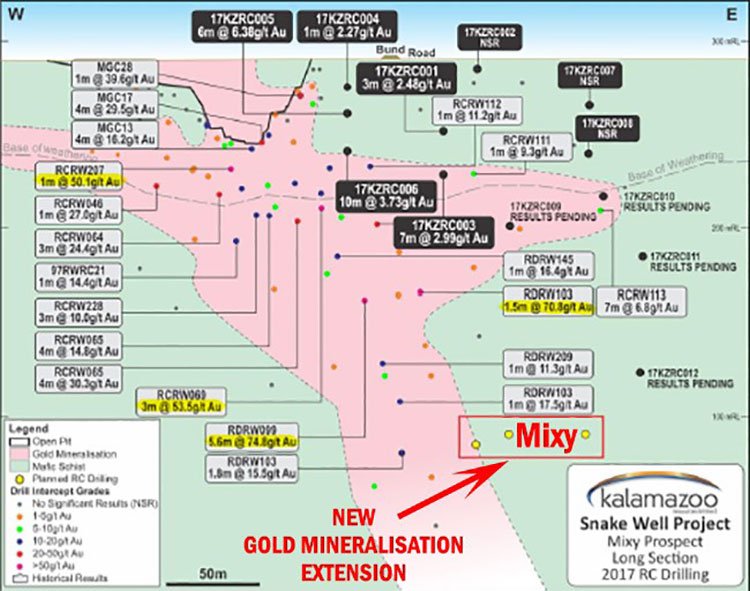 Most recently, KZR released results from the remaining seven RC drill holes and intersected gold mineralisation at five holes associated with the interpreted Mixy quartz/shear lode horizon.
Results for the second and final batch of Mixy drilling include:
3m of 1.66g/t Au from 75m in hole 17KZRC009
3m of 4.09g/t Au from 128m in hole 17KZRC011, including 1m of 10.72g/t Au from 129m
1m of 1.72g/t Au from 193m in hole 17KZRC013
1m of 3.94g/t Au from 176m in hole 17KZRC014
1m of 2.24g/t Au from 200m in hole 17KZRC015
All data from Mixy is now being reviewed as the company prepares for a second drilling programme in the coming weeks.
However initially, the focus has been on drilling and development works at Snake Well's A-Zone gold deposit
The A-Zone polymetallic prospect is located at the western end of the Snake Well Gold Project on a granted mining lease.
Here are initial drill-hole results that trickled in from KZR's first round of drilling at A-Zone, as reported earlier in the year: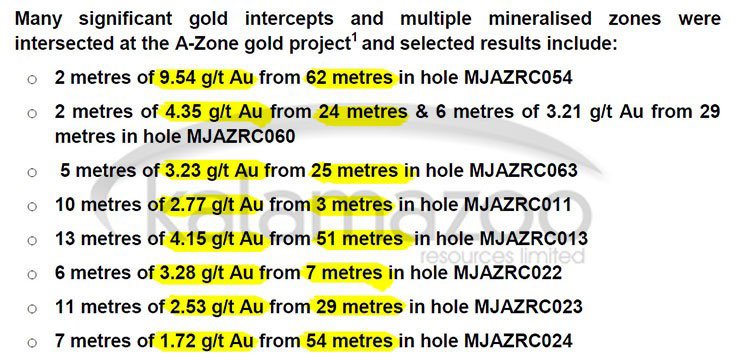 KZR utilised these exploration results to clarify its overall Mineral Resource aspirations and give investors an idea as to just how prolific the overall Snake Well Project could ultimately be.
The results were used to upgrade the Mineral Resource Estimate at A-Zone in early June, as follows:

According to KZR's geologists, the drilling program confirms the general position and tenor of historical mineralisation for up to 11 mineralised zones at A-Zone. Crucially, the verdict is that mineralisation is 'open at depth'.
However, as Minjar was only focused on oxide gold, a re-assay program was undertaken to validate historic levels of elevated silver, copper, lead and zinc at A-Zone, using samples (pulps) from this 2017 drill program, the assays from which were received in March and April.
These were followed by results from re-assayed pulps on June 23, 2017. These results included very significant base metals results from A-Zone: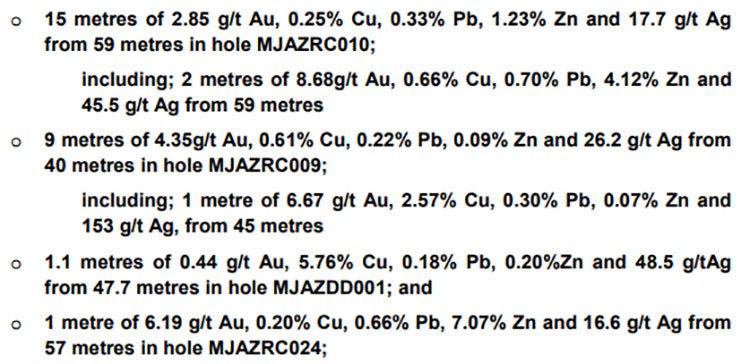 Here is the drill collar and section location plan at A-Zone: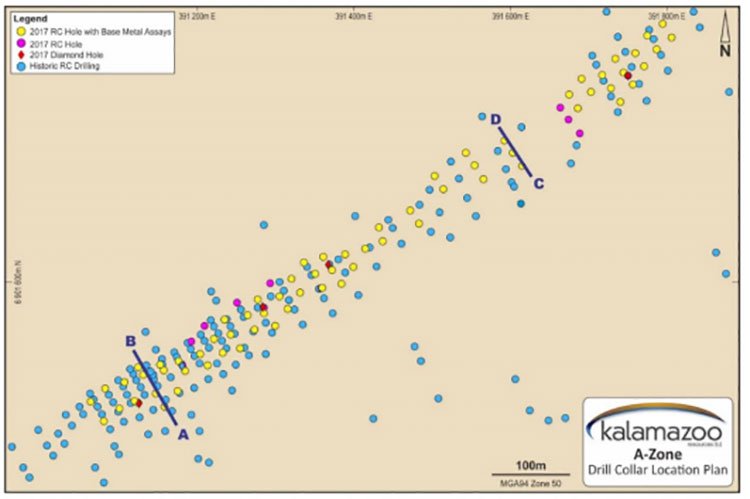 And a cross section of A-Zone looking southwest with gold resource outline: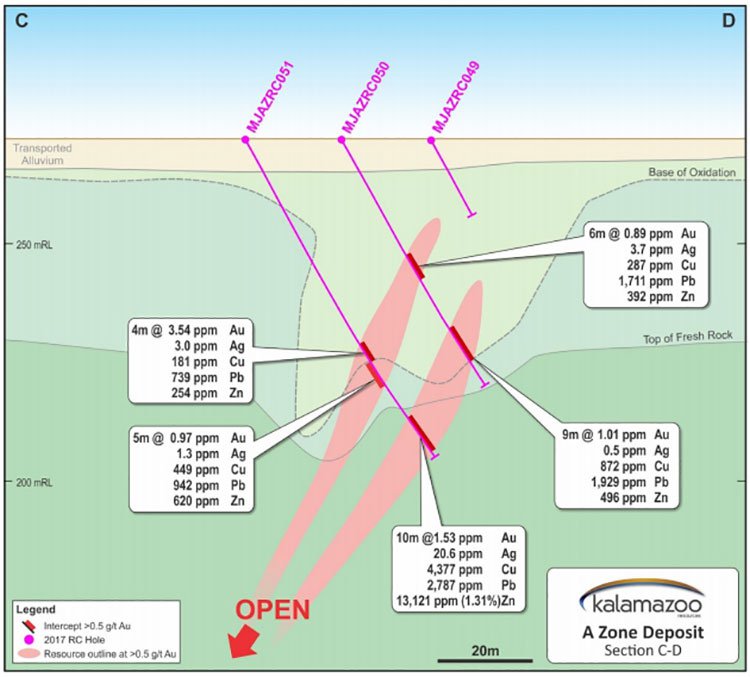 Assay results can serve as a huge catalyst for small-caps, as long as they indicate what investors want to see — strong indications that high-grade bulky Resources will be confirmed, or economic metrics indicating long-term commercial viability.
Which leads us to Minjar
Drilling commenced at A-Zone in February this year, with ongoing work being carried out now courtesy of Minjar Gold, who play a significant role in KZR's funding, drilling and development work in WA.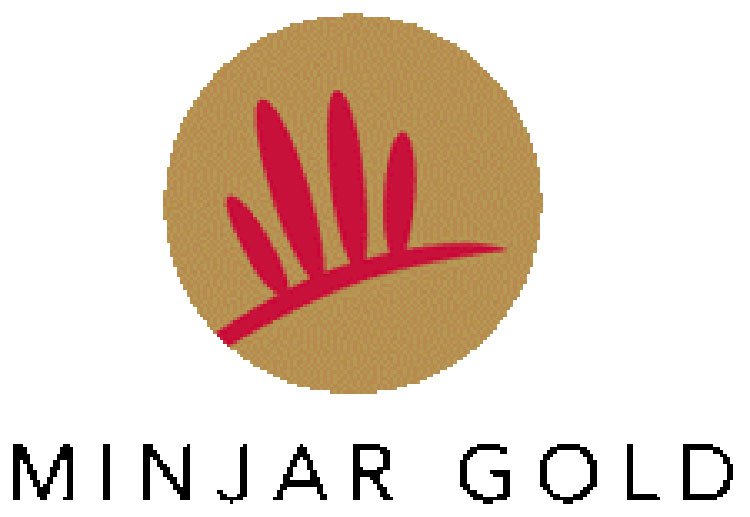 Minjar Gold is a fully owned subsidiary of Shandong Tyan Home Co Ltd, a Shanghai-listed company.
Minjar is a heavy-hitter in the global gold exploration stakes, having successfully completed the acquisition of the Pajingo gold mine and surrounding exploration tenements from Evolution Mining last year.
One of the most important aspects underpinning KZR's chances at Snake Well, is its strategic ore sale and process agreement with Minjar Gold for gold ore mined and recovered from the A-Zone deposit.
In early May, Kalamazoo advised that it reached an agreement with Minjar that provides Minjar with a first right to treat any further ore from the Mixy Lode and/or the A-Zone deposit, at the Minjar plant, on terms to be agreed. This new Ore Process Agreement replaces the Ore Sales and Purchase Agreement dated 31 January 2017.
This agreement to treat any ore from the Mixy and A-Zone is confidence-inspiring insofar that even though commodity exploration is risky and not always successful, the risk is shared regarding both funding and expertise.
Interestingly, Minjar has completed the drilling work of its own and has itself completed a maiden 75 hole RC and diamond drilling program for 3,375 metres at A-Zone.
KZR's work is ultimately geared towards preparing a feasibility study as soon as possible, and moving towards mine construction
In the first quarter of this year, KZR completed a maiden 75-hole RC and diamond drilling program for 3,375 metres at Snake Well, with this data, being directed into an overall works program to complete development studies at A-Zone which will be sufficient to prepare a feasibility study, for consideration for a decision to mine.
Remember, that if KZR does progress to mining, Minjar will offtake all of its production from A-Zone and Mixy, as per their ore processing agreement. Therefore, positive exploration results have the potential to raise the company's valuation significantly.
Although any catalysts that would improve are speculative at this stage, so seek professional financial advice for more information of considering this stock for your portfolio.
Hugely important, is the fact that all of KZR's exploration done so far remains open at strike in both directions. Also, mineralisation is open at depth in fresh rock, as indicated in historical drilling.
Most of the current drilling targeted the oxide and transitional zones together with some shallow, primary mineralisation.
After finalising historical vs. current comparisons, KZR will be ready to move forward
The data from the diamond drill holes will permit metallurgical, geotechnical and geology studies to be completed, to be used in development studies.
The upside potential for investors, comes from KZR publishing strong results over the coming weeks and months, and hopefully making a transition from junior explorer to producer.
Currently, KZR is on course to collate an economically viable resource, via 15,000m of planned drilling spending around $2.5 million: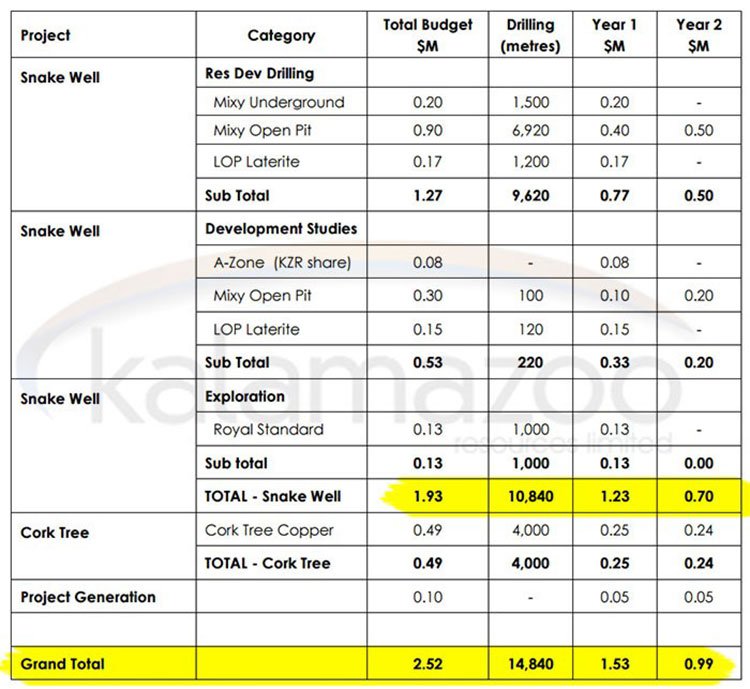 Last but not least, we can't forget the dark horse in KZR's stable
In addition to the Snake Well Project, KZR is wielding another very interesting avenue of commercial enquiry in WA, the Cork Tree Project.
Whereas Snake Well represents KZR's flagship project, Cork Tree sits in a potentially abundant location, close to existing resources. Here's a map showing the 'nearology' factor working in KZR's favour: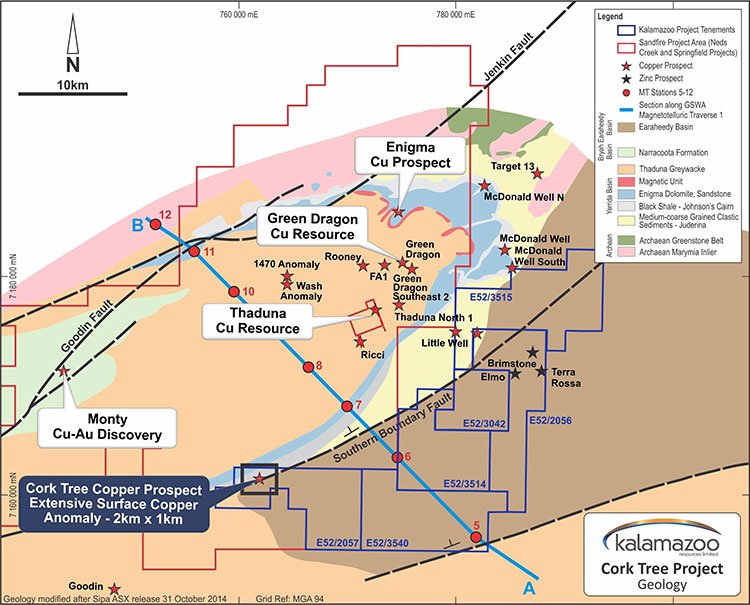 We could see significant developments from this parallel project for KZR, including price sensitive catalysts which all small-cap investors love.
KZR is firmly set on a path towards gold production within 12-18 months...
...and inching towards its first gold pour. The best news is that another company is helping to foot the bill!
Furthermore, KZR's capital expenditure is somewhat de-risked because of the strong likelihood of sales revenues trickling in over the near term — a strong feature for any small-cap resource stock.
KZR is doing what many other aspirational gold explorers can only hope to do — making every effort to develop a known high-grade base/exotic metals project in the heart of a historically abundant region.
KZR has plenty of funding available, helped along by Chinese behemoth Minjar Gold, a company that is spending big bucks around the globe in order to advance its own market position.
For KZR, walking towards a gold wonderland in Minjar's shadow is likely to bring many tangible benefits including quicker development time, guaranteed sales and possibly an out-and-out sale of its WA Projects at valuations significantly higher than current valuations should an attractive offer be made.
The other confidence-inspiring aspect of this deal, is that Minjar has also agreed to an Ore Processing agreement for gold/copper production at the A-Zone and Mixy deposits. This remains conditional on various Feasibility milestones, however, we think KZR's location in WA helps to mitigate the risk of poor drilling results. Quite to the contrary, results seen so far have been supportive of KZR's original intentions in WA.
We've said it before, and we'll say it again — investing in commodities is fraught with risks, but also rewards. Nothing is ever guaranteed in commodities investing, but with this opportunistic small cap picking up speed in WA, KZR could be on the right track to raise its valuation over the coming year.
---