KSN Move One Step Closer to Gold Resource Upgrade
PUBLISHED: 29-04-2020 10:27 a.m.
The latest diamond drill core assays from resource definition drilling at Ewatinona deposit, part of Kingston Resources Limited's (ASX:KSN) 2.8 million ounce Misima Gold Project in PNG, have returned significant zones of mineralisation.
These results are the latest in a string of excellent drilling results for Kingston and mark the completion of the resource definition drilling program.
Results from this recent drilling program will contribute to an updated mineral resource, with work on the resource upgrade now underway.
The Resource drilling program was designed to expand and upgrade the existing 220koz Inferred Resource estimate at Ewatinona, which represents a key target to deliver near-surface gold mineralisation for a potential starter-pit for the proposed Misima mining operation.
Importantly for Kingston, starter-pit ore offers the opportunity to generate early cash flow while it establishes access to the larger-scale 2.6Moz Umuna Resource, which we will discuss shortly.
The Misima Project offers outstanding potential for additional resource growth through exploration success targeting extensions and additions to the current 2.8 million ounce resource base.
The results have dropped at an excellent time for Kingston, as the gold price is now hovering in the vicinity of US$1750 per ounce right when the company is set to release an updated mineral resource.
The new resource estimate will likely now factor in an update to the US$1200 gold price assumption currently underpinning its 2.8 million ounce resource estimate. We will have to wait and see what a higher gold price assumption can do for the scale of the resource at Misima. Kingston have flagged that this update is due this quarter.
Shortly after release of the resource update, Kingston intends to roll straight into feasibility studies at Misima. Indeed, Kingston aims to end the year with the PFS concluded and a reserve in place. This would be an impressive achievement in a relatively short time frame, but when it comes to rapidly advancing the feasibility studies, Kingston is fortunate to benefit from the wealth of historic data it has from the mines long and successful operating history.
With the gold price still climbing there is the prospect of developing a high margin operation which could be fast tracked if Kingston chooses to opt for a staged development.
In fact, the 77% Kingston-owned Misima Gold Project has the potential to be the next low-cost, large-scale gold production asset in the Asia-Pacific.
At its essence, the Misima Gold Project presents Kingston with an exceptional large-scale, de-risked production opportunity.
The existing 2.8Moz JORC Resource provides an excellent foundation for the $24.7m capped company's exploration and development strategy and with steady news flow still to come to the end of the year, including the JORC upgrade and feasibility studies, we could see multiple share price catalysts.
This is also true of its second project, the Livingstone Project in WA.
With that in mind, let's catch up with all the latest from ...

Kingston Resources Limited
ASX:KSN
Share Price: $0.14 (as at market close 28 April 2020)
Market Capitalisation: $24.7 million
Here's why I like KSN: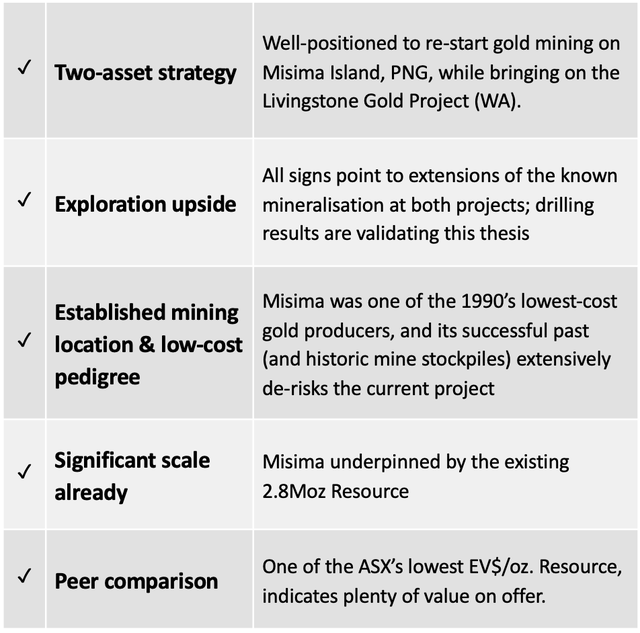 A promising outlook
Those that have followed the Kingston Resources (ASX:KSN) story understand that this looks to be an undervalued play.
You'll note that it sits among the top 25 Australian and PNG gold deposits. It's in good company too with the likes Newcrest Mining, AngloGold Ashanti, Barrick Gold, and Gold Fields all working solid projects in the region.
As we have noted in articles past, the comparison is on a contained ounces of gold basis and since the acquisition of Misima in November 2017, it looks as if the comparisons are justified.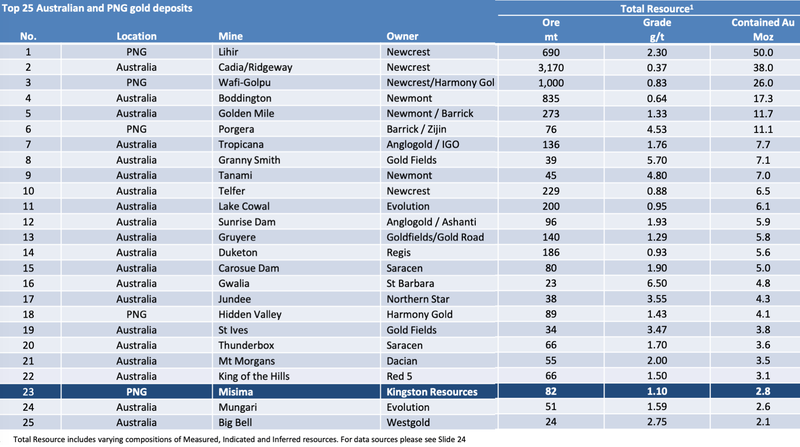 Research conducted by Acova Capital also backs the assumption.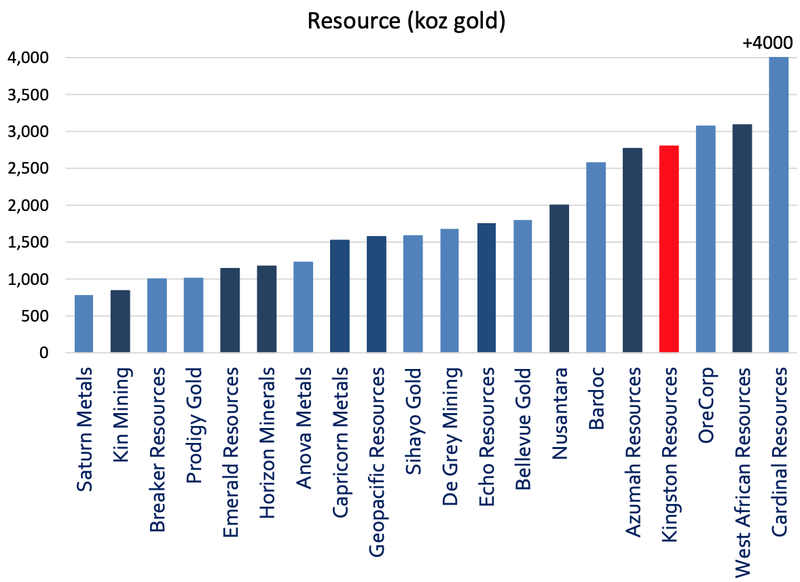 EV calculated as market capitalisation as at 31 October 2019 plus net debt as at 30 Sept 2019 • Resource ounces used are Total Resources and include varying compositions of Measured, Indicated and Inferred. • Companies which have released a BFS/DFS are shaded dark blue, remaining companies are at an earlier stage of exploration/development.
Analysts at Cannacord are also on board with a Speculative Buy Rating and a price target of $0.80.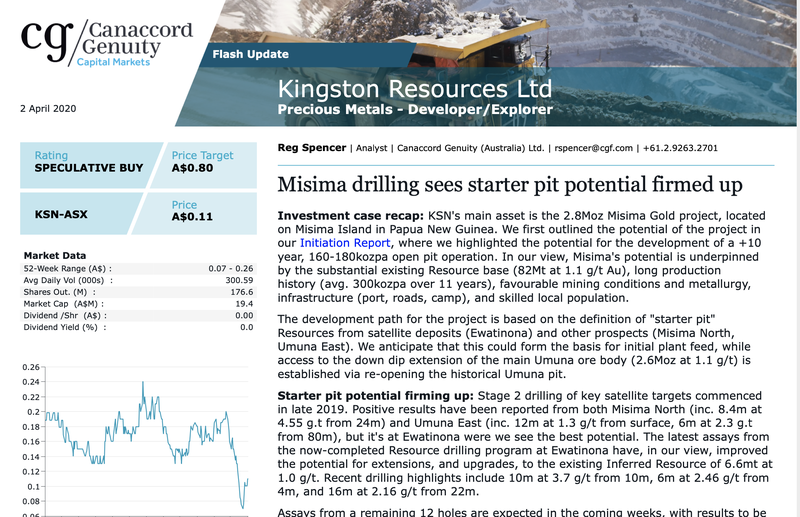 Cannacord initiated in December at $0.60 and has already revised its target, which highlights the confidence in the work being done here.
Kingston's Misima Gold Project is an advanced project with an existing 2.8Moz Resource – arguably already of sufficient scale to support a potential long-life mining operation.
There is certainly plenty of room for growth, given multiple expansion targets, as well as stockpiles left over from historical mining.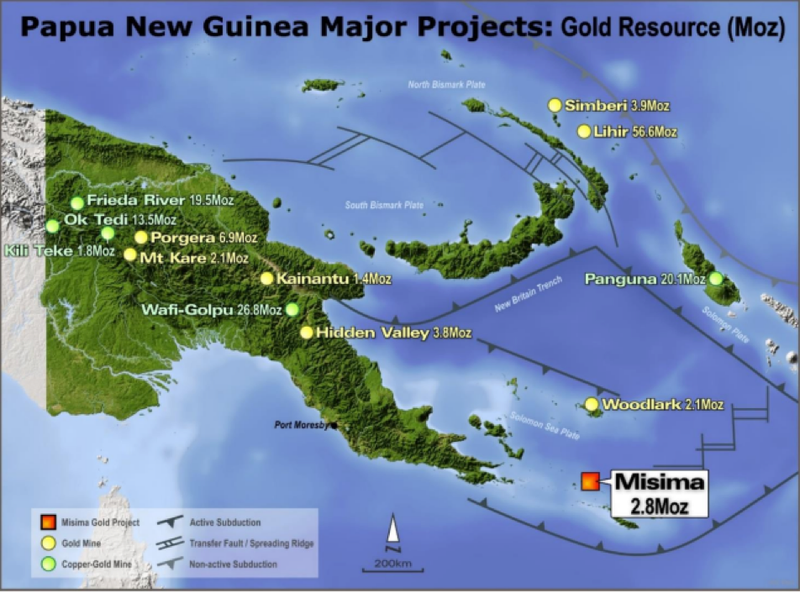 In the following video, CFO Chris Drew explains the upside in the company, in particular the Misima Gold Project.
Misima was operated as a profitable open pit mine by Placer Pacific between 1989 and 2001, producing over 3.7 million ounces before it was closed when the gold price was below US$300.
The gold price is now circa $1750, highlighting the upside.
Our previous articles provide further evidence of Kingston's (under)value:
Drilling since January this year continues to shore up the company's position, with the latest results putting it one step closer to a resource upgrade.
Ewatinona provides excellent results
"I am very pleased to be able to report excellent results from each of the five latest diamond holes received for Ewatinona. All five holes intersected mineralised structures that confirm the grade tenor and continuity of the Resource in the East Ewatinona area," said Kingston Resources Limited Managing Director, Andrew Corbett, following the completion of Resource definition drilling at the Ewatinona prospect within the Quartz Mountain area of the Misima Gold Project.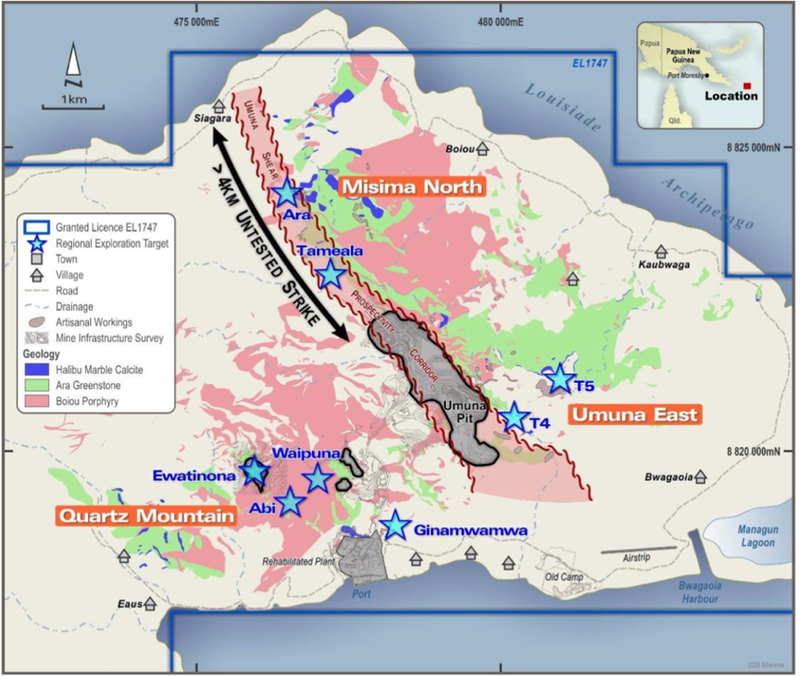 The latest diamond drill core assays from Resource definition drilling at the Ewatinona deposit, returned significant zones of mineralisation. Highlights include:
14m @ 1.64g/t Au from 163m incl 4m @ 2.95g/t Au from 168m & 3m @ 1.93g/t Au from 174m in GDD081
12m @ 1.33g/t Au from 22m incl 4m @ 3.33g/t Au from 22m in GDD080
10m @ 1.06g/t Au from 188m in GDD081
9m @ 1.25g/t Au from 79m in GDD082
4m @ 2.51g/t Au from 144m in GDD082
14m @ 0.92g/t Au from 150m incl 8m @ 1.23g/t Au from 155m in GDD079
Note the impressive 14 metres at 1.6 g/t gold from 163 metres and 12 metres at 1.3 g/t gold from only 22 metres.
These holes follow impressive earlier updates from KSN in February and April where results such as the following had been reported from Ewatinona drilling:
10.2m @ 3.68g/t Au from 10m, incl. 4m @ 7.15g/t Au in GDD068
15.6m @ 1.18g/t Au from 49.6m in GDD070
13.5m @ 1.26g/t Au, incl. 10.5m @ 1.43g/t Au from 146m in GDD072
16.0m @ 2.16g/t Au, incl. 7m @ 3.83g/t Au from 37m in GDD073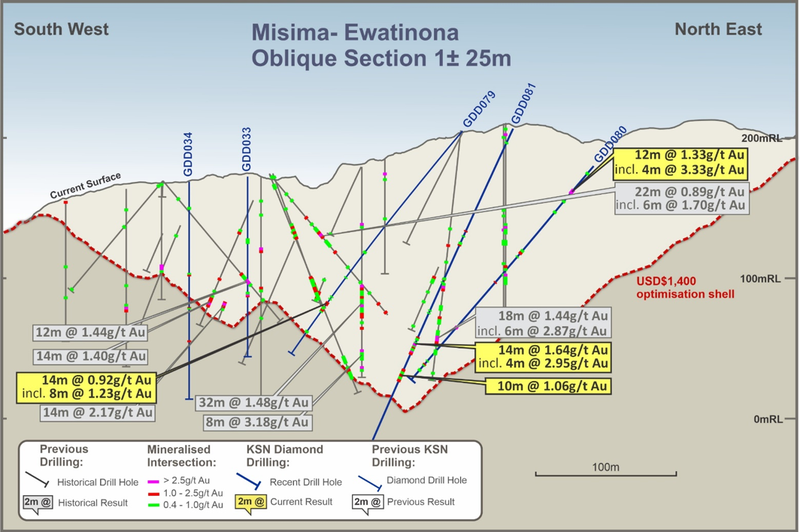 Section highlighting new zones of infill mineralisation from recent drilling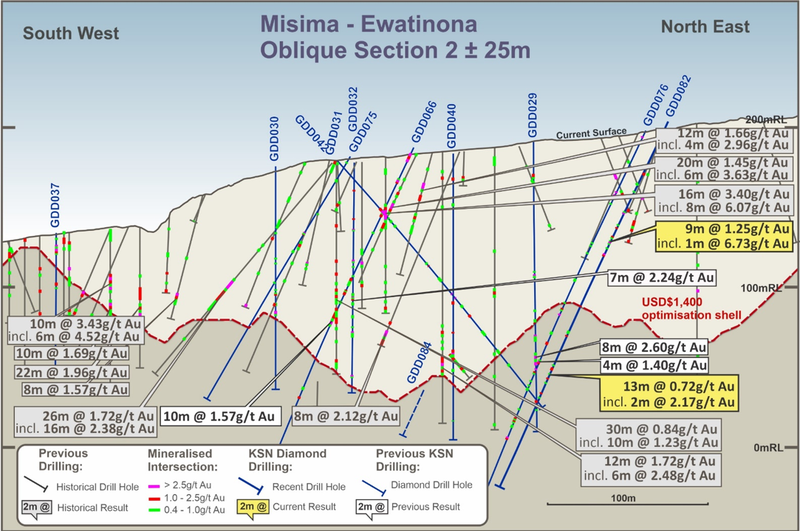 Section highlighting new zones of infill mineralisation and mineralisation outside the current Resource shell alongside historic drilling
Alongside the drilling, some exciting surface channel sample results offered encouragement that the resource could extend beyond its current boundaries. The best results were reported by KSN earlier in April and included:
22m @ 3.90g/t Au incl. 6m @ 12.65g/t Au, incl 4m @ 18.33g/t Au
44m @ 1.18g/t Au incl. 10m @ 1.83g/t Au
12m @ 4.51g/t Au incl. 4m @ 11.76g/t Au
Ewatinona new high-grade trench results on the periphery of the Resource
Assays are pending for several additional holes that tested the western extension of the resource.
Drilling was designed to upgrade the current 220koz Inferred Resource at Ewatinona to Measured/Indicated status, to facilitate inclusion in an Ore Reserve following the completion of the Misima Pre-Feasibility Study (PFS) later in 2020.
Completion of the drilling program means that work on the Resource update is underway, with external consultants engaged to assist with the technical work related to producing the new Mineral Resource.
An updated Mineral Resource estimate is anticipated for the June 2020 Quarter.
The latest results continue Kingston's hard work and good fortune. The work this year has been exhaustive and will lead to the following milestones:
Ewitanona is just one part of the Misima puzzle, work at Umuna East is also encouraging.
Umuna East
Umuna East is emerging as a priority focus for Kingston in terms of delineating further areas of shallow mineralisation that can underpin potential starter pits at Misima.
Over the past month geochemical results from trenching have highlighted an exciting new shallow target immediately adjacent to the company's recent drilling. Like Ewatinona, Umuna East has the potential to improve the existing Resource.
Historical sampling and drilling by Placer defined widespread supergene enrichment east of the Umuna Pit.
Highlights from the initial assays received from the 230m long Umuna East trench include:
26m @ 2.56g/t Au incl. 11m @ 4.69g/t Au, incl. 7m @ 6.70g/t Au and incl. 4m @ 2.54g/t Au
12.5m @ 1.78g/t Au incl. 5.5m @ 2.44g/t Au and incl. 1.5m @ 3.11g/t Au
5.5m @ 8.16g/t Au incl. 3.5m @ 12.31g/t Au
29m @ 0.75g/t Au incl. 6m @ 0.85g/t Au and incl. [email protected]/t Au
Interestingly, the recent drilling confirmed the presence of significant shallow gold mineralisation at Umuna East, which is located just 500m east of the historical Umuna pit and within the existing Inferred Resource.
These trench results are expected to assist with planning follow-up drill holes to delineate additional potential gold mineralisation in an untested pocket of Umuna East.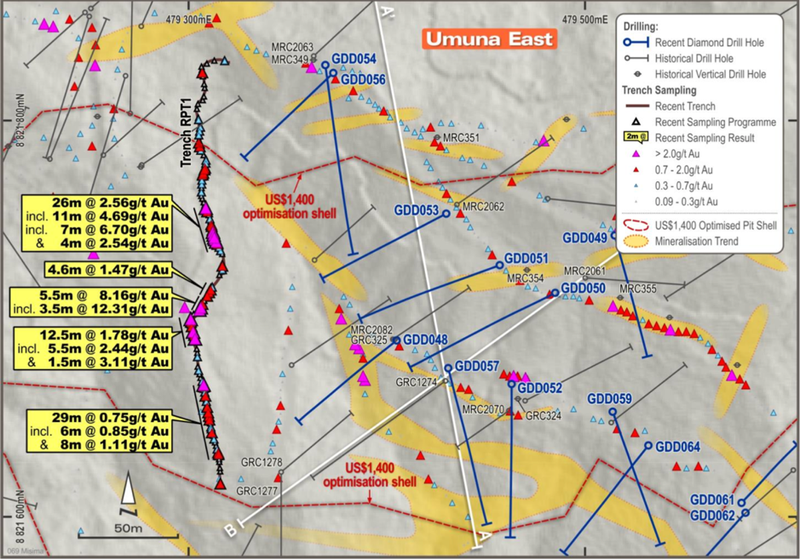 Umuna East is situated in an area primed for the utilisation of existing infrastructure such as haul roads. Factors like these are expected to materially benefit the future economics of the project.
It is not just the Misima Project in PNG that is looking the goods. There is a second project in WA, where the company is also making strong moves.
Livingstone – not just a presumption
Whilst the Misima Project is the main focus, Kingston hasn't stopped strengthening its position at its Livingstone Project in WA.
Last month Kingston increased its strategic landholding at the 75%-owned Livingstone Gold Project, located 140km north-west of Meekatharra in the Bryah Basin region of WA.
Tenement E52/3667 covers an area of 170km2 and abuts Livingstone's southern tenement boundary. The tenement adds approximately 13km of strike over the prospective faulted contact between the Archean Yilgarn Craton to the south and the mafic/ultramafic of the Trillbar Complex to the north.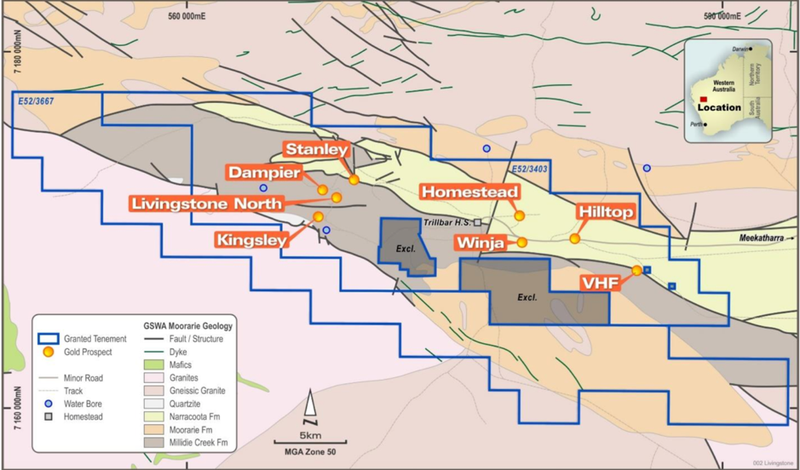 E52/3667 increases Kingston Resources land holding in the western Bryah Basin to 374km2
The area has been named the 'Southern Basal Horizon Target' and was highlighted through a recently-completed structural geological review at Livingstone.
It represents a zone of enhanced gold prospectivity, which to date has not been fully explored.
The tenement adds considerable potential to the Livingstone Gold Project, which currently hosts a 49,900oz JORC2004 Resource at the Homestead deposit as well as the Kingsley discovery and a number of highly-prospective exploration targets.
Upcoming work at Livingstone will now incorporate E52/3667, with drilling planned to test the newly-identified Southern Basal Horizon Target.
Kingsley is the focus of a maiden JORC Resource, along with further exploration at both the Livingstone North and Stanley prospects.
The scheduled exploration program will run concurrently with the Resource upgrade and mining studies at Misima.
Approvals are also in place for a second round of RC drilling to be undertaken at the Kingsley prospect, which will contribute towards reporting a maiden JORC compliant Resource estimation. On-ground exploration is planned to re-commence post completion of the heritage survey, subject to the lifting of COVID-19 travel restrictions.
The final word
The world is in lockdown, however Kingston has been able to keep its momentum, despite the market's uncertainty.
While it has had to navigate logistics constraints due to international travel restrictions and the State of Emergency declaration in PNG, Kingston's work at Misima continues to impress.
The good news for Kingston was its drilling program at Misima had been completed before restrictions were initiated.
Therefore, Kingston remains on track to deliver on its key strategic objectives for 2020, including the Mineral Resource update, completion of a Pre-Feasibility Study and release of an Ore Reserve estimate by the end of the year.
It is, in fact, full steam ahead for Kingston as it looks to deliver a number of important project milestones at Misima over the remainder of 2020.
Milestones which could have a positive material impact.
---