KSN Bolts out of the Gold Blocks in 2020 as it Delivers at Misima
PUBLISHED: 13-02-2020 10:37 a.m.
Early-stage gold junior Kingston Resources (ASX:KSN) has bolted out of the blocks in 2020, reporting finds of further gold mineralisation at its flagship Misima project, located on the eponymous island in Papua New Guinea.
Along with the outstanding high-grade results reported in December from the recently discovered Abi prospect in the Quartz Mountain area, Kingston has now identified significant gold mineralisation in the first three areas it investigated in its strategy to identify new near-surface mineralisation, in what remains an under-explored province, particularly at Misima North.
Specifically, the hits have come at the Misima North prospect, north of the existing Umuna Resource boundary, the Umuna East prospect, which is located just 500 metres east of the historical Umuna pit, and the Ewatinona prospect which already hosts a 220koz Inferred Resource which Kingston is hoping to upgrade and expand.
Misima has an extensive 130-year production history with gold first discovered on the island in 1888. Prior to World War II, production was focused on small scale, high grade underground operations. More recently, from 1989–2004 under Canadian miner Placer Dome, 3.7Moz of gold and silver was mined primarily from the Umuna pit. Smaller scale pits, akin to what Kingston is looking for now, at Ewatinona, Kobel and Maika, all in the Quartz Mountain area, produced a combined 147,000 ounces at 1.77 g/t of gold.
Kingston bought-in to the project in November 2017 and has moved to own 77 per cent of Misima by October 2019, in joint venture with partner PPC, which is owned by JX Nippon Metals and Mining (66 per cent), and Mitsui Mining and Smelting (34 per cent).
In KSN's December 2019 Quarterly Report, the company told shareholders it had signed a non-binding term sheet to secure 100% of the Misima Project by buying-out its partner's interest. Full ownership would represent an important step towards its objective of becoming a substantial new gold producer in the Asia-Pacific region. The transaction is now subject to finalisation of documentation, and KSN expects it to be completed next quarter.
Misima hosts an existing JORC (2012) Resource of 82.3 Mt at 1.1 g/t for 2.8 Moz, but Kingston has always believed that figure to be only a starting point, with large exploration upside. The recent drilling results at Ewatinona, Misima North, Umuna East and Abi – which follow similarly encouraging results at Ewatinona reported in July and August last year – only bolster that belief.
The bulk of the Resource, 2.6Moz, sits in the central Umuna area, which is open in all directions. The rest of it is at Ewatinona, which contains a JORC 2012 Inferred Resource of 6.6 Million Tonnes at 1.0 g/t for 220,000 ounces. The current Ewatinona Resource is less than two kilometres from the historic mill location.
With that in mind, let's renew acquaintances with ...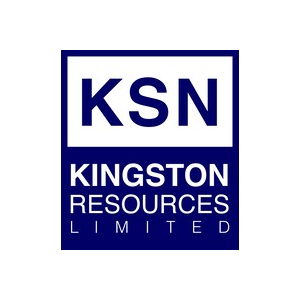 Kingston Resources Limited
ASX:KSN
Share Price: $0.18 (as at market open 12 February 2020)
Market Capitalisation: $30 million
Here's why I like KSN:
A quick re-brief
You can read Kingston Resources' (ASX:KSN) full story in our previous article: Twin Prospects Coming Up Trumps For KSN as High-Grade Hits Flow
In that article, we explained how KSN has interests in two gold projects: the Misima Gold Project in Papua New Guinea...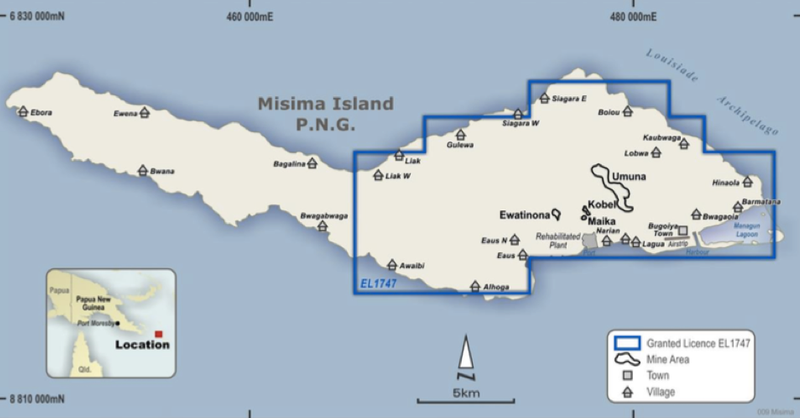 Misima Island showing Exploration Licence.
... and the Livingstone Gold Project in WA.
We talked about how KSN had reported outstanding results out of both Livingstone and Misima.
We explained that Misima was a much more advanced project for the company, given that it had an existing 2.8Moz Resource – which was arguably already of sufficient scale to support a potential long-life mining operation – with plenty of room for growth, given multiple expansion targets, as well as stockpiles left over from historical mining.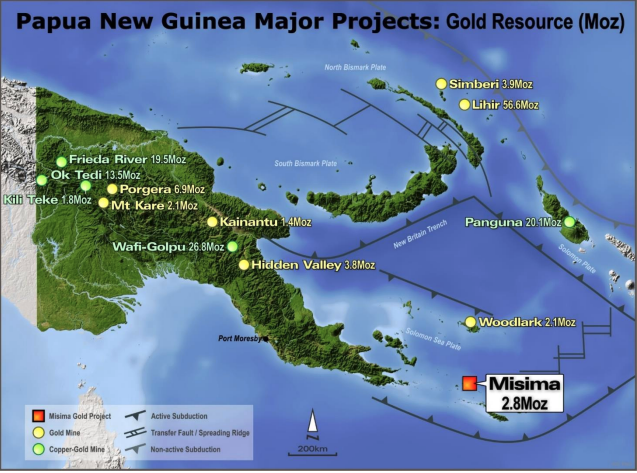 We reiterated our contention from our July 2019 article: KSN's Gold Exploration in Elephant Country Delivers Promising Results, that KSN's appearance in the top 25 Australian and PNG gold deposits, alongside the gold deposits of Newcrest Mining, Anglogold/Ashanti, Barrick Gold, and Gold Fields, suggested that this gold junior – capped at about $34 million at the time – was undervalued.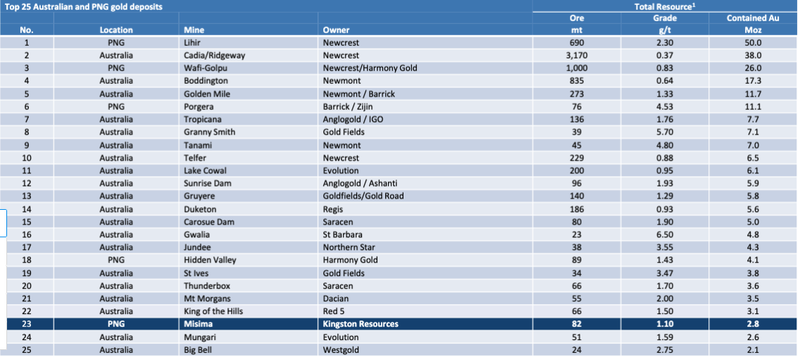 Kingston stacks up well against larger peers.
We still believe that – and that the string of drilling results over late 2019/early 2020 support this belief, with KSN moving nicely along its pathway toward re-commencing production.
Recent results are promising
Firstly, at Misima North, KSN intersected significant shallow gold mineralisation, with the
highlight so far being hole GDD065, which returned best intersections of:
3.5m @ 1.48g/t Au and 78.0g/t Ag from 16.2m, including 1m @ 2.18g/t Au and 201g/t Ag;
1.9m @ 1.50g/t Au and 2.0g/t Ag from 20.9m;
8.4m @ 4.55g/t Au and 11.4g/t Ag from 23.8m, including 3.5m @ 9.58g/t Au and 26.1g/t Ag; and
[email protected]/t Au and 10.4 g/t Ag from 76.0m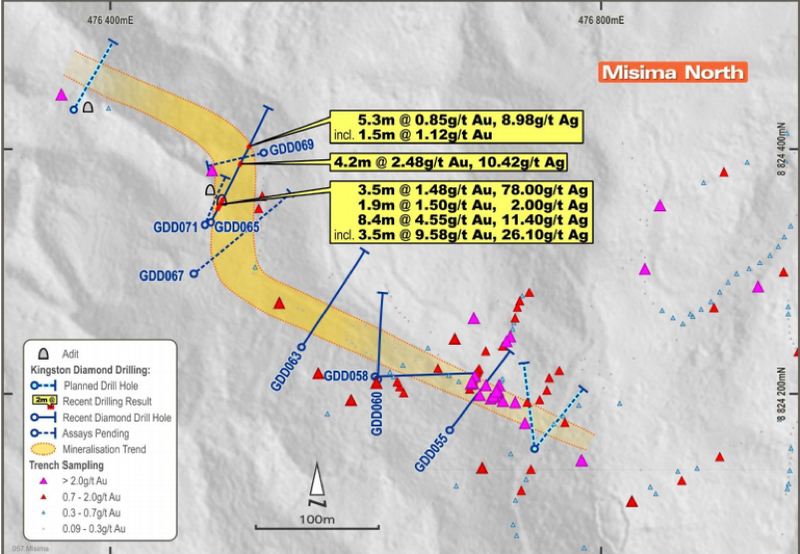 Hole GDD065 actually encountered a 16-metre zone of gold mineralisation, but suffered a small amount of core loss within that 16-metre zone. Based on the adjacent grades, broker Acova Capital thinks the overall 16m intersection has an average grade of around 3g/t gold.
In KSN's view, the results confirm the presence of high-grade gold mineralisation 2.5-kilometre north of the existing Umuna Resource boundary, and highlight the prospectivity of the broader Umuna Fault Corridor, which hosts both the Umuna and Misima North target areas. The entire 4-kilometres strike length of the Umuna Fault Corridor remains largely untested, providing a large, high-quality exploration target for the Company to progressively drill.
Later in January, the company reported initial results from Umuna East, which it considered very encouraging. Interception highlights included:
12m @ 1.31g/t Au from 2m;
14.6m @ 0.96g/t Au from 11.4m including 3.6m @ 1.59g/t and 3m @ 1.11g/t Au;
6m @ 2.32g/t Au from 80m;
4m @ 1.11g/t Au from 37m; and
10m @ 0.96g/t Au including 4m @ 1.5g/t Au from 28m
The results confirm the presence of significant gold mineralisation close to surface and continuing at depth at Umuna East, which is located just 500 metres east of the historical Umuna pit and within the existing Inferred Resource.
Just this week, Kingston alerted the market to the highly promising Phase 2 Resource definition drilling being conducted at Ewatinona.
Drilling has delivered encouraging results from the first three drill holes. New gold intersections from drilling at Ewatinona include:
6m @ 2.46g/t Au from 4m in GDD066
3.6m @ 2.05g/t Au from 21.3m in GDD066
4.8m @ 1.07g/t Au from 43.2m in GDD066
33.16m @ 0.87 g/t Au from 90m in GDD066, including:

11.56m @ 1.44g/t Au from 111.6m; and
11.6m @ 0.84g/t Au from 90m

10.2m @ 3.68g/t Au from 10m in GDD068, including

4.2m @ 2.03g/t Au; and
4m @ 7.15g/t Au, including 1.4m @ 18.58g/t Au

10m @ 0.91g/t Au from 40m in GDD068, including:
15.6m @ 1.18g/t Au from 49.6m in GDD070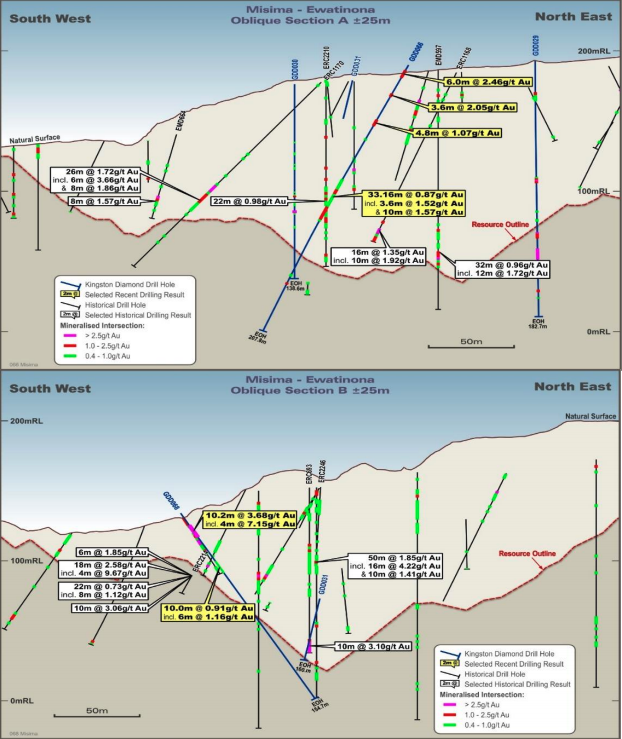 Results from this program will underpin an update to the Mineral Resource, ahead of the commencement of feasibility studies for the Misima Gold Project.
You can read more about these results in the following Finfeed article: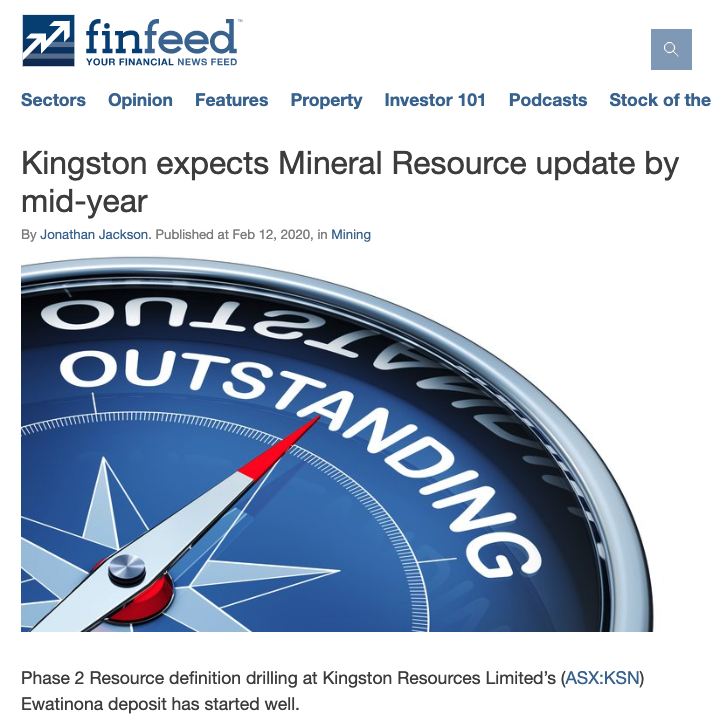 Umuna East and Misima North Results Validate Strategy
The strategy behind KSN's drilling program over the last six months, explained chief financial officer Chris Drew, has been around trying to identify new near-surface mineralisation that could represent a 'starter' pit. He explained, "The bulk of the Resource is in the Umuna pit. Our current exploration strategy is designed to ensure we're generating positive cashflow while we're re-establishing access to all those ounces. To that end, our exploration strategy has been focused on delivering shallow, low-strip mineralisation."
KSN has three main target areas all of which yielded the goods in the December-January period.
"Quartz Mountain was always a pretty firm favourite given the existing 220,000-ounce Resource at Ewatinona. We felt that Umuna East would show mineralisation that was essentially an extension east of the Umana Pit, and it's shallow, so also a good target area. Misima North is a little more greenfield in nature, there hasn't been as much work done up there – although there are some historic underground workings and high-grade surface geochemistry. That's what attracted us to the area. Getting that initial result on an early hole up there was an exciting win for us."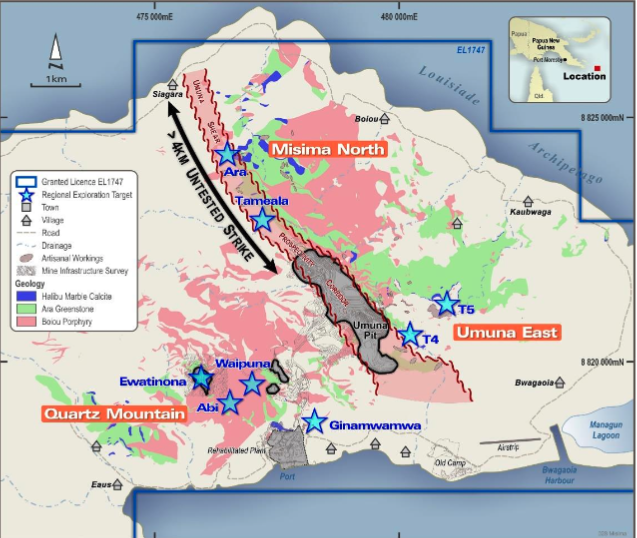 With a round of drilling done on each of those targets, the company has reported excellent results putting it well on track to deliver on its strategy of identifying new shallow ounces. A key focus of the drilling strategy is not only to look for news starter pit ore, but also to improve the Resource by lifting the Indicated component.

Misima Mineral Resources – 2017.
"We want to get as much of that Inferred Resource to Indicated status as we can, and then hopefully see it convert to a Reserve," says Drew. "The Indicated component of the Resource is at 1.3 million ounces at the moment and we want to grow that. Our plan for the year is a Resource update in the second quarter, hopefully showing that Indicated Resource increase, that then leads into the preliminary feasibility study (PFS) which we would hope to deliver by the end of the year."
From here, Drew said the plan was firstly to complete the infill and extension drilling around Ewatinona and follow up at Abi. Once that program is finished, the company expects to follow up on Umuna East and Misima North.
In the following video, Drew explains the state of play and upside in the company, in particular the Misima Gold Project.
KSN still standout value
Our July 2019 article: KSN's Gold Exploration in Elephant Country Delivers Promising Results, showed that Misima's appearance in the top 25 Australian and PNG gold deposits, indicated that KSN was cheap. Recent work from broker Acova Capital indicates that this firm shares that belief.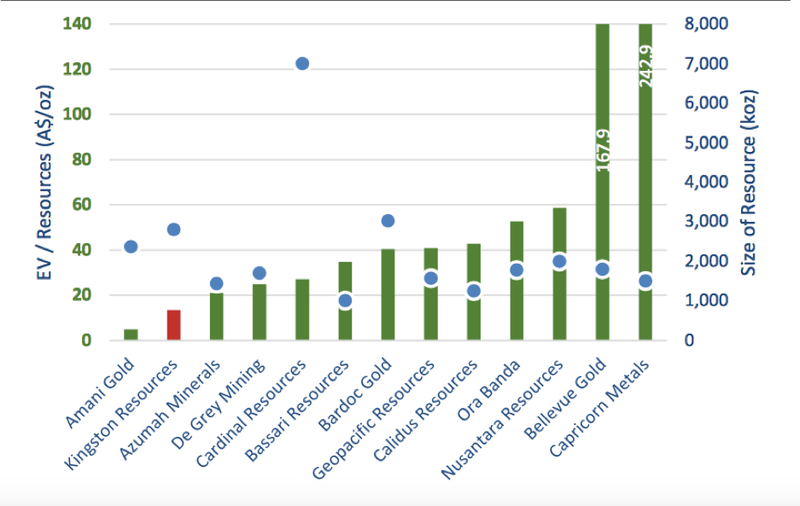 EV/oz Resources – ASX listed explorers Source: Acova Capital, company announcements
On the EV/oz metric, KSN is the second-cheapest stock in the Acova sample – at about $14/oz Resources (as at January 16, 2020, relative to an average of about $60/oz. Acova assesses a value of about $50/oz – which it contends justifies a target price of 80 cents for KSN, significantly north of the current share price. Acova rates KSN a 'speculative buy.'
A quick note on Livingstone
KSN's 75%-owned Livingstone Gold Project in Western Australia was on the back-burner relative to Misima during the December quarter. Nevertheless, a structural review on the Project has been completed the key outcomes of which were to enhance the prospectivity of the known prospects and highlight several new target areas. Importantly, as a result of the review Kingston has now established controls on the gold mineralisation at its Kingsley prospect which will help underpin an upcoming drill program which the company hopes will progress the prospect towards a maiden Resource. As we contended in our September 2019 article: Twin Prospects Coming Up Trumps For KSN as High-Grade Hits Flow, KSN believes it has potentially discovered a large, high-grade gold system at the Kingsley prospect within Livingstone.
The Livingstone project's Homestead prospect has a non-JORC 2004 resource of 989,000 tonnes at 1.6 g/t gold, for 49,900 ounces, but apart from Kingsley, Kingston has a plethora of exciting gold targets within the Livingstone land package, which occur along a prospective strike length of more than 30 kilometres, and will progressively investigate these.
The final word
Drilling results continue to justify Kingston's work at its Misima project, where a maiden reserve figure appears not too far away. Drilling is continuing at the strong new leads KSN has demonstrated, with the company also sizing-up early-stage feed ore for the mill start-up.
Additional results are thus expected shortly.
KSN is moving inexorably closer to bringing Misima back into life as a large-scale and low-cost open pit gold mine.
While the focus has been on Misima, the high-grade gold prospects at Livingstone are sitting nicely in the company's portfolio.
With plenty of opportunity for further hits and a resource upgrade on the way, Kingston may not be undervalued for too much longer.
---