Kingston Increases Gold-Silver Resource: PFS Set to Start in June
PUBLISHED: 21-05-2020 09:59 a.m.
Kingston Resources Ltd (ASX:KSN) has reported a significant increase in the JORC Mineral Resource Estimate for its flagship 80% owned Misima Gold Project in Papua New Guinea — just the start of a flood of news expected from Kingston in 2020.
Through Misima, Kingston is aiming to become the next low cost, large scale gold production asset in the Asia Pacific.
The updated Misima Resource has delivered a 15% increase in total gold ounces and 30% increase in total silver ounces for an Indicated and Inferred Mineral Resource of 105.5 million tonnes (Mt) at 0.93 g/t gold and 5.4 g/t silver, for 3.2Moz gold and 18.2Moz silver.
Furthermore, a 17% increase in total Indicated ounces is available for conversion to Ore Reserves to 49.9Mt @ 0.95g/t for 1.52Moz.
The increase incorporates the results of recent successful drilling programs and updated gold price assumptions.
The increase in ounces is significant, with the 1.5Moz Indicated component a highly positive result going into the PFS/Reserve work that will commence in June, just a few weeks from now.
The PFS will include an Ore Reserve estimate, which is targeted for completion by the end of the year.
Further news is ahead in the back half of 2020, including the recommencement of resource drilling at Kingston's Ewatinona project once travel suspensions are lifted. Ewatinona has been confirmed as the proposed starter pit to deliver initial ore feed for the Pre-Feasibility work.
There is substantial potential to further expand the Mineral Resource and upgrade additional Inferred ounces, it is worth keeping an eye in Kingston in the second half of 2020.
Further to this, we should also see Kingston resume work at its Livingstone Gold Project in WA, now that WA internal travel restrictions have been lifted.
However, it is the resource upgrade at the Misima Gold Project that is the main focus of today's article, so let's take a deeper look into this resource upgrade and the work to follow.
Checking in with ...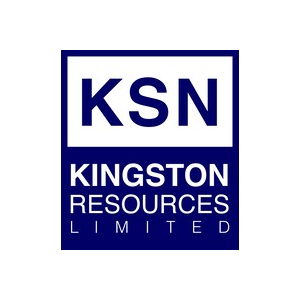 Kingston Resources Limited
ASX:KSN
Share Price: $0.165 (as at market close 20 May 2020)
Market Capitalisation: $29.14 million
Cash: $2.0 million (as at 31 March 2020)
Here's why I like KSN: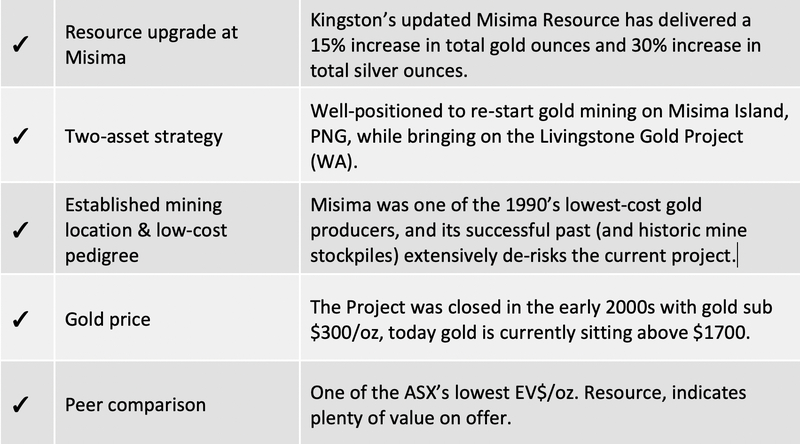 Kingston: a quick recap
For those unfamiliar with the Kingston Resources' (ASX:KSN) story, this is a company that is transitioning from exploration to development at its 3.2Moz Misima Gold project.
Kingston commenced drilling at Misima in June 2018 with 49% equity ownership in the project.
The company has since increased its equity ownership to 80.5% and has a non-binding agreement to move to 100% ownership.
In fact, Misima provides Kingston with significant exploration upside, as its extensive mining history de-risks future development. Via this project, KSN is seeking to become the next low cost, large scale gold production asset in the Asia Pacific region.
Misima sits among the top 25 Australian and PNG gold deposits and is in good company, with the likes Newcrest Mining, AngloGold Ashanti, Barrick Gold, and Gold Fields all working solid projects in the region.
Here is the bird's eye view: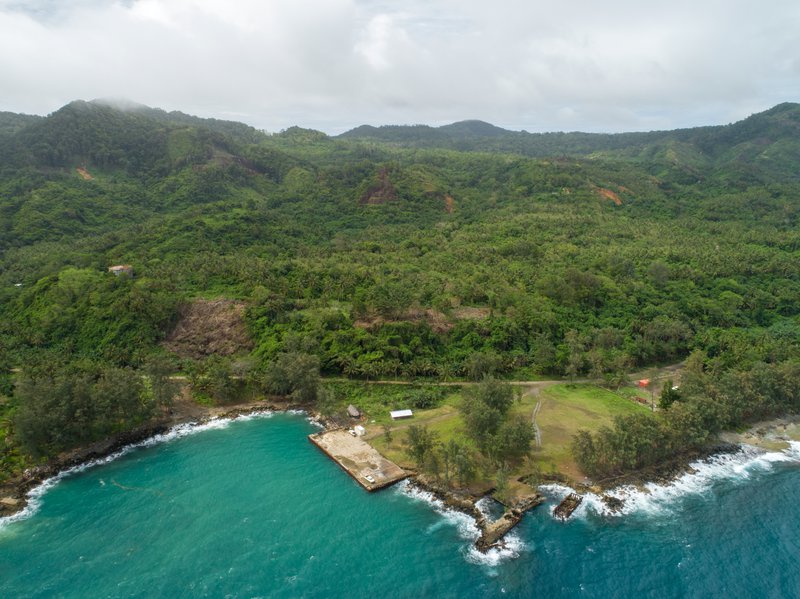 Drone view of the Misima Gold Project.
It should be noted, Kingston also holds 75% of the Livingstone Gold Project in WA, including the high-grade gold discovery in WA's Bryah Basin. Further drilling is planned at Livingstone, following the easing of travel restrictions due to the COVID-19 pandemic.
The Next Small Cap's previous coverage will give you a full history of Kingston's exploits so far:
It is also worth noting here the confidence Cannacord analysts have in this stock.
For the second time since it initiated coverage on Kingston, Cannacord has revised up its price target.
When we last caught up with Kingston, Cannacord were on board with a Speculative Buy rating and a share price target of $0.80, following its initial $0.60 target in December.
Given the rise in gold price, Cannacord recently came back with a further revised target of $0.85.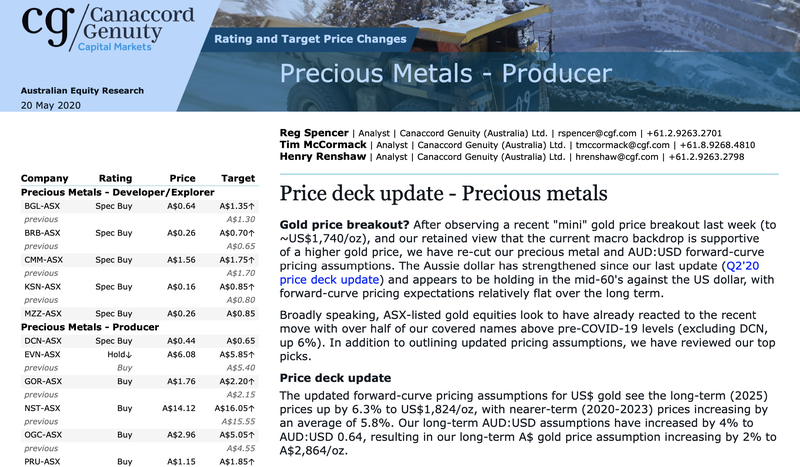 Kingston certainly has traction and with today's upgrade should gain further momentum.
Kingston updates Misima Resource
As stated above, the updated Misima Resource has delivered a 15% increase in total gold ounces and 30% increase in total silver ounces.
It now comprises an Indicated and Inferred Mineral Resource of 105.5Mt at 0.93 g/t gold and 5.4 g/t silver for 3.2Moz gold and 18.2Moz silver.
There is substantial potential to further expand the mineral resource and upgraded additional inferred ounces outlined below.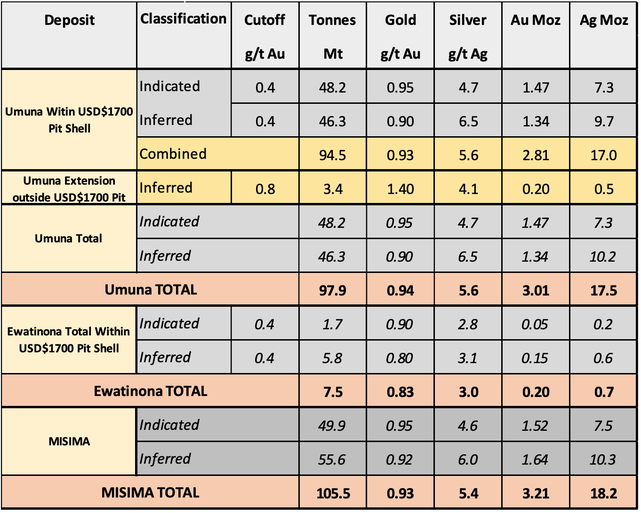 The resource upgrade confirms the project's status as one of the most significant mid-tier gold development opportunities in the Asia-Pacific region.
To reiterate this point, Kingston Resources Managing Director, Andrew Corbett, said, "This is a great result for Kingston shareholders, with the substantial increase in gold and silver ounces firmly establishing Misima as one of the most exciting new mid-tier gold development opportunities in the Asia-Pacific. The significant increase in overall ounces, and in particular the 17% increase in Indicated ounces to 1.52Moz, provides a fantastic platform from which to launch our mining studies. Our improved understanding of Ewatinona is also a key step forward for the project and clearly establishes our proposed starter-pit."
Importantly, a prefeasibility study (PFS) will commence in June, and this along with an ore reserve estimate should be completed by the end of 2020.
Ewatinona is the proposed starter pit
Early work at Misima highlighted that a starter pit would enhance project economics.
With this in mind, the exploration strategy has thus far focused on near-surface opportunities, with Kingston now confirming Ewatinona as the intended starter pit.
Recent announcements from Kingston have highlighted the near-surface opportunity at Ewatinona, with channel sampling reporting some outstanding results including
70m @ 4.99g/t Au including 28m @ 8.08g/t Au and 6m @ 15.58g/t Au
12m @ 3.67g/t Au
4m @ 10.96g/t Au
6m @ 3.85g/t Au
The Resource update focuses on updating the geological model at Ewatinona while also revising project assumptions around cut-off grade and gold price inputs.
The larger Umuna Resource at Misima currently contains 94% of the total resource ounces and is expected to underpin the PFS work focusing on a large-scale, long-life open pit mining project.
Highlighting the significance of Ewatinona and Umuna, Corbett said, "Looking ahead, there are considerable operational and economic benefits to be unlocked by focusing on Ewatinona and Umuna.
"Both areas leverage off previous mining access which remains in place as they have both been mined historically with a combined total of over 90 million tonnes of ore processed through a standard CIL (carbon in leach) plant.
"Kingston has considerable historical information on the mining, milling and geotechnical characteristics of these orebodies, as well as the historical processing plant design.
"As well as giving us confidence in the project's future, this information will save time and costs in delivering the upcoming PFS."
Potential upgrades and extensions to both resources
Kingston's primary focus for ongoing drilling in 2020, will be on upgrading and potentially extending the Umuna and Ewatinona Resources with a focus on near-surface opportunities.
Key growth opportunities at Umuna include a resource model update, follow-up drilling and extensions, including Tonowak and Padocol as indicated below.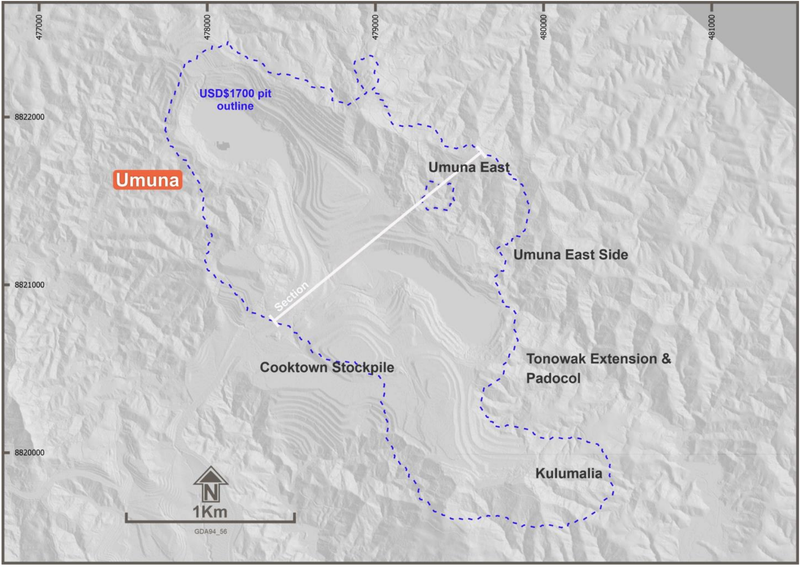 Growth drivers at Ewatinona include resource drilling to upgrade and extend the resource, as well as drilling extensional targets identified from recent field work outside of the current resource.
The follow-up drilling will include the promising Abi discovery which lies 600 metres south-east of Ewatinona where Kingston previously reported an impressive initial drilling result of 23.6m @ 2.91g/t gold from 7.4m.
Importantly, the resource model update will include an additional nine holes for which assays were received following the resource cut-off date.
Scope of work at Misima tracking well
Kingston has played its cards very well at Misima, ticking off a range of milestones and keeping itself on track to complete its target goals:

As you can see, there is a fair bit of work to be done that will punctuate Kingston's program in the second half of 2020.
Notably, we should see resource drilling re-commence, alongside exploration drilling, environmental work and mining studies, with project approvals to follow.
This scope of work should provide investors with a great deal of newsflow as the company reports on the progress of its drilling campaigns.
Given the speed with which Kingston is moving, could we see further revised price targets this year?
Gold price could underpin Kingston's future success
There's a lot of talk about the gold price at the moment.
Some analysts are predicting it will go as high as US$3000 per ounce, other commentators are really reaching for the sky saying macro events could push it as high as US$10,000 per ounce.
Here is the reasoned voice of Steve Forbes explaining why gold has moved up in price.
Forbes considers gold to be, in part, a hedge against 'stupidity by governments' and recommends putting 10% of your portfolio to it.
The following video discusses gold's breakout to seven and a half year highs:
It is clearly a good time for investors to be in gold.
For explorers as well.
Especially when those explorers, or Kingston specifically, have such a large scale and previously successful opportunity on their hands.
With a strong gold price in its pocket and an updated Resource that could be improved even further, Kingston is sitting in a strong position as a gold exploring ASX small cap.
With a lot of potentially positive news to come, the company's ambitions to move from explorer to developer could be realised sooner rather than later.
---