KAI Uncover Virgin Gold Trend: Next Door to $75M Capped Big Brother
PUBLISHED: 02-03-2017 11:12 a.m.
With some impressive gold drilling results in its back pocket, Kairos Minerals (ASX:KAI) could be on the cusp of a major gold discovery in WA.
KAI has just confirmed an extensive new shallow gold zone at its Roe Hills gold project, which sits in the middle of a rapidly emerging gold province.
This gold province is currently enjoying a significant level of gold exploration activity and investor interest.
Take Breaker Resources as an example – a company that is around eight months ahead of KAI in terms of exploration progress.
Breaker's Lake Roe gold discovery has been responsible for the company climbing to a $90M market cap in the last few months. It's currently sitting at $75M market cap.
KAI's Roe Hills Project is directly next door to the $75M capped Breaker Resources... however KAI is still only capped at $12M...
Oh, and the $375M capped gold producer Silver Lake Resources' gold deposits are sitting in the region also.
KAI has a dominant land holding in this province of 324 km 2 , with a 40km continuous strike length of the interpreted southern extensions of the highly prospective Leonora-Laverton greenstone belts – home to numerous significant historical and current gold mines in WA.
The Laverton goldfield has grown from less than 3 million ounces to over 28 million ounces on the back of multiple multi-million ounce gold discoveries since the 1990s...
With Breaker unlocking a major gold resource, and Silver Lake in the vicinity, the big question is:
Is KAI the next ASX stock to make a major WA gold discovery via confirming an extension to the fabled Leonora-Laverton greenstone belts?
The latest results include a discovery of a significant new zone of shallow gold mineralisation at the 'Lady of the Lake' prospect within Roe Hills, which is located immediately adjacent to the west of Silver Lake's Aldiss Gold Project.
This represents an area of previously untested structural complexity, opening up a significant new exploration zone within the Roe Hills Project area.
So far, only a small corner of KAI's Eastern Gold Fields Project has been explored and KAI is hoping that it may just hold the next piece of the puzzle in this highly prospective region.
Of course, KAI is an early stage play and much can happen, so investors should seek professional financial advice before making an investment decision.
A maiden diamond drilling program at its 100% owned Mt York Lithium-Gold Project also returned positive results recently, again demonstrating that as with its Roe Hills Project, the gold system in its possession at Mt York is also significantly larger than first thought.
So far, impressive results have been reported from early drilling programs at KAI's two major gold projects, with more results on the way and further drilling to be conducted in the coming weeks and months.
Should results remain positive, then a rerate the size of Breaker Resources' in a short amount of time, may not be out of the question.
Let's reacquaint ourselves with...
Kairos Minerals
ASX:KAI
Kairos Minerals (ASX:KAI) is a $12 million capped metals explorer. Over the past year the company has narrowed its focus on exploring and evaluating its gold assets in Western Australia's emerging East Pilbara region and the world-class Eastern Goldfields province east-southeast of Kalgoorlie's 'Golden-Mile'.
KAI's Mt York Project sits 90 kilometres south-east of Port Hedland, complementing the company's Roe Hills gold-nickel Project 120 kilometres east of Kalgoorlie.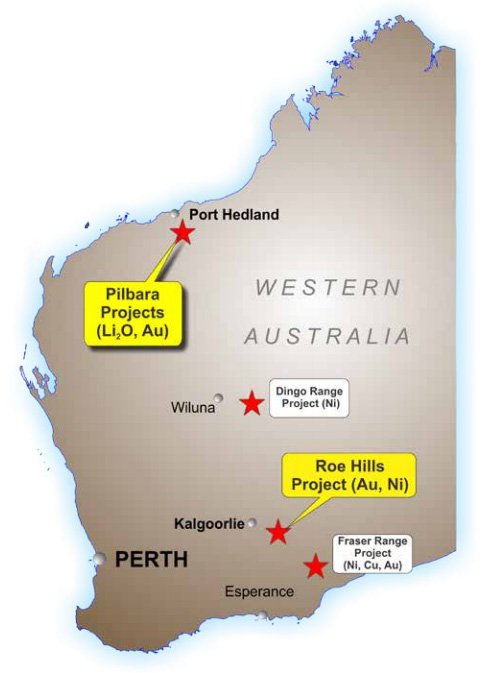 KAI's two-pronged gold exploration strategy is rolling along, with some upbeat drilling results coming out of both its Roe Hills and Mt York projects recently.
The mineral rich golden mile hosts KAI's Roe Hills Gold Project
KAI's Roe Hills Gold Project sits in the middle of the Eastern Goldfields of the Eastern Yilgarn Craton of Western Australia.
The area is mineral rich, having produced over 130Moz in its history.
It hosts the $322.3 million capped Silver Lake Resources' (ASX: SLR) Aldiss Project and Mt Monger/Randalls Gold Operations.
It is also the site of the $78 million capped Breaker Resources' (ASX:BRB) recent discovery of what could be a significant new goldfield 10 kilometres north-northeast of Roe Hills.
KAI is hoping to impress investors with a similar find. In fact KAI is working towards becoming "Breaker Mach II".
It is just eight months behind in terms of exploration, and with mineralisation just 10km to the south, it is tracking in a similar vein.
BRB went from $9 million to $78 in a short amount of time. Can KAI do the same?
It certainly has the potential, given recent results.
The past performance of this product is not and should not be taken as an indication of future performance. Caution should be exercised in assessing past performance. This product, like all other financial products, is subject to market forces and unpredictable events that may adversely affect future performance.
KAI's tenure comprises a total area of 324 sq. km and features a 40 kilometre continuous strike length of the interpreted southern extensions of the Leonora-Laverton greenstone belts.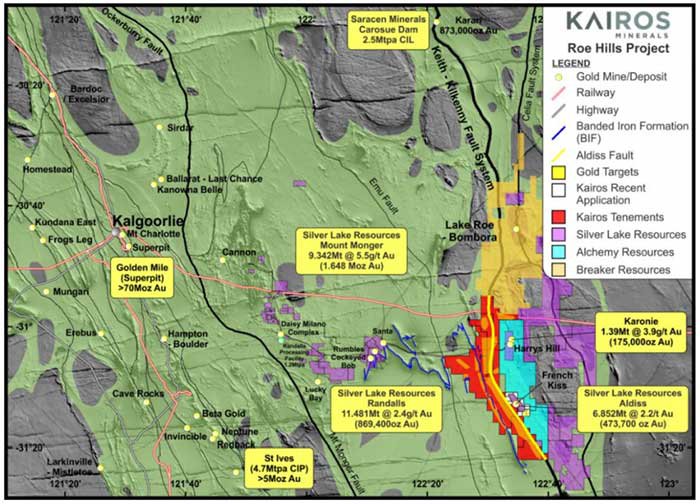 Roe Hills project location – Tenure and Gold targets – and much more bigger neighbours...
In late February, KAI announced that the first results were in from its maiden drilling program at its Roe Hills Project. The first two holes drilled at the Terra Prospect at Roe Hills identified thick zones of gold mineralisation.
Wide spaced reconnaissance drilling was conducted at the Terra Trend, with grades of up to 14.6g/t gold returned.
These highly encouraging results, together with significant intercepts from historical drilling, confirm that the Terra Trend comprises an extensive gold corridor with mineralisation now intersected over a total strike length of around two kilometres.
The new intercepts are located more than 500 metres apart and confirm strike and depth continuity of the interpreted main zone of mineralisation.
These initial results confirm the significant gold opportunity within the broader 40 kilometre strike length of the largely unexplored, Aldiss Fault Corridor.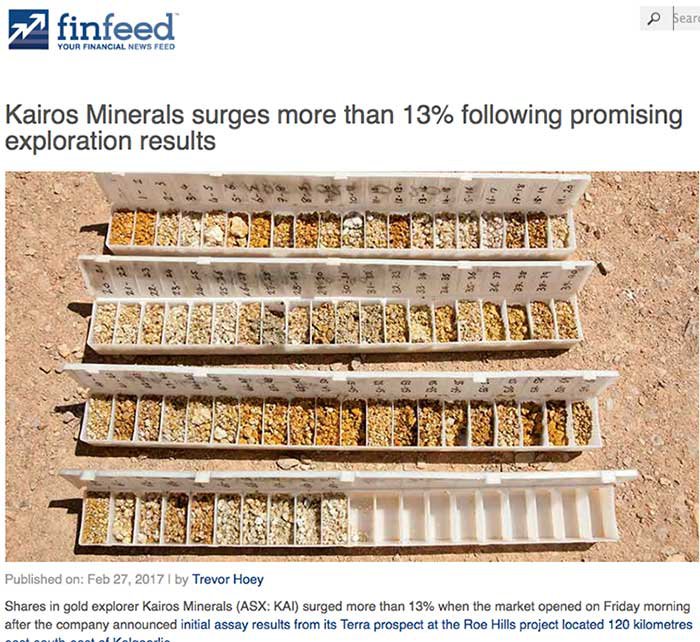 This maiden drill program suggests that Terra Trend appears to be an extensive mineralised corridor with multiple gold bearing lodes. The intercepts confirm that the gold system is significantly larger than was previously thought and well beyond current resources.
First two holes at Terra within KAI's 100%-owned Roe Hills Gold Project confirms significant gold mineralisation, with initial intercepts including:
RHRC002: 23m @ 1.4 g/t gold from 79m, including:

6m @ 4.5 g/t gold from 82m, and
1m @ 14.6 g/t gold from 82m

RHDD033: 13.44m @ 1.27 g/t gold from 192.6m, including:

3.45m @ 2.23 g/t gold from 195.4m, and
1.62m @ 3.05 g/t gold from 203.2m
As you can see the first two holes have confirmed wide intercepts of strong gold mineralisation. These initial assays confirm a significant new gold trend extending over an approximate two kilometre strike length and...
...In a welcome omen to KAI shareholders, whilst early days, all the signs are showing that this has the potential to be a large mineralised system.
Of course at the same time, it is early days here, and like all minerals exploration, there is no guarantee of success – investors should invest with caution in speculative stocks such as KAI.
There appears to be intense alteration associated with large volumes of fluid movement, extensive stock-worked style quartz-carbonate veining and a favourable package of mafic host rocks which is not unlike that seen to the north at Breakers' Lake Roe project.
Assays for a further hole, 500 metres north, are still pending.
Assay results are awaited for the remainder of holes completed at the Ginger Kiss, Talc Lake and the newly identified Lady of the Lake prospects with a large number of assays due in coming weeks.
The Lady of the Lake – how much gold does she hold?
KAI today released results from drilling at its Lady of the Lake prospect.
Eight RC holes were completed along three sections over an approximate +300m strike length as a preliminary test to determine the gold-bearing nature of the underlying lithologies.
All holes have reported significant gold mineralisation over good widths and from shallow depths within intensely sheared and altered, sulphidic, quartz-carbonate veined dolerite and basalt host lithologies intruded by felsic porphyry dykes.
As you can see below, these are positive results from this virgin territory.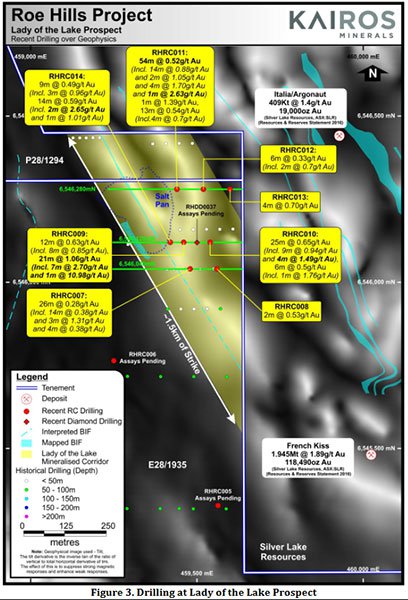 Preliminary indications are that the mineralized zone is at least 80 to 160m wide and occurs as a series of sub-vertical shears (possibly axial planar) extending from near surface to a maximum drilled depth of about 130m.
Once KAI has thoroughly evaluated outstanding assay data drilling will recommence in April 2017.
KAI's main focus has been on evaluating the gold potential at the project, yet there also remains significant nickel potential that presents a valuable future opportunity for KAI in an improved nickel price environment.
To take advantage of this potential, in early December, KAI announced that it had secured $150,000 in funding under the WA Government's Exploration Incentive Scheme for future nickel-copper drilling at its Roe Hills project.
Here is KAI's exploration team inspecting core from a hole at the Terra Prospect: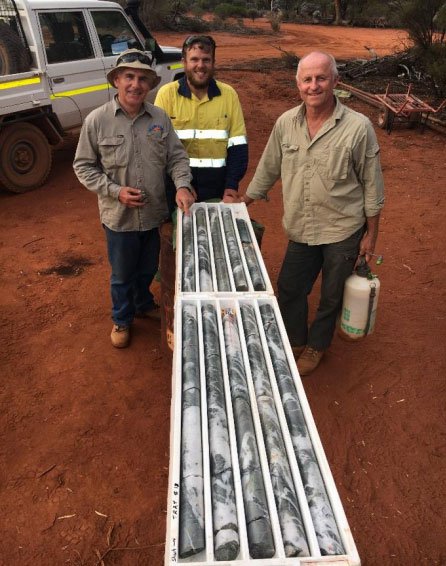 Further north in the state, KAI's 100%-owned Mt York gold-lithium project is also advancing well.
The company's lithium exploration in the East Pilbara appears to be well timed as the area is teeming with lithium exploration projects. KAI's projects within this lithium hotspot are adjacent to one of the world's best JORC Resources belonging to the $569 million capped Pilbara Minerals (ASX: PLS).
PLS has access to around 80Mt of lithium graded at 1.26% Li2O. Altura Mining's (ASX:AJM) 36Mt @ 1.05% Li2O Resource is also next door.
But in KAI's case, its really the gold it is focussing on up in the Pilbara.
Results from Mt York maiden drilling show a significantly larger gold system than previously thought
The big news out of Mt York in early February was KAI's announcement that it had identified strong drill intercepts at its Mt York Project. Multiple stacked gold lodes intersected are well beyond existing resources.
The discovery of multiple stacked lodes at Mt York highlights the potential to expand the JORC 2012 compliant Indicated and Inferred Mineral Resource for the Mt York Project.
It currently totals 5.692Mt @ 1.42 g/t gold for 258,000 ounces of contained gold.
Prior to that, in September last year, KAI identified ' exceptional gold and lithium potential ' at Mt York. On this basis, KAI commenced drilling at the project's key gold and lithium targets.
By November, KAI had identified new high priority gold targets at Mt York. It confirmed a series of strike extensive high priority gold targets located well outside of the known resource areas. Investors seemed pleased, with the share price rising 18% after the November 9 announcement.
Further, in December, the company reported additional strong gold results from its Mt York explorations. These results confirmed the potential for significant extensions to the known gold deposits – Old Faithful, Iron Stirrup, Main Hill and Breccia Hill.
Here is recent drilling at KAI's Mt York projects: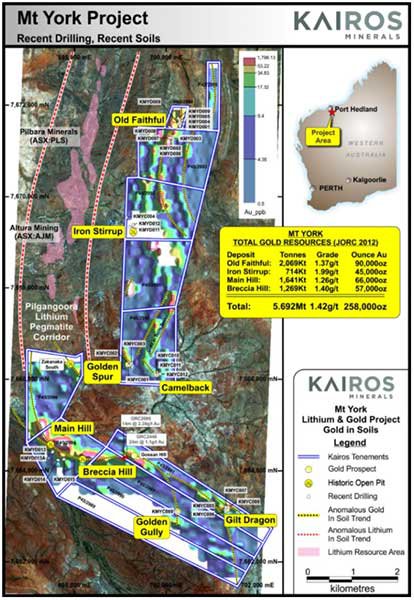 The near-surface oxide zones of the deposits were partially mined by Lynas Gold back in the mid-1990s. However, mining operations ceased due to a protracted period of record low global commodity prices. With commodity prices on rise KAI seems to be getting back in at the right time.
The most recent drilling results support KAI's view that the Main Hill and Breccia Hill deposits are part of a much larger, more extensive mineralised system than was previously recognised and that the two are connected.
Wide-spaced reconnaissance diamond drilling was conducted to test for BIF-hosted gold mineralisation along strike below and down-plunge of the Main Hill and Breccia Hill gold deposits. As you can see by the maps below, the results confirmed the presence of multiple stacked lodes of gold mineralisation up to 200 metres below the known resources.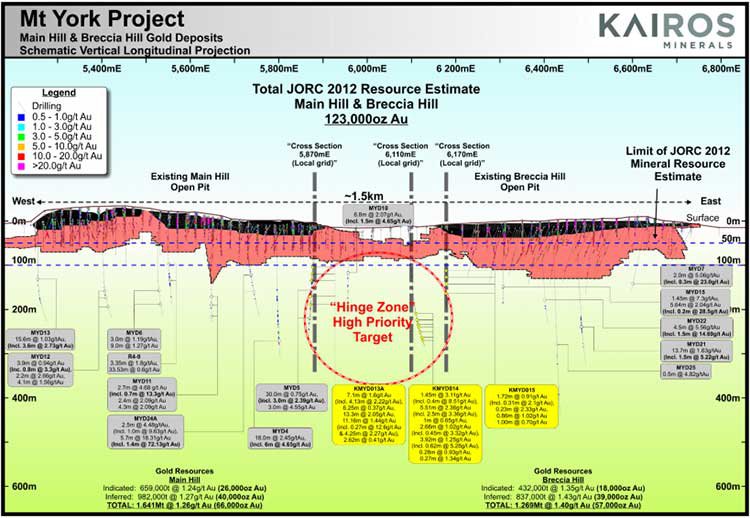 Main Hill & Breccia Hill vertical longitudinal projection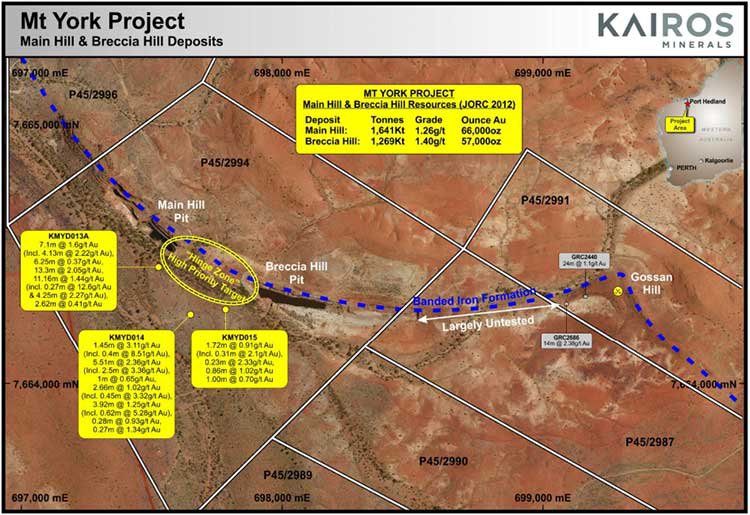 Main Hill – Breccia Hill – Gossan Hill Prospects: recent drilling.
The Old Faithful mineralised corridor is an extensive gold bearing system with the potential to be an important resource if proven to be gold-bearing.
Adding to historical drilling, significant near-surface gold mineralisation has now been drilled over a strike length of at least two kilometres, and width of up to 150 metres and remains open along strike and at depth.
While results to date have been promising, most of the assays at Old Faithful do remain pending at this stage.
Located along the central western margin of the Project tenure, the Iron Stirrup deposit extends over a strike length of 400 metres, attaining widths of up to 20 metres and extending from surface to a maximum drilled depth of 250 metres.
Drill testing of the southern and depth extensions of the Iron Stirrup deposit remain as high priority drill ready targets for 2017.
Additionally, December's results found encouraging indications at four extensive, yet previously unrecognised and unexplored prospects – Golden Spur, Camelback, Gilt Dragon and Golden Gully.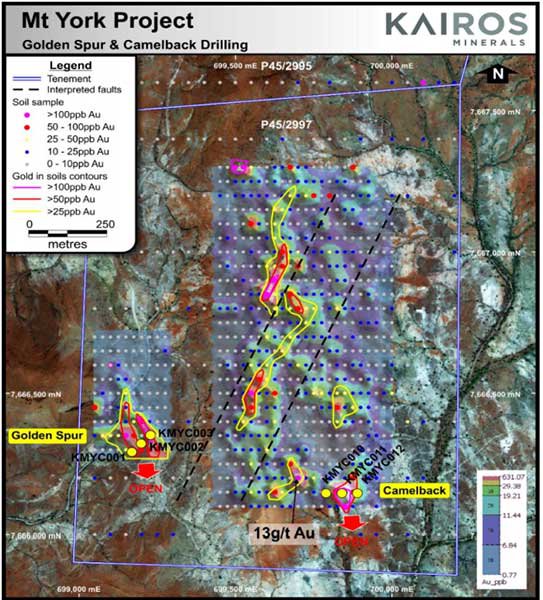 Recent drilling at Golden Spur and Camelback Prospects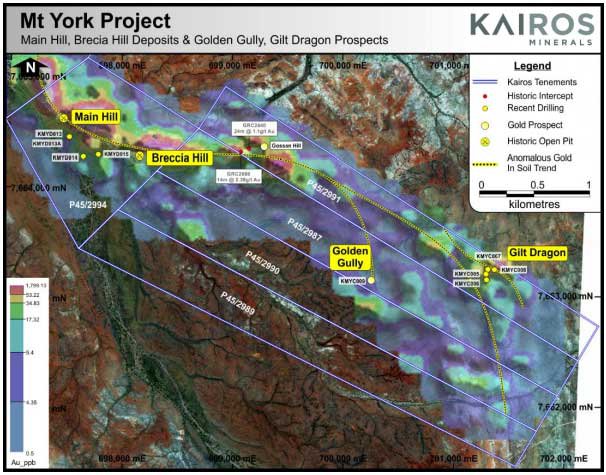 Main Hill, Breccia Hill deposits and newly identified Golden Gully and Gilt Dragon Prospects
As you can see there is a lot happening as KAI's projects. As the company continues to release positive results, it could be sooner rather than later that it is mixing it up with the big boys in the region. It has already taken a step in this direction with its lithium play and its JV with Altura Mining.
Lithium Joint Venture with Altura Mining
In November, KAI entered into a lithium joint venture with Altura Mining Ltd (ASX:AJM).
This deal paves the way for KAI to realise value from one of its key East Pilbara lithium projects while continuing to focus on developing the gold resources at its Mount York and Roe Hills operations.

KAI acquired the Wodgina East Project early last year as part of the Mt York project acquisition. The project is located 90 kilometres south-east of Port Hedland, and lies in one of the world's most significant emerging mining centres for lithium, in close proximity to several existing and emerging strategic metals operations.
It's situated immediately adjacent to Global Advanced Metals' Wodgina Tantalum Mine – one of the world's largest hard rock tantalum resources, and is located 17 kilometres south-west of the lithium projects held by Pilbara Minerals and Altura Mining. The area remains essentially unexplored for lithium due to an historical focus on the production of tantalum.
KAI is one of the most significant emerging companies in the region, having further expanded its portfolio through new tenement acquisitions, including new projects in the Pilbara to complement the company's flagship Mt York and Wodgina East Projects.
New opportunity at the right time
KAI's potential is yet to be widely recognised by investors.
Even with excellent nearology – close to major players with established operations – the company remains subdued with a market cap of $12M.
Yet KAI is confident this will turn...and quickly.
As gold priced in Aussie dollars continues trending higher, it alleviates the pressure on KAI to deliver higher quantities and higher grades in order to reach commercial viability. Effectively, as gold prices rise, so too does KAI's climb towards becoming profitable gold project.
Although it should be noted that commodity prices do fluctuate and investors shouldn't base their investment decisions on spot prices alone.
With excellent drill results over the past few months and more expected in the very near future, KAI is in a solid position as it furthers its gold ambitions.
KAI has also recognised the potential in lithium, and adapted at exactly the right time as the lithium exploration boom continues on the back on new and more pervasive uses of lithium-ion batteries.
With significant news flows in the pipeline, now may be an ideal time to take a closer look at KAI.
---