KAI Takes a Prime Position in the New Pilbara Gold Rush
PUBLISHED: 23-11-2017 09:00 a.m.
The rush for gold is on in the Pilbara.
With speculation that recent nugget discoveries could be prove to be a 'region changing' event, explorers are rushing to secure tenements that are prospective for conglomerate hosted gold.
Until just a few short months ago little attention was paid to the Pilbara's gold potential. That has all changed now following multiple discoveries of conglomerate gold... as well as growing publicity.
We have been following Kairos Minerals (ASX:KAI) for quite some time, and it as logged an impressive run since fervour around the new Pilbara gold rush got underway less than six months ago.
The company has found itself in precisely the right place at the right time, with the right people.
It already had an extensive tenement portfolio on its books in the Pilbara region where it was exploring for lithium. This positions it as a major player in the game already, having avoided the frantic land grab seen in recent months.
And KAI is no stranger to gold exploration.
It already has multiple gold exploration projects in WA, in addition to its extensive Pilbara tenements that are prospective for conglomerate gold, and it is these conglomerate-hosted gold tenements which are the focus of the moment... and what are beginning to arouse mainstream investor interest.
KAI has now discovered visible gold at its 100%-owned Croydon Project in the Pilbara.
The company discovered visible panned gold, plus it identified four key locations with previously unrecognised strike-extensive conglomerate units below the Mt Roe Basalt.
There are several reasons why KAI's stake in this region is important. Firstly, watermelon seed shaped nuggets have been uncovered that are speculated to be part of a much larger conglomerate gold mineralisation. Whilst this is yet to be confirmed, it could prove to be a major catalyst for regional explorers such as KAI.
However, KAI remains a speculative stock and investors should seek professional financial advice if considering this stock for their portfolio.
Secondly, the discoveries to date have led to comparisons being made between the mineralisation (and presence of conglomerate gold) of the Pilbara craton and South Africa's Witwatersrand Basin, which were connected over 3.1 billion years ago in the ancient continent of Vaalbara.
The gold reefs of the Witwatersrand are paleoplacer deposits and similar gold bearing conglomerates are believed to occur in the Fortescue Group of Australia. The reason that the potential similarities are gaining such interest is that around 1.6 billion ounces of gold, or one third of all the gold ever mined, has come from the Witwatersrand Basin's conglomerate beds.
Novo Resources (TSX-V:NVO), a $1 billion-plus capped Canadian gold company, is leading the charge along with its JV partner Artemis Resources (ASX:ARV) – another small cap ASX stock we have covered on this site over the past few months – in fact we first covered ARV way back in February of this year.
ARV has secured around 12,000 square kilometres of land in the region and discovered conglomerate gold nuggets from multiple Pilbara projects. Yet when Novo mapped it out they were missing pieces of the puzzle and needed help from nearby tenement holders to put it together.
KAI could play a crucial role the compilation of this puzzle.
There is one final factor pushing KAI forward with great velocity.
Even before this discovery, KAI's Pilbara operations had caught the attention of famed precious metals investor Eric Sprott.
Sprott, who is reported to have just over $1.6 billion in the bank , is a man who thoroughly understands gold exploration and has a fortune to prove it.
The billionaire is now thinking big on KAI. The company recently raised $7 million, of which Sprott invested $5 million into the ASX junior.
With Sprott's backing, KAI would be looking to emulate the form and pace of its neighbours, so let's update you on...
Kairos Minerals
ASX:KAI
When we last updated you on Kairos Minerals (ASX:KAI) back in July, with the article KAI Hits High Grade Cobalt in WA Hills , the company was capped at just $7.6 million.
Since then it has emerged as a central player in the new Pilbara gold rush, with the region beginning to attract significant attention for its gold potential around the time our article was published.
KAI has since gained its own attention, from investors, who have sent it its market cap flying up to $50.7 million today. That is more than seven-fold increase in fewer than five months.
Here's the company's share price over the past six months: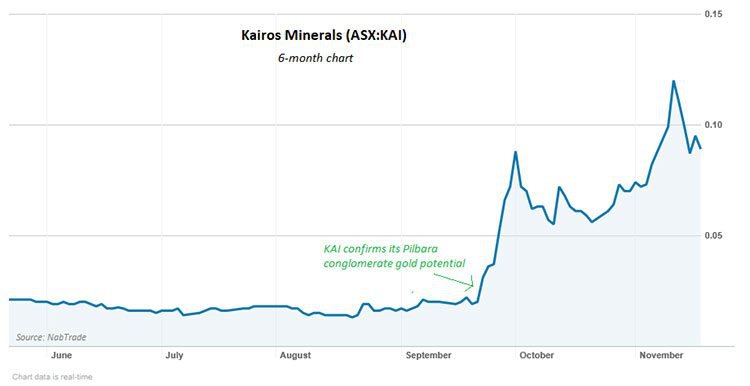 The past performance of this product is not and should not be taken as an indication of future performance. Caution should be exercised in assessing past performance. This product, like all other financial products, is subject to market forces and unpredictable events that may adversely affect future performance.
Note the sharp rise in September, which followed company announcements confirming as highly prospective, the conglomerate hosted gold of KAI's extensive Pilbara tenement portfolio and that it had raised capital to fast-track the evaluation of Pilbara conglomerate-hosted gold potential .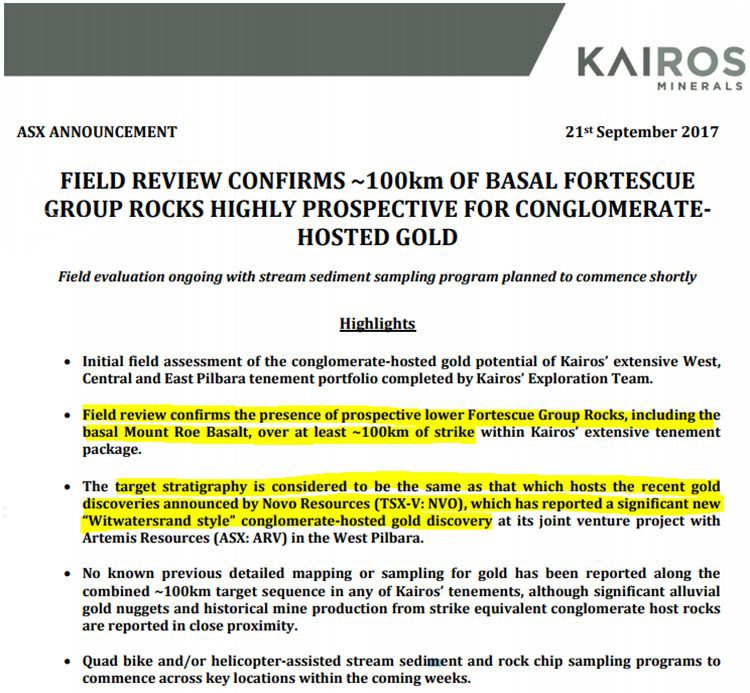 KAI is in a strong position post capital raise, which also has something to do with billionaire investor Eric Sprott.
KAI secures funding from billionaire investor Eric Sprott
On October 25, KAI announced that it had raised funds for ongoing exploration at the Pilbara Gold Project , including the recently expanded conglomerate gold program and ongoing resource expansion drilling at the 258,000 ounce Mt York project.
KAI raised $7 million through a placement at 5.5 cents per share. Encouragingly, Eric Sprott emerged as a cornerstone shareholder and participant in this pivotal capital raising contributing $5 million, placing KAI in an exceptionally strong position to pursue aggressive exploration programs across its key projects.
These funds combined with proceeds from option conversions would increase the group's cash position to more than $10 million.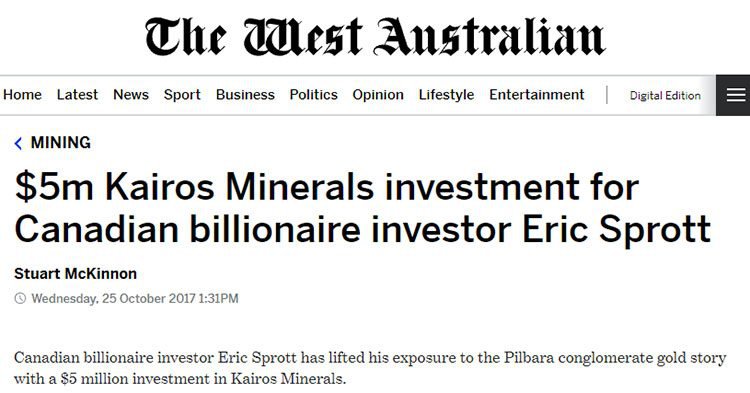 It's fair to say the Sprott is confident of the region's gold potential.
Sprott already holds a 9.1% stake in Novo Resources, while Kirkland Lake Gold, of which he is Chairman recently boosted its stake in Novo to 18.2%.
KAI noted that the investment places it in an exceptionally strong position to pursue aggressive exploration programs across its key Pilbara Gold Project.
Gold discovered at KAI's Pilbara Gold Projects
With the capital raising locked away, KAI wasted no time in undertaking further exploration of the potential of its Pilbara Gold Project's tenements.
The Pilbara Gold Project includes an extensive tenement portfolio of a combined 1158 square kilometres of tenure, which is highly prospective for conglomerate-hosted gold discoveries.
Here are KAI's Pilbara tenements positioned amongst the other Pilbara gold players: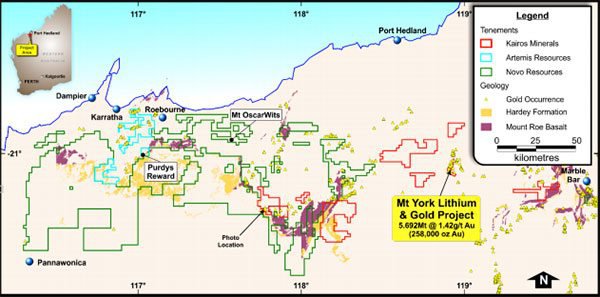 The project's exploration is being overseen by highly experienced consulting exploration geologist, George Merhi.
Merhi has more than 20 years' experience in the Pilbara as former Exploration Manager for Novo Resources between 2011 and 2015.
Prior to that, he spent 17 years with Mark Creasy's Creasy Group – having responsibility for the day to day running of the entire Creasy Group tenement package throughout the Pilbara.
It's fair to say Creasy has done pretty well over the last couple of years in WA minerals exploration – having reaped more than $500 million when Independence Group acquired Sirius Resources in 2014: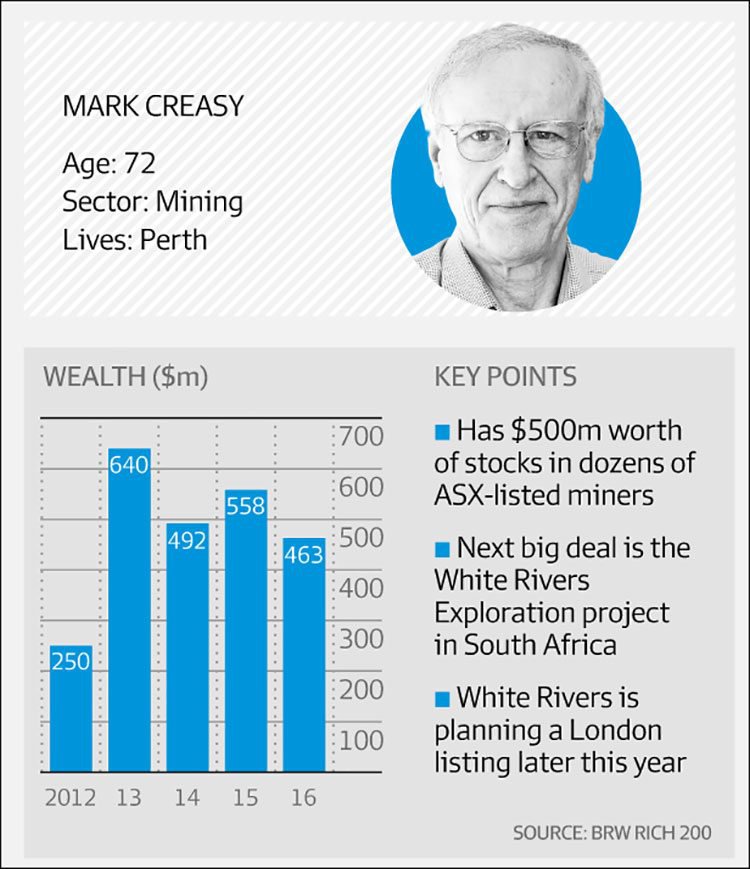 Source: How the Rich Invest: Mark Creasy
Mehri has been contributing his vast amount of exploration experience to KAI, particularly in hunting for Witerwatersand style conglomerate gold mineralisation in the Pilbara.
The helicopter-assisted exploration programme is facilitating access to the new areas for detailed mapping, rock chip sampling, stream sediment and soil sampling and reconnaissance stream panning and metal detecting.
An initial field assessment has confirmed the prospectivity of KAI's tenements for paleoplacer conglomerate-hosted gold mineralisation.
It is early stages here and investors should seek professional financial advice for further information if considering this stock for their portfolio.
The field assessment highlighted the presence of at least 100 strike kilometres of prospective lower Fortescue Group rocks including both the base of the Hardey Formation and the basal sequence of the Mount Roe Basalt.
Croydon Project
On November 17, the company announced that it had discovered gold in four key locations at previously unrecognised strike extensive conglomerate units at its Croydon Project.
KAI said that the discovery of visible gold in panned samples from the very first target was a 'very exciting early breakthrough' that added to the now widespread occurrences of conglomerate-hosted gold in the Pilbara.
KAI fast-tracked its initial assessment of the Pilbara Gold Project and came up with multiple high-priority areas which are highly prospective for significant conglomerate-hosted gold discoveries.
These discoveries came after just a few weeks of helicopter-supported reconnaissance exploration. The vast amount of ground that had to be covered, plus the inaccessibility of many of the locations and extreme weather conditions in this unexplored part of the Pilbara make the discoveries particularly impressive.
This followed a November 9 announcement, where KAI confirmed that it had discovered visible gold from newly identified targets at the project .
After focusing on a two kilometre stretch of mapped conglomerates at the Croydon Project, KAI was able to identify visible gold in numerous stream sediment samples collected from panning in creeks draining a thick sequence of conglomerate beds beneath the Mount Roe Basalt at the base of the Fortescue Group.
The discovery has been compared to that at Purdy's Reward by the Novo Resources (TSX-V: NVO) and Artemis Resources (ASX: ARV) JV. It is the same stratigraphic position as the Purdy's Reward discovery and is considered to be the preferred target horizon for conglomerate-hosted gold in the Pilbara.
This field work has identified extensive areas of previously unrecognised prospective conglomerate units that are up to approximately 30 metres thick at four different locations. These are predominantly within the southern part of tenement package, as can be seen on the map below as Targets 1-4.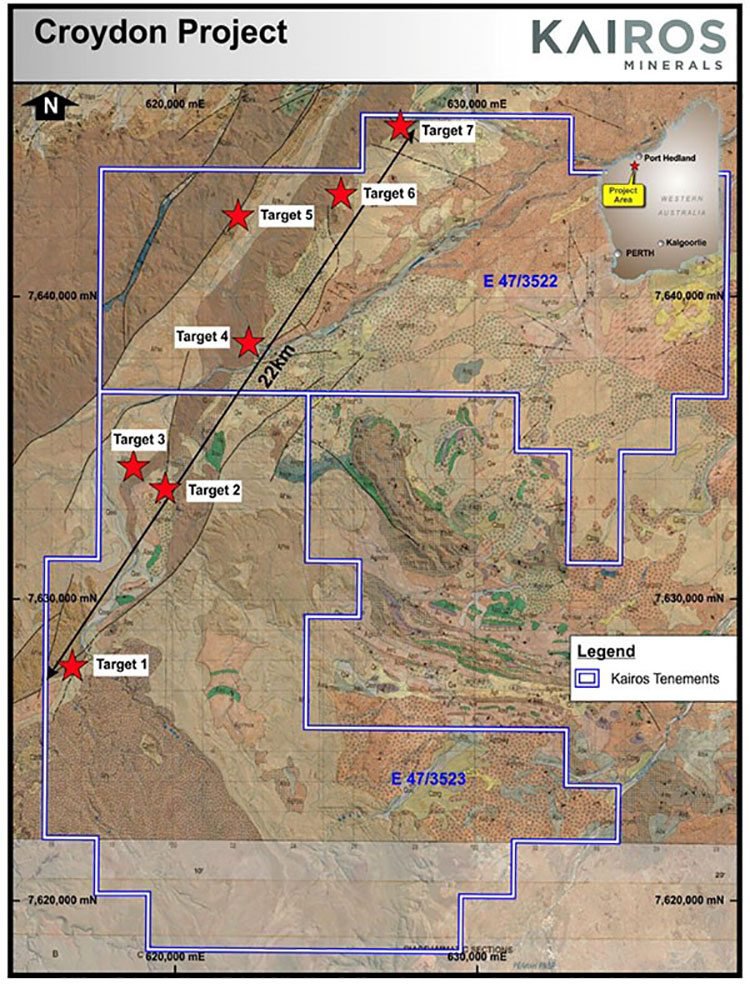 Four previously un-mapped conglomerate targets over a strike length of around ten kilometres in a favourable stratigraphic location were identified below the Mount Roe Basalt within the Mt Croydon Project. KAI successfully recovered visible gold in panned stream sediment samples from the first target evaluated.
At Target 1, the conglomerate package has been mapped continuously over a strike length of approximately two kilometres. Within this target area 28 pieces of gold were returned in panned samples from 10kg of stream sediment (-2mm).
Here is gold from Target 1 visible in a pan: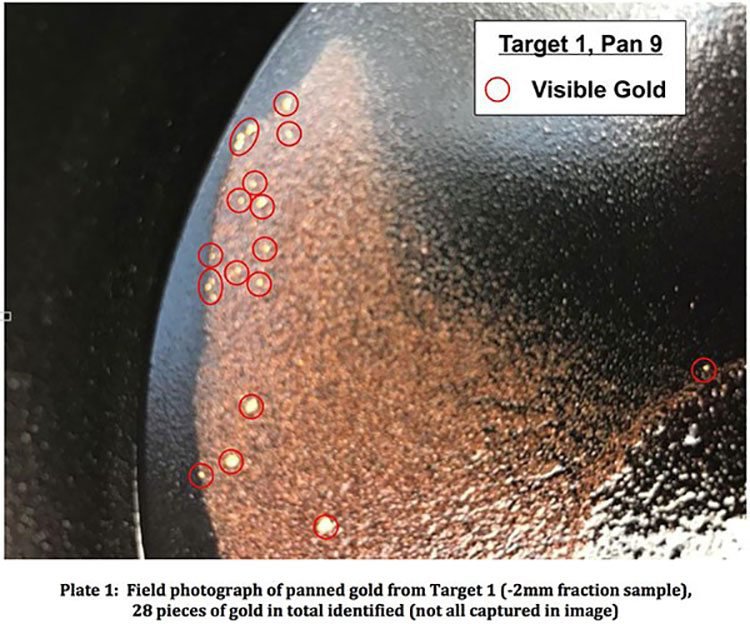 These shallow dipping units are beneath the Mount Roe Basalt in a number of areas, opening up vast additional areas for exploration. This significantly increases the prospective footprint for conglomerate-hosted gold in the Pilbara.
Over the coming weeks, before the wet season takes hold, KAI will undertake further helicopter-supported exploration at the Croydon Project. This will involve additional stream sediment sampling and detailed soil sampling. The results will be announced as they are received and interpreted.
On top of that, ground-based exploration activities are ongoing at the projects E47/3519 and E47/3520 tenements. These exploration activities will help prioritise areas for stream sediment sampling, trenching, metal detecting and drilling next year.
Mt York (Lithium &) Gold Project
An extensive 2,000m RC drilling programme is underway at KAI's Mt York Gold Project focusing on an exceptional gold target.
This drilling is being progressed in parallel with KAI's expanded Pilbara conglomerate gold program and funds from the recent capital raising will be applied here.
The drilling program will focus initially on testing extensions to Main Hill and Breccia Hill deposits, testing a further one kilometre of strike to the east to Gossan Hill.
This follows an extensive geological, geophysical and geochemical review of the Mt York Project in 2016 and additional drilling through early 2017 which resulted a maiden JORC 2012 Indicated and Inferred Mineral Resources of 5.692Mt at 1.42g/t for 258,000oz.
The new drill program will focus on testing extensions/repetitions to the known mineralisation over the one kilometre strike length between Breccia Hill and Gossan Hill on approximate 100m spaced drill lines.
This program is expected to be completed in just days with initial assay results flowing in over the coming weeks.
What may come of these results is speculative at this stage, so investors should seek professional financial advice if considering this stock for their portfolio.
This new drilling programme at Mt York coinciding with a major upsurge in gold exploration activity across the Pilbara region. It complements the extensive field operations underway at Croydon, south of Whim Creek, targeting gold mineralisation within conglomerates below the Mt Roe Basalt.
So, while much of the attention is on conglomerate hosted gold, Mt York remains an important part of KAI's extensive gold footprint in the Pilbara, particularly as it already hosts a substantial JORC Resource inventory with considerable upside.
Roe Hills Project
Further south in WA, 120 kilometres east-southeast of Kalgoorlie's 'Golden Mile' within the Eastern Goldfields of the Eastern Yilgarn Craton is KAI's Roe Hills Project.
Funds from the recent capital raising will also be used to undertake follow-up drilling at Roe Hills, where drilling earlier this year returned numerous significant results immediately south along strike from the Lake Roe/Bombora discovery currently being drilled out by Breaker Resources (ASX: BRB), a company currently capped at $78 million.
---