JORC Resource Imminent for MOZ: Super Jumbo Flake Graphite Confirmed
PUBLISHED: 09-12-2015 11:06 a.m.
The Next Small Cap presents this information for the use of readers in their decision to engage with this product. However we stress that it should only be used as one part of this decision making process. You need to fully inform yourself of all factors and information relating to this product before engaging with it.
Don't you just love it when a plan comes together?
The A-Team's Hannibal Smith sure does, and so do we.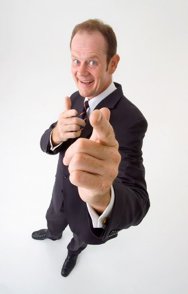 Whereas the A-Team's plan is to take out bad guys, Mozambi Resources (ASX:MOZ)'s plan is to secure a position as the most dominant graphite explorer in East Africa.
The good news is that everything has been going to plan for MOZ.
In late October, MOZ revealed a major new graphite discovery in Tanzania – thick intercepts up to 100m, remaining open, from the surface, were identified.
The quality of the graphite appears high: medium to high grade, with coarse flake. The strike length last month was extended to 1.2km...
But just over a month later, the news is even better.
The mineralisation has actually been extended to a 3.2km strike length and remains open to the north and south, suggesting follow-up work next year could extend the strike length further still.
Crucially, 'super jumbo' flake mineralisation ( larger than 1000 microns) has just been confirmed at the Namangale prospect by ALS Metallurgy, who will be conducting further analysis of graphite product usage, milling test work and measuring further flake size.
The importance of the super jumbo flake confirmation should not be underestimated – this is exactly the kind of flake size that end users are desperate for.
Aside from large flake size, MOZ now thinks its Namangale graphite prospect could be "one of Tanzania's largest graphite deposits" after more than doubling strike length at the project.
Meanwhile assay grades currently being processed are expected to land in the coming days...
Now, instead of aiming for one JORC resource and a modest resource estimate, MOZ is aiming much higher -ideally to eclipse even the fully diluted $200M-capped Magnis Resources by registering a JORC resource in excess of 156 million tonnes.
What has driven Magnis' market cap so high is the large flake size on its ground – it's managed to seal three multi-national offtake partners on the back of its resource size and quality.
MOZ's discovery to date bears all the hallmarks of Magnis – only all indications are that its resource is much bigger...
That's a big target and MOZ is aiming high on its 2000km 2 of exploration ground.
JORC resource modelling is currently underway by MOZ and early modelling is showing a substantially sized resource.
Currently capped at $24M, MOZ still has a lot of catching up to do when comparing to Magnis...
MOZ also recently raised $1.75M to fulfil its ambitions, and is thus fully funded for JORC compliant resource definition at both its Namangale 1 and Namangale 2 Projects.
In fact at Namangale a total of 61 holes for 3302m of RC drilling and 326m of diamond drilling have been completed (more on that later).
It's still early days of course, but judging by MOZ's trenching, drilling and market updates over the past six months – this company is on its way to becoming a significant player in the graphite space:

Below is a chart of Mozambi Resources (ASX:MOZ)'s share price performance since our first article in February $3M ASX Nano-Cap Next Door to the Biggest Graphite Resource Known to Man . As you can see, since that time, MOZ has climbed as high as 360% since: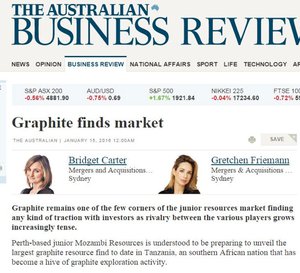 The past performance of this product is not and should not be taken as an indication of future performance. Caution should be exercised in assessing past performance. This product, like all other financial products, is subject to market forces and unpredictable events that may adversely affect future performance.
Since February, here at The Next Small Cap, we've been covering this plucky, stock minnow continuously. Commencing its activities in Mozambique, MOZ took the decision to divert its focus onto Tanzania earlier this year. Having formulated a plan, MOZ's team has been executing it with some vigour throughout the year.
You can follow how we have tracked MOZ's progress on a regular basis in previous articles:
– $3M ASX Nano-Cap Next Door to the Biggest Graphite Resource Known to Man , February 2015;
– Graphite Whales Joined by Minnow MOZ , April 2015;
– $4M MOZ Continues to Take On Graphite Majors: This Time in Tanzania , May 2015;
– East African Graphite: MOZ Pushing Ahead with Exploration , July 2015;
– MOZ Confirms High Grade Jumbo Flake Graphite , August 2015, and;
– MOZ Motoring as Graphite Story Gains Traction , October 2015.
And now we bring possibly the most important update yet – with MOZ standing on the precipice of TWO JORC resources, one of which is just months away.
The plan is coming together ...
MOZ has just completed RC drilling across four key graphite prospects as part of its strategy of attaining a JORC resource and moving onto a pre-feasibility study.
Having switched its focus away from Mozambique, to concentrate on Tanzania earlier this year, MOZ gained approval to explore 18 tenements in May. Of those 18 tenements, MOZ selected four as the most prospective and which will now form the basis for their JORC resource.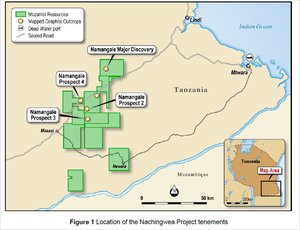 All signs to date have been very positive for all four prospects, Namangale (1) is the biggest news, but the other prospects are not to be denied (note the names of the prospects were recently changed to those above):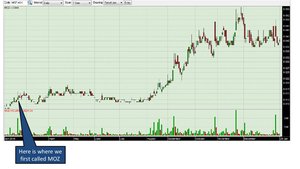 MOZ has now completed geological mapping and ground EM surveys on these four prospects with final assay results for drilling expected in the coming days.
Those results are expected to underpin MOZ's JORC estimate at both Namangale 1 and Namangale 2.
The latest...
Let's take a closer look at the recent results to better understand why there is so much anticipation within the MOZ camp.
As we've noted MOZ has released results that show thick mineralisation has been extended to 3.2km strike length at its flagship Namangale Project. The drilling has confirmed the mineralisation is occurring as a flat lying body, commencing at or near surface and with good continuity.
A highlight is the continued observation of medium to high-grade coarse flake graphite in numerous core samples taken in the diamond drilling.
According to MOZ Managing Director Alan Armstrong the extension solidifies the prospectivity of this emerging graphite deposit – which could end up being one of Tanzania's largest.
On top of this, samples from the Namangale 2 and 3 Prospects confirm the presence of 'Super Jumbo' flake mineralisation up to 1000 microns in size.
That's some big flake.
And it's liberated like a 19 th century Frenchman – The graphite samples taken by ALS Metallurgy showed liberation between 1mm and 0.5mm and were almost totally liberated at .5mm examined through optical microscopy.
Individual flakes up to 1000 microns were frequently observed.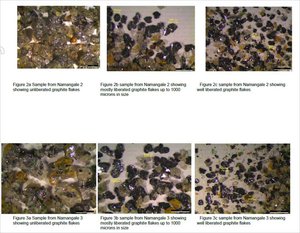 Further testing is underway at SGS's Laboratory in South Africa where flake size distribution of diamond core composites is being tested and will provide a clearer picture of the typical mineralisation from each of the three key prospects within the Nachingwea Project.
Knowing that the graphite product commands premium prices in the current market and is in high demand from end user groups is pushing MOZ further and faster.
MOZ is moving towards processing a bulk sample of mineralised schist in order to produce samples for more detailed test work.
The company has the money to keep moving as well, which is facilitating the completion of their maiden JORC Resource.
MOZ's main focus is now on the end product and in particular supplying jumbo flake graphite to the market. ALS Metallurgy will be carrying out numerous metallurgical tests including flake size, milling and floatation test work and total recovery following a crushing process.
MOZ is fully funded for two separate JORC definitions
Every junior explorer needs to keep an eye on funding and MOZ is no different.
From this perspective MOZ is also ahead of the curve because it is now fully funded for getting a JORC compliant resource at BOTH Namangale and Chiwata, given the extensive set of trenching, drill and assay results received for these particular two prospects.
MOZ completed a $1.75M capital raise in late October, to be used in defining multiple JORC resources and expanding existing discoveries previously announced. The capital raise comprised a placement of 50 million fully paid ordinary shares at 3.5c per share.
Here's what MOZ's Managing Director said at the end of October :

Major graphite discovery at Namangale boosts potential JORC resource
News of MOZ's new graphite discovery was announced to the market late last month on 27 October.

The news saw MOZ shares gap higher on market open from $0.035 to $0.049.
The past performance of this product is not and should not be taken as an indication of future performance. Caution should be exercised in assessing past performance. This product, like all other financial products, is subject to market forces and unpredictable events that may adversely affect future performance.
Investors were buoyed by the fact that MOZ found thick intercepts up to 100m, which remain open at strike. As highlighted and confirmed by recent lab work which identified super jumbo flakes, it appears that the majority of graphite mineralisation at Namangale is medium-high grade with coarse flake observed.
A total of 12 drill holes were completed with 10 of them intersecting mineralisation close to surface.
The next stage of MOZ's programme was to have the drill samples professionally tested through assaying – MOZ expects to have that data in the coming days which could serve as a price catalyst.
Mapped out below are the drill hole locations at Namangale as well as a broad evaluation of the geology at the prospect. Red shaded areas represent graphite mineralisation, with drill hole locations shown as blue dots.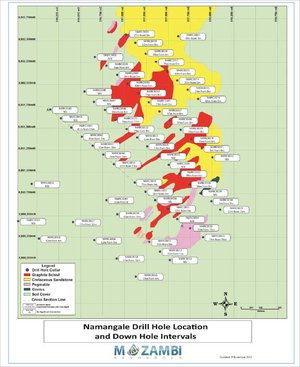 The width and thickness of the mineralisation at Namangale indicates strong graphite holding potential – which MOZ is now fast-tracking in order to define a JORC Resource in the coming months.
Namangale could be a huge boon for MOZ also because the majority of the graphite is very close to surface which is cheaper and faster to extract.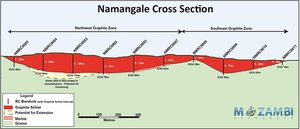 Here is a visual sample of what MOZ's RC drills found: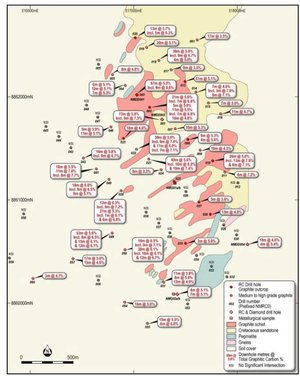 Given the optimism surging through the MOZ team, diamond core drilling is now a priority in order for MOZ to test for flake size distribution and purity as part of its metallurgical testing procedure.
In addition, MOZ has also earmarked an expansion of its RC drilling programme from 1800m to 3800m.
If MOZ receives assay results that confirm its optimism in addition to diamond drilling results that give an indication of flake size and purity, MOZ could be in a prime position to obtain a glowing feasibility study given the infrastructure already built in the region.
Good infrastructure such as an international port (Mtwara), high-voltage power and sealed roads, means MOZ will have very little else to build before it commences production.
Production is still a long way off and there are a lot of hurdles to clear first, but for investors, this confluence of factors could be enough to see MOZ continue progressing its project.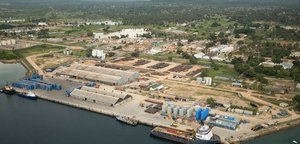 The deep-water Mtwara Port
Mtwara has an existing capacity for 400,000 metric tonnes per annum and could handle up to 750,000 if fully utilised. According to the Tanzanian Ports Authority, Mtwara currently uses only 34% of its total capacity which means that MOZ has everything lined up – it just needs to get its JORC resource defined and move onto a feasibility study which has the potential to raise MOZ's value significantly.
However, there are no guarantees in this exploration game. MOZ is a very high risk stock – getting mining projects up and running in Tanzania is no simple feat for political and social reason, and there will be challenges ahead for MOZ.
MOZ's valuation should largely depend on the total size of its JORC resource, its graphitic content (quality) and how efficiently it can get mined material to market. All of these factors are shaping up nicely for MOZ which gives us confidence that MOZ will develop to become a significant player in the East African graphite pool (tabled below):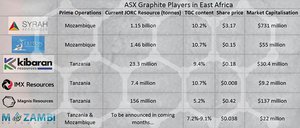 The turnkey to MOZ's future will be the size of its JORC resource expected to be confirmed in the coming months.
Four prospects progressing, one additional prospect acquired
Not resting on its laurels, MOZ has also bagged another tenement by adjusting its binding terms sheet signed earlier in the year. The new tenement is 150km 2 and goes straight into MOZ's exploration schedule for trenching, drilling and assaying as soon as reasonably possible.
The newly acquired prospect is still unnamed, shown as 'App no.00671' in the map below: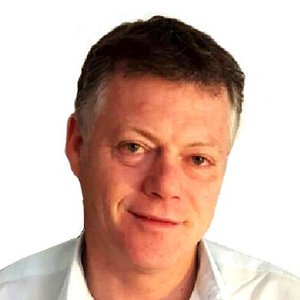 If and when MOZ conducts the necessary exploration work on this new prospect, it will likely be folded into MOZ's overall resource.
Every little bit helps.
Magnis Resources is leading the Tanzanian graphite pool
When looking at MOZ, its path to a commercially viable future mirrors that of Magnis in many ways. Both MOZ and Magnis are operating on the same ground just 60km apart, both have proved up high quality graphite mineralisation and both companies boast large-jumbo flake sizes.
But...
Magnis has done way more exploration and technical work compared to MOZ – Magnis is at a much later stage of exploration.
If we compare and contrast MOZ's share price with that of MNS, a clear correlation is visible. Here's that chart of MOZ's price action we showed you before – only this time MNS's share price is overlaid.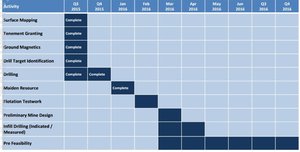 The past performance of this product is not and should not be taken as an indication of future performance. Caution should be exercised in assessing past performance. This product, like all other financial products, is subject to market forces and unpredictable events that may adversely affect future performance
It would seem that the East African graphite story is continuing to gain traction amongst investors, and bringing MOZ's valuation closer into line with its peers such as Magnis.
With a bit of luck, MOZ too will walk the same exploration path to define a large resource with high grade mineralisation. If this eventuates, MOZ's valuation could rise significantly from its current cap of $22M...
However, this is speculation on our part. MOZ is a high risk stock, and investors should weigh up a range of factors before making an investment, including personal circumstances. It's wise to seek professional advice before investing in high risk stocks like MOZ.
MOZ plan coming together
Despite not defining a resource just yet, MOZ's tenements are located in close proximity to proven resources belonging to explorers valued at several multiples compared to MOZ.
Given the recent exploration success in identifying the newest graphite discovery in Tanzania, could MOZ's valuation move to par its larger rivals as and when a resource is defined?
Already, MOZ's market cap has gradually grown this year, possibly as a result of investor awareness that it's not just the likes of Magnis, Syrah and Triton that are exploring for graphite in East Africa.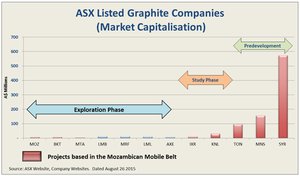 Chart comparing ASX Graphite explorers and showing relationship between development stage and valuation
The project location, chosen commodity and exploration work substantiate the case for MOZ to be revalued as and when a JORC resource is defined.
How far its run goes is impossible to say, but for the time being, MOZ's strategy is going to plan.
Exploration is all about taking calculated risks with the possibility of achieving above-average returns. MOZ has done just that by shifting focus to Tanzania earlier in the year...
...and now stands on the precipice of proving up a JORC resource that could potentially rival its larger neighbour Magnis.
---