Hub & Spoke Model Keeps ARV Turning
PUBLISHED: 13-06-2017 09:37 a.m.
It's been just a few months since our crosshairs first fell upon Artemis Resources (ASX:ARV).
This $24 million-capped WA-based minerals developer has some big ambitions — to develop into a global multi-metals producer, able to ride out commodities cycles. It is already the largest tenement holder in the Karratha region, with a portfolio of gold, copper, zinc, and cobalt projects.
ARV has six projects covering 938km 2 of tenure in the region, all leading back to its recently acquired processing facility at Radio Hill. This 425,000 t.pa processing plant is central to all ARV's projects and commodities.
It operates as a hub and spoke model, like this: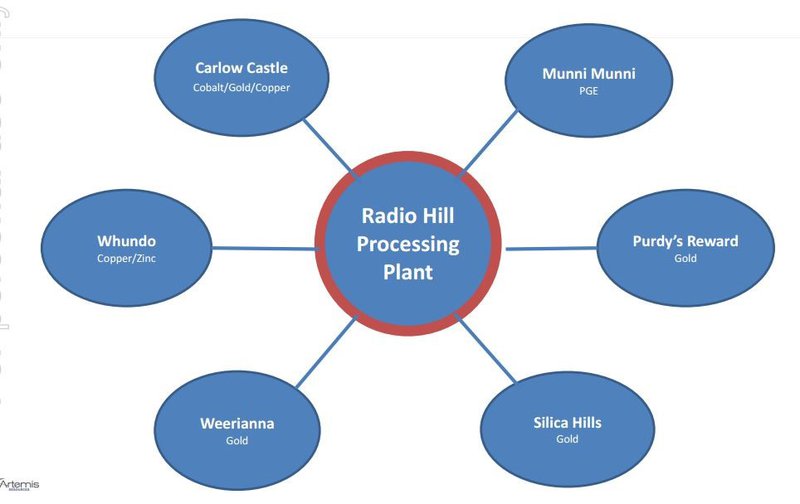 With Radio Hill, ARV is now the bearer of the only fully approved and permitted processing plant of its type in WA.
For ARV, the ultimate aim is to start metals production from its 100%-owned Radio Hill Processing Plant as soon as possible. With that as the aim, the goal is to kick-start Radio Hill and hoover up as much mined ore from the local vicinity as it can.
The hope is that ARV will be able to feed a handful of different metals into Radio Hill processing facility, expected to come back online without delays given the previous owners' (Fox Resources) mindful maintenance of the operational site.
Since we first introduced you to ARV in February, the company has had some significant news flow — specifically regarding its Carlow Castle Project, Nickol River Gold Project, Whundo Copper-Zinc Project, along with operations at its Radio Hill plant.
Drilling has already detected ample amounts of high-grade cobalt, copper and gold at Carlow Castle in Karratha, WA, putting ARV on track to meet its goal of starting gold and copper production this year.
Of course ARV still represents an early stage play and investors should seek professional financial advice if considering this stock for their portfolio.
The highly promising Carlow Castle Cobalt Project has recorded drilling grades over 1% cobalt, while ARV has a combined 110,000 ounces of gold Resources at Weerianna and Carlow Castle.
Gold operations at the Nickol River Gold Project have now been commissioned and full mining operations are expected to commence in coming weeks. Interestingly, and certainly importantly for ARV, abundant gold nuggets' have been found in conglomerates (coarse-grained clastic sedimentary rock) at several locations throughout the Nickol River Gold Project over an 8km corridor.
ARV's gold production is being fastracked courtesy of a 50.50 JV with a rather well connected partner — C$94 million capped Novo Resources (TSX-V: NVO) — a huge project developer in metals mining and expert in mining conglomerates.
The JV is a strong validation of ARV's potential, with some highly experienced mining entrepreneurs that aren't in the business of sitting around doing nothing, now in ARV's corner along with its own highly experienced and determined team.
Over at the Whundo Copper and Zinc Project, the first truckloads of copper ore left the mine in early June for processing. This means that the mine is now generating its first net revenues under a previously announced supply deal with Blackrock Metals.
Furthermore, economic studies are also taking place at Munni Munni, which holds the largest platinum resource in Australia, which will also help in the refurbishment of Radio Hill.
ARV's WA mission is off to a strong start and we're here to keep you updated regarding its progress.
Keeping pace with:

Artemis Resources
ASX:ARV
We first introduced you to the Artemis Resources (ASX:ARV) story back in February 2017 in the article Reenergised ASX Stock Set to Revitalise Extensive Base Metals Portfolio –
...following that article, ARV rose by as much as 230%: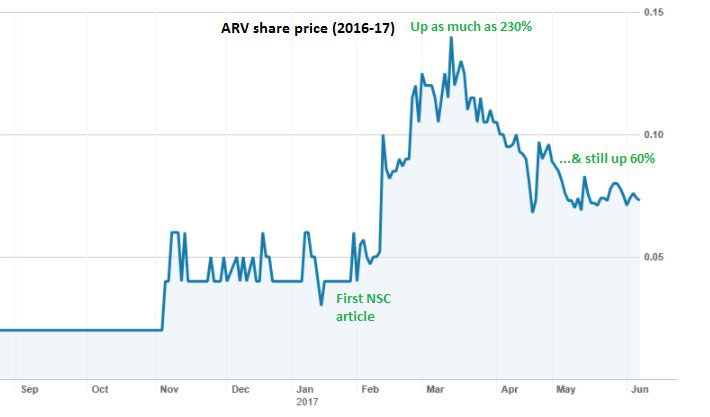 The past performance of this product is not and should not be taken as an indication of future performance. Caution should be exercised in assessing past performance. This product, like all other financial products, is subject to market forces and unpredictable events that may adversely affect future performance.
Since then the company has been hard at work, as detailed in a number of announcements specifically regarding its Carlow Castle Project, Nickol River Gold Project, Whundo Copper and Zinc Project, and its Radio Hill operations.
Here is a map outlining ARV's operations in the Karratha region. You can see the Radio Hill plant at the epicentre of a region rich in metals projects. The areas shared in blue show ARV's holding: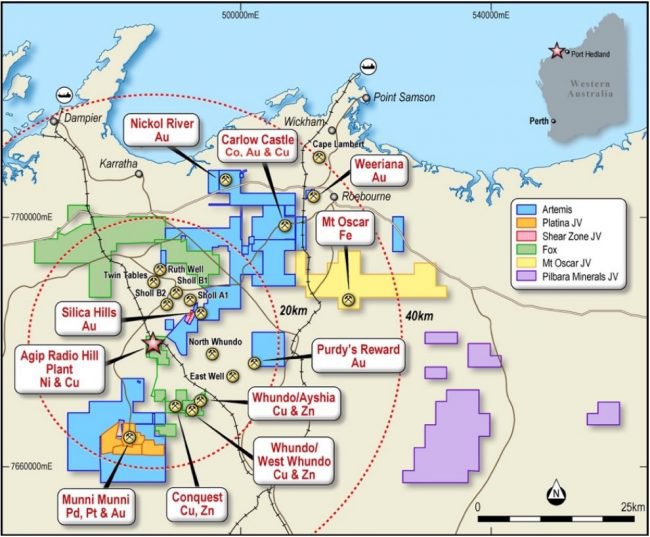 ARV has made its move into precious, and base and energy metals at a great time. Metals prices of all sheens and varieties edged northwards for the entirety of 2016, and now in 2017, new-age metals such as cobalt are staging their own rallies.
Here you can see LME cobalt prices over the past four years — pay specific attention to run of the past four months: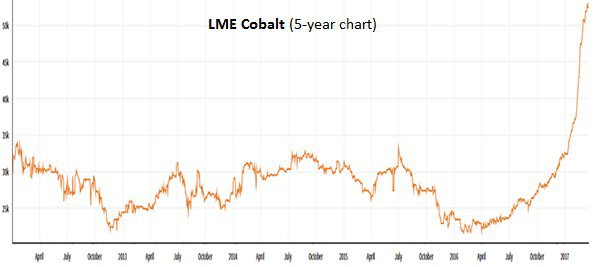 The past performance of this product is not and should not be taken as an indication of future performance. Caution should be exercised in assessing past performance. This product, like all other financial products, is subject to market forces and unpredictable events that may adversely affect future performance.
Meanwhile, the internet has gone cobalt-mad with headlines spilling into major publications at a rate of knots: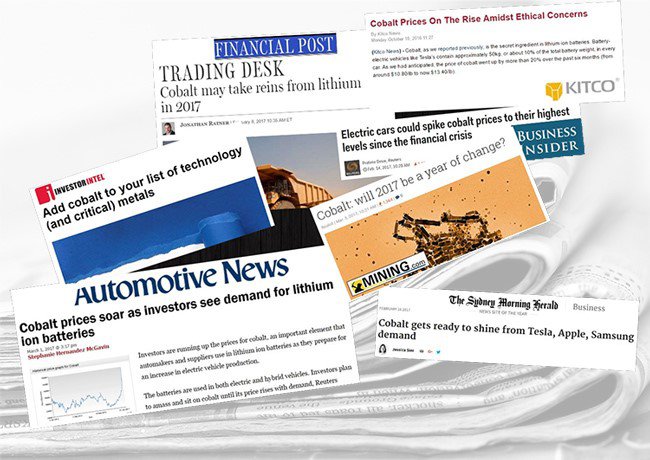 Cobalt prices have rapidly ascended from less than $25,000/t in March 2016, to now stand at around $53,000/t. With the price of the commodity now at a level that's is rewarding to producers and cobalt investors, now could be a good time to hunt for overlooked explorers with the wherewithal to get into production.
It should be noted here that commodity prices do fluctuate and caution should be applied to any investment decision here. Seek professional financial advice before choosing to invest.
For now, let's turn our attention away from the external macro-potential, to the internal substance underpinning ARV's ambitions.
The latest news in from ARV
There is a lot happening at ARV currently. Gold mining is about to commence at Nickol River, copper from Whundo is generating net revenues, and the company is looking to grow the resource at Carlow Castle in order to refurbish Radio Hill.
ARV have entered a JV that will see it receive an investment of $2 million that could fast track any new gold mine development.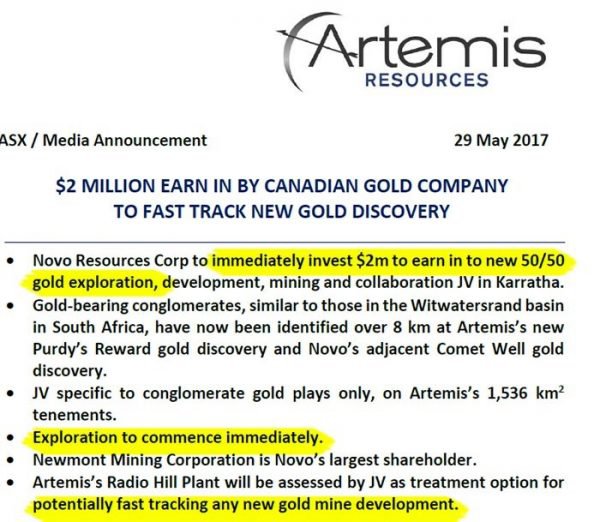 The JV is with Novo Resources (TSX-V: NVO), a C$94 million-capped gold explorer. Novo will farm-in to 50% of the gold rights in ARV's current and future tenements within 100km of Karratha, gaining the rights to explore, develop and mine ARV's gold plays in WA.
Canadian-listed Novo is a major exploration and development company focused on exploring and developing paleoplacer gold mineralisation in the Pilbara region . There are some heavy hitters involved with Novo, with its largest shareholder being the $20 billion-capped Newmont Mining Corp (NYSE: NEM).
Exploration is scheduled to commence immediately, while the Radio Hill Plant will be assessed by the JV as a treatment option for potentially fast tracking any new gold mine development.
ARV has identified the presence of significant gold mineralisation at Purdy's Reward
ARV's exploration at Purdy's Reward, located 35km southeast of Karratha, has revealed over an 800m strike length strike widths of up to 100m, and has received assay results scoring up to 35.6 g/t Au.
An extensive trenching and drilling programme is all set to go, with a Heritage Survey completed along with a Programme of Works approved for trenching and RAB drilling to better delineate the size and tenor of the identified gold mineralisation at Purdy's Reward.
We've been keeping our eyes open for future exploration results from this hotspot — on the lookout for catalysts to alert our readers of course.
Judging by the fact that Purdy's has been confirmed to host a "new style of mineralisation" , we can't wait to see further drill results putting meat on the bone of this potential reward-generator.
'Free gold' of the alluvial variety is also commonplace at Purdy's, with gold 'plate-like' nuggets available to anyone with a metal detector: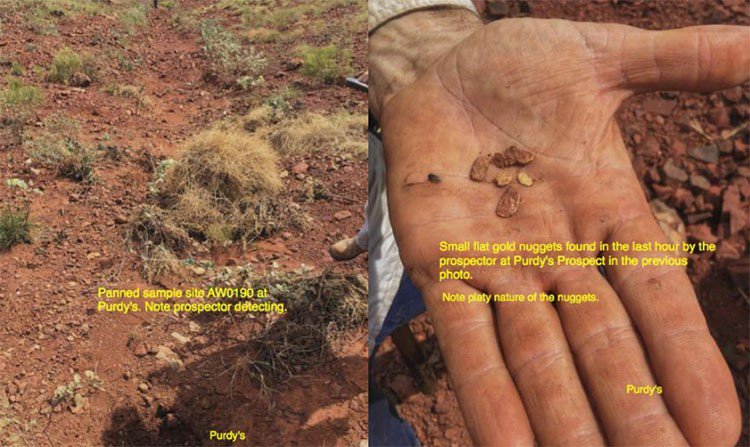 There's hope that Purdy's Reward can become a project that keeps on giving over a multiyear mine life.
Gold Production JV — Mt Clements-Paulsens Project
And if one JV deal wasn't enough, ARV signed another agreement with Blackrock Metals to collaboratively obtain a Scoping Study for its Mt. Clemens-Paulsens Project.
This project has an existing JORC Resource of 1Mt g/t Au and 17 g/t Ag for a contained 64,400oz Au and 618,500oz Ag.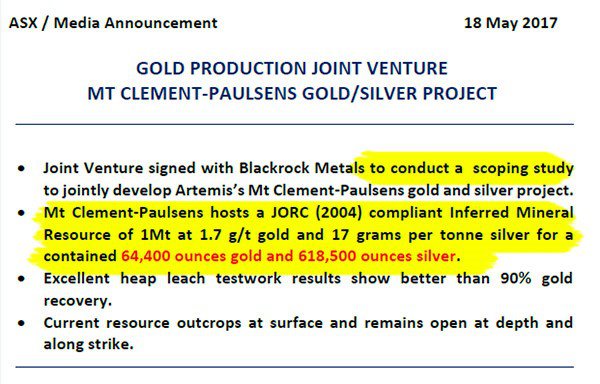 We can see ARV's project site hosts cobalt, gold and copper: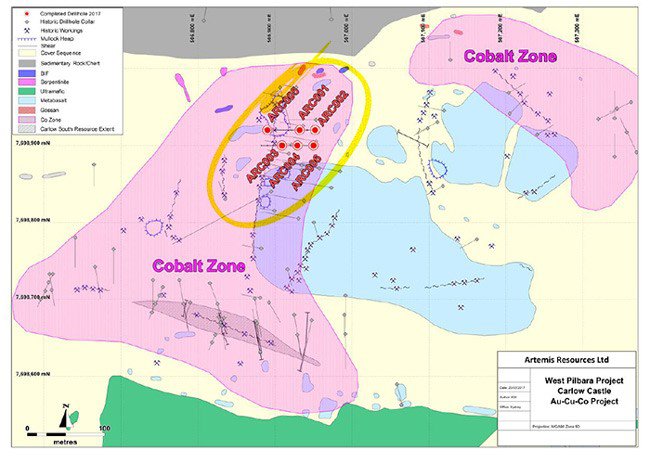 ARV is focusing its efforts on the best possible plot of exploration ground — to the north of the eastern cobalt zone, where host serpentinite rocks are overlapped by metabasalt.
But one brand new development that could yet make a prolific contribution to ARV's balance sheet is a possible diamond haul coming from the Karratha area.
ARV applied for three Exploration Licences covering a total of 598km 2 located 85km south of Karratha and 40km south of ARV's Radio Hill processing plant.
These licenses offer a significant opporutnity for ARV to add diamonds to its multi-commodity portfolio, so let's take a closer look.
Back in 2006/07, the same ground that ARV is now exploring was partially tested by De Beers.
It conducted a bulk sampling programme of approximately 6,000 tonnes, recovering a total of 2,320 diamonds, weighing 163.89 carats from this trial mining. The majority of the stones were white dodecahedrons, with the largest stone weighing 1.41 carats.
Here's the sparkler in question: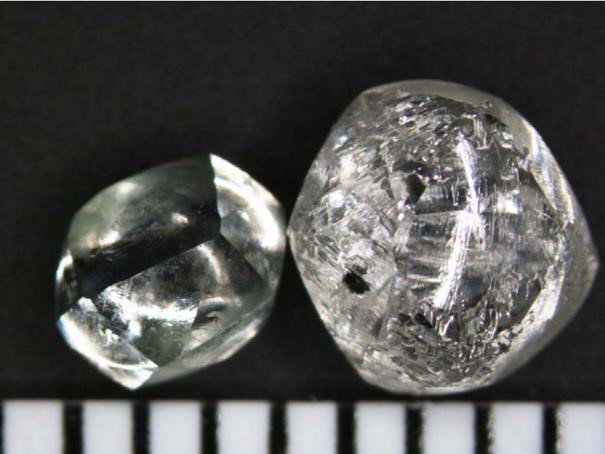 While diamonds may add a little future flair to ARV's holdings, it is the results flowing from Carlow Castle that attrct immediate attention.
Moving into Carlow Castle...
One of ARV's most highly anticipated developments is the ongoing work at Carlow Castle — the scene of both gold and cobalt exploration that has already delivered high-grade sample results.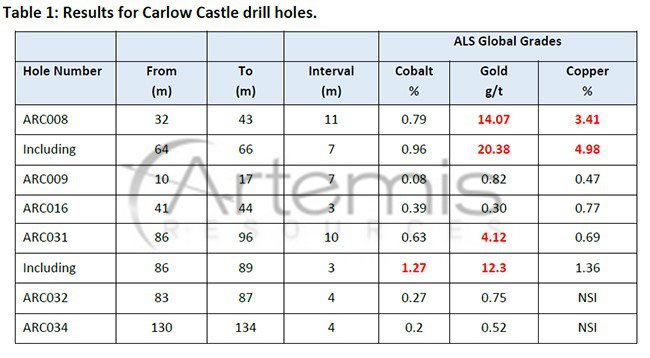 In this illustration, you can really see what ARV is up to from a bird's-eye perspective...
Three distinct areas of focus include the Quod Est Co-Cu-Au Mine, the Carlow Castle Gold Resource and the gold and cobalt target. These three areas of focus will help ARV generate those all-important offtake agreements, milling revenues, and, provide a stepping stone for expansion in the region.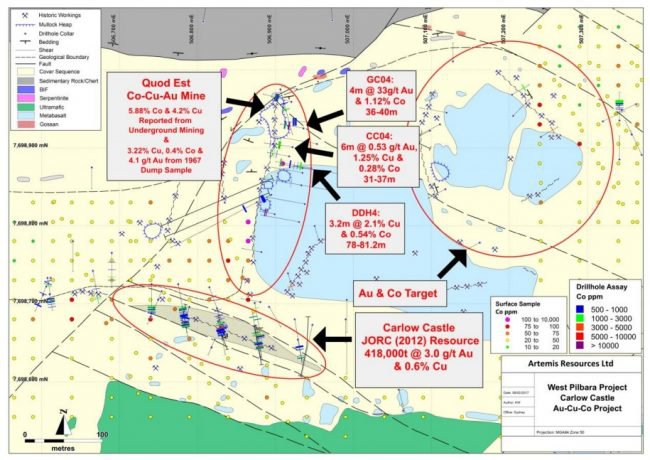 Here we come to possibly ARV's greatest asset — it's metals broadcasting capability provided by Radio Hills.
ARV has a binding conditional agreement with Fox Resources until the end of April 2017 to buy its fully permitted AGIP 425,000 t.pa Radio Hill nickel and copper operations, processing plant and associated mining and exploration tenements.
The planned acquisition will see ARV take possession of a trifecta of existing JORC compliant Resources (Nickel, Copper and Zinc) situated within a 15km radius of the Radio Hill plant.
Speaking of which, this deal is now formally completed, and with the added bonus of being less capital intensive than first estimated: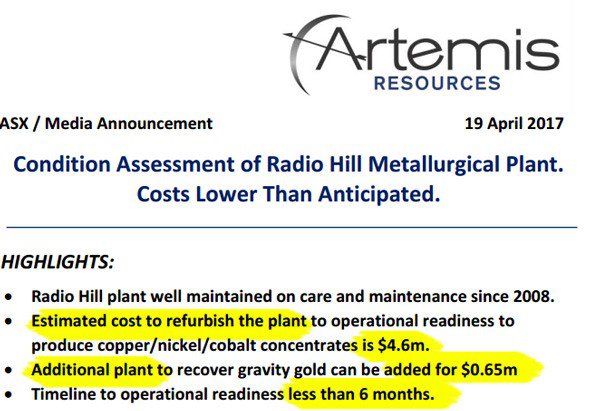 Within a 40km radius, there are known deposits of numerous nickel, cobalt, copper, gold, zinc and platinum deposits — and the strong likelihood is that all that mineable ore could come flowing back to ARV's Radio Hill processing plant.
Radio Hill has an existing nickel/copper sulphide Resource of 4.02 Mt @ 0.51% nickel and 0.88% copper.

Given the sharp increases in both cobalt pricing and explorational interest from around the globe, it makes sense to focus on cobalt.
ARV could also synergise its operations by feeding gold from its ongoing operations in the region. ARV has around 110,000 oz. in gold Resources within a few kilometres of Radio Hill at Weerianna, Carlow Castle and Munni Munni.
Here you can see the Radio Hill Nickel-Copper mine: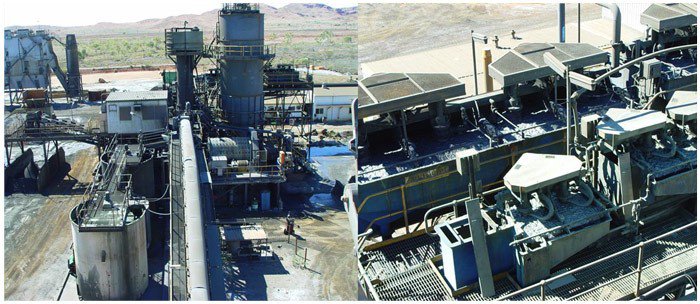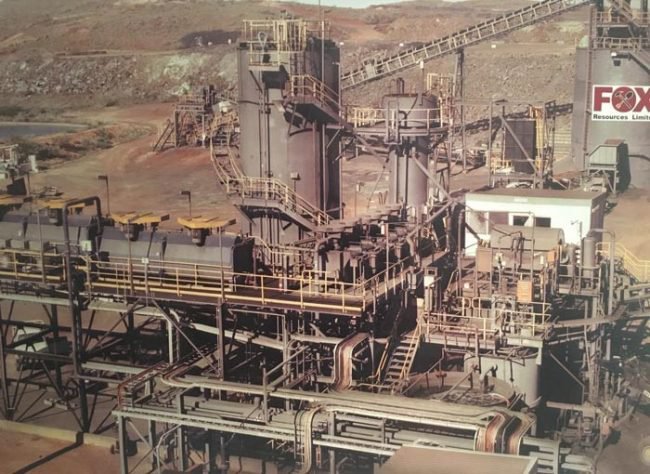 However, ARV's hasn't finalised its war chest just yet...
ARV has loaded its first truckload of copper from Whundo
As we've already mentioned, ARV is on course to fast-track its gold production, and its copper production is now generating revenue.
ARV has announced that its first revenues have now been generated at its Whundo mine , with copper sold to Blackrock Metals in a supply agreement.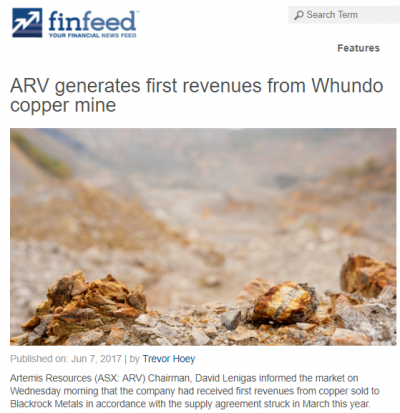 Net revenues of about $100,000 per month have kicked off with the first trucks leaving Whundo as part of an initial 50,000 tonne supply contract.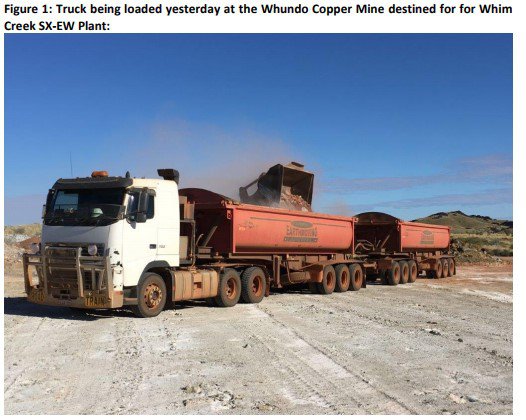 Nickol River Gold Project
Gold operations at the Nickol River Gold Project have now been commissioned and full mining operations are expected to commence in coming weeks.
On May 27, ARV commenced commissioning of the plant, with 7,869 tonnes of ore processed over the first nine days. As explained in the release below, a total of 1,994.6 grams of gold dore (64.12 ounces) was recovered to June 4, 2017 at an average grade of 0.25 g/tonne, with cash operating costs averaging $1,557 oz.
In January, ARV ordered a gold processing plant be constructed at its Nickol River Gold Project.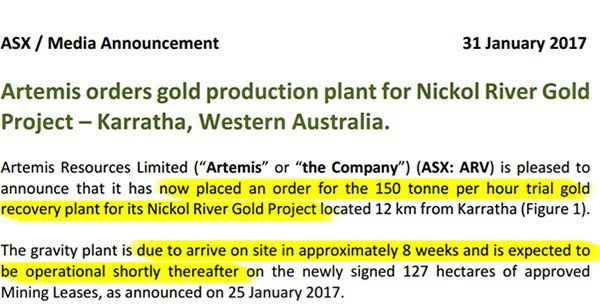 ARV signed a binding agreement with D & K Corps Investments granting ARV the exclusive rights to explore, mine, process and extract and sell gold and precious metals from five Mining Leases, covering 127 hectares, to a depth of five metres from surface or depth of free dig with an excavator.
ARV will receive 90% by weight of the gold and precious metals recovered, for an initial 2 years and renewable thereafter.
Just to give you an idea of the potential upside at Nickol River, in 1984 a 10 tonne per hour plant tested 600 tonnes of surface material yielding a recovered grade of 0.33 g/t of gold.
In 1985 a larger 40 tonne per hour pilot plant processed 42,500 tonnes of surface material that yielded a recovered grade of 0.15 g/t Au.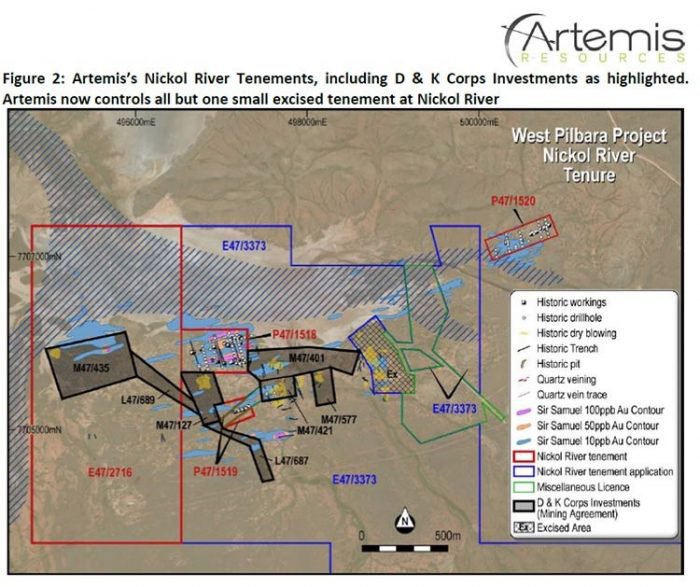 Fast forward to today and ARV's tenements continue to support the case for more gold deposits. Auger soil sampling done in the West of ARV's tenement holding identified multiple gold anomalies and a peak assay result of 6.8g/t. Parallel rock chip sampling also returned anomalous gold readings with assays scoring up to 14.8g/t.
The mining operations and the operation of the plant are still in the 'development phase' and ARV is now in the process of progressing toward the commencement of full mining operations.
Further tenement applications are pending which will add further ground to consolidate ARV's West Pilbara empire; and the great thing is that not many market analysts have caught on.
With its drill-bit dinging, ARV is plotting a course towards market resonance
Every junior explorer must run a gauntlet of exploration, before it can hope to scoop up revenues. Exploration is a science, but it requires a little bit of luck in order make a seemingly rapid, game changing discovery come to life.
For ARV, the strategy is no different to the brood of other juniors — with the immensely important ability to wield its own processing plant, located smack bang in the middle of a metals turf-war in WA.
This is a great factor for ARV to be able to lean on, as it attempts to commercialise the region.
Even if its own exploration and/or Resource definition proves too much to handle for ARV, it could always offload those projects to plenty of other metals opportunists who may be interested. Furthermore, its Radio Hill processing plant will be able to accommodate a spectrum of metals, whether they are sourced from ARV's drilling or not.
For us here at The Next Small Cap we are squarely focused on unveiling commercial opportunities with as many risks mitigated as possible.
Yet this remains a speculative, early stage company and investors should seek professional financial advice before considering this stock for their portfolio.
ARV has a large (and growing) portfolio, in a metals sanctuary within WA. Armed with very good cobalt, copper and gold grades over good widths, strike length and depth, ARV is poised to make progress operationally, and in terms of valuation over the course of this year.
After what looks to be the passing of the commodities downturn, and the ushering in of a new commodities cycle, ARV may have finally found a discernible path to generating some sparkle for loyal investors.
ARV's crown jewel remains the Radio Hill plant which will likely serve as a quarterback resource hub, ready to receive and process a host of different metals including gold, silver, cobalt, iron ore and copper.
Purdy's Reward gold project and Novo's adjacent Comet Well gold project have now identified gold-bearing conglomerates over a relatively large 8km strike.
The amount of available space suggests the whole area is setup for a much bigger exploration effort.
Furthermore, the deal with Novo allows ARV to keep its focus on developing its future-looking cobalt aspirations at its Carlow Castle Project and elsewhere, with further significant catalysts almost certainly waiting in the wings.
Commodity markets have been helter-skelter to say the least in recent years, which means companies able to weather such harsh environmental conditions could potentially turn out to be the outperforming diamond sparklers all small cap commodity investors are looking for.
---