HDY to Complete Queensland and NT Vanadium Acquisitions
PUBLISHED: 27-08-2018 09:47 a.m.
Hardey Resources Ltd's (ASX:HDY) shareholders have approved the acquisition of Nelly Vanadium Pty Ltd (NVPL) and Vanadium Mining Pty Ltd (VanMin) at an EGM held late last week. The acquisition is due to formally close within the next few days.
This is a potentially game changing development for the group given that NPVL owns the highly prospective Nelly Vanadium Mine (NVM) in San Luis province, Argentina, while VanMin has six high-quality vanadium projects across Queensland and Northern Territory.
Moving forward, the geology team in Argentina plan to progress an application to reactivate the mining licence for NVM and is studying the process to monetise the legacy stockpiles.
In Australia, the next phase of the exploration program for the Queensland and Northern Territory projects is to determine if there is sufficient historic data to potentially model a JORC (2012) compliant inferred vanadium pentoxide resources.
It was only on Wednesday that Hardey reaffirmed its confidence regarding the geological modelling of the Queensland assets, having uncovered further historic evidence that there are actually 383 aircore drill holes targeting the Toolebuc Formation compared with previous indications of circa 170.
HDY has fast tracked its vanadium ambitions both here in Australia and overseas as Next Small Cap has reported in recent times, but the latest news illustrates why the company is exploring in the right neighbourhood, particularly in the Northern Territory with its proximity and similarity to the $112 million capped TNG's high calibre Mt Peake VTM operation.
It should be noted that HDY still has a lot of work to do to prove up these projects, so investors should seek professional financial advice if considering this stocks for their portfolio.
The impending completion of these vanadium acquisitions could provide HDY with the boost it needs to improve its market cap.
So let's move quickly into the latest news with...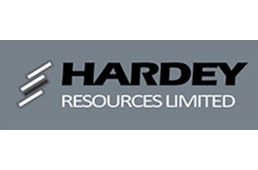 Hardey Resources

We last covered Hardey Resources (ASX:HDY) on Next Small Cap in the article: HDY's Fast Tracked Due Diligence Reveals Even Higher Vanadium Potential
In that article we looked at how HDY had fast tracked its due diligence at the Nelly Vanadium Mine where it was revealed there was further potential for the highly prospective project than first thought.
The company was also covered on Next Mining Boom in the article HDY Identifies Significant Vanadium Upside with Early JORC Potential. That article looked at its promising Queensland projects, Sharptooth, Spike, Cera and Petrie for which early due diligence has suggested that each has significant exploration upside. HDY confirmed they are all within an enriched vanadium mineralised zone and confirmed the prevalence of the Toolebuc Formation across the projects.
Today, everything comes together, with the completion of the acquisitions of all projects HDY has had its eyes on, which means the company can now really kick things into gear.
Let's look in our own backyard first.
HDY looks to vanadium Resource in Queensland
On August 22, HDY reported that it had completed its due diligence on four highly prospective vanadium projects in Queensland owned by Vanadium Mining (VanMin).
Due diligence was conducted in the lead up to today's announcement that HDY will complete the acquisition of VanMin.
HDY reported that the delineation of recent data has increased confidence in HDY's ability to geologically model, estimate and report under the JORC (2012) Code.
It has identified further historic evidence that there are 383 Aircore drill holes targeting the Toolebuc Formation along a 150 kilometre north-south trending strike which runs through the Spike, Cera and Petrie projects and within the Sharptooth prospect. This was a key finding as it is nearly double the circa 170 drill holes initially reported on August 13, 2013.
This was positive news that had the potential to further de-risk the prospectivity of its Queensland projects.
You can read more about that news in the following Finfeed.com article.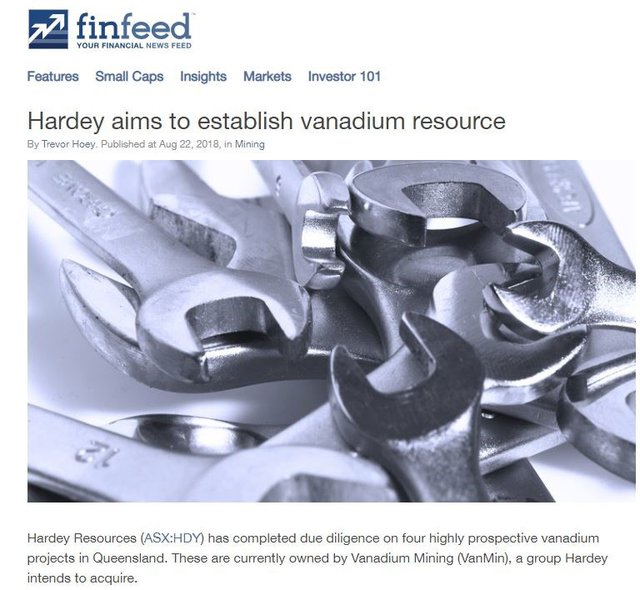 As the above article alludes to, HDY is optimistic that it can develop future vanadium supply chains from Australia and Argentina judging by the encouraging results already evidenced.
Clearly, there is a lot of promise in Queensland, but the NT could also have significant upside.
Northern Territory assets show promise
Having provided a thorough brief on the Queensland vanadium assets, HDY released some promising details on the Northern Territory assets that it now owns courtesy of the VanMin acquisition.
The assets are located adjacent to TNG Ltd's (ASX:TNG) advanced Mt Peake VMT project which has a resource of 160 million tonnes at 0.28% V2O5.
A key positive with Mt Peake is the underlying mineralisation which comprises a high-grade form of VTM associated with ore bodies that can be selectively mined utilising open pit methods.
This delivers considerable comparative advantages at both the exploration and production stages.
From an exploration perspective, targeting near surface mineralisation is much more economical than conducting deep drilling.
Looking forward to the production end of the equation it is much more cost efficient to tailor economically effective mining operations.
Close proximity to Mount Peake
Relative to Mt Peake, which is circa 190 kilometres north of Alice Springs, the Wollagalong project is six kilometres north, while the Chisholm prospect 13 kilometres east as indicated below.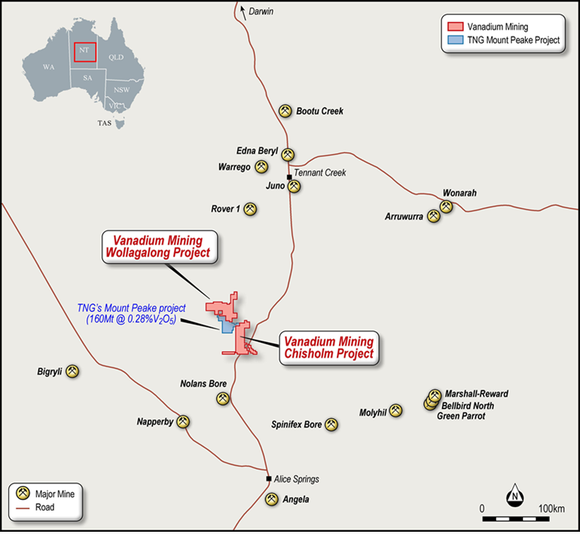 Both projects are contiguous to the Mt Peake tenure, typically forming the north and east boundary.
The largest vanadium Resources in the Northern Territory are associated with mafic-hosted vanadium magnetite deposits in the Arunta Region's Aileron Geological Province.
These mafic hosted VTM deposits which are targeted within the Wollagalong and Chisholm projects have only recently been identified in the Jervois area by Arafura Resources in 2017 and TNG in 2011.
Implicitly, this means that due to the Wollagalong and Chisholm projects proximity to the 160 million tonne Mt Peake resource there is clearly significant exploration upside to uncover additional vanadium mineralisation.
Although any upside is speculative, so investor should maintain a cautious approach to any investment decision made with regard to this company.
Notably, the probability is higher for the Wollagalong project given the prior mapping of surface exposures of the Anningie Formation, which underpins the VTM economic mineralisation at Mt Peake.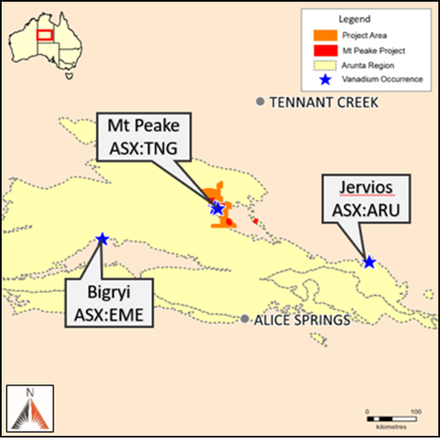 News regarding Bonya provides further confidence
It is important to note that the Jervois' vanadium deposit forms part of a joint-venture (now known as Bonya JV) between Arafura Resources (ARU) and Thor Mining (THR).
A recent drill intersection, which returned 49 metres at 0.96% V2O5, 8.55% TiO2 and 34.5% Fe over depths ranging from surface to 49 metres, further highlights the vanadium potential within the region.
Only yesterday, shares in Thor Mining plc surged approximately 20% after the company announced the results of an upgraded definitive feasibility study (DFS) for the Molyhil Tungsten and Molybdenum Project in the Northern Territory of Australia.
Comments by Thor's executive director, Mick Billing are of significance regarding the outlook for Hardey's assets.
In expressing his excitement regarding the net present value of the Bonya project, he said, "Of particular note, the sole focus of this study (the DFS) is on the open pit operation outlined in the ore reserve, and does not account for what the board believes will be significant additional mine life generated from the potential underground mining operation and the additional ore potential from the nearby Bonya deposits, as previously announced."
Aside from Bonya, the second known style of vanadium mineralisation in the Northern Territory is associated with sandstone-hosted uranium deposits.
The largest known resource is at the Bigrlyi uranium prospect, which has a total mineral resource of nearly 7.5 million tonnes at 0.13% U3O8 and 0.12% V2O5 cut-off grade 500ppm U3O8 (reported under the JORC [2004] code).
It should be noted that HDY has a lot to do before it can claim to achieve similar success, so investors should seek professional financial advice if considering this stock for their portfolio.
Wollagalong and Chisholm have highly magnetic anomalies
In Australia, mafic to ultramafic complexes that host VTM deposits are generally apparent as strong clearly defined anomalies from aero-magnetic surveys, even if no exposure occurs at surface.
Aero-magnetic surveys confirm that Wollagalong and Chisholm have highly magnetic anomalies within their boundaries.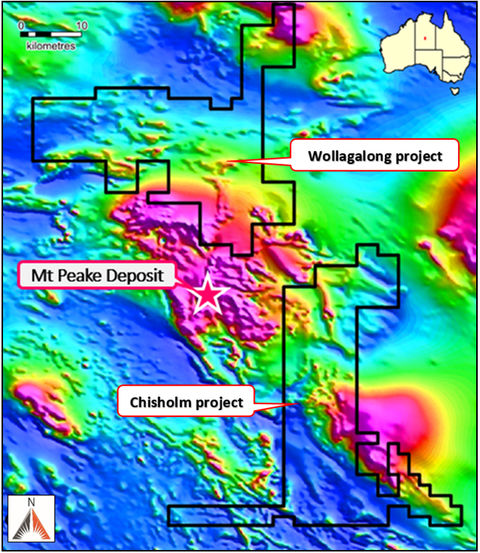 Assessing the geophysics, the aero-magnetic image identifies two phases of potential mineralisation with east-west and north-south trending structures visible and intersecting within the project areas.
Importantly, Hardey's projects have similar geological and magnetic features to the Mt Peake deposit. Further, they are highly probable to be the gabbro-hosted magnetite type deposits which underlie Mt Peake's VTM mineral Resource.
As vanadium mineralisation within these systems is relatively shallow, HDY believes selecting prospective targets for further follow up within the two projects will be straightforward.
This provides the opportunity to expedite and de-risk the projects materially with a high-level exploration program that aims to potentially model, estimate, and report a JORC (2012) compliant vanadium mineral Resource.
The final word
Over the last few weeks, extensive due diligence has proved HDY correct in its assumption that moving into vanadium could provide it with a great deal of upside.
And now that it will complete its acquisitions in the next few days, HDY can really get to work on its vanadium projects in Argentina and Australia.
With vanadium being the metal to watch in 2018, having risen considerably since last year, there has been considerable investor interest.
The question now is: does HDY have the projects to capitalise on current macro events?
Thus far, the answer looks like it could be highly encouraging.
---