HDY to Acquire Established Vanadium Mine
PUBLISHED: 03-07-2018 10:17 a.m.
In a deal too good to knock back, Hardey Resources Limited (ASX:HDY) has entered into an agreement which should see it acquire a company that owns a high grade vanadium mine that is positioned for a quick reopening.
HDY has entered into a share sale agreement with the shareholders of Nelly Vanadium Pty Ltd (NVPL), owners of the Nelly Vanadium Mine in San Luis Province in Argentina.
Under the terms of this agreement, HDY has been granted a 40-day option to acquire 100% of the issued capital of NVPL.
The mine is close to infrastructure, looks to have strong government backing and has exceptional upside potential based on historic exploration in the 1950s.
However, that potential is yet to be determined, so investors should seek professional financial advice if considering this stock for their portfolio.
In fact, it was one of the few operating mines that had an onsite processing plant.
This is big news and comes shortly after it announced that it was set to commence drilling at its flagship Burraga Project in NSW, centred on Lloyds Copper Mine.
As we discussed when we last caught up with the company in early June with the article: HDY to Commence Drilling at Flagship Burraga Copper Project, the program promises to be the most progressive drilling program at Lloyd's in modern times.
That was big news in itself, but now the company is expanding its portfolio of projects and assets and diversifying into a market – the renewable battery sector – that could prove to have long-term benefits.
We will look at the vanadium market in more detail shortly, but let's not waste time here. Let's get straight into HDY's hot off the press acquisition announcement.
Catching up with: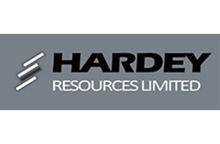 Hardey Resources

We only caught up with Hardey Resources (ASX:HDY) a couple of weeks ago, looking at their high potential metals projects including copper and its newly found Pilbara gold projects.
Copper is the interesting play here as demand for the commodity has substantially increased over the last 12 months. The heavy use of copper in electric cars has a lot to do with this demand increase, as does a looming supply deficit.
It now turns out that HDY's copper play, which you can read about in far more detail in our previous article is an even bigger strategic play than first thought.
HDY enter vanadium project acquisition deal
HDY has entered into a share sale agreement with the shareholders of Nelly Vanadium Pty Ltd (NVPL) to acquire 100% of the issued capital of NVPL – a minerals explorer that owns the Nelly Vanadium Mine (NVM) in San Luis Province in Argentina.
NVPL is in the process of applying to the regulator to immediately reactivate the mining licence, as geological evidence highlights significant potential upside.
Here is a satellite picture of the mine: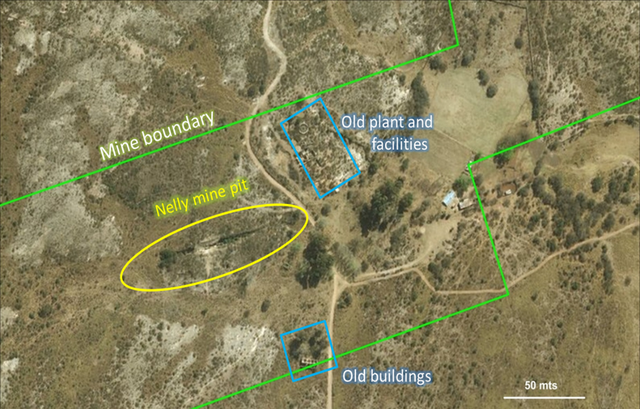 There is a compelling near term outlook for the Nelly Vanadium Mine and HDY will attempt to prove up a JORC compliant resource and help re-open mine as soon as possible.
The company is doing this at a time when demand for vanadium is expected to remain robust over the next few years, as structural changes augur favourably for the continued expansion of the renewable battery sector.
Here's a look at how vanadium has been performing recently: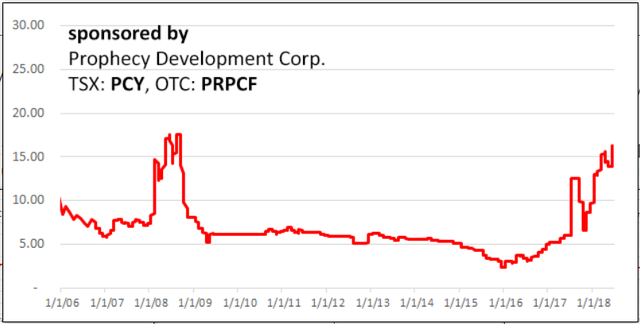 As you can see, the vanadium price is looking strong, as indicated above, trading in the vicinity of US$16.30 per pound.
This is pushing up towards levels not seen since 2008/09.
Of course, commodity prices do fluctuate and investors should consider all publicly available information and not base their investment decision on commodity prices alone.
At the beginning of the year, vanadium was reported to be the metal to watch in 2018 as headlines such as this attest:

As a battery material, vanadium has been supported by similar momentum that has driven the likes of cobalt to extraordinary highs.
The demand for scalable energy storage is also accelerating with the use of Vanadium Redox Batteries (VRBs) now an emerging solution end-users are starting to accept.
Industry forecasters are forecasting VRBs could account for circa 30% of the global rechargeable battery sector over the next decade. Some key positive attributes for VRBs include:
Ø Scalability and suitable for grid connection;
Ø 20-yr lifespan and instant energy release;
Ø Excellent charge retention / discharge; and
Ø Using only one element in electrolyte form: V2O5
Here is how VRB's work:
Arguably, if this transformation progresses then it will propel vanadium towards energy commodity status.
Hence HDY's strategic move into vanadium exploration.
With the price of vanadium having more than doubled in the last 12 months and evidence of sustained momentum in recent trading there could well be further upside.
Near-term projects will be well supported
This strong momentum will work in favour of HDY should it be able to bring the project into production relatively quickly.
That said, it is difficult to see any significant retracement in the likes of cobalt and vanadium.
Supply shortages, due to China shutting polluting mines, coupled with accelerating demand from the renewable battery sector, has underpinned a substantial increase in the vanadium price over the past two to three years.
As management highlighted, this much improved supply/demand environment has led to an increase in investment in developing new vanadium supply chains globally, a factor that should make the economics of reopening the Nelly Vanadium Mine very attractive.
Expect strong investor support
The other factor that could well come into play is the issue of financing.
Often this is a stumbling block for smaller players, but as has been evidenced in the cobalt sector, investors are keen to get a piece of emerging growth stories with a positive macro theme.
As Argentina's laws enable mining licences to be reactivated relatively quickly, an application is being prepared and will soon be lodged with the regulator.
While reactivation of the mining licence is considered somewhat of a formality, receiving the go-ahead could well be a share price catalyst.
Any catalyst at this stage is speculative, so investors should seek professional financial advice for further information if considering this stock for their portfolio.
Grade is king
The Nelly Vanadium Mine is on a 53-hectare tenement 170 kilometres from the capital of San Luis Province in Argentina.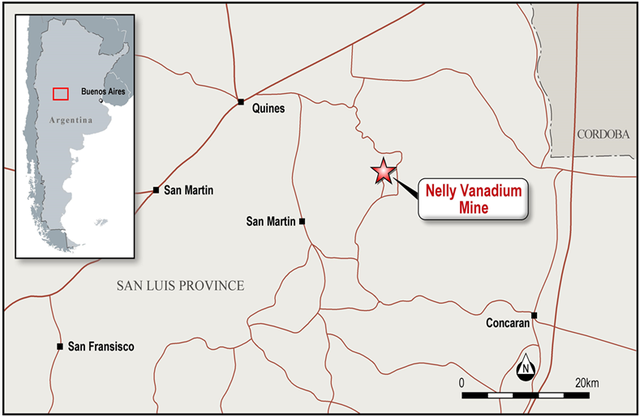 The mine has ready access to mains power and water supplies, while nearby towns can provide supporting services and skilled labour.
Transportation infrastructure from the mine to key ports will allow the company to access major end markets.
According to legacy records, the mine was active between 1949 and 1957, producing grades up to 1.9% vanadium oxide which are extremely high by global standards.
In terms of output, a processing plant on-site produced nearly 4000 kilograms of vanadium and 400 kilograms of VO3NH4, an important intermediate in the purification of vanadium.
When NVM was operating during the 1950s, only part of the known resource was exploited, leaving most the untapped mineralisation intact. The extent of the resource is a key feature NVPL's geology team will be working on in coming months, given NVM delivers considerable exploration upside.
Detailed work by the geology team has thus far determined there are several mineralised veins at surface (which you can see in the diagram below) which are emplaced in a structural trend aligned North-East to South-West. The mineralised veins trending underground are completely unexplored, which presents further upside for the company.
As the exploration program ramps up, this model will be tested with modern exploration techniques and equipment.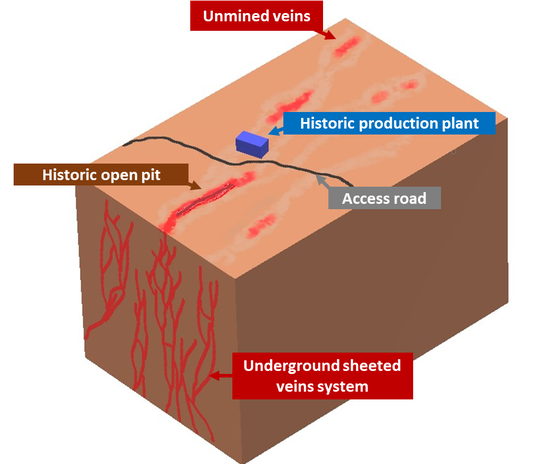 Modern technology should see an uptick in production
This level of production is fairly moderate by today's standards, as at that time concentration processes were at an experimental stage, preventing the attainment of critical scale.
The primary customers during the 1950s in Argentina were national alloy and acid manufacturers.
During the 1950s, Nelly Vanadium was one of the few operating mines that had an on-site processing plant and accommodation for employees, arguably reflecting the significance of the deposit.
Exploration upside
The mine was initially developed as an open pit and subsequently underground galleries were progressed, but there is extensive scope for exploration of existing veins at depth.
Studies undertaken and samples extracted most recently in 1974 have indicated that there is the presence of other base and precious metals.
In 2017, assay results on samples taken from the open pit and tailings confirmed high-grade mineralisation with up to 1.6 per cent vanadium oxide, confirming the high grades historically mined.
Here's a look at the assay results from that time:

When Nelly Vanadium was operating during the 1950s, only part of the known resource was exploited, leaving most of the untapped mineralisation intact.
The extent of the resource will be a key focus in coming months, quite possibly offering considerable exploration upside.
The final word
The pending acquisition of the NVM is a highly strategic move by HDY.
It not only complements its copper play as far as energy metals are concerned, but it gives HDY access to arguably one of the highest grades globally.
With an application to re-open the mine now in train and with modern exploration techniques at its disposal, HDY is well positioned to capitalise on favourable market conditions, including supply shortages, and potentially give its $.5.4 million market cap a positive boost.
---