Graphite Drilling in Weeks for Tiny ASX Explorer
PUBLISHED: 23-10-2015 10:19 a.m.
In a world in which graphite stocks are capturing the interest of investors, there is one tiny graphite explorer that appears to have been overlooked.
This company has just confirmed it is fully funded, to the tune of $1M, to drill into a highly mineralised graphite strike length totalling 19km.
All indications are that this is jumbo flake graphite – previous testing indicated a jumbo and graphite flake distribution of 80%...
Drilling is set to kick off in the coming weeks – yet the company is currently capped at under $4M
And where are they drilling?
Manitouwadge.
You've probably never heard of it. It's not famous for too much – but it soon might be.
Whilst most graphite explorers are on an African safari, hunting their own big graphite game, the next hot spot could soon be North America – specifically Canada.
More specifically, Manitouwadge.
Broadly, Canada is best known for the Rockies, its maple syrup and Mounties. However new plays in graphite exploration could position the region as the go-to-Western provider of this high quality carbon mineral.
Manitouwadge is perfectly situated to be a graphite producing haven, or heaven should results fall the right way.
At the same time, this company is still extremely small and investors should seek professional advice before investing.
In addition to the high potential ground and imminent funded drilling, another feather in this company's cap is its success in the production of expandable graphite at a leading Canadian testing facility.
Expandable graphite is a high value product worth up to US$3,500 a tonne – so there is good reason this company chose Manitouwadge, Canada.
In fact if we were talking about property, we'd be harping on about location, location, location...
Just consider the surrounding market itching to get its hands on quality jumbo graphite flake.
There is strong demand for high quality graphite across the border in the United States and across the Atlantic in Europe .
Tesla has previously stated that they will be sourcing all their graphite from North America – if this is indeed correct, this company is in exactly the right place. Not to discount all the other graphite and lithium explorers – as there is a whole market opening up for lithium ion batteries – and it doesn't only depend on Tesla.
The modern graphite market is all about flake size and it would seem Canada has this in spades.
Which is why this micro cap company could be in such a strong position moving forward.
Introducing...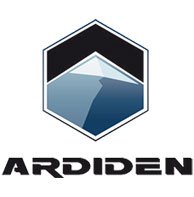 Ardiden Ltd (ASX:ADV) is a tiny graphite explorer that owns 100% of a 5,300Ha graphite project located north-east of the town of Manitouwadge in Ontario, Canada.
The company has just closed a heavily oversubscribed SPP which raised $500,000 , and Sanlam Private Wealth has committed a further $500,000 to drill into this jumbo flake project.
ADV has detected graphite outcropping along strike at three electro magnetic anomalies:
Thomas Lake Road (1.2km EM anomaly)
Silver Star (2.6km anomaly)
Silver Birch (5.6km anomaly)
With $1M committed to the company's cause, ADV has just stepped up the pace, and is expected to start drilling in the coming weeks.
In this article, The Next Small Cap will explore all aspects of the Manitouwadge project and why ADV have selected this Canadian base to try to build its own graphite empire.
Currently capped at just $4M, ADV is a ground floor investment... Which reminds us of another small graphite explorer we recently covered...
Our track record
If you've been following the Next Small Cap, you will have come across our original article on Tanzanian graphite explorer Mozambi Resources (ASX:MOZ) – $3M ASX nano-cap next door to the biggest graphite resource known to man . Since the article was released, MOZ has been up as high as 280%: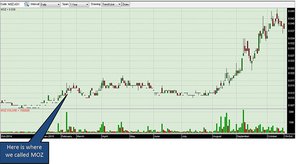 Source: Etrade Australia
The past performance of this product is not and should not be taken as an indication of future performance. Caution should be exercised in assessing past performance. This product, like all other financial products, is subject to market forces and unpredictable events that may adversely affect future performance.
In many ways ADV reminds us of where MOZ was a few months back – the question is, can ADV repeat MOZ's recent success with their Canadian project?
At the same time, this is no guarantee – such is the nature of speculative minerals explorers – and caution should be applied when considering as an investment.
The graphite opportunity
It's been in the news a lot lately, but let's take a quick look at why graphite has people talking. Firstly, here's a quick explanation about why it's such a game changing mineral:
Now here's list of what it can be used for: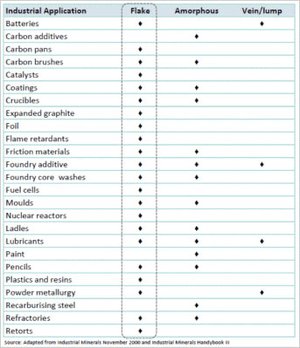 As you can see, there is an enormous range of applications for flake graphite – just the kind of graphite that ADV are detecting on their Canadian project.
In fact, jumbo and large flake graphite is expected to be in strong demand in coming years arising from its use in new technologies such as lithium ion batteries, electric vehicles and business and home battery storage systems where graphite is used as the battery anode. Projected pricing for jumbo flake graphite from industrial minerals experts, Stormcrow Capital, is shown in the Table below:

USD/ tonne forecasts by flake size from industrial minerals experts, Stormcrow Capital, "Industry Report: Graphite – A Stress Test on Future Graphite Pricing", June 2014
Whilst no guarantee, as you can see, prices for jumbo and large flake sized graphite are predicted to rise considerably over the coming years – and there is opportunity for fast moving players like ADV to reap the many benefits they sow.
A fully funded adventure
ADV recently advised that it has secured $1M in funds under a Share Purchase Plan and placement which closed on 14 October.
ADV's SPP was heavily oversubscribed with demand received for more than double the committed amount of $500,000 confirmed by Sanlam Private Wealth, a leading global investment and financial services house which has $20BN in assets under management.
ADV is now fully funded and funds raised via the SPP will be used to accelerate exploration and drilling at the Manitouwadge project which is to begin in weeks.
ADV's Manitouwadge Project
In October 2014, ADV entered into an exclusive option to acquire 100% of the 3,400ha Manitouwadge Project. The company did so on the back of historical metallurgical test work indicating up to 55% of the prospect's graphite was of large, or jumbo flake size.
The Project was confirmed as an attractive near-term development opportunity following a highly successful recent diamond drilling program.
The diamond drill confirmed the presence of previously identified surface graphite at depth, with grades comparable to other graphite deposits in Ontario being developed by TSX-listed companies such as Zenyatta Ventures (Mkt cap 56.72M) and Northern Graphite (Mkt cap 15.74M), both of which have seen excellent results in preliminary economic assessments.
Manitouwadge is just 100km from Zenyatta Ventures Ltd's Albany deposit which is also on the edge of the Quetico sub-province – and ADV is hoping to follow in Zenyatta's footsteps.
Initial metallurgical test work on samples taken by ADV from the Manitouwadge Project site indicates up to 80% of the graphite is large or jumbo flake size, which is the highest value and most sought after graphite flake size with its use in new technologies expected to rapidly expand over the next decade.
Following a detailed geophysical review by CSA Global, in September 2015 ADV expanded its land footprint by staking an additional 1,900 Ha (for a total project size of 5,300Ha) and in the process tripled the strike length of EM anomalies with graphite prospectivity to over 19km.
Metallurgical testing confirmed that the jumbo flake encountered by ADV is amenable to low cost flotation and gravity beneficiation with grades of 95.6% returned. Further, the beneficiated product can be purified up to >99.95% – this is just the kind of graphite that high tech end users are looking for.
Further, drilling at Manitouwadge earlier this year confirmed the continuity of surface graphite at depth and recent sampling of outcrop along the EM anomaly strike has returned grades of up to 13.6%.
Let's see what the drill bit can find in the coming weeks on ADV's ground...
New tenements acquisition
Results received from a ground sampling programme conducted by CSA Global over priority electromagnetic (EM) conductors identified graphite in outcrop with grades up to 13.6% graphite.
The samples taken from outcrop targets identified 19.3km of EM conductors with graphite prospectivity.
During recent testing, a 150kg bulk sample (grading 11.4% graphite) was taken from existing known graphite outcrop at Thomas Lake (a 1.2km long EM conductor) and surface samples were also taken from the Silver Star showing (2.6km long EM conductor grading up to 11.8% graphite) and the Silver Birch showing (5.6km long EM conductor grading up to 13.6% graphite) – see Figure 1 below.
Put simply ADV has extended its strike zone considerably and will now focus on proving that up via an imminent drilling program.
The illustration below gives you a sense of exactly how large this project now is: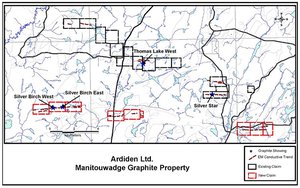 Manitouwadge Graphite Project showing 19km of EM anomalies (in dotted dark red) with graphite prospectivity and maximum grades from surface sampling achieved at each of the Thomas Lake, Silver Star and Silver Birch graphite showings. Surface samples are not necessarily representative. Source: Ardiden Ltd
As you can see this package includes the Silver Birch graphite outcrop which is at the mid-point of a newly discovered 5.6km long EM anomaly and the 2.6km long Silver Star EM anomaly plus a number of significant areas that have not yet been tested.
The following image gives a clear indication of confirmed graphite in the Silver Birch location.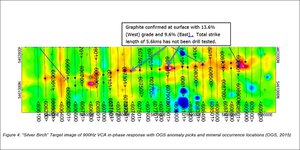 These areas are now marked for priority drilling by ADV.
Silver Star, in particular, is expected to host the large graphite flake sizes which yield significantly higher prices per tonne than medium and fine flake graphite.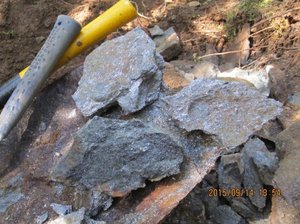 Graphite from outcrop discovered at 2.6km Silver Star anomaly
Here are ADV's findings from the recent ground sampling programme :
Graphite outcropping with grades of up to 13.6% was identified over priority electromagnetic (EM) conductors;
From outcrop samples taken, graphite grades in excess of 10% were confirmed with three of ADVs's prospects.
Expand and grow
So far we have looked at location, funding and acquisition, but there is another string to ADV's bow. It is ADV's ability in testing to successfully produce expandable graphite.
Expandable graphite has high electrical and thermal conductivity and multiple high-value application including in fire retardant, foils, foams and as a foundry material.
Here's what it looks like under an electron microscope:
Expandable graphite is a high value product worth up to $3500 a tonne, but when rolled into graphite foils, the price increases in value up to $50,000 per tonne .
It's a lucrative mineral to say the least.
The fact that ADV is able to expand its Manitouwadge graphite could place it on the radar of multiple end user products.
The graphene picture
To further prove the quality of its graphite, ADV has entered into a research pact with the University of Waterloo – one of Canada's top research universities. The partnership focuses on the extraction techniques of graphite.
More specifically the research is looking at key issues with regards to graphene production: extracting it at a sufficient scale in order to be utilised in industrial applications.
The successful extraction of graphene from naturally occurring graphite with larger scale has the potential to target a broader suite of markets compared to smaller scale graphene.
Development of graphene would increase ADV's product mix and allow it to profit from a higher margin product.
Thus far the news has been good.
Successful testing was conducted in May and determined to be comparable with synthetic graphene routes. The most promising fabrication procedures included the thermal method and the electrochemical method, both of which produced high-quality graphene.
Like its extracted brother, graphene sells for a substantial premium and is one of the lightest and strongest known materials on earth. Graphene has the ability to conduct heat and electricity better than any other known substance and has a growing number of high-technology uses and applications worldwide including super-capacitors, conductive inks, paints, plastics, 3D printing inks, alloys, energy storage and concrete/civil materials.
Sounds impressive, but it goes on – here are nine incredible uses for graphene . This article will give you an idea of the scope of the material and its reverence in multi-million dollar markets including automotive and electric, and why ADV's partnership with the Canadian University could be their key point of difference in the market place: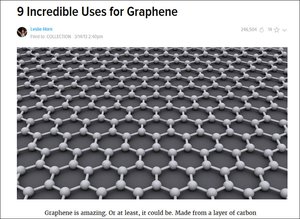 The development of graphene research and the graphene market is being undertaken globally at a rapid pace with substantial investments being made in both commercialising the production of graphene and also the potential applications of graphene.
Which is why ADV is now on our radar as they move to prove up a jumbo flake Canadian graphite resource...
The final word
Manitouwadge is a leading mining jurisdiction and ADV has put an enormous amount of work into the region and this particular graphite project.
The company put the 100% owned 5300Ha mining claim package together, expanded it and tripled the strike length over the last few months.
ADV has discovered high quality, jumbo flake graphite that can be expanded and they are now testing its ability to be transformed into graphene.
Fully funded drilling is set to kick off in the coming weeks – and the company is capped at under $4M...
Due to the quality of the material tested to date, they could soon open themselves up to multi-million dollar markets.
These includes markets in North America, where Tesla owner Elon Musk says 100 more gigafactories must be built, in Europe which is leading the way in automotive and aerospace and indeed the rest of the world where energy concerns are growing and cutting edge businesses are looking for low cost, high tech solutions to a range of problems.
At the same time this very junior player is a speculative stock and due diligence must be conducted before considering an investment.
If you have never heard of the Manitouwadge Project before, it should now be on your radar, because it could very well be a portal to a Western graphite revolution.
---