Gold in Africa: Micro Cap ASX Stock with Production Imminent
PUBLISHED: 27-10-2015 09:39 a.m.
There are not too many opportunities out there to be exposed to an emerging investment story in Africa which no other western country is getting a look into.
This micro-cap company listed on the ASX is hunting for gold in Africa – nothing strange about that, but exactly where they're exploring and the way they hope to do it piques our curiosity.
It's exploring for gold in Zimbabwe – a country rich in mineral tenements and centuries of mining history. The Arabs have been trading gold in Zimbabwe for millennia and with 4,500 known gold deposits, there is no shortage of opportunity...
However, before we go too much further, it must be stated – investing in companies operating in Africa carries significant sovereign risk – Zimbabwe included, and this little stock is high risk and not for the feint hearted.
On one hand, this company has a Board and management team which knows how to operate within Zimbabwe's system – having acquired and built a few gold mines in the country in the past.
At the same time, corruption and graft can cause major issues getting projects up and running in countries such as Zimbabwe – and this company may face challenges.
This company is aiming to have gold production in the bag by the end of this year, and is bypassing a large 'JORC Resource' qualification
Whilst it's exploration methodologies are to the utmost of JORC standards, it's hoping that by cutting out a lot of the steps involved for an ASX-listed miner, it can skip straight ahead to the 'making money' part of the venture, which is surely the most important.
This company can only do so because it's targeting a clear geological intrusion surrounded by dormant mines – which were closed not because they were tapped out, but because of low gold prices, war, dropping the gold standard and other geological events.
As the company goes about its business, out of sight of the world's media, a quiet revolution has been taking place and industrial activity is starting to pick up in Zimbabwe... and this company is confident it will hit its milestones.
The company has now gotten to a point where it hopes to be able to produce gold – an achievement in itself.
The company is aiming for an annualized production target of some 15,000 to 20,000 ounces of gold per year, then expanding to 40,000 ounces of gold per year.
With a listed price of under 1c and a market cap of under $3 million the price is right – and the strategy may just be on the money too – we will have to wait and see.
Introducing:

Prospect Resources
ASX:PSC
Given Prospect Resources (ASX:PSC) is targeting proven gold mines, it needs to put in a minimal amount of exploration work.
Most recently PSC secured the mining rights to the Bucks Reef gold mine, which the company is hoping to bring online as a high grade component to its overall multi mine gold play: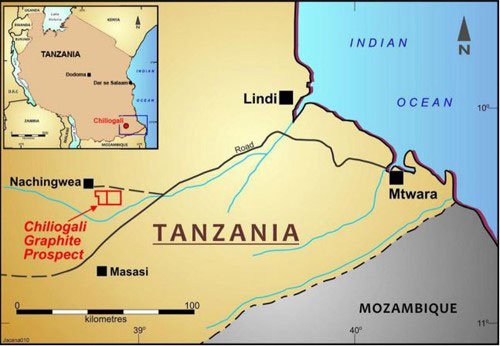 We will dig into all the details about the mining plan, but first it's important to understand exactly who is behind the scenes at PSC.
You may see other ASX-listed gold companies spend years on exploration and assays, but PSC simply doesn't have to do all that work and is in a position to keep overheads low.
The only reason PSC is in a position to do so is because of a man by the name of Harry Greaves...
The Harry and Hugh story
Harry Greaves
Harry Greaves, a founder and now Executive Director of PSC is a unique case.
He's a fourth-generation Zimbabwean, and has well and truly seen the best and worst of Zimbabwe.
Greaves started out as a farmer, but unfortunately this became 'unfashionable' in the early 2000's and resulted in a radical change of career.
Harry moved south to assist his fiancée with her community based furniture factory while considering his options.
The factory was situated at an old family owned gold mine that had been closed since 1954...
Greaves had literally happened upon a gold mine in the backyard .
With some strong encouragement from his new bride he put together a few friends and family, and despite not having any mining experience, got the mine going.
That early mine has formed the basis of Farvic Consolidated Mines, which is extremely useful as a proof of concept along strike from the current project area.
FCM continues to run today employing 240 workers and producing just under 10,000 oz./pa.
Greaves and his partners have assembled an extremely experienced team who are the driving force behind PSC's acquisition of key mines – showing that it is possible to do business within Zimbabwe if you know how to.
This team have acquired, designed and build two complete gold mines and a very successful eluvial chrome mine using limited capital with appropriate local expertise.
However, with PSC, he decided he needed a bit of help to get the swathe of mines under the purview of PSC up and running...
Hugh Warner
In the resources game, Hugh Warner is what's referred to as a 'shell whisperer'.
Warner has extensive experience on multiple continents in taking small companies and making them into something.
His most famous stint was at Extract Resources, which those of you with long memories may recognise.
It was an ASX-listed uranium play which was eventually taken over by Taurus Minerals in 2012, a subsidiary of China-based China Guangdong Nuclear Power Group.
The value of that deal was a whopping $2.1 billion.
While Warner wasn't with the company at that point, he was part of the team that rebuilt Extract and then did the deal with Peter McIntyre and it was Peter who built Extract into one of the largest un-developed uranium deposit in the world.
The Chinese themselves are increasingly big investors in both Africa and Zimbabwe, but more on that later...
Armoured Fox
Not a lot is known about Armoured Fox Capital, a private company run out of South Africa.
However, it is a major shareholder in PSC and this year backed in the company to the tune of US$1 million by picking up nearly 72 million shares and then another A$140,000 in the recent rights issue.
The ties between the two companies are close, as evidenced by Manana Nhlanhla's presence on the PSC board.
What is known is that it's an investment vehicle for Ms Nhlanhla and Sithembiso Mthethwa, and that's really about it. Two successful, Durban based, South Africans who have made their money in shipping.
However, it highlights one of the key selling points for PSC. It is believed about 40% of its register are based in Africa.
They also have unique insight into the markets in Africa and unique proposition PSC represents for the continent.
They also know how hard it can be to do business in Zimbabwe, and yet have confidence enough to put their money where their mouth is and back PSC.
While many investors still shun the investment climate in Zimbabwe many counter cyclical investors and African investors know what's actually going on in Zimbabwe and are keen for some exposure.
The mines
The strategy from Prospect Resources (ASX:PSC) is to basically go into older mines, apply modern techniques, and look in places that others haven't to generate quick gold production from a working mine.
It's similar to what happens in small cap oil plays where they 'work over' a historic well which has been shut in and bring it up to production.
It's the resources equivalent of super low-hanging fruit, and a strategy ripe for companies like PSC to come in and put in a minimal amount of capital to get off the ground.
It just so happens that PSC has an absolute litany of small mines around Zimbabwe which it is hoping to prove up the gameplan with.
PSC's main focus in on a cluster of mines referred to collectively as the Gwanda East project .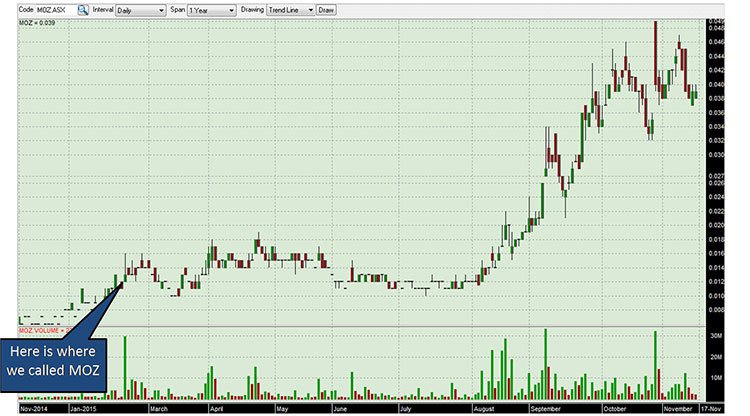 The location of mines within the Gwanda East project. Source: Prospect Resources
The overall project covers the eastern portion of the Gwanda Greenstone Belt and contains the Prestwood, Sally, Wilson and Bucks Reef mines as well as dozens of active artisanal sites, all along the same geological signature.
Recently PSC announced that artisanal miners had opened up 2 new reefs from surface and were grading up to 16.4g/t. These structures are parallel to Prestwood.
The artisanal miners work under licence issued by Hawkmoth Mining & Exploration, PSC's subsidiary. When PSC wants to develop this ground properly, they will move off the ground and become part of PSC's workforce.
It's the Prestwood Mine that PSC is bringing into production in the near future, with early equipping of the mine going well.
Teams are double shifting to rehabilitate the shaft to gain access to the intact material below an existing shaft, while a second winder has been sourced.
Prestwood
The mine itself has historic production of 16,000 ounces of gold, and was mined intermittently in the 20 th century before World War II and the transition of Rhodesia to Zimbabwe, and then again at the turn of the 21 st century.
It's important to note that the mine closed not because production was tapped out, but because of both war and the gold price fluctuations over the course of the 20 th century.
It was picked up by PSC last year, whereupon it conducted a ground EM survey to augment the aeromag work already done, and this was followed by a limited RC drilling campaign to assess the length and depth of the historic strike.
PSC didn't have to do too much more to convince it that re-opening the mine was a good idea, thanks to the historic mining and the extensive artisanal mining in the area.
Even before it got to work, PSC had solid leads thanks to the artisanal mining done by HME.
Thanks to the artisanal miners, PSC has discovered and exposed multiple parallel structures between the Prestwood and the Bucks Reef mines as well as multiple other structures along the monzonite greenstone contact.
Several of these areas are currently being trenched and sampled by PSC personnel.
Plus, there is adequate plant capacity locally within partners FCM to toll treat any ore produced in the near term.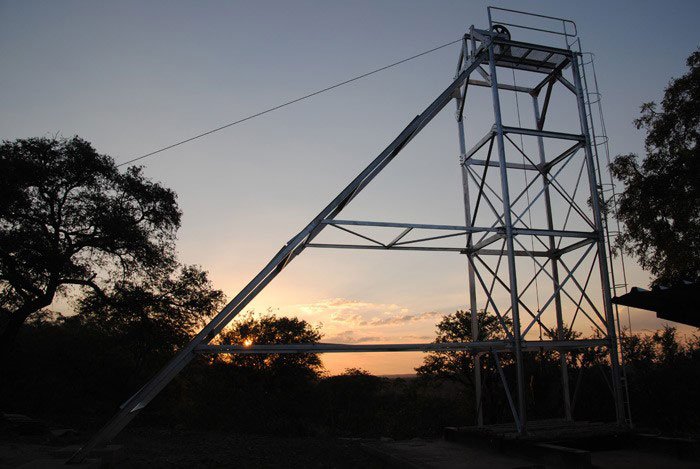 The Prestwood Mine. Source: Prospect Resources
During the limited RC campaign, six holes to be exact, drilling found the main reef to be intact down dip of the existing workings to 195m below surface.
Individual hits included 1m at 9.23 g/t gold, and 1m at 9.94 g/t.
Normally you'd try to get more drilling done, but PSC had all the data from historical mining to draw from.
It just needed confirmation that the main strike remained open – and it did.
PSC subsequently raised cash via a placement to Armoured Fox to get the mine back up and running, and it will be pulling out gold as soon as the end of the year.
At this stage, PSC is hoping to bring Prestwood into production, then Sally and then Bucks and the ground between Prestwood and Bucks.
PSC hopes to be hitting an annualized production target of some 15,000 to 20,000 ounces of gold per year and then target annualised production of 40,000 ounces of gold per year.
Buck's Reef
The other major mine target is Buck's Reef, which it has just tied up the mining rights for.
Historically, the mine has produced 46,168 ounces of gold, with the mine starting operations in 1902. By 1909 the mine was the highest producing gold mine in the country (although hard data on the subject is hard to find), but main work at the mine was finished by 1912.
Artisanal mining has firmed up grades of up to 16.4g/t in a parallel structure to that of Buck's Reef, results which are consistent with results of RC drilling done by PSC last year.
Over the mine's life, it has closed and re-opened several times as the gold price fluctuated and various ore bodies were discovered.
The thing about both Prestwood and Buck's Reef is that they both lie on the same geological setting as the Farvic Gold Mine, roughly 4km to the east, which is owned by a sister company to PSC.
What's more, both the mines consist of multiple veins in greenstones at or close to a monzonite contact.
That monzonite contact goes on for a 5km strike within PSC's tenements, meaning it will have a lot to look at.
Other projects on the slate
The key aspect to PSC is that it doesn't just have one mine it's working on, but rather has a whole suite of existing mines within its tenements it's just waiting to crack open.
Projects such as the Penhalonga Gold Project and Bushtick Gold Project offer plenty of longer-term play for PSC.
Bushtick in particular is shaping very nicely.
Located in the Esigodini Greenstone belt, the mine was a major historical producer, but crucially, has not been subject to any modern prospecting techniques.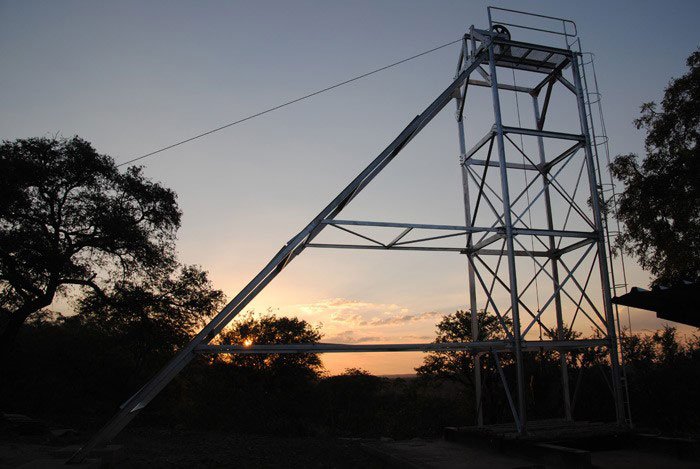 A header frame at the Bushtick Mine. Source: Prospect Resources
Historical production from four shafts measured 470,000oz. with a 4g/tonne Au cut-off grade.
Last year PSC conducted some trenching and sampling in and around the mine, with nine zones of economic gold grades confirmed in seven out of ten trenches.
PSC has dozens of projects just like this dotted around Zimbabwe, and the larger game plan here is to get the Prestwood Mine producing and then use the revenue from gold sales to re-enter other mines and conduct exploration work.
In short, PSC is hoping for a golden domino effect whereby one mine will open up opportunities at the other mines.
Our track record
If you've been following the Next Small Cap, you may have come across our original article on Mozambi Resources (ASX:MOZ) back in February 2015 – $3M ASX nano-cap next door to the biggest graphite resource known to man . We have been following the story since then – over that time, MOZ has been up over 300%: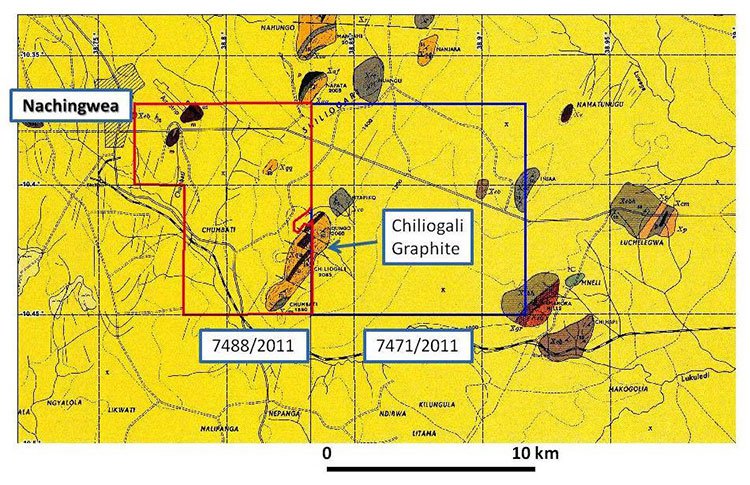 Source: Etrade Australia
The past performance of this product is not and should not be taken as an indication of future performance. Caution should be exercised in assessing past performance. This product, like all other financial products, is subject to market forces and unpredictable events that may adversely affect future performance.
Beijing calling
You may have heard a lot in recent years about the likes of China and Russia making key investments in Africa, playing a longer-term game linking resources development to political support on the world stage.
That story is also playing out in Zimbabwe.
While western companies have tended to leave Zimbabwe alone fearing reputational damage, there have been no such qualms from the Chinese and Russian governments.
For years, President Mugabe has been preaching a "look east" investment policy, keenly aware that western governments probably wouldn't be throwing money his way.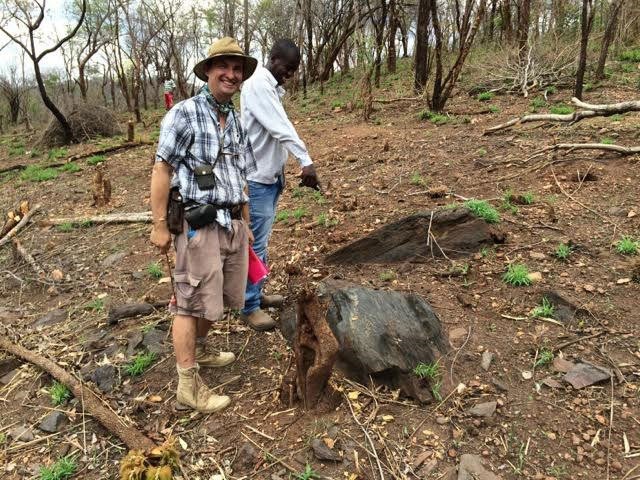 The above slide from Rhodes University's Stanislous Zindiye outlines some more of the numbers, and puts them in context of other African nations.
It is believed China's main investment has been in platinum and the controversial alluvial diamond mining industry, but there's no doubt the capital flowing into the resources industry has the potential to transform PSC's fortunes.
PSC is one of the few companies in the world westerners can invest in to capture this upside as a pure Zimbabwe play.
However, we should advise again that Zimbabwe does carry additional sovereign risk, so caution should be advised when considering as an investment.
But it's not just Beijing getting involved, but Russia too.
Earlier this year, Moscow confirmed that investment vehicle Great Dyke Investments would build a $4.8 billion platinum mine in the country, adding further investment in the platinum industry Russia had made in the country.
Both China and Russia have not imposed sanctions on the Mugabe regime, and in return the Zimbabwean government have allowed them access to key industries, often streamlining the approvals process.
The Final Word
PSC represents perhaps the only ASX exposure to the extraordinary growth the Zimbabwean resources sector is expected to feel in the coming years.
Investment from Beijing and Moscow has the potential to re-energise the entire country, but western companies by and large are going to miss out on the blue sky because their governments continue to impose sanctions on the Mugabe regime.
In this environment, it's hard for western investors to get a look in.
Enter PSC.
We told you at the top of this article that PSC represented an interesting investment and that's the way it should be treated.
It's in Zimbabwe, and it's a gold miner.
It's a high risk stock and there is no guarantee that PSC will go up in value over time.
However, it's playing a canny game for a micro-cap.
Instead of focusing on a "swing for the fences" gold project which would take years and huge amounts of capital to get up and running, it's focusing on working over old mines to create near-term production.
PSC will then use that production to work over other historic mines in the region.
PSC, then, is aiming to play a particularly valuable game of dominos.
However, to pull it all off it will need local talent and know-how, which it has in spades.
It has four generations of Zimbabwean know-how in Harry Greaves and his unique team, and ASX resource sector expertise in Hugh Warner.
It has an African flavour to its share register, meaning that its shareholders will have a unique insight into what PSC is doing.
With gold production set to start before the year is out, PSC could be about to start proving its long-term backers right and making those who scoffed at the premise foolish.
---