Gold Drilling Underway at CLZ's WA Forrestania Project
PUBLISHED: 18-04-2018 11:04 a.m.
Throughout history empires have risen and fallen on the back of gold discoveries.
Even today, gold remains one of the world's most coveted minerals, being used in everything from high-end jewellery to life saving medical technology.
Indeed, while gold remains incredibly sought after the rise of new technologies has brought with it increased demand for minerals such as lithium, nickel, copper and cobalt. Demand doesn't look like slowing down anytime soon either, as they remain essential components of the booming electric vehicle and battery industries.
Enter WA-focused junior explorer Classic Minerals (CLZ:ASX), that's looking to capitalise on the stability of gold and the skyrocketing demand for cobalt.
As it stands, CLZ holds 80% of the gold rights to the Western Australian Forrestania Gold Project (FGP), which has a JORC compliance Resource of 5.3 Mt at 1.39 g/t for 240,000 ounces of gold.
CLZ commenced reverse circulation (RC) drilling on April 16 with the goal of significantly expanding this Resource with an eye to upgrade in the third quarter of this year.
Assays are due the first week of May.
On its path to upgrading the current Resource, CLZ has two main objectives for the current drill program at the FGP site. The first is to uncover an entirely new and untapped system of gold mineralisation through maiden drill testing at the Van Uden West prospect. The second objective is to increase the existing known mineralisation at the Lady Lila and Kat Gap deposits.
These target areas have remained almost entirely unexplored for 18 years, though CLZ have reason to believe that they are highly prospective. Assay results — expected in early June — should confirm their potential.
Although CLZ remains a speculative stock and investors should seek professional financial advice if considering this stock for their portfolio.
Besides these established gold projects, CLZ is also making substantial progress on expanding its Fraser Range Cobalt Project in southern WA.
In light of the current global demand for cobalt, CLZ intends to undertake further geographic sampling and begin shallow Air Core (AC) drilling at Fraser Range as soon as the relevant government approvals are finalised.
With all this considered, let's get reacquainted with:

Classic Minerals
ASX:CLZ
Classic Minerals' (ASX:CLZ) is powering ahead with exploration at its Forrestania Gold Project in WA.
Here's the company's CEO Dean Goodwin taking a closer look at drilling samples at its flagship project: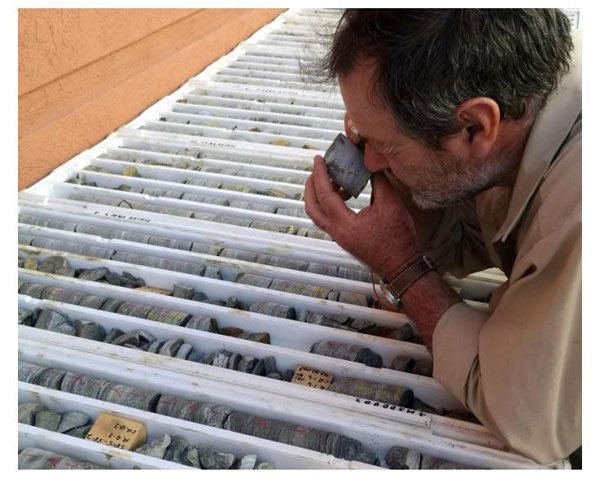 Goodwin highlighted the project's potential, including his confidence of their being a 'very large gold system' thanks to plenty of repetitions, and the fact that the project's mineralisation keeps growing as exploration advances. He explained that despite it heading outwards on both deposits, the end of mineralisation hadn't yet been reached.
He also explained to Finfeed.com that CLZ is a lot more advanced as far as getting things done when compared to other gold projects in WA thanks to his time at the project 17 years ago. That meant that the company already had an understanding of the project's structural orientations — giving it a headstart and making it easier to plan cost effective drilling rather than 'just taking a stab'.
Goodwin touched on a recent MOU with Tianye SXO Gold Mining for treatment of any ore to be extracted from Forrestania. He described the nearby processing plant as 'a godsend' that will be essential in developing the project to a bigger scale.
The full discussion can be found in the Finfeed.com (a related entity of S3 Consortium) below article: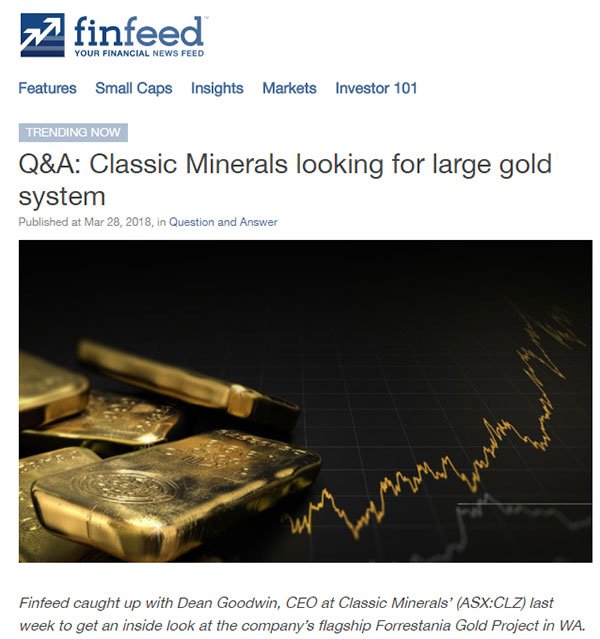 The following video provides further detail, as well as a visual idea, of the Forrestania Gold Project, with a specific focus on the Lady Magdalene and Lady Ada prospects...
Drilling underway at the Forrestania Gold Project
While the Forrestania Gold Project already boasts an impressive JORC (2012) compliant Resource, CLZ is making bold moves to uncover further mineralisation at the FGP site through additional exploration.

The upcoming drill program is the next step in uncovering additional, high quality ounces outside of Lady Magdalene and Lady Ada.
RC drilling is already underway at the Van Uden West, Lady Lila and Kat Gap prospects — with assay results expected in June.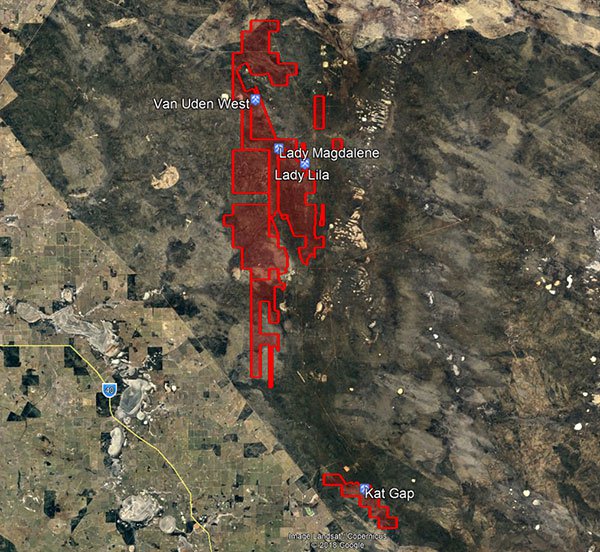 Lady Lila
Located four kilometres east of the Lady Ada site, Lady Lila has a gold deposit that bears a striking resemblance to the $625 million capped Kidman Resources' (ASX:KDR) Bounty and Blue vein ore bodies, which are historically prolific, high-grade gold deposits in the region.
CLZ does have a lot of work to do to reach the heights of KDR, so investors should take all public information into account and a cautious approach to their investment decision.
Because of the location and the fact that the Lady Lila prospect has seen very little drill testing in the last two decades, CLZ believes there is a strong potential of discovering a substantial gold deposit in this area.
Lady Lila contains a significant strike extent, high and low-grade intercepts, is broadly drilled and requires additional exploration. However, the current drilling commonly fails to drill deep enough to adequately test the steep easterly dip (some holes even terminate in mineralisation), and are insufficient to judge Lady Lila's prospectivity.
Cross section looking north at Lady Lila: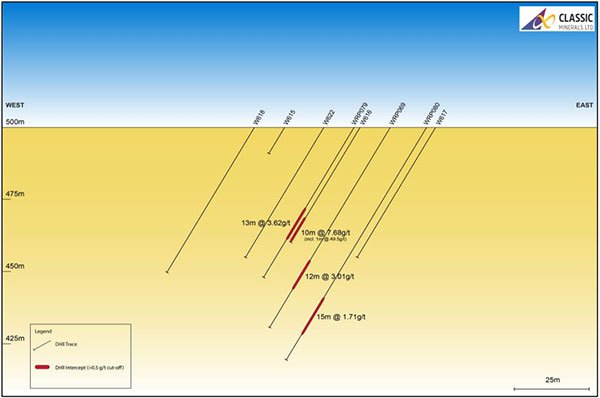 Kat Gap
Drilling at CLZ's next prospect, Kat Gap, has shown that primary gold mineralisation is associated with quartz veining developed in granitic rocks at or close to the western granite-greenstone contact of the Forrestania Greenstone Belt, and extends into the overlying oxidised zone.
Impressive RC drilling intercepts from 2003 at this site include:
15m at 15.1 g/t gold from 39m depth

6m at 19.1 g/t gold from 17m depth

Promisingly, only about half of the entire five kilometre Kat Gap prospect has been tested by RC drilling.
While deeper drilling has been mostly ineffective at this site, a SOG report covering the issue notes there's good potential for further gold mineralisation on the four kilometre-plus strike of the granite-greenstone contact.
With this in mind, CLZ intends to undertake further drill testing, with the RC drill rig currently on site. The first pass program is expected to be completed by April 26 at the latest.
The cross section looking north at Kat Gap shows previous drilling intersections: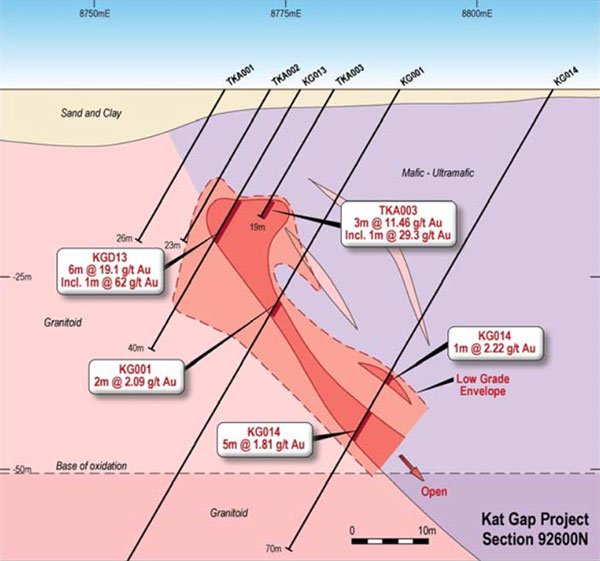 Van Uden West
In addition to Kat Gap and Lady Lila, and after extensive field work and review of historic exploration records, CLZ deemed its new target, Van Uden west as being a priority. The deposit is surrounded by historic gold mines Van Uden and Teddy Bear.
Van Uden West not only exhibits geography resembling the high-grade Lady Magdalene and Lady Ada sites, but has an excellent structural location with contact between granite and greenstone.
Moreover, given the previously inadequate testing conducted at this site, further targeting has a good chance of revealing additional high-grade deposits.
Here's a plan view showing Van Uden West and other deposits: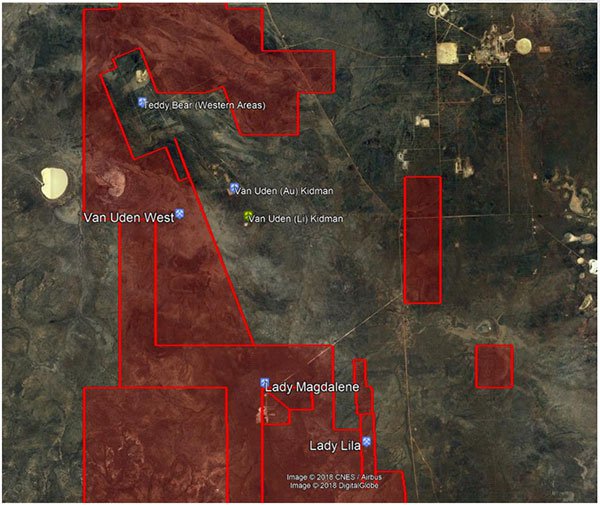 Additional drilling soon to commence at Lady Magdalene
Finally, recent assay results from the Lady Magdalene prospect revealed promising mineralisation with a several quartz veins and narrow shear zone exhibiting similar orientation characteristics to Lady Ada.
Once government approval is finalised, CLZ will undertake further close-spaced RC drilling to confirm the grade, size and extent of the potential deposit. This should be sometime in the June quarter.
Gold and cobalt: the old world meets the new
While CLZ has busy progressing its Forrestania Gold Project, the gold price has been humming along, and now there are growing predictions that 2018 could finally see a rally in gold after the last few years' steady pace.
Here BullionVault predict gold to hit US$1450/oz. later this year...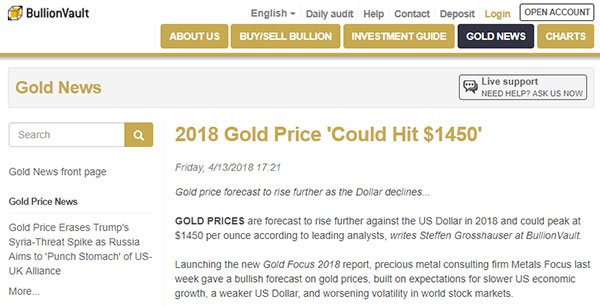 Any rise in gold prices will further enhance the project's potential for eventual commercialisation.
Cobalt in the Fraser Range
While CLZ's primary focus remains on gold exploration, a recent review of a historical dataset at the Fraser Range Project has identified a highly promising cobalt anomalism.
A number of impressive sample readings returned from this site include: 1399ppm cobalt 1024ppm cobalt and 983ppm cobalt.
Not only are these readings impressive, but the entire area has been touted as a hotspot for cobalt exploration, with the famed prospector Mark Cressy recently signalling his intention to explore for cobalt in the area.
Tenements controlled by CLZ are highlighted in red.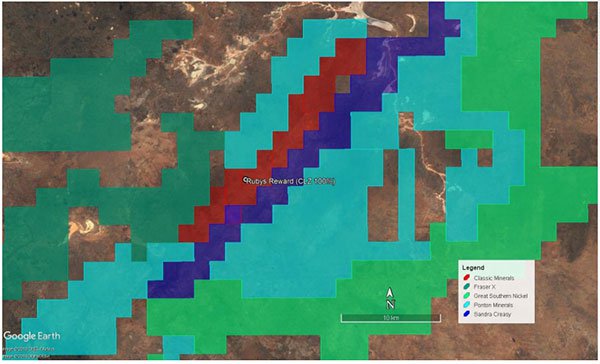 To capitalise on this opportunity CLZ is planning to carry out extensive geological mapping and shallow AC drilling in the near future to fully gauge the extent of cobalt mineralisation at Ruby's Reward. The company expects this to occur in the June quarter.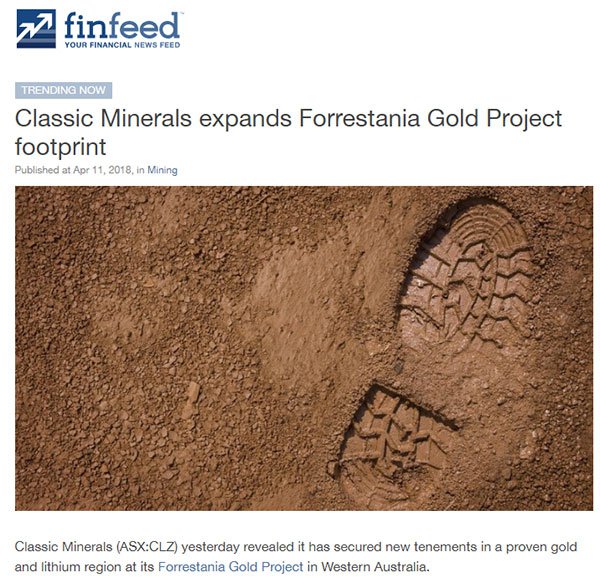 Given that there has been minimal exploration for cobalt at the Fraser Range Project in the past, there's good chance that there are high-quality discoveries are still to be made there.
CLZ is already making waves in the news thanks to its impressive gold prospects. In addition to the high-quality cobalt assets to its portfolio could prove significant for the junior miner by the end of 2018.
Cobalt continues to make headlines worldwide as the demand for electric vehicles and batteries grows exponentially.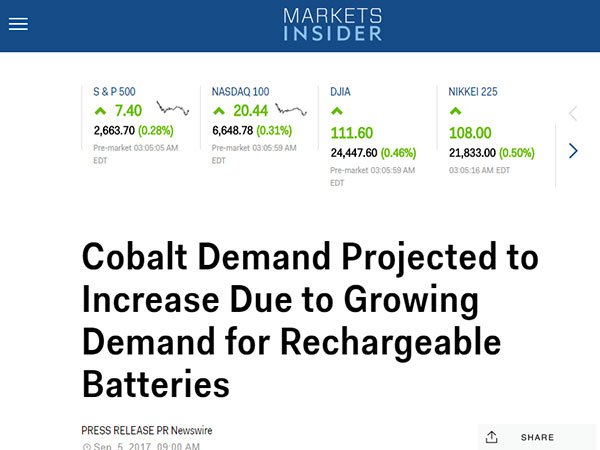 Cobalt has soared past US$90,000 per tonne in the last few months, for a gain so far this year of more than 20%.However, commodity prices do fluctuate and caution should be applied to any investment decision here. Seek professional financial advice before choosing to invest.
This the electric vehicle and rechargeable battery led cobalt boom has already carried over to a handful of ASX-listed cobalt stocks that have chalked up some impressive returns.
Take Winmar Resources (ASX:WFE) for example, who's share price has rallied 1900% in less than six months after realigning its strategy and acquiring cobalt projects. WFE's moves were outlined in the Next Small Cap back in January with the article, ASX Stock to Take Advantage of Latest Cobalt Boom?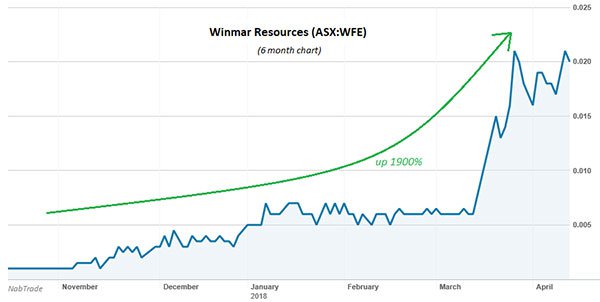 CleanTeq Holdings (ASX:CLQ) is another ASX junior that's had an impressive share price rise on the back of the cobalt boom, rising 770% in two years.
The past performance of this product is not and should not be taken as an indication of future performance. Caution should be exercised in assessing past performance. This product, like all other financial products, is subject to market forces and unpredictable events that may adversely affect future performance.
If CLZ can continue to deliver positive results from its gold operations and further develop its cobalt prospects, it could mean big things for this ASX junior in 2018 and beyond.
What's next for CLZ?
With the company making significant progress at its flagship Forrestania Gold Project and its new found focus on cobalt exploration, CLZ is well positioned to create shareholder value in the coming year.
CLZ has a market capitalisation of just $4.66 million, leaving plenty of upside potential if it can deliver upon its ambitious plans.
With the price of gold forecast to rise over the coming year and the cobalt price seemingly moving higher every day, and we can conclude that CLZ appears to have picked the perfect time to focus on one of the world's hottest commodities.
---