Gold Drilling Happening Now: NML's 2,000m Campaign
PUBLISHED: 17-04-2015 09:08 a.m.
The drill bits are now turning in country Victoria.
Up to 2,000m of combined reverse circulation and diamond drilling over 10 to 15 holes is planned, across 1,500m of strike.
Drilling has begun, and is expected to be completed in just 4 to 6 weeks, with results to flow soon after.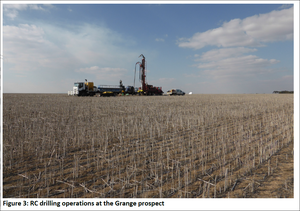 Tiny Navarre Minerals (ASX:NML) is capped at just $4M with only 88 million shares on issue – from such a tiny base, any significant gold hits on the current drill campaign could lead to a re-rate of the company...
NML is hunting for shallow gold at the Grange prospect which is thought to have similar geology to the nearby producing 5 million ounce Magdala Gold Mine at Stawell.
The Magdala Gold Mine is owned and operated by NML's largest shareholder, Crocodile Gold Corp, who just chipped in $200,000 to get the drills going at Grange. Overall, a total of $450,000 was recently raised by NML to fund exploration.
Crocodile needs more gold for its mills and is backing NML to help find it.
If gold is found, NML could simply ask to process the potential ore at its major shareholder's Stawell gold processing facility – a free kick for NML as it seeks to become a gold producer in the Stawell region, in one of Australia's most prospective and productive gold areas.
All eyes are now on NML's live drilling campaign here...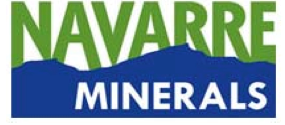 The Next Small Cap has been following Navarre Minerals (ASX:NML) for some time now and our original article – Tiny ASX Company in Race to Discover the 'Australian Andes is a great starting point to learn more about them. It goes into detail about NML's plans to discover a copper–porphyry deposit in the Miga Arc volcanic belt, within its Western Victoria Copper Project.
But NML also has a focus on the nearby Stawell Gold Corridor that includes the Grange prospect, currently being drilled, and the Ararat Goldfield.
NML has just been granted an exploration licence that contains the Ararat Goldfield with historic production of about one million ounces of gold. Interestingly, nearly all of the historic gold production from Ararat is from alluvial or secondary mining with the primary source of the gold remaining a mystery.
NML regards the Ararat alluvial gold as one of the largest geochemical gold anomalies in Australia, offering a compelling exploration target...
Meanwhile NML's Stawell Corridor Gold Project gives the company a healthy 60km long stretch of the highly prized Stawell Corridor south of the Magdala Gold Mine down to Westmere – an enviable position that has caught the attention of Crocodile Gold Corp.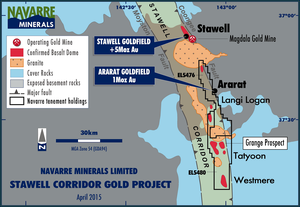 Source: Navarre Minerals
We previously alerted you to NML's drilling event in the article NML Set to Drill in Weeks on Target Similar to 5 Million Oz. Gold Mine – and now that moment is upon us.
This drilling is being heavily supported by Crocodile Gold Corp, the owners of Victoria's largest gold mines at Stawell and Fosterville.
Croc already have a full-scale production and processing facility in place at Stawell, just up the road from Tatyoon, which could be used to process a potential ore body discovered by NML.
The Grange prospect could just be the start of unlocking the gold potential of this region.
If you look carefully at the diagram above you notice that the Stawell and Ararat Goldfields account for approximately 6 million ounces of past gold production and it quite clearly comes from an area where the basement rocks are exposed at surface (grey areas).
Moving north and south along the Stawell Corridor, the prospective basement rocks become concealed below a thin veneer of cover (blue areas) – hiding them from the old time gold prospectors.
NML has worked up three basalt dome targets that have look-alike geology to the Magdala Gold Mine in production right now for the Croc.
All three targets have a 'wine theme' following the initial discovery on Grange Road – Grange, Hermitage and Shiraz: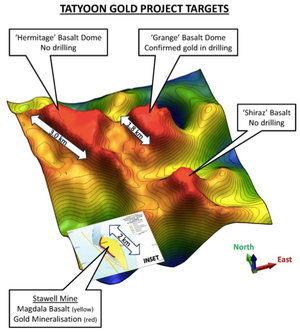 These three shallow basalt dome targets were detected from about 10 years of geophysical survey data collected by previous explorers. The Grange prospect is going to be drill tested first as it demonstrates the strongest case for a potential discovery: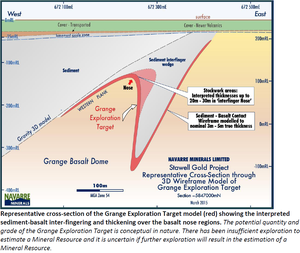 Source: NML – ASX release dated 19 March 2015
So let's get stuck into the details, starting of course with the money to pay for all of this activity...
Entitlement issue raises $450k for drilling
NML has successfully completed a capital raising that generated $450,000 before costs to support drilling at Grange.
The raising comprised a 1 for 4 entitlement offer to existing shareholders and a placement to NML's largest shareholder, Crocodile Gold Corp.
The entitlement offer raised approximately $274,000 representing a 50% take-up, by value, from eligible shareholders.
The placement raised a further $175,000 and together with a $25,000 contribution through the entitlement offer, Croc provided a total of $200,000 to NML's proposed drilling campaign.
A good result for NML with this cash injection to be directly applied to the current exploration...
NML to drill for shallow gold at Grange
NML has just kicked off a drilling campaign of up to 2,000m at the Grange Prospect within its Stawell Corridor Gold Project.
This will see RC and diamond drill holes piercing various points along a 1,500m long target. Drilling will be guided by geophysics in the form of four IP anomalies identified from the reprocessing of previous historic data and surveys: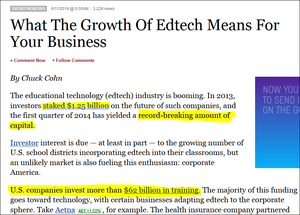 Source: NML – ASX release dated 19 March 2015
The main focus is the Grange Exploration Target , shown by the top right label in the image above – you can read NML's full ASX announcement on this here .
Back in 2004, former explorer Leviathan Resources Limited found gold on the margins of a large basalt dome structure from drilling: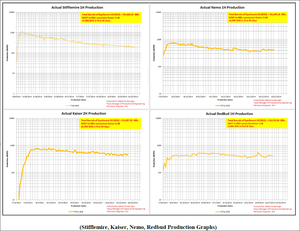 Source: NML – ASX release dated 19 March 2015
However, Leviathan never got to properly test it due to corporate take-over activity. Now that the Stawell Corridor Gold Project, containing the Grange prospect is in NML's hands, some serious drilling activity is now underway.
The geology has very similar characteristics to Crocodile Gold's Magdala Mine at Stawell, where shallow gold is found in abundance, and just 70km by road to the north of NML's current drilling.
The Magdala gold deposit has what's known as 'Stawell-style' gold mineralisation, where fine gold sits within black sulphidic mudstones that are in contact with a large basalt dome.
NML's assessment is that Grange is a Stawell look-alike and drilling of the Grange Exploration Target offers the strongest chance of proving it.
If you look at Magdala and Grange side by side at the same scale, you can begin to see the resemblance: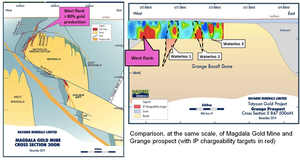 At Magdala, 80% of the gold historically mined came from the west flank of the Magdala basalt dome.
Similarly at Grange, the west flank produces the best IP geophysics responses which have never been drill tested.
Induced Polarisation (IP) is an electrical geophysical technique commonly used to detect disseminated sulphides below the surface which are usually recorded as areas of high and low electrical chargeability.
Stawell-style gold mineralisation has a strong association with sulphide minerals such as pyrite, pyrrhotite and arsenopyrite which are usually represented as IP high chargeability zones.
So those red zones (high chargeability) you can see on the on the west flank of the Grange basalt dome are very attractive targets for NML to probe with the drill rig.
NML will be concentrating its drills there to firm up its theory that "Stawell" type mineralisation exists there.
Then the rest of the 1,500m strike will be explored to see what trends can be found, and test the extent of any shallow mineralisation.
NML expects the work will take between three and four weeks to complete, and at The Next Small Cap we'll be watching for news and results as they come through.
If NML hits significant gold intersections and can go some way to confirming the potential of a big Stawell-sized gold resource, it could signal the beginnings of a transformation of tiny NML towards gold producer status... and the Grange prospect could be just the beginning of its Stawell Gold Corridor gold activities.
But first things first, the only way for NML to find out what's really down there is to drill.
...Exactly what it's doing right now.
Our Track Record
Regular readers of the Next Tech Stock will be familiar with our long-standing interest in high potential stocks.
To note just a few:
The past performance of these products are not and should not be taken as an indication of future performance. Caution should be exercised in assessing past performance. These products, like all other financial products, are subject to market forces and unpredictable events that may adversely affect future performance.
Ararat opens new prospects for NML
While NML drills into the Grange prospect, the company is also developing a new frontier right next door on its newly granted Ararat licence: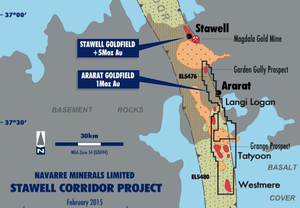 The Ararat licence contains one of Victoria's famous gold producing areas which was mainly worked by the Chinese – the historic one million ounce Ararat Goldfield.
There could be plenty more prospects still to be discovered here – especially with modern techniques applied.
NML has been granted Victorian Mineral Exploration Licence EL 5476, which includes the Ararat Goldfield, for an initial five-year period.
The Ararat licence contains the Garden Gully prospect, which NML considers has high potential for another Stawell look-alike target, similar to the Grange prospect it is drilling down south at Tatyoon.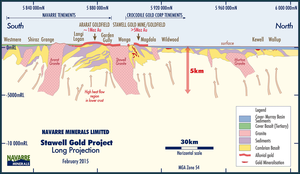 In the cross section below you can see the locations of the Ararat Goldfield on surface to the left and the Stawell Gold Mine and Goldfield to the right.
It shows just how long and how shallow this prospective area is – NML has a 60km stretch in this prospective corridor that adjoins Crocodiles' land.
The path ahead should see NML bring an exploration programme to bear on EL 5476 which will include looking for the hard rock source to Ararat's 1 million ounces of historical alluvial production. Exploration on this licence will get a significant boost if the drilling programme at Grange finds something compelling.
What's next for NML
Drilling is happening right now.
Up to 2,000m of RC and diamond drilling will be played out over the Grange project targeting shallow gold mineralisation.
This work is expected to take between 4 to 6 weeks to complete.
Results will follow shortly thereafter in May/June – fingers crossed for gold intersections!
Now it's got its hands on an exploration licence for the Ararat Goldfield, 60 kms of this highly prospective gold region are now under NML's control and it's getting set to drill at its Grange Prospect right in the middle of it all.
We'll be watching this one closely!
---