Fully Funded MPJ Reveals Big New Nickel Targets
PUBLISHED: 31-07-2014 16:19 p.m.
Nickel is surging. One of the nickel plays in our portfolio may just be on the verge of a big discovery... What they have found recently has prompted them to head straight to immediate drilling . Mining Projects Group (ASX:MPJ) will soon commence 5,000m of drilling on a continuous strike of 40km of ultramafic rocks ... the perfect breeding ground for big nickel sulphide deposits. They have just raised $1.4M and very soon we should be getting news on pinpoint drill targets and the start of their campaign. We could be weeks away from results now. MPJ's resident nickel rock star, Mr Neil Hutchison, recently reviewed 50 years' worth of shallow drilling, adding it to his 3D modelling work – he has determined that this previous drilling missed deeper, bigger, plunging targets to the south. MPJ is a microcap nickel explorer with swathes of land next door to both Sirius AND Rox Resources. Yes – the same Sirius that became a 100 bagger in less than a year after making the big Nova Bollinger nickel discoveries. Rox Resource's claim to fame is the Camelwood discovery – whilst not a commercial discovery in itself, it did spark a market cap growth from $7 million to $58 million in February 2013. And recently released drill results showed some strong nickel hits – promptly sending the Rox Resources share price surging. The past performance of these products is not and should not be taken as an indication of future performance. Caution should be exercised in assessing past performance. These products, like all other financial products, are subject to market forces and unpredictable events that may adversely affect future performance. MPJ hold high prospect ground next to both – nice neighbours to have. MPJ have been pursuing rigorous exploration of their high potential ground across three projects, and the planned 5,000m drilling program will be on their Roe Hills Project in the Fraser Range. Our first article covered MPJ's talented exploration team, which includes Newexco, who were behind Sirius' Nova-Bollinger nickel discoveries, and Andrew Forrest's top geo from Poseidon, Neil Hutchison. Neil almost wrote the book on nickel exploration in Western Australia, making big nickel discoveries at Windarra and Cosmos for Poseidon. This gives us confidence as investors – we are glad they are on board at MPJ. Both Newexco and Neil are all taking MPJ shares as payment or part-payment for their services, showing their belief in the Projects. We also covered MPJ's remarkable ground positions. Not only do they hold land next to Sirius and Rox, but one of their projects is wedged between Sirius and Fortescue! Yes – Twiggy's Fortescue, capped at over $13BN these days. They don't just look at iron ore. So at Roe Hills in the Fraser Range, MPJ has just revealed another set of substantial, high priority nickel targets... capably led by Neil Hutchison who has presented a strong case for the presence of nickel... Newexco is now completing final geophysical analysis of the historical data to set precise drill locations for the 5,000m of planned drilling. The Programme of Works has been approved and the drilling contract is under negotiation as we write. Even with these newly found drill targets, plus a healthy $1.4M in the bank account, they are still capped at just under $9M – one of the lowest of the Fraser Rangers: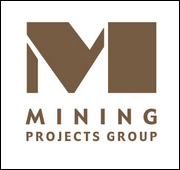 The current surging nickel price has played right into MPJ's hands – they hold a suite of tenements in highly prospective Western Australian nickel regions, three of which the company is focussing on right now, running north south in the map below:
Dingo Range Project
Roe Hills Project
Fraser Range East Project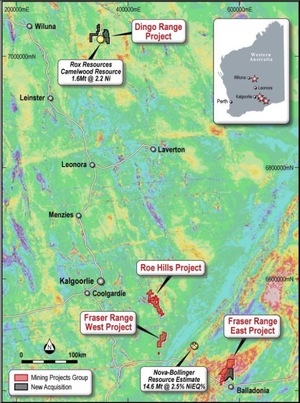 MPJ can count on a tightly held register – over 72% is in the hands of strategic investors: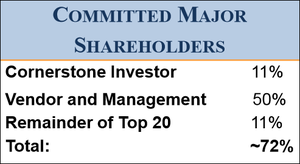 This ensures any potential discoveries are highly leveraged. MPJ is now cashed up to the tune of $1.4M, which was raised with institutional and sophisticated investors:

This will be deployed on exploration of their high potential projects, in particular Roe Hills, which will be the subject of immediate drilling. Let's take a peek at MPJ's exploration development since our first article...
Roe Hills – Multiple New Nickel Sulphide Zones
The Roe Hills Project is MPJ's flagship project, 100% owned by MPJ, and comprises 5 licences covering 360 km 2 :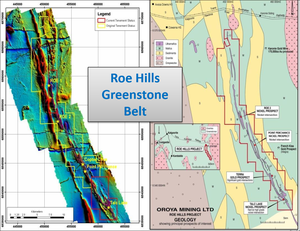 The Roe Hills Project is conveniently located near Kambalda – so access to infrastructure is relatively easy. Within the Roe Hills Project are a number of nickel sulphide targets which have warranted much further investigation.
The Nickel Rock Star's 3D Model
The nickel rock star himself, Mr Neil Hutchison, has reviewed the Roe Hills historic data, and what he has found has impressed him – this doesn't happen easily. He is so impressed he has called for immediate drilling to investigate some eye catching deeper nickel sulphide targets. It all starts with 50 years of historic shallow drilling – this has given MPJ a wealth of data which combined with modern exploration techniques, has pointed to something much deeper. Combining the shallow drill results with the geochemistry of the area, Neil has put together a 3D model which has allowed him to understand what is going on below the surface. The aim is ultimately to pierce these apparent nickel bearing lava channels with a drill bit. The previous explorers of the land only undertook shallow drilling at the surface, where they were somewhat misled by the geochemistry at ground level. What they missed is that much deeper and to the south are plunging channels which may well host shiploads of nickel: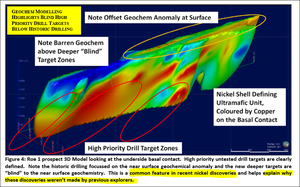 You can see the high priority drill targets deeper down and glowing red – directly above them is a deep blue – this is the "barren" area at ground level – a red herring to what lies beneath. Newexco is now finalising its comprehensive geophysical analysis of data collected over several generations of surveys. Then Neil's completed review and Newexco's review will be combined to further refine the sulphide targets. Neil's work with Newexco already highlighted that the ultramafic unit is fertile with the potential to host significant new nickel sulphides. Ongoing review of the exploration data over the 40km strike length at MPJ's Roe Hills nickel project has pinpointed multiple new nickel sulphide zones within a fertile nickel belt. A snapshot of all of MPJ's targets at Roe Hills are illustrated below: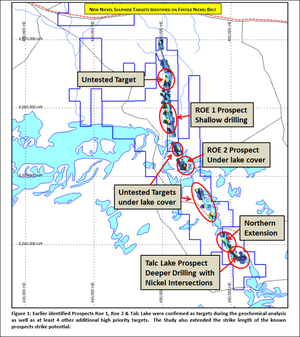 As well as more individual targets, the overall strike length has also been extended. These targets deserve some attention, and MPJ is now designing an initial stage, 5,000m drilling campaign to test these high priority targets. Being savvy operators, and having a suite of quality drill targets as bargaining chips, MPJ has commenced negotiations with drilling contractors to provide drilling on a part equity basis. This conserves MPJ cash and also hints that the drillers think there might be something valuable in the ground... The first stage Programme of Works is already approved by the Western Australian Department of Mines and Petroleum.
Our Track Record
Regular readers of our sites will be familiar with our long-standing interest in high potential stocks. To note just a few:
The past performance of these products are not and should not be taken as an indication of future performance. Caution should be exercised in assessing past performance. These products, like all other financial products, are subject to market forces and unpredictable events that may adversely affect future performance.
Roe Hills and the 40km Nickel Anomaly
MPJ's Roe Hills Project sits in a 50km belt of prospective nickel-bearing greenstone. The Roe Hills Project consists of 5 tenements 100% owned by MPJ, covering a continuous strike of 40km of ultramafic rocks and 360km 2 of prospective terrain . Ultramafic rocks come direct from the Earth's crust and it's within these rocks that nickel tends to hang out. Historic nickel sulphide drilling at Roe Hills defined three prospective solidified, ancient lava flows... Which look very similar to those seen at the giant Kambalda and Cosmos nickel deposits. These historic intersections contained both high grade nickel, and broad nickel intersections. Just a few of the previous nickel intervals included 1 metre at 3.53% nickel from 155 metres, with 0.5 metres at over 6% nickel, as well as much thicker, shallower hits like 28 metres at 0.50% from surface. Most of the deeper drilling conducted to date was concentrated in one obscure little area at the Talc Lake Prospect. However... the review by Neil has unveiled further potential to the north, south, and down dip of this area. Here is Neil's 3D model of Talc Lake, based on all historic data gathered to date: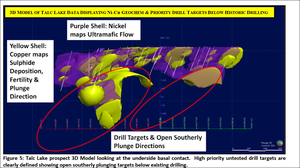 Again, at this prospect, much of the historic drilling was very shallow and did not intersect the main zone of solidified lava flows, where nickel sulphides are usually deposited. Painstaking analysis of the historic drilling data confirmed that the rocks at Roe Hills display several critical features associated with fertile Nickel belts. These features include the presence of komatiites and high magnesium levels, as illustrated below: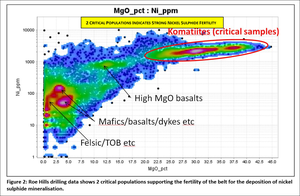 The Roe Hills drilling data exposed both massive sulphide and disseminated sulphide sitting above the normal range of un-mineralised rocks: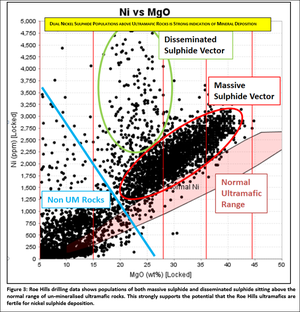 Again, this strongly supports the theory that the Roe Hills ultramafic rocks are fertile for nickel sulphide deposition. It's early days, but Neil Hutchison and Newexco think they may be onto something very interesting at Roe Hills. One way to really find out more is to start the 5,000m drilling program – but drill spots need to be selected carefully. This should be just a few short weeks away now.
Fraser Range East and Dingo Hills
As well as Roe Hills, MPJ can count on another two high potential projects, at Fraser Range East and Dingo Hills. Newexco has already finished the first stage of the Moving Loop Electro Magnetic (MLEM) Survey at both projects. Soil samples have also been taken at Fraser Range East.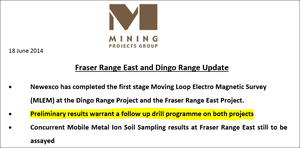 What they found from the preliminary results was enough for Newexco and Neil to continue planning further methodical exploration – eventually we expect a drilling program on both of these projects too.
Where There's Smoke, There's Usually Fire
MPJ is sending out smoke signals all over the shop... When all these pieces of evidence are collated from all three of their high potential nickel projects, a very compelling picture is painted. With the nickel price only getting stronger, the best in the business putting MPJ's nickel puzzle together, and using the most modern prospecting technology, MPJ is developing fast and honing in on quality, high potential drilling targets. Soon, the latest geological and geophysical results from Roe Hills will be in for Neil and Newexco to dissect... Then it's time to get drilling!
---