First Gold, Now Graphite: PSC's Perfect Match
PUBLISHED: 18-11-2015 11:36 a.m.
Being a near term gold producer in Africa is reason to take notice, but when a tiny explorer makes a play for Tanzanian graphite, it is hedging its bets on multiple fronts.
There has been a lot written about Tanzanian graphite. In fact there has been a great deal written about graphite in general.
From Elon Musk's electric cars and Power Walls in the home, the world is looking at a mass uptake of lithium-ion batteries, which will be very much dependent on millions of tonnes of graphite, the likes the world has never seen before.
According to a P&S Market Research report the global market for graphite is roughly $15.06 billion and is tipped to grow by 4% until 2020, with a global supply/demand imbalance thought to be about 1500 tonnes in favour of suppliers.
It is no wonder then that there have been a number of players across Africa who are exploring for graphite. Think large companies like Syrah, Triton, and Magnis...
There is one particular hot spot in Tanzania that is host to some of the most high quality graphite discoveries in the world.
And Prospect Resources (ASX:PSC) has joined the chorus there.
PSC is the latest ASX-listed company to get into the Tanzanian graphite game, yesterday picking up an option to acquire a project which results to date are showing an average grade of 11.5%.
Add that to PSC's aim to have gold production in Zimbabwe kicking off in the coming weeks and the Company seems to be kicking goals on two fronts.
However, PSC is still a small company and professional advice should be sought when considering this stock for your portfolio.
Investing in companies operating in Africa carries significant sovereign risk – Zimbabwe and Tanzania included, and this little stock is high risk and not for the feint hearted.
Corruption and graft can cause major issues getting projects up and running in countries such as Zimbabwe – and this company may face challenges.
PSC has just confirmed a three-month option to farm-into the Chiliogali Prospect, in a deal done with Tanzanian company ASAB Resources , with a main prospect that featured a thick graphitic band measuring at over 4km in length...
The deposit was first found back in the 1950s as part of a railway line project, and trenching by previous owners had turned up grades averaging 11.5% total graphitic carbon over 15.8m.
Peak grade returned 31.8% TGC and the electromagnetic survey delineated 13 as yet untested conductive anomalies on strike.
PSC is looking to fund its graphite exploration efforts with near term gold production – so should all go to plan there's a lot of news to come...
With that in mind, we re-introduce you to...

Prospect Resources (ASX:PSC) is a Southern African focused mining and exploration company that recently announced the purchase of a three month option to farm-in to the Chiliogali Graphite Project.
Its main focus prior to this graphite play has been a somewhat different approach to gold exploration.
When we first alerted you to the stock in Gold in Africa: Micro Cap ASX Stock with Production Imminent , PSC was targeting a clear geological intrusion surrounded by dormant mines – which were closed not because they were tapped out, but because of low gold prices, war, dropping the gold standard and other geological events.
PSC has a local team that is well versed in the region, and has experience getting projects off the ground in Zimbabwe.
PSC is at a point now where it is aiming for an annualised production target of up to 20,000 ounces of gold per year, then expanding to 40,000 ounces of gold per year.
With the cash flow from this gold production, PSC should be able to fund its graphite exploration efforts further abroad in Tanzania.
Chillin' in Chiliogali
The Chiliogali Graphite Project is located approximately 180km west of Mtwara Port in south eastern Tanzania and is surrounded by sound infrastructure.
The project is easily accessible from the well maintained main Masai – Lindi-Mtwara road.
Mtwara is a city of 80,000 people and the Mtwara Port is a deep-water port where large container ships can berth. This is good news for the budding graphite explorers who can find a way to market this way if they can reach production.
Here's a map of the region to give you an idea: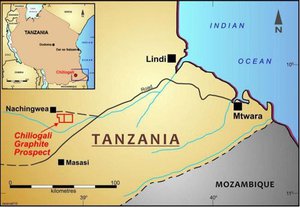 Regular readers may recognise Nachingwea as the name of the project Mozambi Resources (ASX:MOZ) has its hands on in Tanzania – MOZ has been as high as 400% since we first brought that company to your attention in the article $3M ASX Nano-Cap Next Door to the Biggest Graphite Resource Known to Man , and we are hoping that PSC can follow a similar path.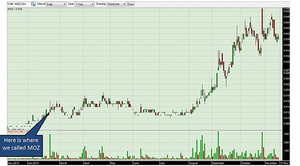 The past performance of this product is not and should not be taken as an indication of future performance. Caution should be exercised in assessing past performance. This product, like all other financial products, is subject to market forces and unpredictable events that may adversely affect future performance.
The graphite project which PSC is exploring has a long history.
It was first identified back in the 1950s as part of a railway line project, when trenching by previous owners had turned up grades averaging 11.5% total graphitic carbon over 15.8m.
More recently, 30 graphite trenches were planned by the previous owners, only 12 ended up dug, and only eight were sampled due to financial constraints (more on this later).
Aside from graphite explorers, things appear to be looking up for Tanzania, especially due to recent offshore oil and gas exploration success.
Earlier this year Statoil made its eighth discovery in Block 2 offshore Tanzania and even the Scottish are getting in on the East African action.
And let's not forget the explorers in the surrounding area.
Magnis is capped at $135M, whilst MOZ is capped at $22M after recently making a graphite discovery in the region – you can dig a little deeper into these players in our recent article MOZ Motoring as Graphite Story Gains Traction .
PSC is currently capped at just $4M, and has only just entered the Tanzanian graphite game – we would expect once word gets around that there is a new contestant in this space, PSC may soon start to catch up...
Given the strong performance of the larger players, the juniors in the area including, PSC should be encouraged.
In the wash-up there's a lot to like about the region: big players in several industries means a growth in infrastructure, money and jobs.
PSC is hoping to capitalise on this turnaround.
A quick look at previous results
After looking at the previous owner's more recent samples in the area, PSC found that they included a peak grade of 31.8%.
Here are the earlier results :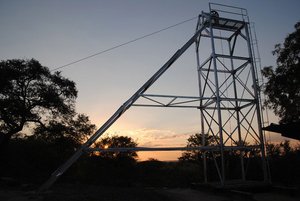 PSC told its shareholders that electromagnetic surveys had identified 13 untested anomalies to follow-up on.
There are also 30 grab samples taken at the prospect which went un-assayed, something which PSC would look to rectify if it elected to pick up a 90% stake in the project.
PSC would also go ahead with an electromagnetic survey, excavate 20 trenches, and in the longer term initiate a short-hole reverse circulation drilling program in an effort to generate a JORC resource.
PSC is hoping to take these previous positive results, and turn them into something more tangible.
The two G spots
The geological setting in which PSC is exploring comprises rocks of both sedimentary and igneous origin. So what... you may say.
Well the rocks range from marble and mica to granulites and graphitic schists.
Here's a look at the rock configuration in Chiliogali.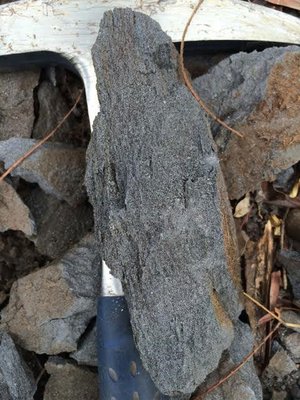 Source: Prospect Resources
That's just been picked off from the surface... and PSC are hoping to find out what is further below.
Furthermore, rocks in the Usagaran System of Tanzania are well known for hosting gold, nickel, copper, different gemstones such as tourmaline, tanzanite, as well as high grade graphite deposits.
That's gold and graphite together.
For PSC that's a match made in heaven. Perhaps they'll start looking for both minerals in the one area.
At the same time, this is an early stage exploration company, so there is no guarantee of success here – it is recommended investors do their own research before choosing to invest.
The following map shows the location of the two Prospecting Licences over the Chiliogali Prospect.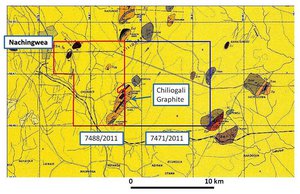 Testing, testing, then and now
As we've stated earlier, the Chiliogali graphite project has a long history. The deposit was first discovered in the late 1950s, when a now disused railway line was built to service a long-defunct groundnut scheme.
The geological survey pitted and trenched part of the deposit in 1959.
It wasn't touched again until 1993, when Pangea Minerals located the site of the earlier prospecting, and analysed some impressive looking samples.
These samples yielded grades of up to 35% graphite, while limited metallurgical test work indicated that a 98% concentrate could be produced by froth flotation .
Pangea considered taking a formal option however they did not pursue the project, as at the time the price of graphite was depressed.
Then there is the Syrah connection...
Jacana Resources, a subsidiary of Syrah, took an option from Asab Resources in 2004. Like most of the projects gone before, economic factors were working against it, but if Syrah was looking, it is a safe assumption that something of interest was there...
Maybe this: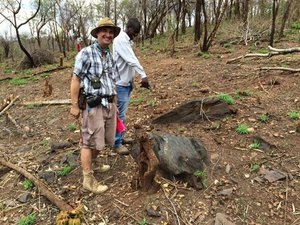 Chief PSC geologist Roger Tyler inspects graphitic outcropping, with local support. Source: Prospect Resources
More recently, mapping of the Chilangula Hills with 33 grab samples were collected and assayed at Bureau Veritas.
The average grade of 15.5% TGC was returned, with a peak value of 28.8%.
With a little bit of renewed vigour in the area, 12 trenches of 30 planned were excavated, but only eight sampled, due to financial constraints on the part of the previous owner.
An overall weighted grade of 11.5% TGC over 15.8m was returned, with a peak grade of 31.8%.
It was then PGC Geophysics of Perth's turn in the area. They undertook a successful ground EM34 (frequency domain electromagnetic) survey.
From a total of 100 line kms, 13 targets have been identified along strike of the trenches.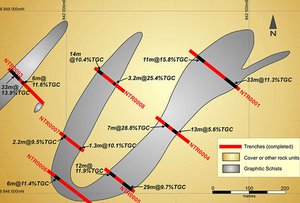 Positions of the Jacana Trenches, with Graphite Intersections
They are impressive numbers, which PSC believes they can improve upon.
If the deal with ASAB works out favourably PSC will find itself in a strong position to move forward with its graphite plans.
Let's talk about money
In a structured deal with ASAB Resources, PSC will be able to pick up an initial 51% in the permit by paying a non-refundable $US30,000 ($A42,320), and an additional $250,000 in cash or shares.
The Company will also be able to pick up another 19%, and then 20% in two stages in exchange for $500,000 of solely-funded exploration work at each stage, and a payment of $250,000 in cash or shares at each stage.
PSC's near term gold production plans
We know that PSC is a soon-to-be gold producer with assets in Zimbabwe.
The company thus far has focused heavily on historic mines and applied modern technology to them to turn them into low-cost near-term producing mines.
PSC's main focus here is a cluster of mines referred to collectively as the Gwanda East project.
These include the Prestwood, Buck's Reef, Penhalonga Gold Project and Bushtick Gold Project.
All of these areas have historic production against their name, but have not been fully exploited to date...
PSC aims to be starting its gold production before the year is out and could be about to start proving its long-term backers right.
Those backers will be even happier if PSC applies the same or a similar extraction strategy to create near-term production to its graphite holdings.
At the same time, the company is not generating any revenue yet, and investors should always proceed with caution if considering an investment in African mining exploration companies like PSC.
The final word
PSC is making a bold play here. With interest in graphite high, if they are able to prove up a graphite resource in the heart of a valuable region for graphite explorers that includes players such as Magnis, Triton, and Syrah, whilst being a gold producer at the same time, they could become a dominant player in east African resources across not one, but two fronts.
The company has a lot of ground to cover, and are going to be watching this one very closely...
---