First Assays delivered as CLZ Sharpens Focus at its WA Gold Project
PUBLISHED: 13-12-2017 09:00 a.m.
Since it appeared on our radar in October, fledgling ASX explorer Classic Minerals Ltd (ASX:CLZ) has been making steady progress in its mission to aggressively grow its resource base in gold-encrusted Western Australia.
Underpinning CLZ's strategy is a focus on gold as a safe haven in the wake of mounting geopolitical tensions. And it's looking for this most reliable of commodities in one of Australia's most prestigious lithium and gold mining districts: WA's renowned Goldfields region.
At the centre of this classical approach is the Forrestania Gold Project, an advanced asset situated smack bang in the heart of the abundantly mineralised Southern Cross Belt, which hosts a known gold endowment of more than 10 million ounces.
This project is already JORC-compliant with an existing Mineral Resource of 5.9 million tonnes at 1.25 grams per tonne for 240,000 ounces of gold. CLZ is looking to double this in the not-so-distant future.
In CLZ's repertoire are two major deposits, Lady Ada and Lady Magdalene, which it owns via joint venture partnership. In addition to these deposits, which have been subject to drilling campaigns and a compelling scoping study earlier this year, CLZ also holds additional JORC resources in the region and a cluster of exploration targets. These include the Lady Lila deposit and the Matrix target.
Exploration undertaken thus far suggests CLZ is looking at an extensive gold system spanning at least two kilometres.
Forrestania continues to build momentum with CLZ having completed a detailed mapping and targeting study, across more than 90 high-priority targets within the project area.
Intriguingly, there's potential for high-grade mineralisation within the Lady Magdalene ore body.
CLZ sees Lady Lila, on the other hand, as analogous to the neighbouring Bounty and Blue Vein ore bodies, which are held by the $509 million-capped Kidman Resources (ASX:KDR). Moreover, the untested prospect, fittingly named the Matrix, is considered to be analogous to the high-grade Lady Ada ore body.
It should be noted here that CLZ is an early stage play and investors should seek professional financial advice if considering this stock for their portfolio.
There's a curious story behind CLZ's holdings here. More than 17 years ago, the entire Forrestania greenstone belt was subject to a detailed geological mapping and targeted exercise by one mining industry executive and geologist, Dean Goodwin.
And as fate would have it, Goodwin has just come on board as CLZ's new CEO as part of a significant corporate restructure.
Goodwin's earlier work resulted in ranking system and identification of more than 300 exploration targets. However, due to changes in ownership, many of these targets have since remained untouched and undrilled.
Almost 20 years after this initial work, Goodwin, at CLZ's helm, is looking to go hard and fast. For the industry veteran, this highly prospective but underexplored land represents what you might call 'unfinished business'.
Subsequently, Goodwin and his team are now in the throes of planning an aggressive work program, aiming to develop existing gold resources and discovering new high-grade gold deposits within their extensive ground holding at Forrestania.
With a fresh corporate facelift, a newly implemented cost reduction strategy, and a program of works (POW) lodged to facilitate drilling of these top priority targets in the very near future, this ASX gold junior is looking to ramp things up at Forrestania.
In addition, CLZ has started to receive the assay results from its Phase 2 drilling program at Lady Ada that we discussed in October. The results thus far highlight the significant potential to expand the current Mineral Resource estimate:
The best results to date include:
10m @ 3.10 g/t Au from 58m – including 5m @ 3.96 g/t Au from 58m and 2m @ 7.04 g/t Au from 58m
5m @ 1.30 g/t Au from 37m
6m @ 2.22 g/t Au from 40m – including 1m @ 8.20 g/t Au from 40m
3m @ 10.37 g/t Au from 117m – including 1m @ 30.50 g/t Au from 117m
6m @ 8.67 g/t Au from 67m – including 1m @ 38.10 g/t Au from 68 m
You will see that there are some high-grade (>30g/t Au) hits in this first batch of drilling results. That bodes well for the project and likelihood of discovering additional high grade lodes within the FGP gold system.
CLZ is capped at a mere $2 million and it's only just getting started. Yet with the Australian gold price recently hitting a five-month high, this tiny stock could well be a salient entry point into the ASX gold corridor.
Catching up with:

Classic Minerals
ASX:CLZ
With its gaze firmly fixed on a golden future, Classic Minerals (ASX:CLZ) has recently made a string of key corporate changes, boosting its management team and fine-tuning its overall business strategy.
Following the exit of founder and long-standing managing director, Justin Doutch, Dean Goodwin is now in the driver's seat as CEO.
Goodwin's Australian and international experience spans more than three decades, and has an expansive track-record of successfully transforming small-cap companies. He was previously managing director and CEO of Barra Resources (ASX:BAR) and Mount Ridley Mines (ASX:MRD), both of which grew significantly under his leadership.
During his tenure at Barra Resources, Goodwin saw the share price rise from $0.03 to a high of $0.74, whilst at Mt Ridley Mines, the share price travelled from $0.002 to a high of $0.045. As you can see, Goodwin has a proven track record of delivering value for shareholders.
The past performance of this product is not and should not be taken as an indication of future performance. Caution should be exercised in assessing past performance. This product, like all other financial products, is subject to market forces and unpredictable events that may adversely affect future performance.
Especially interesting is Goodwin's rich on-ground history and experience with the Forrestania Gold Project. He brings an in-depth understanding of the project area and its geology to CLZ.
During his period of earlier work here, Goodwin was responsible for discovering some of the key mineralised bodies within the belt, so this deep knowledge of its unique gold system will be invaluable in the months to come as CLZ revisits some of these high-priority exploration targets.
In short, Goodwin is precisely the kind of industry stalwart you'd want in your corner if you were exploring highly prospective ground in one of Australia's most renowned gold mining regions.
Also now onboard the CLZ train is non-executive director, John Lester, a former Chairman of the unlisted developer, Yilgarn Infrastructure.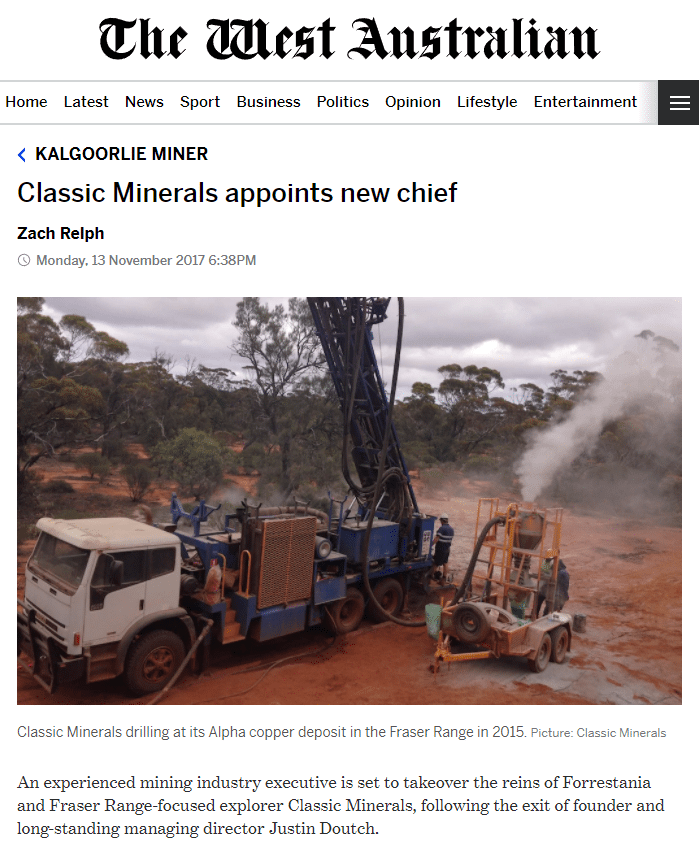 On top of this replenished board, CLZ has also implemented a number of cost-reduction measures designed to lower its corporate overheads. Sweetening the deal further is the recent receipt of an R&D reduction to the tune of $542,392, putting CLZ in fighting shape to delve into a series of exploration works at Forrestania in the months to come.
Speaking of which...
The latest at the Forrestania Gold Project
We last covered Classic Minerals (ASX:CLZ) with the article, Classic WA Gold Stock: $3.4M Micro Cap with Drilling Results Imminent , where we explored CLZ's underlying strategy and walked you through the nitty gritty of the Forrestania Project. We also took a look at the sparkling gold market that CLZ is tapping into.
We're not going to rehash all of that here, but to jog your memory the short video below summarises the project:
The key thing to bear in mind is that CLZ has a considerably advanced asset that already has a JORC Resource, as well as intriguing exploration upside.
Yet it remains a speculative stock and investors and investors should take a cautious approach to any investment decision made with regard to this stock.
Forrestania is located some 450 kilometres south-east of Perth, 235 kilometres west of Kalgoorlie, and 100 kilometres south of the town of Southern Cross — directly in the heart of the Southern Cross Greenstone Belt.
Here's where CLZ has set its sights: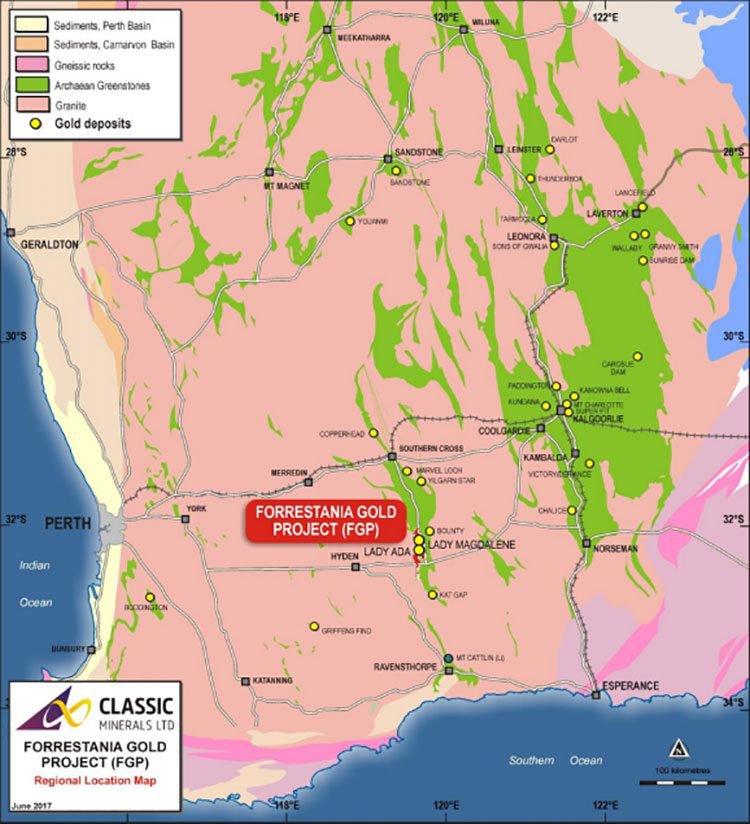 Source: Classic Minerals
One of the most recent developments on this front further reinforces the prospectivity of this high-quality project. As revealed mid-November, CLZ has completed a detailed mapping and targeting study, resulting in a cluster of new high-priority targets.
Unfinished business: Geological mapping and targeting at Forrestania
Back in the early-mid 2000s, Goodwin completed a detailed geological mapping and targeting series of works over the entire Forrestania Greenstone Belt. At the time, the primary purpose of the work was to identify additional sources of high-grade gold to feed the Bounty processing plant.
This targeting study culminated in a ranking system and the identification of over 300 exploration targets. Some of the targets that neighboured Bounty were tested and eventually mined due to the processing plant's proximity.
However, because of changes in ownership and subsequent loss of data, all of the Western Belt's targets (of which CLZ holds 80% of gold rights), apart from the Lady Ada deposit, have remained untouched since completion of the study.
In fact, none of CLZ's targets have ever been drill tested, so this is largely uncharted territory that the company will be traversing, as captained by Goodwin.
Bearing all of this in mind, CLZ is planning an aggressive work program for Forrestania, aiming to develop existing gold resources and discovering new high-grade gold deposits within its extensive ground holding.
This will include completion of resource development drilling and resource calculations at Lady Ada and Lady Magdalene, orientated diamond drilling at Lady Magdalene to identify very high grade gold lodes similar to Lady Ada, as well as extensive regional exploration drilling testing high-priority exploration targets for new gold deposits.
Initially, this program will focus on finishing up phase 2 resource drilling at Lady Ada and Lady Magdalene. This, in turn, will assist in calculating a new resource base for Forrestania.
It's important to note that the region is highly prospective for primary gold mineralisation, having yielded more than one million ounces of gold extracted to date, and remaining known in-ground resources in the region exceed 2.5 million ounces of gold.
CLZ's exploration work in the coming months will focus on testing high-priority targets, specifically those over favourable host rocks including gabbro, which host the Lady Ada and Lady Magdalene deposits, as well as banded iron formation (BIF), which host the one million ounce Bounty Gold Mine.
The map below shows the ranked exploration targets: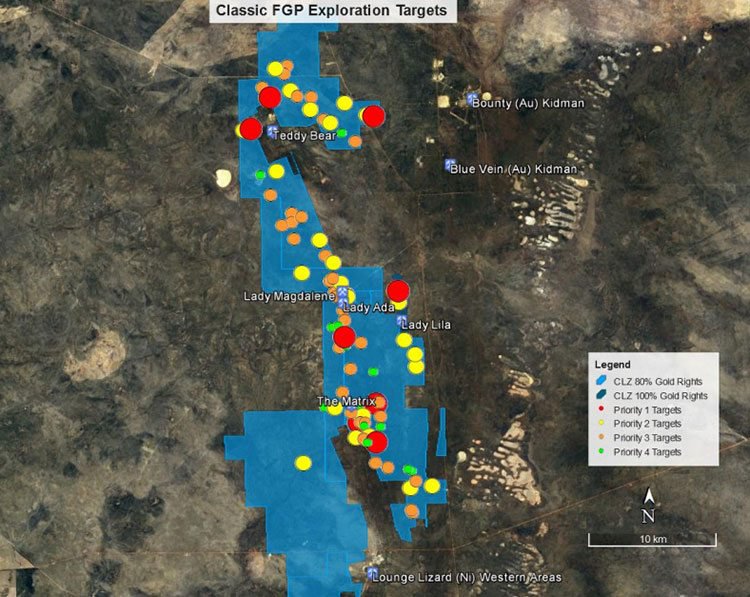 Source: Classic Minerals
Let's take a look at some of those targets in more detail...
Lady Magdalene, Lady Lila, and the Matrix
As CLZ steps forward, it will undertake orientated diamond drilling within the existing Lady Magdalene resource in order to locate the high-grade cross-cutting gold lodes within. These are similar to those contained by the Lady Ada deposit, which has yielded 95,865 tonnes at 8.81 grams per tonne for 27,146 ounces of gold.
Existing drilling at Lady Magdalene is presently too broad-spaced to identify these potential high-grade cross-cutting lodes.
CEO Dean Goodwin said that in parallel to its regional exploration program, CLZ would be looking for high-grade cross-cutting lodes within the Lady Magdalene resource envelope similar to Lady Ada.
"We found Lady Ada 17 years ago by looking closely at the drilling sections, you could see this high-grade gold lode cutting through from section to section on an angle. It wasn't running parallel to the main lower grade material. Once we changed the drill orientation, the high-grade zone was instantly apparent and the rest was history."
Evidence suggests similar things are happening at Lady Magdalene where there could be multiple Lady Adas hiding within the existing data. Before CLZ looked closely at Lady Ada, both Lady Ada and Lady Magdalene were deemed large low-grade gold resources.
"It was only after we looked closely at Lady Ada that we saw the high-grade cross cutting lode – I hope to repeat this methodology and discovery at Lady Magdalene," Goodwin said.
The image below shows the west-east section through Lady Magdalene: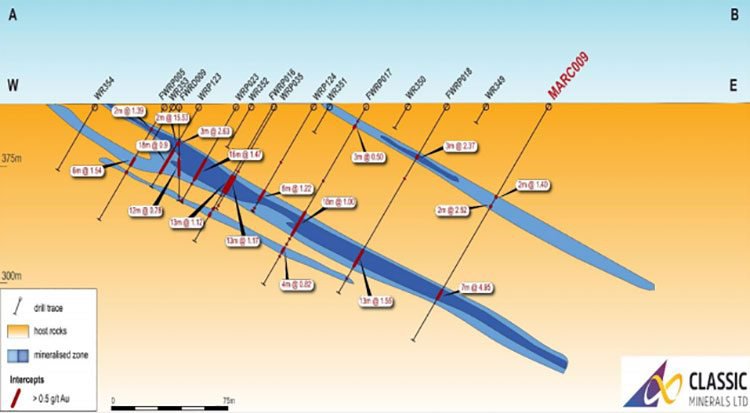 Source: Classic Minerals
Lady Lila is situated four kilometres east of Lady Ada, and is hosted by a chert/BIF within the younger metasedimentary central zone. Here, additional drilling is needed to test the orientation, and down dip extension of the mineralisation. The mineralisation at its strongest is 10 metres wide, over 400 metres long, and grades between 2.0-5.0 grams per tonne of gold.
Promisingly, Lady Lila is seen as analogous to the Bounty and Blue Vein ore bodies. Here's a cross-section of Lady Lila, looking north: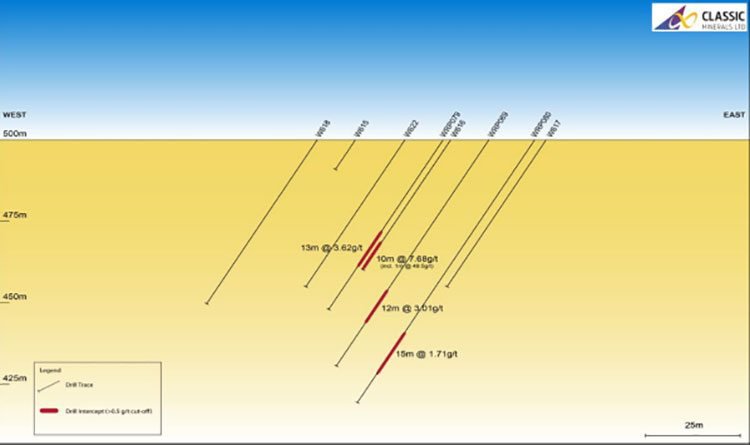 Source: Classic Minerals
This brings us to CLZ's highest priority regional target: the Matrix, which is situated nine kilometres south along strike from Lady Ada. Its geological and structural framework is almost identical to that of Lady Ada and Lady Magdalene, with a series of highly prospective cross-cutting structures.
No historical drilling has occurred here, and it wasn't until a magnetic survey was flown in the early 2000s that it became clear that this prospect has a very similar magnetic signature to that of Lady Ada and Lady Magdalene in terms of significant north/north-eastern cross-cutting features.
CLZ plans to conduct a first phase aircore/RAB (rotary air blast) drill program over discreet magnetic features at the Matrix as soon as the drill POW has been approved.
The ranked targets at the Matrix prospect: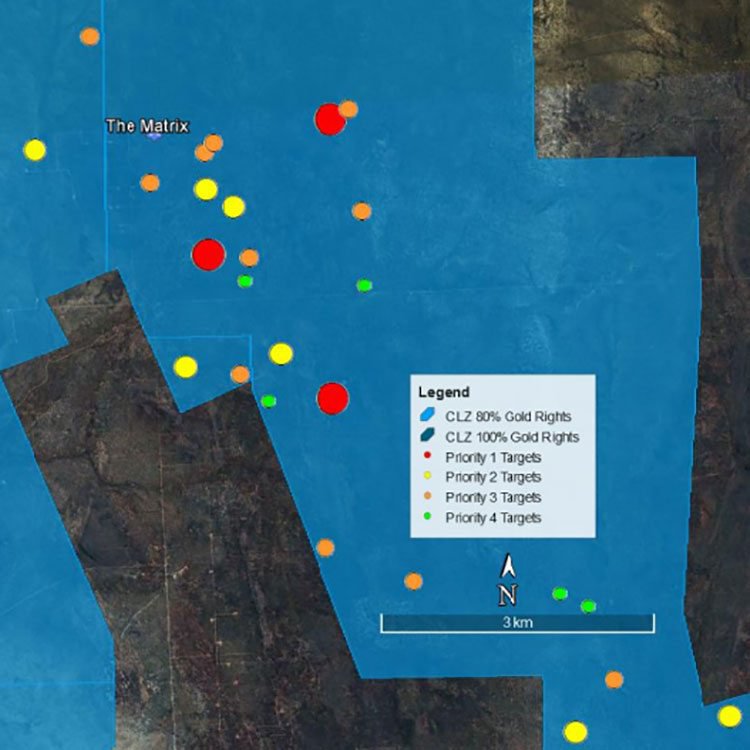 Source: Classic Minerals
Forrestania Drilling Success
As we touched on last month, CLZ has recently completed an aggressive drill program at Forrestania intended to dramatically increase the size of the JORC resource at Lady Ada and Lady Magdalene.
The Company had more than 8,000 drill samples to be assayed and has recently started releasing the results of the assays with some very promising results.
As at the date of this story, CLZ has received assays for 5 holes with the following highlights:

What do these results mean? Well, it is clear that the company is well on its way to increasing the size and quality of the JORC resource at Lady Ada and Lady Magdalene as hoped and the theory of high grade ore zones dipping south-east at both ore bodies has been proven. This is major news in that it validates the exploration approach taken by the company and it should be noted that the high grade extensions at both Lady Ada and Lady Magdalene remain open along strike and at depth.
MARC026 was a standout hole which yielded very impressive, high grade gold mineralisation (38.10 g/t) at a relatively shallow depth (68m) in an area that is outside of the current optimised pit design.
Directly along strike from MARC026 was MARC024 and MARC019 which also included high grade results that were interestingly closer to surface. These results confirm the geological model that the primary Lady Ada ore zone extends to the south-east of the existing ore body. The extent of the mineralisation remains open and is yet to be closed off – Classic drilled a hole (MARC039) approximately 200m along strike from MARC019 and MARC024 that is yet to be assayed but included promising zones of arsenopyrite which appears to represent ore-bearing zones.
The strong results point to both an increase and an upgrade in Resources at the Forrestania Gold Project. The drilling was designed to target mineralisation outside of the current resource model as well as high-grade extensions below and adjacent to the current pit design, in line with Classic's strategy to sufficiently grow its Mineral Resources to a size that supports establishment of an on-site processing facility at FGP as contemplated in FGP scoping study (see ASX announcement released 2nd May 2017).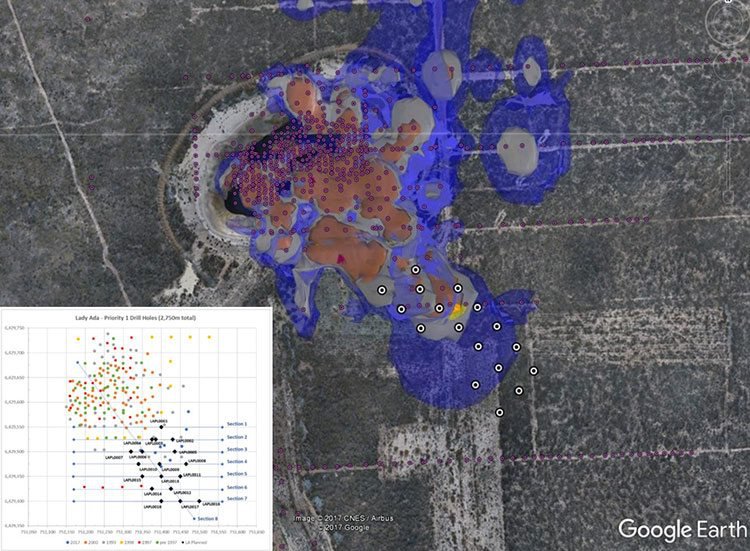 Figure 1: Phase 2 Holes (white) at Lady Ada Plotted Against Previous Drill Collars (pink) and the latest implicit model
With CLZ in receipt of ~1,500 assays from over 8,000, it is currently impossible to quantify the size and nature of the ore bodies but it appears that there is plenty more good news on the horizon as further results become available.
What these results will show is yet to be determined, so investors should take all publicly available information into account and seek professional financial advice before making an investment decision.
CLZ has informed the market that it will be releasing results over the coming months with the plan to release new JORC resource estimates sometime in Q3 2018. Watch this space.
The plan from here
Once its POW application is approved, CLZ has plans in store for focused drill programs at these three prospects, as well as at another promising target called Teddy Bear.
Moving forward, CLZ expects to carry out a series of high-impact works in 2018. These include diamond drilling at Lady Magdalene, a 3000 metre RC drilling program at Lady Lila to target depth extensions, aircore/RAB drilling at the Matrix, and completion of the phase 2 resource drilling program at both Lady Ada and Lady Magdalene, as well as an accompanying JORC resource upgrade.
In short, CLZ could be looking at a very busy year ahead indeed.
It's still early days for this ASX gold junior, and CLZ is capped at a microscopic $2 million. With a replenished exploration plan and new leadership to match, CLZ is making steady progress at Forrestania, and any of these upcoming activities could well transpire in a share price rerating for this classical gold stock in the months to come.
---