From Explorer to Producer: ERL Announces $2M Gold Production
PUBLISHED: 08-11-2017 09:51 a.m.
A recent rush of news flow out of the $11.6 million-capped Empire Resources (ASX:ERL) boardroom bodes well for its 2018 prospects.
The emerging Kalgoorlie junior's flagship Penny's Find mine has delivered maiden revenues with its first gold pour, as it continues its relentless pursuit to become a fully-fledged producer in the country's prolific west.
The doré gold bar was poured at the Lakewood toll milling facility from gravity gold recovered by a gravity separation circuit processing system.
Penny's Find is the primary project for ERL, and is expected to generate revenues in the vicinity of A$30 million in its first 12 months.
A Bankable Feasibility Study (BFS) has highlighted Penny's Find's excellent potential as a low-cost starter miner, with total production projected to cost A$1,086 an ounce. ERL is now looking to prove up its untapped potential with an underground feasibility study.
In early November it released news that brought it one step closer to this goal.
News released just this week confirms high-grade gold mineralisation that could lead to a potential underground extension of the open pit gold mine.
Of course despite the news ERL remains a speculative stock at this stage and investors should seek professional financial advice if considering this stock for their portfolio.
Results from the drilling has instilled confidence in the ERL team to move ahead with a final underground feasibility study which is expected to be finalised in the next few months.
With gold mineralisation open at depth, there is good chance that ERL will be able to add to the current Indicated and Inferred Resource of 170,[email protected]/t Au.
Since we last wrote about ERL in August, not only has it produced its first bar of gold, it's stacking up strategic partnerships and MOUs , most notably with Poseidon Nickel to evaluate the option of processing Penny's Find gold ore through Poseidon's Black Swan Operations gold processing facility.
The MoU would provide ERL with considerable cost savings.
Since August, ERL has produced approximately $2 million worth of gold from the Penny's Find maiden processing campaign.
Over 15 days it processed 21,710 tonnes of ore with a 94% recovery rate, including recouping 44% from the gravity circuit.
The numbers and results continue to stack up.
On that note, let's update you on: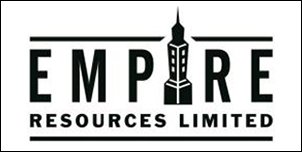 Empire Resources
ASX:ERL
The power of a first gold pour
When a burgeoning gold play announces its first gold pour, it is an encouraging sign of its production potential.
Empire Resources (ASX:ERL) holds a 60% interest in the Penny's Find gold mine, with the remaining 40% interest held by Brimstone Resources Ltd.
The mine is located 50 kilometres northeast of Kalgoorlie-Boulder in WA's historical Eastern Goldfields region.
Unsurprisingly, the first gold pour at Penny's Find received strong interest from mainstream media: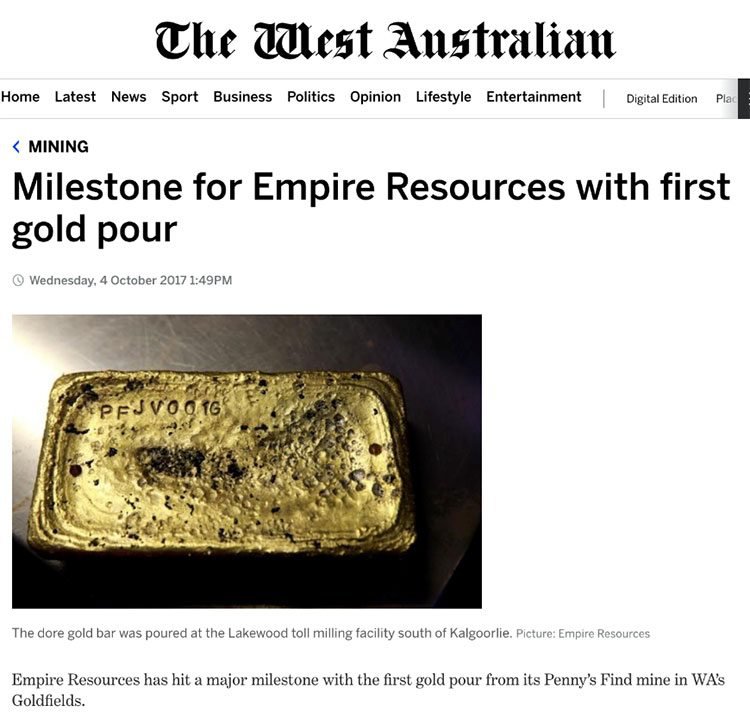 The doré gold bar was recovered via a gravity separation circuit at Golden Mile Milling's Lakewood toll milling facility.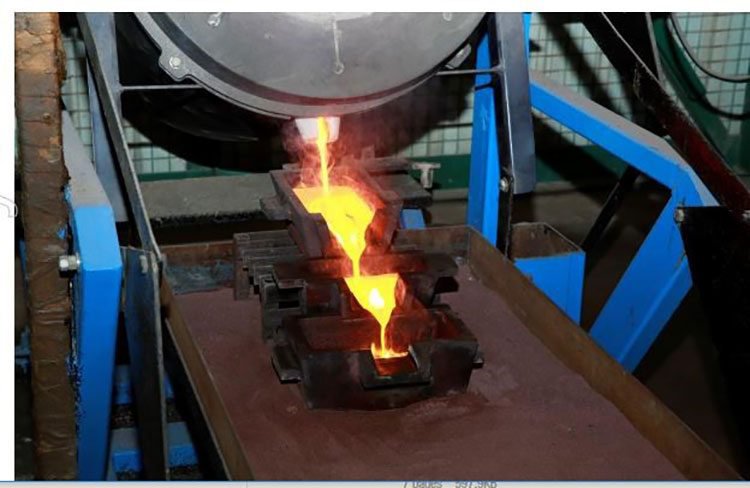 Here's an inside look at the pour:
The maiden campaign saw ERL spend 15 days processing 21,710 tonnes of Penny's Find ore, with overall gold recovery of 94%. The calculated ore head grade was 2.38g/t. This grade could increase in future, considering the next round of campaigns will access higher-grade parts of the orebody.
This is a positive indication of the free milling nature of the ore and its high recovery potential via gravity separation circuit processes.
ERL surpassed this major milestone via ore from its Penny's Find mine and produced approximately $2 million worth of gold in total from the maiden processing campaign; that's around 1500 ounces. Although the final production details will only be known after Mint refining.
A further parcel of 16,000 tonnes of ore is currently being processed through the Burbanks Mill and is expected to add further cash flow.
ERL's transition is occurring at a time of favourable macro circumstances.
Penny's Find is expected to generate A$7.6 million in free cash flow in its first year of production, based on a ~A$1500 per ounce gold price.
This is speculative on our part and interested investors should seek out all publicly available information and take a cautious approach to any investment decision made with regard to this stock.
The Aussie gold price has been hovering around the A$1,600/ounce mark over the last six months, which could further lift revenues. Here's the AUD gold price since March: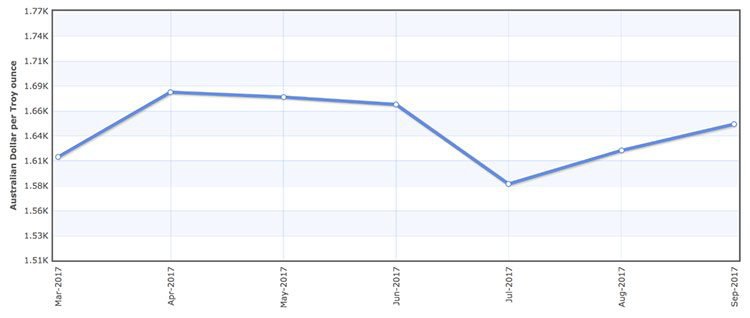 The past performance of this product is not and should not be taken as an indication of future performance. Caution should be exercised in assessing past performance. This product, like all other financial products, is subject to market forces and unpredictable events that may adversely affect future performance.
Now that ERL has progressed from early stage explorer to pouring its first gold bar, it is looking towards major cash flows in the near-term.
ERL has plenty of stockpiled ore at Penny's Find to work with initially, yet the project also has underground potential which was further confirmed with the release of the latest round of results.
Assays provide more evidence of Penny's potential
Assay results released just this week have confirmed high grade mineralisation in the area targeted by ERL for a potential underground extension of its new Penny's Find open pit gold mine.
The assays from a recent six hole diamond drilling program beneath the open pit include:
The following map shows the hole pierce points and assays on long section.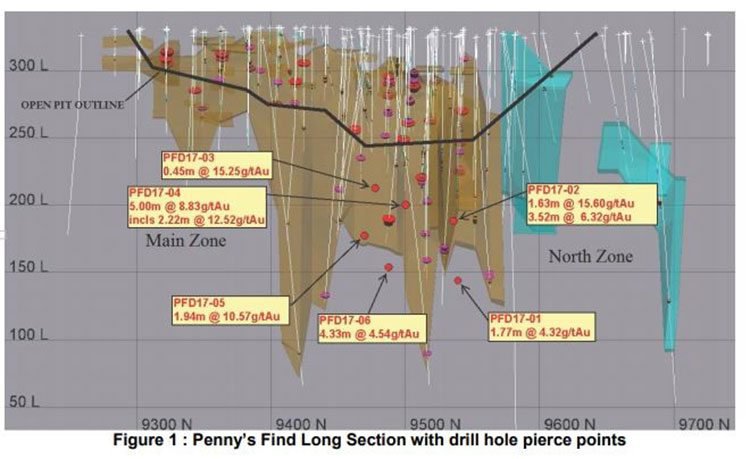 The drilling aimed to increase confidence in the gold mineralisation beneath the open pit and certainly achieved this aim. A further goal was to convert some Inferred resources to Indicated and to obtain important additional geotechnical data for ongoing underground mining studies.
A final underground feasibility study is now just a few months away.
September sunshine
The strength of the latest results, follow very promising results released in September.
ERL's second round of Reverse Circulation (RC) grade control drilling at Penny's Find produced several high-grade gold intercepts.
ERL predicted the campaign would return numerous high-grade intersections and confirm the original geological interpretation of the orebody. It lived up to expectations with highlights including:
5m at 14.31g/t gold from 28m depth in hole PGC098
4m at 54.62g/t gold from 37m depth in hole PGC099
6m at 15.92g/t gold from 17m depth in hole PGC102
5m at 12.28g/t gold from 29m depth in hole PGC119
5m at 14.39g/t gold from 34m depth in hole PGC122
4m at 37.36g/t gold from 22m depth in hole PGC124
2m at 19.51g/t gold from 38m depth in hole PGC130
With a total average open-pit grade of 4.62g/t gold to a depth of 80m, the project is providing an excellent production opportunity for ERL, given the current sustained high gold price.
With this in mind, ERL could be set to profit substantially from recovering high-grade ore at depth.
The mineralisation at Penny's Find extends to 250 metres below surface and remains open at depth. It has an underground Inferred and Indicated resource inventory of 170,000 tonnes at 5.40g/t gold.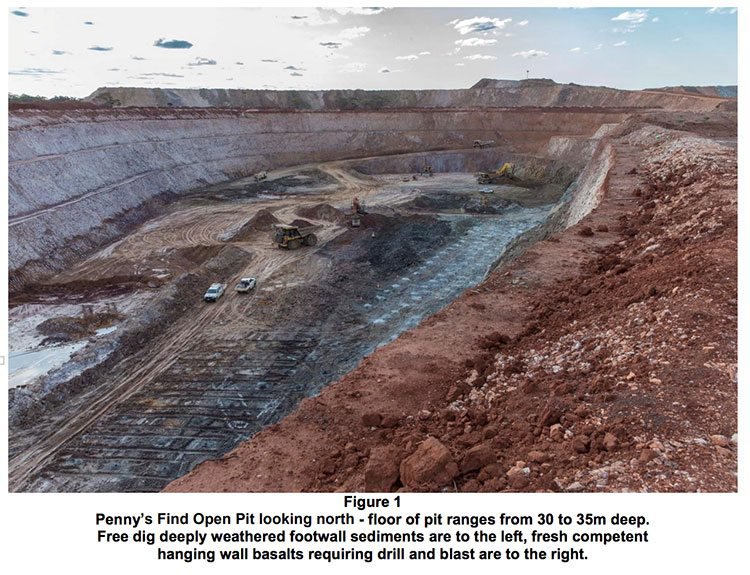 ERL partners with Poseidon Nickel and Blue Cap Mining
ERL and its JV partner, Brimstone Resources, have signed an agreement with Blue Cap Mining to secure funding and mining services at Penny's Find.
Blue Cap will fund mining and related costs up to A$7.5 million until the project becomes cash flow positive.
The funding was announced in March and signed off in September: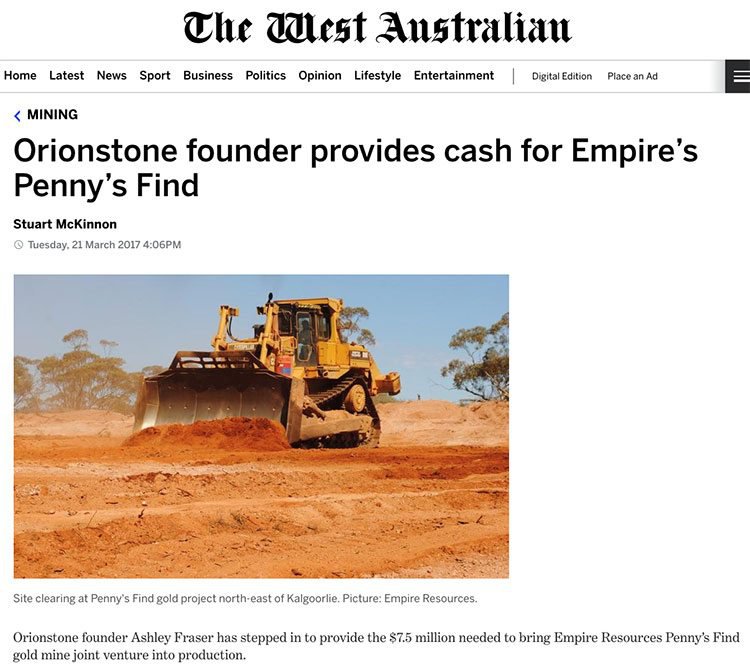 Blue Cap will undertake open pit mining and associated drill and blast services for the excavation of the Penny's Find open pit. In addition to mining ore and waste, it will also establish access for a possible future underground operation.
Blue Cap has so far moved in excess of 1 million cubic metres of waste to progress the project.
For ERL, costs related to the funding will depend on how much of the $7.5 million it draws down, but the pro rata is up to a maximum of A$2.3 million 'payable from free cash flow'.
Arriving at such a deal is a considerable feat for a sub-$12 million market capped play still finding its feet.
Remember, while its progress to this stage is excellent this is still an early stage company and investors should seek professional financial advice if considering this stock for their portfolio.
ERL has also entered into a MOU with Poseidon Nickel Limited to evaluate the option of processing Penny's Find gold ore through Poseidon's Black Swan Operations' gold processing facility which is just 48 kilometres away.
ERL currently trucks ore to mills in Kalgoorlie (around 63km away) or Coolgardie (around 105km away). Using a closer processing facility will save ERL time and money.
With the MOU in place, once due diligence at the facility is complete the arrangement will be formalised.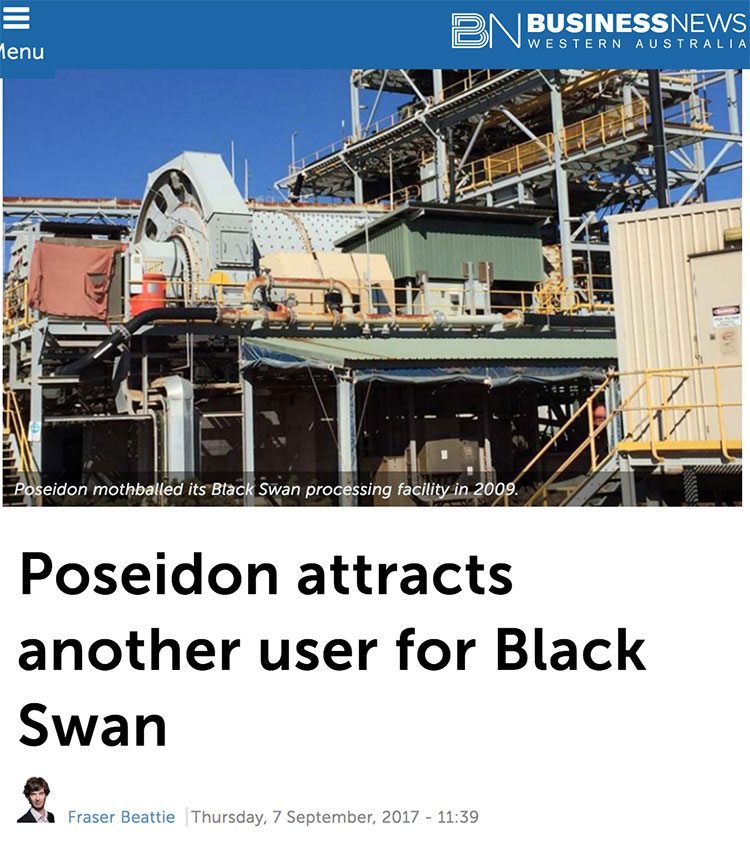 ERL is finding its feet with Penny...
There has been an impressive amount of news flow from ERL in the last two months.
With a market cap of just $11.1 million, the potential on offer doesn't appear yet to be recognised by the market.
A significant rerate, is a very real possibility, particularly as ERL makes headway towards reaching positive cash flow.
There are still a few mountains to climb, but this small cap is well-funded, has key agreements in place, and has gold literally pouring out from its flagship project.
---