ERL Just Days Away From Processing its Gold Ore
PUBLISHED: 22-08-2017 09:04 a.m.
It's official: Empire Resources (ASX:ERL) has begun mining at its flagship Penny's Find gold project in WA and is set to process its first gold ore in the coming days and weeks.
This is a major step for the emerging Kalgoorlie junior as it realises its dream and transitions from explorer to gold producer.
Penny's Find is ready for a rapid ramp up to full production. It has a fuel facility in place and all the equipment, roads, dewatering dams and office infrastructure it needs... leaving ERL to find all that can be found at Penny's Find.
ERL is certainly off to a good start with progress to date showing 16% more material has been mined than expected. So far, very little drill and blast has been required — a big positive as far as costs go.
This project has an open pit reserve of 21,700 oz, which ERL is developing as part of a JV with Brimstone Resources, of which it is a 60% owner.
The mine remains open at depth, with Underground Mine Planning already underway.
The project's Bankable Feasibility Study (BFS) highlighted its lucrative potential as a low cost starter mine.
The total cost of production is projected at AU$1,086/oz. with the mine estimated to generate revenues in the vicinity of AU$30 million, and that's just in the first year.
Yet ERL remains a sub-$10 million market cap company.
As such it is a speculative stock and investors should seek professional financial advice if considering this stock for their portfolio.
At end of June, it had 4,493 tonnes of ore mined and stockpiled on the run-of-mine (ROM) pad at Penny's Find. Haulage has already begun and processing of the ore is set to commence this month.
Since we last updated you in April , the company appointed a Mine Manager, Mr George Hewitt, to oversee the transition from development to full production. Hewitt has extensive experience in WA-based open pit operations; four years at Mount Gibson Iron and consultant on several projects with MacMahon Holdings.
In addition to Penny's Find, the company's 100% owned Volcanic Massive Sulphide (VMS) style Yuinmery copper-gold project is also moving along in WA. The micro-cap is in command of some top-notch prospective projects across the famous goldfields of WA and is ready to gather an army and launch an offensive on that market, in true Empire style.
So let's take a further look at the building of a mine... and potentially an Empire: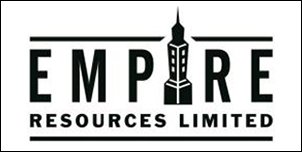 Empire Resources
ASX:ERL
Empire Resources (ASX:ERL) Penny's Find Project is located in WA's historical Eastern Goldfields region.
The Eastern Goldfields are famous for a reason. Many companies coming before ERL have had enormous success from mining in the area.
ERL's projects are situated right in the thick of some very prospective land and several big names are operating nearby: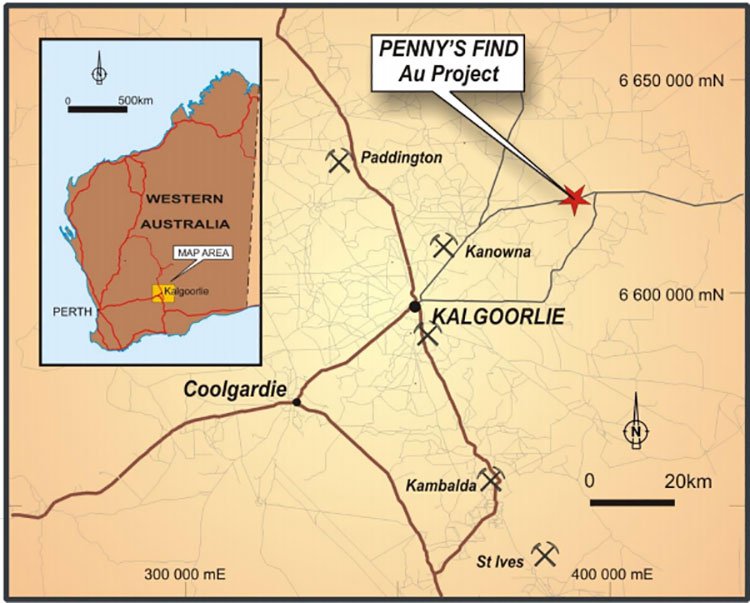 Full scale open pit mining is underway at Penny's Find, with work to continue 24/7 to stockpile ore in preparation to haul it for processing. Following that, it has a sizable underground resource, which is being further investigated this quarter with a six diamond drill hole programme intended to convert some Inferred Resources to Indicated.
Beginning with its open pit operations, ERL is prioritising the expansion of its gold resource through infill and exploration drilling. So it's a good thing ERL has the cash to see it through to production, which shouldn't be far off.
As June 30, ERL had $385,000 cash in the bank and was two months into its mining activities. Mining kicked in to full swing at the project back in May: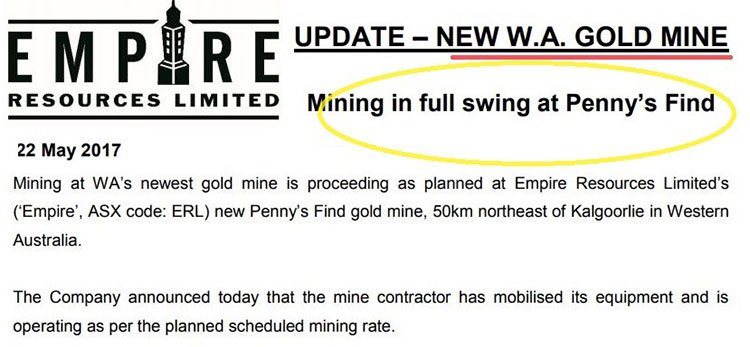 Since then, ERL has built momentum and made huge strides towards gold production.
At the end of the June quarter, mine production, including waste and ore mined was: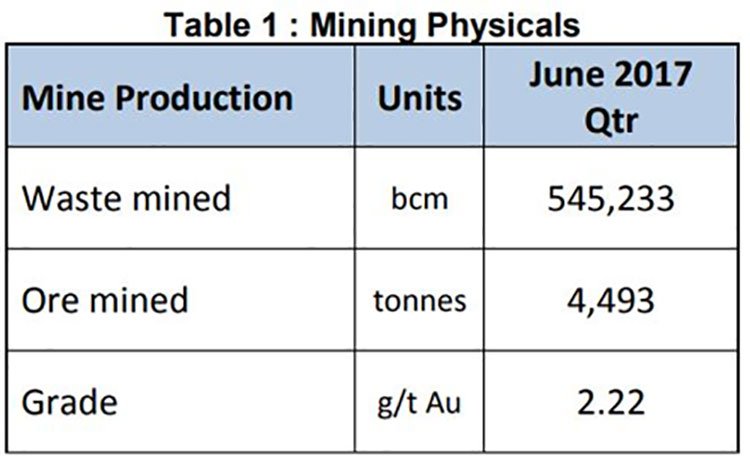 ERL's mining contractor, Blue Cap, has moved more than half a million bank cubic metres (BCM) of waste from the pit, with only minimal drill and blast required. This, along with the use of short haul temporary pit ramps has helped keep costs low. That means more money in ERL's pockets to continue to progress the project.
With full scale open pit mining now underway, there's no stopping the progression of ERL's flagship project.
The mine has been operating with two excavator fleets 24 hours a day, ensuring that the project stays well on track.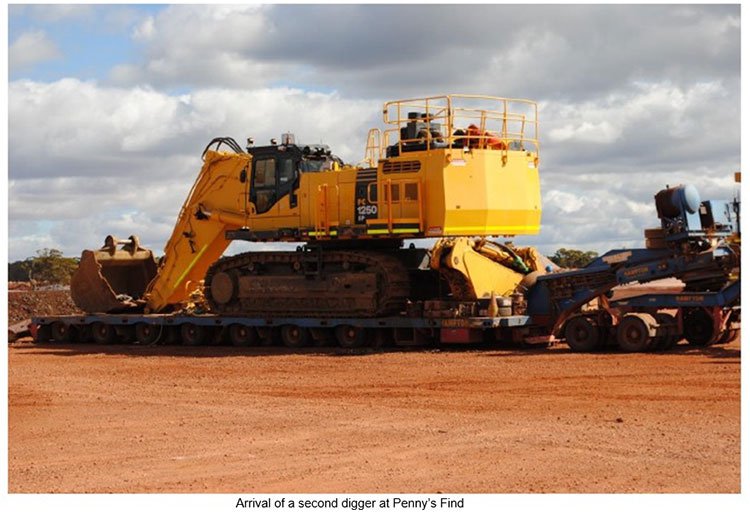 Ore processing due to begin this month
The amount of free dig material has exceeded expectations so far, with the main gold ore zone now exposed, ore has been stockpiled and hauled to the processing mill.
In ERL's most recent update , it indicated that ore processing would begin this month. ERL is making sure that it gets a good deal on ore processing.
In December last year, ERL signed the first processing agreement with Golden Mile Milling to treat the ore at Lakewood Mill on the southern outskirts of Kalgoorlie-Boulder. But scheduling issues at the Lakewood Mill, combined with ERL's eagerness to produce some carats as soon as possible, meant they had to come up with a plan B.
Another agreement was then signed last month with Maximus Resources who operate the Burbanks Mill, south of Coolgardie, WA. ERL's ore is being directed to the Burbanks Mill, and when the Lakewood Mill becomes available, it will be sent there.
But the change in plans hasn't slowed the project down, and ERL remain in the express lane towards Gold Production city...
Burbanks Mill will process between 15,000 and 20,000 tonnes of ore for each treatment campaign, allowing for the treatment of up to 150,000 tonnes of ore with the option to extend that amount.
Underground the next frontier for this Empire
From where we're sitting, the one area that could really take ERL from small cap explorer-cum-producer to major player is exploring the underground mineralisation potential at Penny's Find.
In this regard, the company is as active in its exploration as ever.
Its curiosity will be satisfied by a six-hole diamond drilling campaign targeting underground mineralisation at Penny's Find beginning this quarter.
The purpose of the drilling campaign will be to increase confidence in the underground gold mineralisation, and convert some Inferred Resources to the Indicated category – potentially market-moving news.
Although any news of this nature is is speculative at this stage and investors should seek professional financial advice for further information if considering this stock for their portfolio.
There's also the possibility of increasing the Resource as ERL goes deeper underground. The gold mineralisation at Penny's Find extends to at least 250 metres depth, where it remains open with a current known deeper Inferred and Indicated resource inventory of 170,000 tonnes at 5.40g/t gold beneath the open pit.
ERL will begin a six diamond drill hole programme this quarter targeting underground mineralisation.
The goal is to convert Inferred Resources to Indicated and hopefully, add additional Resources by drilling deeper.
As it stands, the underground Resource, combined with the open cut Resource, brings the total Inferred and Indicated Mineral Resource to circa 470,000 tonnes at 4.42g/t gold, as you can see below.

Once this drilling is complete, ERL will commence its final underground feasibility study — a key milestone for 2018.
A preliminary underground mine design has been completed so that it can mesh smoothly with the completion of the open pit mining operation.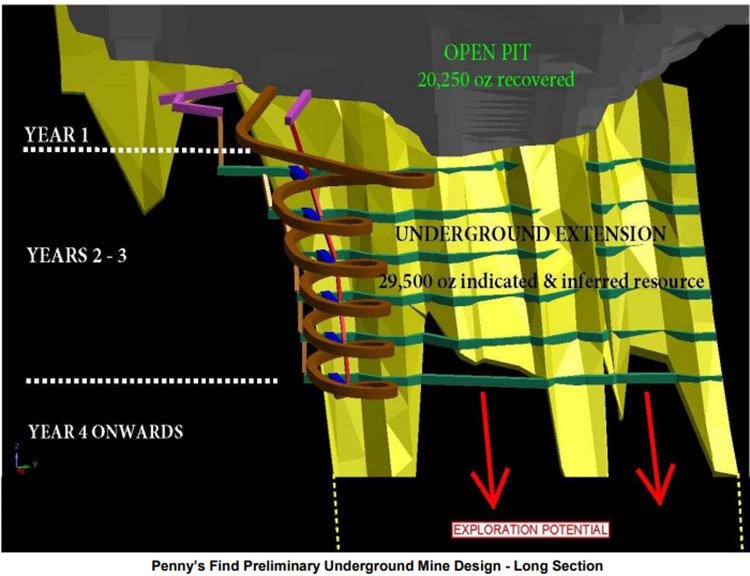 ERL estimated that the open pit operation alone would generate AU$7.6 million in free cash flow in less than a year. That figure, from the BFS, was based on a gold price of AU$1,500 per ounce and a probable ore reserve of 146,000 tonnes, grading 4.62 grams per tonne gold.
At the same time, like all commodities, we should point out that the gold price can also go down just as easily – always take a cautious approach to any investment in any gold stock.
ERL's strategy is clear: Take advantage of a friendly macro environment, fast-track feasibility studies to extend the mine life, and begin gold production as soon as possible.
These sorts of gold explorers and producers cross our desk frequently. That's why we know that these development stages are absolutely crucial, and could spell huge success or total failure.
ERL's game plan seems sound, and has arguably not been factored into its current $10.1 million market cap.
Penny's Find is on the verge of reaching production status, and the company's Yuinmery Project is ticking along. The feasibility of mining deeper underground at Penny's also remains a very real, and potentially lucrative prospect.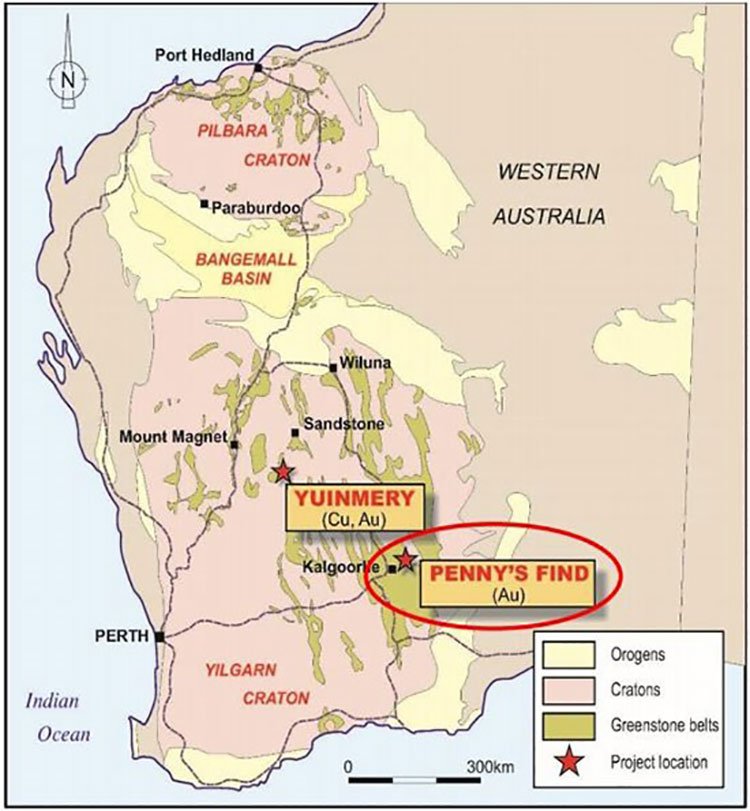 Side project could see exposure to potash market in SE Asia
As an addition to the potential inherent in Penny's Find and Yuinmery, let's not forget ERL's 13.54% interest in FYI Resources Ltd, an ASX-listed company focused on potash exploration in Southeast Asia.
FYI Resources is currently in JV negotiations with a Chinese group regarding resource development and potential potash production in Laos.
Asia consumes over 40% of global potash production, while Southeast Asia is collectively predicted to show the highest growth in demand .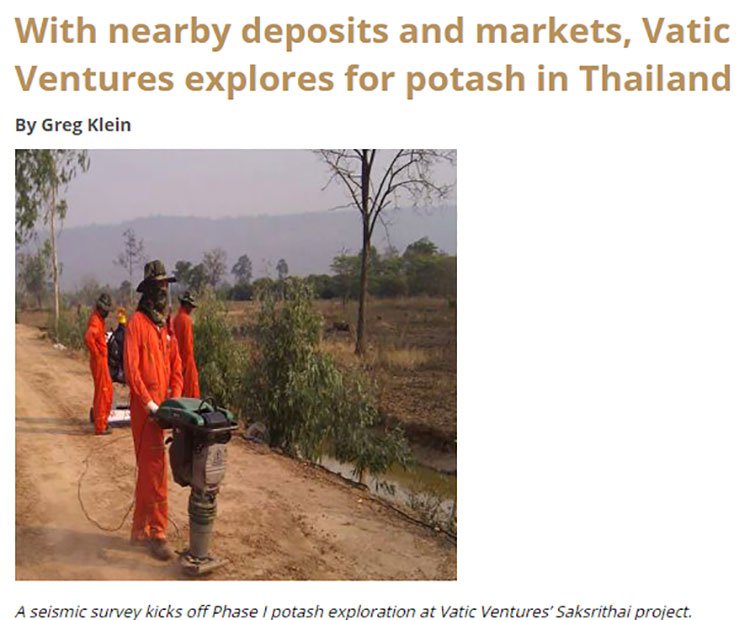 Thailand, Indonesia, Malaysia and Vietnam consume over five million tonnes of potassium chloride a year, and that amount is growing at around 6% each year. So landing a potash deposit to exploit in Southeast Asia could be a very smart move. And a nice pie for ERL to have a finger in.
An Empire on which the sun never sets...?
Well, the sun may set, but the work carries on regardless as ERL eagerly progresses operations at Penny's Find around the clock.
It has excellent exploration potential at its existing targets. It is already mining its flagship project as it approaches gold production, and is investigating the further potential of an underground operation at the same site...
And, as announced back in March, ERL is fully funded via an agreement with Blue Capital Services through to full production:
While it's impossible in this industry to put your finger on a 'sure thing', it is possible to tally up the pros and cons of any small cap explorer. There are the run-of-the-mill types... And then there are the golden opportunities that seem to sparkle brighter the harder and deeper you look.
As always, we'll let you be the judge.
---