Is DTR Sitting on a High Grade Large Gold System in Prolific Colorado?
PUBLISHED: 14-03-2019 12:17 p.m.
The Colorado gold rush of the mid 19th century attracted as many as 100,000 gold seekers, all looking for a new life. It was a time that changed the face of America and began an exploration explosion that in some ways continues to this day.
Now, in the 21st century, exploration is as strong as ever and one ASX junior is ready to capitalise with an aggressive exploration program that follows a successful rights issue.
Colorado has produced over 50 million ounces of gold within a 100km radius of this company's Colorado-based Gold Links Project.
The company's ground covers more than 2000 acres, includes four historic mines and extends over 4km.
Of note is that over 150,000 ounces of high-grade gold was previously mined from the four gold zones the company is exploring.
The company is Dateline (ASX:DTR) and it has just placed 90% of the shortfall of its recent cap raise, raising $6.4 million to go with the $7.3 million raised in February.
It puts the company in a position to establish a maiden JORC Resource (by December), whilst making the most of the established, shallow high-grade mineralisation that has been previously mined.
Here's what you should know about Dateline and why I like it.

Dateline Resources
ASX:DTR
Market Capitalisation: $13 million
Share price: $0.003 (as at March 14, 2019)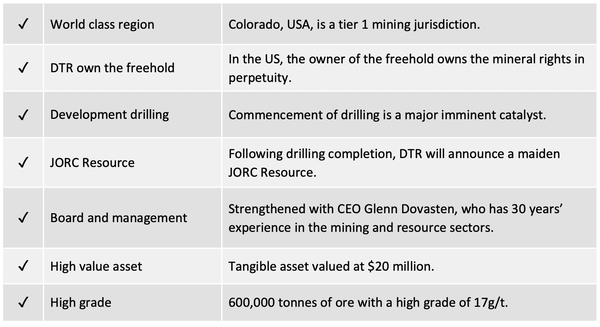 DTR's high grade gold system
Dateline Resources (ASX:DTR) is sitting on a historically significant gold asset. Its flagship, 100% owned Gold Links Project located in Colorado, has a history of high-grade production and the potential for a large high-grade gold system within the project area.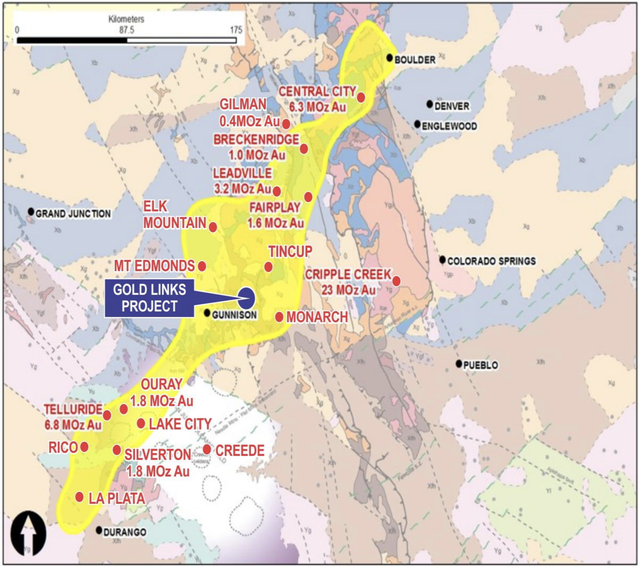 The video below explains why this asset is underexplored. It has been that way since the US government shut all exploration down during World War 2.
As it turns out, the shutdown wasn't such a bad thing. Especially, now, as DTR makes its plans known.
The area is underexplored, but the disparate nature of ownership (over 250 mining claims have had separate owners) has prohibited proper evaluation of the region as a large and connected system.
Until now.
Since September 2016, DTR has completed eight transactions to consolidate 100% ownership of the district, which now puts it in a position to establish a maiden JORC Resource as executive director Stephen Baghdadi attests.
"With the project now consolidated under a single ownership, with all the tenements on freehold land and a fully funded exploration program set to go, we are on track to meet our goal of establishing a maiden JORC Resource in the December quarter of this year."
Importantly, acquisition of the freehold means ownership of the mineralisation below it.
DTR has de-risked the project further by digitising historic maps and reports, drilling and sampling the project, validating exceptional historical data, securing a 100% owned processing plant, ensuring all permits and approvals and hiring a team it believes can make the most of this promising gold play.
DTR is banking on results
With money in the bank following the "company transforming" capital raising, which closed late January and saw Chairman Mark Johnson commit $3 million, DTR has turned its attention to proving up its Colorado asset.
In 2018, a small block of ore was mined near surface within the Gold Links Project area and processed. DTR found flotation concentrate grades of up to 767 grams per tonne (g/t) gold (Au).
There have been some big numbers in the course of Gold Links history. High grade ore extracted from the Lyons winze in 1915, with nine reported grades indicating a range between 89g/t to 287g/t; similar ore extracted from the Morris winze in 1922, with five reported grades indicating a range between 81g/t to 240g/t.
For a more in-depth look at historical numbers, click here.
DTR is hoping history repeats itself, which makes sense when you look at historical production across all four Adits: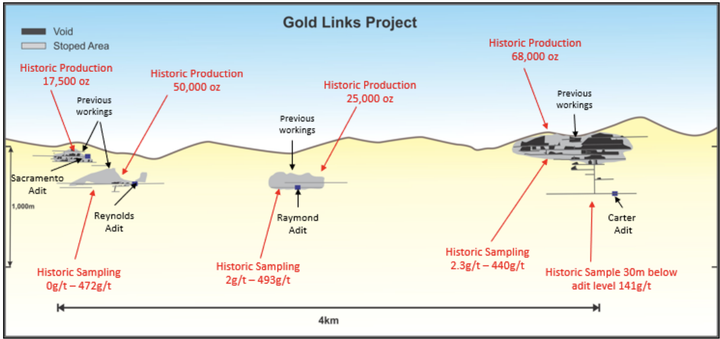 DTR recently completed its own sampling of 2150 vein, returning values up to 250 g/t, including 1.2m at 38g/t, and a grab sample of 151 g/t.
They've been working hard:

This example cited by mining.com puts DTR's number into perspective.
Aurelian Resources announced intercepts of 216 metres grading 12.8 grams gold/tonne from its Fruta Del Norte deposit in Ecuador, now owned by Lundin Gold. This result is truly exceptional in terms of grade and thickness, and propelled the stock from $2 to over $22 in 2006. However, this extreme grade and thickness only comes along once every 10 years or so.
The Gold Links number is big and certainly food for investor thought, although DTR is being conservative due to the variability of average grades found.
It is in fact assigning a grade range of 13g/t to 17g/t – which will still do nicely thank you very much.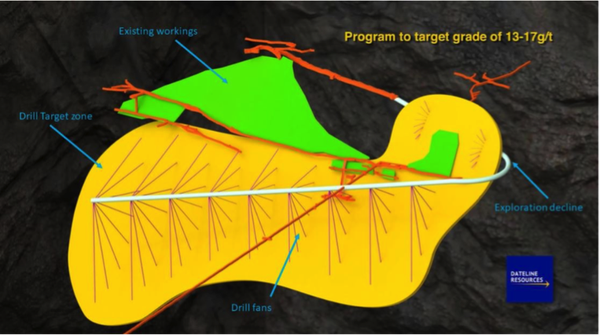 Note that the potential quantity and grade of the Exploration Target is still just conceptual in nature, as there has been insufficient exploration to estimate a Mineral Resource.
There is a good comparison here to Bellevue Gold (ASX:BGL) which has been active lately.
The West Australian called Bellevue's growth rate "incredible".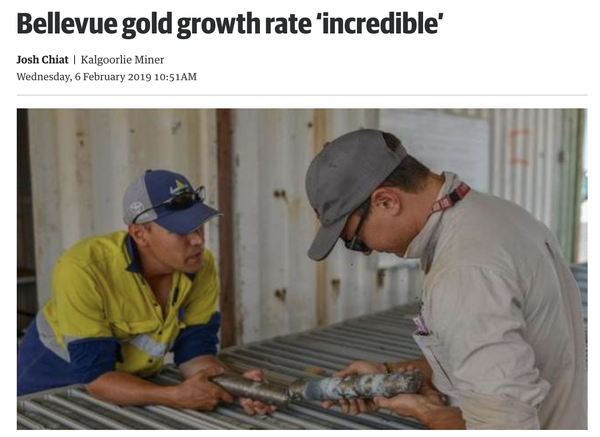 It's a similar story to DTR: Bellevue generated excellent historic numbers of 800,000oz at 15g per tonne over a decade, got shut down, only for a savvy Australian junior to reinvigorate the mine after processing the historical data.
Bellevue recently bumped up its resource estimate to 1.5 million ounces at almost 12g a tonne at its Australian project and they've had everyone talking about.
They still have four drill rigs running and was given a massive boost recently when shareholder Bank of Nova Scotia increased its stake in the company to 12.27%.
That's a vote of confidence.
Remember, DTR is expecting between 13g/t and 17g/t, so If it can emulate the feats of its ASX-listed brother, I'd expect to see a rise in market cap.
Great expectations
DTR wants to go deeper. And it's what is under the existing four gold zones that could change the game as the company looks to smoothly and quickly transition from explorer to producer.
This is a distinct possibility with no metallurgical impediments to slow it down or ridiculous amounts of money required to process the ore.
That's the value of having your own processing plant: it will take DTR just 12 months to move into production after drilling. That's three to four years sooner than any other company in a similar position.
Working in DTR's favour is the potential for extension along strike and at depth, with DTR looking for gold directly in between and below its historical markers.
The Reynolds Adit, as seen below, is the first target, where DTR is developing the existing decline.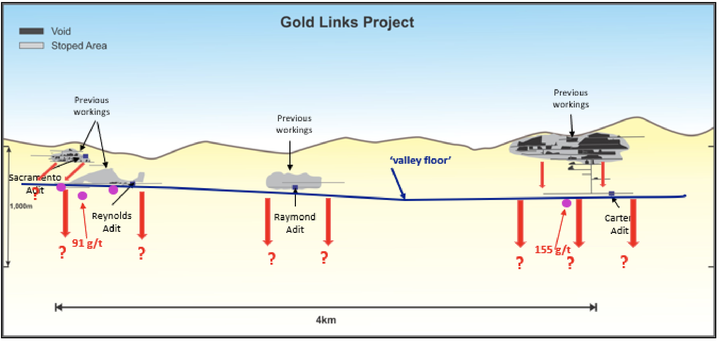 Encouragingly, the similarity in the geology and vein geochemistry indicates the veins will link up between the Adits to create one big, high-grade gold system.
It is no wonder the company is excited, but it's the unexplored stacked ore zones that have heightened expectations.
It is these zones on which the company and its shareholders are pinning their hopes. And it is these zones that could transform DTR into a long-term, mid-tier gold producer.
Expect the catalysts to flow
DTR is targeting a JORC Resource by December, so it needs to get on its bike and start furiously pedaling.
That is exactly what the company is doing based on the workflow. It's already ticked several boxes: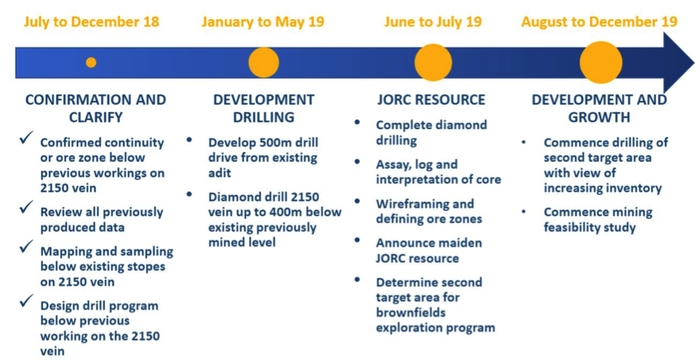 That's a large work program and with money in the bank, DTR is confident of hitting its milestones on schedule.
That's good news for shareholders who have patiently waited for a strong flow of news.
So what can we expect?
First and foremost, confirmation of a JORC Resource.
Secondly, proof perhaps that the mineralised zone extends down dip and along strike as expected and confidence to commence targeting other highly prospective targets that are drill ready.
That's music to the ears of shareholders who have already shown major interest this year.
"The strong demand from existing shareholders and new investors reflects the immense potential upside at Gold Links," Mr Baghdadi said.
Strong interest now, could prove to be timely as DTR looks to create its own rush.
---