Drilling at New NT Asset Sees CXO Hurtle Towards Lithium Production
PUBLISHED: 04-12-2017 10:25 a.m.
Core Exploration (ASX:CXO) is on an express track from lithium explorer to full-throttle developer.
Since we last updated you on the company in August , CXO has established its first JORC-2012 lithium Resource at the Grants Prospect — 1.8Mt at 1.5% lithium oxide, within its flagship Finniss Lithium Project near Darwin and has applied for a mining lease to enable mining of the ore body.
The latest news for CXO shareholders is that the company has signed a lithium offtake agreement and a US$20 million prepayment agreement with one of China's largest lithium hydrocide and carbonate producers.
CXO has also initiated a range of environmental, engineering and economic studies to facilitate development and project feasibility of the Grants Deposit, in preparation for mining down the track.
It should be noted here that CXO is an early stage play and investors should seek professional financial advice if considering this stock for their portfolio.
A preliminary mining study from May this year showed the Grants Prospect's potential for a simple open pit DSO spodumene mining operations. The prospect is ideally located in the Bynoe pegmatite field of the NT, and is just 25 kilometres of the port Darwin Port, Australia's closest port to China.
In fact, the company believes this project is in the best logistical position of any Australian lithium project, in terms of an export chain to China.
You can bet it wants to capitalise on that. An explicit objective for CXO is to exploit the ideal current pricing climate around high-grade direct shipping ore (DSO) product, and utilise those potential incoming funds to define more massive spodumene Resources across its tenements.
Towards that end, CXO established a Heads of Agreement with Darwin Port to export up to one million tonnes per annum of ore, out of the Finniss Project, from the East Arm Wharf.
Not one to waste any time, this month the company acquired the Bynoe lithium project from Liontown Resources, which is directly adjacent to CXO's Finniss lithium project.
Drilling is underway already.
This week the company announced highly promising assay results at the BP33 spodumene pegmatite at newly acquired Bynoe Project including:
54m at 1.42% lithium oxide from 101 metre in FRC103
46m at 1.51% lithium oxide from 66 metre in FRC104
The high-grade lithium intersections within these results represent some of the widest spodumene intersections ever drilled in the NT.
The company is awaiting assays for the next 25 metre drill internal, and more diamond drilling has commenced to follow-up the results at BP33 (which is just five kilometres away from the Grants Deposit).
And with all of this under its belt, CXO's bank balance was sitting pretty at around ~$7 million at last report (31 October).
Yet another plus to add to the list is the fact that the company has already begun work towards compiling a Pre-Feasibility Study for the Finniss Project (having completed a Scoping Study earlier in the year), which will be conveniently aided by all of the exciting developments we've listed above.
On that high note, let's catch up with: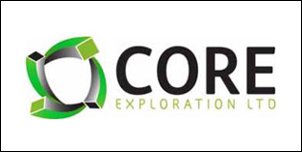 Core Exploration
ASX:CXO
CXO signs lithium offtake and US$20 million prepayment agreements.
On Friday, CXO announced that it has signed a lithium offtake agreement and a US$20 million prepayment agreement with one of China's largest lithium hydrocide and carbonate producers, Ya Hua International Investment and Development Co. Ltd, a wholly owned subsidiary of A$3 billion Shenzhen-listed Sichuan Yahua Industrial Group Co.
The offtake agreement provides for the supply of 1 million dry metric tonnes of lithium DSO to be supplied from Core's 100% owned Finniss Lithium Project, which contains the Grants lithium deposit.
It is expected that the Offtake Agreement will account for more than 50% of the Grants lithium deposit production over the life of mine, underpinning its production profile and providing great confidence to CXO to fast-track development of the mine.
The prepayment agreement involves providing CXO with a US$20 million conditional prepayment for the development of the Grants lithium deposit. The facility is to be repaid through the supply of future DSO or lithium concentrate production from the Finniss Lithium Project.
The deal was reported on Finfeed.com on Friday December 1.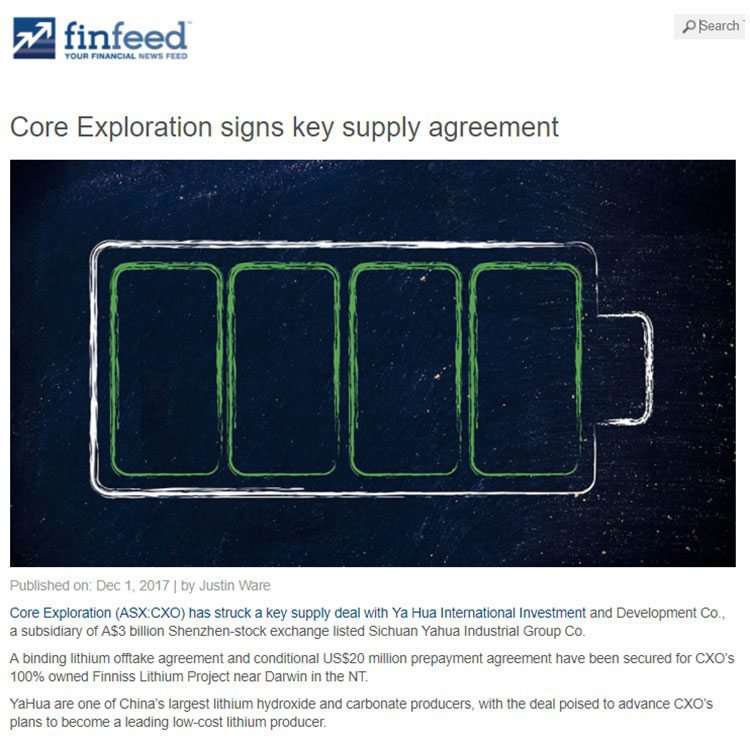 (Finfeed is a related entity of S3 Consortium Pty Ltd as defined in Section 9 of the Corporations Act 2001)
This announcement added to the significant recent newsflow that has escalated the company's share price. Since its August low of 3.4 cents, CXO is up more than 200% at 10.5 cents.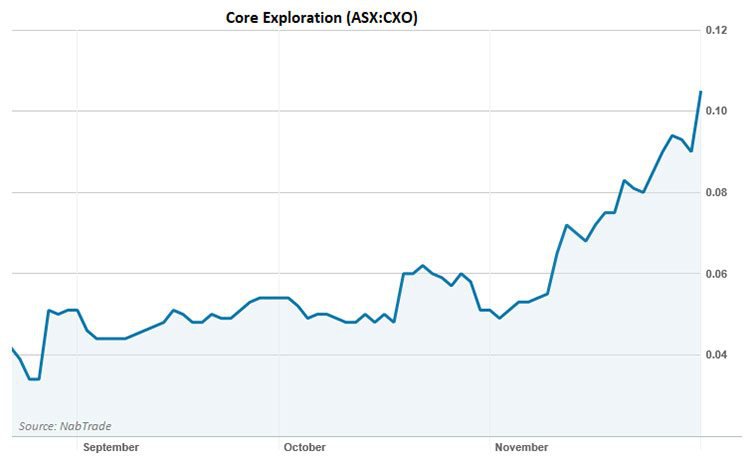 The past performance of this product is not and should not be taken as an indication of future performance. Caution should be exercised in assessing past performance. This product, like all other financial products, is subject to market forces and unpredictable events that may adversely affect future performance.
Acquisition of Bynoe a further boost for Finniss Project
Hogging a lot of CXO's current media attention is its newly acquired Bynoe Lithium project , which it announced it was purchasing from Liontown Resources in September.
The Bynoe Project is located directly adjacent to CXO's Finniss Lithium Project in the NT near Darwin.
CXO's combined area now covers over 500 square kilometres of granted tenements, with 75 historic pegmatite occurrences, in an ideal location to meet growing global demand. With that in mind, the acquisition marks a true commercial milestone for the $43 million-capped play.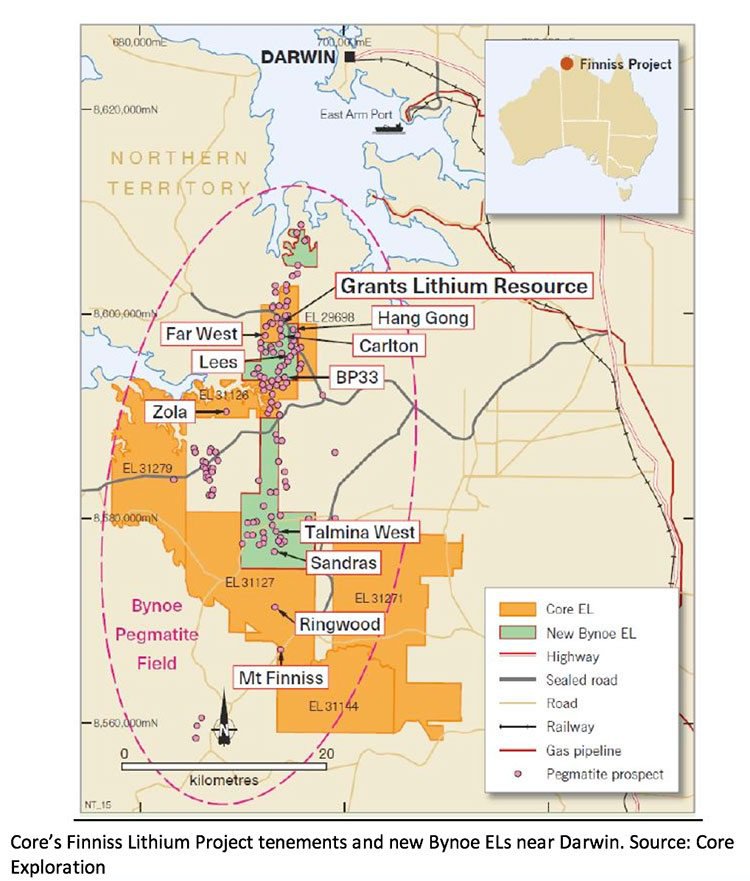 CXO issued 39,232,025 fully paid ordinary shares and has paid $1.5 million cash as consideration for the purchase.
Bynoe brings multiple additional pegmatite targets and more than 50 historic pegmatite prospects to CXO's portfolio, as well as an already granted Mineral Lease over historic tin mining and concentrate operation.
What's most exciting is the fact that early drill results are already in, and they're looking very promising .
Assays reflect some of the widest spodumene bearing intersections ever drilled in the NT, and certainly the widest intervals returned from drilling at BP33.
The results include an outstanding intersection of 54 metres at 1.4% lithium oxide in spodumene pegmatite from 101 metres in RC Drillhole FRC103; and at the northern end, a high grade spodumene intersection of 46 metres at 1.51% lithium oxide was returned from 66-112 metres downhole in FRC 104.
An additional 25 metres of assays are awaited from the remainder of FRC104 from 112 metres to 137 metres, as shown below: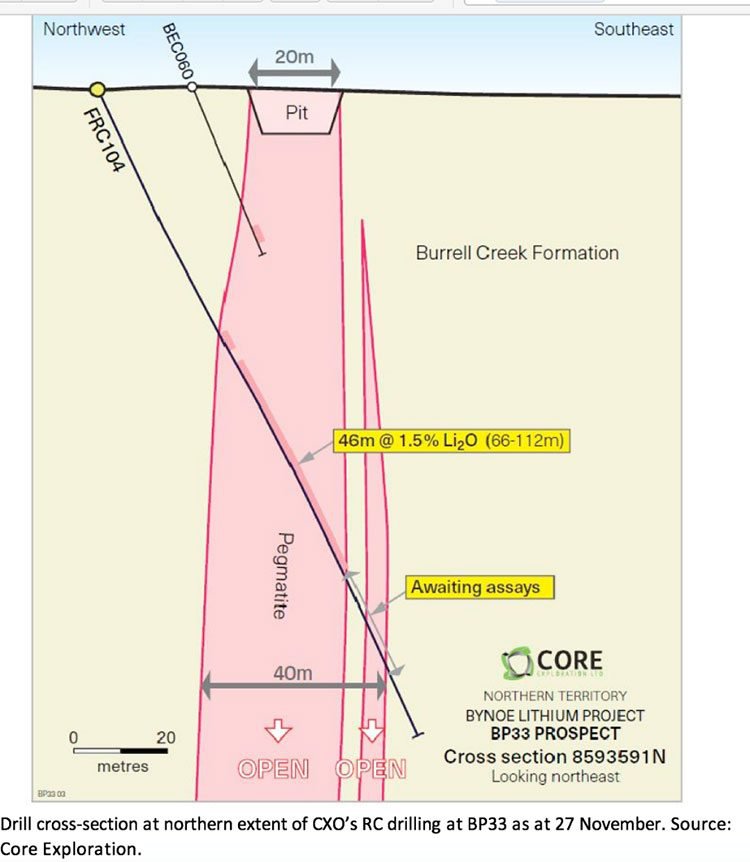 The acquisition is delivering immediate results for CXO. These high-grade lithium intersections are significant and demonstrate the potential of BP33 in a similar manner to Grants.
All in all, the new Bynoe tenements also include not just a granted Mining Lease, but an Extractive Mining Lease and three Exploration Licences.
Early results pre-CXO's acquisition of Bynoe already confirmed that primary, ore grade lithium mineralisation is widespread within the project. And there are numerous highly prospective pegmatites at the Bynoe Project still to be drill tested.
Being contiguous with CXO's initial holdings, the Bynoe tenements include the northern extension of CXO's existing asset, the BP33 pegmatite. The company's initial holdings, and newly acquired tenements, is shown below: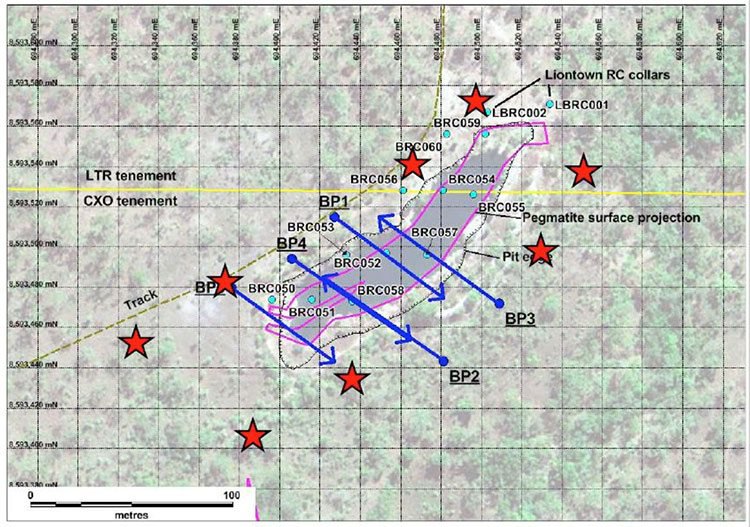 Source: Core Exploration
The company's first drilling at BP33 (within its initial landholdings) in 2016 intersected 38 metres at 1.50% lithium from 70 metres, including 8 metres at 2.0%.
Below shows the progress of the current drilling program CXO are undertaking at BP33:

Source: Core Exploration
The recent results also confirm that the BP33 pegmatite is open along strike both to the north and to the south, and is thicker at depth than first thought.
However it is an early stage of this company's development and if considering this stock for your portfolio you should take all public information into account and seek professional financial advice.
Below gives an idea of the drill locations for the current program at BP33: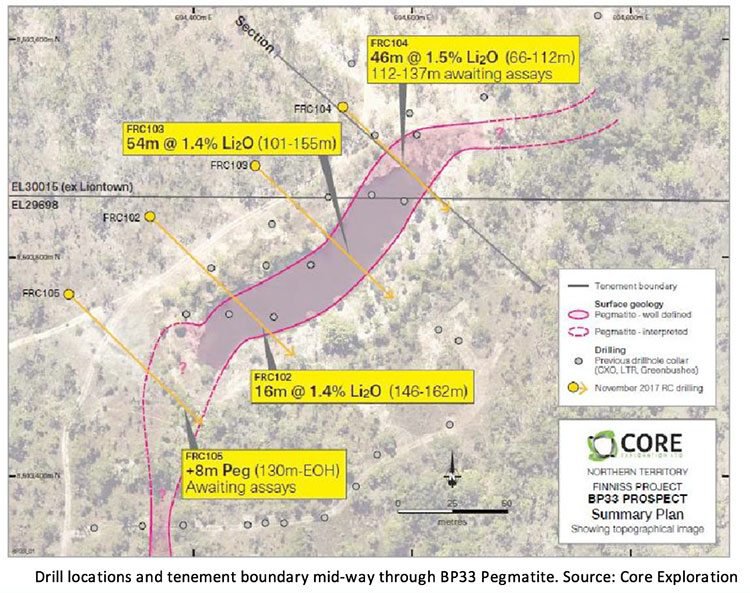 With the whole of BP33 now consolidated under CXO's ownership, there is plenty of room to scale.
And of course, will no doubt come in very handy as the company aims to upgrade its current JORC Resource for the Grants Prospect (Finniss), which currently stands at 1.8Mt at 1.5% lithium oxide.
A figure which positions the Grants Resource as one of the highest grade undeveloped lithium deposits in Australia.
Follow-up diamond core drilling is now underway, with the remainder of the program aimed at defining the grade and scale of the spodumene mineralisation as well as providing valuable information for use in metallurgical testwork and Resource evaluation.
Sussing out Bynoe project prospects beyond BP33
While it is a big part of CXO's plans, the prospective BP33 pegmatite is not the only new asset the company has gained with its Bynoe acquisition.
The company is targeting a number of high-grade lithium pegmatite drill targets with the current campaign, based on the company's previous exploration programs as well as an assessment of previous intercepts by Liontown Resources.
The focus will be on proven lithium pegmatite targets based on areas that have been mined previously for tin and tantalum, along with 'pegmatite swarms' that may represent significant volumes of spodumene pegmatite.
Importantly for the expediency of commercial discoveries, a number of these prospects are situated within an existing granted Mineral Lease (ML).
Targets to be tested by the current 4000 metre RC drilling program include the following prospects: Sandras, Lee's, Booth's, Hang Gong and Carlton.
In particular, CXO will look to follow up previous drilling intercepts above 1% lithium oxide over the project area, including 42 metres at 1.0% lithium oxide at the Sandras prospect, and assays up 4.09%.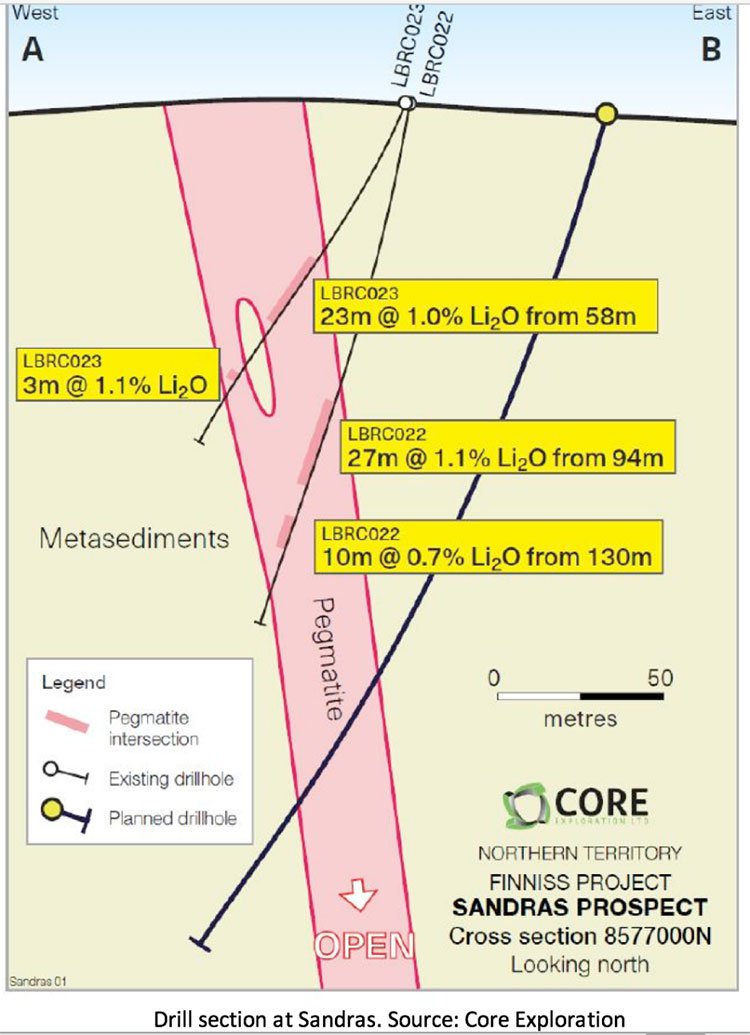 To that end, drill-bits are already spinning at Sandras. The RC drilling program is a high priority as the Sandras pegmatite represents a key prospect previously targeted by Liontown.
CXO has also begun a shallow RAB drilling program aimed at discovering and refining new targets in the region, including at the Hang Gong prospect, to better define distribution and geometry of multiple pegmatites in and around one of the largest historic tantalum pegmatite mines in the NT.
Progressing Finniss towards mining
Earlier this month CXO lodged a Notice of Intent (NOI) for the development of the Grants Lithium Project with the Northern Territory Environment Protection Authority (NT EPA).
This represents the key environmental approval step required for the development of the Grants mine and supports the recent Mineral Lease application the company lodged last month.
The Grants Prospect is one of highest grade lithium Resources in Australia, in an excellent location for exports... as such CXO are keen to progress as quickly as possible and achieve the NT's first lithium production.
However, it is prudent to reiterate that this is an early stage play and investors should seek professional financial advice if considering this stock for their portfolio.
A look at CXO's future
CXO aspires to build on the high-grade Grants Deposit, develop the Finniss Project Resource Estimate as a basis for long-term supply of DSO concentrate, and leverage the infrastructure and logistical advantages of being close to Darwin Port and the city's skilled workforce.
Not only does it have a JORC Resource, there is a PFS underway for the Grants Prospect, drilling is happening right now with encouraging results already streaming in, and of course let's not forget a major plus on this small cap's score sheet... the uniquely ideal access it has to the Chinese export chain.
CXO has recently struck a Heads of Agreement with Darwin Port to export up to one million tonnes per annum of ore, out of the Finniss Project, from the East Arm Wharf.
As we have mentioned, Darwin Port is Australia's closest port to China. This arguably puts the Finniss Project — being within 25 kilometres of the port — in the best logistical position of any Australian lithium project regards to exporting to China.
And with that, CXO fully intends to capitalise on the ideal pricing climate regarding direct shipping ore for lithium.
Which would not be the only first for the company....
On the day it commence production, CXO will achieve the NT's first ever lithium production.
This is a company transitioning from an explorer to a developer. Here's what has happened for several others to come before CXO who have made the successful transition: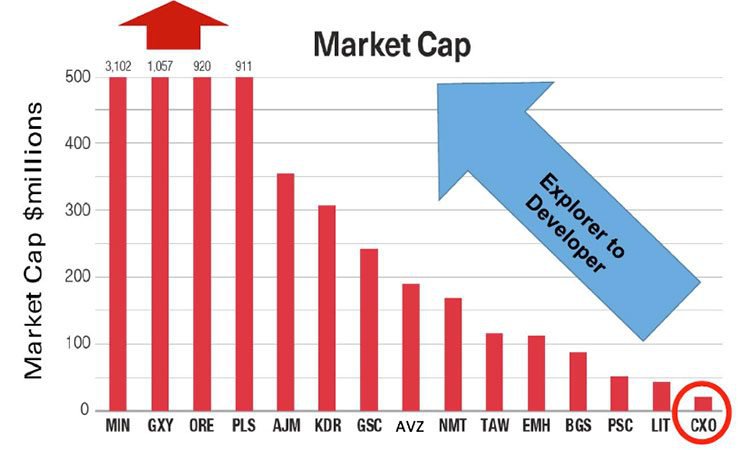 Given its current share price and highly promising news flow, CXO could be heading in the same direction.
---