Drilling Just Days Away on SEG's Fraser Range Targets
PUBLISHED: 08-07-2014 11:47 a.m.
2,000m of aircore drilling to commence shortly in the Fraser Range... Segue Resources (ASX:SEG) is about to drill into probably the hottest exploration postcode of Australia right now. Mere months after bagging 100% stakes in swathes more high potential nickel tenements in Western Australia's resource rich Fraser Range, SEG is about to drill into what it calls "a highly anomalous magnetic feature". That's mining speak for a potentially massive nickel deposit. The magnetic anomaly appears to be several orders of magnitude larger than the "eye" which hosts Sirius' Nova Bollinger deposits. Within this target, two impressive bedrock conductors have just been identified, once again ticking more boxes in nickel sulphide deposit identification. We are expecting news on this drilling campaign any day now – it's due to start mid July 2014. As well as firming up drill targets, SEG is also just raised $1.1M, including $500k from a big institutional investor. Plus SEG's biggest shareholder has just agreed to hold its entire stake in the company in escrow until the end of the year – a huge show of support in the lead up to this crucial drilling programme.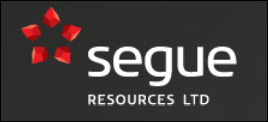 Segue Resources
ASX:SEG
We all know the Sirius story well by now. Sirius went from 5c to $5 when it discovered two massive nickel deposits in the Fraser Range, transforming it into a 100 bagger that earned fortunes for investors who got in at the ground floor.

The past performance of this product is not and should not be taken as an indication of future performance. Caution should be exercised in assessing past performance. This product, like all other financial products, is subject to market forces and unpredictable events that may adversely affect future performance. Following in Sirius' footsteps, a group of explorers have moved into the Fraser Range hunting for a Sirius size monster nickel deposit. For a long while SEG has been pursuing a strategy of land acquisitions in the Fraser Range and we first covered this with our in-depth article "Sirius Went From 5c To $5...New Upstart Explorer Has More Land More Drilling Targets". We followed that up with "SEG Gain Even More Land And More Targets – Drilling Soon ". SEG has been as high as 100% since we first started our coverage: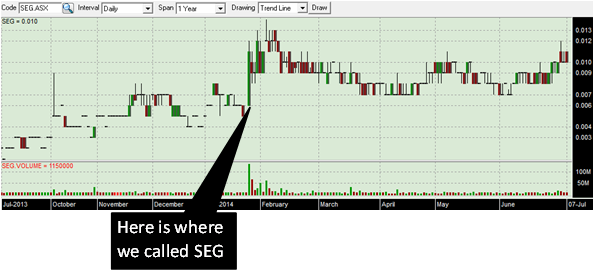 The past performance of this product is not and should not be taken as an indication of future performance. Caution should be exercised in assessing past performance. This product, like all other financial products, is subject to market forces and unpredictable events that may adversely affect future performance. SEG is capped at $19M right now and its shares trade for peanuts. Now the stage is set for their maiden drilling programme. The big question is: Can SEG find a Sirius style nickel deposit in the Fraser Range? SEG's pulsing magnetic targets are close to the Nova-Bollinger nickel deposits discovered by Sirius and have all the hallmarks of Sirius style money pots. SEG has 16 compelling eye targets, five even more compelling "conductor bodies", plus one very special target which is the subject of current drilling.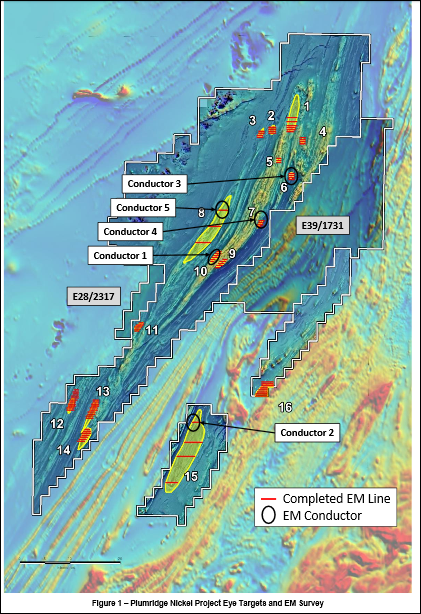 SEG has completed the Phase 1 Ground EM programme over the 16 "eye" targets, resulting in the five EM conductors shown above being identified. Phase 2 has commenced with line extensions and additional EM lines planned by SEG to better define the EM conductors. Following completion of the Phase 2 Ground EM programme, the crew moved to "E21" – a new target of very special interest which we will explain in the next section. The net effect of all of this, we hope, is that a nickel deposit is identified. SEG's modest market cap could change very, very quickly if its imminent drilling programme strikes a big nickel deposit. SEG's drilling targets are based on piles of scientific, geophysical and historical data so the company is hopeful it can find something. SEG has been snapping up tenements across the Fraser Range for quite some time now, grouping them into a project called Plumridge. Part of this was a JV with International Goldfields Limited (IGS). SEG recently bought out IGS's stake and acquired 100% control of four tenements and upped its stake in E39/1731 to 80%.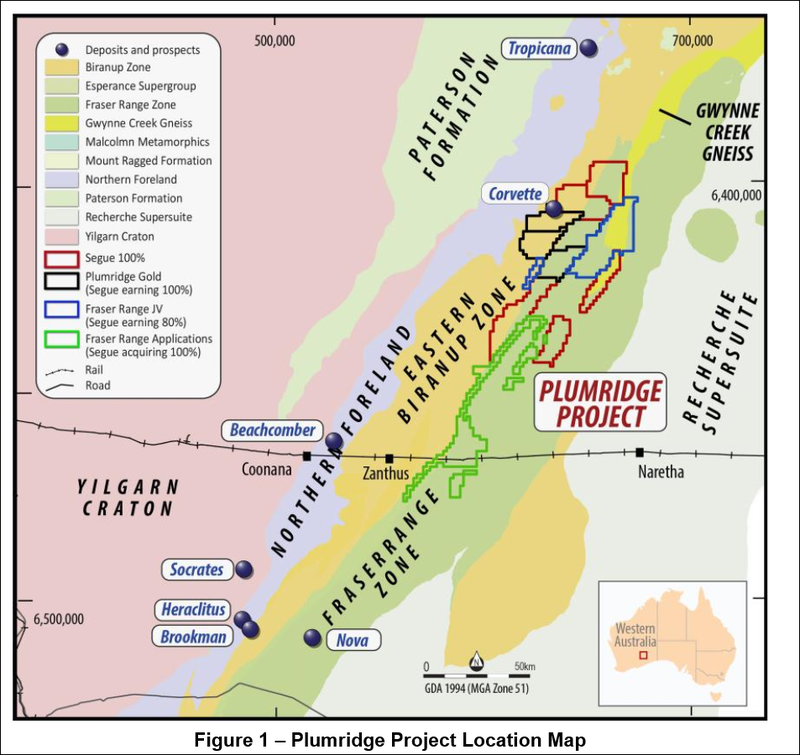 Plumridge is about 120km north-east of the Nova-Bollinger deposit and covers about 2,900km2 with 100km of strike length. SEG now has a huge swathe of prospective land and reams and reams of high resolution aerial magnetic data. Since the acquisitions SEG has been crunching the numbers, reviewing the aeromagnetic and gravity data, and looking for clues. It combined its historic data with multi-disciplinary research covering deep seismic traverses, high precision dating, multi-element geochemistry and structural interpretations over the E39/1731 tenement. Part of this exploration work led to their big drill target – the magnetic anomaly – and decided to get boots on the ground and explore it. SEG is now just days away from its maiden drilling campaign. SEG also just raised $1.1M to fund this next phase of their exploration and is now poised to discover what could be a company defining deposit. They also have a second SPP open right now , where existing shareholders can top up their stake at 0.8 cents a share – this closes Friday 18 th July. It won't be long before the herd takes notice of SEG – so let's get stuck in to the details.
Drilling days away on two "significant" bedrock conductors
E21. One letter and two numbers could be about to make SEG's fortune. Nothing is certain in mining or small cap investing but have a look with your own eyes: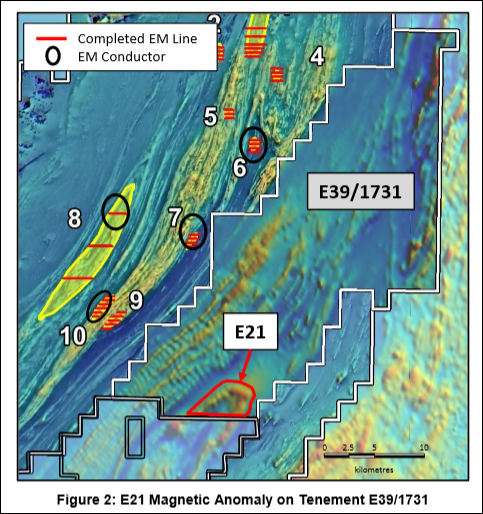 Let's zoom in a little closer: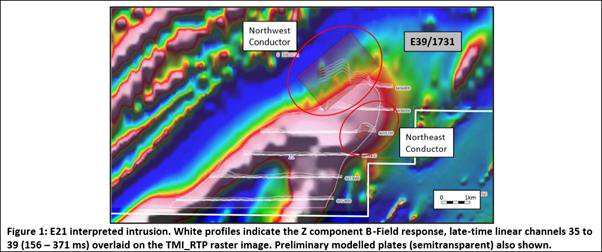 E39/1731 is one of SEG's tenements in WA's Fraser Range, of which SEG has 80%, and Fraser Range Metals Group has the other 20%. E21 is the drill target – an area containing a magnetic anomaly that could be a massive nickel resource. The E21 feature is roughly 25km2 covering the southern end of the E39/1731 tenement. Here at E21 two significant bedrock conductors were just identified . This is a big flashing green light for nickel hunters, and SEG's Technical Director Dr Howard Carr has called for immediate drilling to increase SEG's knowledge of what's really below. Soon SEG will be poking into E21 with some 2,000m of air core drilling to commence any day now:

E21 is transected by the axis of the Fraser Range gravity high and major regional structures are parallel. This is good as it's just like the Nova deposit found by Sirius. E21 is also in close proximity to the Nova deposit. SEG have on their hands all the hallmarks of a very large mafic/ultramafic body... similar to the "eye" which hosts Sirius Nova-Bollinger deposits. In mining terms, an "eye" is a ring of magnetic readings below the surface indicating a possible resource of base metals – like nickel. SEG reckons the magnetic anomaly at E21 could be several orders of magnitude larger than the Nova-Bollinger deposit... imagine that. But there's only one way to tell for sure. And that way is to drill. This drilling will aim to identify target areas for more focussed and intense exploration. In addition to the drilling on E21, several reconnaissance drill traverses across the feature will be made and a detailed aeromagnetic survey over the entire tenement will be completed in the next few weeks. The depth of cover at drill target E21 averages approximately 30m and the AirCore drill programme will provide bottom of the hole nickel pathfinder geochemistry from samples of bedrock. We could see results in a few weeks, maybe less. Check out proposed drill holes – the red dots in the image below – hopefully SEG can uncover a bullseye in one of these: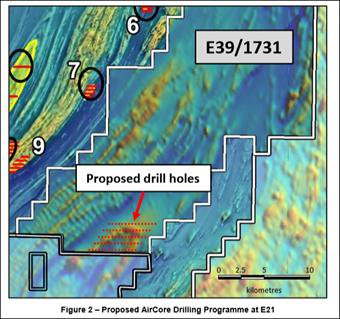 The knock on effect of a successful drilling programme could be huge and not just for SEG's share price. SEG has invested considerable time, energy and resources into putting together the Plumridge project and shoring up its stakes there. This drilling programme is a big leap forward – one that could allow the rest of the project to flow on. It can exploit its findings and keep looking for more through its exploration programme. The aim for SEG is to create a viable nickel project in the Fraser Range. It has cast a wide net, pulling in the best tenements it can find to create the Plumridge project. Now the focus is narrowing to just one little corner of it, E21, and what happens there in the next couple of weeks could change everything. At The Next Small Cap we look forward to watching the market anticipation as SEG drills. The markets love a winner – the suspense of a big nickel deposit that could be about to be found could well be irresistible to the herd. The drilling programme at E21 could be the first of many successes. The hype wave could be about to hit any day now and SEG may become out of reach. In fact, its own shareholders and institutional backers recently tipped in some extra cash to help pay for this drilling program...
Our Track Record
Regular readers of our sites will be familiar with our long-standing interest in high potential stocks. To note just a few:
Following the Next Oil Rush article on ASX:TPT – Drilling Just Weeks Away for Tiny Explorer Targeting 1.6 Billion Barrels of Oil
– TPT's share price has risen as high as 80%.
After the Next Mining Boom covered ASX:SGQ in the article BHP Gives Away Potential Global Scale Nickel Project – its share price has risen as high as 70%.
After the Next Small Cap covered ASX:NML in the article Tiny ASX Company in Race to Discover the 'Australian Andes' , its share price has risen as high as 100%.
And who could forget the Next Oil Rush tip of the decade, TSX:AOI, which has since a rise as high as 600% (!) since we called it in the report East African Oil – Hot Tip of the Decade!
The past performance of these products are not and should not be taken as an indication of future performance. Caution should be exercised in assessing past performance. These products, like all other financial products, are subject to market forces and unpredictable events that may adversely affect future performance.
SEG just raised $1.1M
SEG has a wide-ranging exploration programme to fund this year so it can confirm what it has in the ground across at its Plumridge tenements in WA's Fraser Ranges. A key plank for the funding of this exploration programme was the recently completed Share Purchase Plan (SPP), which raised $589,000:

78,533,285 shares were issued at 0.75 cents per share. Another funding stream for all of this work is the agreement SEG has just secured with its specialist micro-cap investment fund Acorn Capital Limited (Acorn Capital), increasing their commitment to $500,000:

This will give Acorn Capital a 10% stake in SEG and make it the biggest institutional investor in the company . This is a big vote of confidence for SEG and its exploration plans in the Fraser Range. The $1.1M raised will be used to:
Undertake the drilling of the E21 drill target
Continue the ground EM survey over the "eye" target
Complete a detailed aeromagnetic survey over the newly acquired tenement housing E21
33% of entire company will be held until the end of 2014...
SEG has just announced it's entered into a voluntary escrow agreement with its largest shareholder N&J Mitchell Holdings Pty Ltd (N&J Mitchell).

An additional 292,500 of N&J Mitchell's shares will be held in escrow until the 13 th of December 2014 – totalling 529,500 N&J Mitchell shares now held in escrow. This means that 33.1% of the company is now tightly held until the end of the year . This is a big show of confidence in SEG by N&J Mitchell and shores up the company's plans to press ahead with its big exploration programme knowing nearly a third of its capital value is locked away. It's clear that SEG is accelerating its plans to develop a massive nickel project in the Fraser Range with wide ranging support from top tier financiers and investors.
Share Sale Facility for the little guys
Following the Fraser Range Metals tenement acquisition, a number of new shareholders came on board with small, unmarketable amounts of SEG. In an effort to give new shareholders the opportunity to top up to a marketable parcel of $500, SEG is currently offering a Share Purchase Plan (SPP) to existing holders, followed by a Share Sale facility for those with holdings of less than $500. At the end of June, the situation was as shown in the table:

The current SPP is priced at 0.8 cents per share. The minimum subscription is just $500, whilst the max is $15,000 (if this had not already taken up in the previous SPP). This SPP will close Friday 18 th of July. For those shareholders who don't take up the SPP and have less than $500 in SEG, SEG plan to dispose of the shares and return the proceeds back to those shareholders. Reducing the number of small shareholders will reduce admin costs for the company and clean up the register.
Ok, so what's next?
We expect to see an ASX announcement any day now saying that SEG's next phase of drilling out at its E21 target in the Fraser Range has begun. This is contingent on SEG gaining the necessary approvals, a process that's already underway. After that, time will tell. It could take days or weeks before we see drilling results... we are hoping for a big fat nickel deposit – or at least continued signs pointing to one to be unveiled. In parallel, SEG is accelerating its exploration plans and has secured a $1.1M war chest to fund it and is undertaking a further SPP to raise up to an additional $2.0M. Right now SEG is poised to have a company-defining event – the possible discovery of a massive nickel deposit in the middle of its tenements in WA's Fraser Range. We are crossing every finger and toe that it happens. But we're also realistic. The Next Small Cap is with SEG for the long haul. A discovery could see SEG blow up like Sirius – and when it happens the ground floor will be long gone.
---