Drill Results in Weeks: Tiny ASX Explorer with Multi Million Ounce Target
PUBLISHED: 22-11-2014 22:22 p.m.
In the Nevada desert, not too far from the bright lights of Las Vegas, sits the Carlin Trend.
This trend, stretching over a significant portion of the state, has produced a mind-boggling 70 million ounces of gold, with over 150 million ounces discovered to date...
The Carlin trend is dubbed by many gold industry heavyweights as the most prolific goldfield in the Western Hemisphere .
And it's still continuing to unlock value for gold explorers.
A recent 2.6 million oz. @ 3 g/tonne discovery in a previously unexplored area was enough to prompt $9BN global gold heavyweight Newmont to make a $2.3BN acquisition.
On further inspection, Newmont now believe there could be up to 10 million oz. of gold on this ground – almost four times what they originally thought.
All this recently discovered gold has been missed in the past, as the gold in and around the Carlin Trend is "invisible" – old prospectors previously overlooked its potential.
With modern technology and new interpretations of rock sequences, a new interest in the region has been sparked.
We have recently added to our portfolio a $4M capped ASX explorer currently exploring what might be the south east extension of the famous Carlin Trend.
The company is spending $500k USD on exploration up to February 2015, when they will make a decision on acquiring the rights to two gold projects – one in the Carlin Trend and the other with shallow walk up drill targets in Arizona.
Over in Arizona, the company is drilling right now – 28 holes into shallow oxide, walk up targets, for 2,700 m in total – progressive results are expected to hit our screens over the coming weeks.
This company knows there is gold at surface, it knows it is high grade – the question is, how far does it extend along strike?
With strong past drilling results in Arizona, the upcoming results – due in the coming weeks – could extend the mineralisation further.
The surface gold here may be enough to get a simple start-up operation going – either heap leaching or trucking to nearby facilities, which would help greatly with cash flow.
While in Nevada, strong geochemical anomalies in what could be an extension of the lucrative Carlin Trend give the blue sky upside for this company – there is potential for a multi-million ounce deposit here. Further infill soil sampling and mapping is happening right now with a view to define drill targets in the New Year.
Introducing The Next Small Cap 's latest investment...

$4M market cap Carnavale Resources (ASX:CAV) is currently actively exploring two gold projects in the USA:
Little Butte in Arizona , where they are drilling shallow walk up targets right now, and;
Red Hills in Nevada – a multi-million ounce exploration target, potentially within an extension of the Carlin Trend, with the same unexplored rocks as the recent $2.3BN Newmont acquisition.
CAV's projects are the green dots on the map below: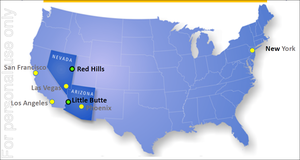 CAV has entered into an option agreement with private exploration company Tojo Minerals, which has the rights to both the Little Butte and Red Hill Projects. CAV has the right to elect to acquire Tojo 100% and is required to fund a minimum of $500,000 USD assessing the projects up to February 2015 when a decision will need to be made.
CAV is well funded for this current round of exploration – and the end of the last quarter, over $1.5M was in hand.
CAV is conducting shallow gold drilling right now – no deeper than 120m – at the Little Butte prospect in Arizona: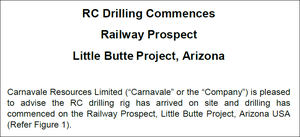 The initial focus will be to test shallow, open pittable, oxide gold resources, with strong previous drilling intersections. An extension to the mineralisation will be sought – and results are due any day now.
CAV are also exploring the Red Hills project, in the same unexplored rocks as the recent massive gold discovery in the region – The 2.6 million ounce at 3 g/t Long Canyon discovery which Newmont acquired for $2.3 billion CAD :

Newmont happily paid what may be seen as an exorbitant price – but it could end up being a bargain, because Newmont think that 2.6 million ounces is just the tip of the iceberg. They are expecting that further drilling may delineate a much larger 10 million ounce deposit :

If they are right – and if anyone knows gold, it's Newmont – then the Long Canyon Deposit could have an in ground value of $13BN USD (if we take a gold price of $1,300/oz).
You can see the Long Canyon Deposit in the map below – to the south is CAV's Red Hills project, potentially a south east extension to the Carlin Trend: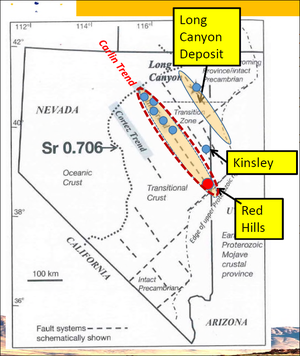 In between the $2.3BN Long Canyon discovery and CAV's Red Hills Project, sits the Kinsley discovery – it's got the same rocks as Red Hills, and has been seeing some excellent drill results come through over the past year:

Not surprising given the potential upside, CAV has a tight register – the top 20 hold approximately 60% of the stock, and management approximately 12%.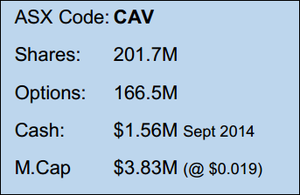 Exploration in the USA, has the attractive combination of moderate labour costs, excellent infrastructure and a stable political environment. The USA was rated no 1 in 2013 World Risk Survey for resource investment .
The USA is also the 3 rd ranked global gold producer, and Nevada and Arizona, where CAV is now operating, boasts a multitude of large scale, high grade deposits.
So CAV are drilling as we write, results are expected in weeks, and they are also targeting potentially another multi-million ounce Carlin style deposit in Nevada.
In the next sections we will go into more detail about CAV's current exploration.
Our Track Record:
Did you see the Next Tech Stock article on Ziptel (ASX:ZIP) ?
ZIP has been up as high as 160% since we first released our article: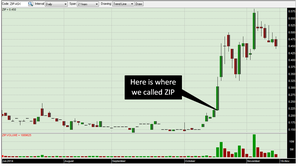 Source: Etrade Australia
The past performance of this product is not and should not be taken as an indication of future performance. Caution should be exercised in assessing past performance. This product, like all other financial products, is subject to market forces and unpredictable events that may adversely affect future performance.
How did CAV come to commandeer their Carlin ground?
CAV entered into an option agreement with Tojo Minerals which has the rights to both the Nevada and Arizona gold projects. The ground is also prospective for silver and base metals. CAV has the right to acquire Tojo after funding $500,000 in exploration by the end of February 2015.
Should CAV decide to proceed with the acquisition, all they need to do is issue 21 million shares to Tojo, and then 42 million shares if the projects produce a resource greater than 0.5 million ounces each: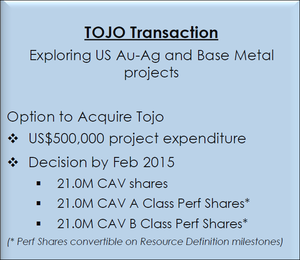 What makes this deal interesting is that if CAV manage to hit the jackpot in the current drilling round and discover something valuable, CAV's project buy price remains set in stone.
And other than the exploration costs, it is cash free – CAV merely needs to sign a few pieces of paper that say Tojo now owns 63 million CAV shares.
At the current share price, that equates to around $1 million worth of CAV shares... to gain 100% control of a deposit that could host a large scale gold deposit.
Luckily for us, and now you, the significance of the deal went largely unnoticed, and hence unpriced.
Drilling Isn't Imminent... It's Underway
Drilling at Little Butte in Arizona is happening NOW.
CAV is targeting very shallow, very high grade gold in an effort to identify a profitable, low capex, low opex, open pit gold mine.
Strong previous assays from the Eastern Zone of the Railway prospect makes us wonder what could be waiting to be discovered.
Try these assays on for size: 22.9 metres at 1.44 g/t gold from 20 metres, within which was 13.7 metres at 2.15 g/t from 23 metres and a bonanza grade section of 4.6 metres at 33.65 g/t.
Other results included 22.9 metres at 4.06 g/t from 6 metres, and 24.4 metres at 3.4g/t from 25 metres: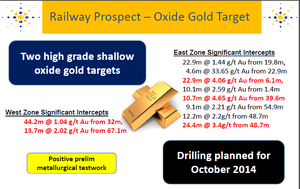 Data assessment generated high impact drill targets that could quickly define a significant oxide gold resource from surface to 120 metres depth, with additional deeper sulphide potential.
A near surface, high grade oxide resource for CAV could be similar to the nearby Copperstone Gold Deposit. The Copperstone deposit has produced over 500,000 ounces from shallow oxide open pits and is now being developed as a 10g/t underground gold mine, made possible by deeper extensions in fresh rock.
There are two priority targets at Little Butte
The Railway prospect is a large 900 metre resistivity anomaly which is the focus of current drilling, as well as a deeper, high chargeability anomaly: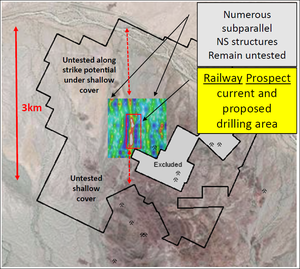 Significant portions of the project have been left untested – only 12% of the area has IP coverage... so there may be yet more upside in Little Butte.
CAV's reverse circulation drill program at Railway is no small deal either... 28 holes for a total of 2,700 metres.
Results will be released progressively over the coming weeks... so there are multiple announcements coming soon.
The Copperstone gold mine isn't the only interesting source of gold in Little Butte's very immediate vicinity. Within just 3 kilometres there are numerous smaller historical gold and copper mines... average production grade from these mines is a whopping 38.7g/t gold.
What has us optimistic about some big grades is that mineralisation associated with these 38.7g/t deposits is hosted in almost identical geology as targeted by CAV on the current drilling program.
CAV's Large Scale Carlin Target
The blue sky basis for adding CAV to our portfolio is the Red Hills Project – it could be an extension of the sprawling Carlin Gold Trend, with the same rock types as the recently discovered 2.6 million ounce Long Canyon deposit. That's the deposit that was recently bought for $2.3BN by Newmont.
The Carlin trend has discovered and produced almost unbelievable quantities of gold: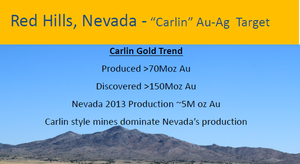 The Carlin Trend stretches across most of central Nevada, and just one 60km portion has delivered more gold than any other mining district in the United States.
Production from the trend has surpassed 50 million ounces... that's 1,600 tonnes of gold.
One example of gold production here is the Gold Quarry – Newmont's biggest open pit on the Carlin Trend. It first opened in 1985 and had a forecast mine life of 6 years... but the deeper they dug, the more gold they found.
The mine is still generating 100's of millions of dollars' worth of gold each year.
Just 15km from Gold Quarry is another of Newmont's elephants – the Leeville underground mine which extends to 700 metres below surface.
Goldstrike's Post-Betze Mine alone holds more than 35 million ounces... little old CAV really is playing with the big boys here.
Despite massive production over the past 50 years, the Carlin Trend is far from being depleted.
New ore deposits are still being brought online – for example Barrick Gold's South Arturo deposit, discovered in 2005, contains 40 tonnes of gold .
What if CAV manage to unlock the south east extension of the Carlin Trend?
Almost all the gold in Nevada comes from open pit mining and cyanide heap leaching recovery – which is a boon for CAV because depending on the grade, open pit heap leach mines can be very low cost.
Yet another positive is that the state of Nevada charges zero royalties on gold production.
It's therefore easy to see why Carlin Trend gold deposits have such relatively high profit margins.
CAV's potential multi-million ounce gold target
CAV has the right to earn 75% in this potential "Carlin Trend" precious and base metals asset via the Tojo transaction.
This asset is the Red Hills Project – a Tier 1 target, the big red dot on the image below. CAV have their sights on targeting a multi-million ounce deposit here: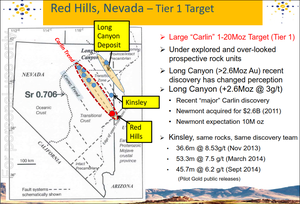 Four large scale multi-element geochemical anomalies have been defined at Red Hills that show striking similarities to other large Carlin deposits. The identification of these anomalies show significant potential and justify CAV's decision to explore here.
CAV have discovered significant zones of outcropping of high grade gold-silver and structurally controlled lead-zinc mineralisation – one zone is associated with a newly mapped 100-300m wide shear zone, and the other three anomalies occur in the same rock sequences that the Long Canyon and Kinsley gold deposits are hosted in...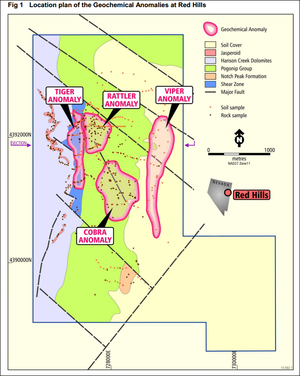 CAV will shortly commence soil and rock chip sampling to define initial priority drill targets in the New Year.
Newmont's Long Canyon and other major gold systems around CAV hint the possibility that additional major deposits could be just waiting to be discovered.
As we mentioned above, one of the closest major discoveries to CAV's Red Hills is Kinsley... Kinsley boasts some of the best gold intercepts in recent memory.
These intercepts by Pilot Gold, in the same rocks that CAV will be drilling into at Red Hills, include 36.6 metres at 8.53 g/t gold, and 53.5 metres at 7.5 g/t gold. Not old intercepts either... both from 2013 and 2014. Just in September there was another giant gold hit of 45.7 metres at 6.2 g/t gold at Kinsley.
If $4 million CAV comes out and replicates Pilot Gold's results at Kinsley with 50 metres gold intercept grading over 7 grams per tonne, at a prospect with multi-million ounce potential, we can only imagine what might happen to the share price.
Newmont's Big Bet
As mentioned earlier, mining heavyweight Newmont bought Fronteer Gold's Long Canyon deposit for a lazy $2.3 billion.
Originally thinking it held around 2.6 million ounces, after geological analysis, Newmont decided that it could actually hold more in the region of 10 million ounces.
Newmont has been mining in Nevada since 1966, and they know this region better than anyone.
These types of gold opportunities in the very tightly held Nevada gold trends do not come along very often... and that's in Newmont's own words:
But CAV have come along from Down Under and jumped on one of these "rare" opportunities...
Newmont Mining is betting on the future of Nevada mining and the promise of future Carlin-type gold. If Nevada's gold prospects are so sought after by the multi-billion dollar Newmont, we think they are good enough for $4 million CAV.
So CAV have the option to acquire Tojo Minerals... should CAV exercise the option, they effectively acquire Tojo's option terms over Little Butte and Red Hills.
Little Butte Terms
Tojo has a 10 year option to earn 100% equity in Little Butte from a company called Minquest.
There is a required project spend of $150k during the first year, which escalates on a yearly basis to a total of $6 million over the full 10 years.
Aside from in ground exploration costs, the only other spending required are small annual cash payments averaging $40k per year to the vendor.
Should the project become an operating mine, the vendor is entitled to a 3% net smelter royalty.
Red Hill Terms
Tojo has the right to earn 75% of Red Hills via a joint venture with Columbus Gold Corp.
There is $2 million in exploration expenditure required within 3 years to earn an initial 51% interest, and $7 million over another 4 years to increase to 75%.
At 75%, Columbus has the right to fund project costs on its remaining 25% share, or revert to Tojo 100% ownership and receive a 2% net smelter royalty.
Tojo can then buy down Columbus' royalty to 1% for a price of $2 million.
Again, attractive terms for a project that has the potential to hold a multi-million ounce gold deposit.
Stay tuned for drill results – just weeks away
Over the course of the Australian summer, CAV will be actively exploring both the Little Butte and Red Hill Projects, all with a view to potentially acquiring the rights to both projects.
With previous gold grades of over 30 grams per tonne at Little Butte, and a comprehensive drilling program underway, some big news could be around the corner.
Assays will start to flow very soon, likely in the coming weeks, and there will be further exploration at Red Hills to define drill targets.
If CAV can correctly identify the south east extension of the Carlin Trend, it may turn out to be a company maker...
There will also be metallurgical tests at Little Butte, and further rock chip sampling at Red Hills.
Remember that CAV have until February next year to make a decision on the acquisition of Tojo Minerals.
So it is necessary to squeeze a whole lot of exploration until then... CAV shareholders are in for an action packed 12 weeks.
Being capped at $4 million, with $1.5 million in cash at the end of the last quarter, even one single successful drill hole could instigate a voluminous re-rating.
Given the size of the targets, the previous grades, and proximity to some of the biggest gold deposits in the USA, speculation of drill results alone could hopefully have a very pleasant effect on the share price.
Are you a CAV investor and want to spread the word?
Get the message out there – make sure everyone knows about CAV and share this article by clicking the buttons below:
[sd_share_article title="Drill Results in Weeks: Tiny ASX Explorer with Multi Million Ounce Target"]
---