Drill Results Imminent on SEG's Fraser Range Target
PUBLISHED: 28-08-2014 10:57 a.m.
September is shaping up to be a big month for Fraser Range explorer Segue Resources (ASX:SEG). Drilling has kicked off on their advanced, high priority target, and we should be hearing about the results any day now. 9 months of exploration have led to this moment. The results of this drill campaign have game changing potential for SEG. SEG is a high risk exploration company, and our investment in SEG could go either way. These next few weeks may prove to redefine SEG...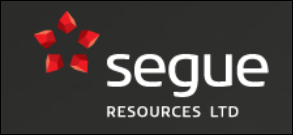 SEG is drilling – right now – at its massive Plumridge Nickel Project in Western Australia's highly prospective Fraser Range. At The Next Small Cap we've been following the SEG story pretty closely since we first covered SEG back in January. Our original article Sirius Went From 5c to $5: New Upstart Explorer Has More Land, More drilling targets covered SEG's entrance into the Fraser Range nickel game. Since this time, SEG they have gone from strength to strength, and have risen as high as 220% since our first article: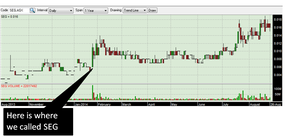 The past performance of this product is not and should not be taken as an indication of future performance. Caution should be exercised in assessing past performance. This product, like all other financial products, is subject to market forces and unpredictable events that may adversely affect future performance. SEG is hunting Australia's next big nickel deposit and it's identified several drilling targets – including a compelling magnetic anomaly filled with bedrock conductors called E21. Aircore drilling is due to be completed any day now, with follow up deeper diamond drilling planned and currently in an approval process. As well as the big drilling event about to end in days, they are also about to finish up a MLEM (Moving Loop Electro Magnetic) survey in a few weeks, and by the end of September should have the results of the an airborne magnetic survey on the same high priority drill target. SEG has also brought in a new exploration firm to manage the programme and acquired 100% ownership of the final four Plumridge tenements in its holdings. Plus, it's just raised $3M from an oversubscribed Share Purchase Plan when it only wanted $2M – SEG appears to very popular right now, and it actually had to give some of the money back. We are all now well familiar with the Sirius Resources story – the little explorer that ended up a big player by making the massive Nova-Bollinger nickel discoveries in the Fraser Range, and have led to Sirius attaining a market valuation of over $1BN. But rather than back a race that's already been run, we are on the lookout for the next Nova discovery – SEG is well positioned as it has more land and more drilling targets than Sirius in the Fraser Range. And SEG is capped at around $30M right now, with drilling results due any day now... We have been following the SEG story for months now, and our other articles contain a lot of information: SEG Gain Even More Land And More Targets, Drilling Soon told of the company's land expansion and the discovery of some big fat nickel targets. And then Drilling Just Days Away: SEG's Fraser Range Targets covered in the ins and outs of the current drill campaign. Can SEG find the next Nova? The next few weeks will prove crucial... In this article we're going to run you through all of the latest SEG news:
Ÿ All the current exploration efforts at Plumridge
Ÿ SEG's new exploration recruit
Ÿ The deal that's given SEG 100% ownership at its Plumridge acquisition
Ÿ The share deals that are funding all of this exploration and acquisition.
Our Track Record
Regular readers of our sites will be familiar with our long-standing interest in high potential stocks. To note just a few:
The past performance of these products are not and should not be taken as an indication of future performance. Caution should be exercised in assessing past performance. These products, like all other financial products, are subject to market forces and unpredictable events that may adversely affect future performance.
Nine months of work = 3,000m of drilling
For the last nine months the team at SEG has been sweating hard in the Fraser Range bush to get a brace of drilling targets ready at its flagship Plumridge Nickel Project. They have homed in on one target in particular, This is the main target, known as E21 :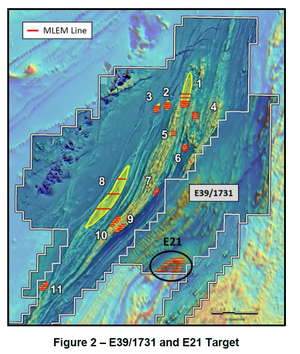 Nine months of exploration including Fixed Loop Electromagnetic Surveys (FLEM) have identified a number of drilling targets including some interesting bedrock conductors – geophysical features that are usually considered to be signs of nickel deposits. Now the moment of truth for E21 has arrived. Aircore drilling is underway now to determine just what this E21 target could be. This comprises of 3,000m of aircore drilling of E21 plus several other SEG targets:

The E21 target sits within the E39/1731 tenement that is part of the wider Plumridge Nickel Project.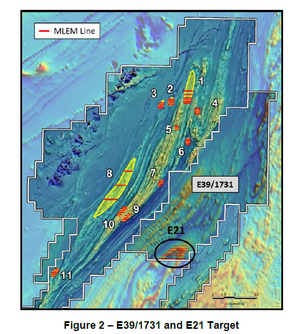 The bedrock conductors that SEG found in its initial exploration work at E21 are the key thing here.

They are labelled C1, C2 and C3 in the picture above. A fourth bedrock conductor target is not shown. The C1 target alone promoted SEG's team to down the maps and surveying equipment and call up the drilling contractors. There are two stages to the exploration work SEG is planning: Right now, aircore drilling is taking place across the top of the conductors to give SEG an idea of the ground and cover conditions. The gathering of detailed airborne magnetic data and the processing of the recently collected orientation geochemical data is also taking place. Once that initial work is taken care of, SEG will go deep. Here are the SEG guys doing the soil sampling – before the drill has arrived: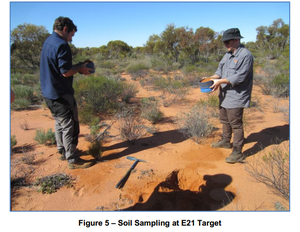 C1 is the main focus of the drilling programme. The aircore drilling underway now will give SEG more clues about what is down there, however an 800m diamond hole is also necessary and has been planned to provide an initial test of the conductor. Approvals are being sought on this deeper drilling while the surface aircore drilling is completed. SEG's C2 and C3 targets will also be drill tested by either diamond or reverse circulation as part of the exploration program. The results from the current drilling programme at E21 will be crucial to further development of Plumridge. If those big bedrock conductors continue to be possible nickel resources, there will likely be a lot of attention on SEG. But it's not just E21 that is getting the drilling treatment at Plumridge right now. There are several targets for aircore drilling at Plumridge other than E21 and they lie right across the project. Each target has magnetic features with similarities to the Nova-Bollinger area, a huge nickel resource in the vicinity of Plumridge, and the aircore drilling is aimed at confirming whether the targets are underlain by prospective rock types. SEG is looking for mafic-ultramafic intrusions which are key giveaways of potential nickel deposits or structural domains that could also host nickel. The aircore drilling program is expected to be complete any day now. In addition to drilling, another series of magnetic surveys are also being conducted at Plumridge. The next phase of Moving Loop Electromagnetic Surveys (the same technique that found the E21 targets) has commenced and is targeting newly identified magnetic features in the southern portion of the E21 area. That work should be complete in a few weeks and will hopefully turn up some more drilling targets. Also, SEG is participating in a coordinated group airborne magnetic data survey which will focus on the E39/1731 tenement. SEG says the survey will produce a high quality data set for the whole E21 area and interpreted results are expected by the end of September 2014. SEG is pedal to the metal out at Plumridge. SEG has sunk a lot of time, energy and money into identifying the right targets within its Plumridge Nickel Project and now they are in their maiden drilling campaign. SEG's exploration programme is well developed, highly researched and very professionally done – all the hallmarks of having a safe pair of hands guiding the effort...
Ex-Jubilee Exploration Manager steering SEG's nickel search
SEG has a new geological consultant for its Plumridge Nickel Project – OMNI GeoX – which is led by this guy:

That's Peter Langworthy and he's the Managing Director of OMNI GeoX, a company that provides what it calls an Operational Risk Based approach to managing the exploration activities of its clients. This company is made firmly in Langworthy's image, a man who has a long track record of very successful nickel projects under his belt. Langworthy made his name while he was Executive General Manager – Exploration at the highly successful nickel explorer and producer Jubilee Mines Limited. Jubilee was acquired by Xstrata in 2008 for $3.1BN – you don't get that sort of takeover price if you just have a few promising projects in the cupboard. You get that price for proven and producing assets. That's exactly what Langworthy helped Jubilee to find: Prospero, Tapinos and Alex Mairs (Cosmos Nickel Project) and Sinclair (Bannockburn). Those are all significant nickel deposits Langworthy had a hand in developing in his time with Jubilee. Now he's struck out on his own with OMNI GeoX which is a go-to firm for nickel explorers who want to hit their targets. Having this company and Langworthy's leadership in the driver's seat for SEG's Plumridge Nickel Project is very encouraging. Hopefully Langworthy can soon add Plumridge to his long list of successes. So what will having Langworthy on board do for SEG? The geophysics programmes at Plumridge were handled by Newexco and that firm is still on board for SEG's projects. Newexco was responsible for the Sirius Nova-Bollinger discovery and the Forrestania Nickel Sulphide hit – massive projects that were tough to find, but Newexco did it.

Now, Newexco will still be working with SEG at Plumridge but OMNI Geox will also be in the mix, managing SEG's exploration activities including the maiden air core drilling programme which has just commenced at the E21 Target. Exploration is a tricky business and needs a firm hand to guide it along so cost overuns and inefficiencies are eliminated. SEG's move to bring OMNI GeoX on board as its geological consultant for Plumridge should assure investors the right people are handling the job. The fact Newexco is still involved is another big tick – you now have two of Australia's leading nickel explorers on SEG's team handling the tricky work to discover a new nickel resource in nickel-rich country.
SEG holding the cards at Plumridge
Speaking of Plumridge – SEG have just completed the acquisition of 100% of another four tenements in the Fraser Range:

The four tenements now 100% owned by SEG total 832km2 and are highly prospective for Nova-style nickel sulphide deposits and contain the Corvette gold prospect – quite a land bank to add to SEG's large holding. The story goes that SEG got into Plumridge and bought a huge chunk of land through the acquisition of three companies, giving it 100% control of a large area of the Plumridge tenements. It also got its hands on another clutch of tenements through a JV with International Goldfields Limited (IGS). SEG initially acquired a 65% interest in four tenements for $100,000 in cash and the issue of 50m of its shares to IGS. But SEG wanted it all – and the more it explored the Plumridge tenements the more compelling the case became to gun for 100% ownership. Well, SEG has now acquired the remaining 35% interest and to get them it paid $200,000 and granted IGS a 1% net smelter royalty. SEG now owns a 100% interest in nearly all of its tenements – which is 100% exposure to the upside of any big nickel finds on their tenements... SEG is now the 2 nd largest ASX listed tenement holder in the Fraser Range – and SEG is going all in.
Share Purchase Plan massively oversubscribed
So, with so much exploration going at Plumridge and acquisitions going full pelt you may be wondering where SEG is getting all the money. SEG is actually so cashed up at the moment it's having to give some of it back! Yes, you read that right... SEG wanted $2M from its recent Share Purchase Plan (SPP) to its existing investors – it got $3M .

The SPP aimed to raise up to $2M at 0.8¢ per share and when it closed on Friday, the 18 th of July it was heavily oversubscribed with applications for 369.25M shares totalling $3M. But SEG can't keep all the money. Under the terms of the SPP, SEG can only accept what it originally aimed for – $2M. SEG says its Board is reviewing the SPP applications and will scale back applications using its absolute discretion. Final allocation and allotment of SPP shares is expected to be advised very soon. There was a $500 minimum purchase for each shareholder and the price of $0.8c represented an 11% discount on the average market price. Over 500 SEG shareholders participated in the SPP. There are now over 3,500 SEG shareholders – a massive number considering there were only 350 a year ago. It seems people like what they see in SEG and are spreading the word. The funds raised through this SPP and the previous SPP, which total $3.1M, will enable SEG to support its wide-ranging exploration programme at the Plumridge Nickel Project. With the $2M injection SEG can now really accelerate Plumridge so hopefully the real pay day can come soon.
A big couple of weeks for SEG
So what's next for SEG? Well, the aircore drilling programme underway at the Plumridge Nickel Project should be wrapped up any day now, and results pending, we should see some news about the nature of the ground there and maybe a few more drilling targets. The deeper diamond and RC drilling at the bedrock conductor targets at the E21 magnetic feature will be next with the C1 target the first to be targeted, followed by C2 and C3. Approvals are coming and plans are being drawn up so we should see some action on all of this shortly. Right now there are more electromagnetic surveys being done across the Plumridge tenements and we could see some new drilling targets or even magnetic anomalies cropping up. SEG has done the hard yards over the last year, acquiring the Plumridge tenements (now 100% owned) and exploring them near and far, and setting up drilling targets for exploration that could either lead to a big nickel find – or nothing at all. That's the nature of high risk exploration. There's only one way to tell – drill – and now we are likely days away from hearing news...
---