DAV Expands its German Potash Landholding
PUBLISHED: 07-12-2017 10:44 a.m.
Davenport Resources' (ASX:DAV) aim is to reinvigorate Germany's South Harz region as a globally significant potash producing province. DAV has recognised the important role that the commodity will play in helping to feed the world's growing population.
Potash is a critical ingredient in plant fertilisers, helping farmers achieve greater crop yields. As a crop nutrient, potash improves the production yields of agricultural crops by improving a plant's retention of water, nutrient value, taste, colour, and resistance to diseases and pests.
With a history of over 120 years of production, the South Harz basin has produced more than 180 million tonnes of potash, and at one time it accounted for a large proportion of the global supply of the crop fertiliser.
However, when Germany was reunified in the early 1990s, the potash industry in the region suffered considerable retraction and now hosts only two operating mines. Yet, it remains highly prospective for potash and the German provincial government of Thuringen supports DAV's efforts to reawaken the once thriving industry.
The company has acquired three new perpetual mining licences with historic high grade resources in 'next to be mined' parts of the potash basin. The three perpetual mining licences add to DAV's two exploration licences, meaning that DAV now holds exploration licences and perpetual mining licences covering well in excess of 650 square metres in the South Harz potash basin.
Of course, DAV remains a speculative stock and investors should consider professional financial advice if considering this stock for their portfolio.
DAV also has its hands on an extensive supporting exploration database that would cost over €100 million (A$155M) to replicate today. This extensive historic exploration with historic resources will allow evaluation to be fast tracked as DAV works towards establishing a JORC 2012 compliant resource.
All the latest from...

Davenport Resources

At the time of listing on the ASX in January 2017, Davenport Resources (ASX:DAV) had two exploration licences — Kullsteadt and Grafentonna. Seeing the region's potash potential, DAV has further expanded its landholding as it works towards potash production.
When we introduced you to DAV back in August , the company was gearing up to acquire three extensively drilled mining licences in Germany's South Harz Potash District.
These licences – Mühlhausen-Nohra, Ebeleben and Ohmgebirge — are located in an area that has been extensively explored and contain historic potash resources from the German government.
The three recently acquired mining licences, from German government agency Bodenverwertungs-und-verwaltungs GmbH (BWG), together with two exploration licences that DAV already held, bring the company's total footprint in the region to 659 square kilometres.
This licence footprint surrounds five historic mines that produced a total of 181Mt of potash between 1971 and 1989, worth over $31 billion at today's MOP prices.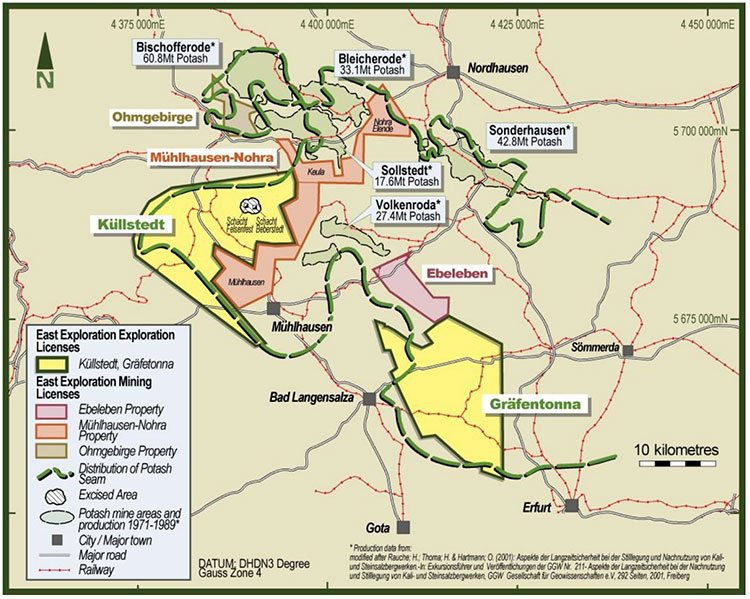 The timing of the acquisition comes as the global potash supply-demand balance looks to be swinging in favour of producers.
Excellent timing for DAV potash market entrance
The potash market is slowly emerging from a period of oversupply. Demand is steadily growing at around 3% a year and is expected to reach a record 61-64 million tonnes this year. Alongside this, the Muriate of Potash (MOP) price — now at around US$220 per tonne — is beginning to recover as inventories are reducing and the market returns to balance. ­
With the world population growing at 80 million people per year and headed to 9.3 billion by 2050, it's no surprise that the amount of arable land per person is rapidly shrinking. For this reason fertiliser is essential to increase global farm output and produce enough food to feed the growing population.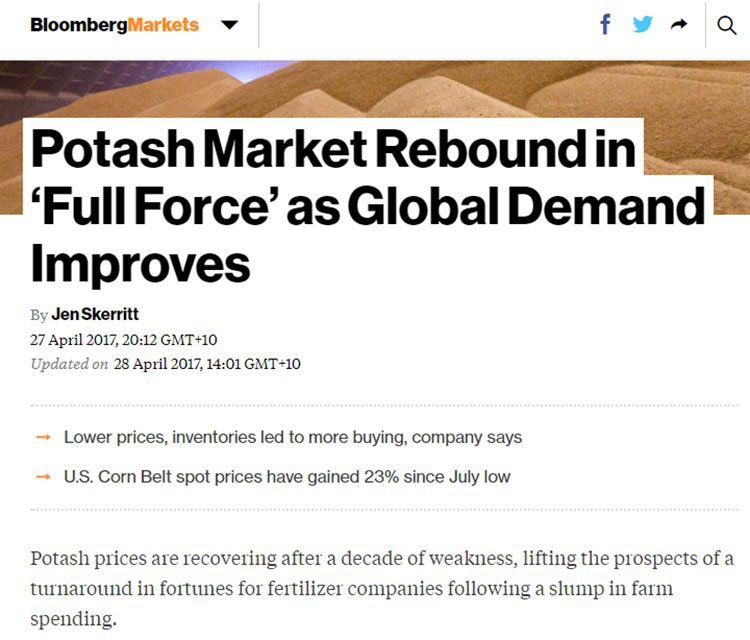 As explained in the Bloomber g article above, potash prices have been in a downward trend for a decade due to a combination of excess mining capacity coming on line and weak demand as lower crop prices undermined farmer spending power. But it seems that the trend has shifted, and importantly, the timing supports DAV's work towards getting its potash mine up and running.
However it is an early stage of this company's development and if considering this stock for your portfolio you should take all public information into account and seek professional financial advice.
Three mining licences acquired in South Harz potash basin
On October 25, DAV announced that it had received final government approval for the acquisition of three potash Mining Licences in the South Harz region.
The approval from the Thuringen provincial government satisfies a final condition required by German government agency, Bodenverwertungs-und-verwaltungs GmbH (BWG) which is the agency charged with divesting former German Democratic Republic (GDR) assets.
The three licences — Mühlhausen-Nohra, Ebeleben and Ohmgebirge — are unique and valuable, being perpetual mining licences granted under the former GDR system. All three have been extensively drilled with historic resource estimates that date back to the GDR era when potash was actively mined in the South Harz region.
All three of these drill holes have been extensively drilled in the past and its historical resource estimates date back to the GDR era when potash was actively mined.
In total, 114 deep drill holes were sunk on the licences leading to the creation of an extensive exploration database. Of these, 89 drill holes were exclusively for potash with an additional 25 petroleum and geo-stratigraphic drill holes that penetrated the potash bearing strata.
At today's industry costs, creating such an extensive potash exploration data, including evaluation, geochemical and mineralogical information would cost at least €100 million (A$155M).
Once this existing data has been analysed, DAV expect to be able to validate the entire 1970's drill programme via confirmation drill holes. It expects to then bring it into a JORC 2012 compliant Resource.
The historical data will also help DAV shape its exploration strategy and fast track cost-effective brownfields evaluation of the area with the aim of reinvigorating the South Harz as a globally significant potash producing region.
Ebeleben mining licence
Since the completion of the acquisition, DAV has continued to make news...

On November 15, DAV released a historic resource of 356 million tonnes of 16.1% potash (57.4 million tonnes contained potash) in Sylvinite, equivalent to 91 million tonnes of potassium chloride (KCI), in relation to its Ebeleben mining licence in the South Harz region of Germany.
The Ebeleben area is considered to be an extension of the Volkenroda Potash Mine that operated for more than 80 years to 1991.
Historic potash resource at Muhlhausen-Nohra licence
Following the announcement of a historic resource of 356 million tonnes at 16.1% potash for the Ebeleben Mining Licence, DAV reported the historic resource for the southern part of Muhlhausen-Nohra on November 16.
Muhlhausen-Nohrah is one of three perpetual mining licences in the South Harz basin that Davenport acquired recently from German government agency.
DAV announced a historic resource of 234 million tonnes of 14.4% potash (33.8 million tonnes contained potash), on its 100%-owned Muhlhausen sub-area within the Muhlhausen-Nohra Mining Licence.
In addition, there exists a lower classification historic resource of 54.4 million tonnes of 10.6% potash (5.8 million tonnes contained K20) in Carnallitite.
The presence of Hartsalz, a mixed salt that includes sulphates, in the Muhlhausen sub-area is notable as it potentially allows the production of both MOP and SOP fertiliser products.
Drilling conducted within the subfield Mühlhausen and the Küllstedt exploration licence was completed during the same 1970s drill program. DAV anticipates that once the existing data has been analysed, carefully located confirmation drill holes can validate the entire 1970s drill program and bring it into a JORC 2012 resource.
The review of historic exploration covers all three new licences, but priority was given to the subfield Mühlhausen as it contains areas of Sylvinite mineralisation that extend into Davenport's adjacent Küllstedt licence.
Küllstedt and Gräfentonna exploration licences
An evaluation of geology and historic drillhole data at the Küllstedt and Gräfentonna exploration licences allowed an Exploration Target estimation as follows:
Küllstedt – Exploration Target 4.055-5.141 billion metric tonnes grading 7.2%-25% potash.
Gräfentonna – Exploration Target 2.678-3.396 billion metric tonnes grading 4.3%-25% potash.
All up, DAV now holds exploration licences and perpetual mining leases covering well in excess of 650 square kilometres in the South Harz. It has prioritised areas for systematic data analysis and results will be released to the market at each stage.
It is early stages for DAV and investors should take a cautious approach to any investment decision made with regard to this stock.
DAV looks compelling on a peer comparison basis
DAV have provided a comparative analysis with listed peers. Of particular note is the low enterprise value/attributable potash resource as well as the high grade (historical) potash when compared to its peers.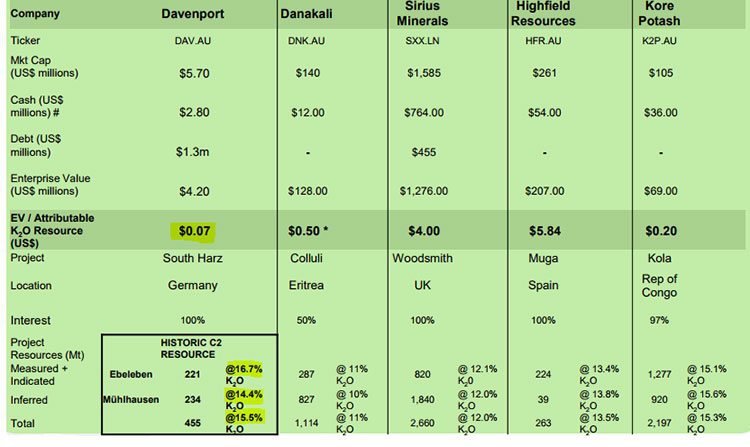 Source: Davenport Resources
Cautionary Note: This table compares DAV historic resources with JORC resources. A historic foreign estimate and is not reported in accordance with the JORC Code. A competent person has not done sufficient work to classify this historical foreign estimate as a mineral resource in accordance with the JORC code and it is uncertain that following further exploration work that this historical foreign estimate will be able to be reported as a mineral resource in accordance with the JORC Code.
Bright future ahead for DAV
DAV is building a strategic position in the South Harz potash basin and is looking towards drilling and building a meaningful German potash business. As the amount of arable land continues to decline and food demand rises, crop yields must increase. For this reason potash will play a vital role in helping to feed the world's growing population.
Using historic resource estimates, supported by high quality data, DAV can undertake targeted exploration to confirm JORC 2012 resources on the South Harz project. The quality of this historic data will allow DAV to rapidly advance evaluation of South Harz resources and achieve JORC compliance. This is an exceptional starting point to fast track evaluation with the aim of recommencing potash production in the South Harz region.
In addition to DAV's main assets, the South Harz Project, the company also has a promising copper/gold project in Australia's Northern Territory. This project is the Southern Cross Bore project and it shows some good early-stage indicators for mineralisation.
With a market cap of just $6.3 million and a share price of 8.5 cents, DAV compares well to its potash peers.
---