CXO Seeks and Finds Silver and Lead… Copper is Next
PUBLISHED: 05-11-2014 11:37 a.m.
Tiny silver-lead and copper explorer Core Exploration (ASX:CXO) has delivered with high grade assays from their Inkheart and Blueys prospects in the Northern Territory. And there are plenty more deliveries in the mail with copper drilling about to start at separate prospects within CXO's sprawling Albarta project – over 2,000 km 2 of tenements are 100% owned by CXO. Currently capped at under $7M, CXO has just released some very nice silver and lead assays, but it's only the beginning of multiple drilling programs targeting multiple metals at multiple projects. Assays just in from CXO's 2,500 metres of drilling have extended the continuous mineralisation at Inkheart to at least 500 metres... Individual results included 3m at 198g/t silver and 4.1% lead, and 3m at 177 g/t Ag and 4.1% lead. CXO's Albarta mineral province is turning out to be just that. Then there is the Jervois region to the east, where KGL Resources has recently unveiled a company making polymetallic discovery. And lest we forget CXO's prime land in IOCG country, in and amongst major BHP assets...

We have been covering the story unfolding at CXO for a while now, and we plan to stick it out to the end... (The end we are hoping for is a major discovery and/or takeover) A lot has been going on down at CXO headquarters, and it may be worth a quick refresher. Our initial article is below, followed by updates along the way as the play has developed:
Inkheart and Blueys have been the focus of the just completed drilling... but there is oh so much more drilling to come. A new program will be underway within weeks at the Copper King, Copper Queen and Virginia prospects, following up on some uber-high grade copper rock chip results. You can see CXO's copper projects north of Inkheart and Blueys: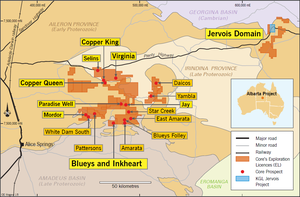 And then there is the Jervois Domain project to the east, where CXO ground literally engulfs KGL's little blue tenement, where a major discovery has recently been made... Aerial electromagnetic surveys are already underway at Jervois, with results expected shortly. Then there are CXO's world class IOCG tenements around BHP and the Olympic Dam province in South Australia. You can see their tenements in red, surrounded by BHP, Oz Minerals and the Woomera prohibited area:
Source: Core Exploration in early 2014
CXO has put in place a staged exploration strategy within a long and robust pipeline of activity: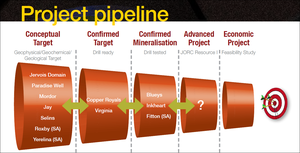 With various projects at various stages of development, CXO should be drilling and assaying and JORCing for years to come... if they don't get taken out in the interim.
Inkheart Drilling Completed
Thick intersections have expanded the silver-lead strike zone to over 500 metres. Standout assays included 3m at 198g/t silver with 4.1% lead, and 3m at 177 g/t silver and 4.1% lead. Importantly, these high grade assays were within broader intercepts of 6 metres at 96g/t silver with 2.1% lead, and 12 metres at 82g/t silver and 1.4% lead. The full table of results is below and there are more than a few to be bullish about: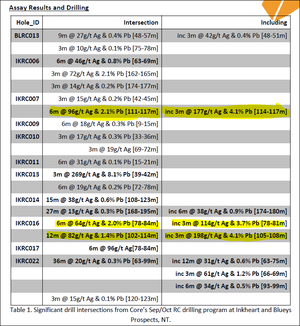 The final hole in the table is more significant than it looks... it intersected 36m at 20g/t silver and 0.3% lead. Not high grade, but it lay within a 50m intersection of altered, veined and mineralised rocks containing elevated silver, lead, zinc and copper. You can see the significant drill results laid out on the map below: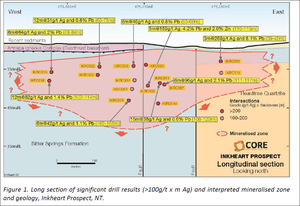 This is the first evidence of large-scale alteration and mineralisation processes identified by CXO at Inkheart, and it hints at something of size lurking in the close vicinity... This sizeable something could be discovered by further exploration and drilling at Inkheart and Blueys – scheduled for early next year. But in the meantime, CXO's next round of drilling will focus on the Virginia and Copper Royals prospects.
Our Track Record
Regular readers of our sites will be familiar with our long-standing interest in high potential stocks. To note just a few:
The past performance of these products are not and should not be taken as an indication of future performance. Caution should be exercised in assessing past performance. These products, like all other financial products, are subject to market forces and unpredictable events that may adversely affect future performance.
Big Copper Targets – Drilling Imminent
The plan of attack now turns to copper and gold at the Virginia, Copper King and Copper Queen and other prospects in the Copper Royals district. Virginia is a truly global scale copper target that extends for over a kilometre, with up to 5% copper at surface. Drilling a target of this size is kind of a big deal and something we have been waiting several months to eventuate.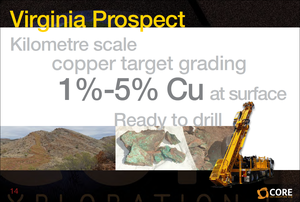 Then there is the Copper Royals District, comprising the Copper King and Copper Queen and a number of other targets with assays of up to 20% copper and 72g/t gold. Drilling here could really wake the market up – those surface copper and gold grades are as high as we have seen in a long time.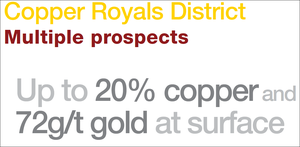 CXO v KGL
CXO's Jervois Domain prospect lies just 500 metres from KGL's recent Bellbird discovery of 13m at 5.75% copper, you can see CXO's tenements in red surrounding KGL in yellow: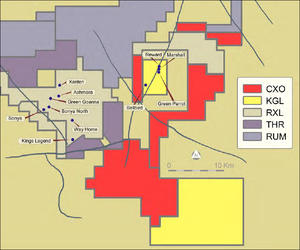 Have a look at what this hit did to the KGL share price from July this year:

The past performance of this product is not and should not be taken as an indication of future performance. Caution should be exercised in assessing past performance. This product, like all other financial products, is subject to market forces and unpredictable events that may adversely affect future performance. CXO has a much smaller market cap than KGL – so if CXO can make a similar hit in the surrounding area, it could have an even bigger effect. Again, CXO are chasing a global scale target at Jervois with across a large 20km prospective zone. The aerial electromagnetic survey currently underway will refine drill targeting: Drilling will then be scheduled, at this stage early in 2015 – which is almost upon us already.
Multiple Drill Programs, Multiple Metals, Steady Assay Flow
CXO has to be one of the busiest little explorers going around... With all that business comes numerous shots at nailing "the big one". The interesting thing about CXO is that each one of its multiple projects has multiple prospects that could all hold one or more "big ones". So the chances of success are enhanced several-fold over your run of the mill ASX explorer. At the same time, just like all ASX explorers, luck does play a part – CXO may not find anything. With copper-gold drilling at Virginia and Copper Royals, and aerial electromagnetics at Jervois in the coming weeks, CXO investors have the rest of the year fully booked. After this comes drilling at Jervois, and more drilling at Blueys and Inkheart. Time for a bigger diary!
---